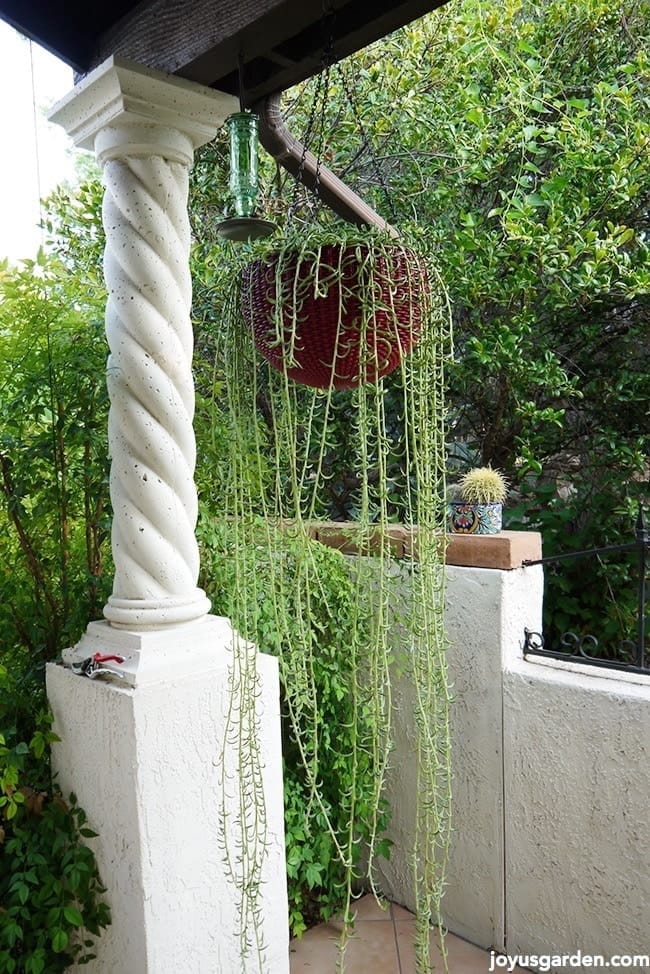 My Grey Fishhooks Senecio had trails over 6′ long and was growing in the 6″ pot just as it came from the grower's greenhouse.  It's been happily doing it's trailing thing in a very bright spot, with about an hour of direct sun, on the patio off of my living room enjoying the hot desert days and evenings.  This hanging succulent keeps on growing and I knew that the pot was getting way too small for it.
Time to spring into action and step up to a little repotting challenge!
The little repotting job was not so little but that's what I expected.  When you're transplanting the succulent version of Lady Godiva it's not an easy undertaking after all! Finding a hanging pot that I like is always a challenge for me. They're either too cheap looking, too bulky, too heavy or just plain ugly. I found this one that I really liked and the size was spot on.
I like the pattern of this hanging pot and also the fact that both pot and the chain are strong and solid. The dark brown color didn't float my boat so I decided to spray it a deep red.  I used this paint giving it 3 light coats and then sealed it with this. The chain is securely fastened onto the pot (it doesn't clip on and off)  so it took a bit of a finagling to get those long trails sectioned and straightened out. I think it would have taken just as long to try to get the chain off and on so I chose to leave it on for the repotting.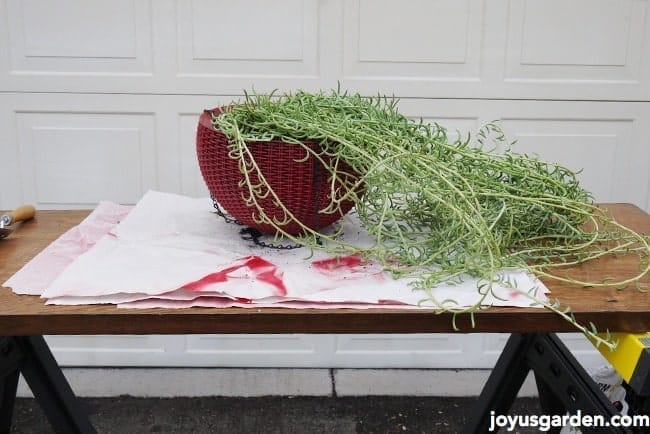 Here's my hanging succulent all potted up but what a mess it was to untangle!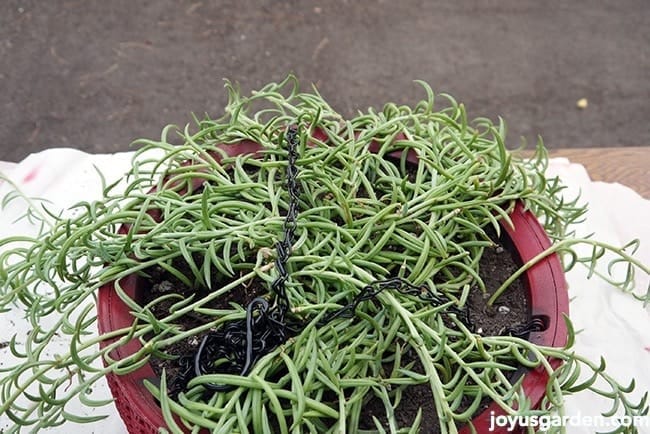 Now its all sectioned out & ready to be hung back in its spot on the side patio.
The Mix I Used
The planting medium I used is a combination of 4 parts succulent and cactus mix, 1 part potting soil and 1/2 part compost. As always, I top dressed my hanging succulent with worm castings.  If I was still living on the coast of California I would have used all succulent and cactus mix with just a sprinkling of compost. Because I now live in the Arizona desert where summers are very hot, I used this combo because I want the mix to hold a bit more moisture but still drain very well. I don't want to be watering my fleshy succulents every day!
My Grey Fishhooks Senecio is hanging back in its spot looking as happy as a succulent has a right to.  It now has plenty of room to grow although I'm not too sure I want it to get too much longer. Oh well, I can always cut off those ends and stick them back in the pot.  Aren't succulents wonderful?!
Happy gardening,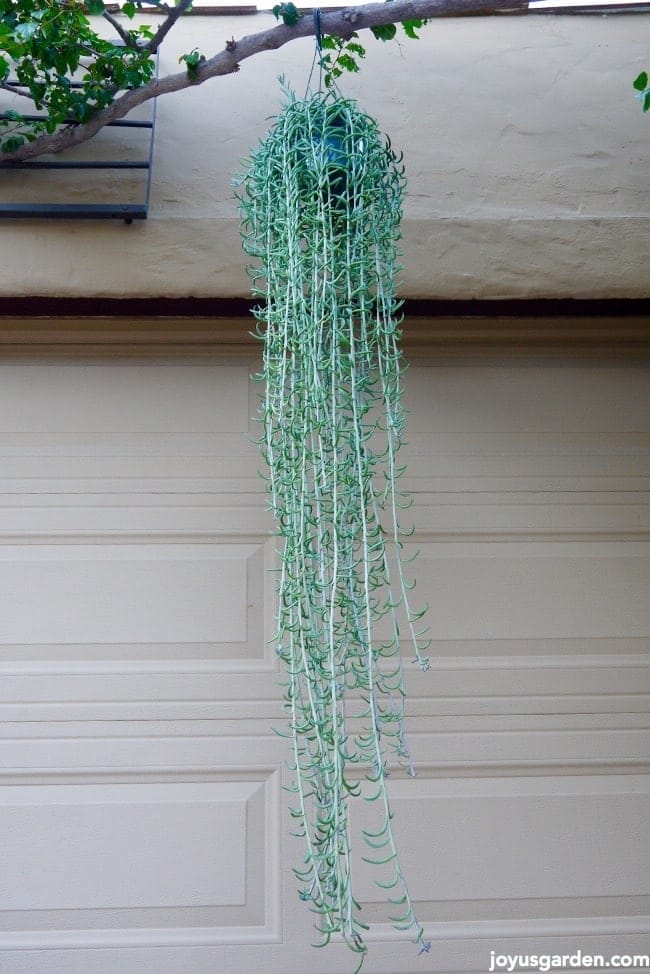 My Fishhooks Senecio once hung off my Bougainvillea glabra in Santa Barbara. It now lives in the Arizona desert & seems to be lovin' the heat!
YOU MAY ALSO ENJOY:
How Much Sun Do Succulents Need?
How Often Should You Water Succulents? 
Succulent and Cactus Soil Mix for Pots
How to Transplant Succulents into Pots
Aloe Vera 101: A Round Up of Aloe Vera Plant Care Guides

This post may contain affiliate links. You can read our policies here. Your cost for the products will be no higher but Joy Us garden receives a small commission. Thank you for helping us spread the word & make the world a more beautiful place!