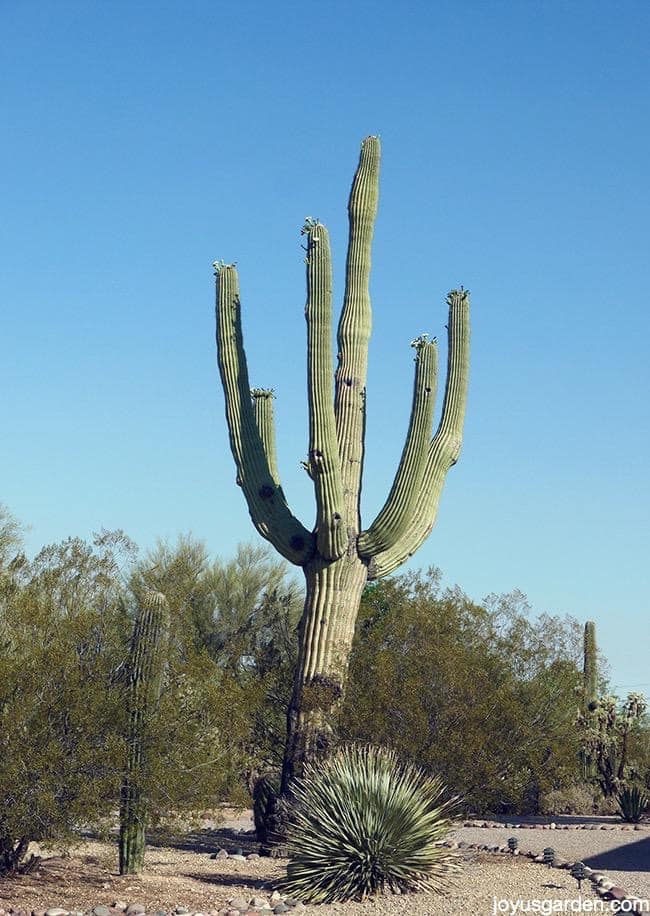 Moving, especially long distance, pushes you in so many ways.  It's exhausting both mentally and physically and at some point you wonder if it's really worth it.  I've lived in Connecticut, Vermont, New York State, Tucson, Boston, New York City, San Francisco and Santa Barbara.  Living someplace new definitely gets one out of the comfort zone and injects a fresh take on life because there are new people to meet, new places to explore and new adventures to be had.  Plus, it gives your old friends someplace new to visit!
I never want to be a person who's opposed to change, especially as I get older.  I moved from Santa Barbara California to Tucson Arizona over Memorial Day weekend.  I was living 8 blocks away from the beach and now I've landed in the Sonoran Desert.  I'm here  just in time for things to really heat up – no easing into it for me!
This desert is the only place in the world where the majestic Saguaro cactus grows in the wild.  To say I'm obsessed with them is an understatement.  Hopefully it's an obsession which will only last 3 or 4 years but who knows.  I don't think that I'll ever get tired of seeing them because each one is unique and somewhat mysterious in its own way.
The trip here was pretty crazy because my car, which is not meant for transport, was packed to the gills with plants, pots, cuttings and two cats.  One of them yapped the whole way, 9 hours to be exact, but who's keeping track?!  I was fortunate that I wasn't pulled over by one of the many highway patrol officers in both states cruising for DUIs and speeders over the holiday weekend because my visibility was severely limited by the masses of foliage.
Yes, a little change is in the air for this blog and Youtube channel but I think that's what keeps things spiced up a bit.  Of course the focus will still be on gardening but because I'm in a totally new environment, it's going to be a bit of a learning  curve  for me too.  I plan to still do lots with succulents, more about container gardening and I have an air plant design project in the works.  And, of course, cacti.
My house is filled with light so I'll be doing some filming in there.  I cook a lot and want to do a few food related things like flavored oils, salad dressings, sauces and the like.  All plant based of course, just like me.  The garden wraps around the house and it's nice and quiet back here (except for all the chirping birds!) so it's made for videos.
Speaking of food, I want to start growing some of my own again.  It might be a bit of a challenge here in the desert but I'll definitely let you know how it goes.  I'm going to be doing some traveling so there'll be a bit of that in the mix too.  And, I get to check out lots of new plants and new nurseries which for me spells Big Time Fun.
And of course, I'll be doing work in my own garden and will document the transformations.  I have so many things to share as I embark on this new sliver of my life and I look forward to sharing it all with you.  As always, thanks for stopping by!
Hugs,

YOU MAY ALSO ENJOY:
How Much Sun Do Succulents Need?
How Often Should You Water Succulents? 
Succulent and Cactus Soil Mix for Pots
How to Transplant Succulents into Pots
Aloe Vera 101: A Round Up of Aloe Vera Plant Care Guides
This post may contain affiliate links. You can read our policies here. Your cost for the products will be no higher but Joy Us garden receives a small commission. Thank you for helping us spread the word & make the world a more beautiful place!