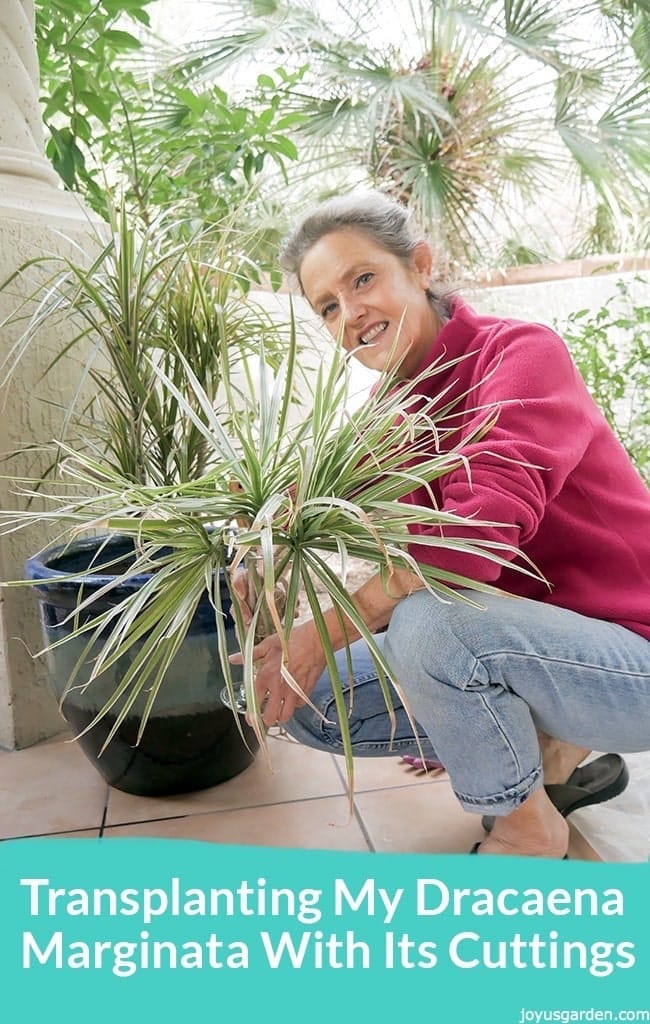 When you move into a new house it's nice to inherit something you really want instead of 35 cans of old paint, scraps of construction materials and a bunch of other junk. The previous owner left behind a plant that I liked and it was in pretty good shape to boot. This is all about transplanting my Dracaena marginata with a couple of its cuttings added in at the base.
The plant was left on the patio off my living room and has been there ever since. It didn't need repotting in terms of more root ball space because it was in a 22″ blue ceramic but me oh my, that pot's oh so heavy.   The issue was that the plant was directly planted in the pot and you know how I love to move plants around. Wasn't going to happen!
Some Of Our General Houseplant Guides For Your Reference:
Transplanting my Dracaena marginata:
That ceramic pot is now planted with an array of cacti and sits happily right on the walkway to my front door. It's not going anywhere and the blue pot is a nice accent to my vintage patio set which is in close vicinity. I planted the Dracaena into a large plastic grow pot which gives it plenty of room to grow in and means that I can bring it inside if I ever choose to.
Materials used:
15 gallon grow pot. I could have used a 10 gallon or 14″ pot but I hadn't taken the plant out of the pot prior to the planting to see the size of the root ball. Mine is actually a Dracaena marginata variegata which reaches 12-15′ tall so this'll give it plenty of room to grow.
Good quality organic potting soil. I use Happy Frog because of its high-quality ingredients. It's great for container planting, including houseplants.
Worm Compost. This is my favorite amendment, which I use sparingly (especially with houseplants) because it's rich. I'm currently using Worm Gold Plus. Here's why I like worm castings so much.
Steps Taken:
The Dracaena marginata was directly planted in the big ole ceramic so I tried to loosen the root ball from the sides with a trowel. It was being stubborn so I got the shovel out to finish the job. If your plant is in a smaller pot or a plastic grow pot, click here to see what I did under "how I repotted". There's also video with that if you like to watch rather than read.
Using the ole shovel to finish off this step of the project. I was careful not to jab into any of the roots.
Good to know: You want to try to keep the root ball in tact & get as many of the roots as possible. Spring & summer are the best times to transplant or pot up houseplants but any time will do as long as you're careful with the roots. I did this transplanting project at the end January outdoors here in Tucson because Lucy was here to film me.
I put torn up paper coffee filters over the drain holes in the grow pot so too much of the mix wouldn't come out on the 1st few watering. Potting soil was dumped into the pot to the level I thought would work.
I scooped the plant out, holding it by the root ball, with my hands. The root ball turned out to be smaller than I thought so I needed more potting soil. I measured the height of the root ball with the trowel, handle & all, & then used that as a guide as to how much more mix I needed to add in.
I positioned the Dracaena marginata in the pot & added potting soil all around the root ball. I sprinkled in a few handfuls of worm compost as I went along.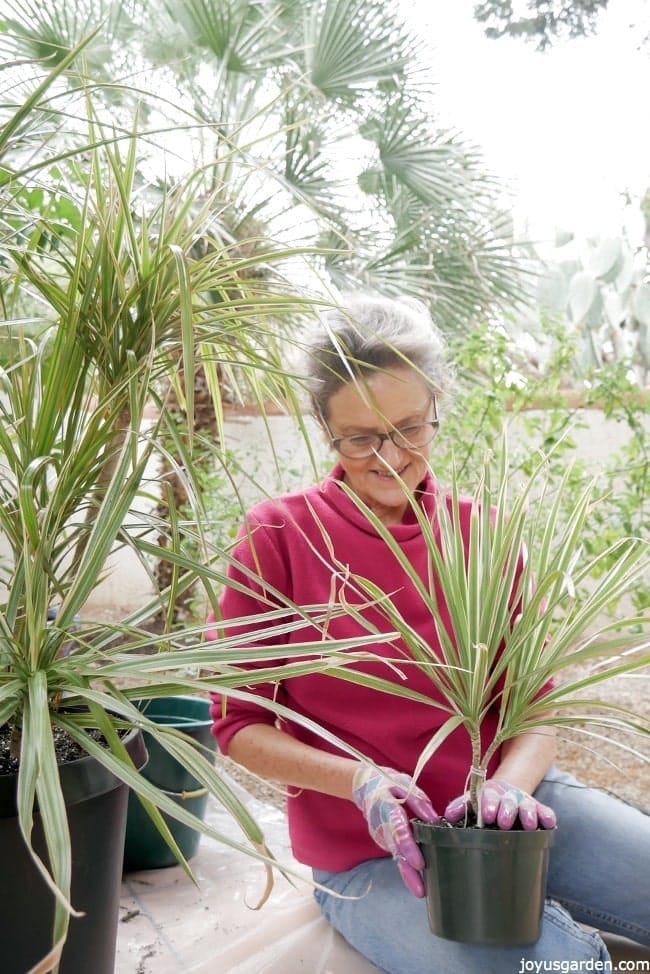 I potted up the other 2 cuttings for a friend & tied them together in the middle with jute twine to get them to stay upright.
When the root ball was almost covered, I added in 2 cuttings which I'd taken from this Dracaena last summer when I pruned it (which it was badly in need of!). I ended up staking 1 of the cuttings with a chopstick, which come in very handy for smaller cuttings.
When spring rolled around, I top dressed the plant with a 1/2′-1″ layer of a mixture of compost & worm compost in the. This plant is currently growing outside year round in the desert so this amount is fine. Indoors, go easy on the worm compost because it takes much longer for it to break down.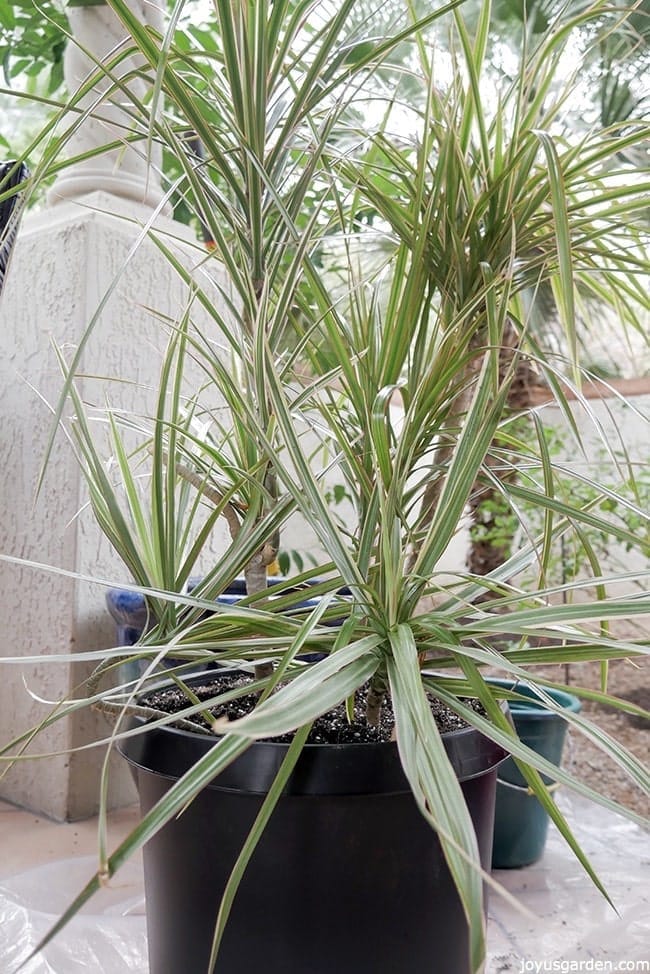 The Dracaena in late January right after the transplanting.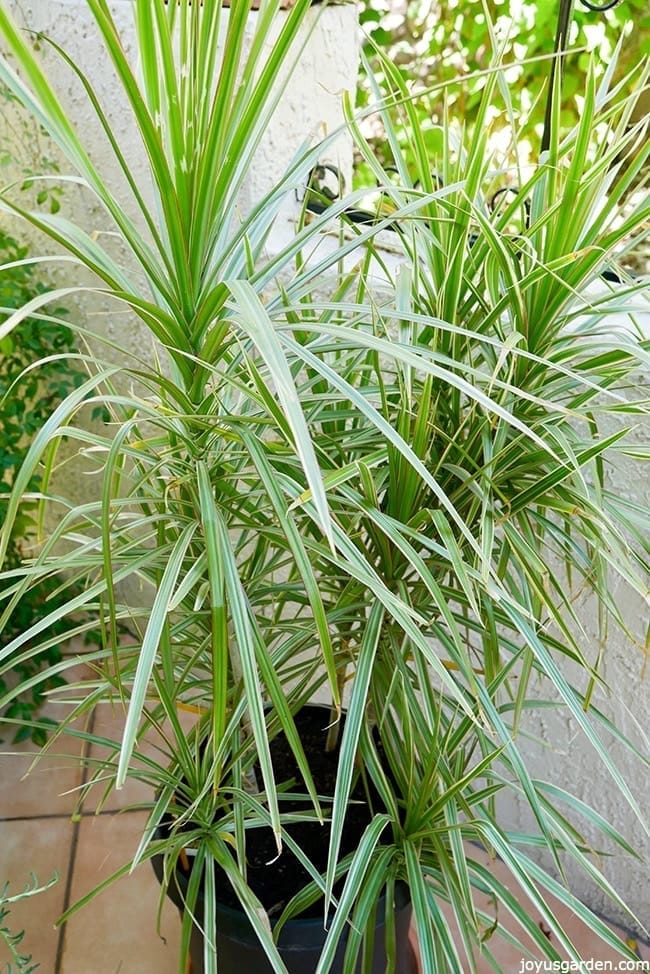 Here it is in late September, 8 months later. As you can see, it's filling out just fine.
I may bring this lovely Dracaena marginata indoors but time will tell on that. It's growing much more upright now since I pruned it last summer so at least it wouldn't take up half a room. And, it may be time to take a cutting or 2 again soon. More marginata goodness to give away!
Happy gardening,

Did you enjoy this guide? You may also enjoy these gardening tips!
This post may contain affiliate links. You can read our policies here. Your cost for the products will be no higher but Joy Us garden receives a small commission. Thank you for helping us spread the word & make the world a more beautiful place!
About the Author
Latest Posts
Nell, the founder of Joy Us garden, was born into a gardening family and grew up in Connecticut's countryside. After living in Boston, New York, San Francisco, & Santa Barbara, she now calls the Arizona desert home. She studied horticulture & garden design, working in the field all her life. Nell is a gardener, designer, blogger, Youtube creator, & author. She's been gardening for a very long time & wants to share what she's learned with you.