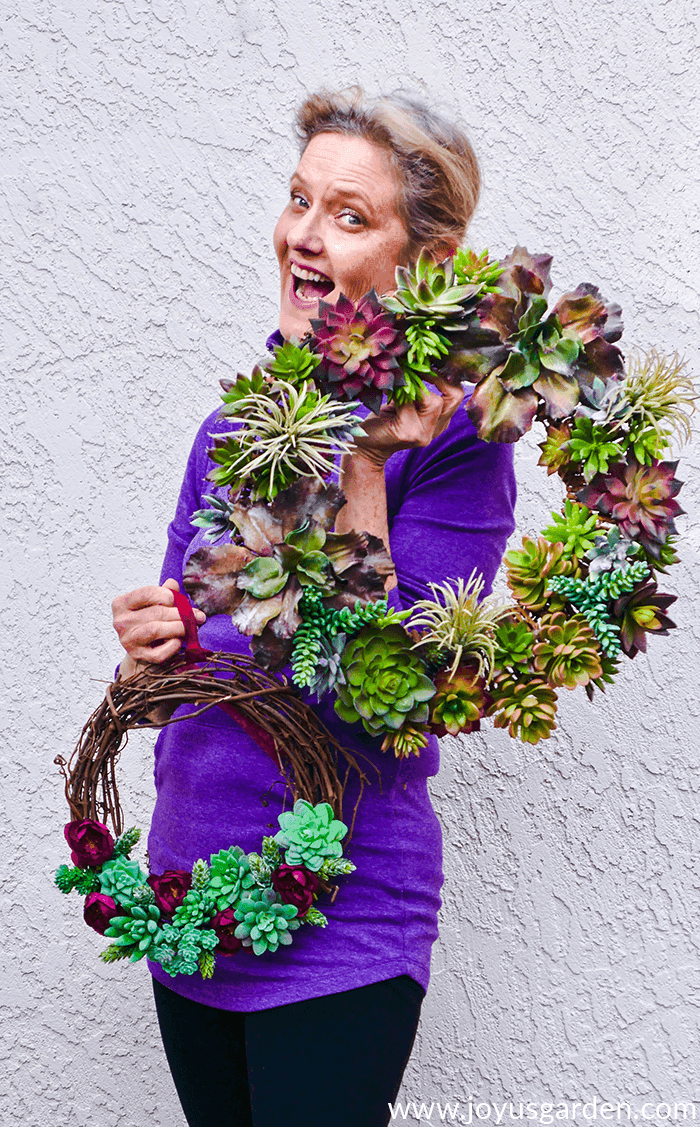 Follow my blog with Bloglovin!
I was looking at prints for my hallway and thought: why do another piece of art when what I really want is something with a bit more dimension like a succulent wreath? I've found that succulent wreaths are much easier to maintain and keep alive outdoors than indoors. Plus, no one I know wants a potential muddy mess on their wall. I decided a faux succulent wreath was the way to go and have 3 DIY options to show you.
I made a few succulent wreaths when I lived in Santa Barbara. If a living one is more your thing, I've got you covered. Check out this 5 step DIY here. There's a tutorial to go along with it showing you how to keep it alive and looking good.
The living succulent wreath I did the step by step tutorial on.
I now live in Tucson where a living succulent wreath isn't practical indoors or outdoors. I'd have to water it every day when the summer temps top 100F+! A faux succulent wreath is much more fitting because I won't have to water or replace any of the plants.
I decided to make 1 to hang in the hallway outside guess bath and thought I'd share the DIY with you. I've made many wreaths before (both living and artificial) but never a faux succulent one. So please join me as I make 3 of them.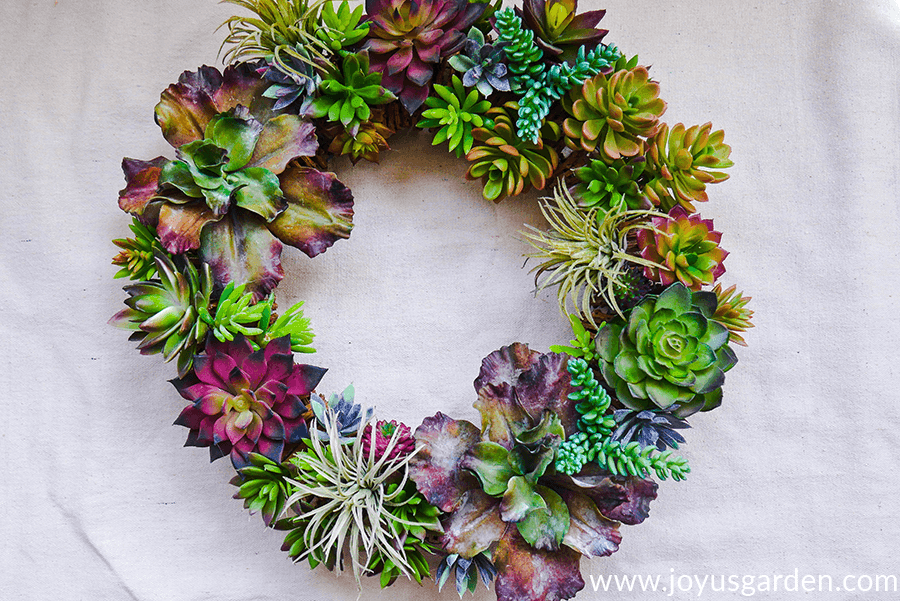 The wreath I made to hang in my hallway.
Materials used:
16″ Vine Wreath. This is the one I used.
16″ Twig Wreath. This is the one I used.
11″ Grapevine Wreath. You can find a similar one here.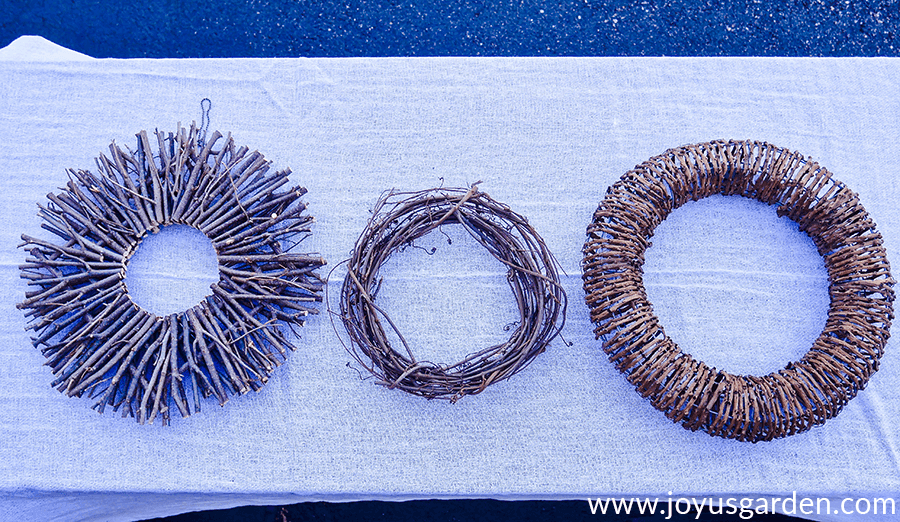 The twig & vine wreath forms.
Faux Succulents. I bought the succulents that I like the best at The Plant Stand in Phoenix. They sell online as well as in store. I ordered the Seeko 14 pak, Supla 14 pak & Supla 11 pak from amazon so I could tell you which one I liked the best. You'll find out in the video.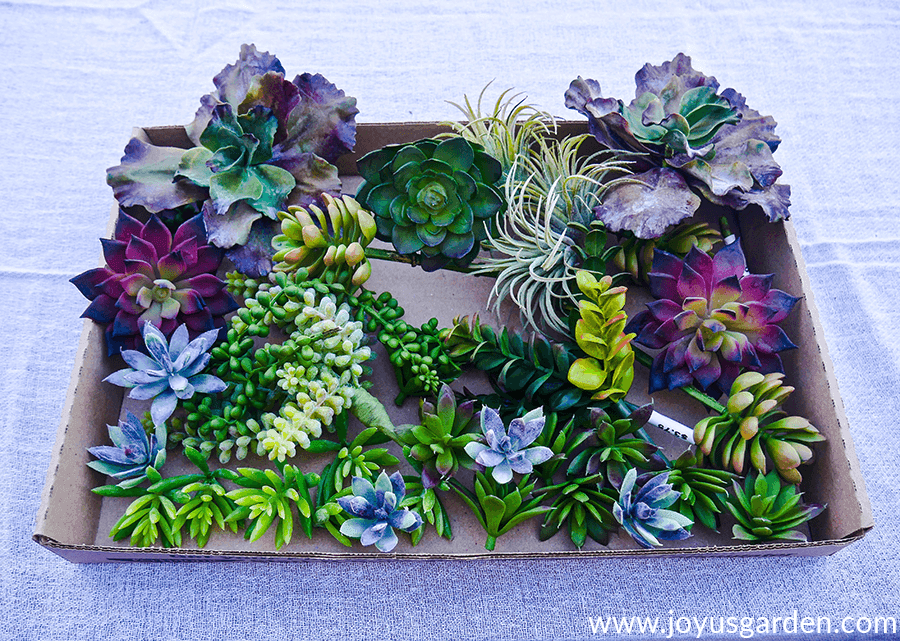 These are the succulents from The Plant Stand.
Hot Glue. I use an electric skillet & hot glue cubes. You may prefer to use a glue gun.
Hangers. I've used ribbon, jute twine, key chain & wire.
Wire Cutter. The succulents come with stems which you'll need to remove so you can glue them on the wreath form.
Steps to creating a faux succulent wreath which you'll also see in the video above:
1.) Choose your wreath form type, size & shape.
Vine wreaths run the gamut from small to large. You can find them in various shapes like round, square, heart, peace sign & oblong. Twig wreaths are wonderful along with driftwood wreaths if you prefer a more coastal feel. Dragon vine wreaths give a more "wild" look. Wire wreath frames, like the ones I use for living succulent wreaths, would work too if filled with moss which you could glue the succulents onto.
2.) Choose the faux succulents.
There are many online options for you to choose from including Amazon, Etsy, eBay, Pier 1 Imports & afloral.
3.) Attach a hanger if you're using 1.
I used sheer ribbon on 1 of my wreaths & key chain on another. The 1 going in my hall is going to hang directly on a nail.
4.) Lay out the succulents on the form.
I start with the largest succulents 1st because they'll be more of a focal point & work my way down in size. Do it in a manner which is pleasing to you eye. All the succulents had stems which I cut off to about 1/4″ with wire cutters.
5.) Glue the succulents to the wreath form.
I use enough glue to hold the succulents on but not an excessive amount. This makes it easier if I want to re-do the wreaths further on down the line.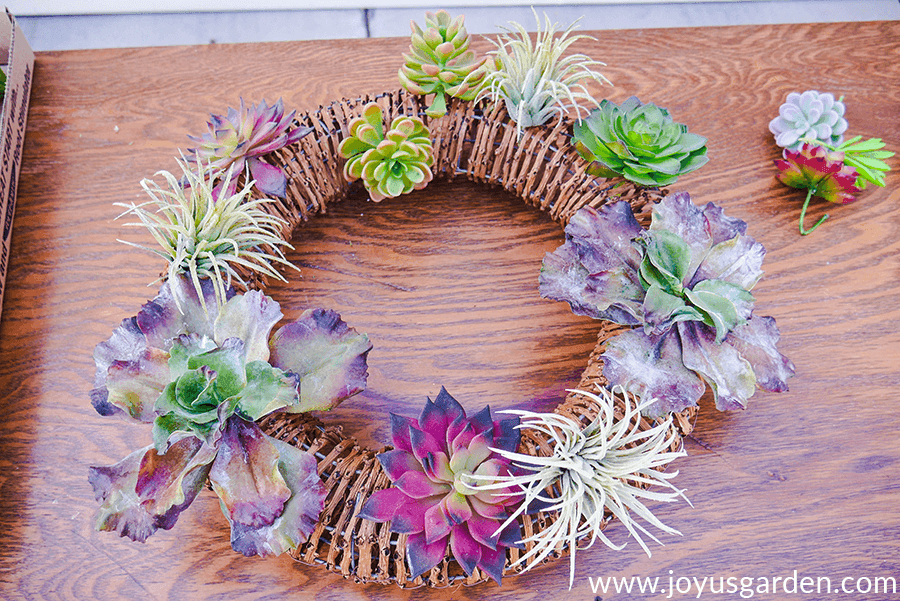 Laying the larger succulents out on the wreath.
Options – you can make your faux succulent wreath with:
All succulents.
Succulents & faux air plants. I did this option for the wreath that's going in my hall.
Succulents & flowers. I did this for the smallest wreath that I'm giving away.
Succulents & other foliages.
You can adorn your wreath with moss, jewels, bows or whatever catches your fancy.
The other 2 wreaths I made. This is an easy DIY which goes fast once you have the materials all gathered & ready.
I always think any craft project I'm working on is looking bad while I'm creating it. Sometimes I want to tear whatever apart and start all over again. These wreaths were no different.
When I looked at them the next day, I thought: I really like these wreaths. Does that happen to you? Don't give up on what you're working on – just step away for a while, come back and look at it again before tearing it apart.
There'll be virtually no maintenance involved with a faux succulent wreath except for maybe a bit of dusting every now and then. You can easily re-do or add to for a different look a few years later.
The final step in this whole process: hang and enjoy!
Happy creating,

WANT TO LEARN MORE ABOUT GROWING SUCCULENTS? YOU MIGHT ALSO ENJOY:
How To Grow A String Of Bananas Plant Outdoors
Take A Tour Of My Container Plants In The Desert
How to Plant & Water Succulents In Pots Without Drain Holes