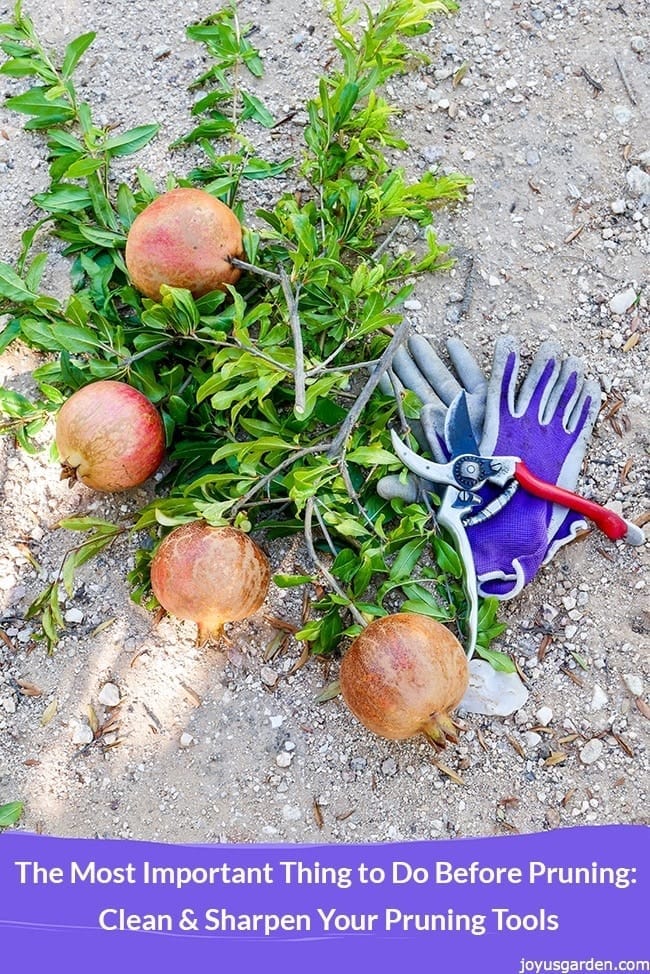 Am I the only one who really loves to prune? Fall and spring are the busiest times for pruning. Now that we're well into September, I wanted to share this with you. Before you start any kind of big pruning job, there's 1 very important thing to do. It's simple but sometimes we need reminding: make sure to clean and sharpen your pruning tools.
Now, the most important thing to know is how the plant(s) grows and how it'll respond so you can prune it successfully. Here are some things to research: when's the best time is to prune it, does it flower on new or old wood, how much do you need to prune it (does it need to be tip-pruned, thinned out, cut all the way back, cut halfway back, etc) and how it's going to grow back as a result of the pruning.
Cleaning & sharpening my pruners:
If your tools aren't sharp, you'll make jagged cuts and the pruning will be hard on the plant and difficult for you. Clean cuts are important for the health and aesthetics of the plant.
The 3 simple steps to clean & sharpen your pruning tools:
1. Clean.
Get all the gunk off your tools before sharpening them. Take a cloth & sprinkle cleansing powder on it & your tools. Be sure to thoroughly clean the mechanisms & handles as well as the cutting & anvil blades. If they're really dirty, then you may have to use steel wool or a scouring pad.
I didn't have a scouting pad so as you'll see in the video, I used a flathead screwdriver to scrape the gunk off.
Thoroughly rinse either with a clean cloth or in the sun) & dry before the next step.
2. Sharpen.
There are many sharpening tools on the market. I use this tool because it's small, light & super easy to use. Make 3 swipes with the sharpening side & then 3 swipes with the polishing side. Do both sides of the blade & that's all there is to it.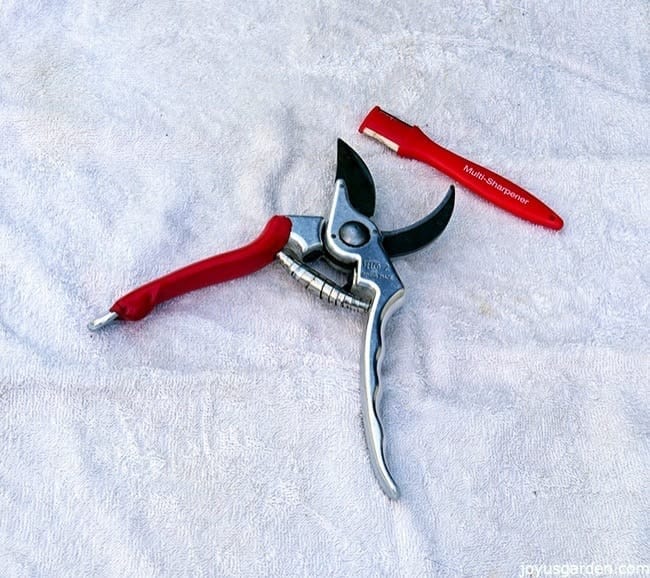 My very favorite pruners: the tried & true Felco #2's. As you can see, 1 of the handle covers is missing & the other is on the way out. I've used these A LOT.
3. Oil.
Wipe the blades & gear mechanisms with a generous amount of oil to lubricate, prevent rust & do a little extra cleaning. I use coconut oil these days but have used olive oil & WD-40 in the past. I let it sit in for at least 10 -30 minutes & then wipe the excess off.
I sharpen my pruning tools every month (I live in Tucson where gardening is a year round pleasure) except after pruning something like Star Jasmine or euphorbias which emit a sticky sap. If you're pruning roses or taking cuttings, then you really want to keep those tools nice and clean so you don't spread any disease.
Now, get to pruning!
Of course, you'll need good tools that are easy for you to use but also ones you're comfortable with. The 3 pruning tools I use on a regular basis are my hand pruners, floral snippers, and loppers.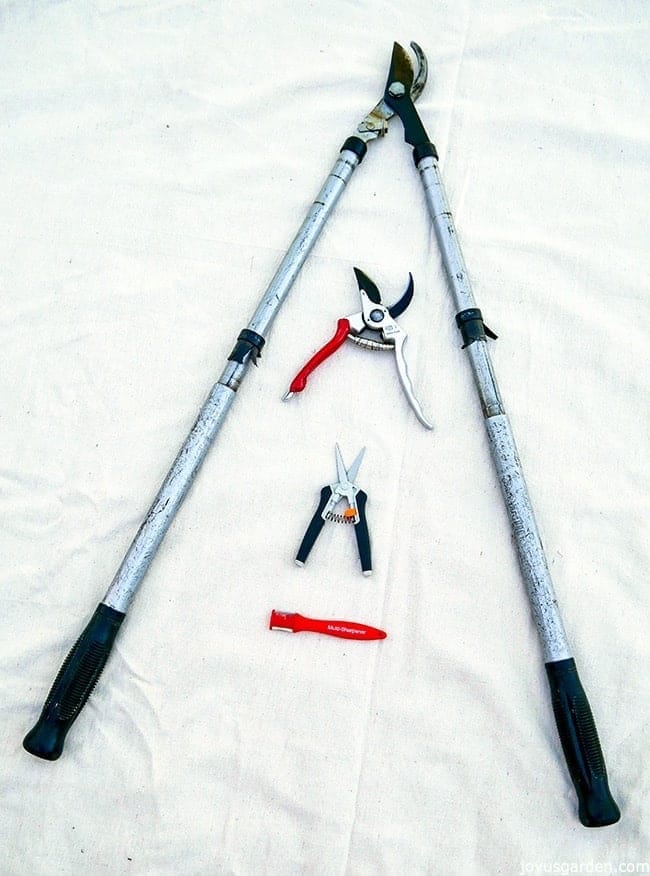 My pruning tools that I use on a regular basis. They're always close at hand!
Hand Pruner
For general pruning.
This is the one I use most often; almost every day in fact. I've used Felco # 2 bypass pruners for well over 20 years now. This is my original pair & I've never replaced a part on it, even in my days as a professional gardener. I can HIGHLY recommend them, especially if you plan on doing a good amount of pruning. They get 877 – 5 star reviews by the way!

Hand pruners you might also consider (price ascending)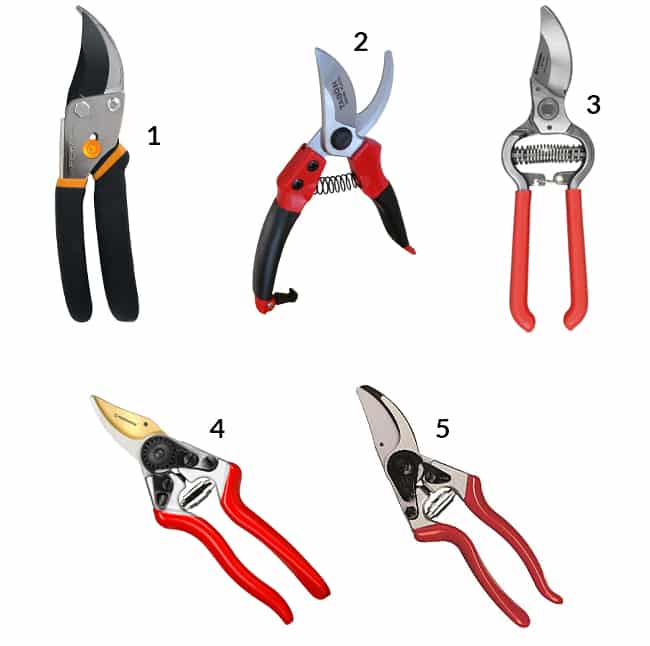 Fiskars Traditional Bypass Pruning Shears //Tabor Tools S821,// Corona ClassicCUT Forged Bypass Pruner  // PrecisionPRO Titanium Pruning Shears //  Felco F-9 Classic Pruner for Left Handers
Floral Snips
For deadheading & picking fine-stemmed plants like herbs.
I've also had my Fiskar Snippers for years now. They have long, narrow blades which makes them perfect for cutting those finer stems. My model isn't made anymore but they've been replaced with the ones below. I highly recommend these too.

Floral Snips you might also consider (price ascending)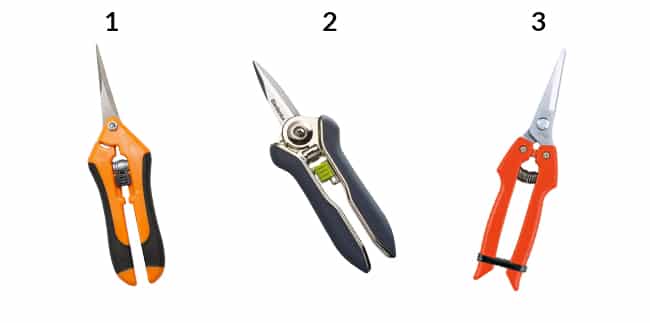 VIVOSUN 6.5″ //  Ultra Snip 6.7 Inch Pruning Shear // ARS Needle Nose Pruner 
Loppers
For pruning branches over 1/2″.
For branches which are too big in diameter for my Felcos, I use my loppers. They don't get nearly as much regular use as the other 2 tools do, but they make an appearance every 3 weeks or so. I can't find my brand any more (I've had them that long!) but I like them because the handles extend. Here are a few choices for you.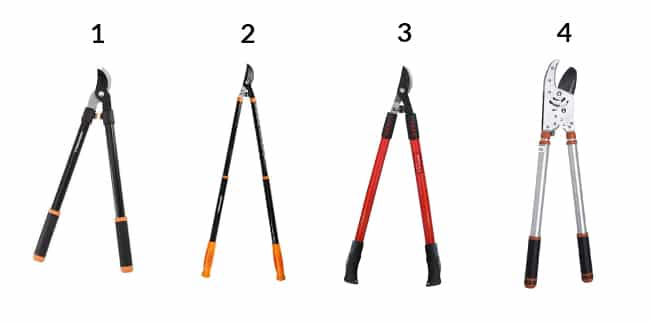 Fiskars 28 Inch Bypass Lopper // Fiskars Extendable Handle Lopper with Single Pivot  //  Tabor Tools GL16 Bypass Lopper //  Telescoping Ratchet Loppers
I also have these:
This sharpening tool is the da bomb, especially for us ladies. So easy to use!  Zenport Z095 Tungsten Carbide Sharpener for Pruners and Knives  // Florian Ratchet Pruner  //  Woman's Pro Cut & Hold Pruner
If I can help a plant look better and enhance its health in any way, it makes me happy.  I think of pruning as a form of art and that's why I want my pruners to be in top top shape. I feel like I'm being a bit naughty, with a sharp blade in hand, but I'm really doing a plant good.
Oh, how your plants will love you!
Happy gardening … happy pruning,

You might also enjoy:

This post may contain affiliate links. You can read our policies here. Your cost for the products will be no higher but Joy Us garden receives a small commission. Thank you for helping us spread the word & make the world a more beautiful place!