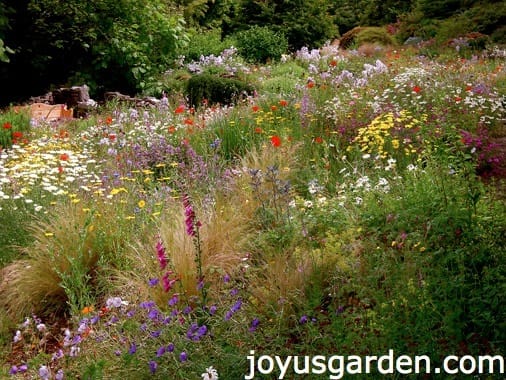 After 20 years of professionally designing and maintaining gardens, I have some things to share with you about planning a garden. Believe me, I've made my share of mistakes and have learned so much from trial and error. Isn't that the best way after all? Gardens are our outdoor living rooms so like any addition or remodel you're planning, it's muy bueno to put some thought into it. Even if you hire someone to do it for you, it's good to think about these things before the initial meeting.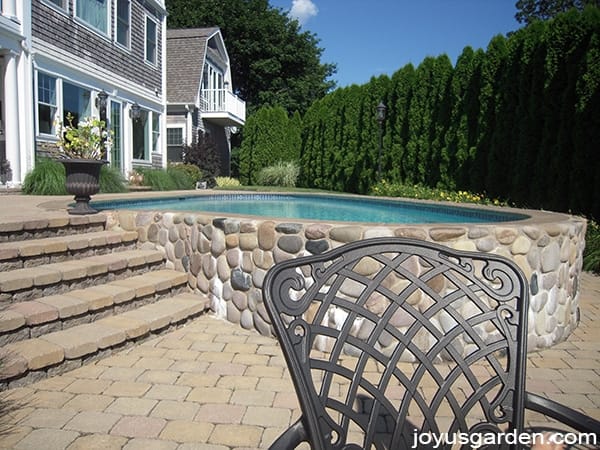 Pools are wonderful but they eat up a lot of the budget, require maintenance & take up a lot of real estate in a back yard.
Since we filmed the video about a month ago, 7 things have actually turned into 8 things. I didn't originally include the 8th because I thought it was so obvious but in hindsight, added a short clip in just a few days ago. This mystery #8 is: How much do you want to spend? Like anything project you have going on, this determines the outcome. What's that they say about caviar taste on a beans and frank budget?!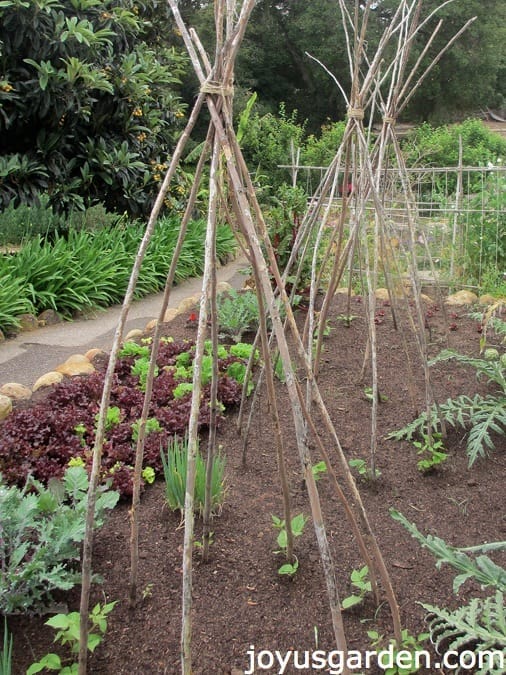 Vegetable gardens can have a lot of character. I love the rustic towers for beans to twine up. How great this will look when everything grows in!
Ponder a bit on these points when planning your garden:
1) How do you want to use your garden? It can be a zen oasis, a play area for your kids & pets, an entertainment area with a kitchen & tv, a source of food, a perennial border to look at & cut flowers from, a swimming spot … the list goes on.
2) The exposure. Sun & shade play a big part in plant selection as well as the placement of structures, patios, vegetable gardens, etc. Make note of the exposure for 2-3 seasons if you can. Growing up, our hammock was under a big Sugar Maple. Who wants to take a nap in the blazing sun? Not I.
3) Soil type. Especially if you're doing a lot of planting, the soil is the foundation of your garden. It's best to start with a soil test, which can be done inexpensively at your local extension office or on line. It's well worth the minimal charge as there may be something funky going on with your dirt.
4) Break it down. If you have a large area to do, break it down into sections so it won't be so overwhelming. It doesn't all have to be done at once. I did my front garden 1st, the side garden the next year & the back garden 3 years later. They are 3 separate areas & truth be told, my wallet didn't allow for it all to be done at the same time.
Filmed in my garden:
5) Address any possible problems, like drainage, topography, grading, deer, drought etc before you start in. And, do any construction & hardscaping before the plants go in.
6) Maintenance. Are you going to do it or will you hire someone? This can determine the amount of hardscaping & the plant selection. I have a lot of succulents & bromeliads in my garden because they don't need the deadheading & pruning that flowering perennials do. A drip system is a great investment because it saves times & water.
7) Choose the right plants. This by the way, is my favorite part of doing a garden. I'm crazy about garden art & containers too but plants are my passion. Pick sun plants for sunny areas & shade plants for the shade. Don't just buy plants because they catch your fancy in the nursery or big box store. And, pay attention to how big they will ultimately get. For instance, don't plant a vine right next to a tree because it's going to climb up it like crazy. Some shrubs & trees have an invasive root system so keep them away from foundations & walkways. If your budget is low, plant smaller plants to save money. Because trees are typically slow glowing, I never planted them in any in less than a 15 gallon pot.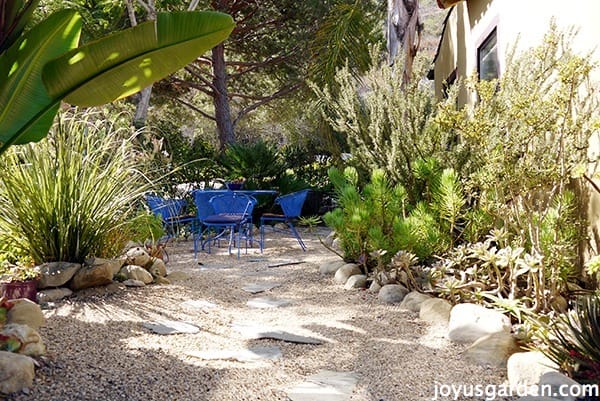 My front yard has a seating area as well as a small, raised patio. I wanted a low maintenance garden that was also drought tolerant.
I love my garden as well as the ones I did for clients and had fun (as well as some challenges!) planning all of them. Hopefully you'll have a good time with yours too. Is there anything I missed?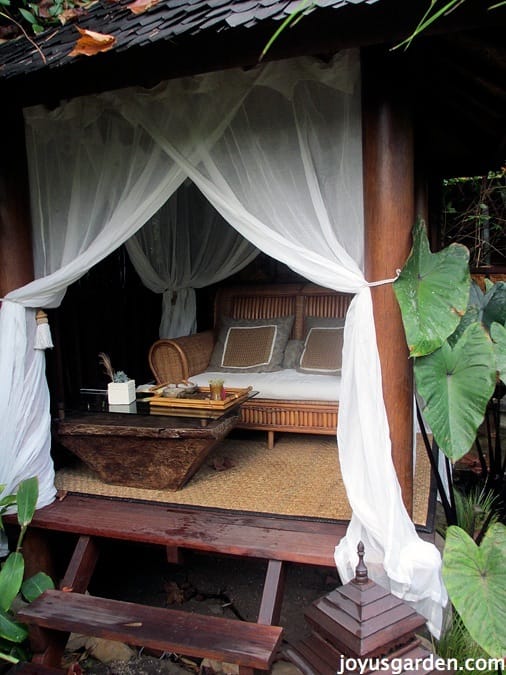 Do you need a place to meditate?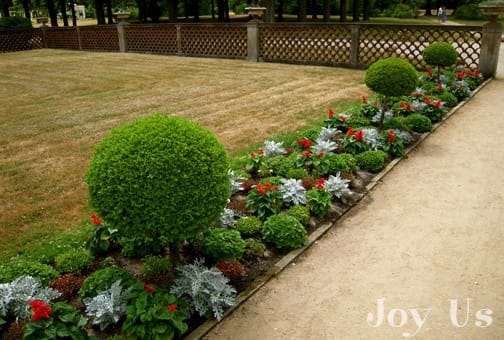 A formal planting bed along a walkway guides to to the front door.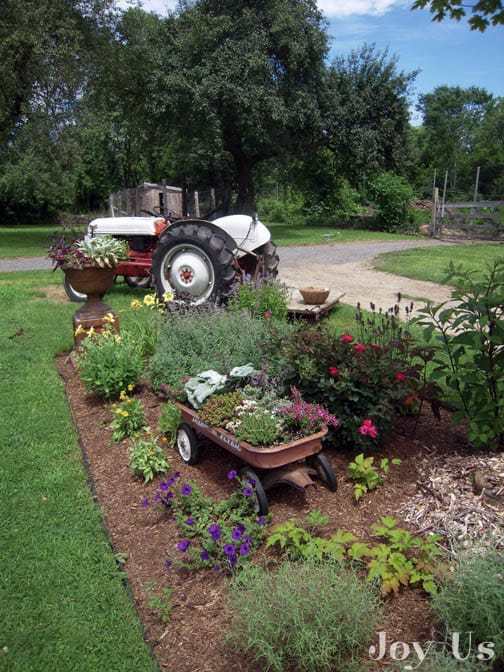 Yes, an old red wagon can be garden art. Now, what's up with the tractor?!
This post may contain affiliate links. You can read our policies here. Your cost for the products will be no higher but Joy Us garden receives a small commission. Thank you for helping us spread the word & make the world a more beautiful place!
About the Author
Latest Posts
Nell, the founder of Joy Us garden, was born into a gardening family and grew up in Connecticut's countryside. After living in Boston, New York, San Francisco, & Santa Barbara, she now calls the Arizona desert home. She studied horticulture & garden design, working in the field all her life. Nell is a gardener, designer, blogger, Youtube creator, & author. She's been gardening for a very long time & wants to share what she's learned with you.