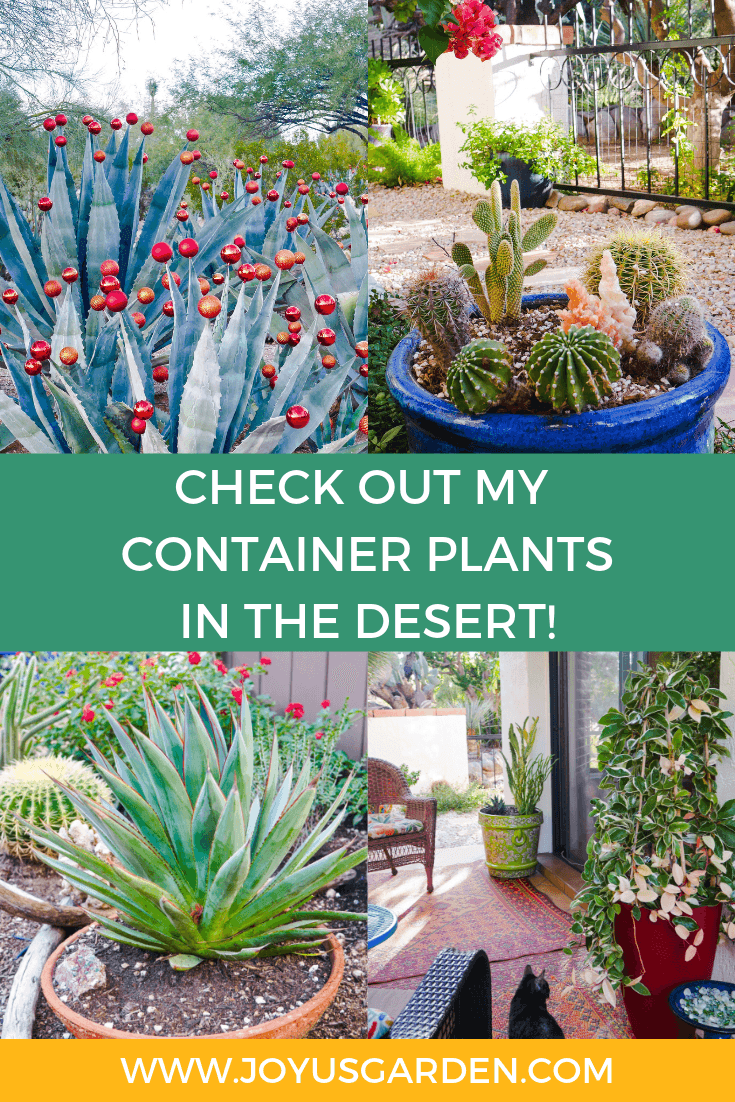 2018 is winding down and I always like to do an easy post to wrap up the year. Let's put a bow on it, sit back and toast to the new year. I've lived in Arizona's Sonoran Desert for just over 2 years now and am still figuring out what I want to do with my garden. If you're a true gardener, isn't that always the way?! I took you on a tour of my container plants last year and am doing it again this year.
New pots have come on the scene, smaller ones have gone by the wayside and plants have grown and been consolidated. Summer is hot as a smokin' chili here in Tucson and can be tough on container plants. Water is at a premium so I'm embracing (not literally!) cacti and welcoming more of them into my garden. I'm discovering new ones all the time and am having a good time learning about the diversity of flora in these parts.
Just for fun – this is how we decorate agaves here in the desert!?
We're taking a few weeks off from blogging and making videos to enjoy the holidays and rev up for 2019. We'll be back in early January with let's of content and a new project or 2. Also, a new website is in the works so stay tuned for that.
Come on a tour & check out
my container plants in the desert:
You'll see all my container plants in the video but am only posting a handful of pictures here. I've done posts and videos on most of these plants and will list links to all the ones you see in the above video at the end in case you're interested. Let the tour begin!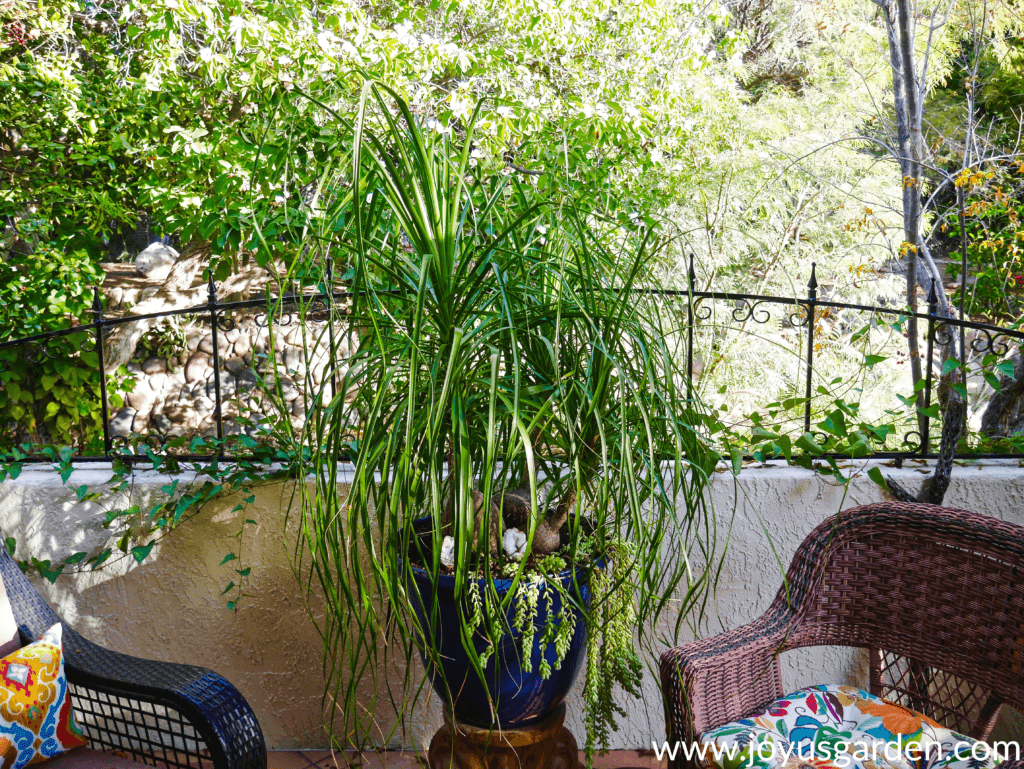 I bought my 3-headed Ponytail Palm in a 6″ pot at the Santa Barbara Farmers Market. It now grows on my patio where I can see it from the living room & dining room. My, has it grown!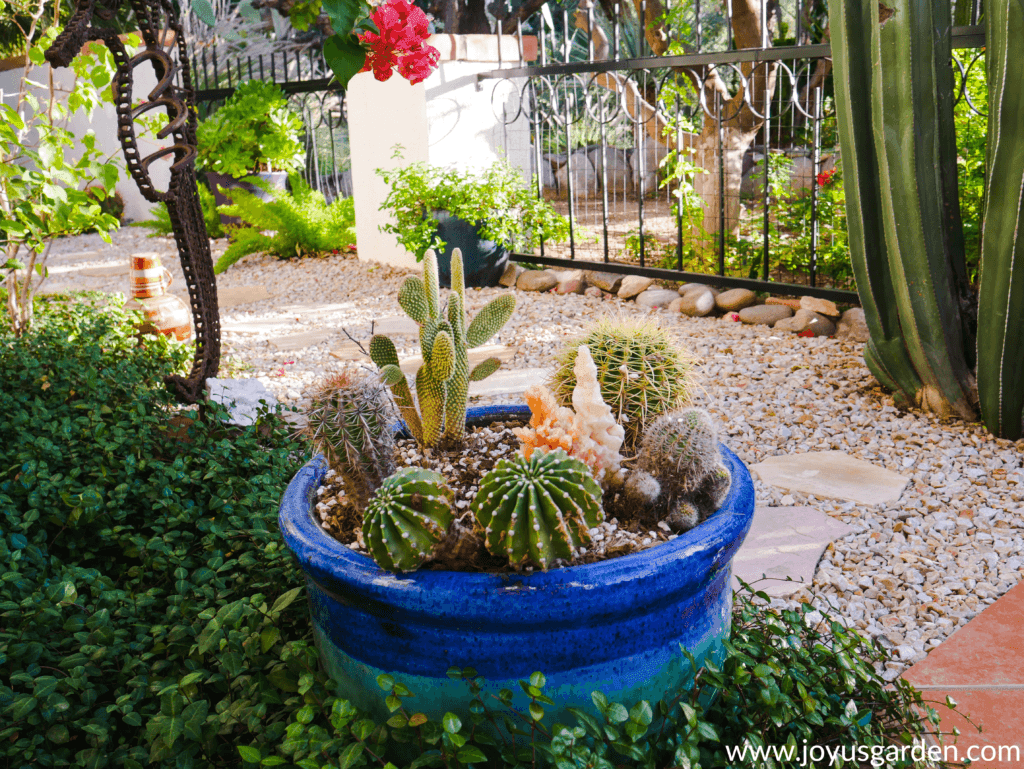 I re-did this cacti planting in summer. The larger Gold Barrel cactus is now planted in the ground. The weight of it sunk the whole planting down. I'm adding a couple of more cacti in the middle within the next couple of weeks. That's the Mojto Mint in the blue pot in the background.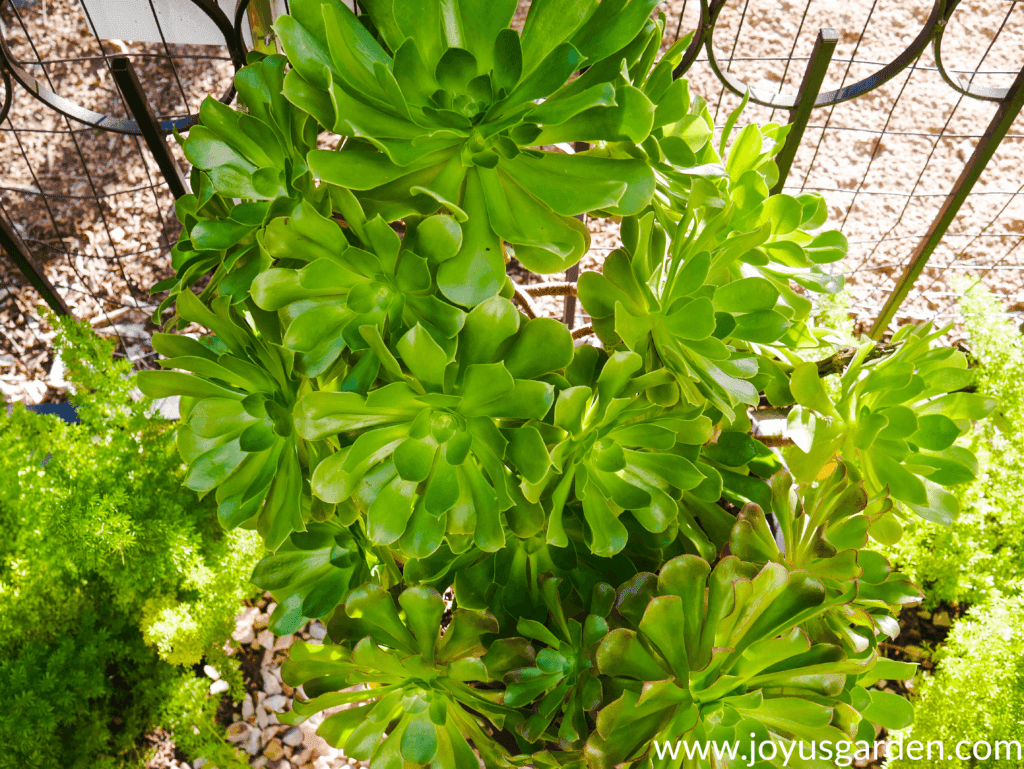 My Aeoniums are doing surprising well here in the desert. I transplanted them at the beginning of summer & they're much happier (like all of my fleshy succulents) when the temps cool.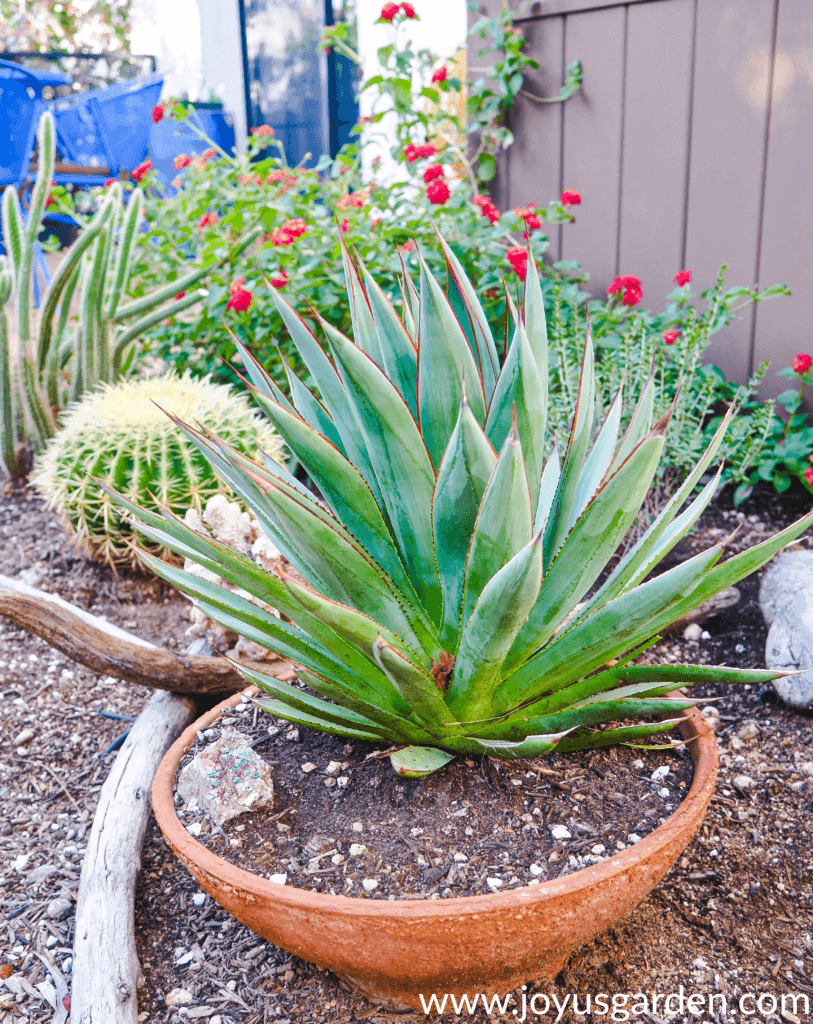 I bought this Agave "Blue Glow" here in Tucson. It's a relatively small agave & has that striking red edging. When the afternoon sun hits it, the effect is beautiful. Being planted in a low bowl adds a little interest to my entry garden.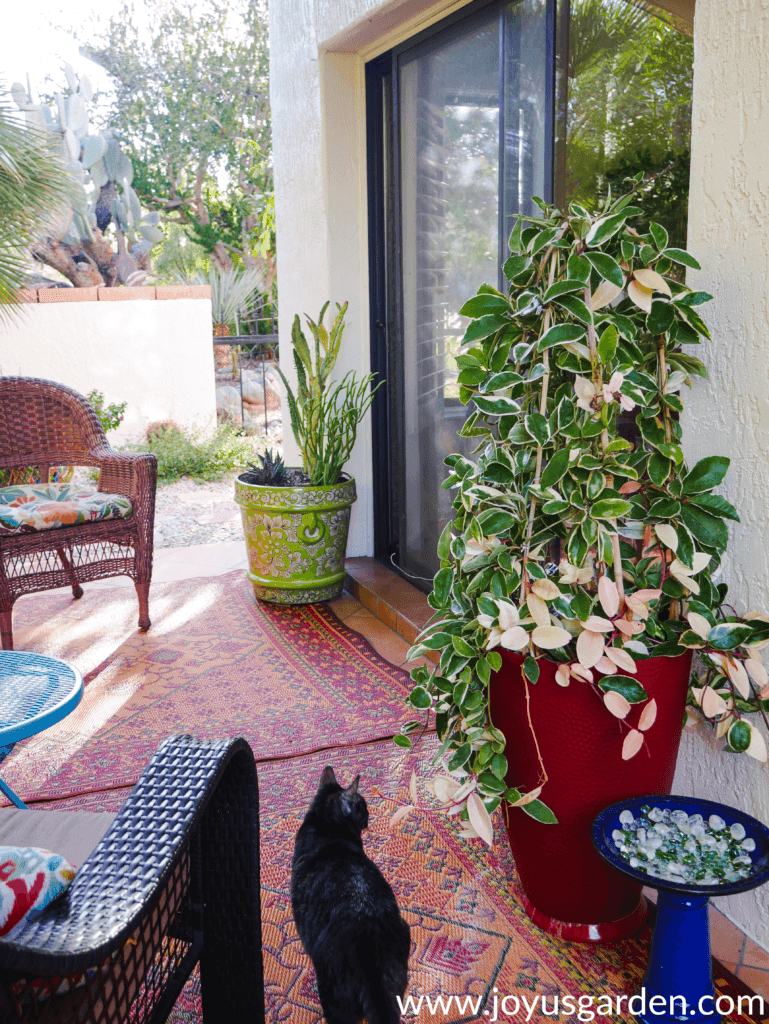 My Hoya topiary is an oldie but goodie. Hoya carnosas are vigorous growers & this 1 (the variegated form) is no exception & seems to love its new desert home. The candy apple green Talavera pot in the background is new as are the succulents. The grey kitty is Riley & is a fixture in many of my videos. I rescued him in Santa Barbara along with Oscar, a handsome tuxedo fella, who's going to be 19 next month.?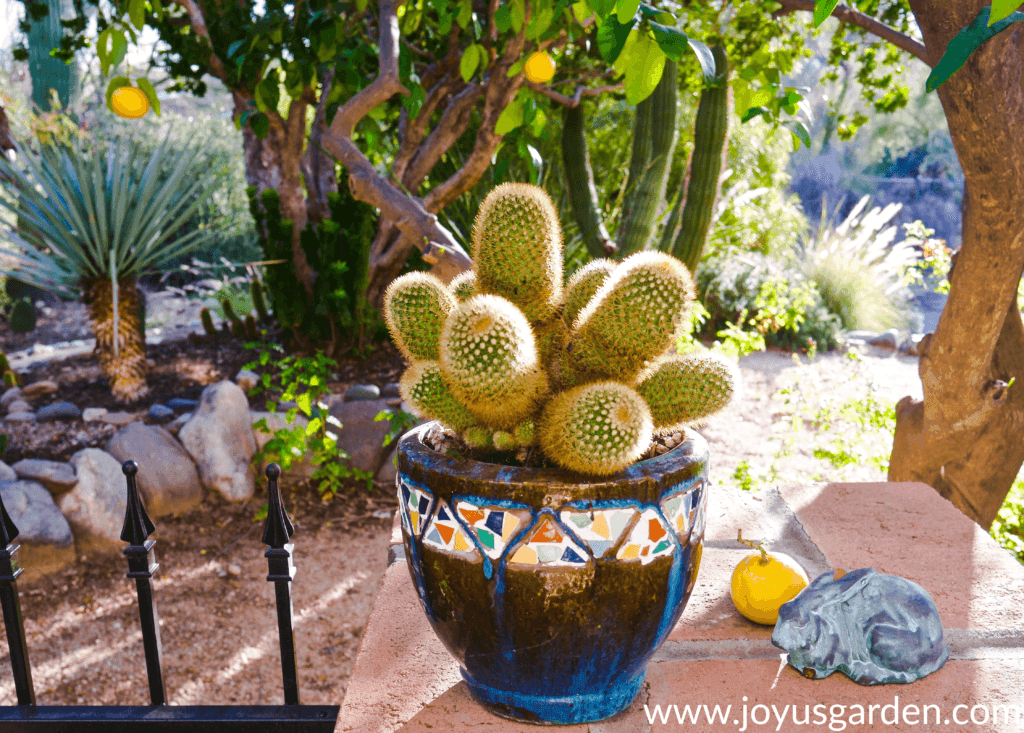 I love this cactus which the previous owner left behind. It's been transplanted into this pot which I bought in Arroyo Grande, CA & it now happily grows under my pink grapefruit tree.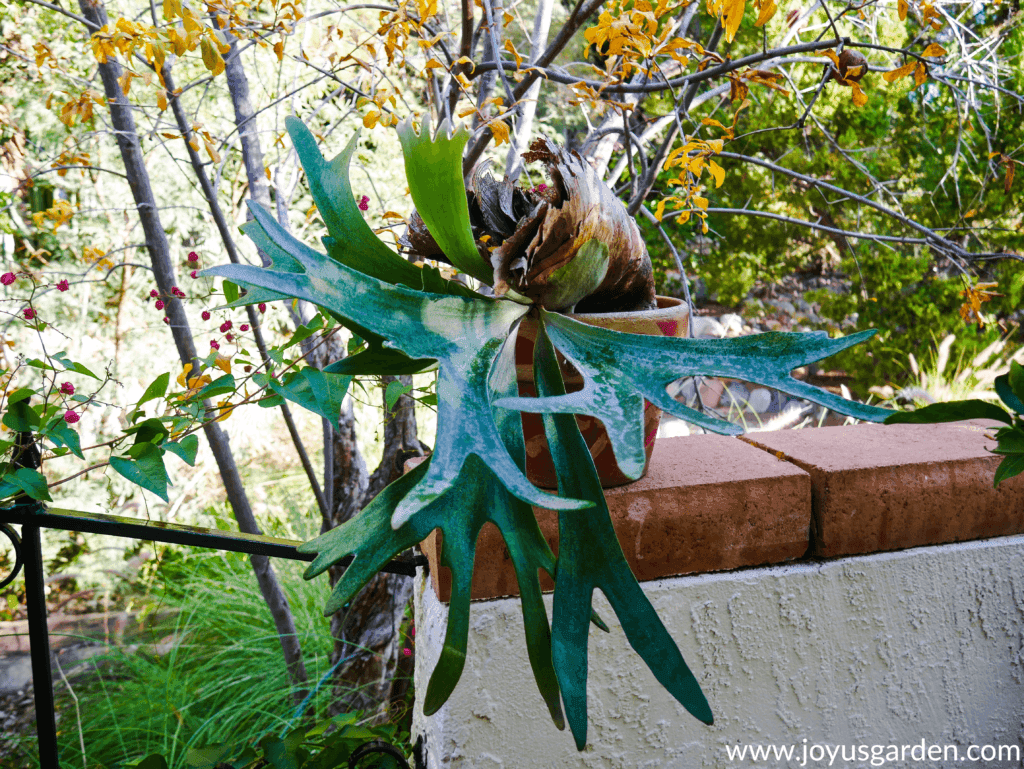 My wonderful & wacky Staghorn Fern has had quite a ride since moving to Tucson. I bought it at the Santa Barbara Farmers Market & it was very content living near the Pacific Ocean. I've figured out what it likes best & will be doing a post on growing a Staghorn Fern in the desert next year.?
Here are the links – have fun browsing!
Not 1 of my container plants but I filmed the intro to the video in front of my vibrant "Barbara Karst".
I've had this low Talavera dish for ages & have replanted it numerous times. Check out my weapon for planting small cacti here.
This is a small agave that grows into a somewhat twisted form. It doesn't flower so it doesn't die. And, it doesn't have any spines or sharp tips!
Mine is looking a little sad growing outdoors so I'm moving it indoors come early March.
Many succulents get leggy over time. I cut this planting completely back a few months ago, took cuttings, healed them off, spruced up the pot, added new mix & replanted. Come next summer it'll be a full planting once again.
I just redid this planting too. There was a larger Barrel Cactus in here which had grown so much it was sinking the whole planting down. It's now planted in the garden & has plenty of room to grow.
This is the official mint used for making Mojitos. It has a mild citrusy flavor & I love it for tea & in salads. It's 1 plant I use almost every day.
Aeoniums aren't supposed to do well here in the desert so I hesitated to bring some cuttings from my Santa Barbara garden. Because I had so many of them growing, I thought why not. So far so good but they look a bit frazzled when the heat sets in. Gardening is all about experimenting & so far this 1 is going well!
As you'll see in the video, mine is loaded with flower buds once again. It does so much better than the String Of Pearls planted in the same pot. If you struggle with String Of Pearls, then give a String Of Bananas a try.
People love this plant. Mine did so much better in Santa Barbara (duh!) but it survives here nonetheless & does flower in the winter.
My baby! It's grown so much & loves its newish desert home. I'm afraid it'll need a bigger pot in 4 to 5 years & boy will that be fun to transplant!
This is another fleshy succulent which rebounds in the cooler months. If you've never transplanted 1, be careful – the leaves fall off like crazy. Here's how I work with hanging succulents without most of the leaves falling off.
I've planted & transplanted so many succulents over the years. The mixed planting in the candy apple green Talavera pot is new. I thought it would be helpful to share the best times to do it, the mix I use plus many other factors to consider.
Any goodie I bought at the Santa Barbara Farmers Market. This 1 grows like crazy & needs a pruning once or twice a year because the trails hit the ground.
I just cut this plant back a couple of months ago, repotted it & moved it into a corner outside the guest room. These are 2 cuttings I brought from my previous garden & they had grown to over 12′ tall & were about to hit the patio roof. They blew out of the pot in a windstorm last December & will be a lot more stable in the corner.
Who doesn't need this plant?! I've grown Aloe vera both indoors & out for over 30 years now. I've done many posts on this plant so be sure to check them out.
Miranda, my assistant, & I wish you a very Happy Holiday. Thank for reading this blog & be sure to come back in 2019 for lots of new & helpful content. We'll be waiting for you!
Happy gardening (whether it be indoors or out!),

YOU MAY ALSO ENJOY:
Essential Gardening Tools You Can Buy On Amazon
Roses We Love For Container Gardening
Succulent and Cactus Soil Mix For Pots
What To Know About Planting Aloe Vera In Containers
What You Need To Know About Transplanting Succulents In Pots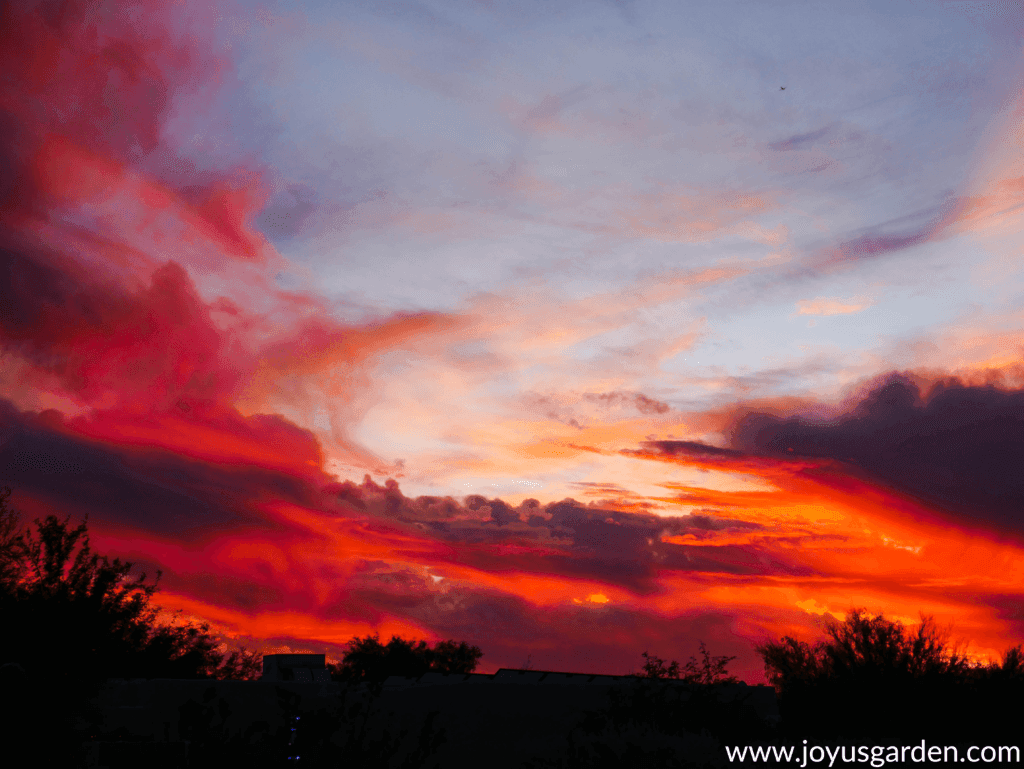 The sunsets are spectacular here in Tucson. I took this picture a couple of nights ago when this reddish sunset caused a beautiful glow & wanted to share it. Maybe I'll do a post just with sunset pictures. What do you think??

This post may contain affiliate links. You can read our policies here. Your cost for the products will be no higher but Joy Us garden receives a small commission. Thank you for helping us spread the word & make the world a more beautiful place!
About the Author
Latest Posts
Nell, the founder of Joy Us garden, was born into a gardening family and grew up in Connecticut's countryside. After living in Boston, New York, San Francisco, & Santa Barbara, she now calls the Arizona desert home. She studied horticulture & garden design, working in the field all her life. Nell is a gardener, designer, blogger, Youtube creator, & author. She's been gardening for a very long time & wants to share what she's learned with you.