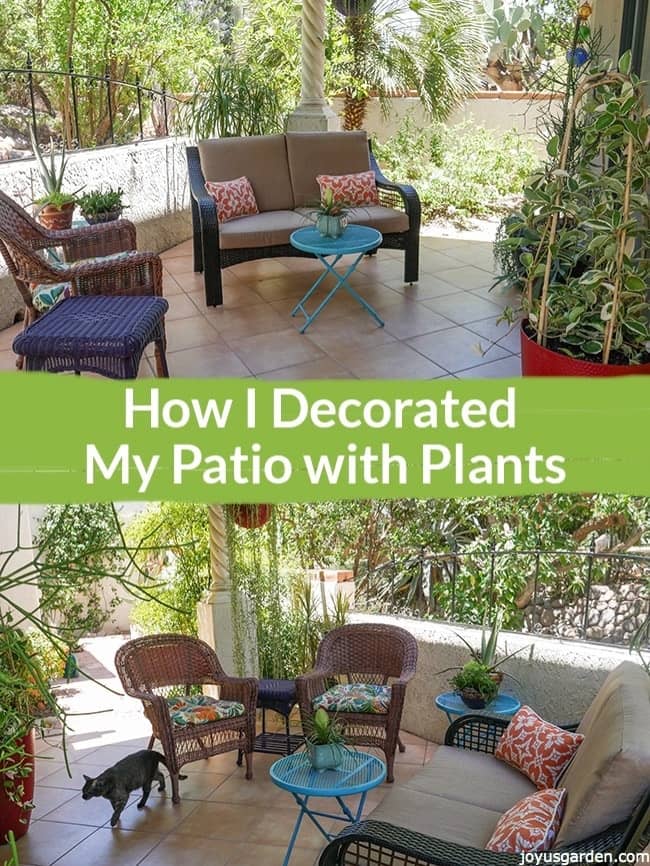 I love nature and I love being outside. Don't get me wrong, living in New York City was a blast but it was those trips to Central Park which made my soul sing. My new home in the Arizona desert has 2 patios; 1 off the kitchen for dining and 1 off the living room for lounging.  Let's take a tour of the latter so I can show you how I decorated my patio with plants.

I have to trim my Grey Fishhooks Senecio off the ground every 3 weeks or so because it grows so fast (like all these other plants) here in the desert heat. The Dracaena marginata (which I need to get a decorative pot for) was left behind by the previous owner. 
In keeping with my passion for anything green and growing, I have more plants than I do furniture. That's a garden hound for you!  My Santa Barbara garden had a lot of container plants and the number of them in this garden seems to be on the rise. All are low water usage, which is very important in this dry climate. I keep a pail in my kitchen sink which catches the gray water and this is how I water most of my container plants.
A tour: how I decorated my patio with plants:
I greatly enjoy sitting on my patio with a drink, eating breakfast or working on my laptop. My kitties spend quite a bit of time lounging out here while watching the multitude of birds, butterflies and lizards parade by. It's covered with a north exposure and at first thought, it was going to be too dark. That's not the case at all because our Tucson sun is strong and bright. I love the fact that I can sit out here without 16 layers of sunscreen and a wide-brimmed hat.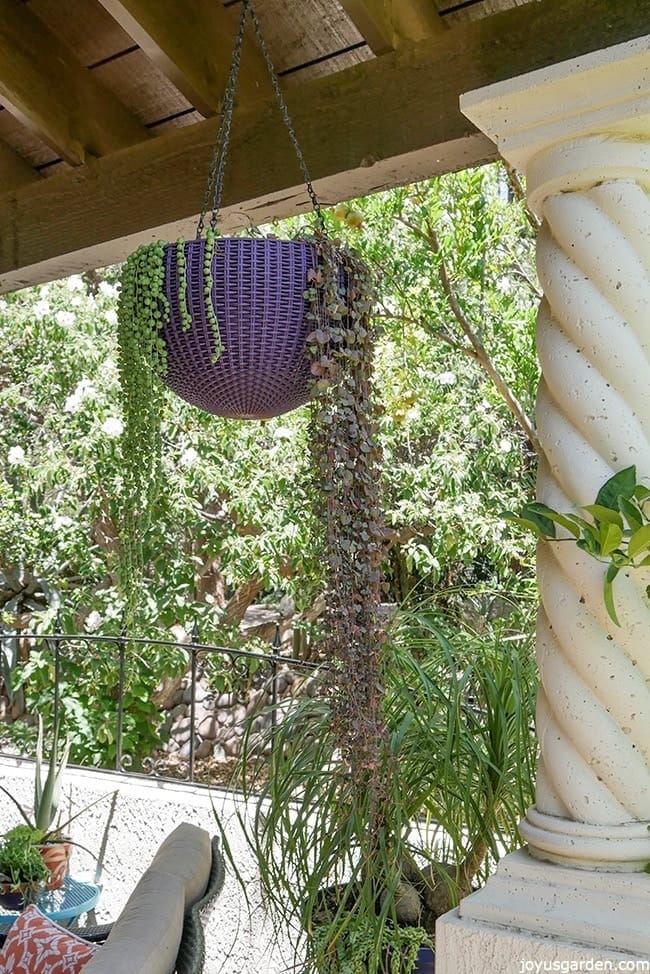 The Pencil Cactus & Staghorn Fern sit opposite the Hoya. Most of these plants were brought from my Santa Barbara garden, a few as cuttings, & all put into new pots.
The plants make this space and I've had fun picking out and painting pots for this space. I've arranged them how I find pleasing (isn't that design after all?!) and in spots where they'll do the best. The sun does stream through on the edges in the early morning and late afternoon so I had to switch the Hoya and the Pencil Cactus because the Hoya was starting to burn. It's much happier where it is now.

My Hoya topiary sits right by the sliding glass door. To the right of it is a low bird bath filled with colored glass chips & a couple of geodes which I got at the Tucson Gem & Mineral show. A little patio bling!
There are a couple of spots on the outer edges where I would like to put a couple more plants. They get more sun so I'm going to be on the hunt for cacti which don't have too many spines. Some of them are so interesting and the maintenance is a breeze. Oh no, that means I'll have to buy more containers too – yipee!

On the other side of my patio is beautiful rock work done by a previous owner with a lot of vegetation. There is a multitude of birds, butterflies, lizards & much larger wildlife which also greatly enjoy this spot.
Wondering where I got some of these items?  The love seat came from Wayfair, the seating set from Joss & Main, the hanging pots from amazon, & the tall planter the Hoya is in from Lowes, and the rest from Home Depot and Home Goods.
Are you as crazy over plants on your patio as I am?
Happy gardening & thanks for stopping by,

Here's my sweet Riley cat (a rescue) eying a quail on the other side. He stays in this walled garden but loves to watch the action on the outside.
This is my senior citizen Oscar, also a rescue, who's really good at napping. He's 17 or 18 & not as fascinated by the wildlife but really does enjoy lounging out here.
YOU MAY ALSO ENJOY:
This post may contain affiliate links. You can read our policies here. Your cost for the products will be no higher but Joy Us garden receives a small commission. Thank you for helping us spread the word & make the world a more beautiful place!