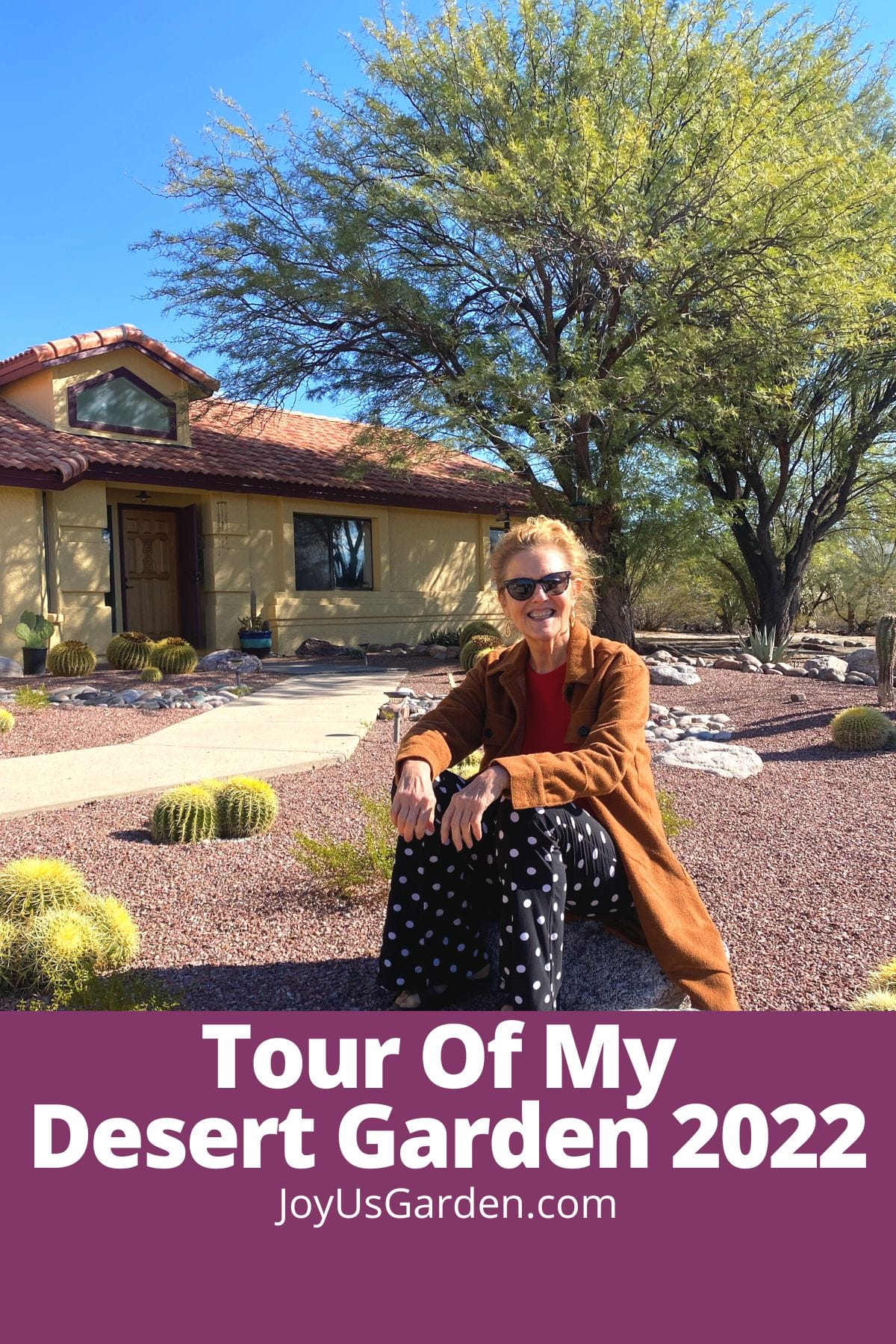 The year is winding down which means it's time for another garden tour. I like to show you what's been happening and also what my plans are for the following year. So, please allow me to take you on a tour of my desert garden!
I'm still busy remodeling the interior (kitchen done, guest bathroom in progress) but in 2023, I really want to put some focus on my back garden. It has beautiful mountain views, and it's where I spend a lot of my time.
Front Garden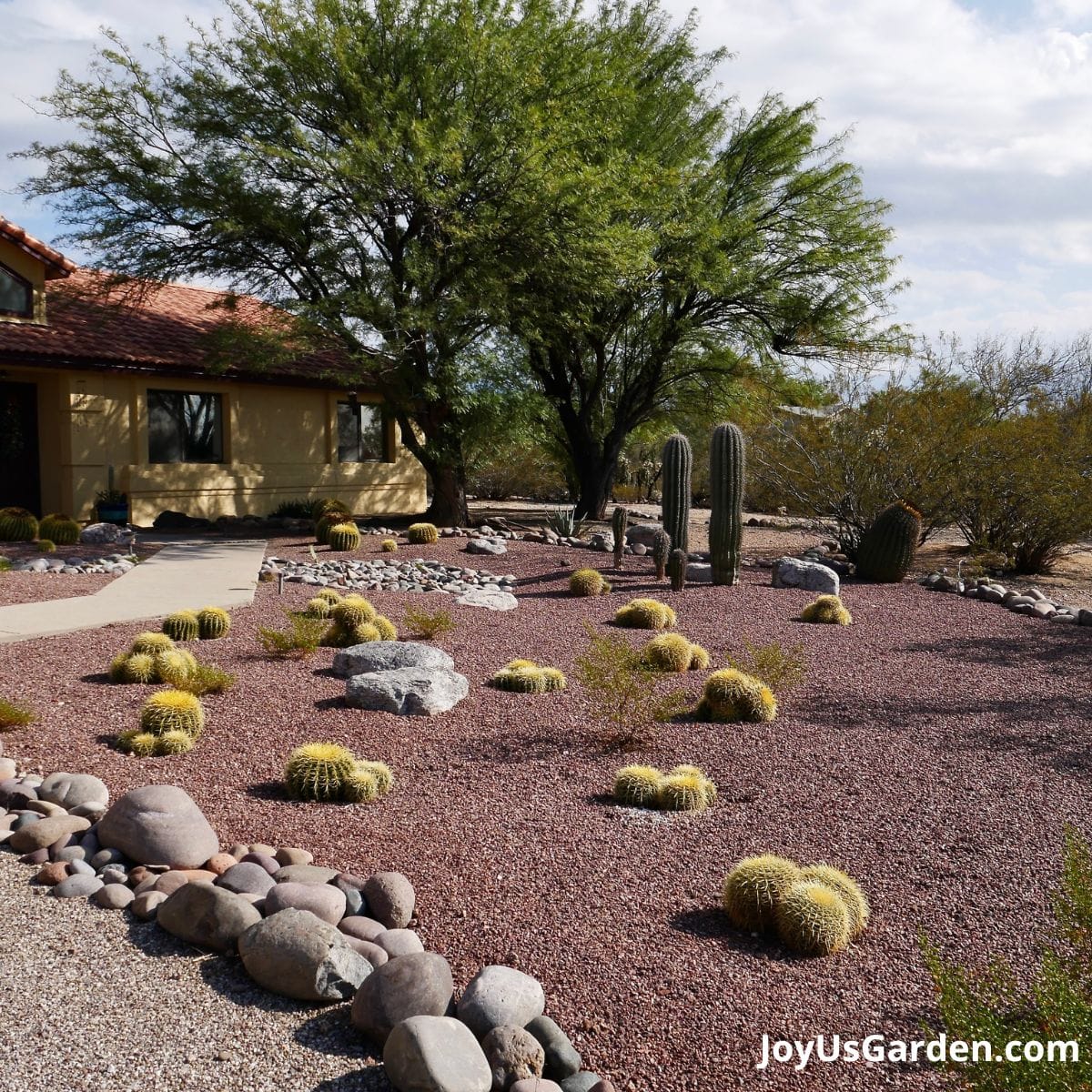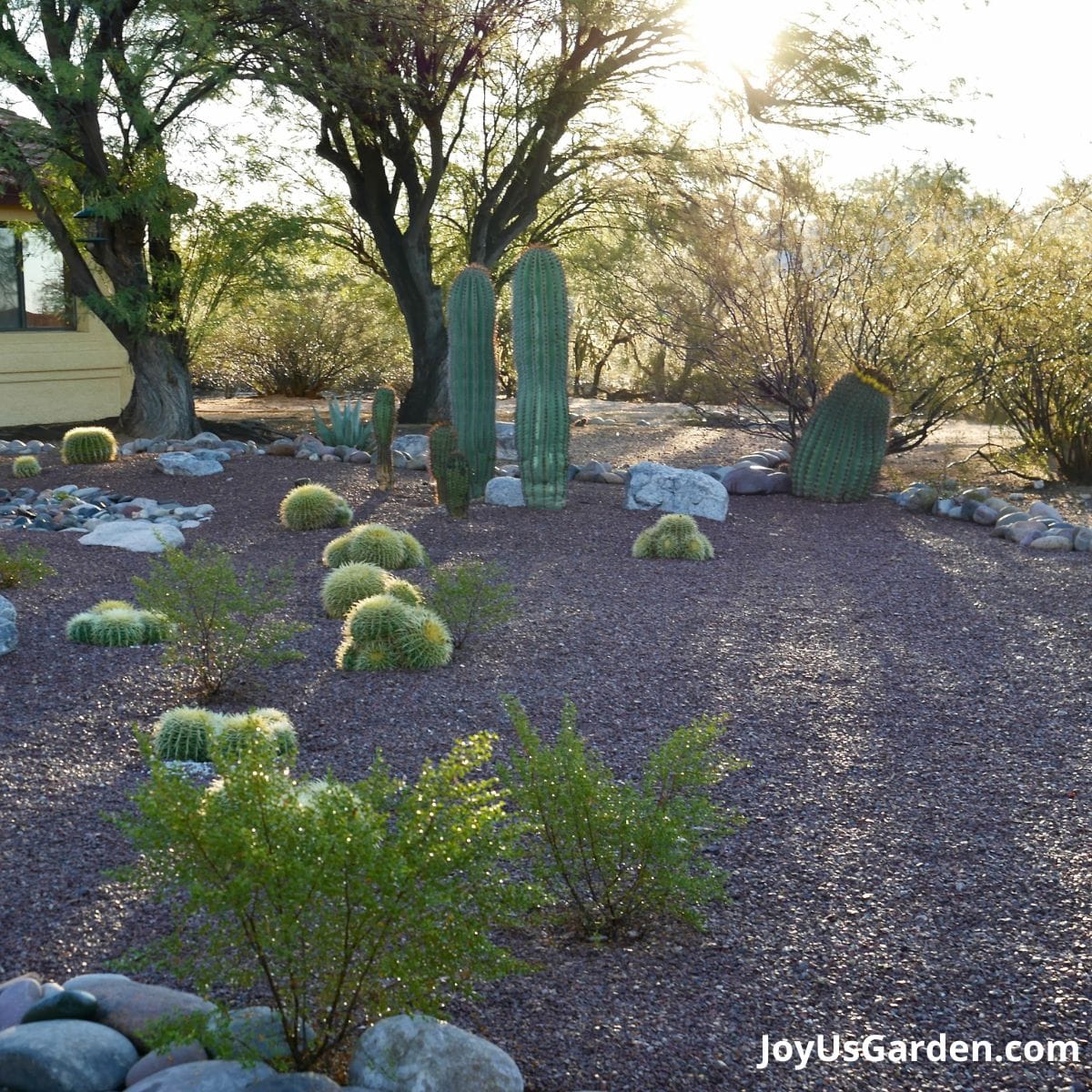 The front garden is pretty much done. But wait, is a gardener's garden ever done?! I want it to be uber-low maintenance (which it is), survive on rainwater only, and of course, look good.
I live in Tucson, Arizona which is part of the Sonoran Desert. Water is scarce here so you won't see even an inch of lawn anywhere on my property.
Here's what I did this year:
Added seven more Golden Barrel clusters.
Added to the rock border. The single border wasn't doing much in such a large space.
Moved and repositioned the large accent rocks to be visually more appealing. Quite a few of them were plunked under the Mesquite Trees so we moved them out which makes a lot more sense.
Re-did the dry river bed.
Topped off the decorative rock ground cover.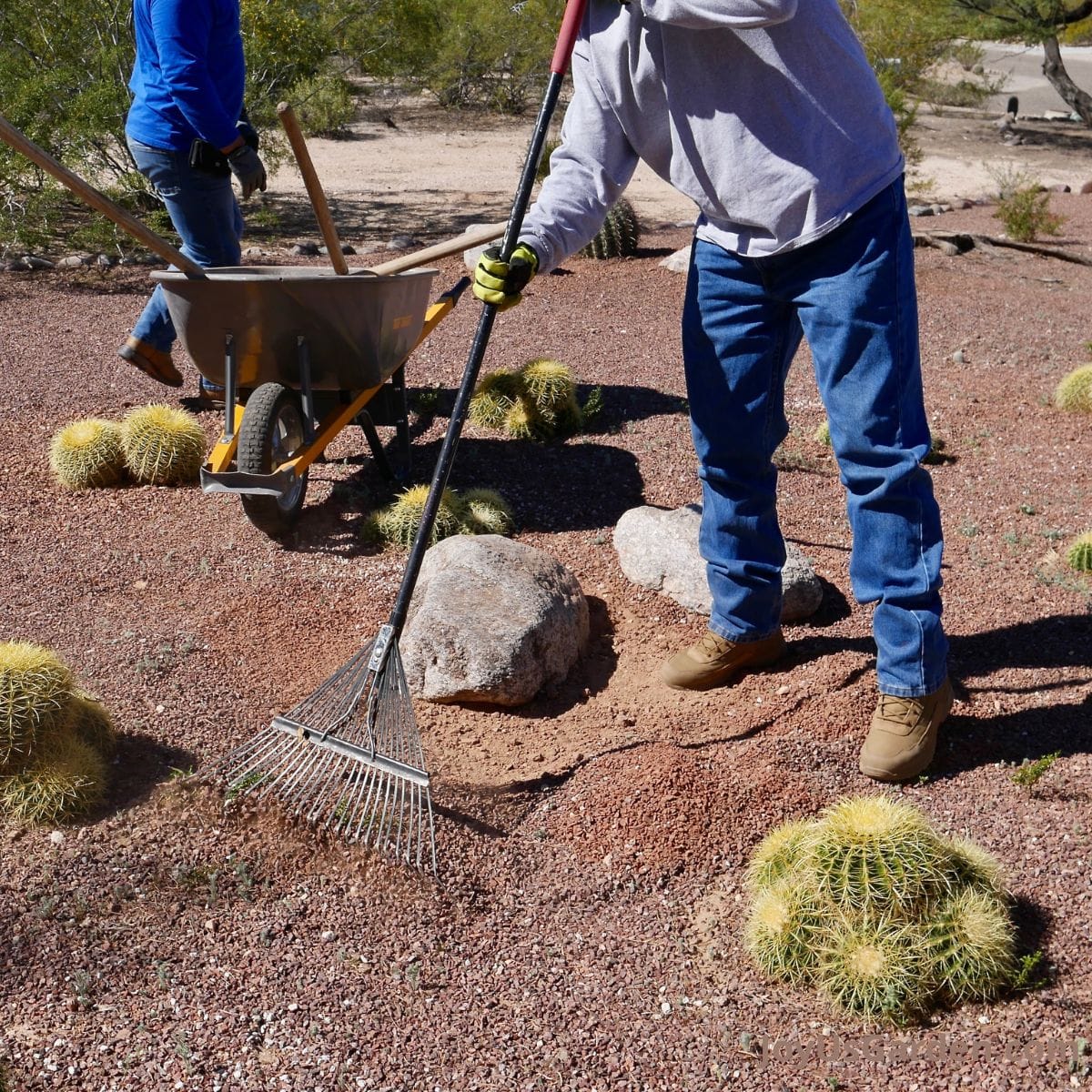 What I plan to do next year:
Add one Golden Barrel cluster to the Saguaro Cactus grouping.
Plant the Optunia Old Mexico.
Move all 3 of the large rocks from the back garden out here.
Add more rocks to parts of the border that are a bit sparse from the dry river bed in the back garden.
My Desert Garden Video Tour
Back Garden
This garden still has a ways to go. All the windows along the back of the house face this space. Plus, when the desert summer is raging, the pool is the place to be!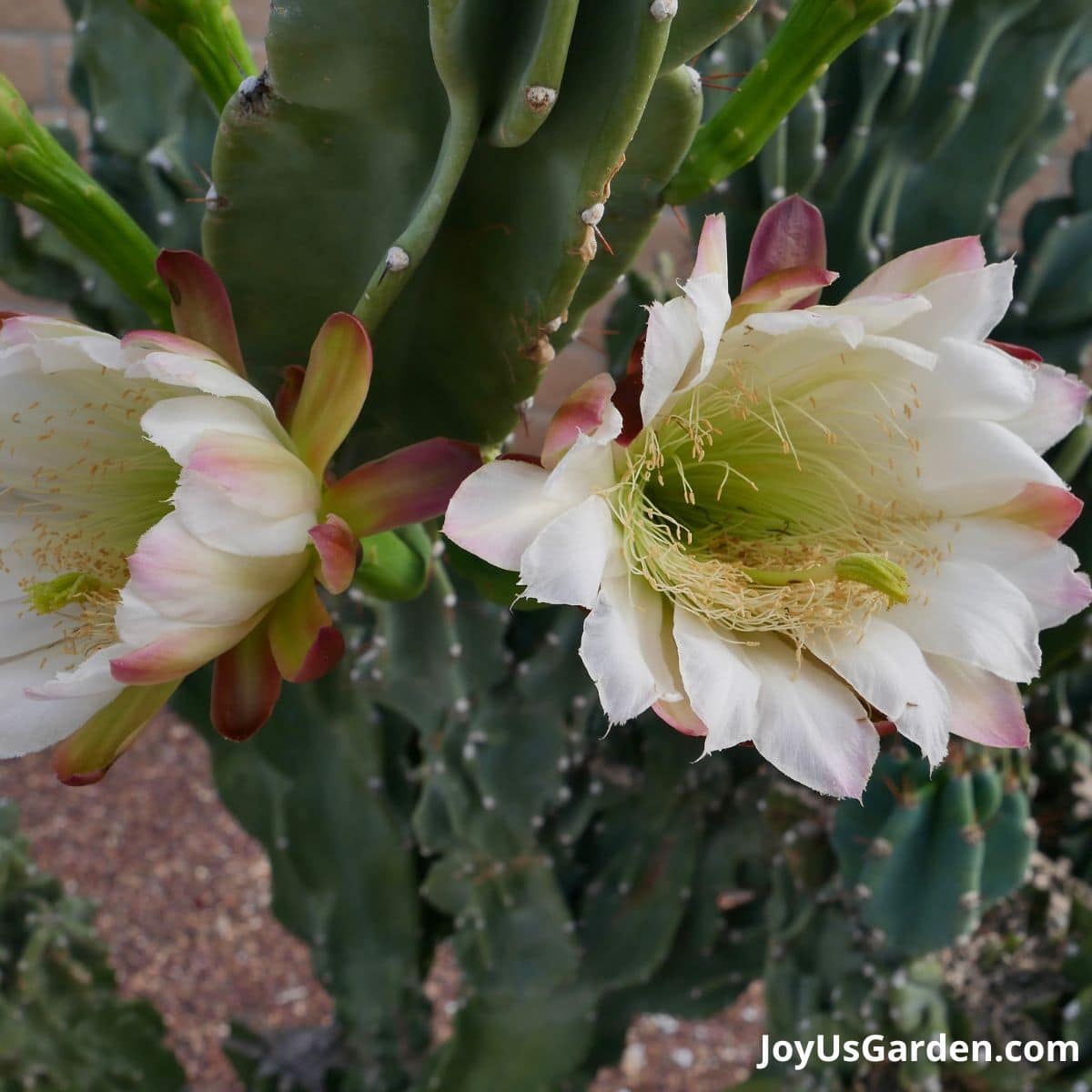 What I did this year:
Re-did the drip system along the back wall with the more durable PVC pipe.
Built a wall around the pool equipment. Nobody wants to look at that!
Planted more plants along the back wall.
Painted and planted 2 cactus bowls that serve as focal points.
Assembled and planted a raised vegetable and herb bed.
Gave the covered patio seating area (furniture, plants, and pots) a sprucing up. You can read about the patio makeover here.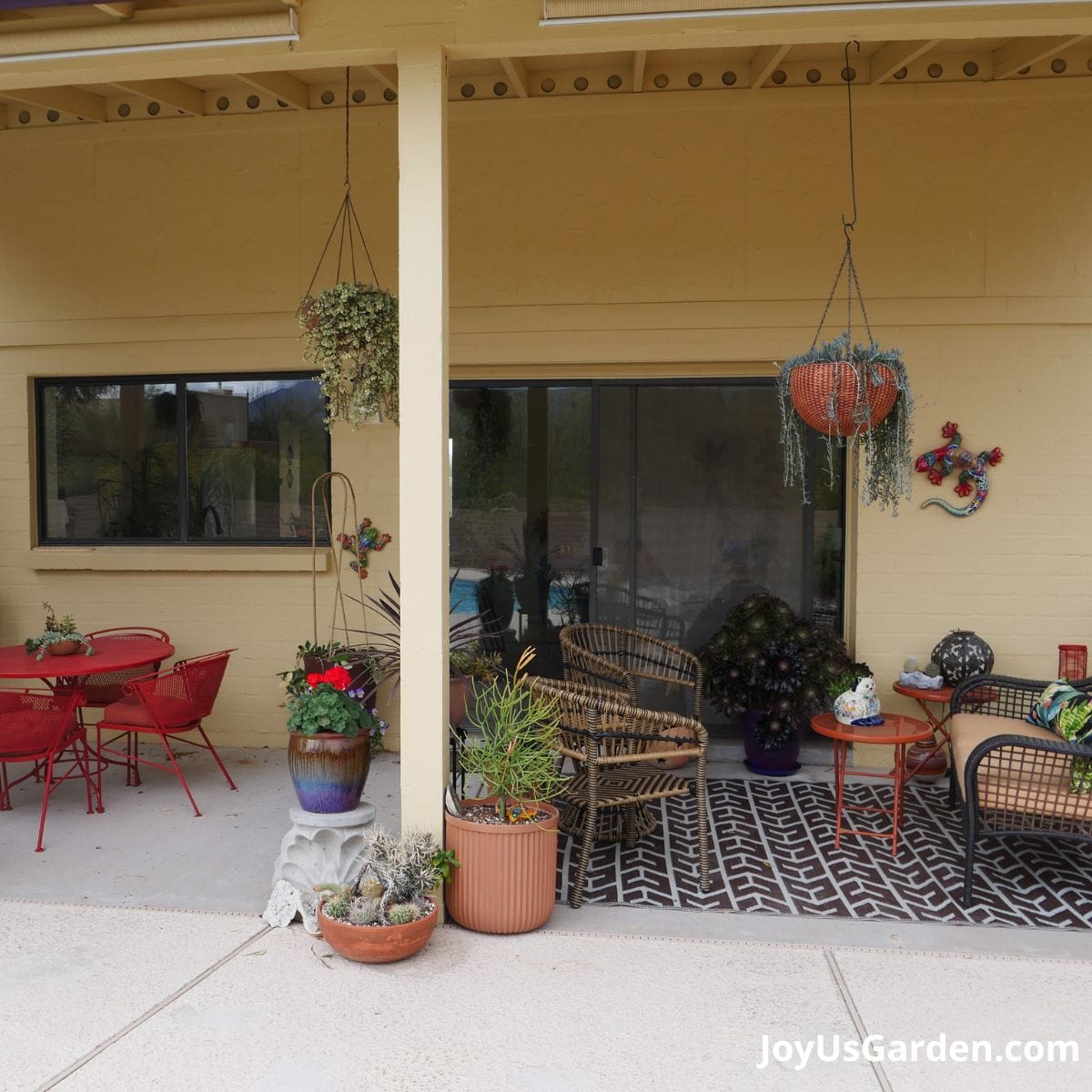 What I plan to do next year:
Re-do the pool deck. It's chipping badly in some places and just plain looks bad. It'll be resurfaced with concrete in mottled light brown/clay colors for a more natural look. The pool takes up a good portion of the back garden so this will make a big difference.
Plant a Meyer Lemon tree (at least 15-gallon size) behind the Palo Verde.
Do a planting outside my bathroom window with the Optunia Joesph's Coat pot as the central focus. I have a groundcover bougainvillea that'll be part of this along with a few other plants TBD.
Create a small raised rock garden to the right of the African Sumac.
Repot the Pencil Cactus into a ginormous pot. I bought a 30″ heavy plastic pot which will be its home base for many years to come.
Repot the Aeonium into a larger pot. It blew over in a summer monsoon storm so I moved it from the patio (it was starting to take up too much space anyway) and it now grows in a corner of the house where I can see it from the living room as well as the patio and pool.
Re-do the river bed and border along the African Sumac bed with rock in a new color.
Move the large grey rocks to the front garden and get at least 5 large new rocks in a different color for back here.
Top off the decorative rock ground cover.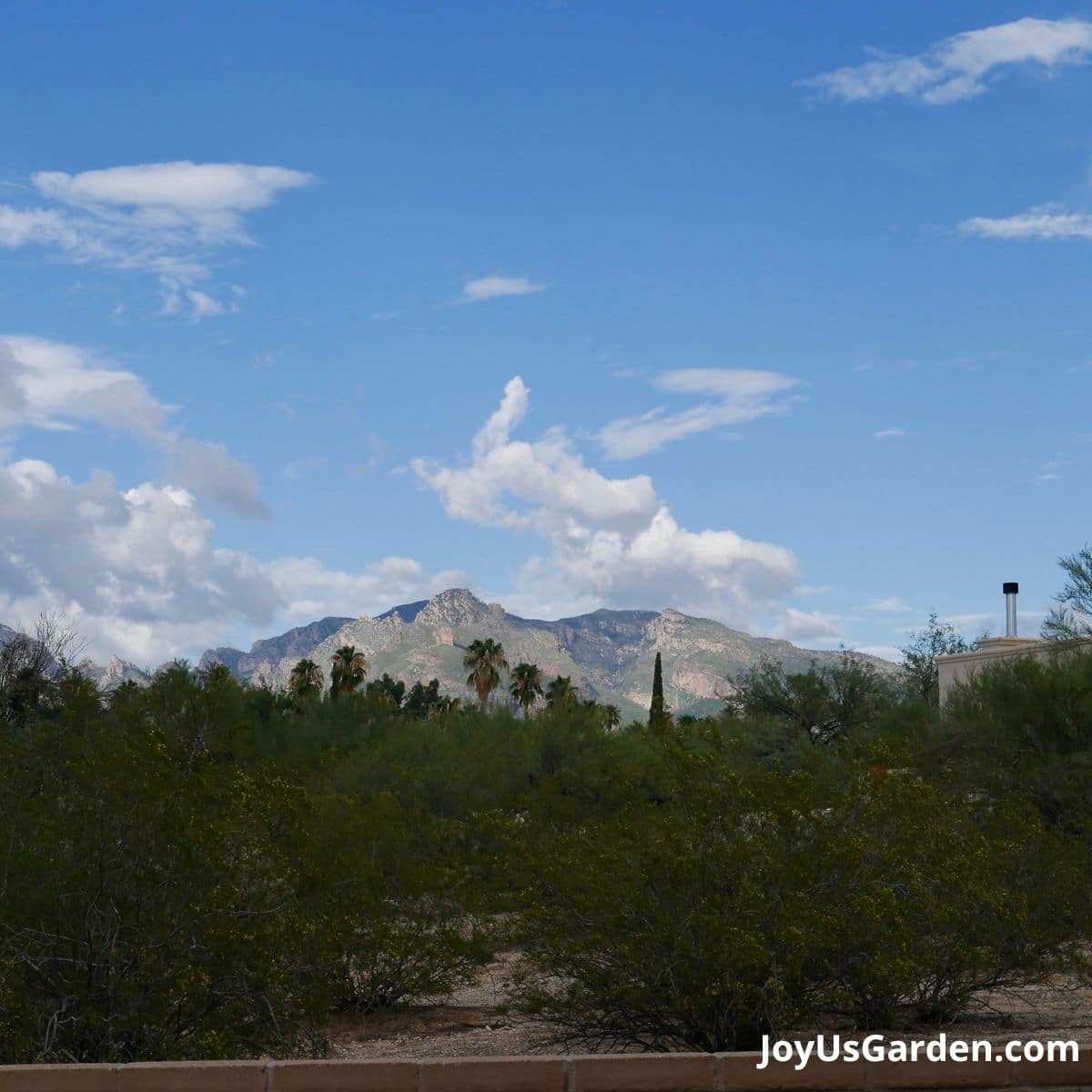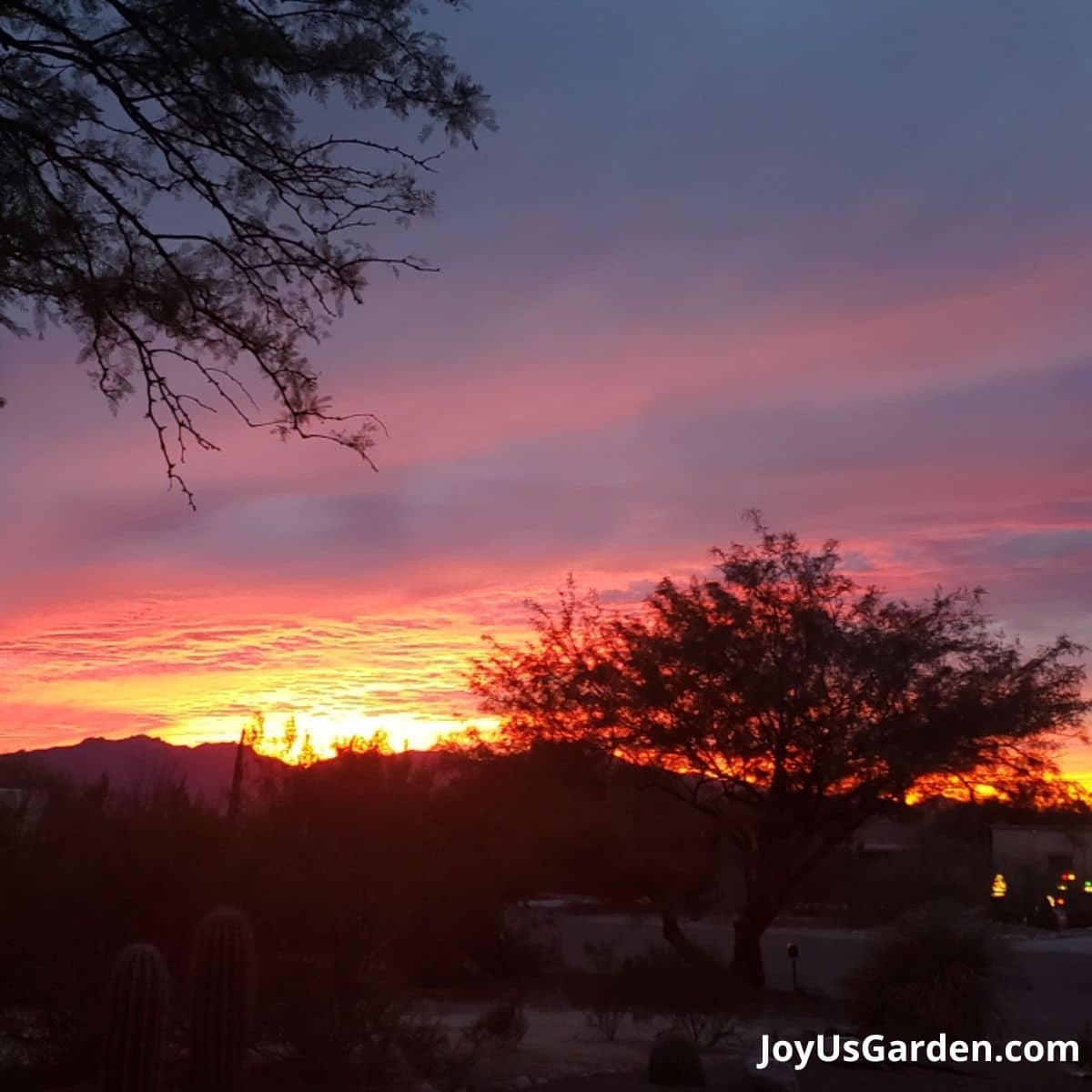 I hope that you've enjoyed this little tour of my desert garden. It not only keeps up a yearly tradition and lets you know what I've been up to garden-wise, but it provides a diary for me to look back on.
Happy Holidays, Happy Gardening!

About the Author
Latest Posts
Nell, the founder of Joy Us garden, was born into a gardening family and grew up in Connecticut's countryside. After living in Boston, New York, San Francisco, & Santa Barbara, she now calls the Arizona desert home. She studied horticulture & garden design, working in the field all her life. Nell is a gardener, designer, blogger, Youtube creator, & author. She's been gardening for a very long time & wants to share what she's learned with you.