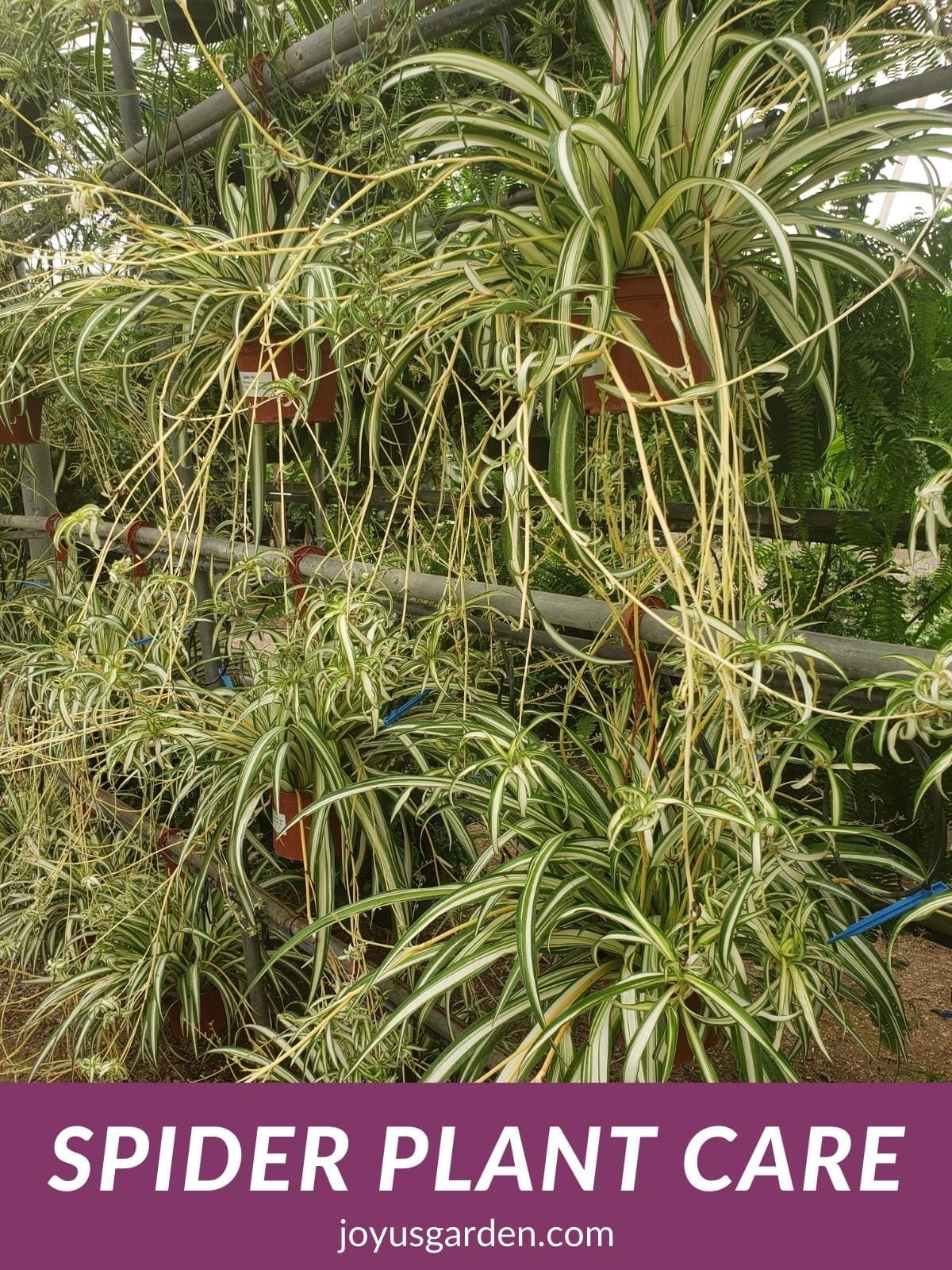 Spider Plants are one of the easiest indoor plants to care for, so they're perfect for newbie plant enthusiasts. They're tolerant of a wide range of conditions and are adaptable and durable as can be. Here are Spider Plant care and growing tips to keep yours healthy, looking good, and producing babies.
The fancy botanic name for a Spider Plant is Chlorophytum comosum. They're also called Airplane Plant, Ribbon Plant, and Spider Ivy.
These hanging plants, with fleshy rhizomatic roots, need a bit of room to show off their arching displays. Those long stems, with babies and flowers at the ends, spray out any way they want to. Spider Plants aren't everyone's cup of tea, but I love their wackiness and somewhat wild growth habit.
Note: This post was originally published on 7/30/2014. It was updated on 1/15/2022 with more info & new images.
Here are some of our houseplant guides you may find helpful: Guide To Watering Indoor Plants, Beginner's Guide To Repotting Plants, 3 Ways To Successfully Fertilize Indoor Plants, How to Clean Houseplants, Winter Houseplant Care Guide, How to Increase Humidity for Houseplants.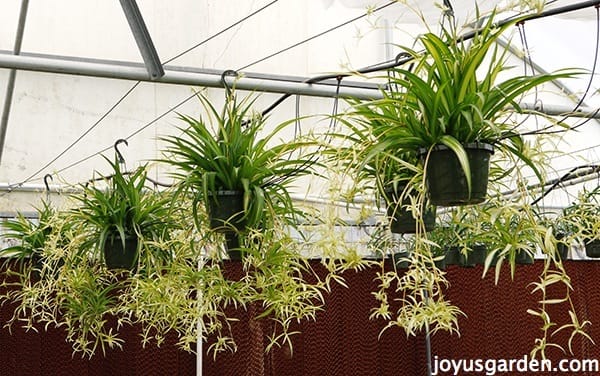 If you're "houseplant challenged", then Spider Plants might be for you. Here's what you need to know about caring for these trailing plants whose arching leaves look like large blades of grass.
I grew them outdoors year-round when I lived in Santa Barbara, CA. They grew in my side garden in pots in a shaded spot. They're as easy to care for outdoors as they are indoors.
I now grow mine indoors in Tucson, AZ. This is about Spider Plant care as houseplants. Most importantly, they adapt to various conditions in your home.
Be sure to scroll to the bottom to find answers to many frequently asked Spider Plant care questions.
Spider Plant Care Video Guide
Spider Plant Traits
Size
The leaves of these plants are long. A large plant would be approximately 36″ wide x 20″ high, not including the babies.
Mine, including the pot, is 28″ wide x 20″ high.
Growth Rate
Moderate to fast, depending on the growing conditions.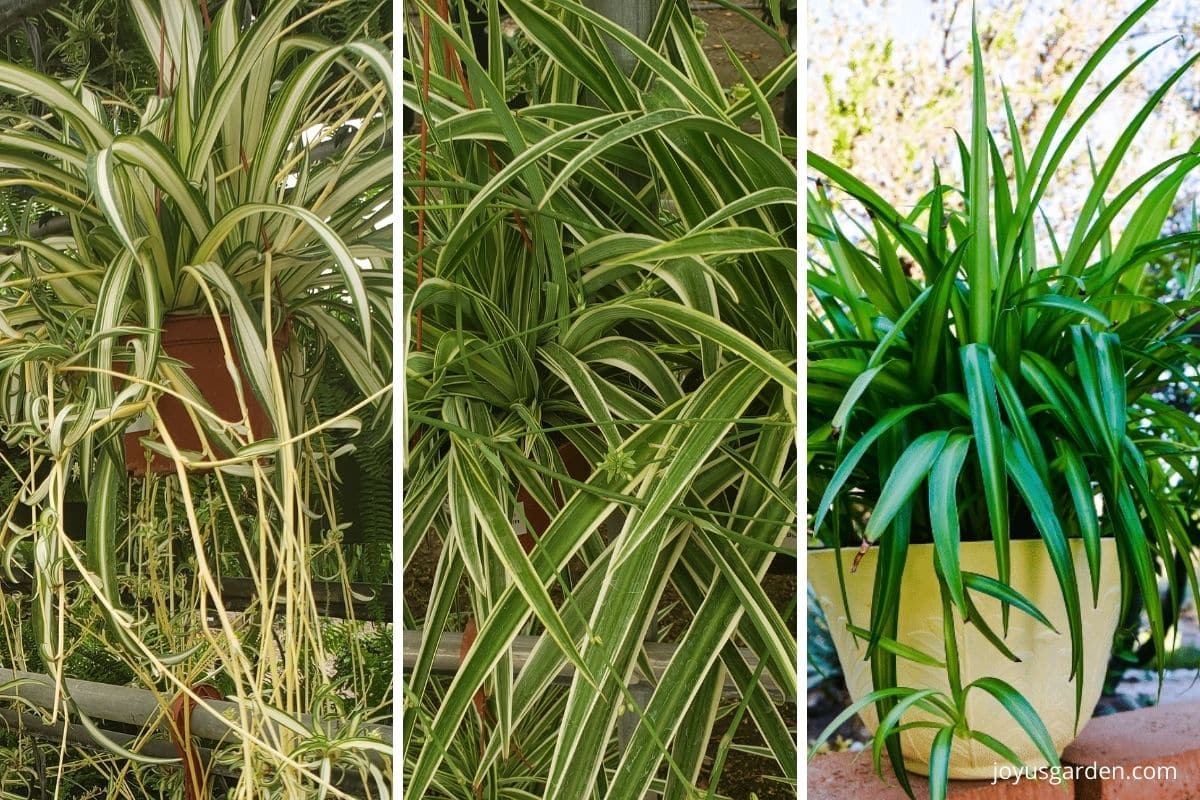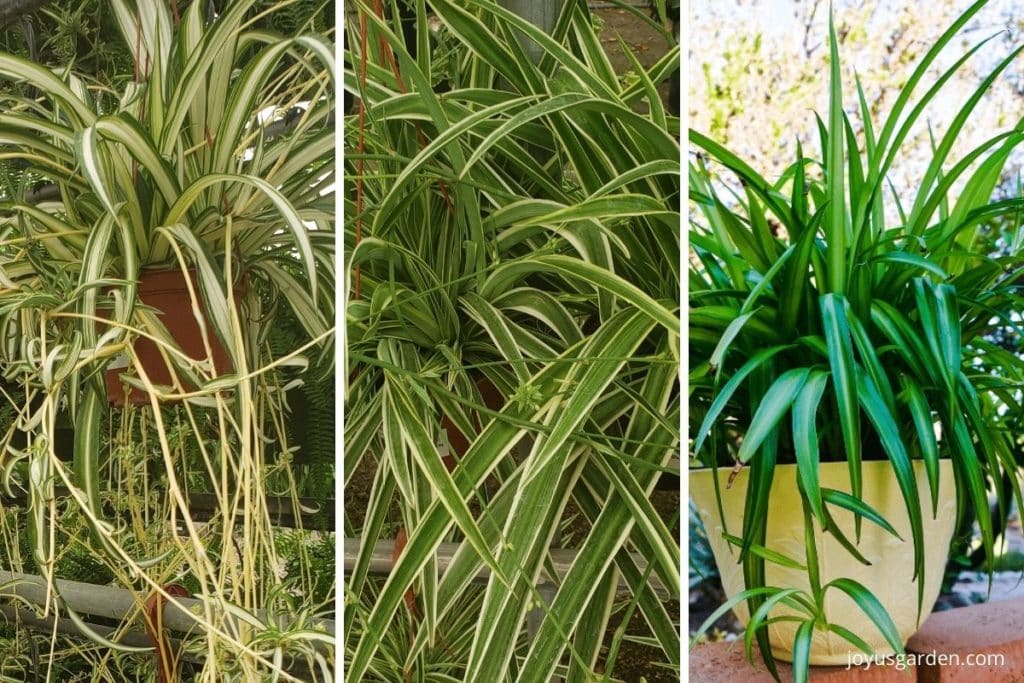 Uses
Spider Plants make great hanging plants, especially if they have stems with babies. This really shows them off. Smaller ones are fine tabletop plants. I've also seen them in living walls.
Spider Plant Care Tips
Water
Spider Plants have low to average water needs. Water yours when it's dry or almost dry. Be sure to let the water drain through the pot, and if in a saucer, don't let it sit in water.
Depending on how warm and bright your house is, this might be every 10-21 days. I really can't tell you how often to water yours because many variables come into play. Here are a few: the pot size, type of soil it's planted in, the location where it's growing, and your home's environment.
Here in Tucson, the climate is warm, sunny, and dry. I water my Spider Plant in a 12″ pot about every 14 days in the summer and every 21 days in the winter.
The thick fleshy roots of a Spider Plant store water. Don't keep yours too wet or it'll ultimately succumb to root rot. It's best if the bottom of the pot has one or more drainage holes. This allows the excess water to flow out.
If your tap water is high in salts (Spider Plants are sensitive to minerals), consider using distilled water. I have a tankless r/o water filtration system in the kitchen that puts the good minerals back in.
Related: How to Water Indoor Plants
Light
Here's where Spider Plants are most adaptable. They prefer nice bright light, near but not in a west, north, or east window.
A south exposure is fine, just as long as it's not in a hot window. This will cause the plant to sunburn. Mine grows in my kitchen about 7′ away from a south-facing window.
Even though bright, indirect light is their sweet spot, they will tolerate lower light conditions. Just know that if you have 1 of the variegated varieties, some or all of it will revert to solid green.
The leaves will become paler, weaker, and limp if the light is too low.
They'll do fine in good strong artificial light. They probably won't produce flowers and babies without natural light.
You may have to move your Spider Plant to a brighter spot in the winter months so it gets the light it needs. Here are more tips on winter houseplant care.
Temperature
If your home is comfortable for you, it'll be so for your indoor plants too. Keep your Spider Plant out of any cold drafts and away from direct blasts from air conditioning or heating vents.
Humidity
These plants are native to subtropical and tropical regions. Even though they prefer humidity, they're adaptable. They do fine in our homes which tend to have dry air.
The humidity here in the desert can be as low as 10%. My Spider Plants have brown tips because of this.
I have this humidity meter in my dining room close to the kitchen. It's inexpensive but does the trick. I run my Canopy humidifiers when the humidity reads low, which is almost always here in the Arizona desert!
Every month or so I take mine outdoors, give the foliage a good shower, and leave it in the shade for a few hours. It also helps to keep the foliage clean.
If you think yours look stressed due to lack of humidity, here are a couple of other things you can do. Fill the saucer your plant sits on with pebbles and water. Put it on the pebbles but make sure the drain holes and/or the bottom of the pot aren't submerged in water.
Misting your plant a few times a week will help too. I like this mister because it's smaller, easy to hold, and uses a nice amount of spray.
We have a whole guide on Plant Humidity that might interest you.
Fertilizer
Every spring, I give most of my houseplants a light application of worm compost with a light layer of compost. Easy does it – a 1/4 " layer of each is enough for a 6″ size houseplant. Read about my worm compost/compost feeding right here.
I give my Spider Plant a watering with Eleanor's vf-11 three times during the summer, summer, and early fall. Online orders of this product are delayed now because of the 2022 supply chain issue but keep checking back if you can't find it locally.
I've swapped Grow Big for Eleanor's and have been happy with that so far.
Alternately, I feed with liquid kelp or Maxsea 2-3 times. We have a long growing season here in Tucson. 
Other options would be this kelp/seaweed fertilizer and Joyful Dirt. Both are popular and get great reviews.
Two times per year may do it for your houseplants. Don't over-fertilize because salts can build up and eventually burn the plant's roots.
Spider Plants are sensitive to salt. Too much will show up as brown spots and/or brown tips on the leaves if you fertilize too often or use too great a ratio.
Avoid fertilizing a stressed houseplant, i.e. bone dry or soaking wet.
Soil / Repotting
Spider Plants aren't too fussy regarding the soil mix. Just be sure to use good organic potting soil that is labeled for houseplants or indoor plants. It's very important that it drains well.
The mix I use for mine is a blend of 1/3 potting soil, 1/3 coco coir, and 1/3 pumice. I toss in a couple of handfuls of compost as I plant and top with a thin layer.
Spider Plants like being a bit potbound, so don't rush to repot them. They'll actually produce babies if slightly tight in their pots.
When I repot Spider Plants (which isn't too often), I generally go up one pot size. I last repotted mine 2 1/2 years ago, and it's showing no signs of stress.
Spring, summer, and early fall are the best times to repot.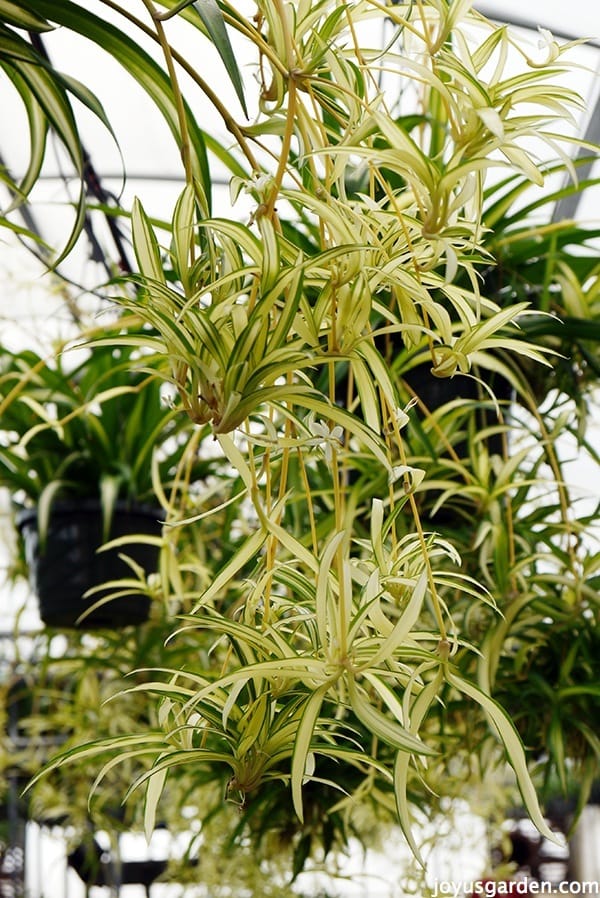 Pests
I've seen them with mealybugs and scale.
I've talked about mealybugs and scale before, so you can identify these pests and treat your plant accordingly to get rid of them.
Pests can travel from plant to plant fast and multiply practically overnight, so ensure you get them under control as soon as you spot them.
Pruning
This plant grows thick with foliage. I prune mine every couple of months to remove any yellowish undergrowth and bent and/or dead leaves.
And, of course, to remove the stems with the babies for propagating!
Just make sure your pruning tools are sharp before you do any pruning.
Propagation
Spider Plant babies are miniatures of mama and are very easy to propagate. The roots start as tiny brown nubs on the bottom of the spiderettes and turn whitish as they grow and elongate.
The most popular way of propagating is in water. Put them in a jar or vase with water, and the roots will grow really fast. You can plant after 7-10 days.
You can also put them in a light soil mix to root.
Another way to propagate them is by division. This can be challenging if the plant is older because those root balls are incredibly thick, dense, and fleshy. In the process, you could lose a portion of the plant and/or root ball.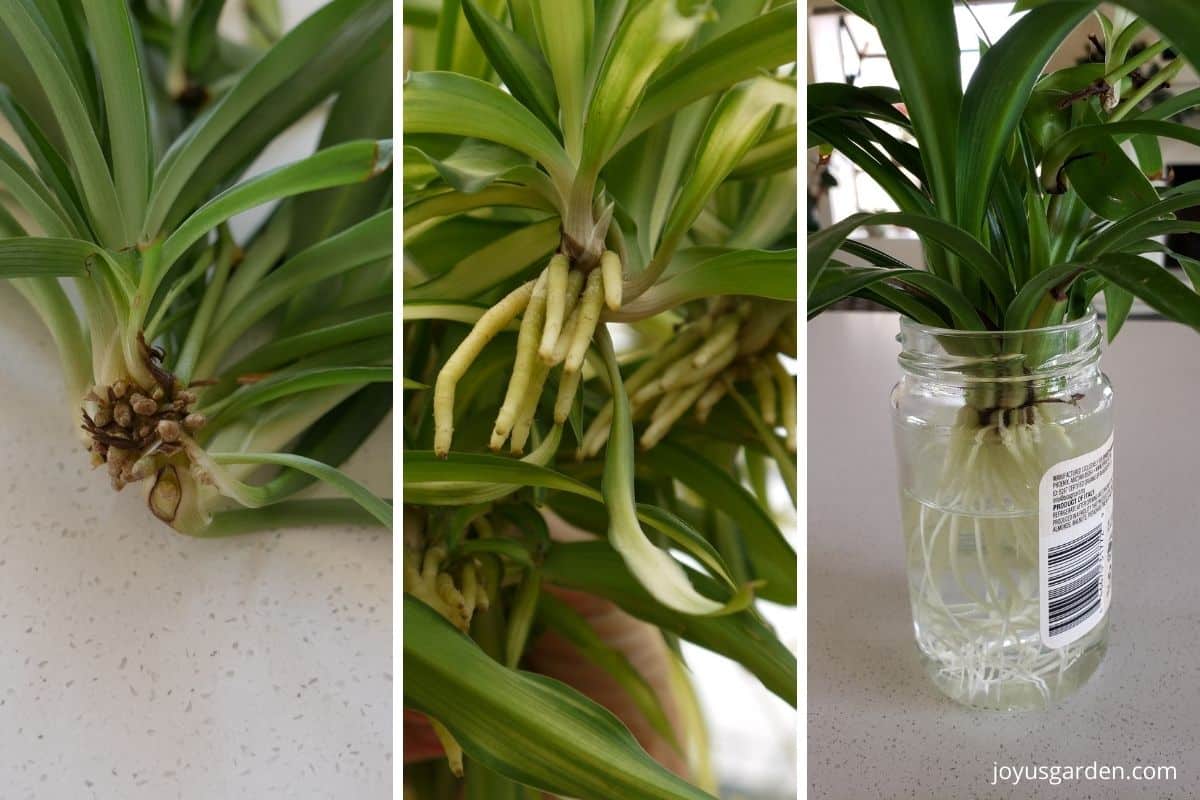 Pet Safety
Wave the flags! This one is deemed non-toxic to cats and dogs according to the ASPCA website.
Just be aware that Spider Plant leaves are like crunchy grass. Fluffy or Fido might love to munch away so it might make them a bit sick.
My kitties occasionally chew on the ends of mine so that's another reason for pruning.
Flowers
Oh yes, they do! They're not particularly showy and are small and whitish. The flowers appear as the plant ages.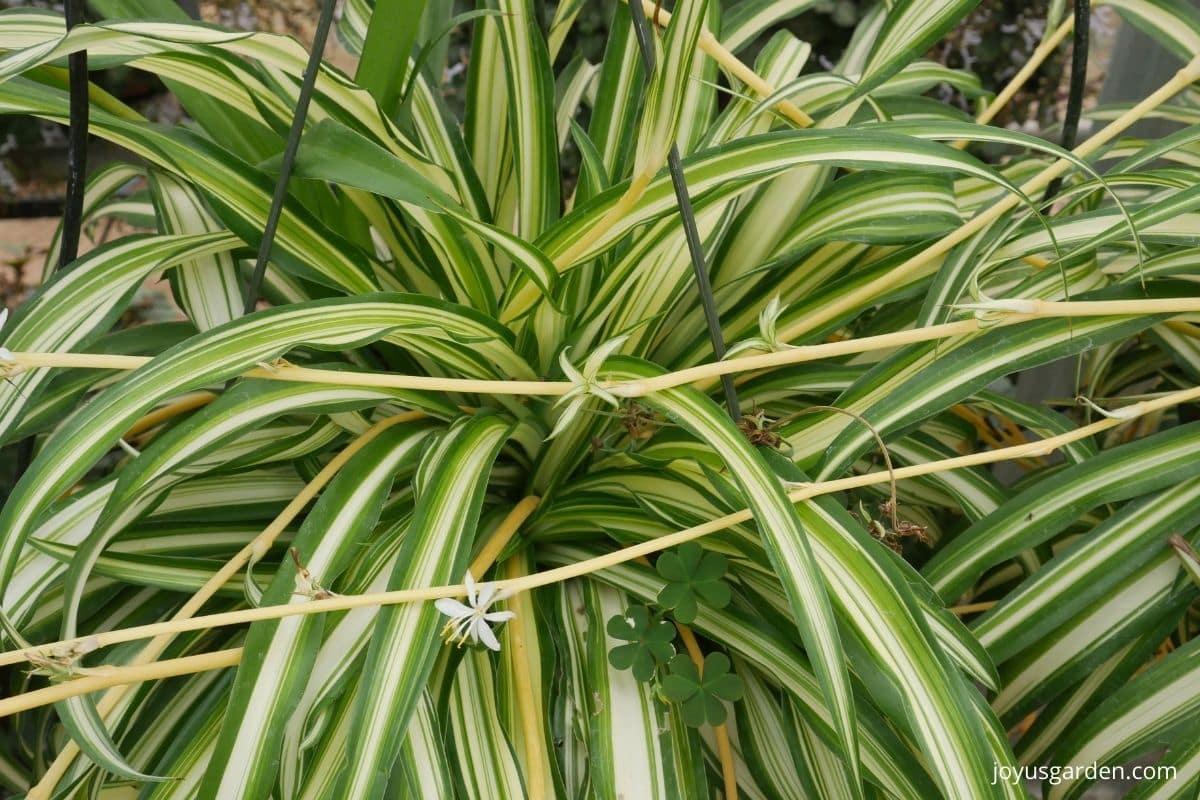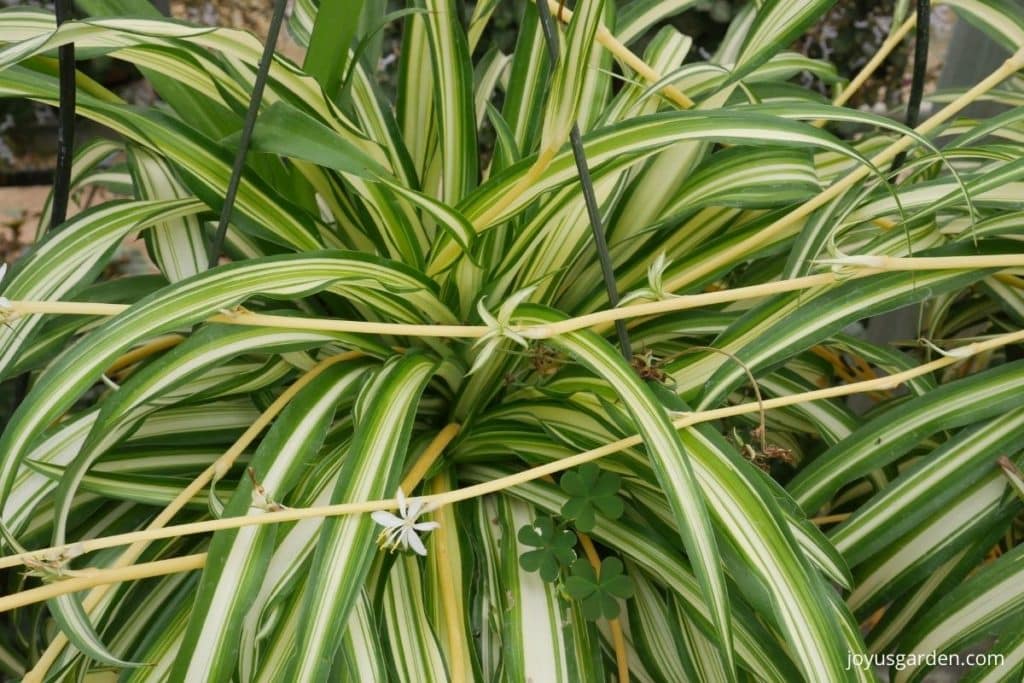 Spider Plant Care FAQS
Where should you place a Spider Plant?
It grows the fastest in moderate to high light exposure.
How much sun do Spider Plants need? Can Spider Plants survive in low light?
Spider Plants love bright natural light but will burn in the strong, hot sun. They'll survive in lower light but won't grow much. This is when the foliage can turn pale and weak.
Are Spider Plants hard to grow?
No! I think they're one of the toughest indoor plants around.
How long do Spider Plants live?
Spider Plants can live a long time, well over 30 years. I knew a woman who had inherited her grandmother's 40-year old+ Spider Plant. Nice to have a living memory!
Do Spider Plants need to hang?
No, they don't. If they have a lot of spiderettes attached, hanging gives them more room to do their thing. They look better this way because it really shows the sprays of babies off.
How do you keep a Spider Plant upright?
I would choose another indoor plant if you want one to grow upright. Spider Plants have long, arching leaves that looked best displayed as is. Besides, they rarely get above 20-24″ tall.
Can I leave the babies on my Spider Plants?
You can. Just know ow that if you leave too many babies on for too long and they get too mature, they'll drain the energy out of the mother.
How often should you water Spider Plants?
It depends on many factors so I can't tell you. Keeping them on the dry side is better, than watering when the soil is almost dry.
How often should you water a Spider Plant in winter?
Again, it depends. I live in a climate with mild, sunny winters and water mine in a 12″ pot about every 21 days.
Should I cut off broken Spider Plant leaves?
Yes, I do. A broken leaf will never grow back. Besides, Spider Plant foliage grows densely so the plant will put out more leaves in no time.
What causes the tips of my Spider Plant to turn brown?
The most common reason is dry air.
Should I cut the brown tips off my Spider Plant?
don't because I don't like the look. You can if you'd like, but it will be an ongoing task!
Why are my Spider Plant leaves turning yellow?
Yellow leaves are commonly due to too much water, too much fertilizer, not enough light, or tap water too high in minerals. My Spider Plant is big and very full. Some of the low under leaves turn yellowish due to lack of light.
How long do Spider Plants take to root?
In no time at all! The roots are already poking out on the bottoms of the babies. The roots are well along after 7-14 days in water.
How to care for Spider Plant cuttings?
When rooting in water, be sure to keep the water at a steady level. Change it out every 7-14 days so it stays fresh. If in soil, keep it evenly moist.
Happy gardening!

This post may contain affiliate links. You can read our policies here. Your cost for the products will be no higher but Joy Us garden receives a small commission. Thank you for helping us spread the word & make the world a more beautiful place!