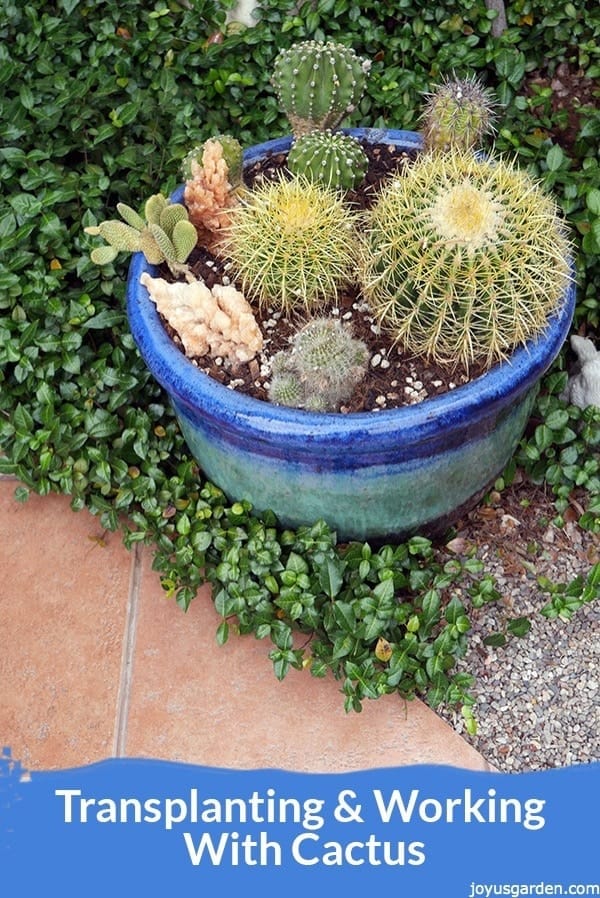 I've always been fascinated with cactus and was tickled pink to discover that they're all the rage in the fashion world, and everywhere else, these days. Go figure! As cool and hip as can be, they're definitely not user-friendly. Transplanting and working with cactus can be a challenge (no one wants their paws all full of spines) and I have a couple of secret weapons to share with you.
First of all, a bit of history about the cacti which make up this mixed planting. I found the largest Golden Barrel Cactus (love them big time) in a sidewalk strip on the streets of Santa Barbara sans pot. I put it in my front garden next to my ginormous coleus where it was shaded by the Queen Palm. There it sat for over a year, still sans pot. It came along with me when I moved to Tucson and grew in a planter with fleshy succulents I'd started from cuttings for another year. Now that's 1 tough plant!
Here are all the cacti waiting to be planted. I found, inherited & was given them all. The fleshy succulents will be transplanted soon but they need a shady spot here in the Sonoran Desert.
All the other cacti in this planting, including the smaller Golden Barrel, I inherited with the house or was given. The large ceramic pot was also left by the previous owner and had a Dracaena marginata directly planted in it which has since been transplanted also. I bought the mix and the amendments but that's it. Don't you just love freebies in the garden!
Transplanting & working with cactus; how I stay spine free:
Steps taken:
1- Fill the pot with potting soil from a previous planting to the halfway mark. Cacti have very shallow root systems so the roots will never hit it. This pot is large & it's a good use of not too old soil which would otherwise be tossed.
2- Add in succulent & cactus mix to a few inches below the rim. I use 1 formulated by a local company but here's an organic mix you might consider. A few handfuls of compost were tossed in along the way for good measure.
3- The 1st plant to go in the pot was the larger Golden Barrel. I folded a large piece of bubble wrap into thirds, wrapped it around the cactus & lifted it out. This provided a wonderful cushion for working with this plant because its spines curve downward. I had to prop it up with the trowel to get it to stay up (as you'll see in the video) because the barrel is way heavier & bigger than the root ball. By the way, I love a narrow bladed trowel for transplanting smaller plants because it makes the job oh so much easier.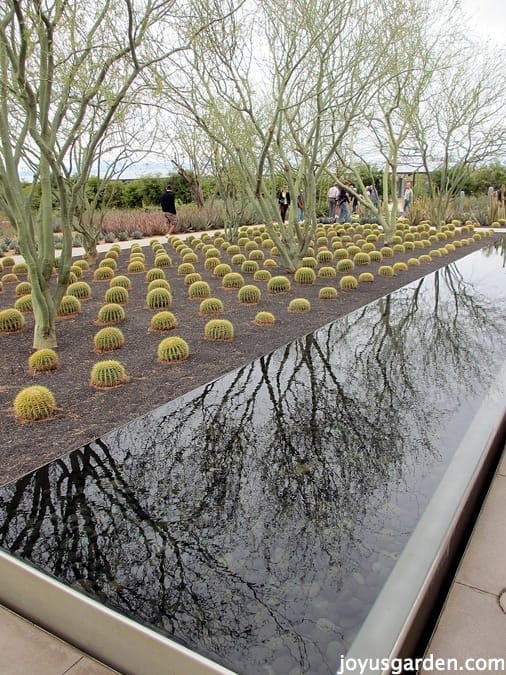 I'm crazy for the repetition of the Golden Barrel Cacti under the Palo Verde trees & next to the reflecting pool. Lucy & I visited the artfully inspiring Sunnylands Center & Gardens a few years ago where this pic (along with many others) was taken.
4- I added more mix to & then arranged the rest of the cacti in the pot starting with the smaller Golden Barrel. For the smaller plants, I used kitchen tongs (similar to these here) to hold them while planting which keeps my paws from getting poked. I picked up this tricked years ago when I visited a cactus nursery near Joshua Tree National Monument.
5- Top the planting off with mix & a few generous sprinkles of compost & worm compost. This is my favorite soil amendment for all succulents & the way that I feed them when planting & then again every spring.
6- Because this is very close to my front door, I added a couple of minerals which I bought at the Tucson Gem & Mineral Show. I love a little bling in the garden, especially when mixed in with cacti!
7- I let the planting settle in for a week & then watered it well. A couple of months have gone by since I filmed the video & all are doing beautifully like the champs they are in this strong desert sun.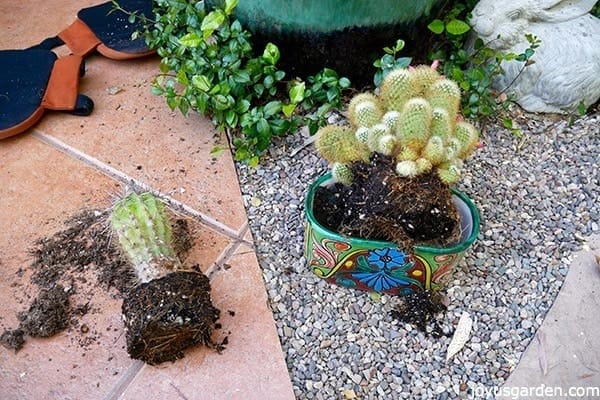 Even though these cacti are small, you can see how prolific their spines are. Ouch!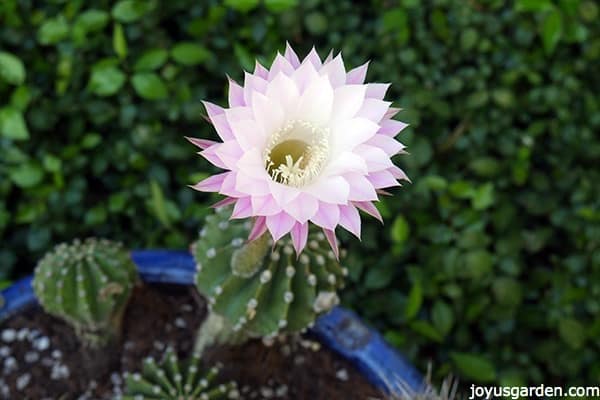 This is the Echinopsis that my neighbor gave me. A few days after I transplanted it, 4 blooms opened up 1 by 1. They don't last more than 2 days but they sure are gorgeous. Lots of spines but the flowers are smooth as silk!
I know a lot of you like to grow cacti indoors so I wanted to share a few of these tricks I've learned along the way. You might want to check out this cactus dish garden I put together in a pretty Talavera planter. It's much more suited to be grown in your home in a sunny, bright spot. Cheers to spine free paws!
Happy gardening & thanks for stopping by,

You May Also Enjoy:
Roses We Love For Container Gardening
Ponytail Palm Care Outdoors: Answering Questions
The Best Tips For Growing Your Own Balcony Garden 
This post may contain affiliate links. You can read our policies here. Your cost for the products will be no higher but Joy Us garden receives a small commission. Thank you for helping us spread the word & make the world a more beautiful place!