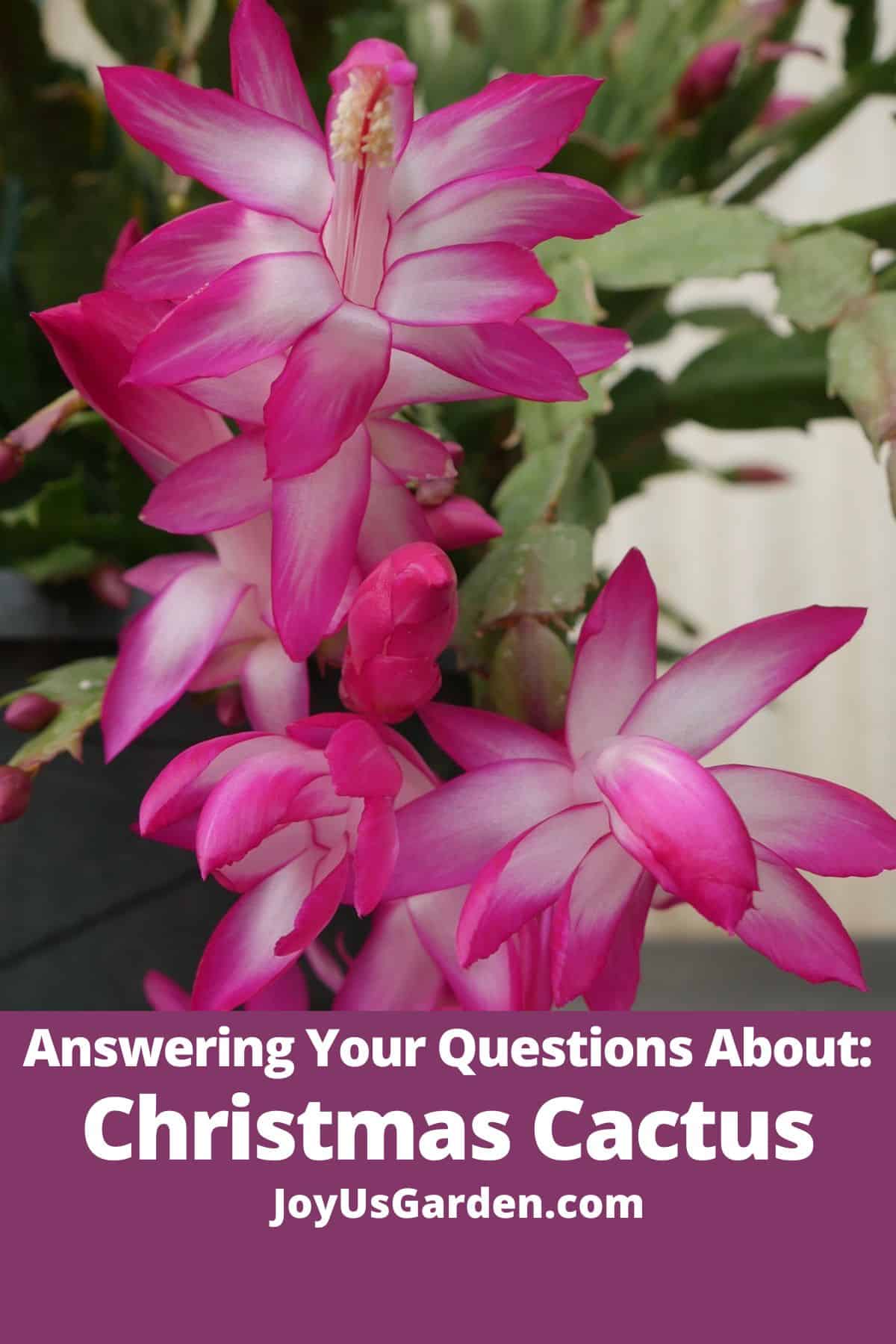 We get asked about this popular blooming succulent on a regular basis. Here I'm answering your questions about Christmas Cactus plants based on my experience of growing and caring for this flowering holiday plant. Although I grew them in pots in my garden in Santa Barbara, this post is about growing them as houseplants.
Our Q & A series is a monthly installment where we answer your most common questions on caring for specific plants. Our previous posts cover Christmas Cactus, Poinsettia, Pothos, String Of Pearls, Lavender, Star Jasmine, Fertilizing & Feeding Roses, Aloe Vera, Bougainvillea, Snake Plants.
COMMON QUESTIONS ABOUT CHRISTMAS CACTUS PLANTS
Note: My scarlet Christmas Cactus pictured below is actually a Thanksgiving Cactus (Schlumbergera truncata). It was labeled as a Christmas Cactus (Schlumbergera bridgesii) when I bought it and that's how it's commonly sold in the trade. Most of us want them to start their bloom in late November so it's one of those clever marketing things!
You may see them labeled for sale as Holiday Cactus. Regardless of which one you have, you care for all of these popular epiphytic cacti similarly.
Blooming
How do I keep a Christmas Cactus blooming? How do I keep the blooms from falling off my Christmas Cactus? Should I remove old blooms from Christmas Cactus? How many times a year will a Christmas Cactus bloom?
You can do a few things to keep your Christmas Cactus blooming longer. Make sure it's in bright light, but not sitting in any direct sunlight. If you keep your house hot, the bloom time will be shorter. Don't keep it too wet or too dry.
If the buds and blooms are falling off, it could be a watering issue – too much or too little. Other reasons are temperature related – too warm or too cold. 70-75F is the sweet spot for this plant while in bloom. The last reason I know of would be too much direct sunlight.
I remove the spent blooms from my CC because I think it looks better. I hold onto the terminal leaf and gently twist the old bloom off.
The most mine have bloomed in one year is two times. The bloom in the late fall/early winter was the heaviest and then a second bloom happened in early spring.
Do they flower more than once a year? Oh yes, they can, but it's not a regular occurrence. Read how my Christmas Cactus repeat blooms (occasionally!).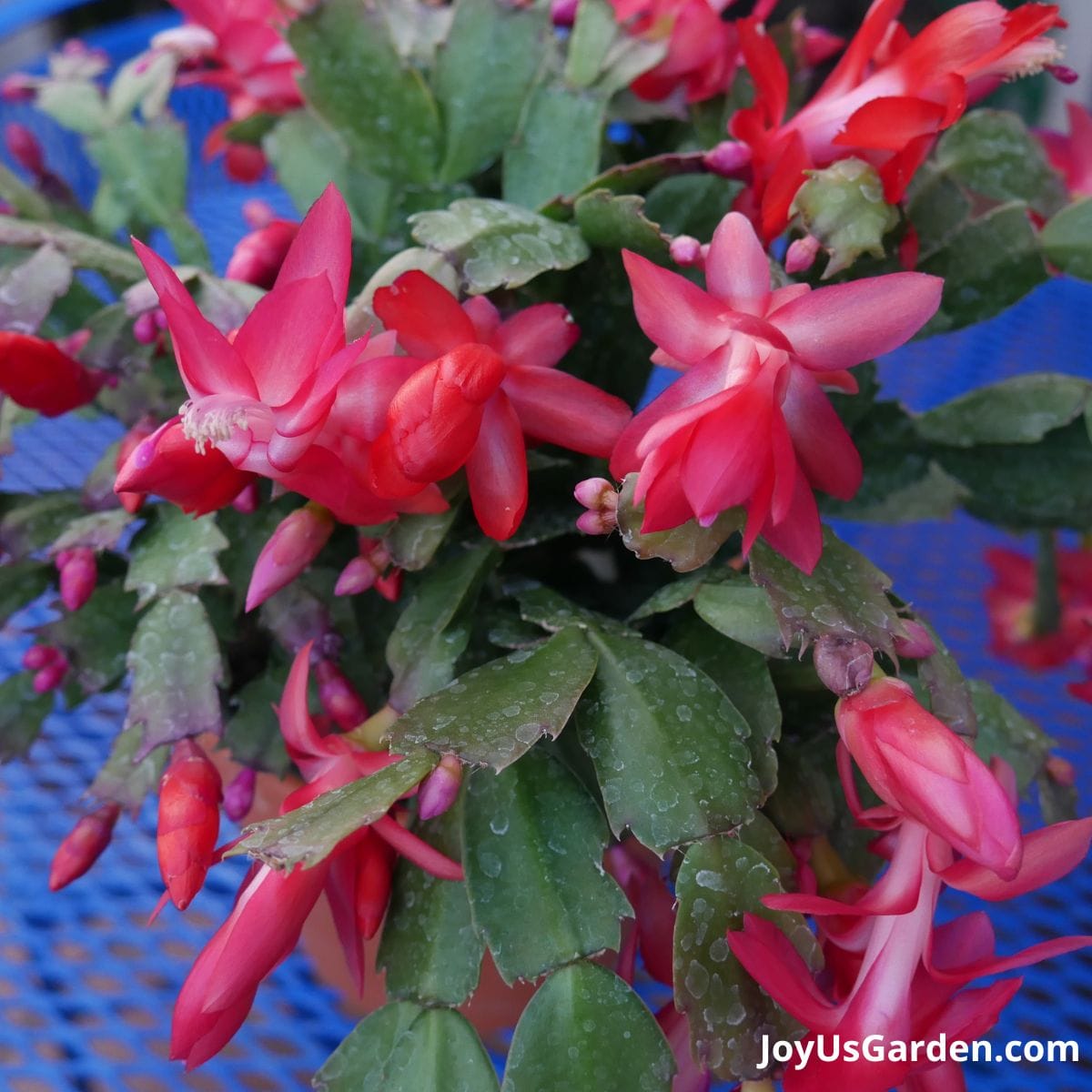 Location
Where do you keep a Christmas Cactus in your house? Does a Christmas Cactus like sun or shade? Can I put my Christmas Cactus on a sunny window? Where is the best place to put a Christmas Cactus?
I grow CC as houseplants, not just as seasonal bloomers. They can live a very long time. Mine grows near but not in a south-facing window. The plant receives bright light all day but receives no direct sunlight. You want yours to be in a similar location.
Growing outdoors they do best in the bright shade as they're prone to burn in the hot sun. Indoors they prefer bright indirect light – not in direct sunlight but not in a darker corner.
To me, a sunny window means a south or west exposure. So, no, don't put yours in a sunny window to avoid sunburn.
The best place is in a bright room that receives a good amount of natural light. Keep it away from hot or cold windows and drafts, as well as heating and cooling vents.
Here's a more comprehensive guide to Christmas Cactus care. It can be a very long-lasting houseplant with proper care.
Light/Exposure
Does Christmas Cactus need a lot of sunlight? Can Christmas Cactus survive in low light?
It depends. Christmas Cactus like the bright natural light that the sun provides as long as it's not direct. Moderate light exposure (bright light that's indirect) is their sweet spot.
I've never thought of a Christmas Cactus as a low-light houseplant. It'll survive for a while, but not for the long haul. If you've bought one just to enjoy for the holiday season only, then yes it will survive for a month or 2. Flower buds may not open if the light levels are too low.
Water
How often should you water a Christmas Cactus? Do you water Christmas Cactus from the top or bottom? How long can a Christmas Cactus go without watering?
How often you water your Christmas Cactus depends on a few variables: your home's temperature, the light levels, the pot size and type, and the soil mix it's planted in. I water mine in an 8″ grow pot every 2-3 weeks in summer and every 3-4 weeks in winter. When your Christmas Cactus is blooming, water it a bit more often. After it has flowered, back off on the watering in winter. You can increase the watering frequency in spring and summer if need be.
I've always watered my Christmas Cacti and Thanksgiving Cacti from the top.
Oh my goodness, I can't give you an exact time period. I had a client in the SF Bay Area who had one growing on her covered front porch. I was the only one who watered it every few months when I was working. It did get moisture from the fog rolling in from the nearby Pacific Ocean and that kept it from dying. You can read about it by clicking the link below.
Click the link and you can see what a Stressed Christmas Cactus looks like (hint: it's orange!).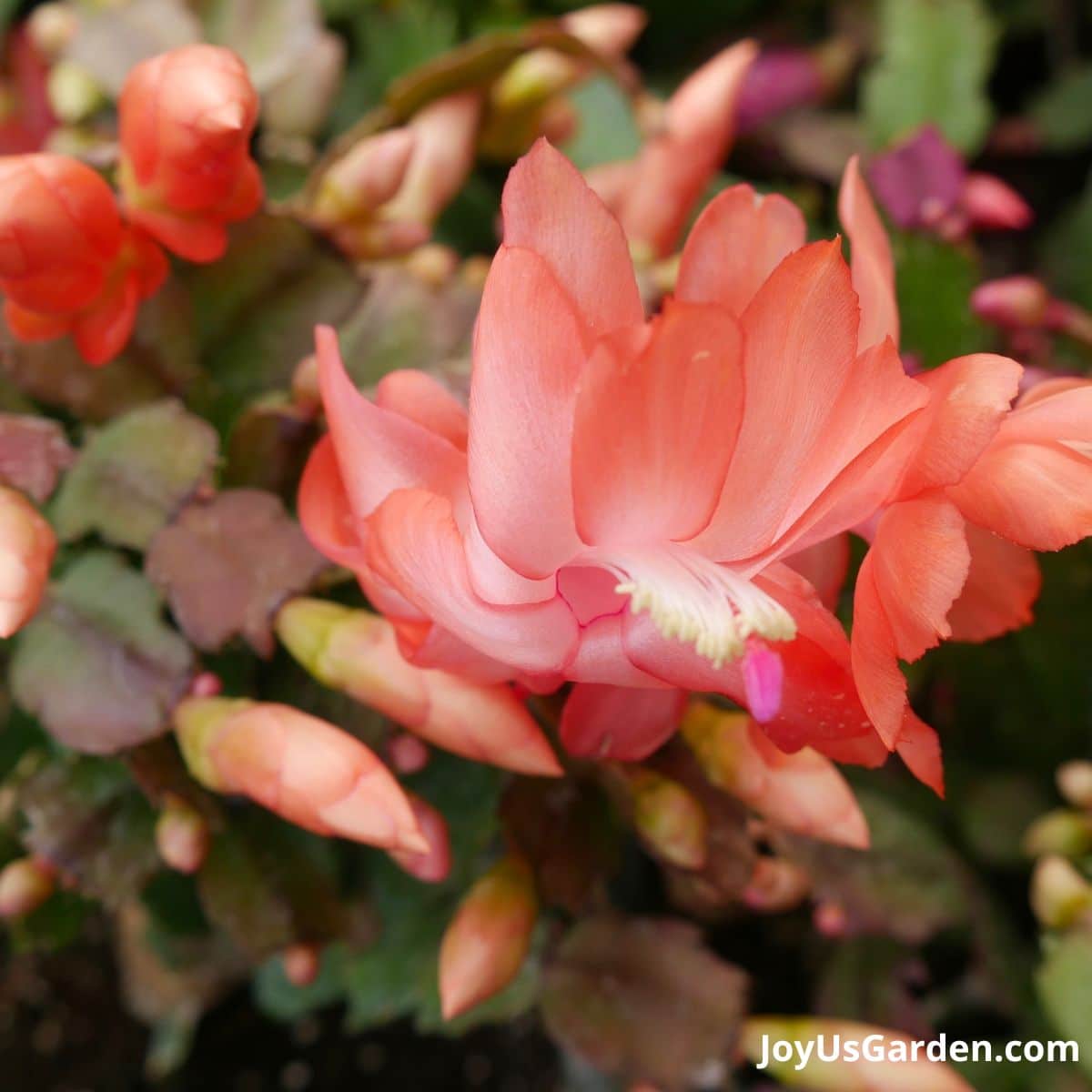 To Induce Flowering
When should you put a Christmas Cactus in the dark? When should I stop watering my Christmas Cactus? How do you get a Christmas Cactus to bloom again?
If you want it to start blooming around Thanksgiving, you should put it in the dark for 12-14 hours per day starting in early to mid-October.
I never completely stop watering it during this period. I wait until the top 1/2 of the soil dries out before watering again. This could be anywhere from every 3 to 6 weeks, depending on the temperature, the mix, and the size and type of pot it's planted in.
It may bloom again on its own. If not, I've written a post about what to do. It's a simple process but can take some effort if you don't have a room that is light during the day and completely dark for 12-14 hours at night. More on this below.
This will give more details on getting your Christmas Cactus to bloom. The 3 or 4 things needed are listed toward the end of the post.
Care When Blooming vs When Not Blooming
How to care for Christmas Cactus when blooming? How to care for Christmas Cactus after they bloom?
When my Christmas Cactus is blooming, I want those flowers to last as long as possible. I keep it in bright moderate light but out of any direct sunlight. I also keep it away from cold drafts and heating vents. I water it a bit more often when it's in bloom.
When this easy-care succulent isn't blooming (which is most of the time!) it grows in bright moderate light but gets no direct sunlight. It's important that the soil is well-drained as this plant doesn't like to stay wet on a regular basis. It doesn't like to dry out either. I water a 6″ Thanksgiving Cactus every 2 weeks in summer and every 3-4 weeks in winter. I live in the Arizona desert so you'll probably need to water less often.
Here's a more comprehensive guide to Christmas Cactus care. It can be a very long-lasting houseplant with proper care.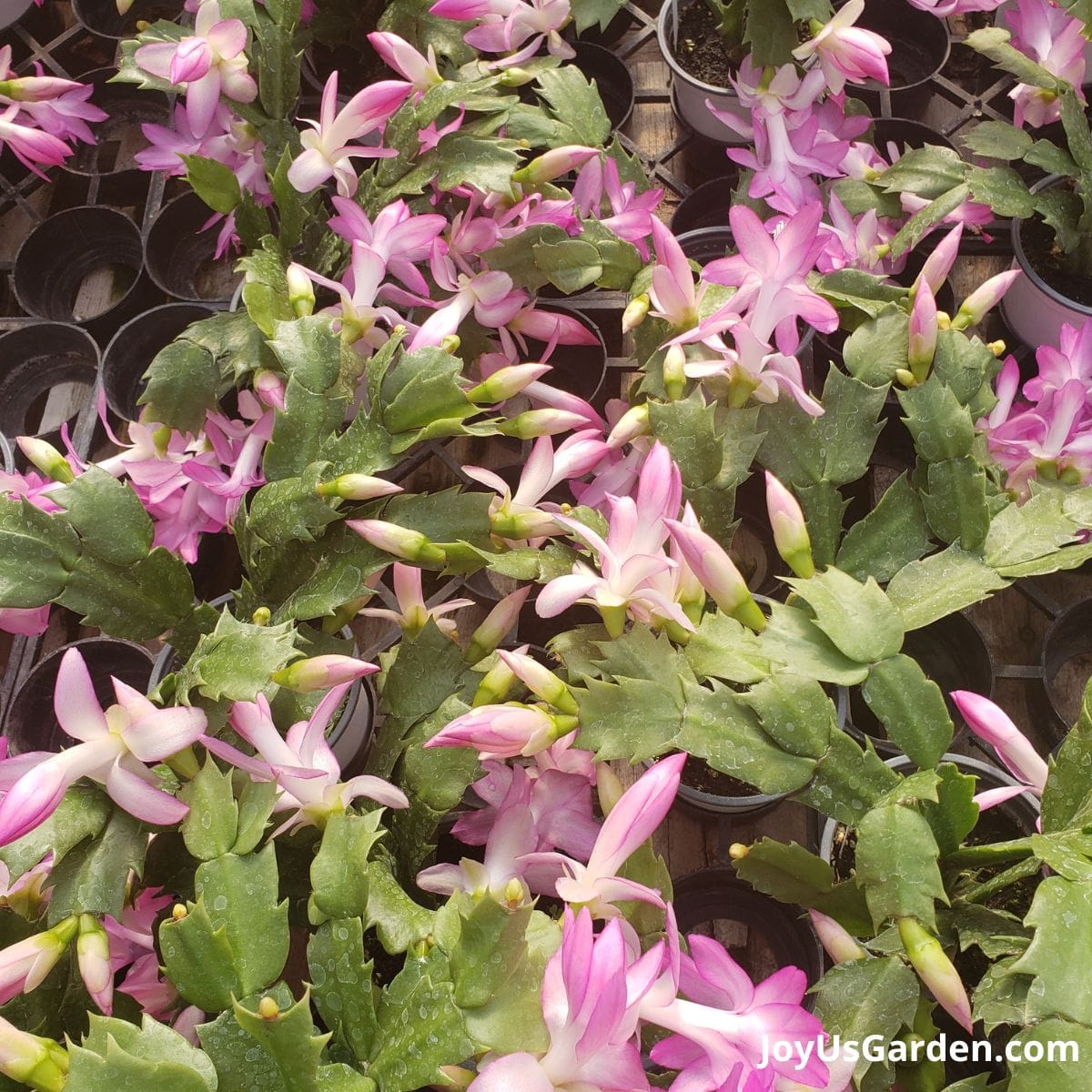 Soil
What type of potting soil is best for Christmas Cactus?
These succulents are epiphytic cacti and differ from the desert cacti that I'm surrounded by here in Tucson. In their natural rainforest habits, Christmas Cacti grow on other plants and rocks; not in the soil.
They get their nourishment from organic leaf matter falling from the plants growing above them. This means they like a very porous mix that also has a lot of richness to it, just like their fellow epiphytes bromeliads, and orchids.
I use this soil blend because it's rich yet drains well: 1/3 succulent & cactus mix, 1/3 potting soil, and 1/3 coco chips.
Interested in more details? Check out our post on Repotting A Christmas Cactus.
Outside
Is Christmas Cactus an indoor or outdoor plant? Is it ok to put a Christmas Cactus outside?
It's most commonly thought of as a houseplant. Christmas Cacti grow outdoors year-round in temperate climates. I grew a couple of them in pots in my Santa Barbara garden.
Yes, you can put a CC outside for the summer months. It'll do best in a protected area sheltered from rain and direct sun. Just make sure to bring it back indoors for the winter season when the temps drop below 50F.
Mist
Should I mist my Christmas Cactus?
This is a tropical cactus and not a desert cactus. Yes, you can mist it every week or so. Just be aware that misting too often may cause the foliage to stay too wet for too long which could lead to fungal disease. If in bloom, I avoid heavy misting of the flowers and buds.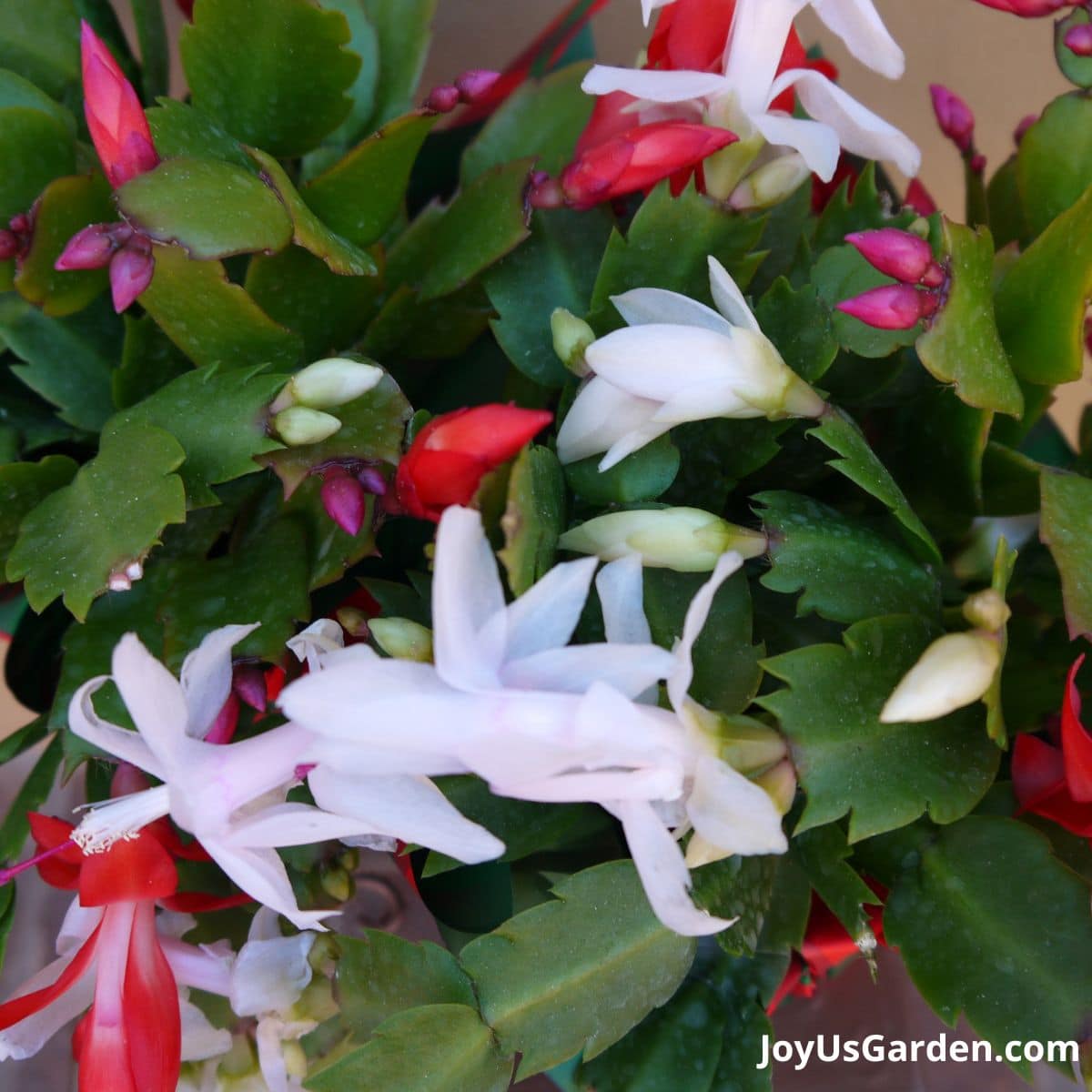 Pruning
Where do I trim my Christmas Cactus? How do I make my Christmas Cactus bushier?
Trim your Christmas Cactus at the leaf or stem divisions. That's the best place to make clean cuts. I don't trim mine yearly, but when I do, I often just twist the whole section off.
Depending on how leggy yours is, it may just need a tip pruning (taking off the terminal leaf). If you want to encourage even more fullness, you'll need to take off more.
Wondering what to do with your Christmas Cactus trimmings? Check out this guide on Christmas Cactus Propagation via stem cuttings.
Christmas Cactus Q & A Video Guide
Bonus
What are the three types of Christmas Cactus?
Thanksgiving Cacti are often sold as Christmas Cactus because they bloom earlier and many of us buy our seasonal blooming plants right after Thanksgiving. The 3rd type is the Easter Cactus. As a group, you may see any or all of them referred to as Holiday Cactus.
Interested in other blooming plants to brighten your home during the festive holiday season? Check out our posts on Poinsettia Care, Tips For Buying A Poinsettia, Flowering Plants For Christmas, and 13 Christmas Plants Other Than Poinsettias.
Hopefully, I've answered your questions about Christmas Cactus plants. This, along with all our posts, will make you a more confident indoor gardener!
Happy Gardening,

This post may contain affiliate links. You can read our policies here. Your cost for the products will be no higher but Joy Us garden receives a small commission. Thank you for helping us spread the word & make the world a more beautiful place!