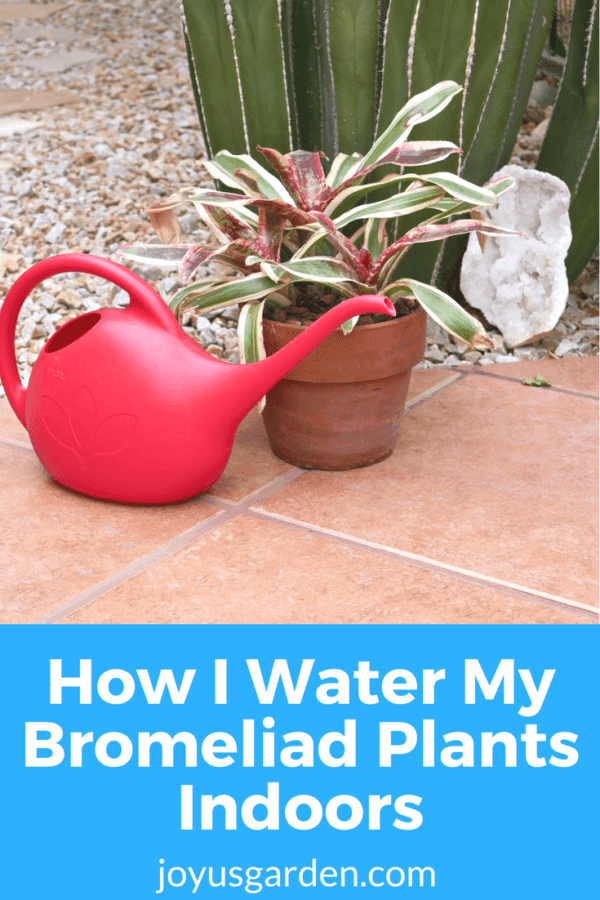 A few questions have come my way about this topic so I want to share with you tips for bromeliad watering, specifically, how to water bromeliad plants indoors.
I've been growing bromeliads for many years, both outdoors and as houseplants. They did beautifully in my Santa Barbara garden happily growing 7 blocks away from the ocean where they relished the moisture from the coastal fog. I've grown them in my homes in New York City, San Francisco, and now Tucson where I currently live.
Bromeliad plants are easy to care for both indoors and out. If you're new to the world of houseplant gardening, be sure to give one a go and you'll be hooked in no time. Even though these pineapple relatives are native to the tropics and subtropics, they tolerate dry air in our homes just fine.
Be sure to scroll to the end. You'll find commonly asked bromeliad FAQs along with answers.
Bromeliad Care posts & videos you'll find helpful:
Note: This post was originally published on 2/20/2018. It was updated 11/27/2021 with more info & new images.
Bromeliad Watering
In a nutshell, I water my bromeliads every month. Here's what I do:
I run water through the planting medium, whether it be moss, bark, coir, or a bromeliad planting mix. Let all the excess water run out of the drainage holes. You don't want the base of the plant to sit in water. Make sure all water has drained out before putting it back in the decorative pot and/or saucer.
Summers are very hot and dry here in the Arizona desert. I water my bromeliads every 2-4 weeks at this time. You may need to water yours less often depending on the temperatures/humidity.
The tank (cup, urn, or vase) is the core of the bromeliad and is usually the center of the plant. It's how the plant collects and stores water in nature. It gets thoroughly flushed out every 3-4 weeks to prevent any fungus or "funk" from building up.
If you're unsure of how much water to put in the tank, it's better to go with little water rather than too much.
After 1-3 flushes, I put a couple of tablespoons of water in the urn – just enough to keep it slightly moist in the winter. In the warmer months, I keep it about 3/4 of the way full and it dries out in about 5 days. For your bromeliads, 1/4 of the way full may be plenty determined by your environmental conditions.
I let the water run over the leaves for 10 seconds or so. It cleans the foliage and boosts the moisture and humidity factor, at least for a few minutes!
Here's the watering can that I was using in the video. I have a larger watering can and a smaller one but this is a nice in-between size. The long neck makes it easy to get the water to where you want it to go.
How to Water Bromeliad Plants Indoors
Spraying / Misting Bromeliads
Bromeliads love humidity so misting or spraying is something they'd enjoy. I spray mine in the kitchen sink or outdoors every few weeks.
In the winter months and/or if your light levels are low, simply misting or spraying the tank and the leaves every 2-4 weeks might be enough.
Best Water to Use
Of course, rainwater is best and what they prefer. That's not what the majority of us use to water our houseplants (me included) and most often, tap water is fine.
Water quality can however play a factor. If a white ring is building up in the tank, that's a sign of high mineral content.
My tap water is high in minerals. I have a tankless R/O system that remineralizes (with the good stuff!) for my drinking water. That's what I use for watering my indoor plants.
Some people use distilled or spring water when watering their bromeliads.
Bromeliad Watering in Water
In winter, the light levels are lower and the air is cooler. Your houseplants, bromeliads included, will need watering less often at this time.
I water the potting mix every 4-6 weeks at this time. Instead of keeping the tank almost topped off, I keep it about 1/4 – 1/2 full.
Adjust the watering schedule/amounts to fit your home's environment in the winter months.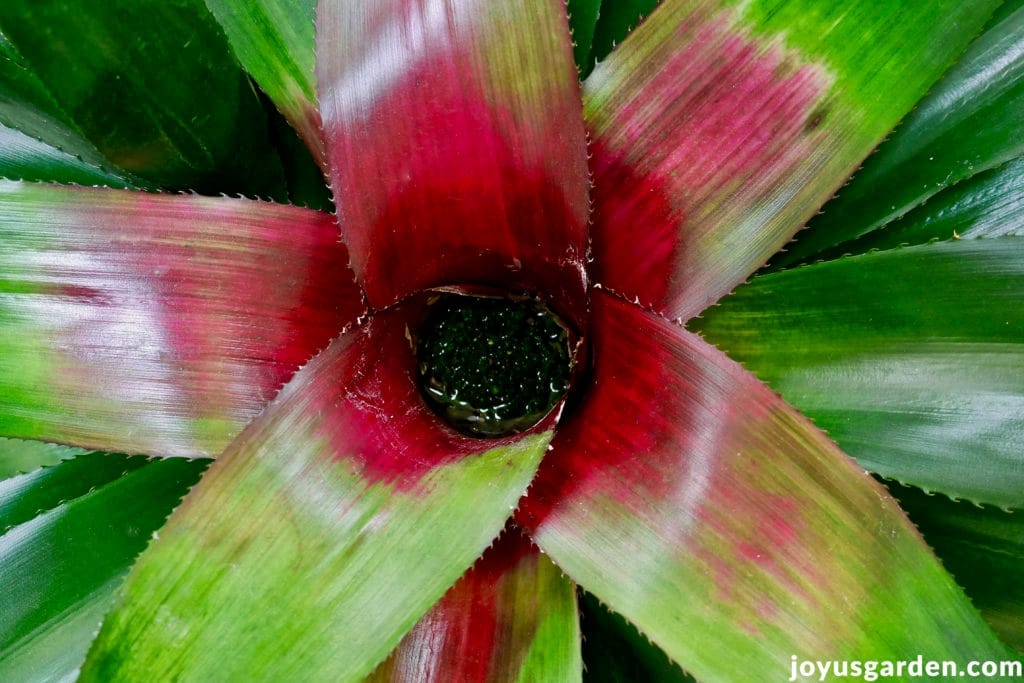 Good to Know About Bromeliad Watering Indoors:
Just know that it's much better to keep bromeliads indoors on the dry side rather than consistently wet. This applies to both the soil and the tank. Rot will be their demise faster than you can say "Aechmea fasciata"!
You want to flush a bromeliad's tank out because "funk" can build up in there. That water is stagnant after all. In nature, the tropical rains flush out the tanks.
If the tank looks like it had any funk build-up, let it dry out for 2-7 days before putting any water back in.
Bromeliads in small pots (4″) usually need watering more often than those in 6″ or 8″ pots.
If your light levels are lower and when temps are cooler, you'll want to keep the tank dry or almost dry. Keeping it full in these conditions can lead to rot.
In the case of the above, simply misting or spraying the tank and the leaves will probably be enough. And don't water the planting medium too often; every 4-6 weeks should be plenty.
Your bromeliad may have pups (babies) growing off it. When they get big enough, put a little water in their tanks too.
Bromeliads are susceptible to high contents of salts and minerals in tap water. You may have to use distilled water or rainwater.
Speaking of rainwater, when the monsoon season arrives here in Tucson, I put my bromeliads out to get a nice dose of rainwater. It cleans them off, thoroughly flushes the cup out and they love it. I snatch them back in before the intense summer sun comes shining because they'd fry.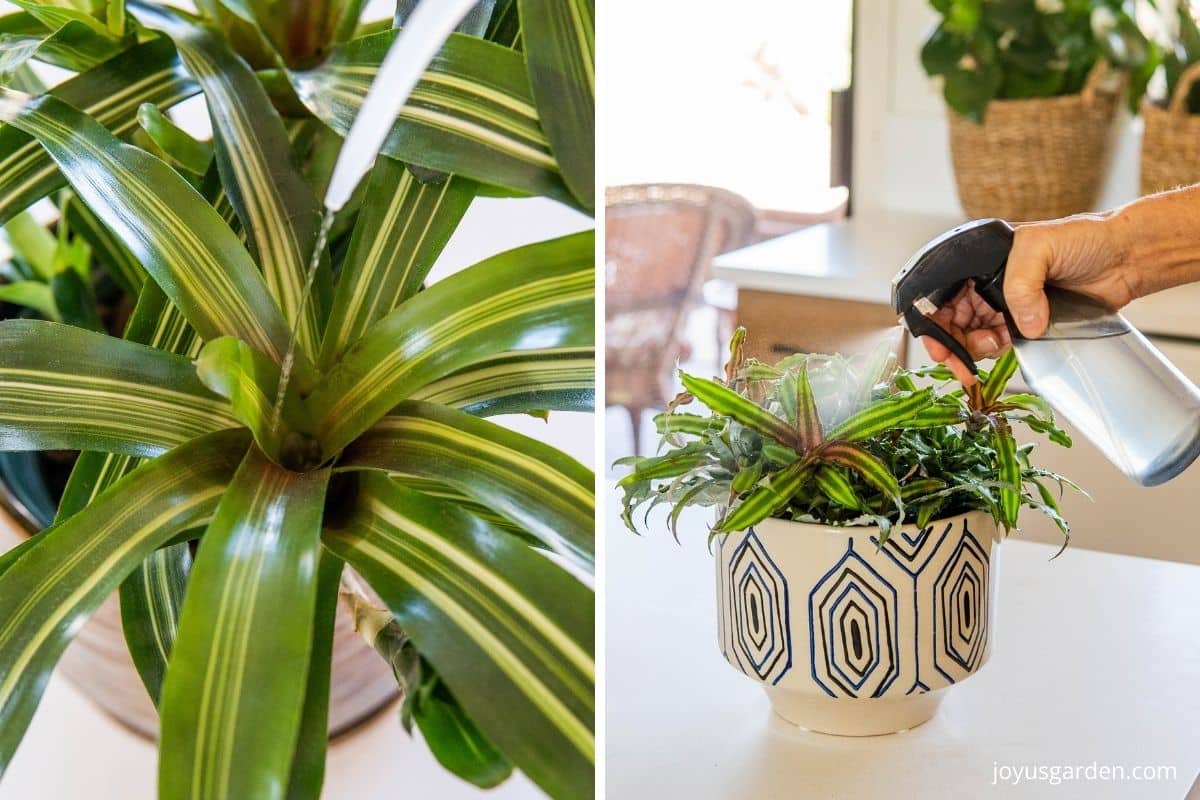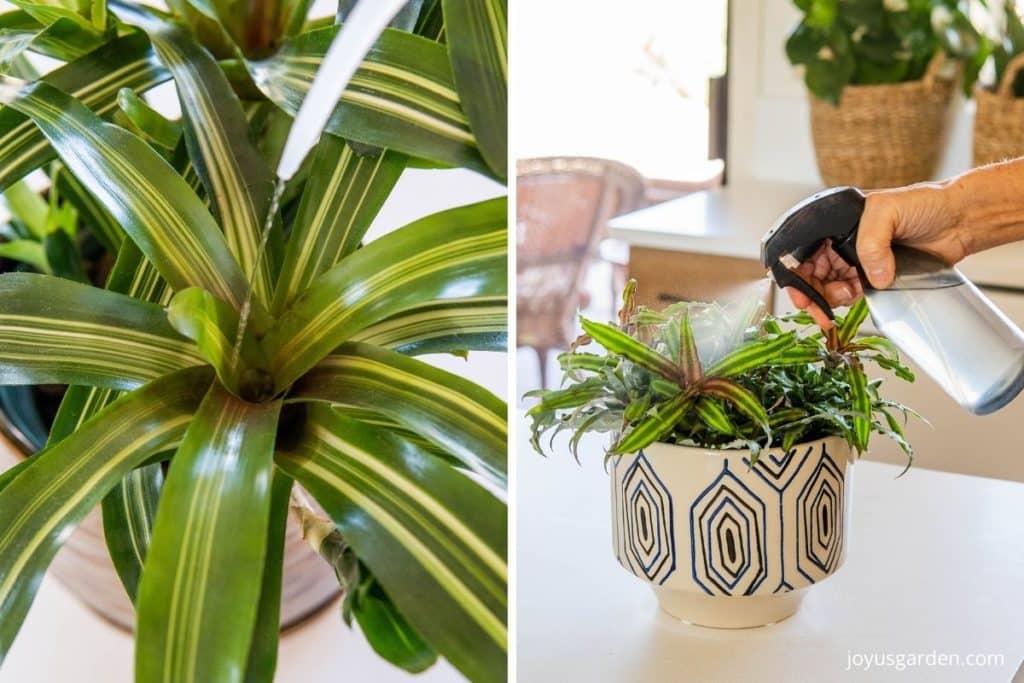 Bromeliad Watering FAQs
How often should I water my bromeliad?
It depends on the size of the bromeliad & your environment. Use this post as a guide & adjust. Just remember, I live in the Arizona desert. When I lived in coastal California, I didn't water my bromeliads as often.
How do you know when a bromeliad needs water?
As I said, it's best to keep them on the dry side when growing indoors. If the leaves are looking brown & "crispy", that's a sign they're too dry.
How do bromeliads plants get their water?
In their natural habitats (tropical rainforests), they get it from rainfall. Most bromeliads are epiphytic (they grow on other plants) so that's where the tank comes into play. Their root systems aren't extensive & serve the purpose of anchoring a bromeliad to another plant.

Cryptanthus' (Earth Star Bromeliads) are terrestrial bromeliads. I water the potting medium of mine more often than I do the epiphytic bromeliads.
How much water should you give a bromeliad?
It's hard to give an exact quantity. See the answer to the first question!
What is the best way to water a bromeliad?
The best way depends on your conditions & the type & size of the bromeliad. Keeping water in the tank, watering the potting medium, spraying & misting are all ways to water a bromeliad.
Do bromeliads like moist soil?
No. The majority of bromeliads sold in the houseplant trade are epiphytic. They don't grow in soil in nature so keeping the soil constantly moist leads to their demise.
Can you overwater a bromeliad?
Yes, you sure can. Keeping the potting mix wet & the tank full of water at all times will cause it.
What happens if you overwater a bromeliad?
It could possibly lead to rot depending on long it's been kept too wet. Try changing the potting medium & let it dry out along with the tank.
Do bromeliads like to be misted?
They sure do! Their native habitat is the humid tropics.
Can you grow bromeliads in water?
Not that I know of. The only bromeliad I've seen growing in water is the top of a pineapple plant & I'm not sure how long you can keep it in water. And yes, pineapples are terrestrial bromeliads.
Can you propagate bromeliads in water?
Because most of the bromeliad houseplants are epiphytic, my answer would be no.
How to water bromeliad pups?
If you leave it in with the mother, the watering of potting medium is taken care of. Once the pups get big enough, I keep a bit of water in the tanks.

If you separate & plant the pups in a new pot, you may have to water them a bit more often while they're establishing.
Do bromeliads like sun or shade?
I threw this one in just for fun. Along with watering, it's a big part of bromeliad care. In their natural habitats, they grow under other plants. They receive very little direct sunlight, but the light is bright.

Indoor they do best in bright, natural light out of any direct sunlight or hot sun. I've done many care posts on bromeliads. You can find the links at the beginning of this post.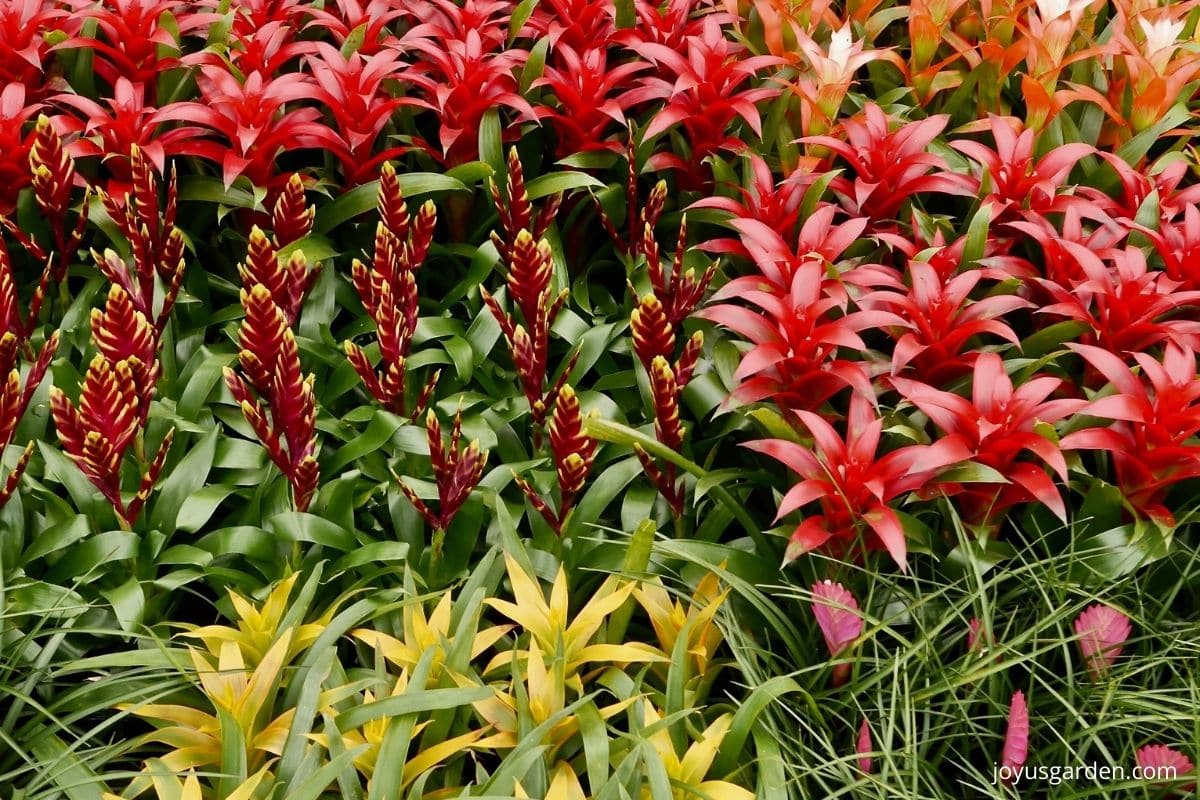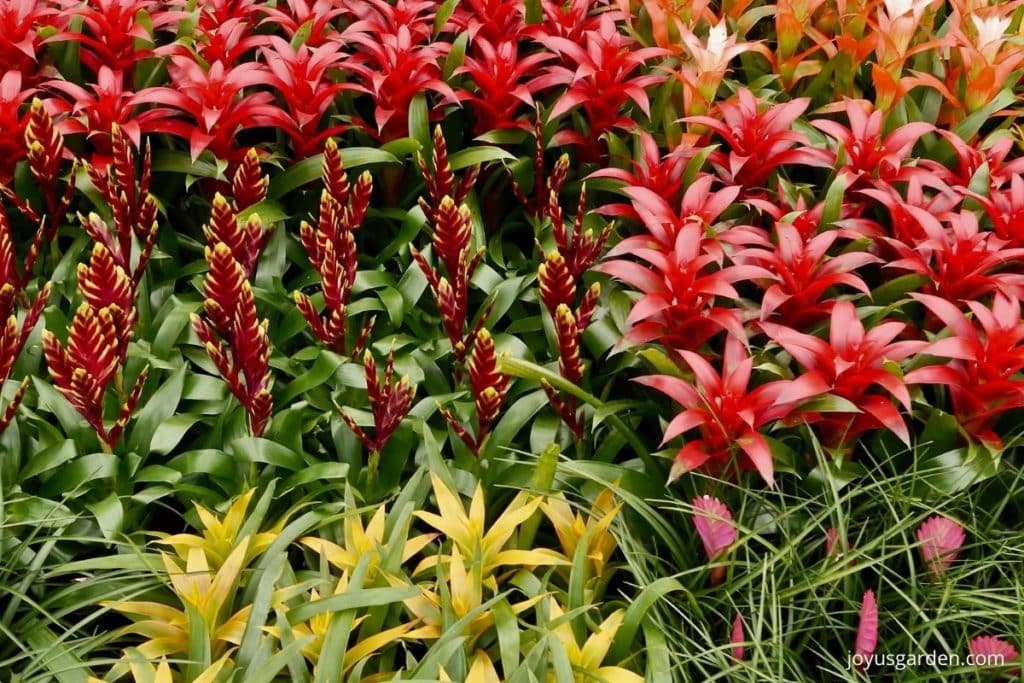 Some Of Our General Houseplant Guides For Your Reference: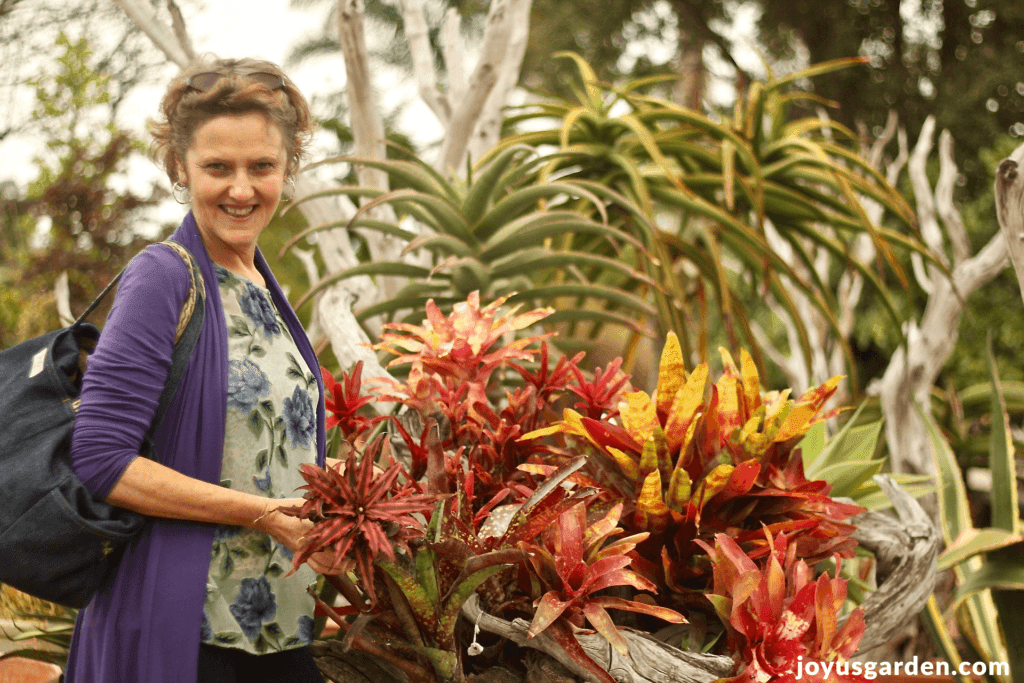 There are varying opinions regarding watering bromeliads. Some camps say to keep the urn full of water, some say to keep it dry, others say to water the medium every 1-2 weeks and others say every 1-2 months.
It can be confusing so I just wanted to share with you what works for me. And I'm hoping it'll work for you too. Just remember, make adjustments for whatever season it is, and for your home's environment.
Bromeliads are colorful blooming houseplants. You can enjoy their beauty at any time of year!
Happy gardening,

Loving houseplants lately? You may also enjoy these articles!

This post may contain affiliate links. You can read our policies here. Your cost for the products will be no higher but Joy Us garden receives a small commission. Thank you for helping us spread the word & make the world a more beautiful place!
I'm a life-long gardener who still to this day gets giddy at the thought of a trip to one of the local nurseries. Yes, I actually studied landscape and environmental horticulture and the practical experience I have garnered through the years has served me well. Childhood memories of chicken manure "tea" still float through my olfactory senses to this day. I have always been an organic gardener and always will be. From the Earth … To the Earth. I was born and raised in rural, bucolic Litchfield County, Connecticut and now joyfully live a few blocks from the ocean in beautiful Santa Barbara, California.