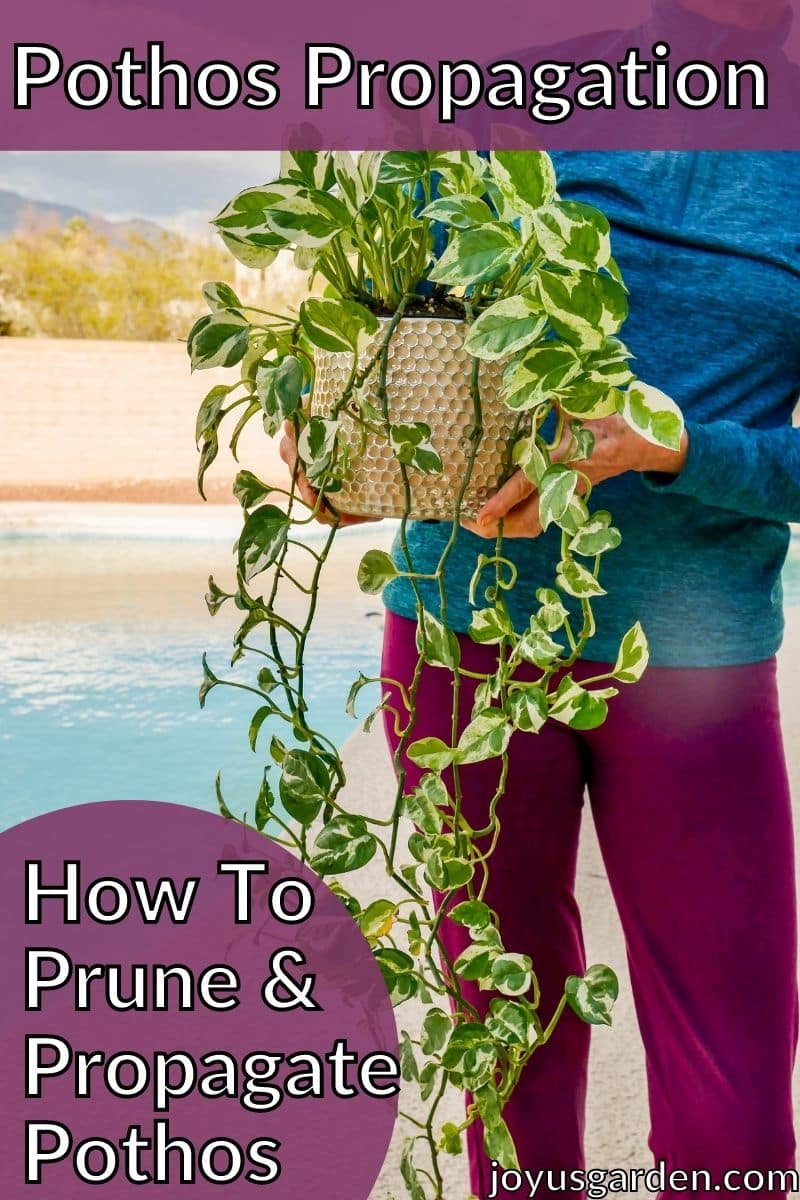 Pothos are popular hanging houseplants. This outlines Pothos propagation – pruning, propagating, cuttings care and good things to know.
A Pothos plant grows fast. At some point, you'll need to prune this popular houseplant so you might as well do something with the cuttings. I'm sharing with you tips on Pothos propagation including how to prune and propagate a Pothos plant along with how to take care of and plant the cuttings.
Pothos are easy-care, easy to find hanging indoor plants which come in a variety of leaf colors, patterns, and sizes. If you're a beginning gardener, they're one of the old standbys to start with. This post applies to all Pothos as you propagate them with this same method.
The method I use on the regular when propagating Pothos is via stem cuttings in water. You can also do stem cuttings in soil mix – more on that further down. Division is another option but they can be tricky to divide easily because the stems are so intertwined.
More on Pothos Care:
When Should I Propagate Pothos?
Spring, summer, and early fall are the best times to prune a Pothos for propagation.
If for some reason you have to propagate in winter (like a trail snaps off) no worries, just stick it in water or a light mix.
Reasons To Prune A Pothos Plant
A Pothos plant grows fast. You'll need to prune yours to control the length, to encourage bushiness, and/or to propagate.
How to Make A Pothos Fuller
This is a commonly asked and goes hand in hand with the above point. Over time, your Pothos will probably lose fullness on the top. Pruning, either just the tips or more extensive, will encourage yours to fill out and send out new growth at the top.
Those new trails coming out of the top will also help to cover up any bare spots on the stems due to yellowing leaves.
If your Pothos is thin all over, it needs more light.
What You'll Need For Pothos Propagation
Not much is needed for this project. You'll want a Clean And Sharp Pruning Tool. I prefer to use my floral snips because they make clean, precise cuts. You can also use pruners or a good pair of scissors.
I propagate my cuttings in water so I use a jar here. Whatever vessel suits your fancy is fine but I prefer mine to be clear. That way, I can see how the rooting action is going.
The small trowel is pictured because I use it to plant the rooted cuttings back in the mother plants. You'll see this towards the end of the video.
If you're rooting in soil, you'll need a small pot and a light mix like my DIY Succulent and Cactus Soil Mix. Pothos roots are tough so a potting soil on the lighter side is fine to use too.
Where To Cut Pothos
I cut the stem straight across about 1/8″ below a root node.
My Golden Pothos sits on top of a bookcase and 2 of the trails were hitting the floor. I made the cuts about 2-3″ above where I wanted them because a new stem will appear out of a node above the cut. That new stem will eventually trail down so this gives me 2 years or so before I have to prune those 2 stems again.
I did the same thing with my Pothos N Joy the year before.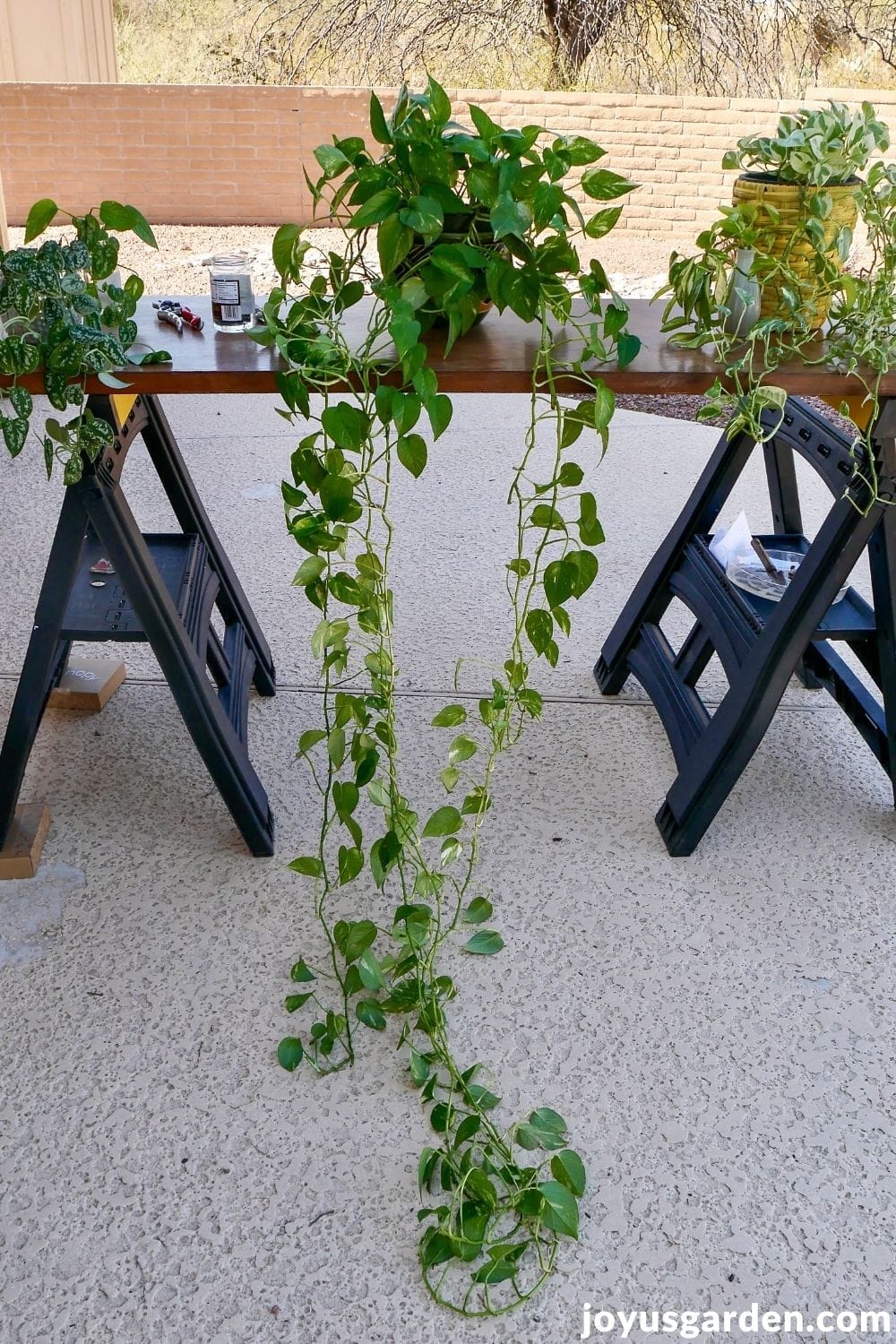 What Size Cuttings Should I Take
I've taken both longer cuttings and shorter cuttings. Both have rooted fine. The longest has been around 24″. I like to take cuttings between 6 – 12″ because they're easier to transplant once rooted (because my preferred method is propagation in water).
I've found that the longer cuttings can get a bit leggy during the process but they do root well.
Pothos propagation in action:
How To Propagate Pothos
Gather the materials needed.
Make your cuts straight across just below a node.
Put your cuttings in water or soil mix. There's no need to let them heal over like you would Succulents.
If you're rooting in water, make sure the bottom node (or 2) is submerged in water at all times. If the cutting is shorter, I submerge 1 bottom node. If longer, then the 2 bottom nodes.
If you're rooting in mix, make sure it's well moistened before you put the cuttings in and that 2-3 of the bottom nodes are in the mix.
How easy is this!
Where To Put Pothos Cuttings
Place them in a bright spot. My cuttings are currently rooting on a ledge in a north-facing kitchen window which gets plenty of natural light (I live in the desert in Tucson, AZ where there's lots of sunlight).
If they're in too much direct sun, they'll burn. If the light is too low, the foliage will become stunted and the cuttings will be weaker.
How To Maintain Pothos Cuttings
If in water: change the water every 7-14 days to keep it fresh and clean. Be sure to maintain the water level so those emerging roots don't have a chance to dry out.
If in soil mix: water them every 5-8 days depending on the pot size, soil composition, and temps. I water Pothos cuttings a bit more frequently than an established plant because I don't want the mix and those emerging roots to dry out.
When Will The Roots Start To Emerge
You'll see the roots starting to poke out in about 2 weeks. The nodes are brown and the emerging roots are white and fleshy. Pothos propagation is not only easy, but it's fast too!
When Are The Cuttings Ready To Plant?
Pothos cuttings are tough. In all reality, you can plant them a couple of weeks after those roots start to emerge.
I like to wait about 2 months after they start to poke out. This way they're a bit better formed and I plant them at this time.
As you'll see towards the end of the video, I had to prune some roots of cuttings that had been in water for 7-8 months. They were way too extensive to try to plant back into the mother plant.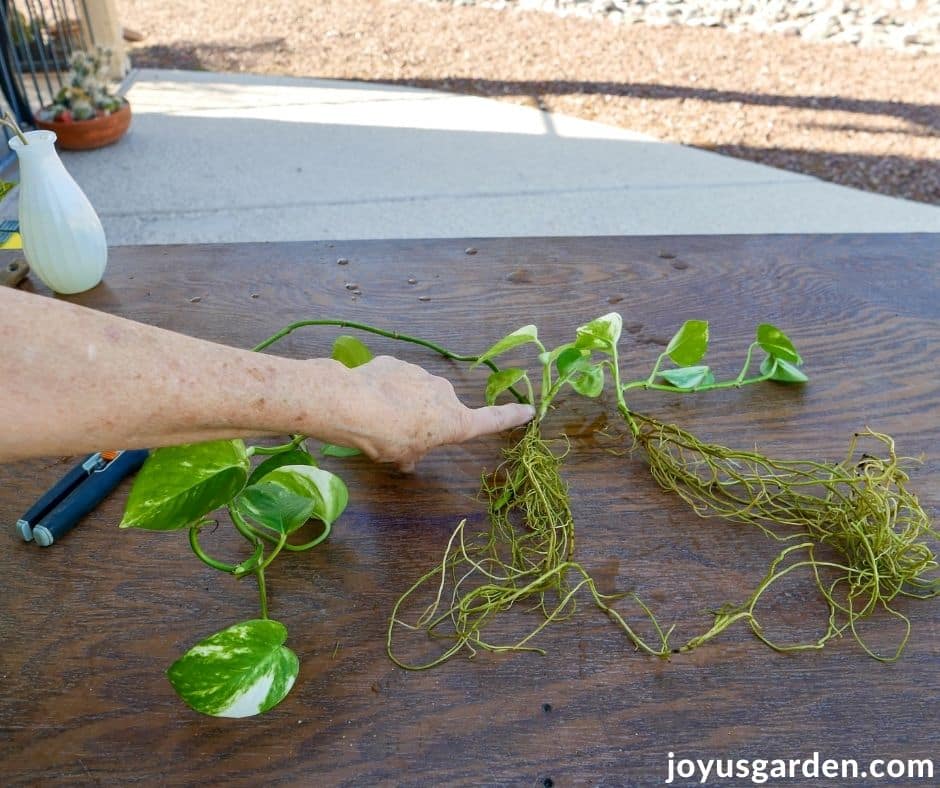 Planting Pothos Cuttings Once They're Rooted
You can put start a new plant or put them back in the mother plant. If you rooted yours in mix in a 4″ pot, they can stay in that for a while.
I already have 4 Pothos which is plenty for me. I planted mine back in the mother plants (to fill in bare spots at the top) which you'll see in the video.
Some Of Our General Houseplant Guides For Your Reference: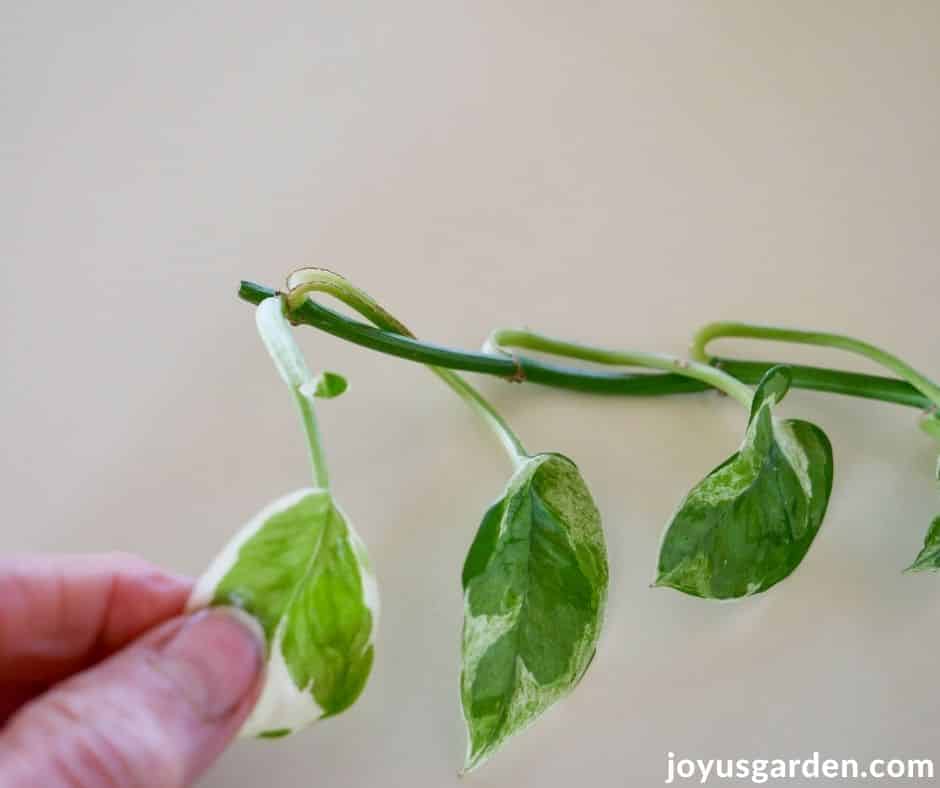 Pothos Propagation FAQs
Can you propagate Pothos without a node?
No, the roots emerge from a root node.
How long does it take Pothos to root in water?
You'll see roots emerge in about 2 weeks. I consider them good and rooted in about 2 months. The time can vary for you depending on the growing conditions.
Can Pothos live forever in water?
The longest I've had Pothos cuttings in water was about a year and a half. My friend had some in water for over 3 years. The stems and foliage were thinner and not as robust. The stems will need nutrients at some point to keep them healthy and looking good.
Do Pothos grow better in water or soil?
For the long haul, I'd say soil.
How do you keep a Pothos from getting leggy?
It may need simply brighter light. Or, you may have to prune the long stems to encourage bushiness.
How long does a Pothos plant live?
I threw this one in just for fun. I've moved to different cities in different states and have left the majority of my houseplants behind with friends. The longest I've had a Pothos for is 9 years. 
Pothos propagation is practically foolproof so give it a go. The cuttings just keep on coming!
Happy gardening,

This post may contain affiliate links. You can read our policies here. Your cost for the products will be no higher but Joy Us garden receives a small commission. Thank you for helping us spread the word & make the world a more beautiful place!
I'm a life-long gardener who still to this day gets giddy at the thought of a trip to one of the local nurseries. Yes, I actually studied landscape and environmental horticulture and the practical experience I have garnered through the years has served me well. Childhood memories of chicken manure "tea" still float through my olfactory senses to this day. I have always been an organic gardener and always will be. From the Earth … To the Earth. I was born and raised in rural, bucolic Litchfield County, Connecticut and now joyfully live a few blocks from the ocean in beautiful Santa Barbara, California.