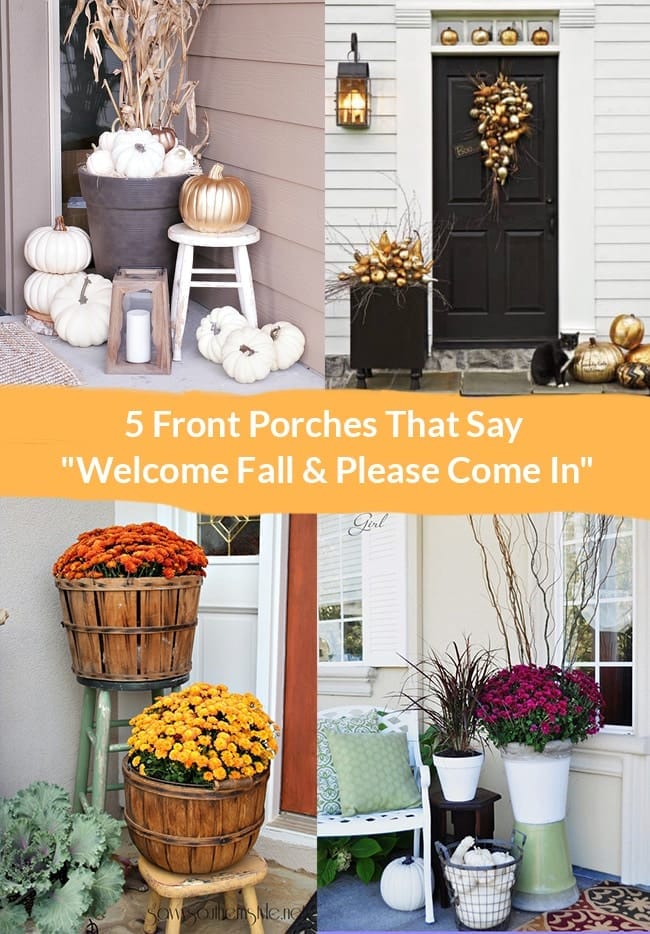 Written By Lucy Ferreira
Fall is in the air and what a better way to welcome the colder days than decorating our front porch. Here are some ideas to get inspired you inspired and say "hi there fall".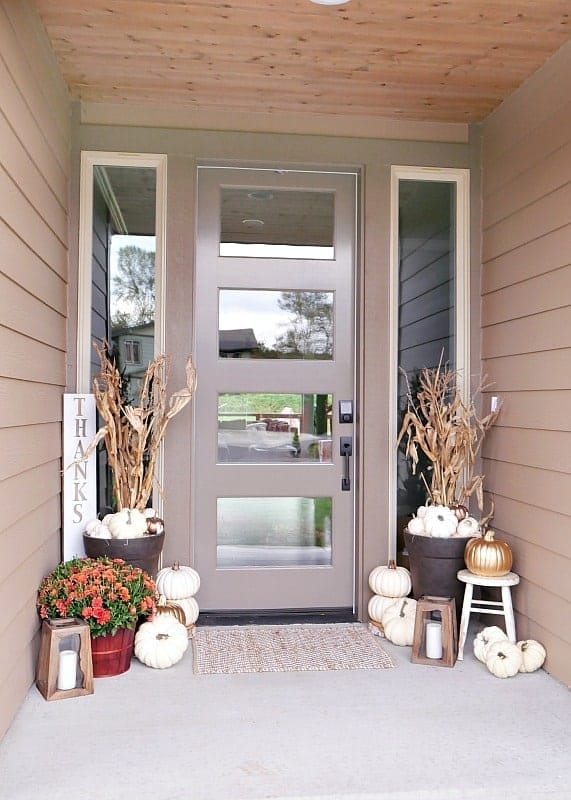 Are you looking for a cleaner and more modern look? Think about giving white pumpkins a try. You can also add small splashes of color by painting some of the pumpkins and adding some mums to the display.
To create a look similar to the one in the picture you'll need different sizes of white pumpkins. You can get the real ones at a pumpkin patch, garden centers or stores like Trader Joes, Ralphs or Safeway. There are also plenty of faux ones that you can reuse next year. You'll also need metallic paint in gold or copper.
Just remember that faux pumpkins are susceptible to the elements and are suitable only if your front porch is fully protected. You might also need to tie them down if wind is an issue.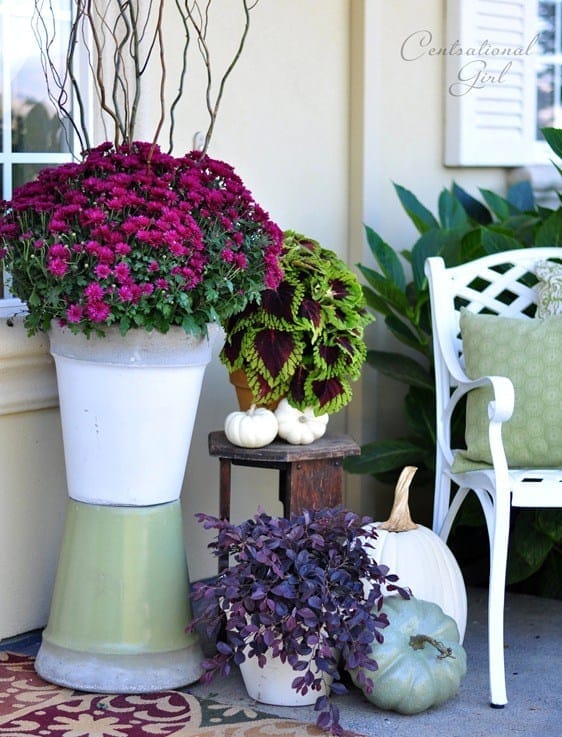 Here's a good example of how to use plants for your fall decor. This look gets away from all the fall decor cliches. If you want to get away from the oranges, browns and golds then this display will inspire you.
A couple things you might need:
For the planters, you can get a couple of this gray ones and paint them in white and green. They're fiberglass which will make it easy to move them and the plants around while decorating.
To paint some of the pots and pumpkins you can use mint green.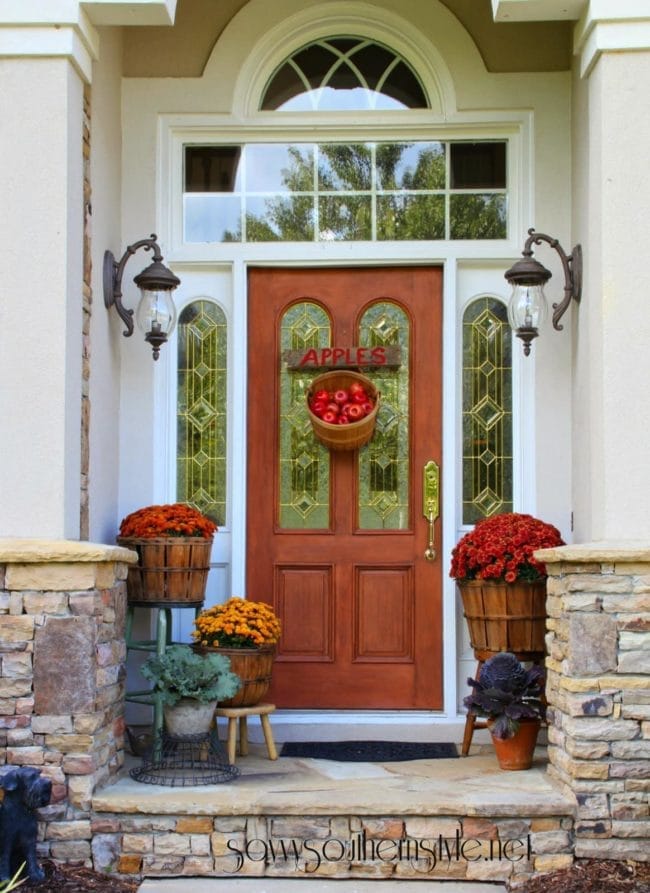 Savvy Southern Style Fall Porch
Maybe you like the traditional colors for fall decorating. I do too because they inspire a cozy feeling. The image above is for the fall colors lovers like me. What I like the most about this display is the use of ornamental cabbage and how the main points of interest are all plants.
Here a couple things you'll need to create this look:
A couple of natural round baskets to use as planters and to hold the apples.
Faux apples to put inside the basket at the door. You could also use real ones and invite guests to take one as they leave or arrive. This will change the weight of the basket so plan the hanging method accordingly.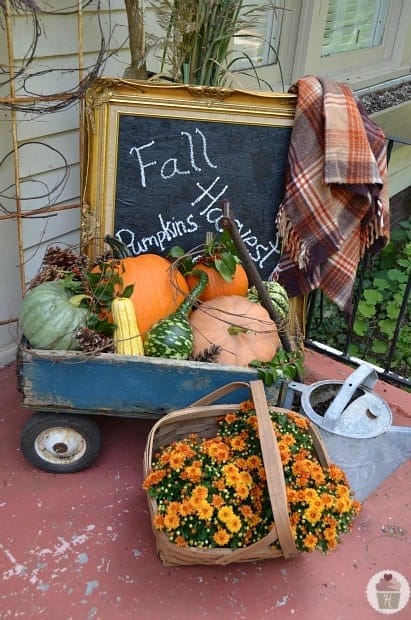 Nowadays you can get such a crazy variety of pumpkins that why not use them all? Here you can see them in green, yellow, orange, and variegated. If the colors aren't cozy enough for you add a pleated throw. How cozy is that?!
Two things that can help you achieve this look:
Chalkboard: the one pictured here has a much more interesting frame. If you're into thrifting, you might find one that looks like that. If you're lucky and find a frame in that style, you can add chalkboard contact paper to it.
A vintage looking watering can made of tin. Nell told me she saw vintage watering cans at Home Goods this weekend. TJ Maxx and Marshalls might be worth checking out too.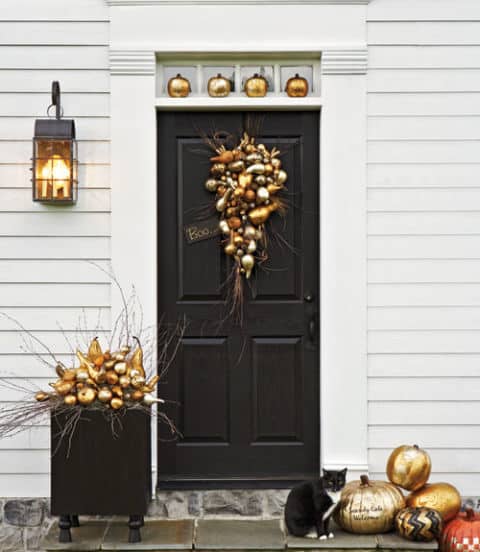 Go full out glam with different shades of gold. This option goes very well with dark colored doors.
Here are a couple of things to get this look:
Metallic paints in gold & copper.
Faux assorted pumpkins & gourds.
I want to remind you one more time that faux pumpkins are susceptible to the elements and are suitable only if your front porch is fully protected. You might also need to tie them down if your area is windy.
I hope these ideas help you create a wonderful front porch to give the colder season a cozy feel.
Happy creating,
Lucy
You May Also Enjoy:
Autumn Decorating Ideas For A Festive Fall Season
The Best Plants That Will Make Your Home Festive For Fall
5 Porches That'll Welcome Fall To Your Home
Fall Readymade Natural Wreaths 
Thanksgiving Centerpiece Ideas With Natural Elements 
This post may contain affiliate links. You can read our policies here. Your cost for the products will be no higher but Joy Us garden receives a small commission. Thank you for helping us spread the word & make the world a more beautiful place!
I'm a life-long gardener who still to this day gets giddy at the thought of a trip to one of the local nurseries. Yes, I actually studied landscape and environmental horticulture and the practical experience I have garnered through the years has served me well. Childhood memories of chicken manure "tea" still float through my olfactory senses to this day. I have always been an organic gardener and always will be. From the Earth … To the Earth. I was born and raised in rural, bucolic Litchfield County, Connecticut and now joyfully live a few blocks from the ocean in beautiful Santa Barbara, California.