Hanging a natural autumn wreath on your front door is a great way to add that finishing touch to your front porch and welcome all with beautiful fall decor. Our roundup of natural fall wreaths is an inspiration to use authentic fall decorations for your home.
If you want to add a fall touch to your home but don't have time to create your own wreath, we've got you covered. We've searched and compiled some of the prettiest fall wreaths that you can buy online. Welcome the cozier season by adding a fall touch to your front door inside or outside.
Where Should You Display Your Fall Wreaths?
Some of these wreaths may have aromas and scents to fill your home. You can hang them on your front door (inside or outside), above your fireplace mantel, or on a wall.
Festive Natural Fall Wreaths
Some are minimal, others are more detailed, but all share one quality: they are made with some natural elements or some that closely resemble natural elements.
Not all of these wreaths are weather resistant, so check the details on each one.
Keeping these wreaths out of direct sunlight and storing them properly will last for years.
Look at the fall wreaths here and tell us which arrangement is your favorite!
Dried Flowers Wreaths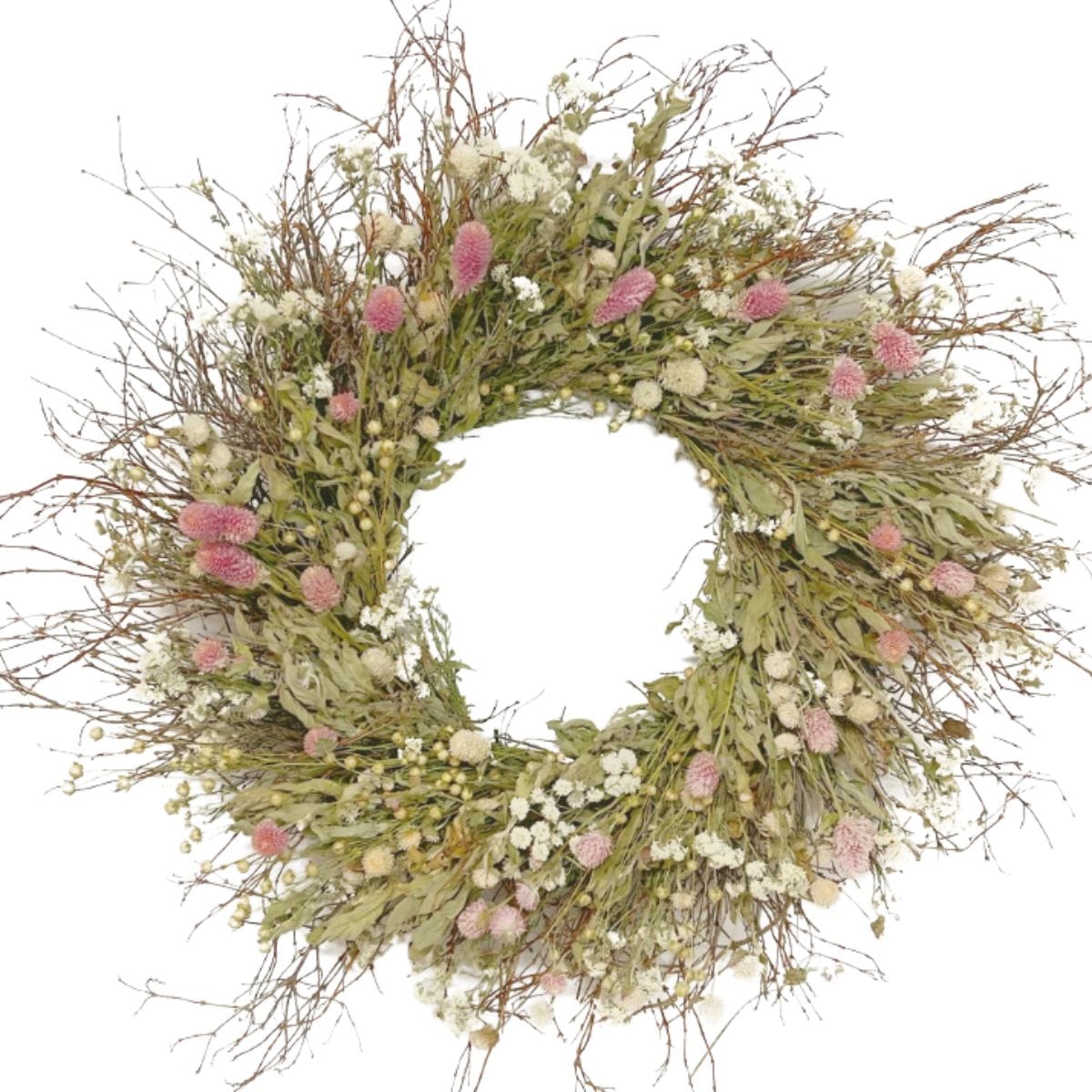 1) VanCortlandt Farms Dried Flower Wreath, $63-$157
What really makes this VanCortlandt Farms Wreath stand out is the array of quail brush twigs and globe amaranth. The wreath is beautifully arranged.
These natural elements come together and provide lovely decor that would easily complement a farmhouse aesthetic.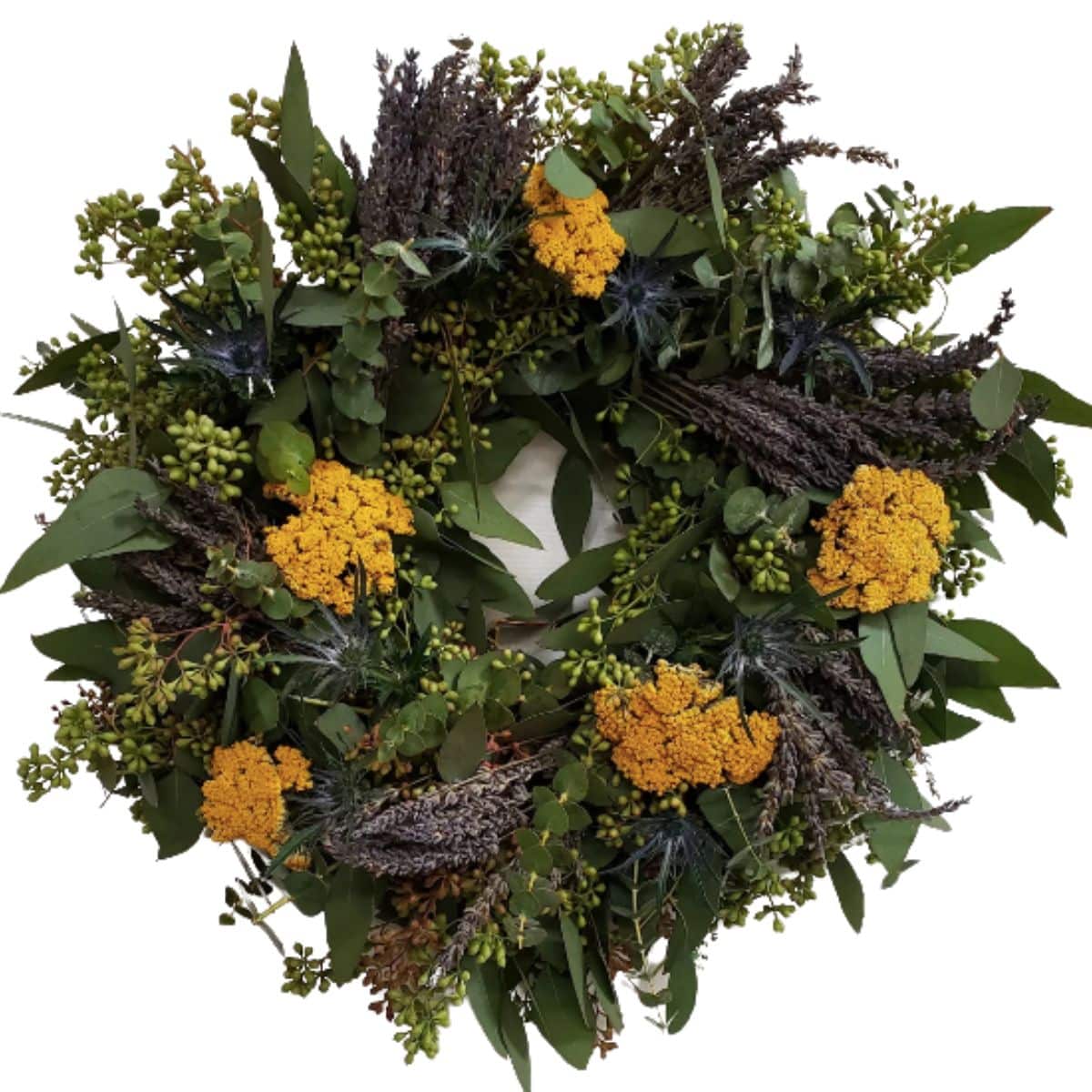 2) Eucalyptus, Lavender, Thistle, and Yarrow Wreath, $94
Imagine all the fragrance that comes with this wreath! The yellow yarrow feels like fall. The color palette on this blends so well with the deep green of the eucalyptus.
This wreath will dry naturally over time, and because it dries nicely can be kept up for decoration after it is dry.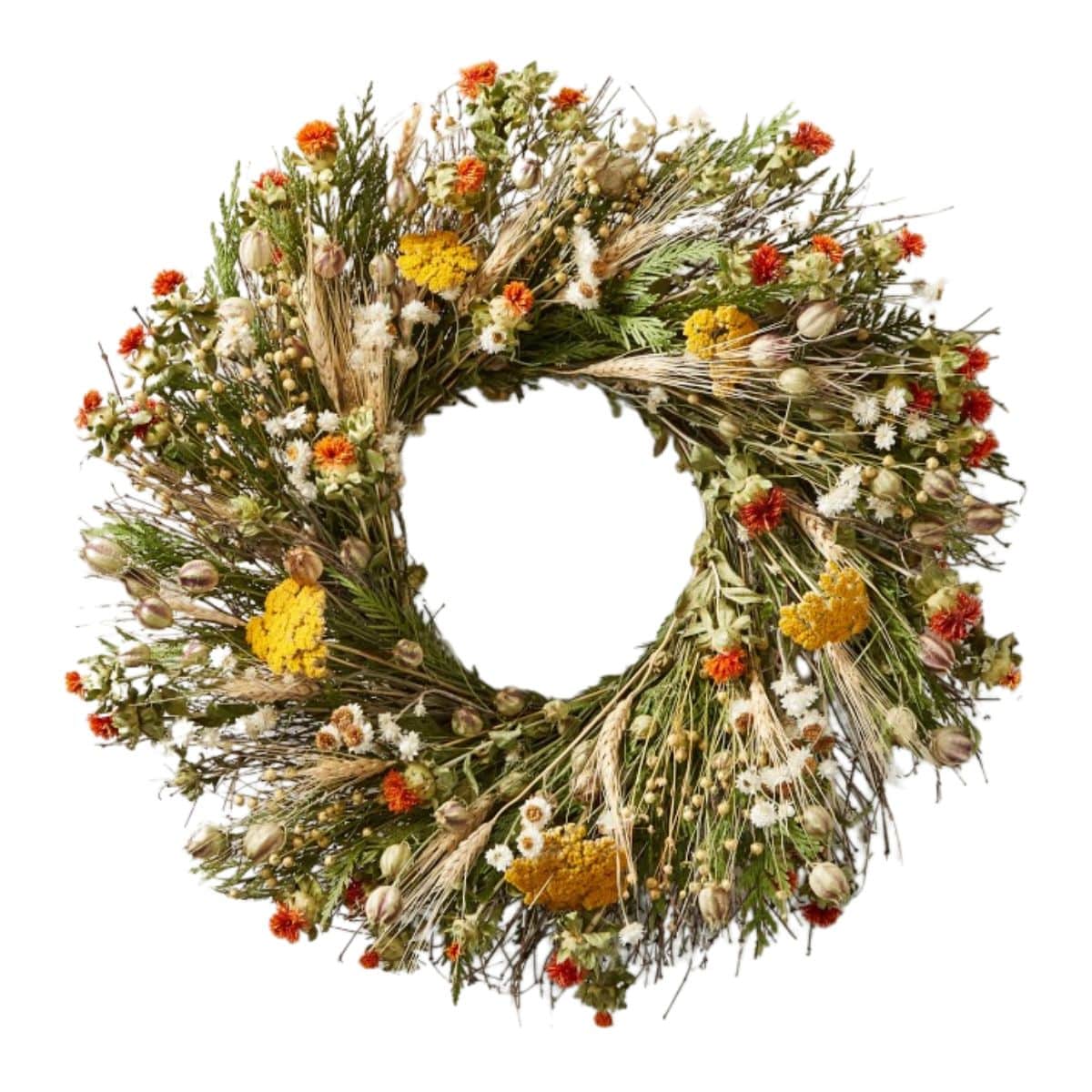 3) Laurel Canyon Wreath, $99 – $165
This wreath captures the natural beauty of the rustic oasis, with orange safflowers, yellow yarrow, and ivory ammobium on a field of air-dried greenery. Each wreath is expertly handcrafted from locally grown botanicals in Washington State.
So many textures and pretty fall colors! This is a beauty that we swoon over.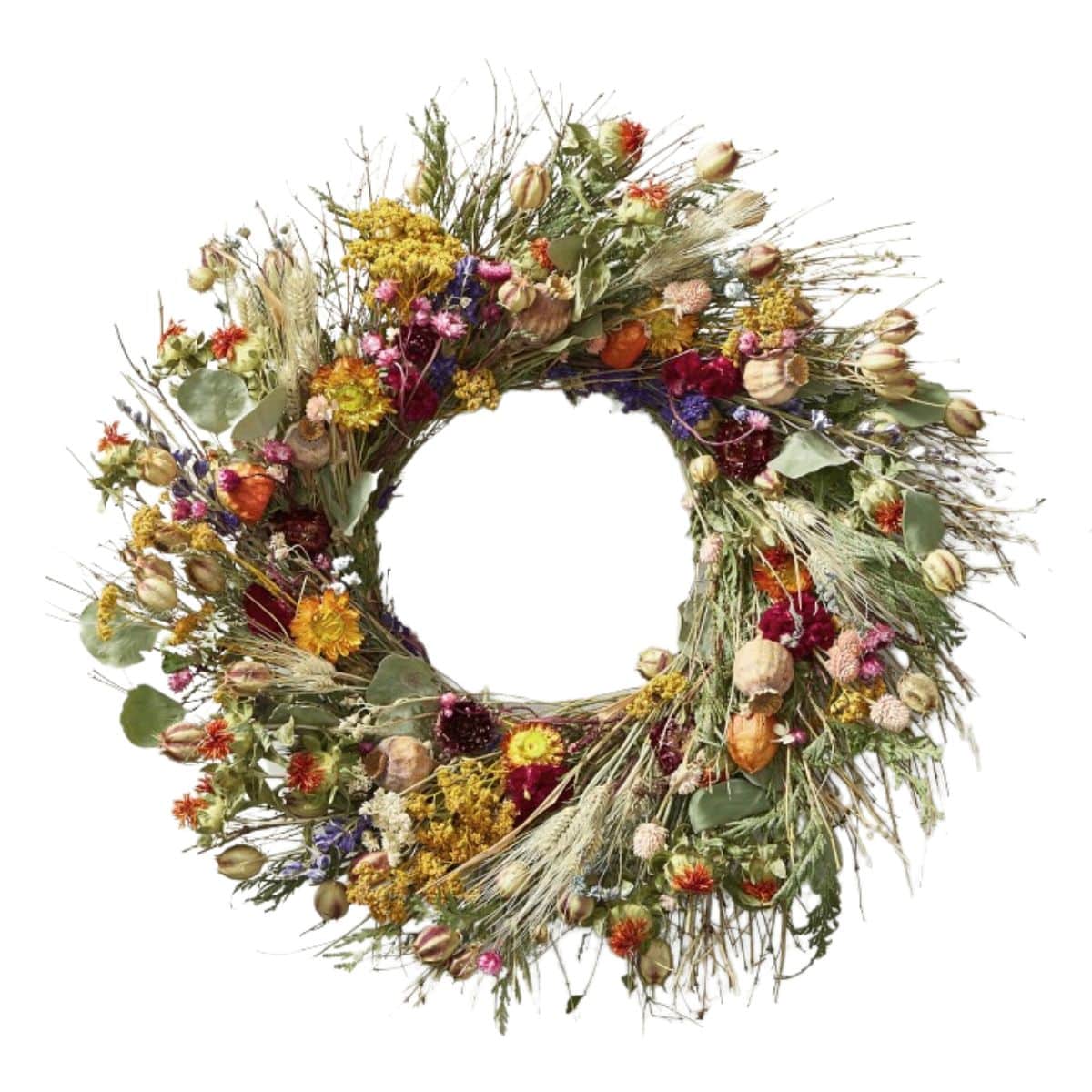 4) Garden Party Door Wreath, $99-$229
Don't you just love seeing the autumn colors coming together in this wreath? Everything comes together to form a beautiful wall hanging.
Locally picked botanicals include lavender, poppy pods, celosia, yarrow, Chinese lanterns, strawflowers, larkspur, wheat, nigella, eucalyptus, cedar, quail brush, lemon mint, globe amaranth, and sinuata statice.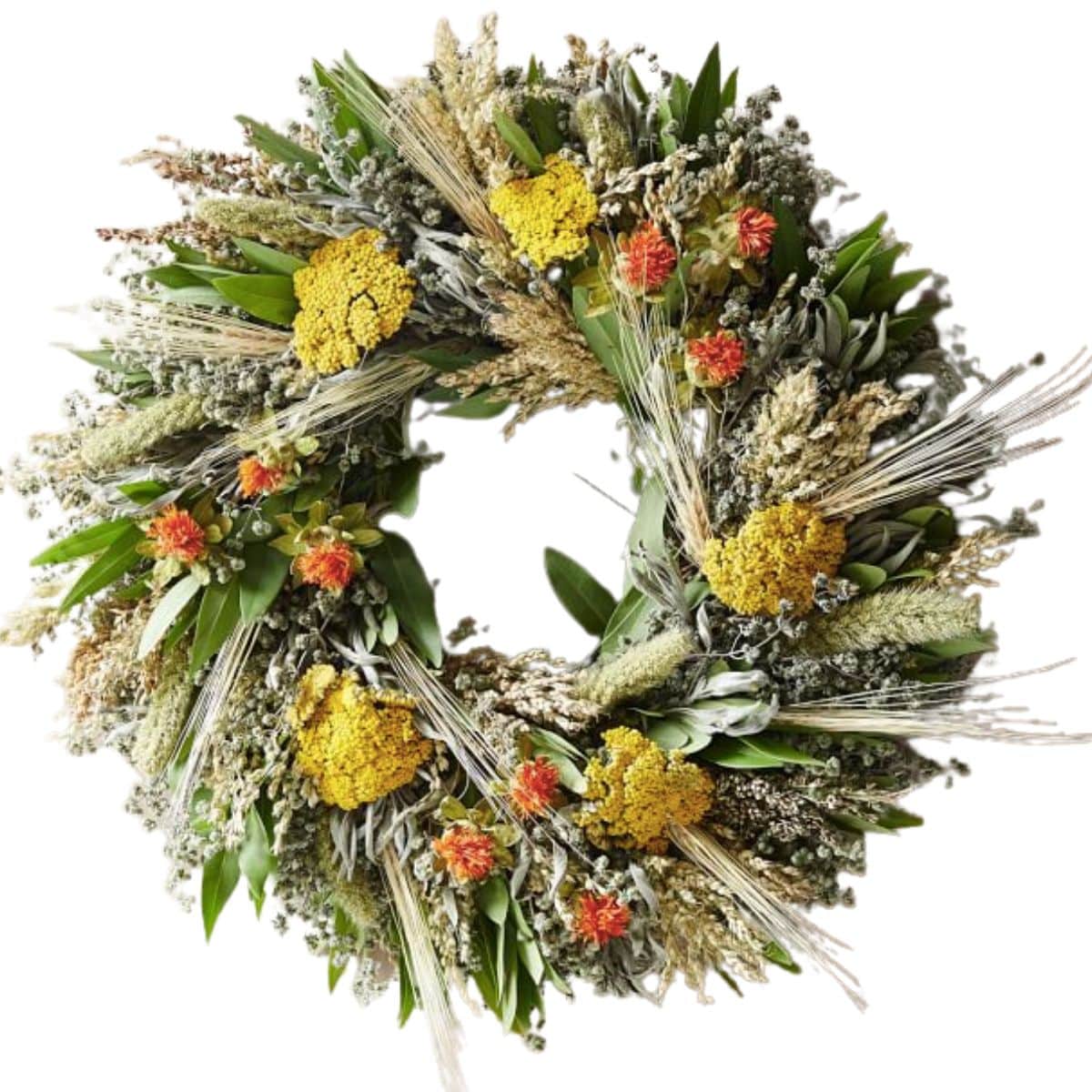 5) Fall Safflower Wreath, $129
This wreath feels like quintessential fall. Made up of freshly cut plants and flowers, this wreath is artfully arranged to order. Dress up a door with this mixture of safflower and seasonal herbs or hang it in a kitchen—its sage, bay leaves, and marjoram give it a fresh herbal scent.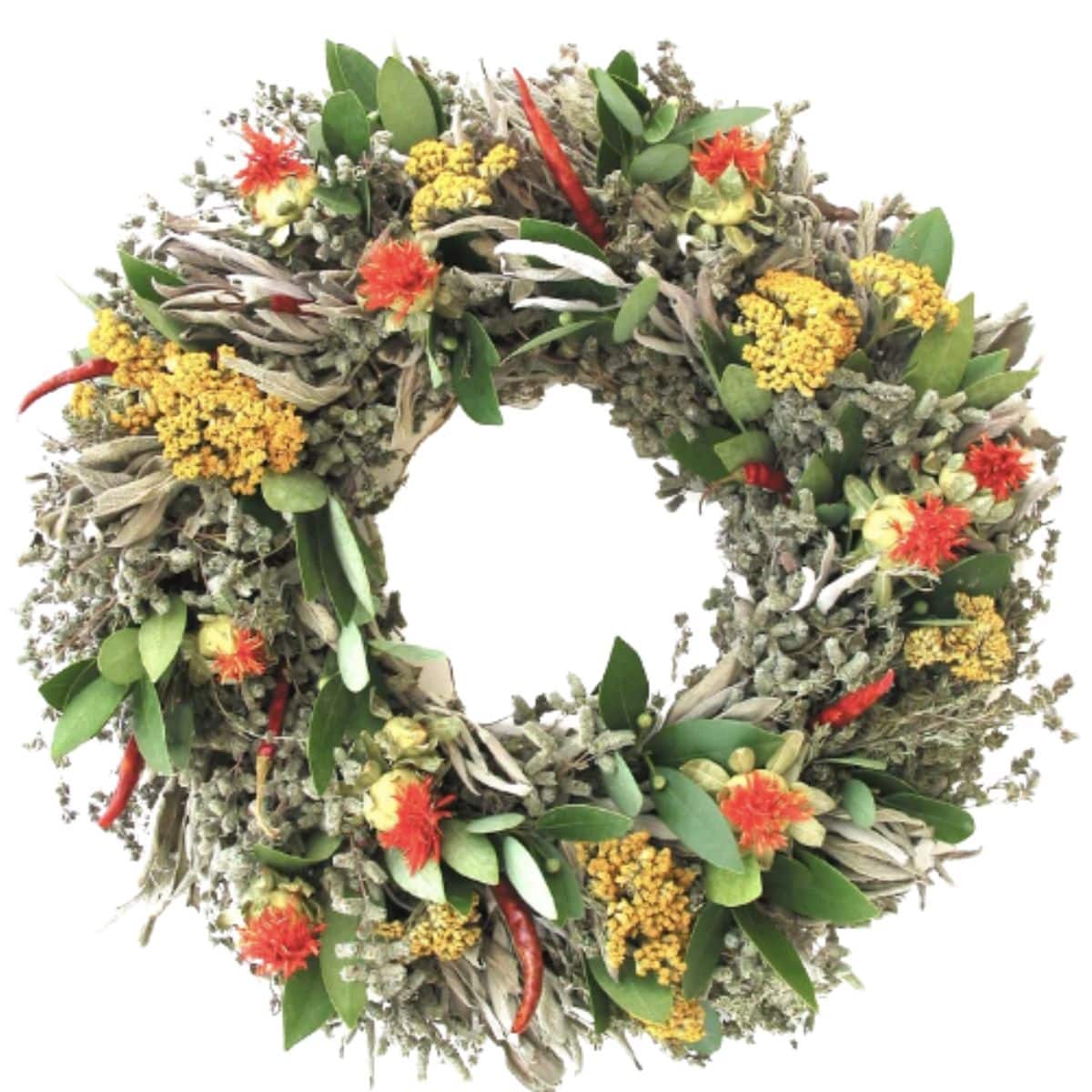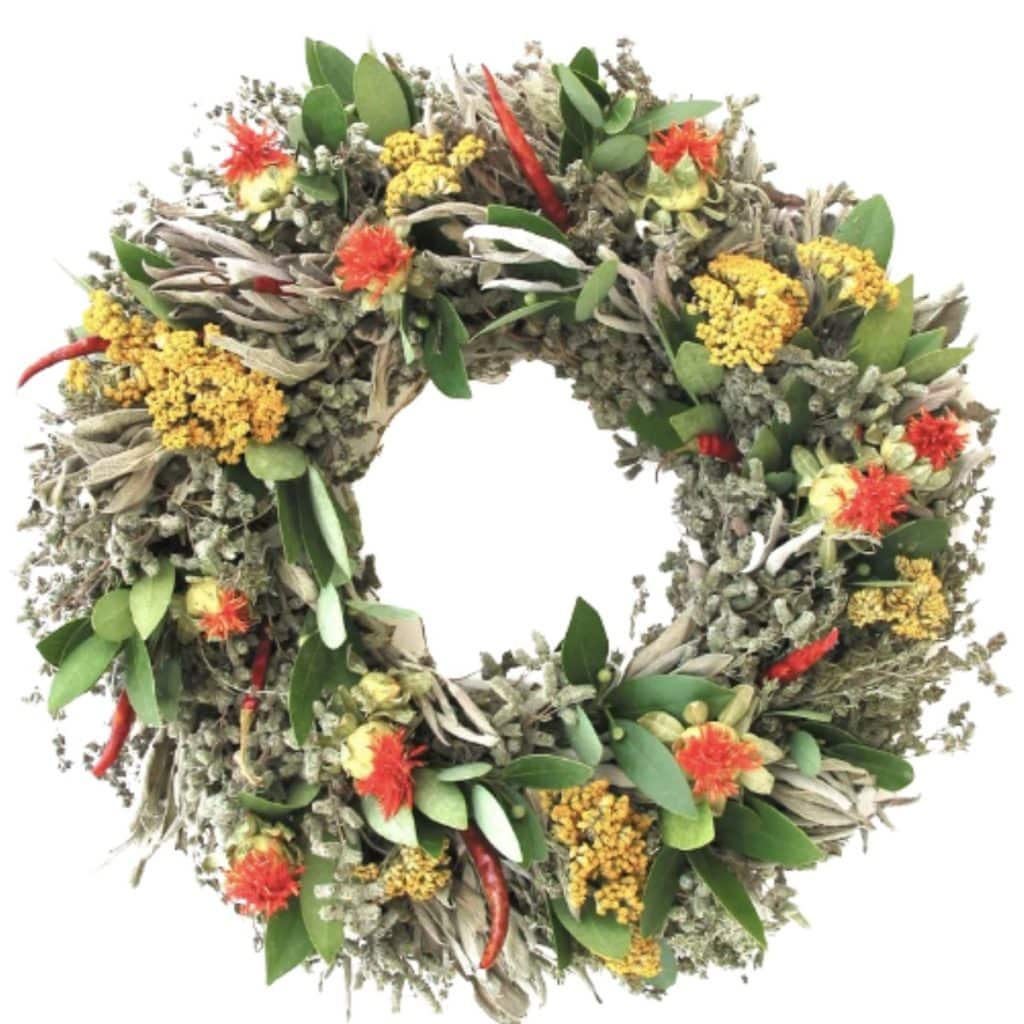 6) Preserved Safflower Wreath, $69
Welcome your guests with this 16-inch herb wreath. The safflowers and chile de arbol make this wreath pop with color. Marjoram, savory, and sage add fragrance to make this a beautiful addition to your kitchen or a gift for someone special.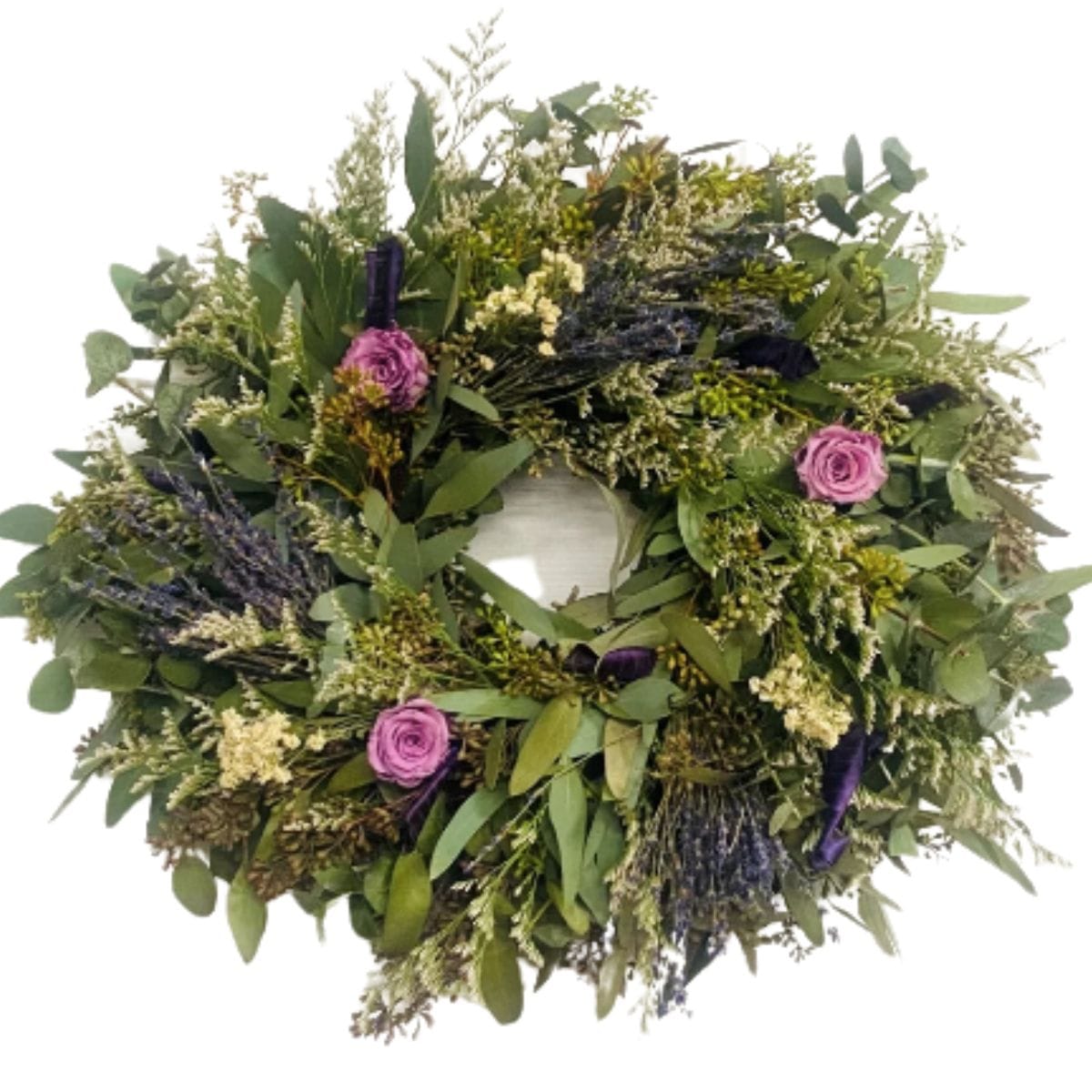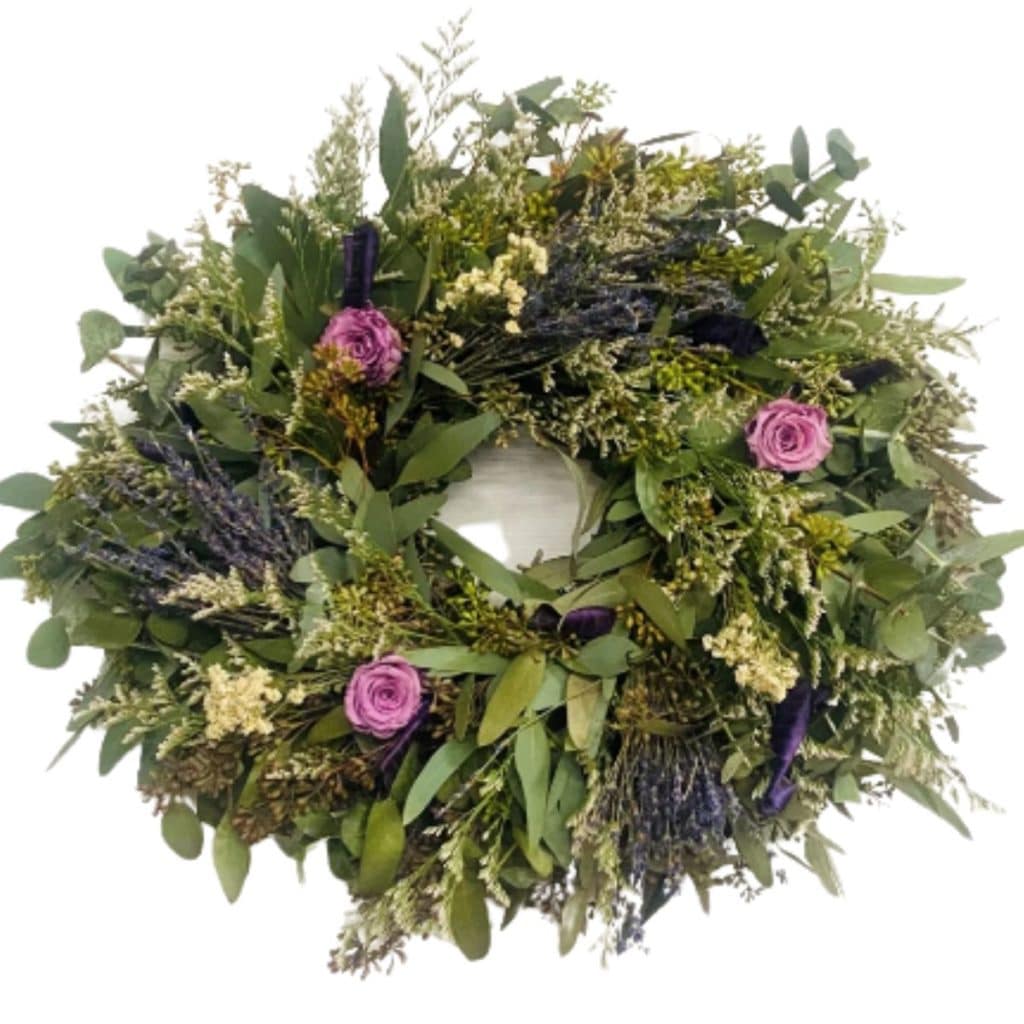 7) Lavender Rose Wreath, $99
This beautiful wreath will be a lovely addition to your home or the perfect gift for your favorite person. Made with Seeded Eucalyptus, Baby Blue Eucalyptus, Preserved Lavender roses, Pearl, Lavender, MistyWhite, Purple Curls.
This wreath is not designed to hang on an outside door, it is for indoor hanging only.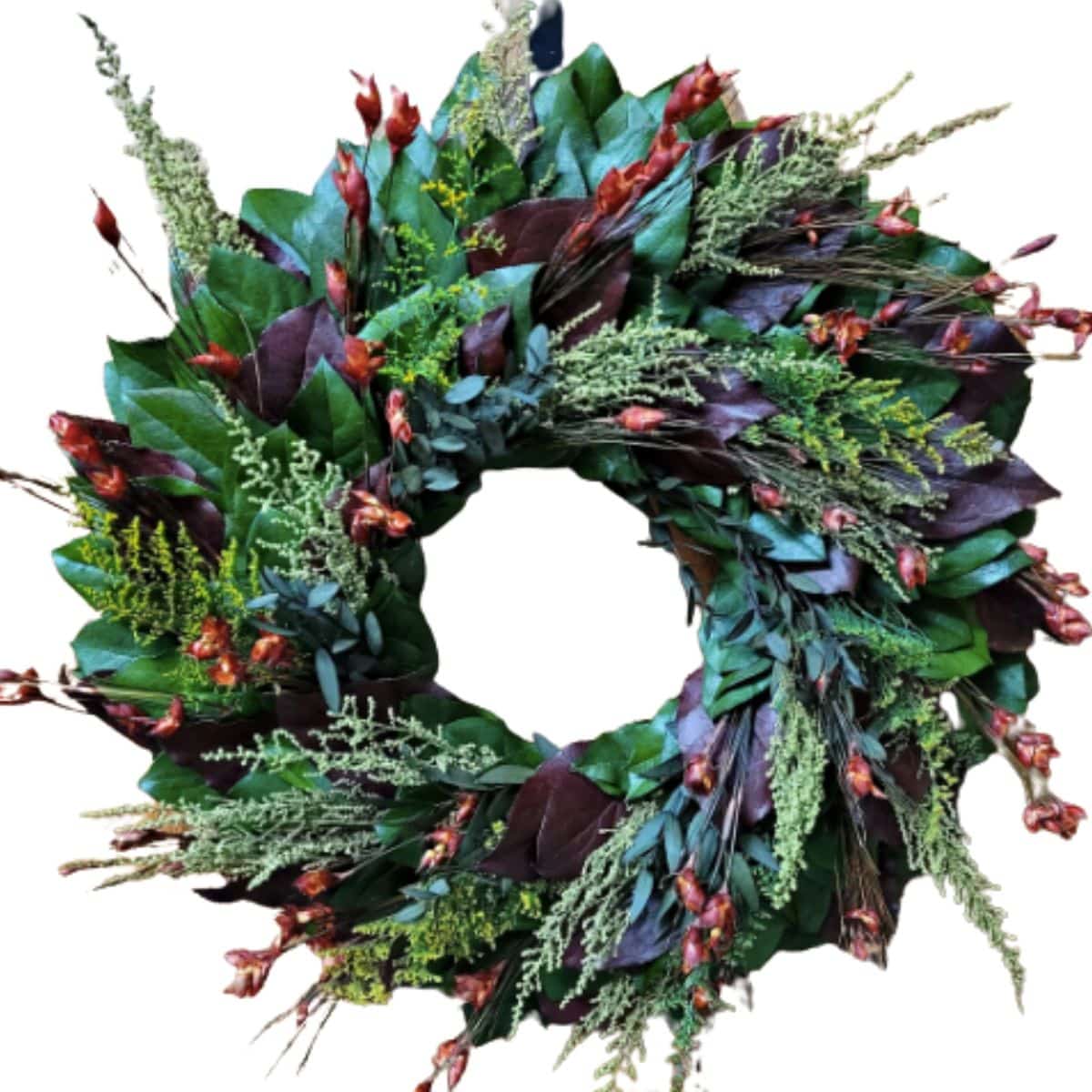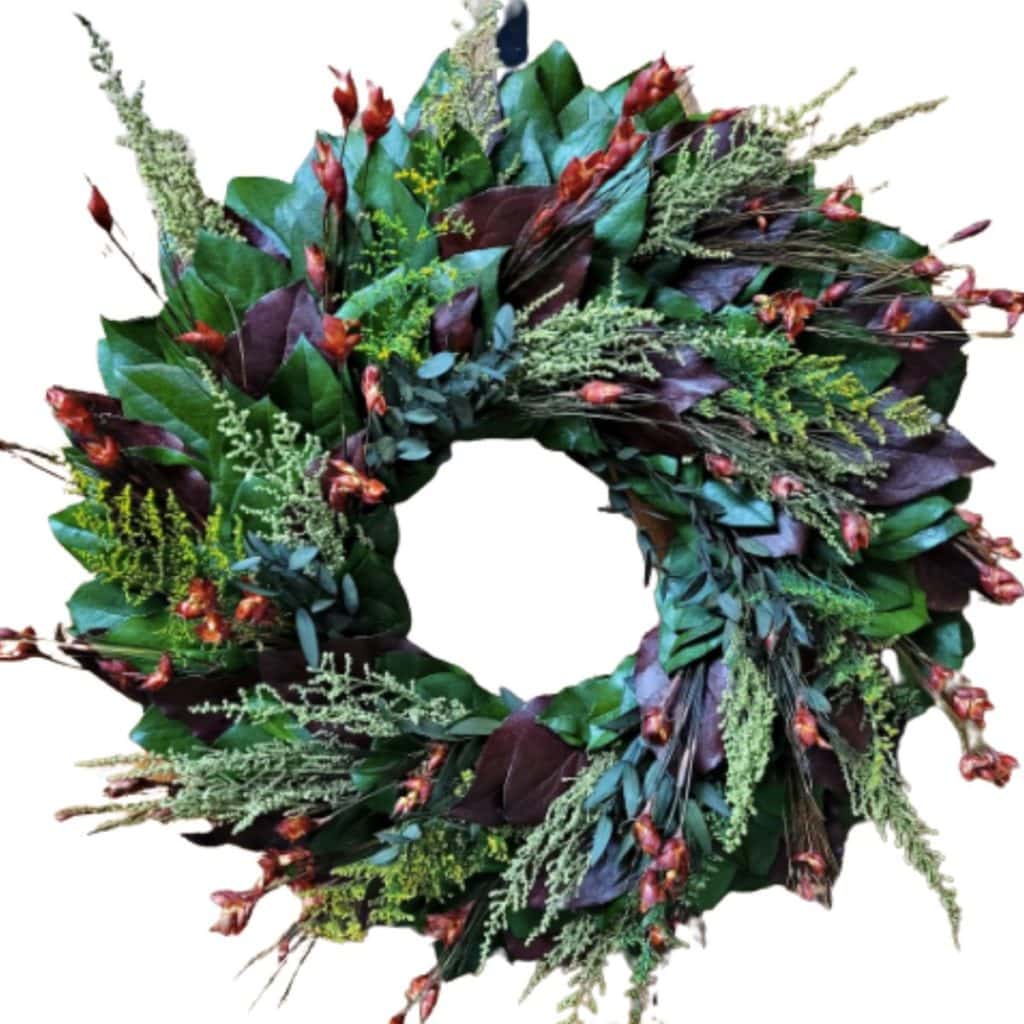 8) Green & Burgundy Leaf Wreath $79-$210
The fall season is a splendid time of year to spruce up your home with a beautiful wreath. This natural wreath is handmade using real preserved green and burgundy salal leaves, preserved green caspia, and preserved red bell grass.
This is an exquisite piece that can be enjoyed for years to come.
Twig Wreaths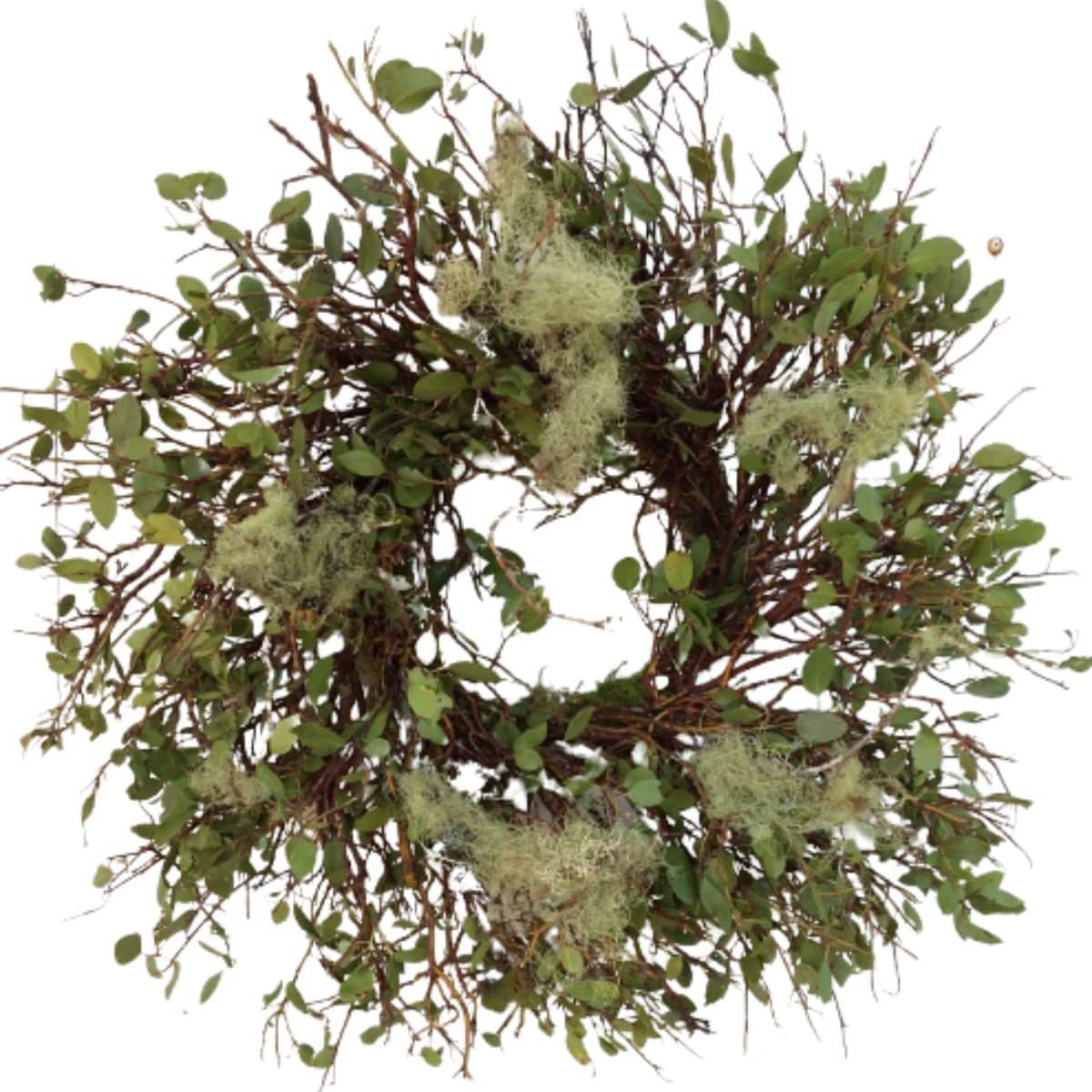 9) Rustic & Natural Decor, $64-$299
Rustic and natural decor like this wreath will not disappoint. It includes Manzanita and Lichen branches, along with moss.
A Natural Manzanita Wreath. This beautiful decoration is made using Manzanita Branches and Lichen Branches. Green Natural Moss is added to the wrapping process.
10) Handmade Boxwood Wreath, $99-$299
Beautifully handcrafted, this wreath is a mix of Curly Willow and fresh Boxwood. It makes for a wonderful accent piece for a botanical-themed room in your home.
We like the twig styling of this wreath, it has a natural and outdoorsy feel while still being sophisticated.
Check out more fall decoration ideas: Fall Front Porch Decor, Autumn Decorating Ideas, Fall Table Decoration.
Neutral Wreaths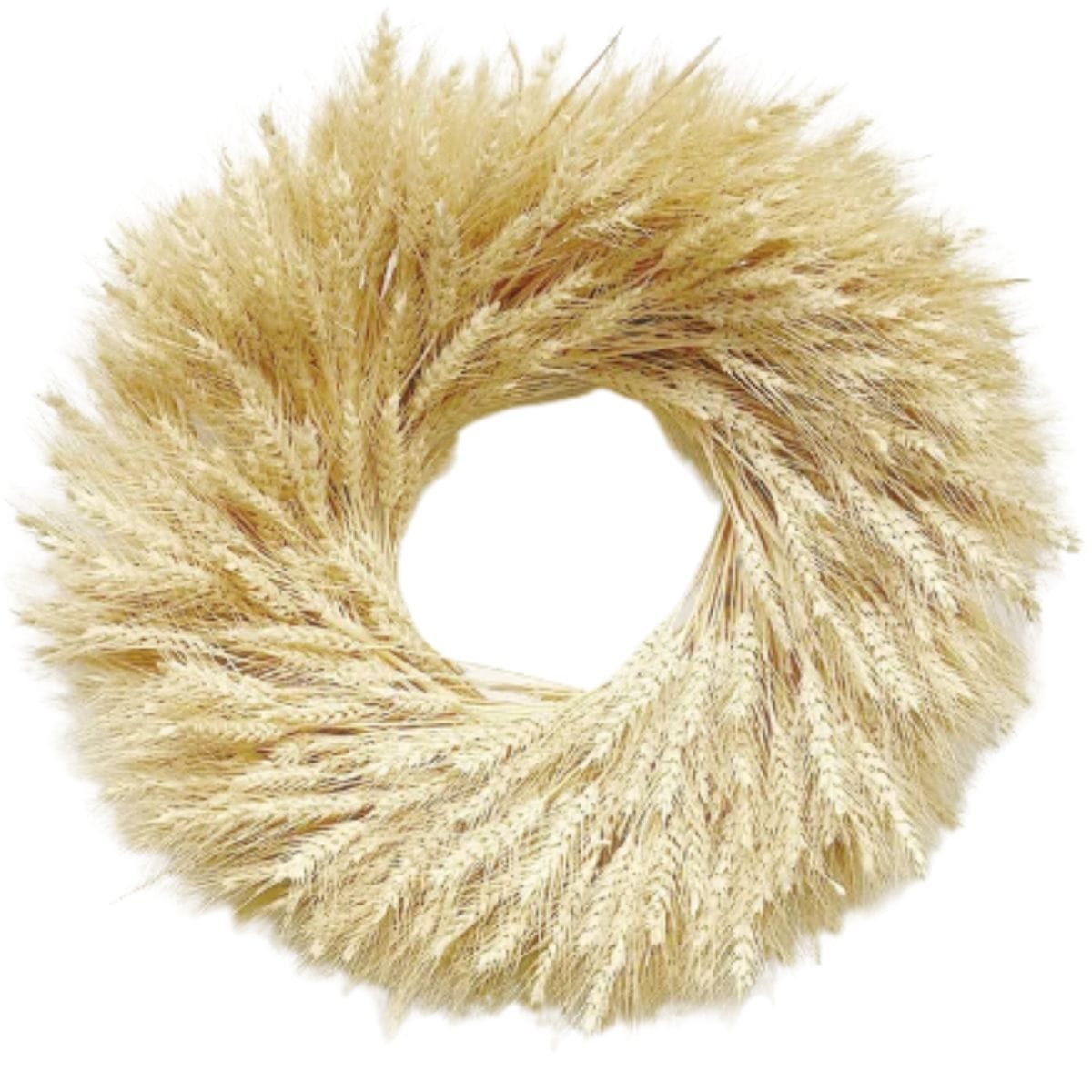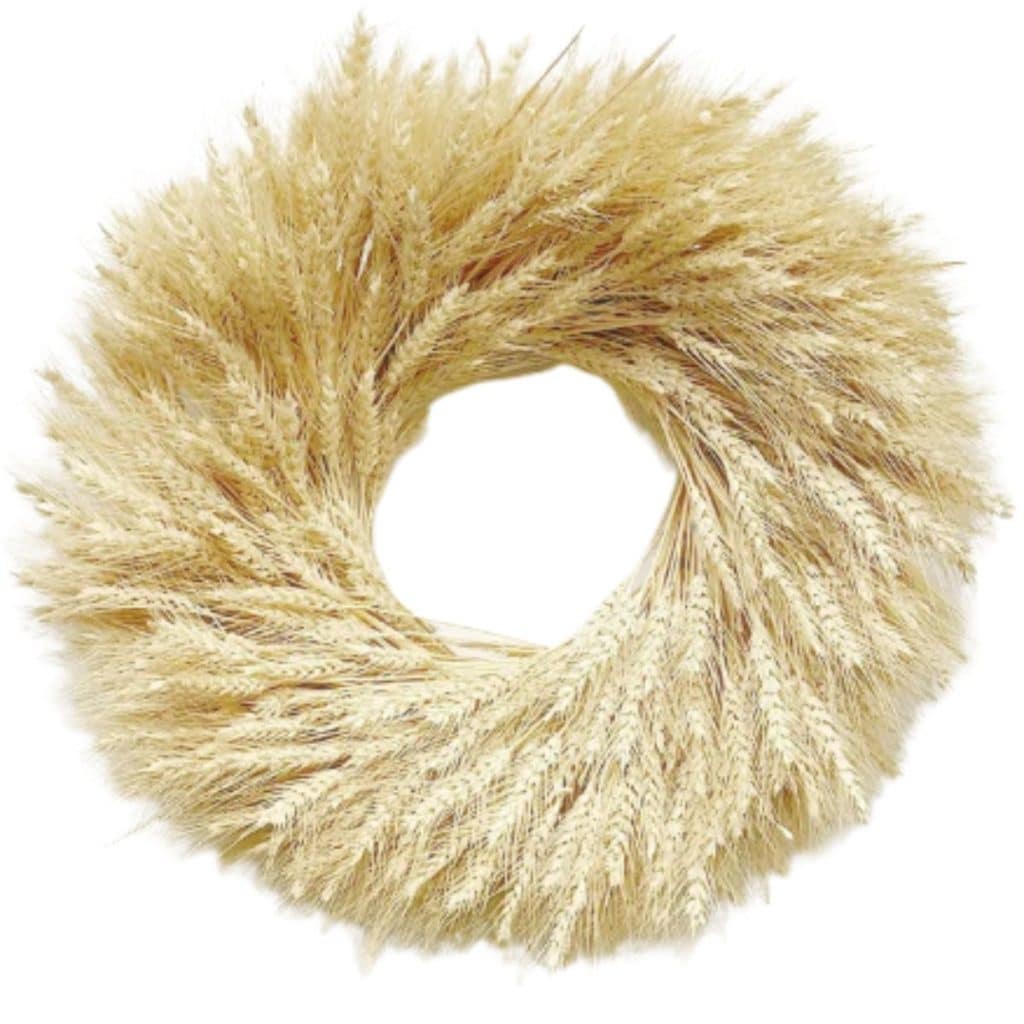 11) Handmade Blonde Wheat Wreath, $67-$112
Bring tranquility into your home with this handmade wreath. Made with blonde wheat, it will surly compliment your front door or kitchen. Simple and beautiful.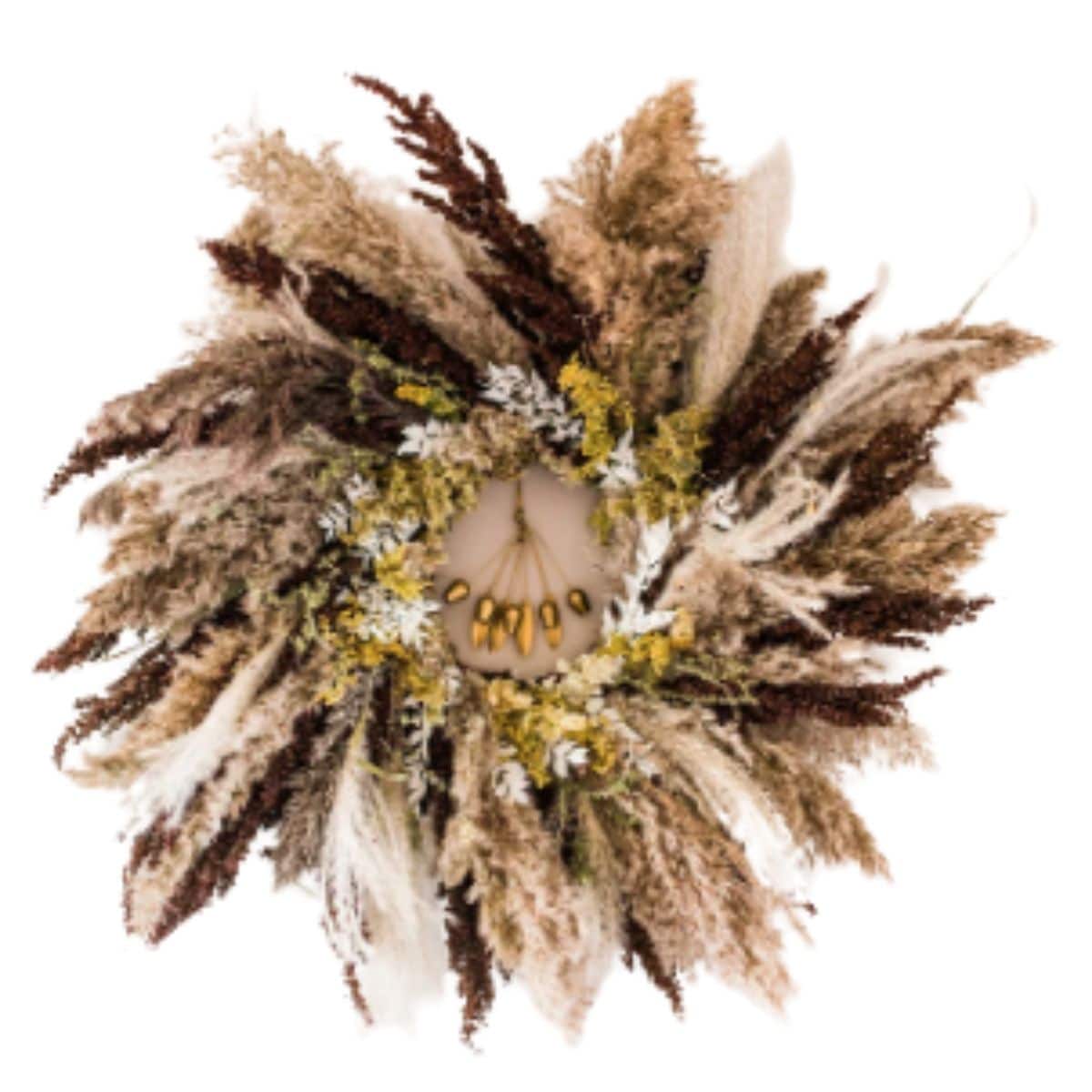 12) Autumn Wreath $89-$159
The fall colors are so prominent in this autumn wreath! It would look stunning in any country home. Made with dried natural grasses, yellow goldenrod, and bunny tail grasses or bleached Italian ruscus.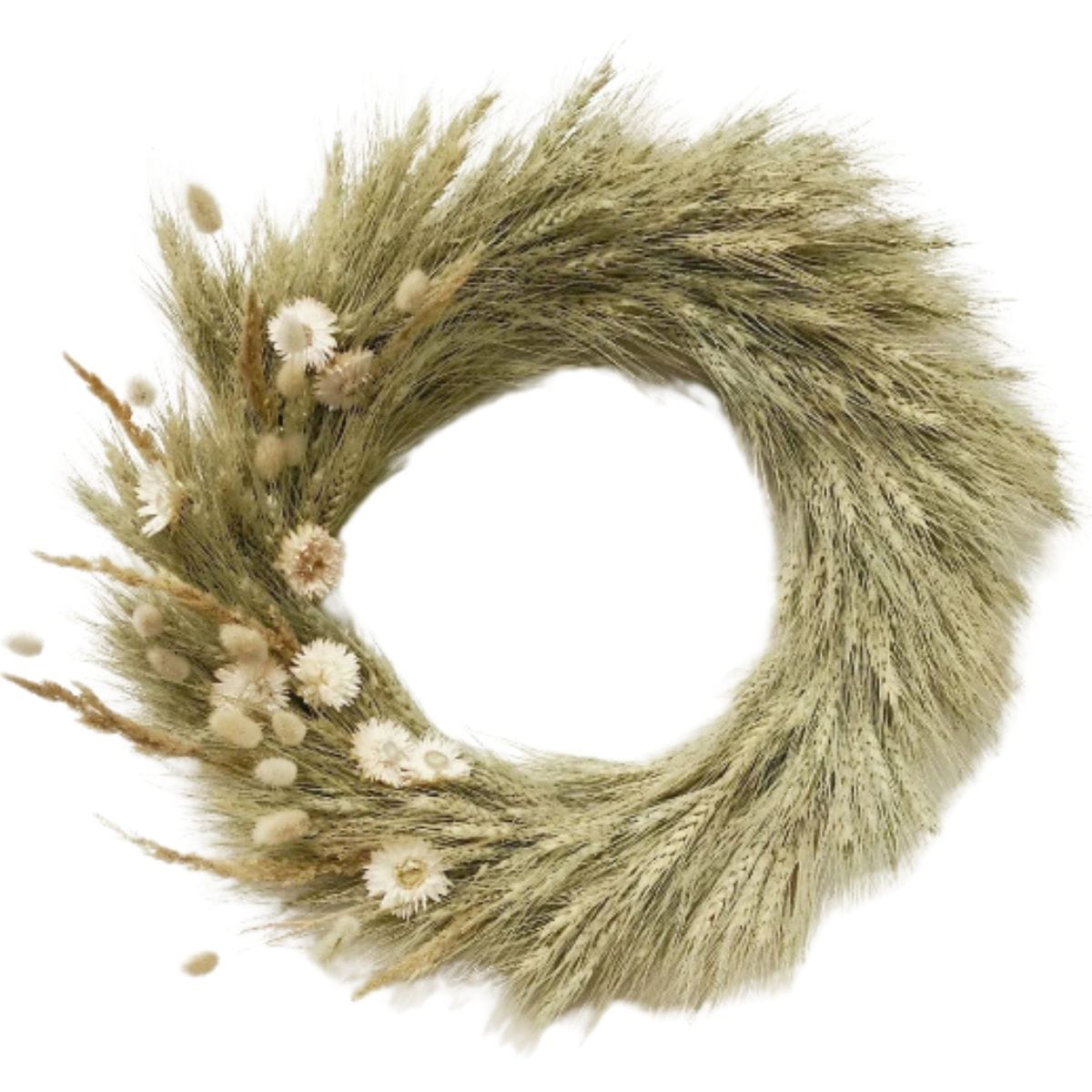 13) Handmade Wheat Fields Wreath, $75-$146
There is something about this handmade wreath that screams classic. If you'd like a natural wreath with a simple, yet elegant design, then this one is for you.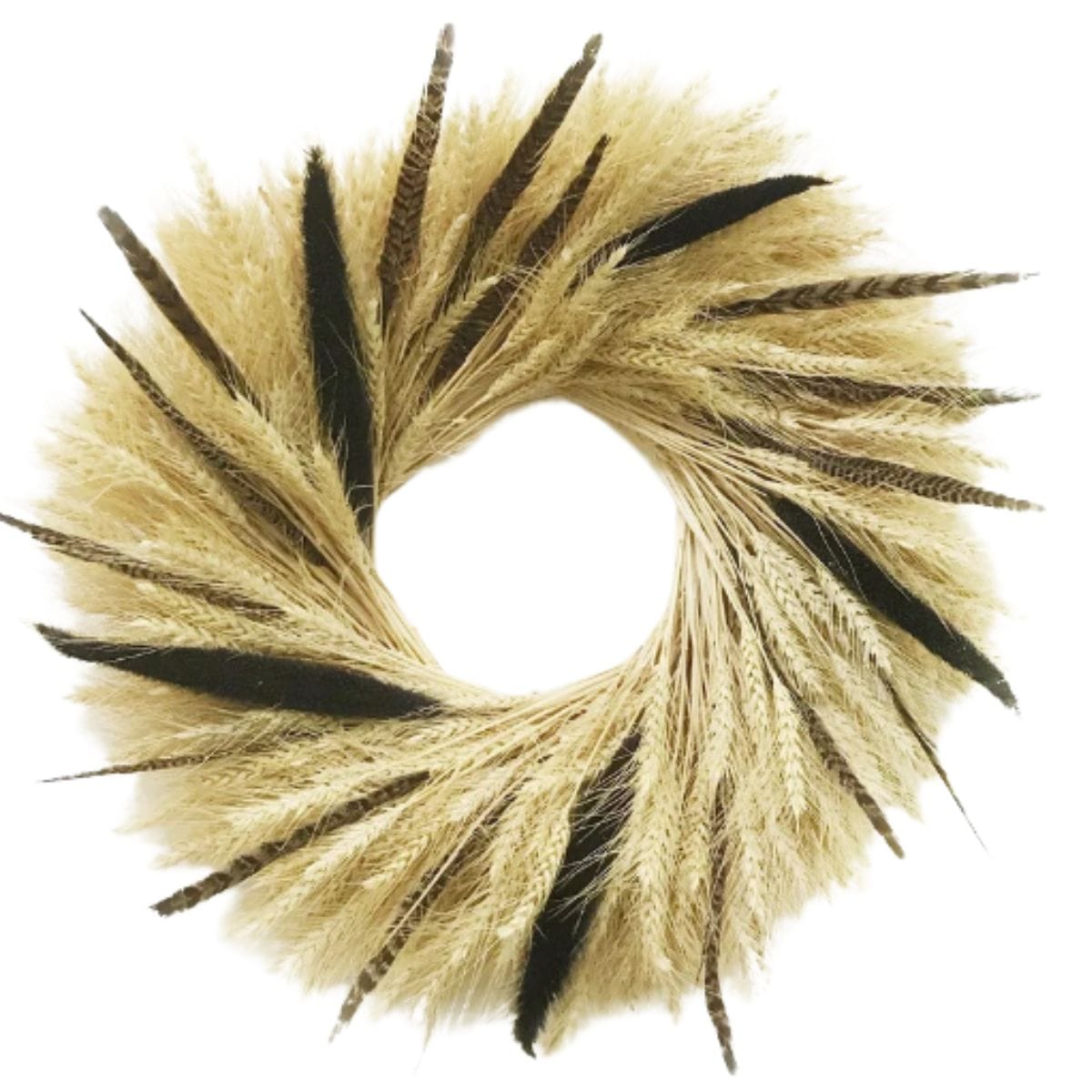 14) Natural Dried Handmade Wreath, $75-$112
Bring serenity into your home with this lovely natural wheat wreath with pheasant feathers and majesty millet.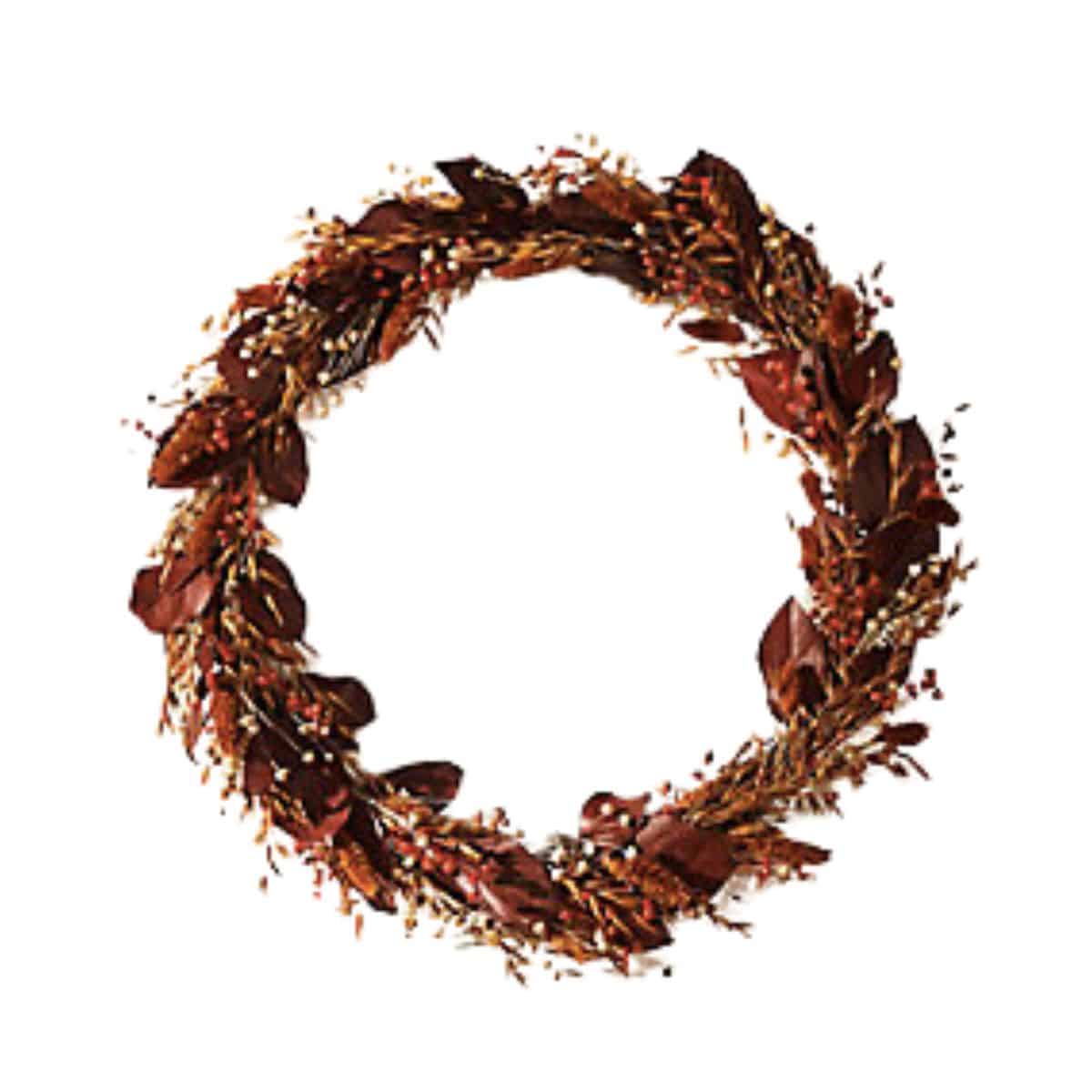 15) Preserved Oat & Flax Wreath, $98
This gorgeous preserved wreath is hand-crafted using Salal leaves, oats, phalaris, and flax pods grown on an independent farm.
Textured leaves in a deep neutral tone make it a bold statement piece for the doorway, wall, or over the mantel.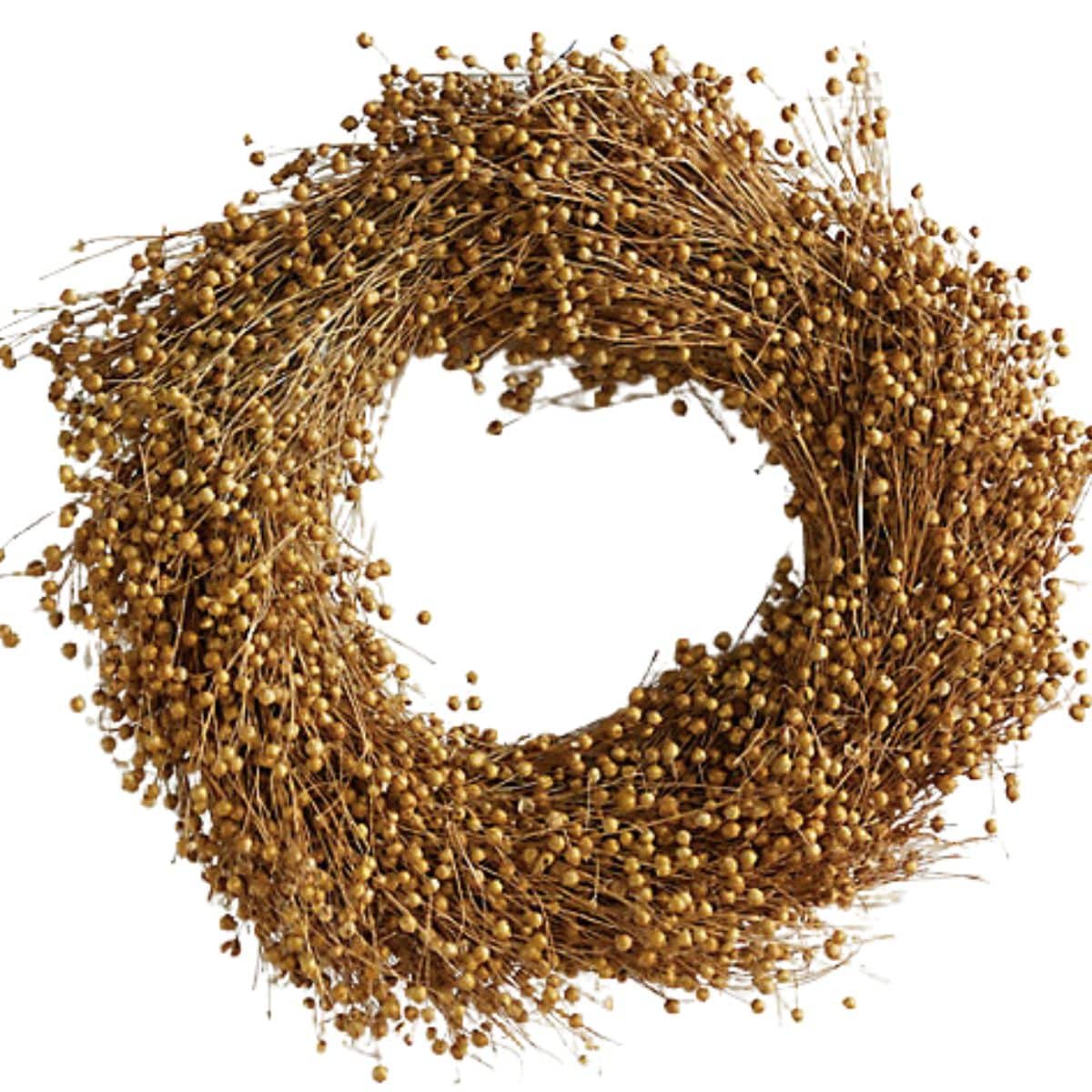 16) Dried Flax Wreath, $58
Crafted with dried flax for a natural, organic look, this wild wreath lends an earthy element to any room.
Suitable to fit so many home decor styles, this wreath is truly versatile. Subtle and beautiful, this wreath is a classic piece.
Foliage Wreaths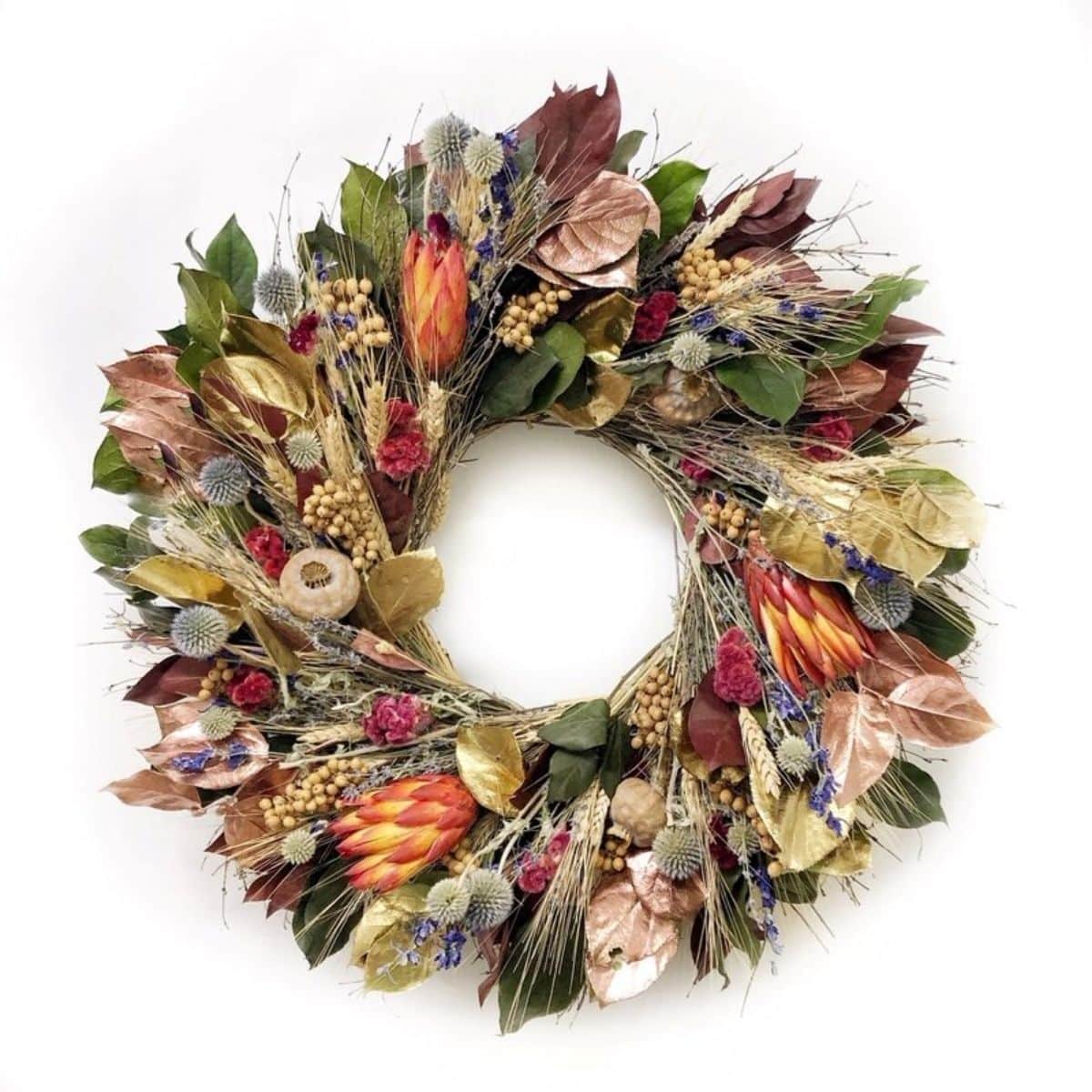 17) Preserved Autumn Elegance Wreath, $90
With this elegant wreath, you can add a lovely seasonal touch to your home. With salal leaves, burgundy, copper, and natural basil, it works well in both formal and rustic settings.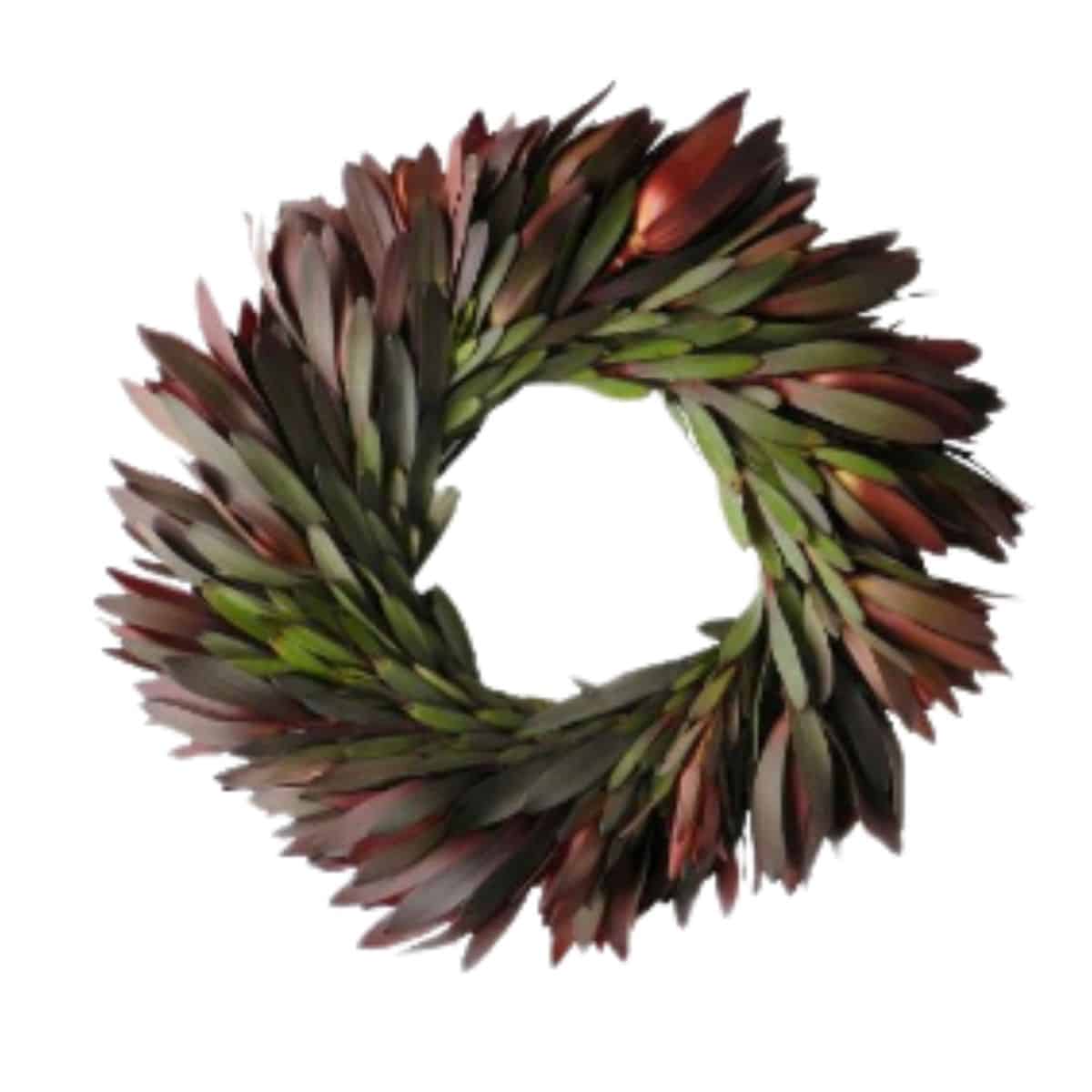 18) Safari Sunset Wreath, $75
Sourced from local growers, it's made from Safari Sunset leucadendron – native to South Africa and also known as cone bush, it's favored by florists and gardeners for its handsome good looks.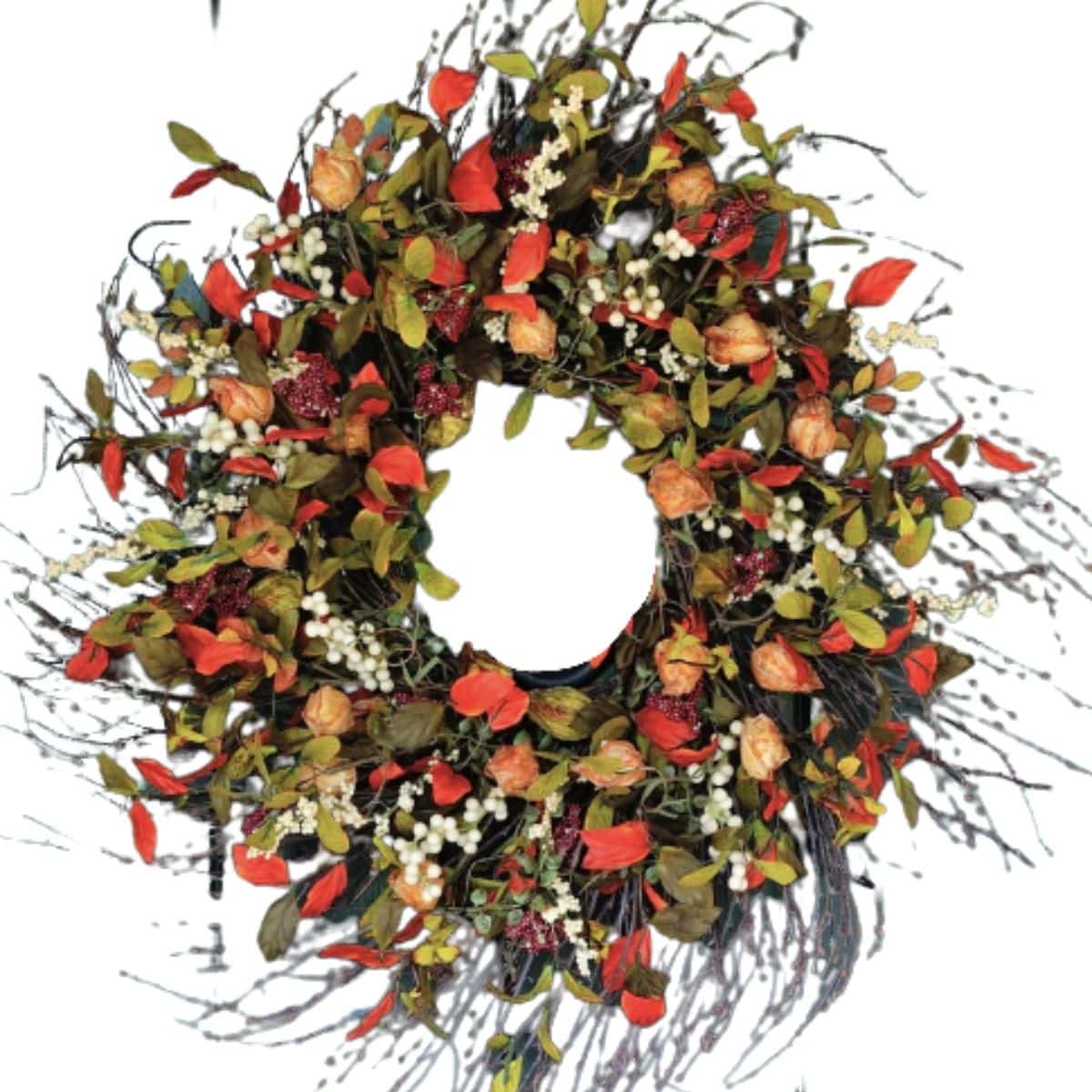 19) Pumpkin Spice Wreath, $97
This wreath has it all: fall leaves, rose hips, cinnamon, cream berries, cape gooseberries, sage lanterns, pumpkin lanterns, copper lanterns, wine berries, sage leaves, rust leaves, copper leaves, birch.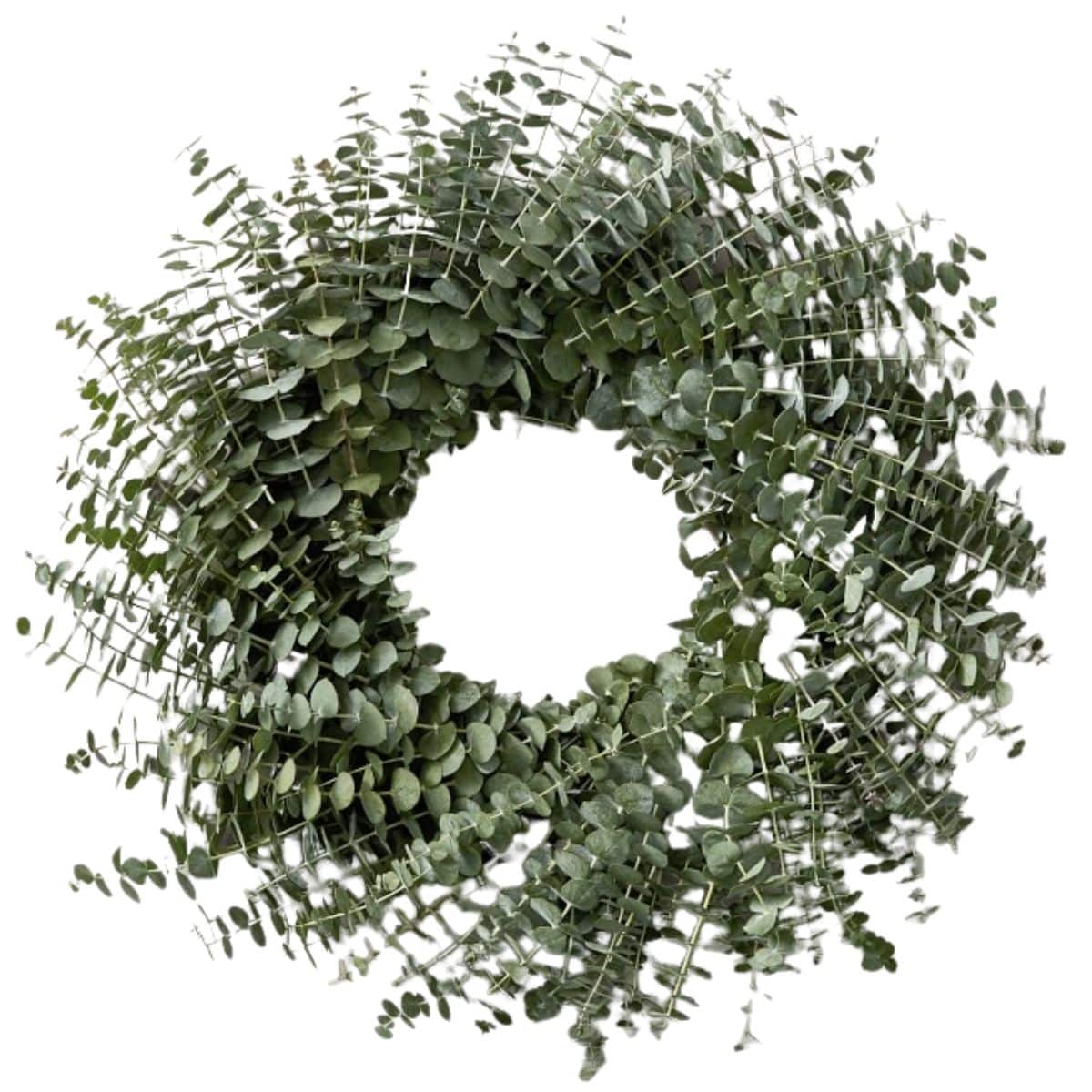 20) Baby Eucalyptus Wreath, $79
Take in the cool, clean aroma of a fog-shrouded West Coast eucalyptus forest. This wreath is a full, fragrant ring of fresh Baby Blue eucalyptus that fills the room with an invigorating natural scent.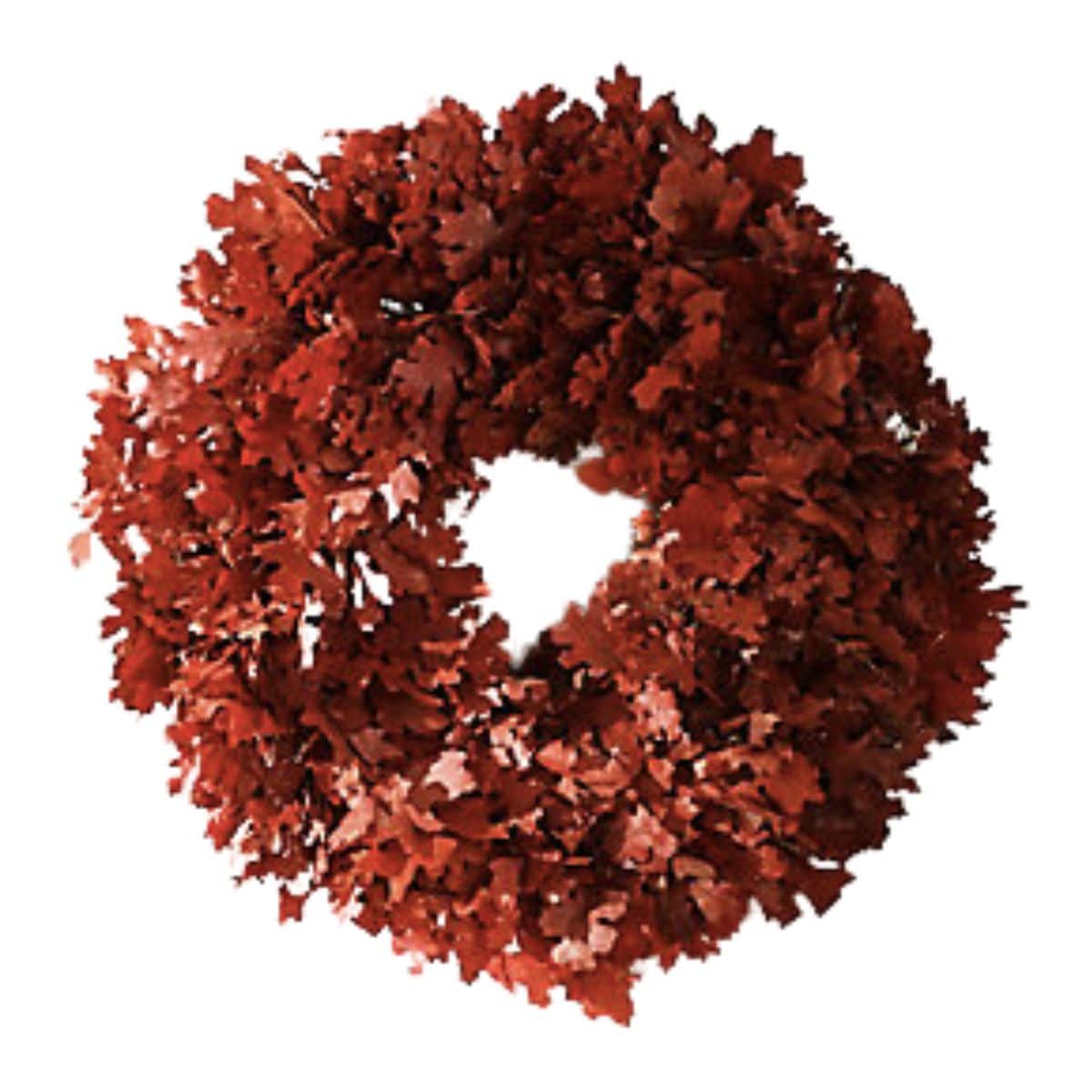 21) Preserved Maple Leaf Wreath, $128
Full and dense, this gorgeous preserved wreath is hand-crafted using seasonal botanicals grown on an independent farm. Textured maple leaves in a deep neutral tone makes it a bold statement piece for the doorway, wall, or over the mantel.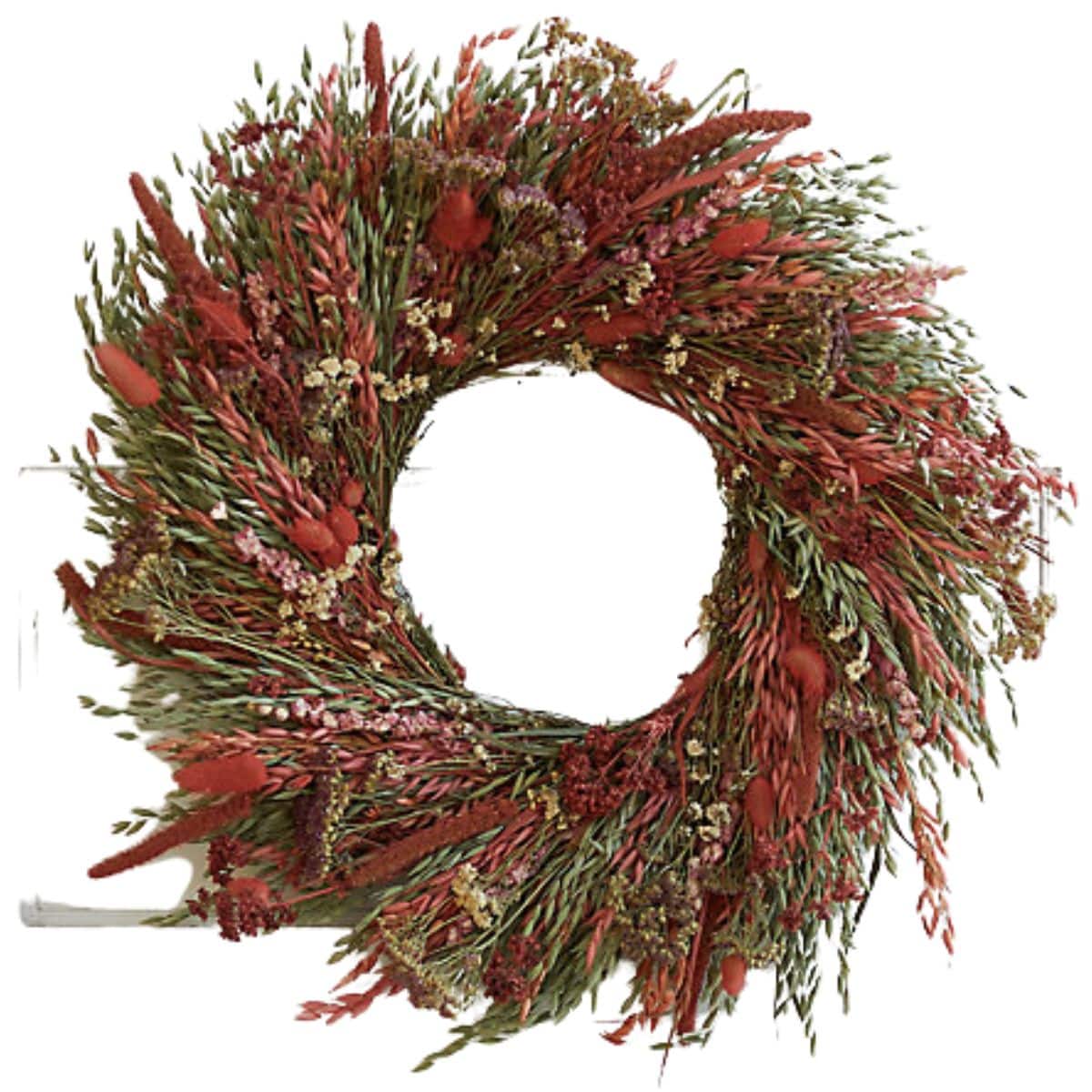 22) Preserved Pastures Wreath, $138
Wild and full, this gorgeous preserved wreath is made with Dried avena, painted avena, painted oregano, painted bunny tails, painted millet, natural purple yarrow, natural pink larkspur. Such a lovely mixture of botanicals.
Artsy Wreaths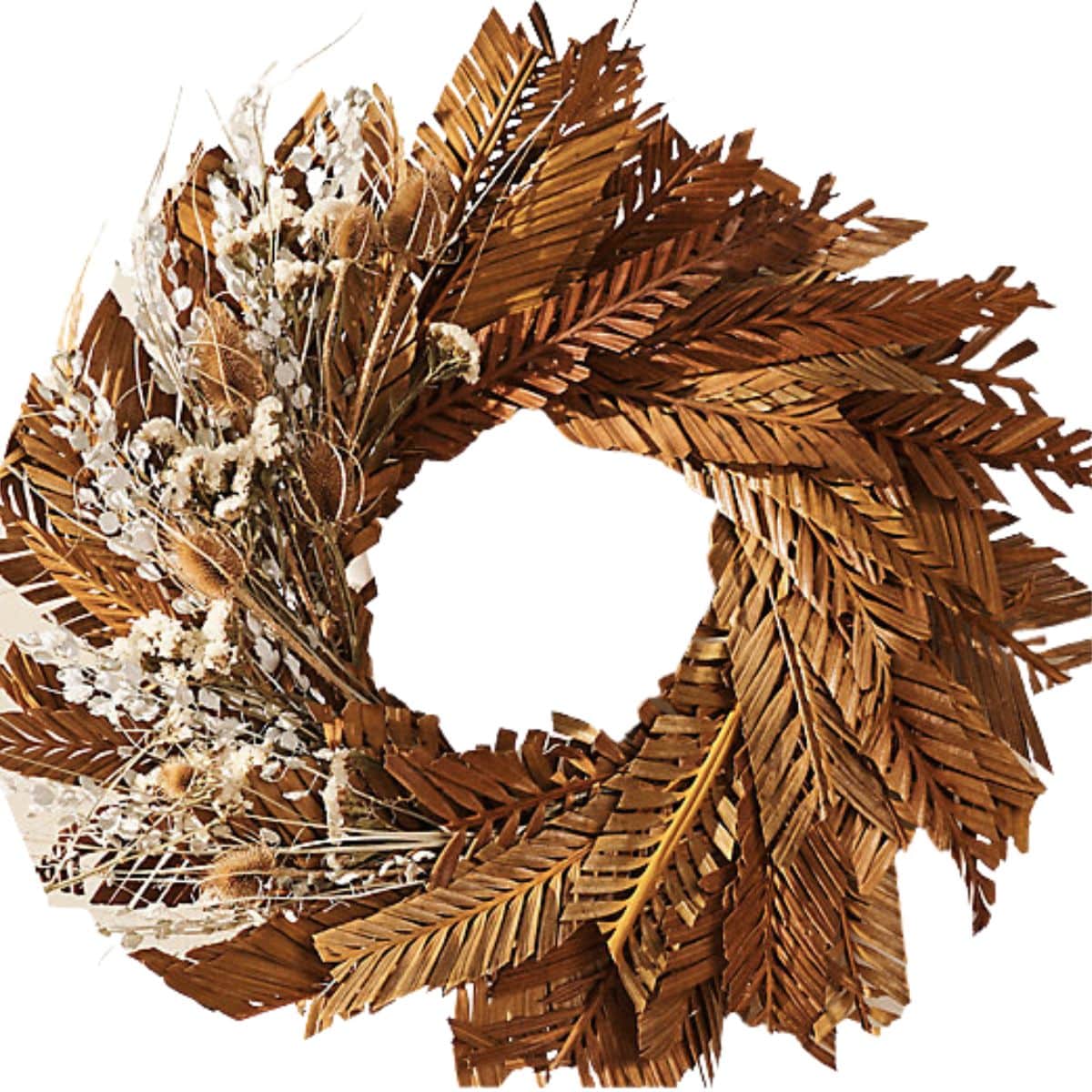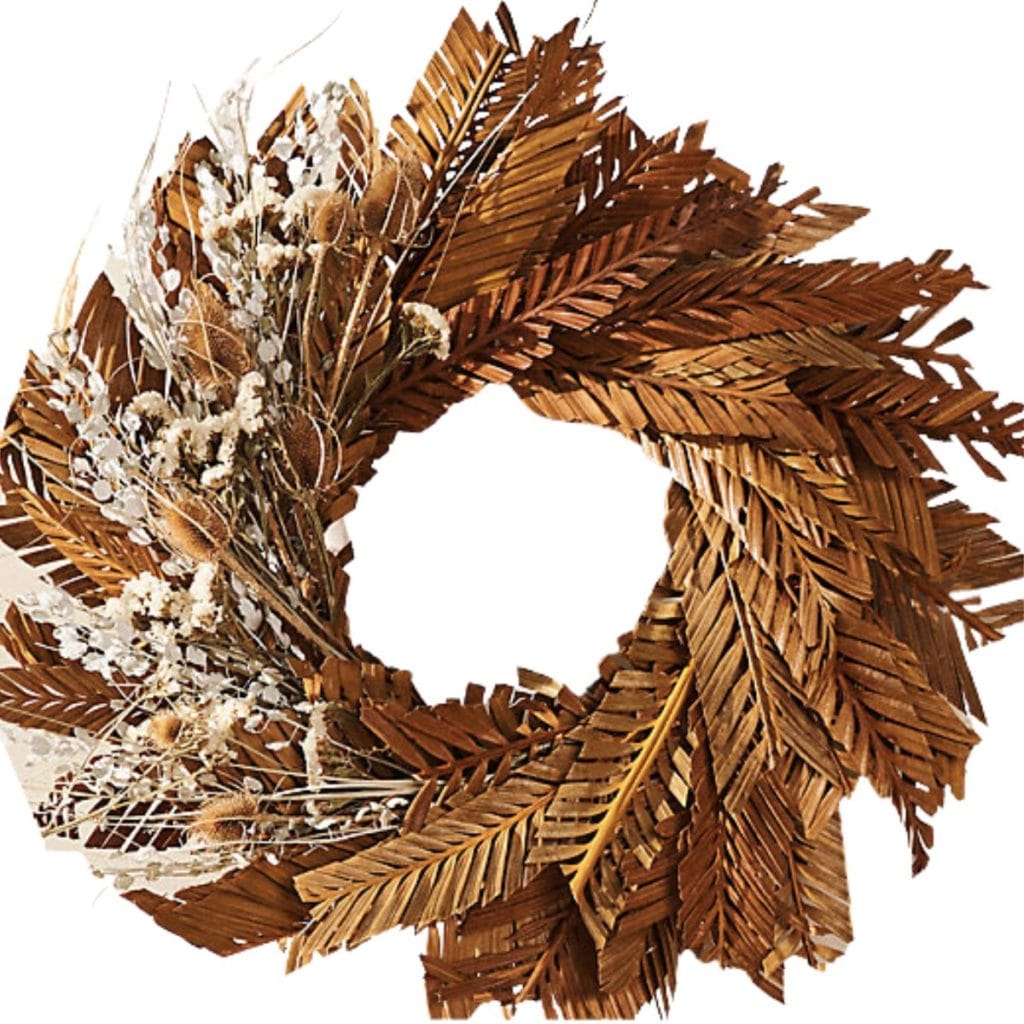 23) Dried Fern & Pennycress Wreath, $138
Crafted using dried wooden fern frond palms, statice, and more natural botanicals for an organic look, this wild wreath lends an earthy element to any room.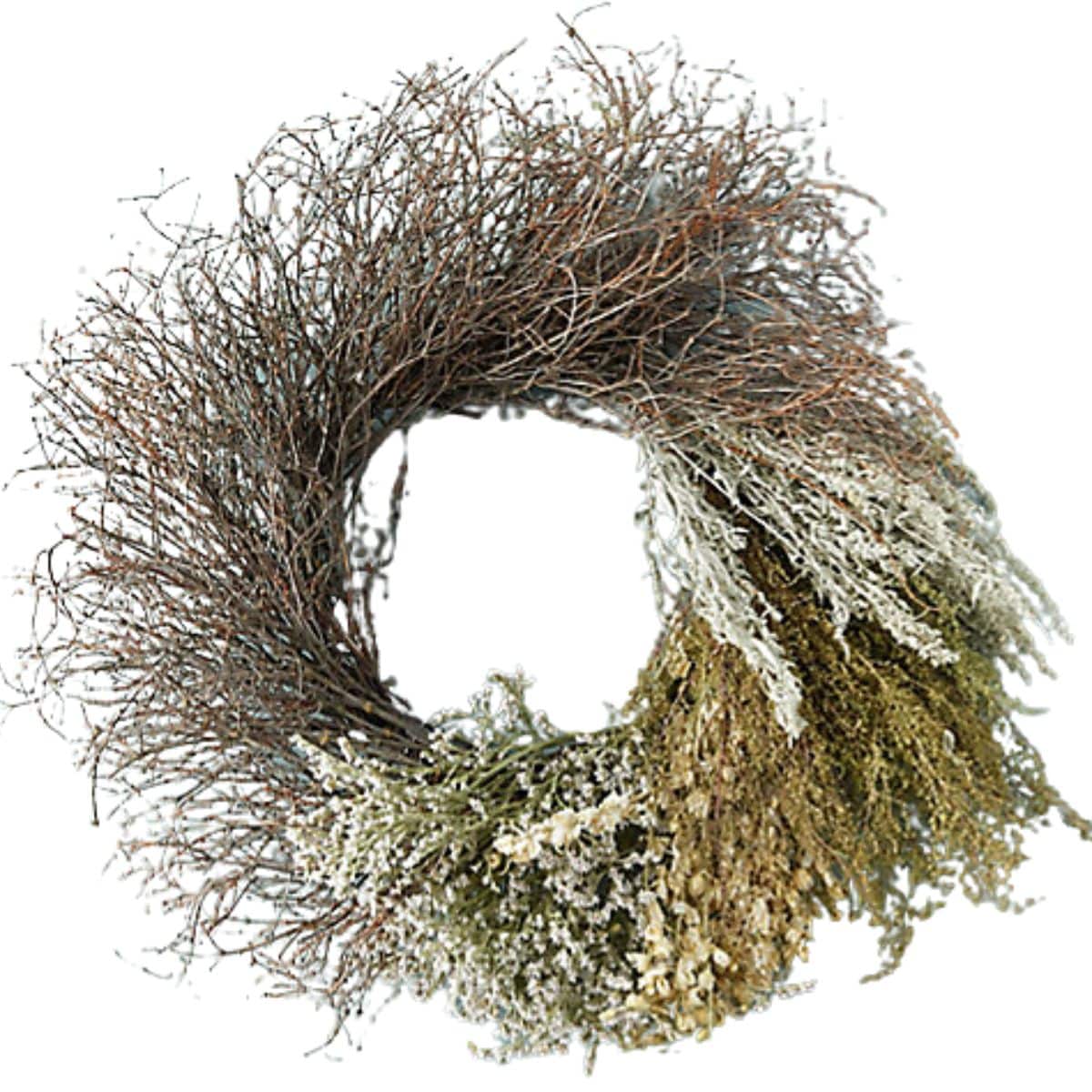 24) Preserved Floral Gradient Wreath, $128
Hand-crafted with Quail brush twigs, artemisia, sweet annie, white larkspur, German statice this naturally dried, organic wreath is defined by its asymmetrical look.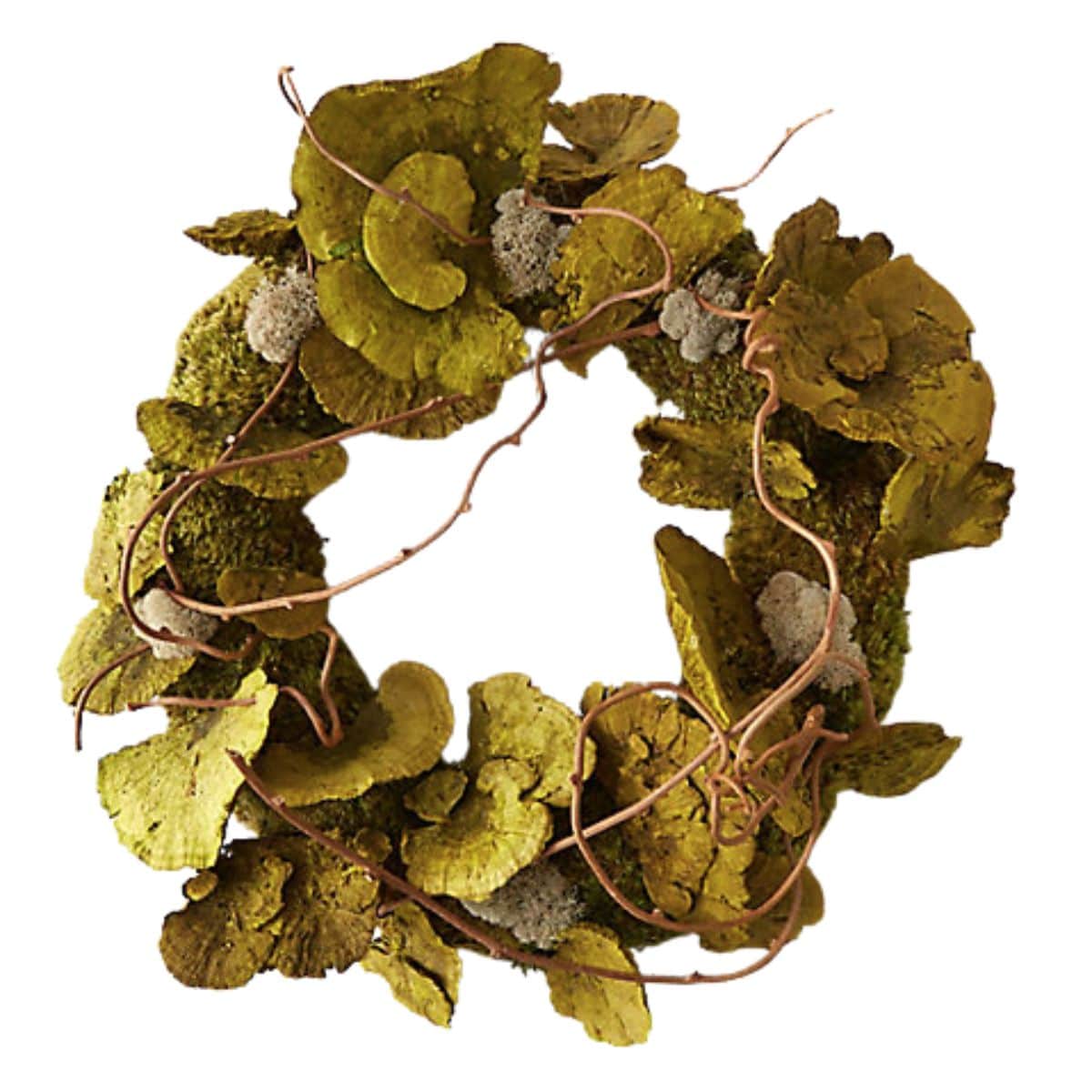 25) Shelf Mushroom & Moss Wreath, $228
Hand-crafted from deep green moss, sponge mushrooms, and twists of grapevine, this unusual wreath is equal parts whimsical and woodsy.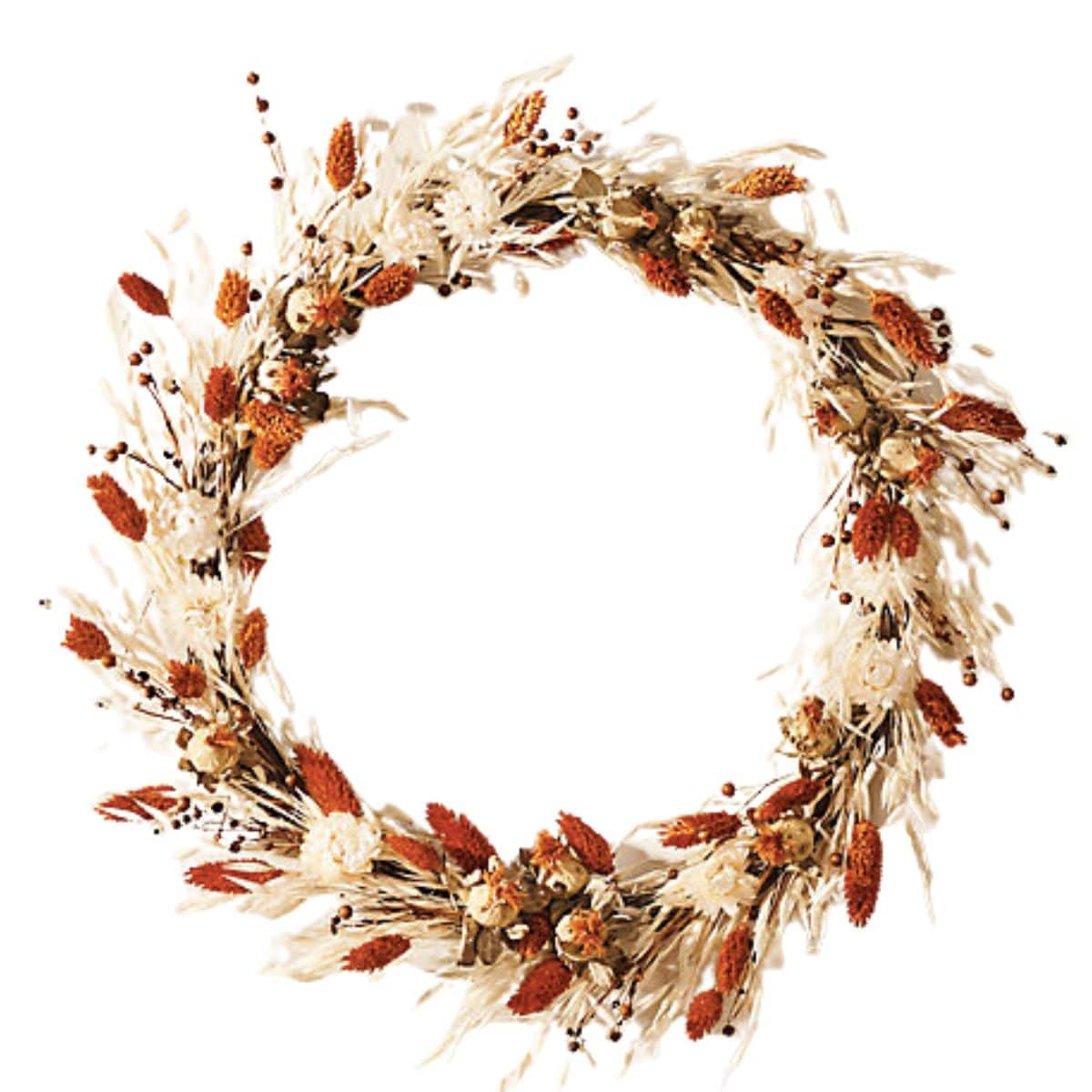 26) Preserved Copper Fields Wreath, $78
This delicate preserved wreath is hand-crafted using Bleached oats, safflower blooms, and cream strawflowers.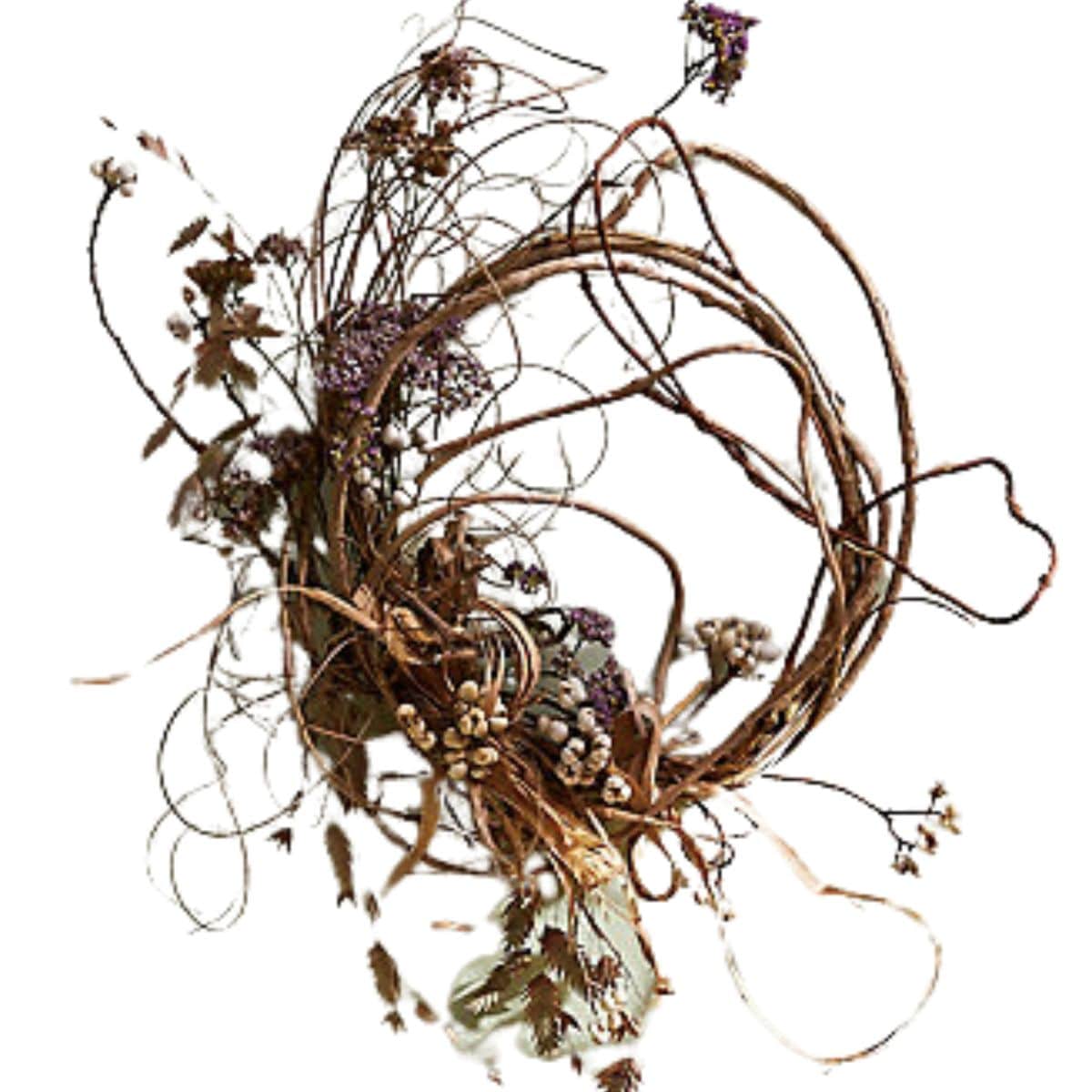 27) Ashn Earth Forest Wreath, $238
Hand-crafted using locally foraged branches, seed pods, stems, fruit, and other dried botanicals, this wreath is meant to be a special natural art piece inside the home.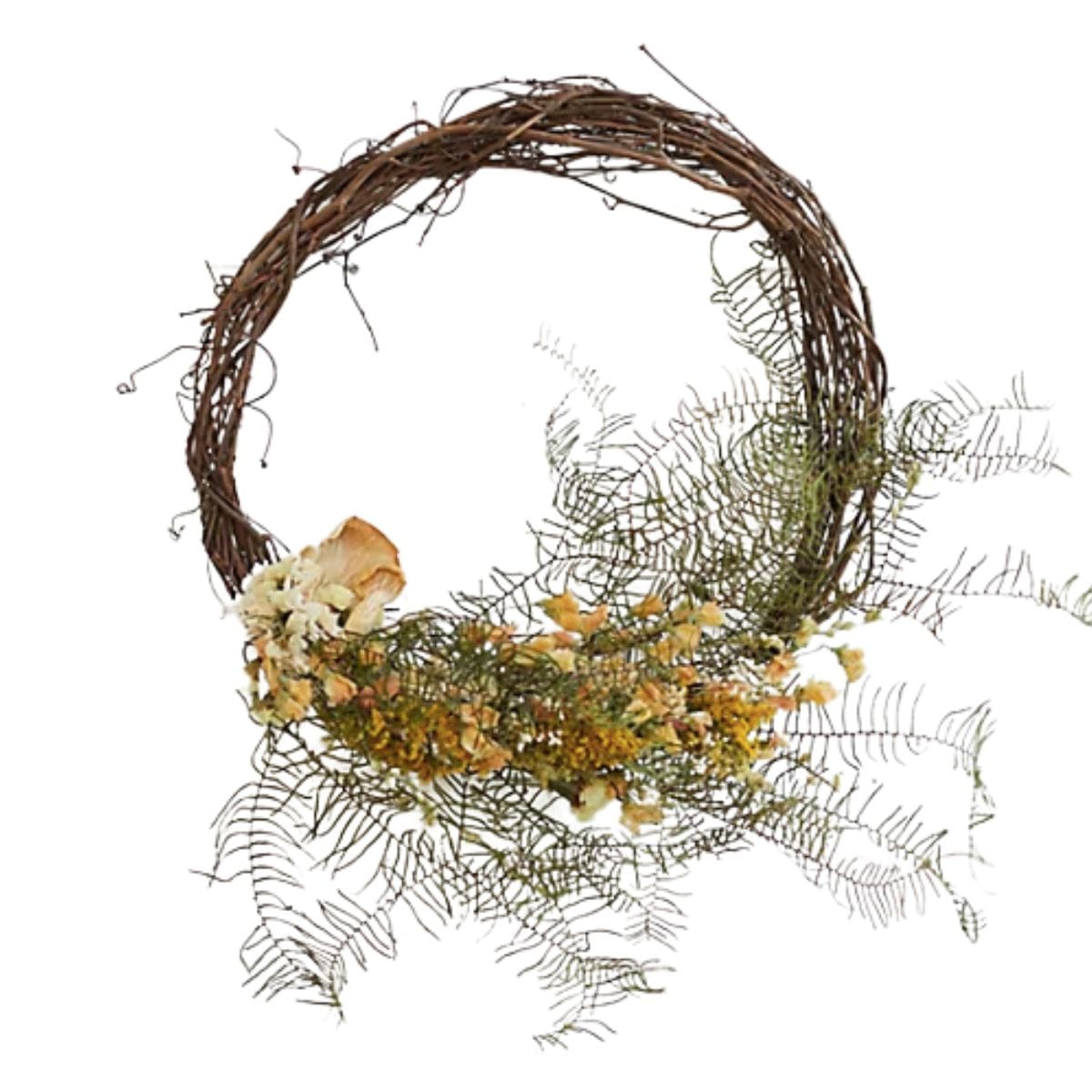 28) Meadow Mushroom Wreath, $178
A celebration of the unexpected beauty of foraged botanicals, this gorgeous preserved wreath is finished with a delicate mix of preserved mushrooms, dried flowers and grasses.
Fall is a wonderful season to decorate for. You can pair these fall wreaths and autumn wreaths with some festive plants. The hardest part is choosing which wreath is your favorite.
Happy Fall!
Lucy Ferreira initially created this product guide and published it in October 2016. We've updated the products in August 2021 & again in August 2022 to allow you to shop for the latest fall wreaths!
This post may contain affiliate links. You can read our policies here. Your cost for the products will be no higher but Joy Us garden receives a small commission. Thank you for helping us spread the word & make the world a more beautiful place!
I'm a life-long gardener who still to this day gets giddy at the thought of a trip to one of the local nurseries. Yes, I actually studied landscape and environmental horticulture and the practical experience I have garnered through the years has served me well. Childhood memories of chicken manure "tea" still float through my olfactory senses to this day. I have always been an organic gardener and always will be. From the Earth … To the Earth. I was born and raised in rural, bucolic Litchfield County, Connecticut and now joyfully live a few blocks from the ocean in beautiful Santa Barbara, California.