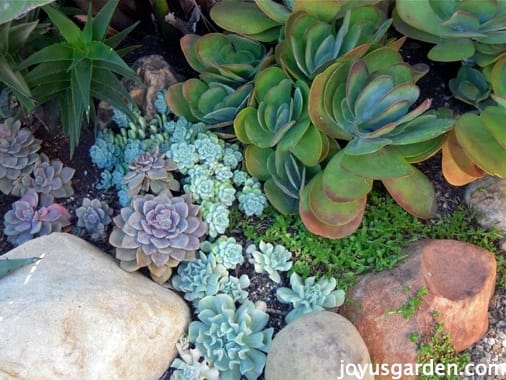 This question came from a youtube viewer who asked: can you do a video about how you did the soil prep for your succulent garden? This is a great question because I am a firm believer in properly prepping the soil and planting the right plants in the right spot. It comes down to good soil, good garden. Here's the soil prep I did when planting my own garden, as well as a couple of tips for planting succulents in pots.
You can see more pictures of my succulent garden as well as some in pots HERE.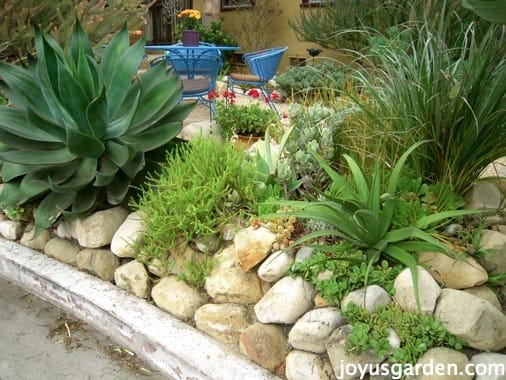 Things to Consider Regarding the Soil
the pH of the soil
made sure whatever I did to the native soil and whatever I added facilitated drainage
removed existing plants I did not want
loosened the native soil with a fork & shovel
had 4 cubic yards of topsoil (20% organic compost, 80% screened sandy loam) delivered & worked it into the native soil. this built the beds up & lightened the soil
had 3 cubic yards of organic compost delivered also to mix into the top layer
Compost and Worm Castings
I put organic compost and worm castings into each planting hole. Both enrich the soil naturally so the roots are healthy and the plants grow stronger. By the way, succulents don't root deeply so no need to dig a huge hole
This is explained in a lot more detail here as well as what I use when planting succulents in containers.
I do a lot of succulent container gardening because I love both succulents and containers. The same applies for the mix you use in containers as in the garden: drainage is important. And of course, I always add worm castings when I plant. In the late winter or early spring, all my containers get top dressed with compost and worm castings. The health of the soil helps to determine the health of the plants. Healthy plants = a good lookin' garden!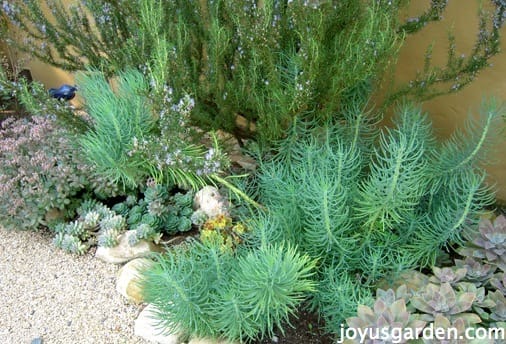 YOU MAY ALSO ENJOY:
How Much Sun Do Succulents Need?
How Often Should You Water Succulents?
Succulent and Cactus Soil Mix for Pots
How to Transplant Succulents into Pots
Aloe Vera 101: A Round Up of Aloe Vera Plant Care Guides
This post may contain affiliate links. You can read our policies here. Your cost for the products will be no higher but Joy Us garden receives a small commission. Thank you for helping us spread the word & make the world a more beautiful place!