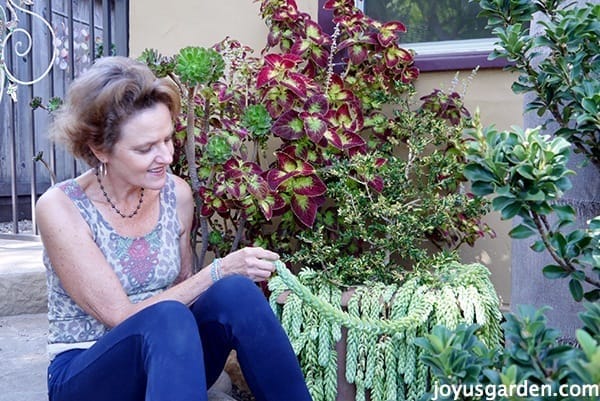 This video was filmed in October and now it's January. A bit of a time-lapse but the garden still looks the same 2 months later. That's how things go here on the coast of California.
First of all, Happy New Year! I know, I know. I said back in November that I was switching over to a vlog format and for this first post of 2015, I'm throwing in a bunch of pictures. What's up with that? You'll find the video with me taking you on a tour in the middle of this post but I thought you might enjoy seeing some photo snippets of what's going on in my garden. Let's get on with the show.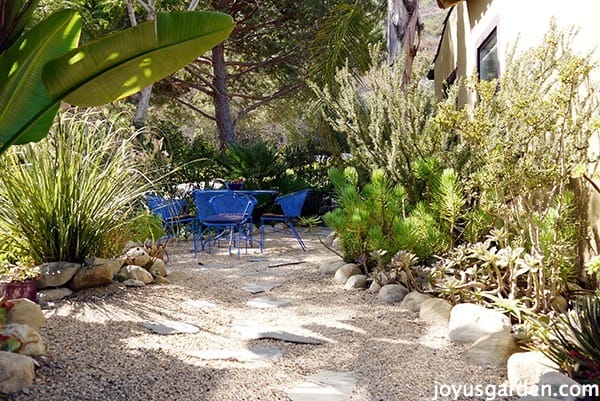 Entering into the front garden.
This little mixed succulent planter sits on the table. I painted & decorated the pot for a little more oomph.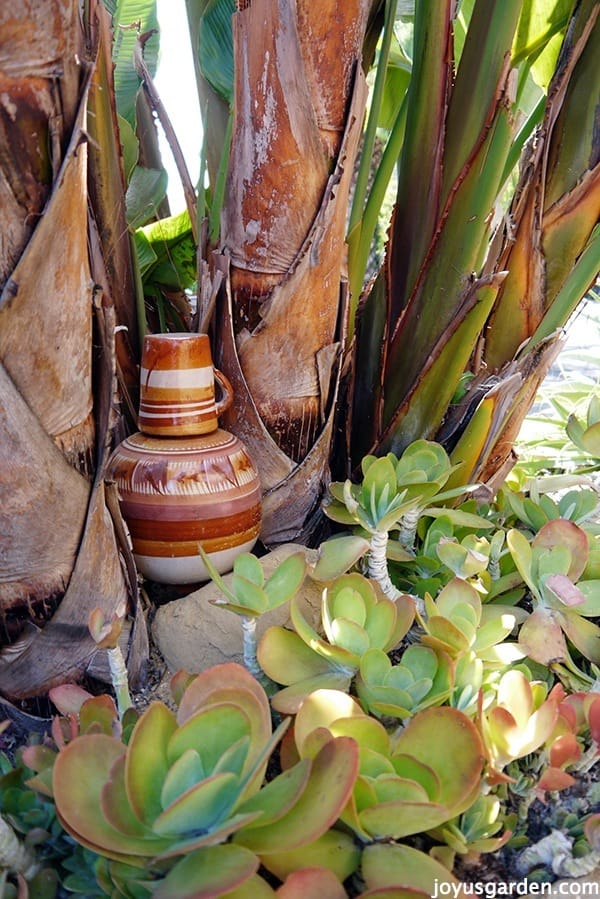 I love how this Mexican water jug mimics the trunks of my Giant Bird Of Paradise.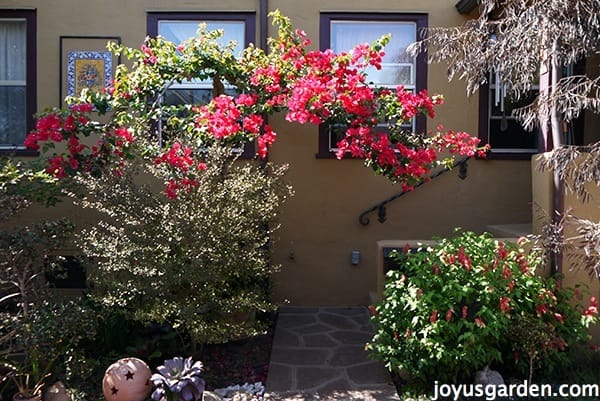 I've pruned the heck out of my Bougainvillea Barbara Karst to keep it from devouring the side garden.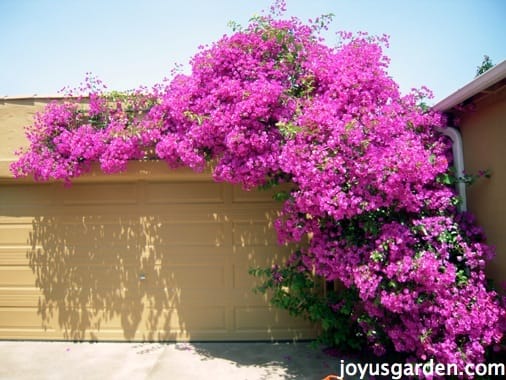 My Bougainvillea glabra gets more sun & heat which equals more color.
I live in Santa Barbara, CA and with its Mediterranean climate, gardens don't change much seasonally. This temperate coastal zone yields us 2 temperature ranges – kinda warm and kinda cool. My bougainvilleas are semi-deciduous and that's about it.
Succulents bloom in winter. The Meyer lemon and oranges trees in the back yard are loaded with fruit. The winter garden is not that much different from the summer garden.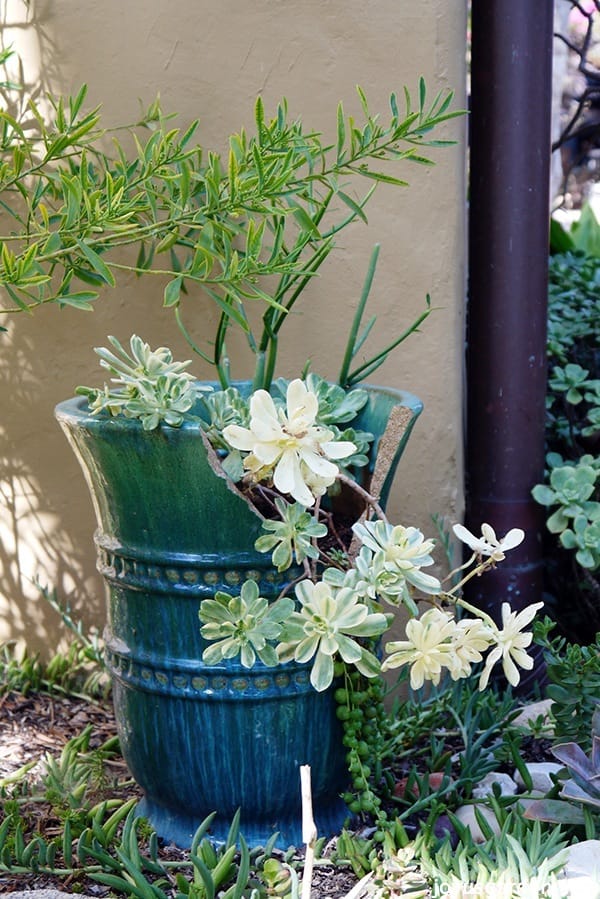 Here's what to do with a broken pot that you really like & don't want to get rid of.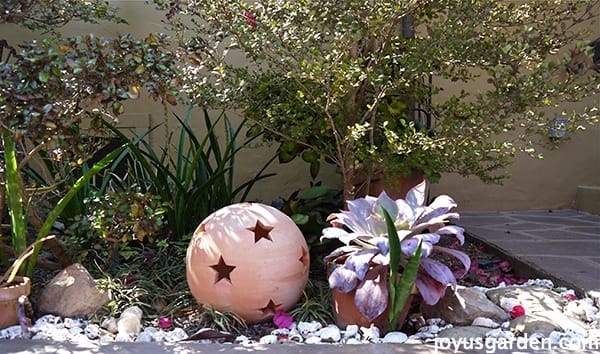 This terra cotta star ball is meant to be a lantern but I like it just as is.
Let me show you my garden: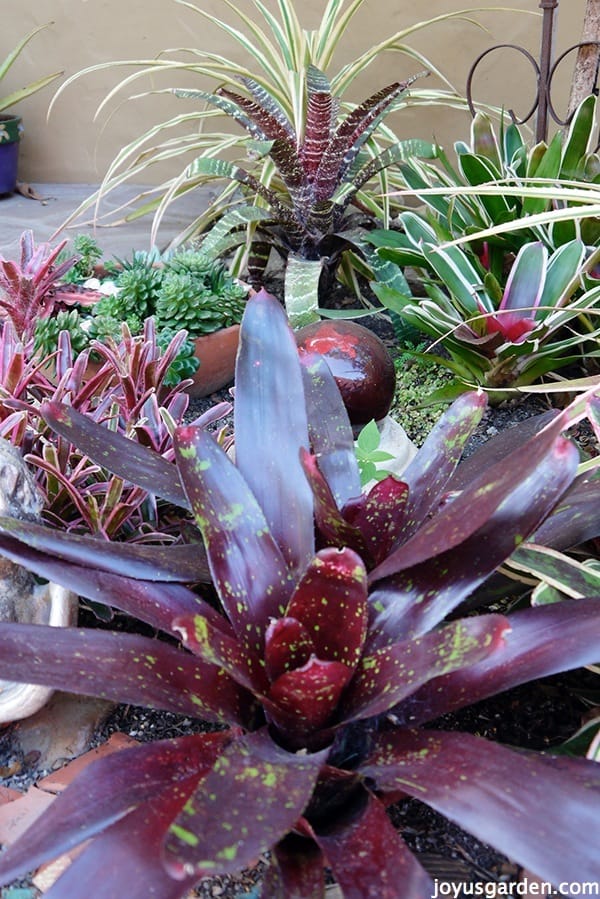 I love me some bromeliads!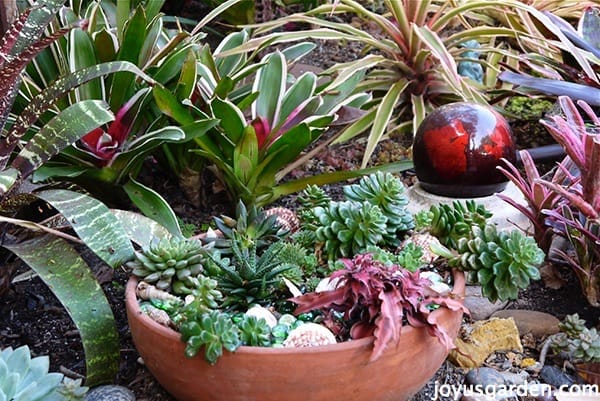 This succulent planter happily hangs out with the bromeliad.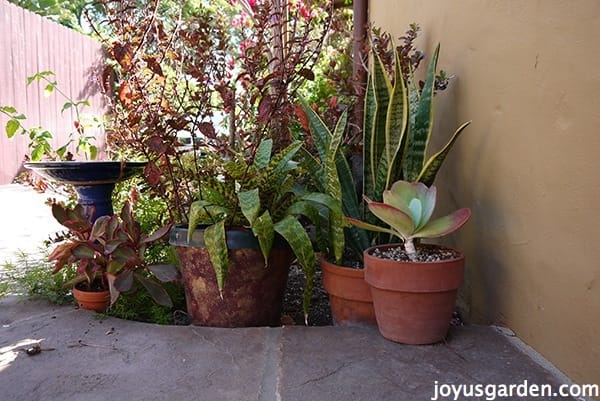 These pots randomly ended up here. I haven't decided yet if this is where they'll stay.
I see and spend in my garden every day. My office is in my shed and the bathroom is in the house (you who drink a lot of water also know what I mean by this!) so I pass by my garden multiple times in a typical workday. I see what each plant is doing and find great joy in watching things grow.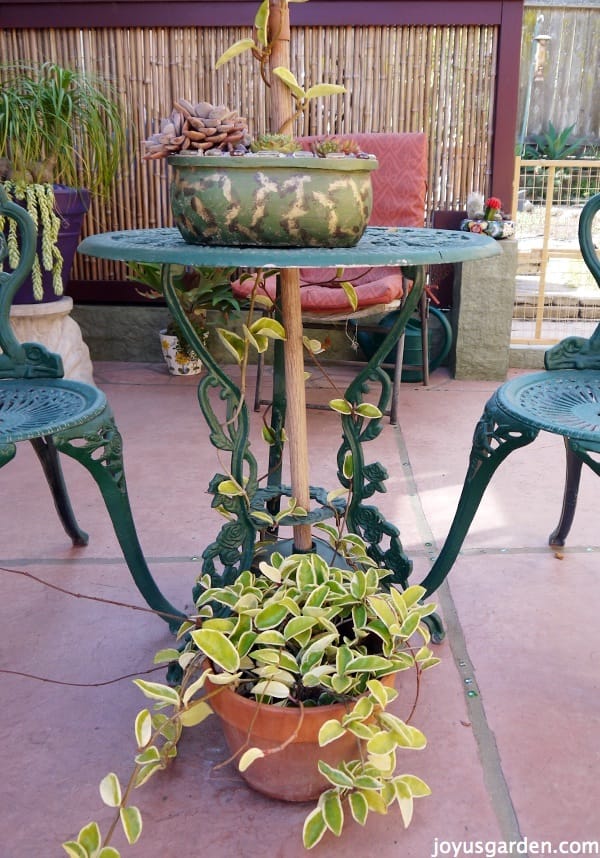 The Hoya that sits on the patio right off my office really needs to be transplanted & staked.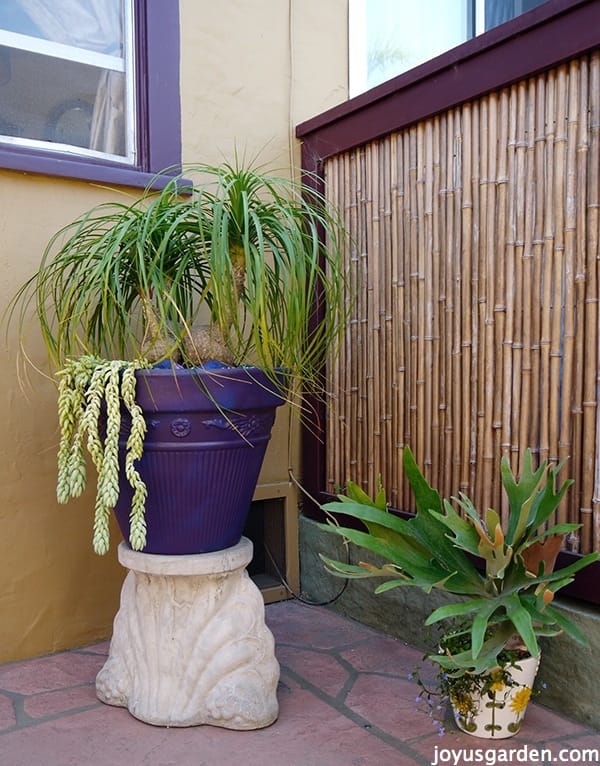 My 3 headed Ponytail Palm is recently transplanted & doing great. My Staghorn Fern is getting a new home very soon.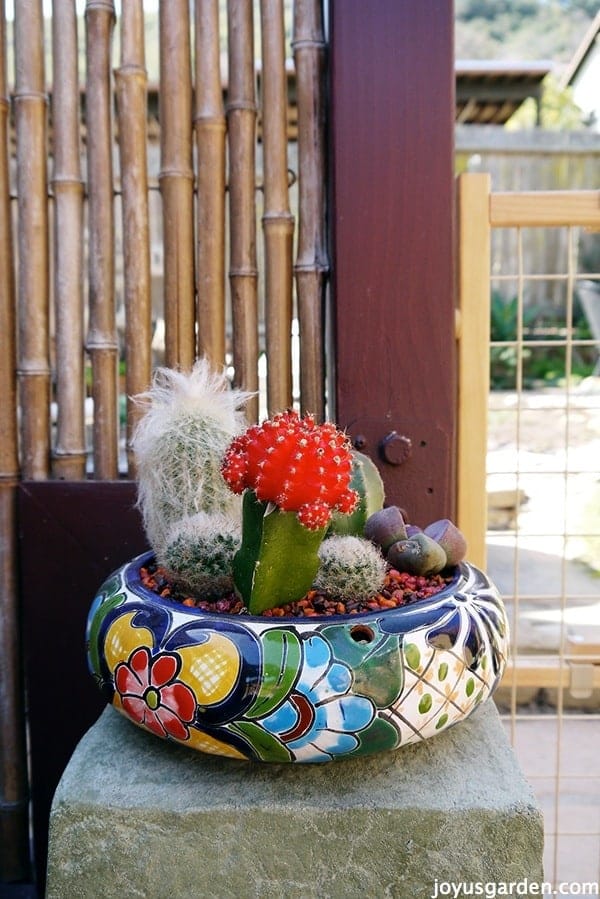 This little cactus dish garden is also a recently completed project.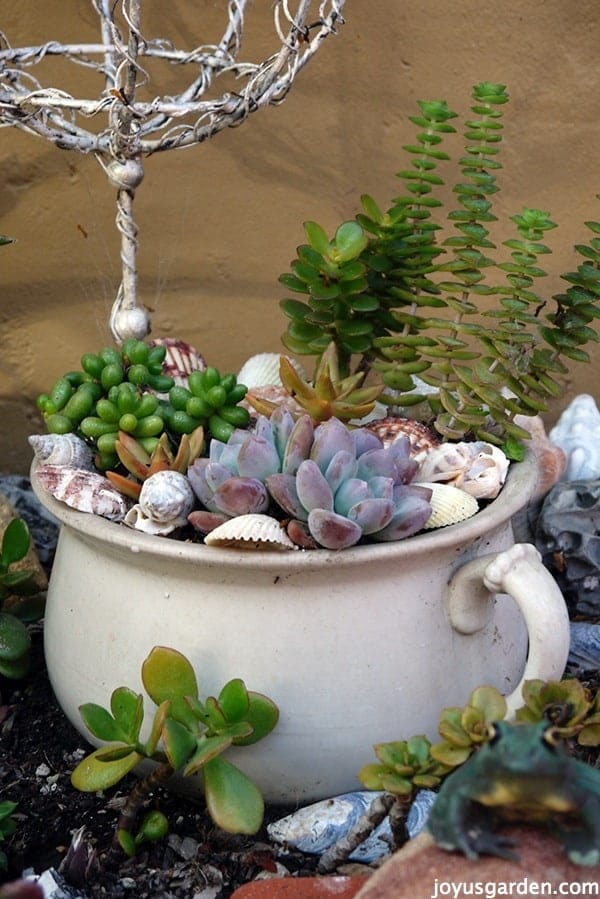 This was actually my grandmother's chamber pot & sat on a shelf in the shed. I decided it needed a place in the garden, drilled a hole in the bottom & viola.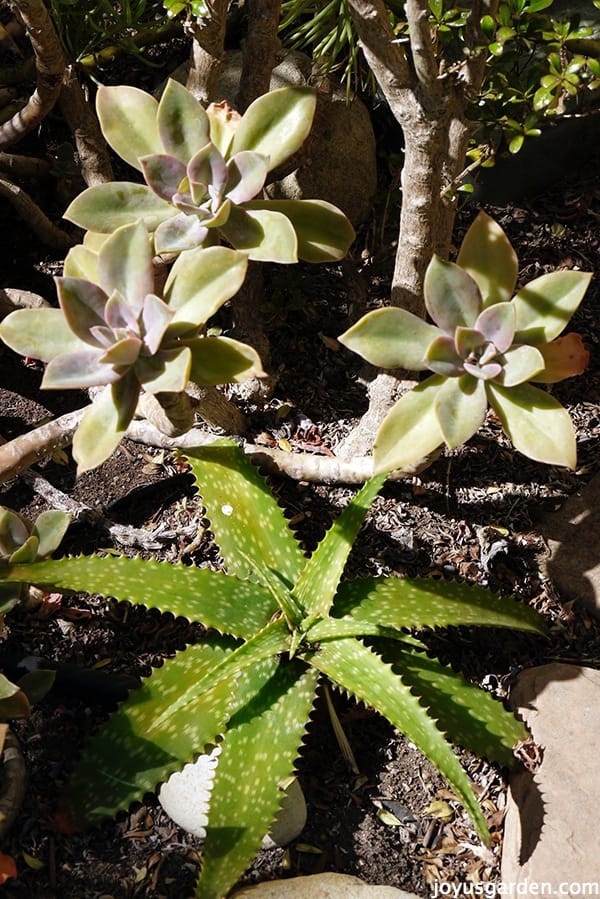 My Grapteverias (the pinwheel looking succulents) have deepened to a beautiful lavender/blue now that the nights are cool.
Thanks for taking the tour with me!
Best,

This post may contain affiliate links. You can read our policies here. Your cost for the products will be no higher but Joy Us garden receives a small commission. Thank you for helping us spread the word & make the world a more beautiful place!