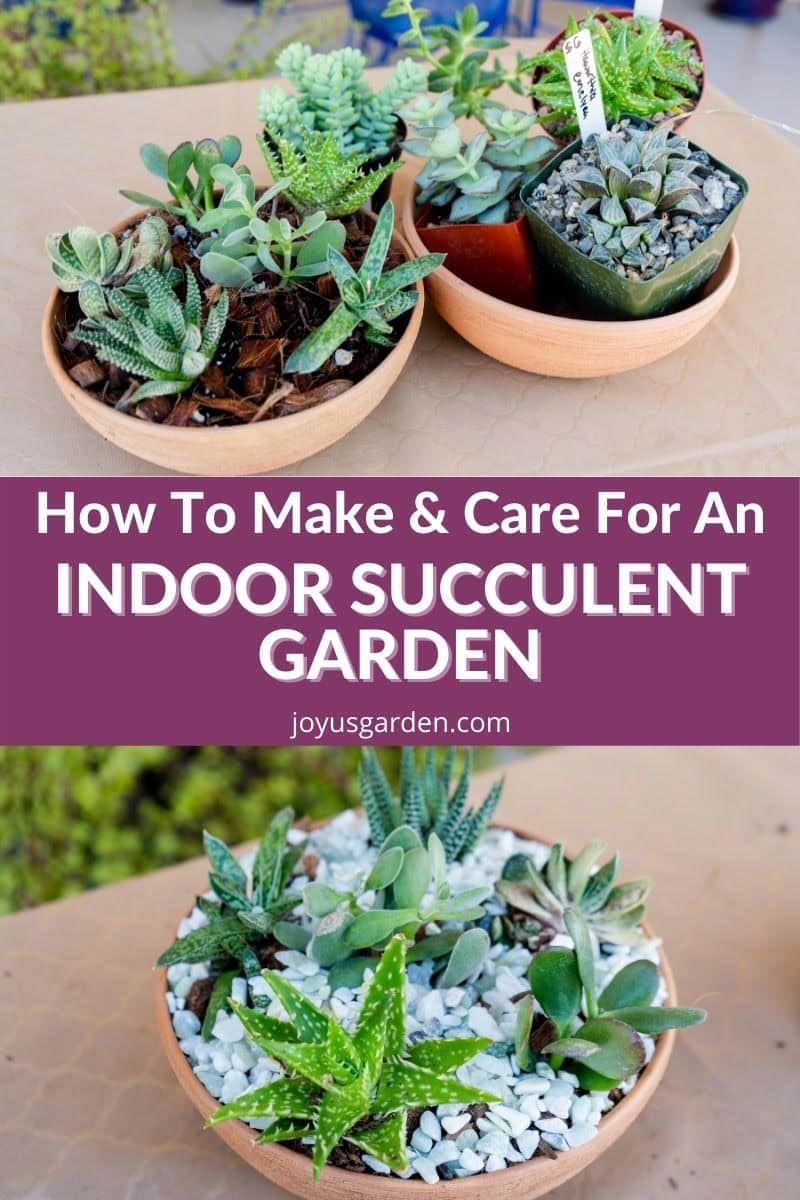 Succulent dish gardens are fun to make and look great in your home. Here's how to plant and care for an indoor succulent garden with some helpful tips to help you get started.
Sometimes one succulent plant in one pot just isn't enough! This is open to interpretation, but I consider an indoor succulent garden to be multiple plants in one container. Here I'm sharing how to create, plant, and care for an indoor succulent garden.
You may know an indoor succulent garden as a succulent bowl, succulent dish garden, succulent arrangement, or a succulent planter.
Select Indoor Succulents
When planting a succulent dish garden, you want to be careful not to choose succulents that grow a lot bigger or faster than others. They'll crowd the other ones out and you'll have to repot sooner than you'd like.
Rosette type succulents as well as Haworthias and Gasterias tend to stay on the compact side. They're great for succulent arrangements as they won't need replanting for at least a year.
Here's my list of best indoor succulents to consider if you're a beginning gardener: String Of Bananas, Aloe Vera plant, Haworthias, Christmas Cactus, Hens and Chicks, Burro's Tail Sedum (be careful, their leaves fall off in a heartbeat!), Flowering Kalanchoes, Calandivas, Jade Plants (there are a few varieties to choose from), Elephant Bush, Gasteria and Panda Plant.
I'd recommend using succulents in 2″, 3″, or 4″ grow pots as they're easy to plant and work with. I've made succulent arrangements with cuttings also.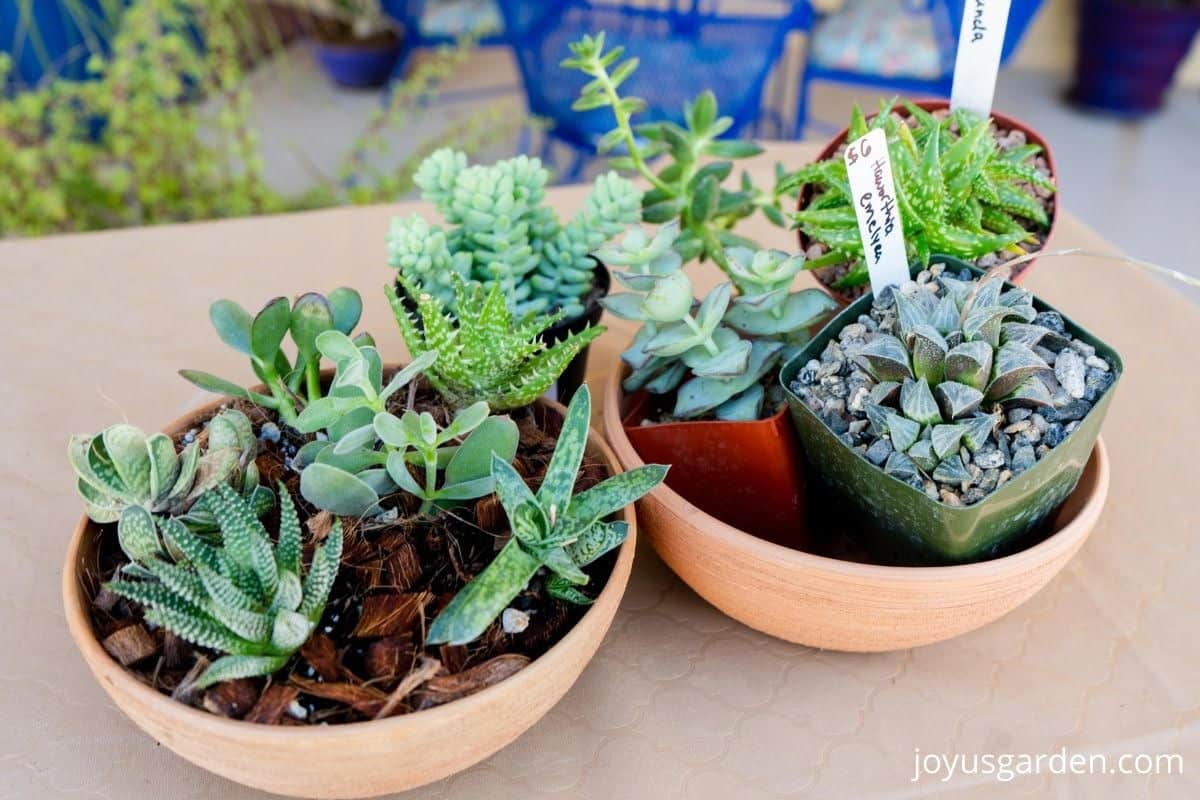 Select a Container
I like to use shallower planters, bowls, or dishes for my succulent gardens. Anywhere from 3 – 6″ deep seems to be the sweet spot, depending on what size and how many succulents you're planting.
There are many shallow containers on the market you can buy. They're available in an array of materials, shapes, colors, and styles. I've found the majority of mine at garden centers and nurseries here in Tucson because I like to shop locally and support other small businesses.
I recommend having at least one drainage hole on the bottom of the container. Multiple works best if the container is wider in diameter.
I prefer to plant in terra cotta pots or ceramic pots when it comes to succulents.
Here are some indoor succulent planters that you can buy online.
Want to learn more about succulents indoors? Check out these guides!
See the video on how I created a succulent garden at my work table below:
When to Plant
The best time to do the planting is spring and summer. Early fall is fine too if you're in a climate with mild winters like me.
In general, I leave all my houseplants be in the winter months in regards to planting, pruning, and propagating.
Succulent Potting Mix
Succulents in any sized or shape pot, whether it be a large pot or a shallow container, do best in a special potting mix. I just did a post and video about succulent soil so you can refer to that for all the details.
I've been using this DIY succulent and cactus soil mix recipe for over 2 years now. My succulents growing indoors and outdoors all do well in it.
In a nutshell, the mix you use should be well aerated and light, and most importantly have good drainage. It should not hold too much moisture or excess water, especially when planting in a shallow succulent planter.
How to Plant an Indoor Succulent Garden
It's a good idea to watch the video at the beginning on this one. You can see me making a succulent bowl and I explain all the steps.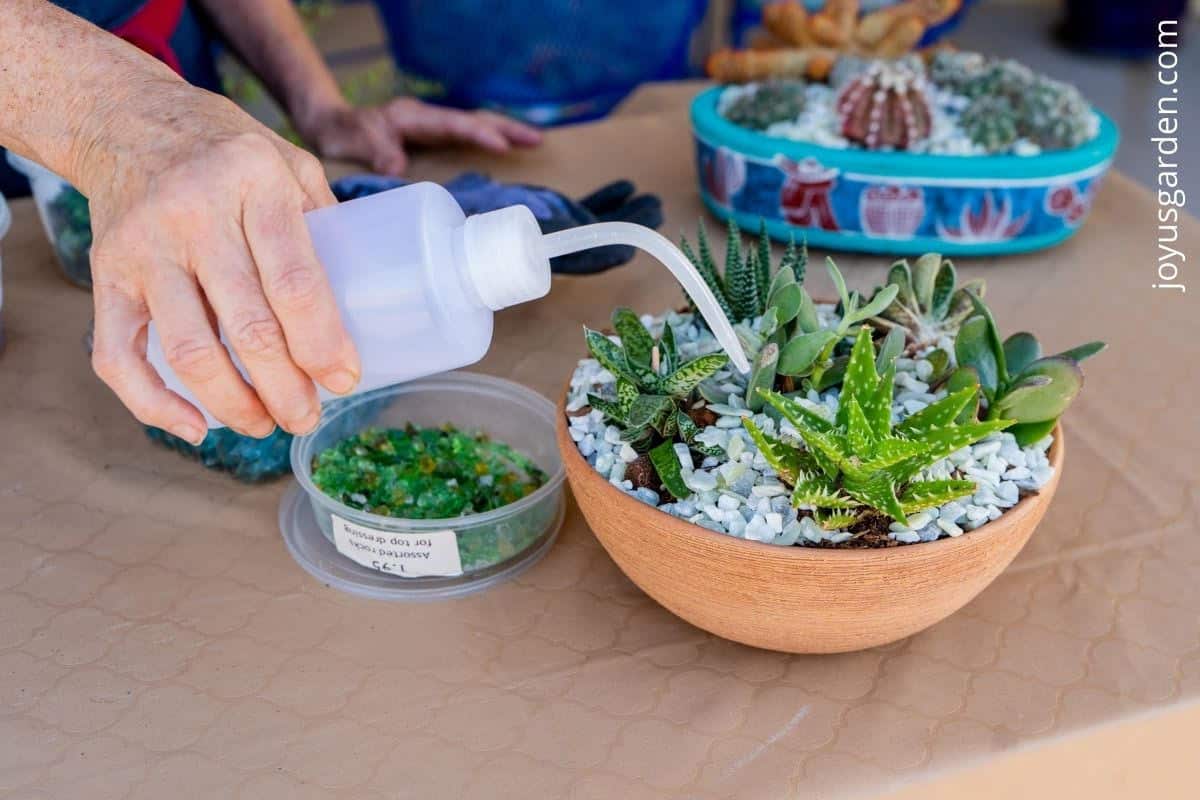 Indoor Succulent Garden Care
The care is basically the same as for succulents in larger pots except for one difference.
I water succulents in shallower containers a bit more often than those growing in large pots. The soil mass is much less, they're planted quite tightly, and they tend to dry out faster.
I find using a small watering can with a narrow spout works best. I also use this bottle with a long neck for getting into tight spots in between the plants. This makes it very easy to control the amount of water going into the soil mix.
There are 3 essential things to know in regards to growing succulents indoors. 1) They do best in bright natural light. 2) Full sun is fine as long as they're not in direct sun. Keep them out of hot, sunny windows. 3) The soil needs to dry out in between waterings.
More on watering succulents indoors and 6 important things to know about growing succulents indoors in these 2 posts.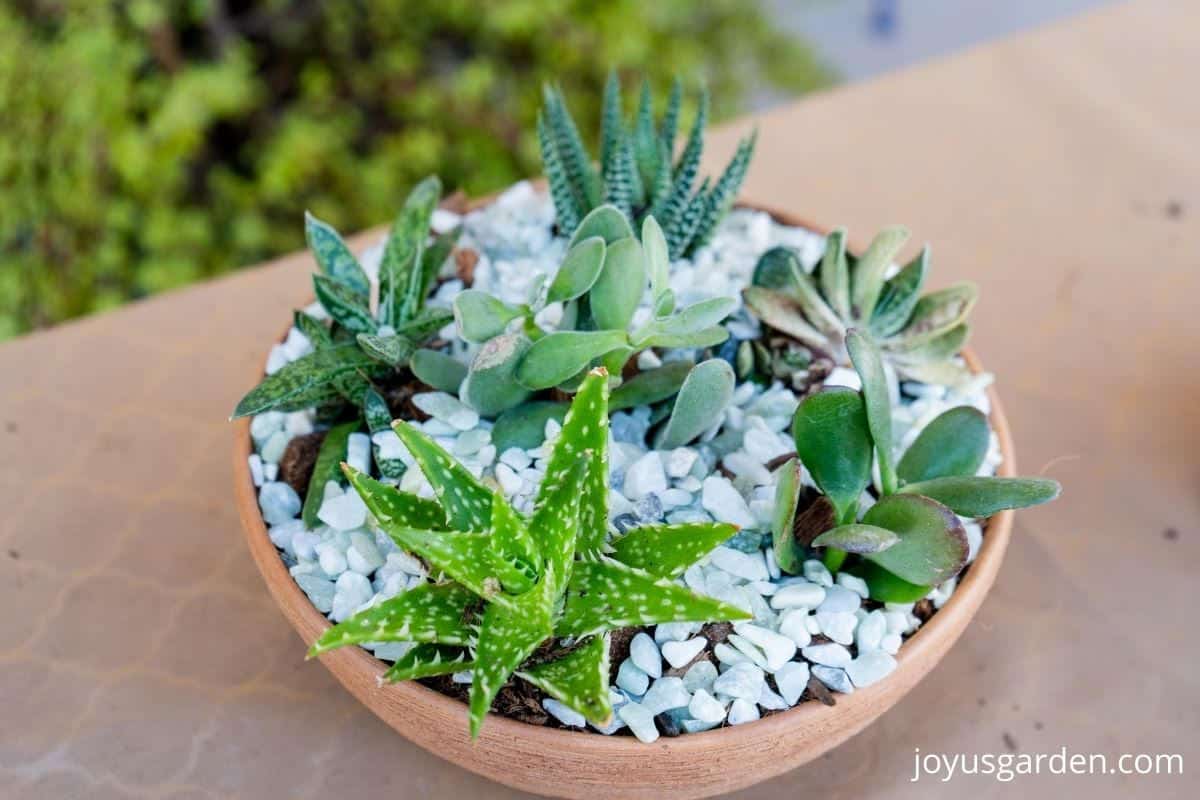 Indoor Succulent Garden FAQs
Do succulent bowls need drainage?
Yes, most certainly. It's very important to amend the drainage or make sure the bowl has at least one drain hole.
How deep does a succulent bowl need to be?
I prefer the succulent bowls I'm planting to be anywhere from 3 – 6″ deep.
Can you plant succulents in just rocks?
I don't. I use a DIY mix formulated for succulents. You can have rock in the succulent soil mix to amend the drainage or as a layer on the bottom, but not to directly plant in.
Should you put rocks around succulents?
You can if you'd like. This is an aesthetic choice if the look appeals to you. Just make sure it's a thin layer so the succulent soil mix can dry between waterings.
What is the best soil for succulents in pots?
The mix you use should be light, well aerated and most importantly provide good drainage. Perpetually moist soil isn't what succulents like. 
How long do succulent bowls last?
The longest I've had one is 4 years. Some of the succulents got leggy, and some started to overtake others. I took the garden apart, took stem cuttings, divided some, and replanted the garden.
Are succulent plants low maintenance?
I find them to be low maintenance. I live in the desert and my tropical houseplants require more attention in terms of watering and misting/spraying.
Do indoor succulents need sun?
They like bright natural light but need to be kept out of direct, hot sun. Their leaves and stems are full of water and they'll burn if up against the hot glass of a south or west facing window for a prolonged period of time, especially in the warmer months.

In the winter months, you may have to move them to a sunnier spot.
Do succulents like to be misted?
No, they don't need it. Save the misting and spraying for your tropical houseplants. 
Indoor succulent gardens are fun to make. The array of plants you can combine is endless as well as the containers to choose from. Give one a go!
Happy gardening,

This post may contain affiliate links. You can read our policies here. Your cost for the products will be no higher but Joy Us garden receives a small commission. Thank you for helping us spread the word & make the world a more beautiful place!
About the Author
Latest Posts
Nell, the founder of Joy Us garden, was born into a gardening family and grew up in Connecticut's countryside. After living in Boston, New York, San Francisco, & Santa Barbara, she now calls the Arizona desert home. She studied horticulture & garden design, working in the field all her life. Nell is a gardener, designer, blogger, Youtube creator, & author. She's been gardening for a very long time & wants to share what she's learned with you.