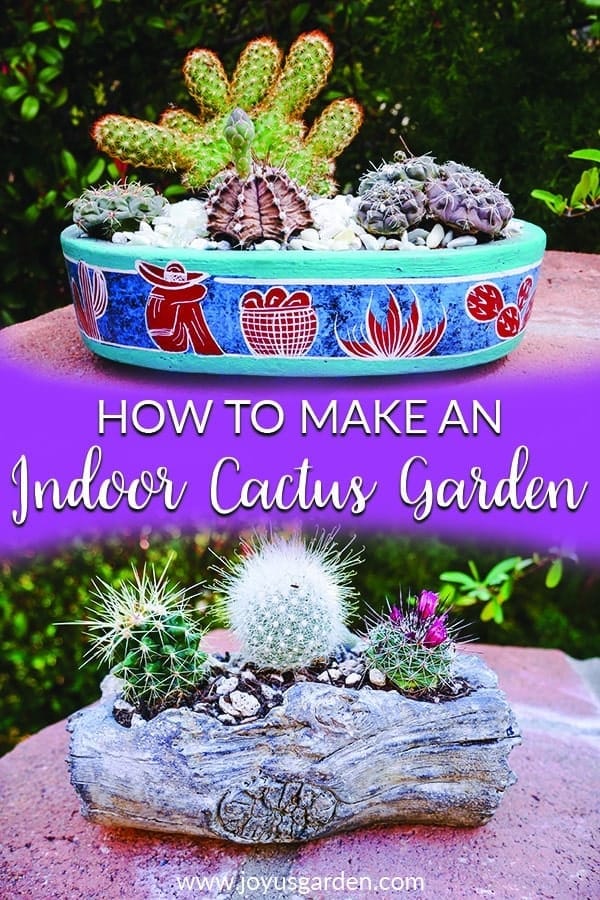 Roses and orchids are extremely popular but right up there with them is the cactus. These spiny bizarre plants are just plain cool and ideal for people who travel and/or who want a more modern, edgy look. You see them everywhere – in photos, on tee shirts, mugs, clothing as well as in candle form. Why not grow them in your home? Here's how to make an indoor cactus garden, done 2 different ways.
There are 3 essential things you need to know in regards to growing cacti indoors.
You need: high light, a soil mix which is well aerated and drains well, and to go easy on the frequency of watering. You can travel for 3-4 weeks and not have to worry about who's going to water your cactus garden. A few other big pluses: no pruning required, no yellow leaves to remove, repotting is rarely needed because they grow so slow indoors and little if any feeding is necessary. They practically take care of themselves!
A fluffy cactus bowl – our version of snow here in the desert.
Fleshy succulents are wonderful and I grew many of them in my Santa Barbara garden. I now live in Tucson which is the land of cacti so I figured why not go with it. I've come to appreciate the many of these wacky plants growing here in the Sonoran Desert. Although I love all of my leafy houseplants, I wanted to make a couple of miniature cactus gardens for my home. Sharing the spiny love!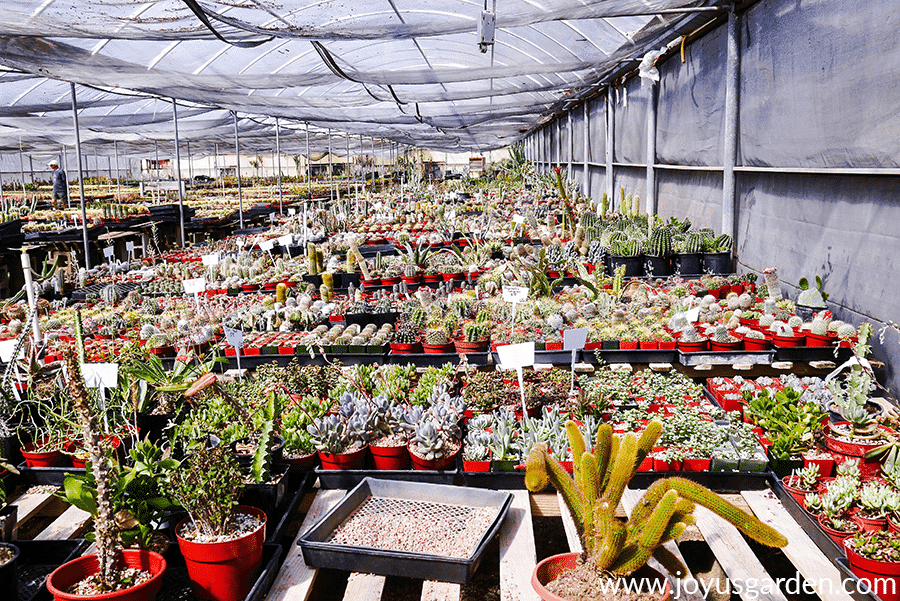 Yes, I had a few cacti to choose from when I went shopping at Bach's. No wonder why I had a hard time making up my mind – this is just 1 of the greenhouses!
I got all of my cacti at Bach's Cactus Nursery here in Tucson and had big time fun picking them out. If you live in this area or are passing through, Bach's is well worth a visit.
Materials used for making an indoor cactus garden:
A container
Cacti do well in shallow containers so have fun picking yours out. This one would be a good choice as well as this one. It's best if they have at least 1 drain hole.
Cacti
Cacti in 2 & 3″ pot sizes to are the best to buy when making smaller gardens like these. Bach's grows the majority of their small cacti in 4″ pots so I had to wrangle with the roots balls a bit to get them to fit into the pots the way I wanted.
Succulent & cactus mix
I use a mix locally produced here in Tucson. I now have the recipe & will be doing a DIY succulent & cactus mix tutorial soon. Here are online options: Bonsai Jack (this 1 is very gritty; great for those prone to overwatering!), Hoffman's (this is more cost effective if you have a lot of succulents but you might have to add pumice or perlite), or Superfly Bonsai (another fast draining 1 like Bonsai Jack which is great for indoor succulents).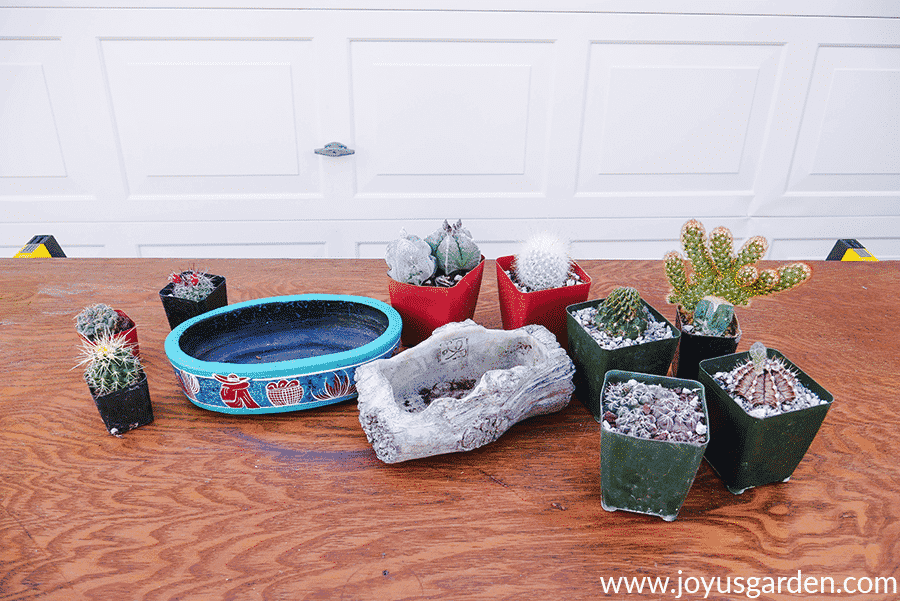 The containers & cacti all set to go.
Compost & worm compost
Worm compost is my favorite amendment, which I use sparingly because it's rich. I'm currently using Worm Gold Plus.
Charcoal
Charcoal is optional. What it does is improve the drainage & absorb impurities & odors. For this reason, it's great to use when doing any indoor potting project.
A small trowel
Another optional but it works wonders when planting small fleshy succulents & cacti. I've had mine for years but here's a set to consider buying if you're into small gardens.
My secret weapon for planting small cacti: pasta tongs. These help you to keep your fingers spine free. You'll see how I use them in conjunction with the small trowel in the video. I noticed that they were using kitchen tongs when planting at Bach's.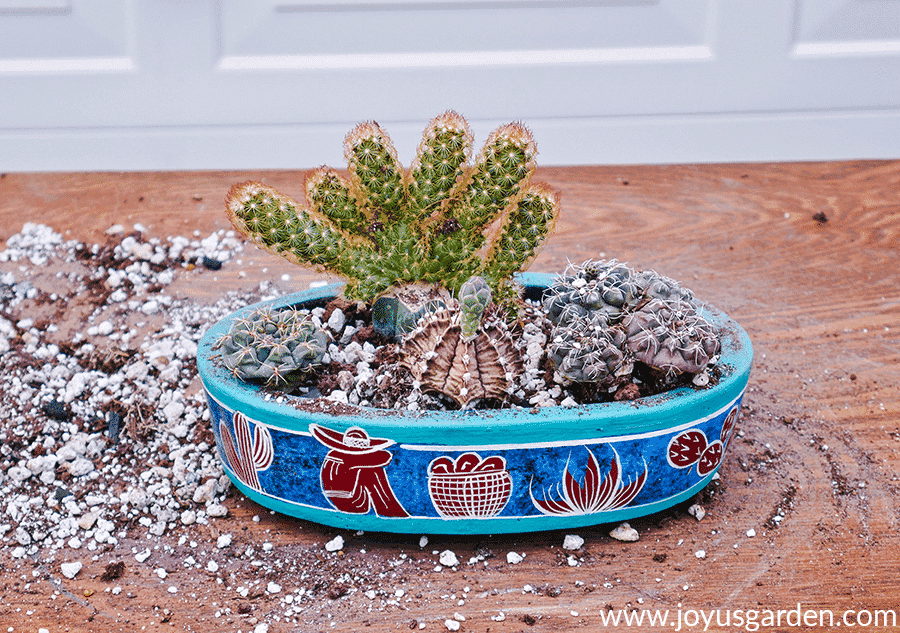 1 of the gardens almost done. The grafted cacti remind me of a crested saguaro.
Steps to making an indoor cactus garden:
Spread a thin layer (1/4-1/2″) of charcoal in the bottom of the container. I put pieces of coffee filter over the drain holes 1st to keep the charcoal & the mix from escaping out with the initial waterings. Some people use small rock instead. Neither of these are really necessary but it ups the ante a bit on the drainage factor.
Put a layer of the succulent & cactus mix over that. How much depends on how big your container is as well as the root balls of the cacti.
Squeeze the sides of the grow pots & use the tongs to gently pull the cacti from their grow pots. Knock off any of the mix from their root balls if need be.
Arrange the cacti in the container however it's pleasing to your eye. This is where the tongs & mini trowel come in handy as a duo!
Sprinkle in a fine layer of compost & fill in with more succulent & cactus mix. Top with a fine layer of worm compost.
I tap the top of the mix with the mini trowel to check for holes as I usually find 1 or 2. I fill in with a little mix if need be.
Decorating an indoor cactus garden:
This can be the icing on the cake. I left 1 of mine plain & dressed the other 1 with jade beach pebbles. There are many colors & types of rock, pebble & glass chips on the market so use what catches your fancy. Some people like to add in small figures too.
After care/watering:
1 of the gardens I made is still outside & the other 1 is on the window sill in my dining room. I'm letting them settle in for about 10-14 days before watering. The mix was dry when I planted these gardens by the way.
I'lll water my indoor cactus gardens every 3-4 weeks here in Arizona in the warm, sunny months. In the winter it'll be every 4-6 weeks, depending on how much sun we're getting. You can adjust the watering frequency to your environment.
Remember: cacti truly like to stay dry & it's best to water only the soil mix & not the plants.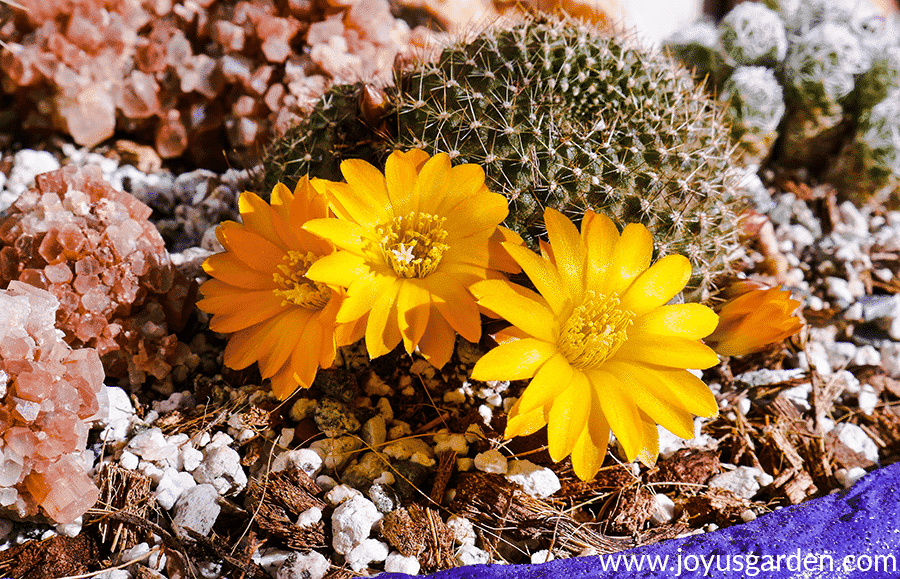 Just for your viewing pleasure – 1 of the cacti in my outdoor containers which is blooming at the moment. Spring time in the desert is colorful.
Indoor cactus gardens are easy to make but they do require a little finesse when planting. The spines can hurt (I know this from experience) but the tongs really do help. This tutorial will get you well on your way to having your own mini Sonoran Desert!
Happy gardening,

You may also like:
Easy Care Office Plants For Your Desk
How to Plant & Water Succulents In Pots Without Drain Holes
What You Need To Know About Transplanting Succulents In Pots

This post may contain affiliate links. You can read our policies here. Your cost for the products will be no higher but Joy Us garden receives a small commission. Thank you for helping us spread the word & make the world a more beautiful place!
About the Author
Latest Posts
Nell, the founder of Joy Us garden, was born into a gardening family and grew up in Connecticut's countryside. After living in Boston, New York, San Francisco, & Santa Barbara, she now calls the Arizona desert home. She studied horticulture & garden design, working in the field all her life. Nell is a gardener, designer, blogger, Youtube creator, & author. She's been gardening for a very long time & wants to share what she's learned with you.