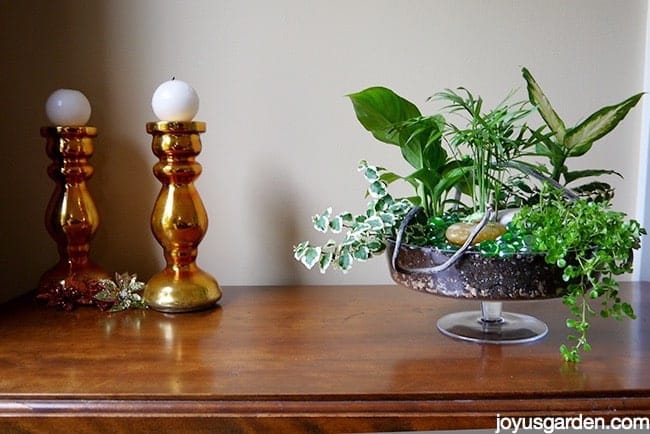 Even if you don't have a garden outdoors, you can still have one indoors. Dish gardens have been popular for years and make great gifts for homes and offices. They are really very simple to put together and are great projects to do with kids, especially to introduce them to gardening. Here's how to make a dish garden everyone will love.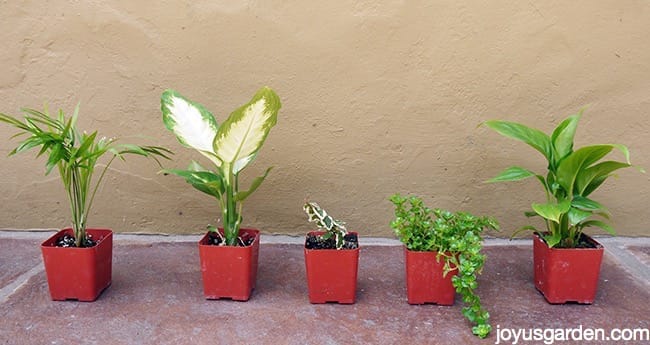 The plant line up above features: a neanthe bella palm, dieffenbachia, variegated ficus pumila, baby's tears and finally a spathiphyllum. These are all 2″ plants because the footed glass bowl I used was neither deep or all that big. If you have a larger container then by all means use larger plants.
Most often dish gardens sold in the retail trade are planted with plants that aren't compatible in regards to growing conditions.  High light plants are planted with low light plants and the dish garden just isn't meant to survive for the long run.  If you want yours to last as long as possible, then pay attention to the requirements of the plants.
Some Of Our General Houseplant Guides For Your Reference:
Here I am in my garage making the dish garden step by step:
All the steps to making a dish garden are in the video here are a few things to point out:
* I used potting soil for this kind of a dish garden. I previously made a little cactus garden & for that used succulent & cactus mix.
* I added my usual worm castings as an amendment.
* Many dish garden containers don't have drainage. I put in a layer of gravel 1st before putting in the soil & plants.
You could also use charcoal which also serves to "sweeten" the soil.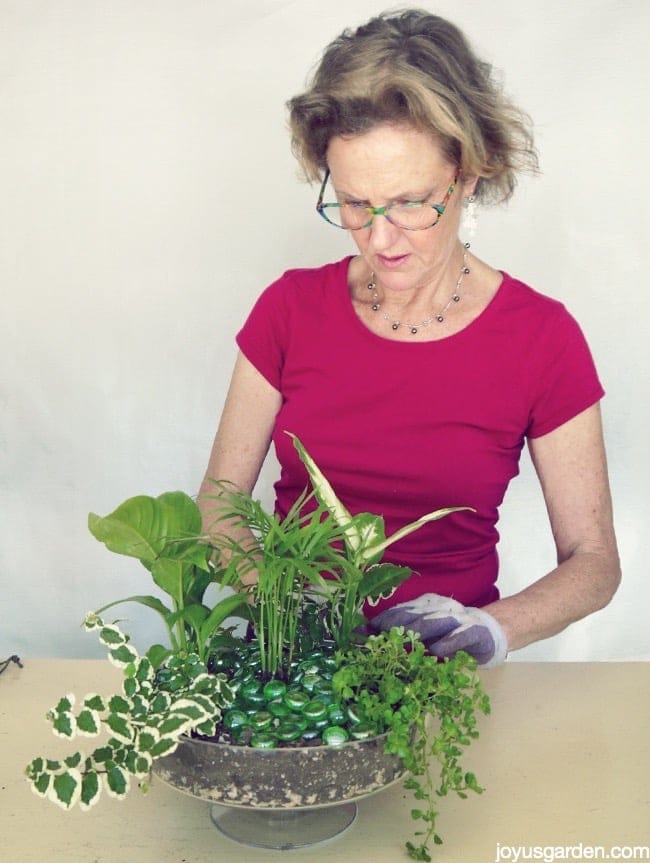 I really look like I'm concentrating in this pic!
* The container choice is endless. I've used a salad bowl as well as an old truck that belonged to my dad when her was a kid.
* I slightly angle the plants around the edges to face out. That way they don't all grow like soldiers at attention straight up.
* Water the plants before planting & water the garden after planting.
* Be careful not to over or under water your dish garden. It can be tricky with these to find that fine line between too much & too little.
* You can use some blooming plants if you'd like. Good choices are kalanchoes, african violets, begonias, bromeliads & mums.
At the end comes the real fun – adding the adornments. I used driftwood, glass chips, polished stones and a little frog. Use whatever catches your fancy. Whether it's for you or you're giving it as a gift, it's bound to be a hit. Enjoy!
Happy gardening,
Nell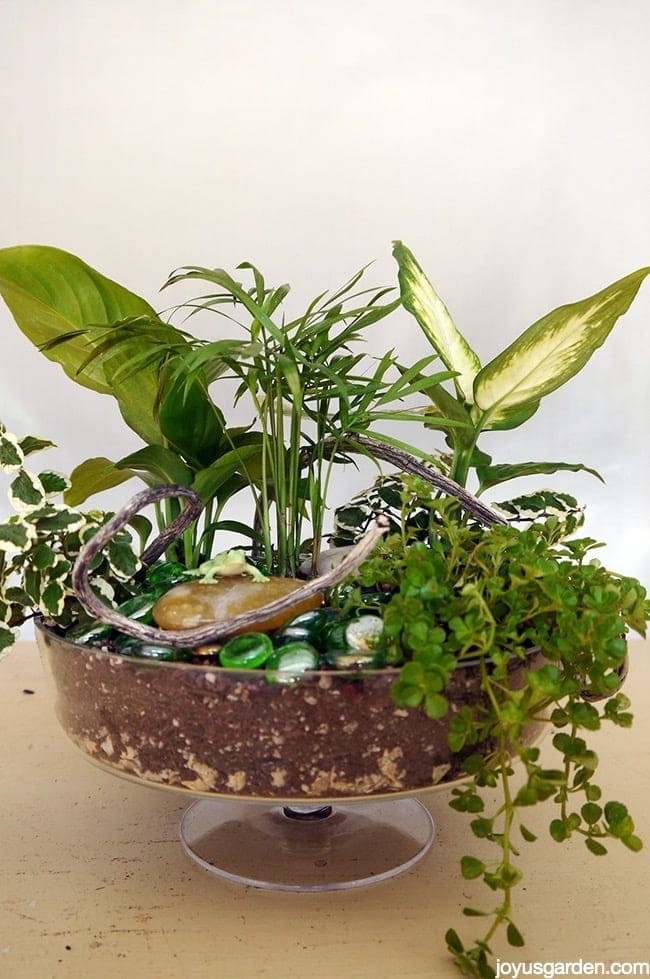 YOU MAY ALSO ENJOY:
10 Ideas For What To Do With Broken Plant Pots
Updating A Decorative Plant Pot With Painting
One Easy Way To Jazz Up A Plain Plastic Flower Pot
A Summer Centerpiece, Beachy Style

This post may contain Amazon affiliate links. You can read our policies here. Your cost for the products will be no higher but Joy Us garden receives a small commission. Thank you for helping us spread the word & make the world a more beautiful place!