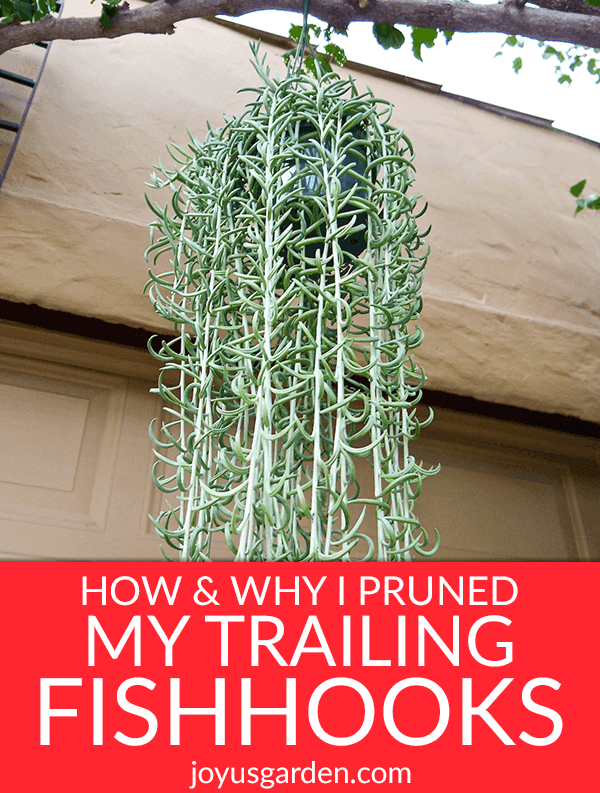 If you want a hanging succulent that's easy to maintain, you'll love the Trailing Fishhooks Senecio. Here's how and why I pruned my String of Fishhooks.
If you want a trailing succulent which grows fast and is easy to maintain, look no further because you've found it here. The plant of which I speak goes by the names Trailing Fishhooks, Fishhooks Plant, String Of Fishhooks, Senecio "Fish Hooks " and Blue Pickle Vine as well as its botanic moniker Senecio radicans glauca. Good grief – it's confusing to have so many names! My own Trailing Fishhooks succulent had gotten too long. It was way overdue for a pruning!
I love this hanging plant but here in warm and sunny Tucson, it grows like a weed. The nickname "Lady Godiva" has been bestowed upon it, and rightfully so. The long stems had hit the patio floor and were trailing along it for at least a foot. Plant debris was collecting in the mass of trails making sweeping more of a chore than it already was. Time for a trim!
You can see how long this Trailing Fishhooks succulent was here:
Pruning Fishhooks Senecio: Why I Did It
Besides the fact this hanging succulent was taking up a valuable real estate on the patio floor, I wanted to prune to encourage fresh new growth to emerge. There was already a bit of it growing out of the top as well as off the sides of a few of the stems. Pruning does many things but one of those keys to a plant's health and appearance is that it stimulates new growth.
Some of that new growth coming out.
I didn't realize how heavy all those trails at the bottom were until I cut them off. Tucson isn't ideal for fleshy succulents (we can get a freeze in winter and it's blasted hot and sunny in the summer) but most of them do fine in bright shade nonetheless. The plant looks a lot happier already to have a portion of those long stems off!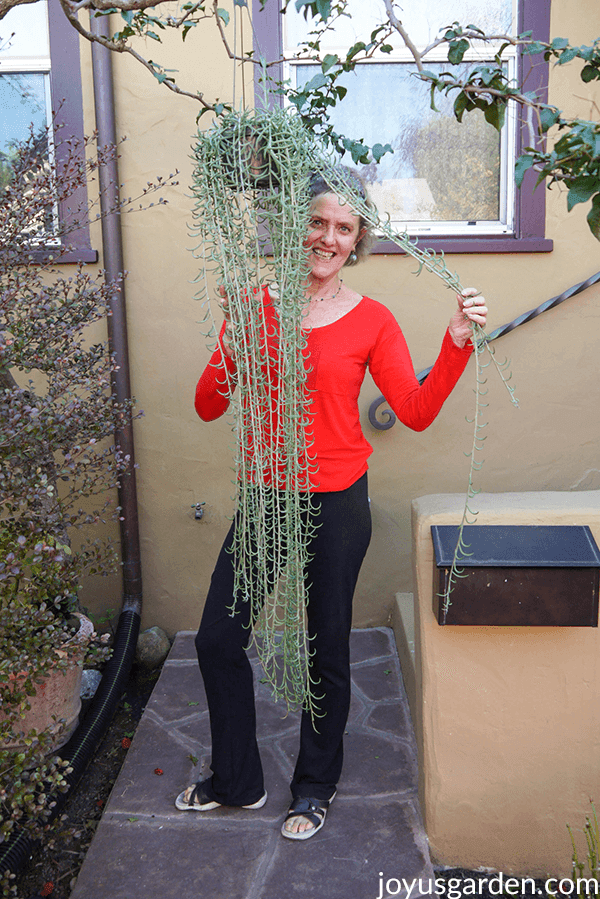 Me & this Trailing Fishhooks hanging out at my house in Santa Barbara, CA a couple of years ago. Fleshy succulents favor the cooler, coastal California climate which makes senses because their leaves & stems are full of water. You can see how much bluer this plant is here rather than in the southern Arizona desert where I now live. Change in color in plants is due to environmental stress.
How to Prune a Trailing Fishhooks Senecio
First off, I make sure any plant I'm pruning isn't stressed (ie: dry) and that my pruners or cutting tools are clean and sharp. Make nice, precise cuts so the health of the plant isn't compromised.
There was nothing too scientific, exacting or artistic about this pruning job. I wanted the plant up off the floor because it grows so fast, especially in the warmer months. Where a stem is cut, new growth will fork off the bottom and sometimes the middle so I wanted to do a bit of thinning out too. You'll see this in the video.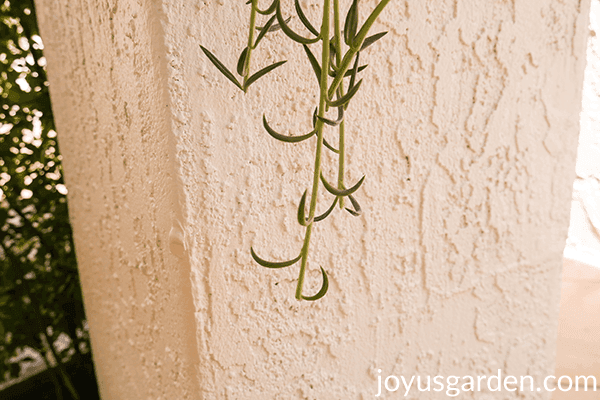 I put the stems against the background of the white pillar so you could see where I pruned them. Making a cut just below a leaf/node is best.
I use my Fiskar Floral Nips for a project like this because they're sharp as can be and make clean, precise cuts so all go easier and faster. I've used these for years and can highly recommend them for soft-stemmed plants like my String Of Fishhooks.
Succulents can be pruned at any time of year but spring is the best. I avoid winter pruning of these fleshy beauties because the plants are resting.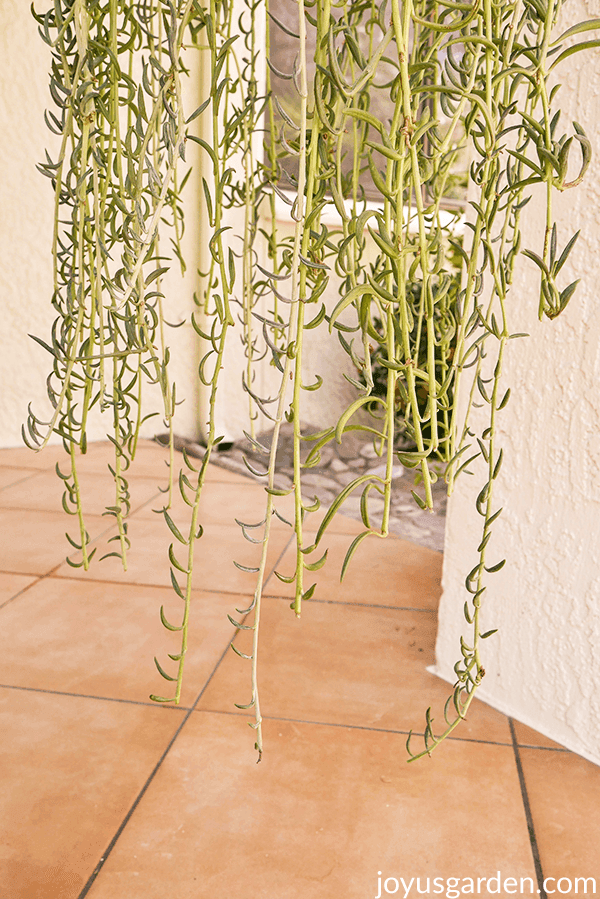 I don't cut all the stems so they're straight across. When those ends start growing & forking off, it can look like a huge blob. That's why the cuts are staggered. Plus, I like the way this looks better.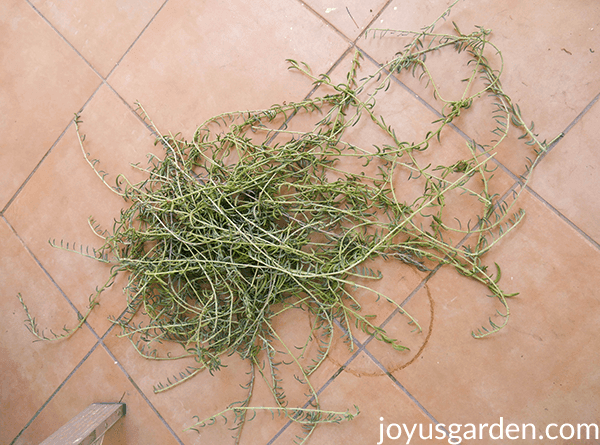 Here's the pile I pruned off this plant. I did a giveaway on my Youtube channel & 3 lucky viewers got quite a few cuttings. Sign up for the newsletter & subscribe to my Youtube channel now; I'll be doing another giveaway sometime in summer!
My String of Fishhooks Plant In The Coming Months
Once the new growth starts emerging and growing, I might cut all the older stems off. I'll see how it's doing after the hot summer months have passed. One thing I know for sure, I'm keeping up on the pruning so the trails stay at this length. My kitty Riley is happier now too. He can easily run across the patio in pursuit of lizards and snakes without having to detour around the mass of trails on the ground!
Happy gardening,

YOU MAY ALSO ENJOY:
Fishhooks Senecio: An Easy-Care Trailing Succulent
How Much Sun Do Succulents Need?
How Often Should You Water Succulents?
How to Transplant Succulents into Pots

This post may contain affiliate links. You can read our policies here. Your cost for the products will be no higher but Joy Us garden receives a small commission. Thank you for helping us spread the word & make the world a more beautiful place!
About the Author
Latest Posts
Nell, the founder of Joy Us garden, was born into a gardening family and grew up in Connecticut's countryside. After living in Boston, New York, San Francisco, & Santa Barbara, she now calls the Arizona desert home. She studied horticulture & garden design, working in the field all her life. Nell is a gardener, designer, blogger, Youtube creator, & author. She's been gardening for a very long time & wants to share what she's learned with you.