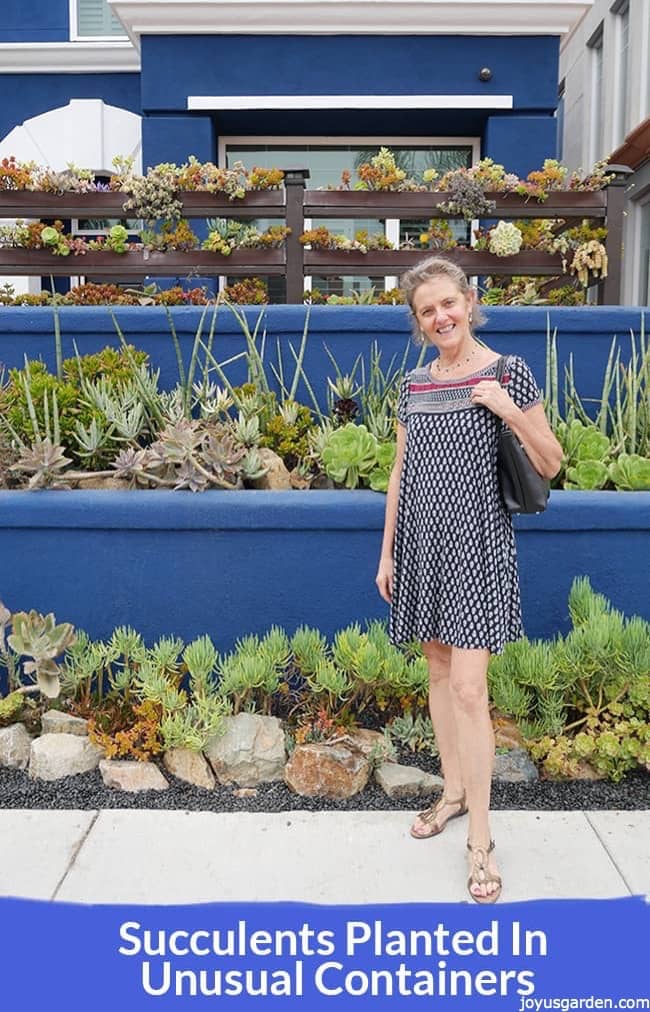 Are you bored with the usual store bought containers to display your succulents? This will give you some ideas and inspirations on how to use unusual things in which to display and plant your succulents.
Succulents are great to plant in an atypical container because:
-They have small root systems. Therefore, they don't need much space or dirt.
-They don't mind being pot bound.
-They'll grow crowded in just fine.
-You won't need to water them all the time.
-Caring for them is super easy.
– These babies are very resilient.
– You can get them in really small size pots and also as cuttings. This makes them easy to work with.
– And last but not least, aren't they the cutest?
Succulents planted in rain gutters
This is a trend that's been hot for the past couple of years. Rain gutters will add a rustic feel to the display. If you're looking for a way to showcase your succulents and all the containers seem not long enough, rain gutters will allow you to go the distance.
Old wash basin planted with succulents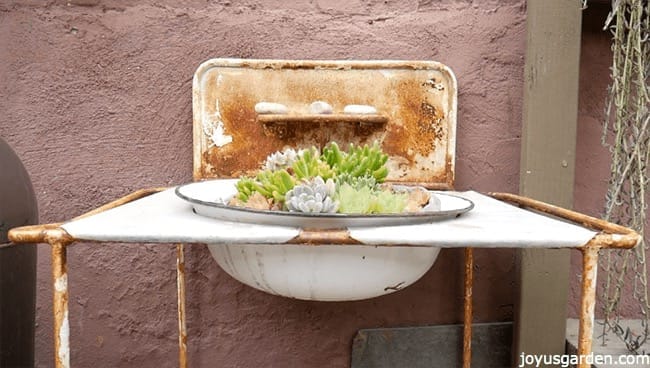 Here's an unusual one mainly because old wash basins are not things we see every day. This is a great way to give life back to an old wash basin. The succulents will make it look trendy and hip!
Succulents planted on palm debris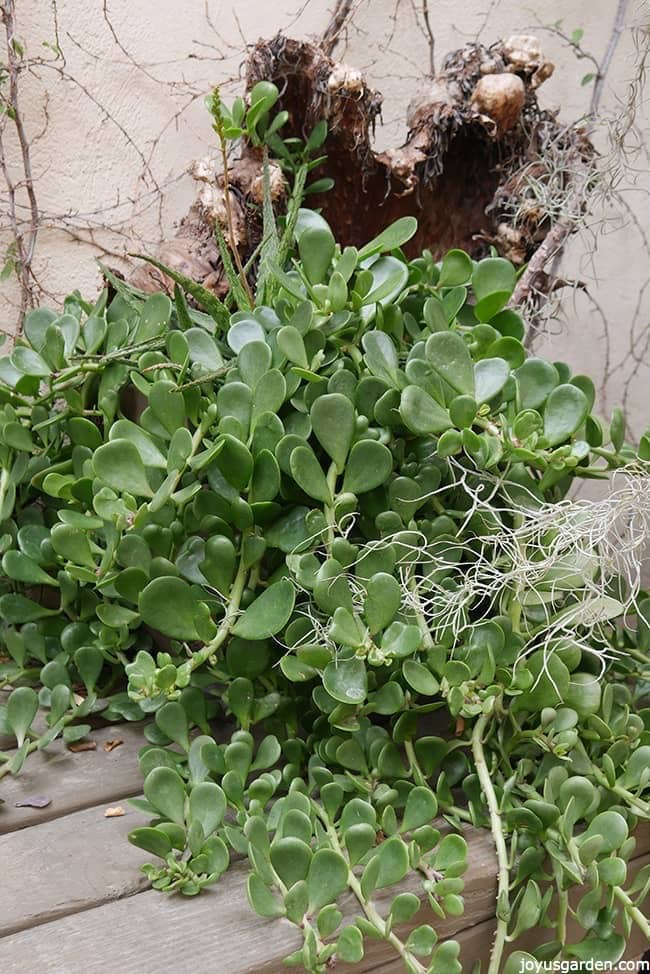 If you live where there are lots of palm trees, I'm sure you've seen debris on the ground after windy days. The debris is the base of big palm tree leaves. Because of their shape, they make good containers for plants that have small root systems and don't need a lot of watering.
Hanging succulent trained on wire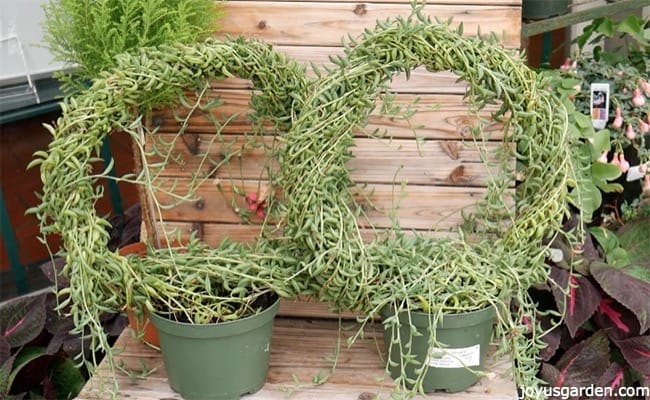 This is the first time we came across succulents trained on hoops. We found these String Of Bananas rings at Sherman Gardens in California. Have you ever tried this before? Let us know – we're very curious!
Old work boots planted with succulents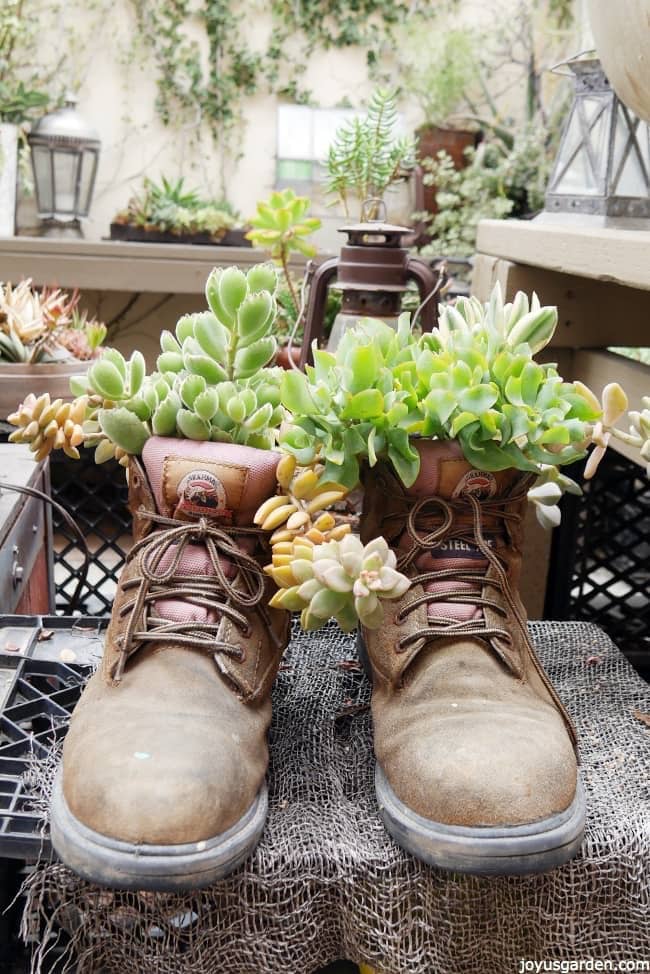 I bet you've seen succulents planted in shoes before. The trick with these is to choose a pair that has a bit of character. I wouldn't go for some modern looking ones with a lot of color for example. If you want them to last longer you can treat them with a weather resistant spray.
Old candle lantern used as a container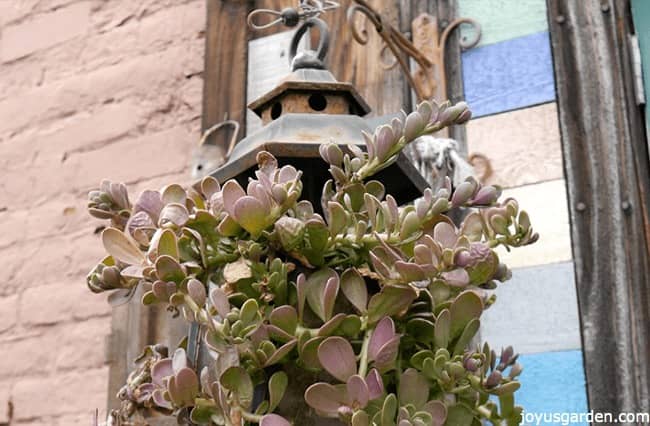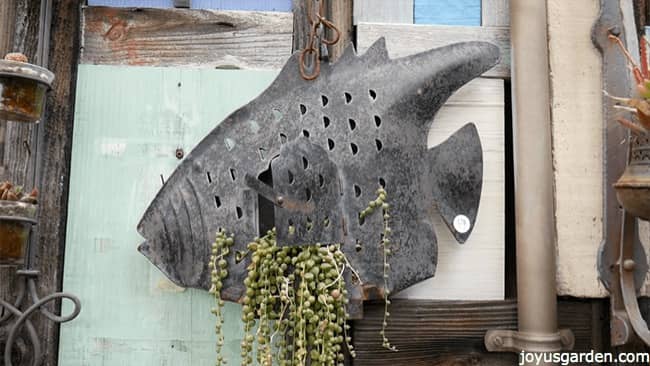 I've seen this one quite a bit – succulents planted in all different kinds of lanterns. Here I share two very different ones.
A fish tank filled with succulents and coral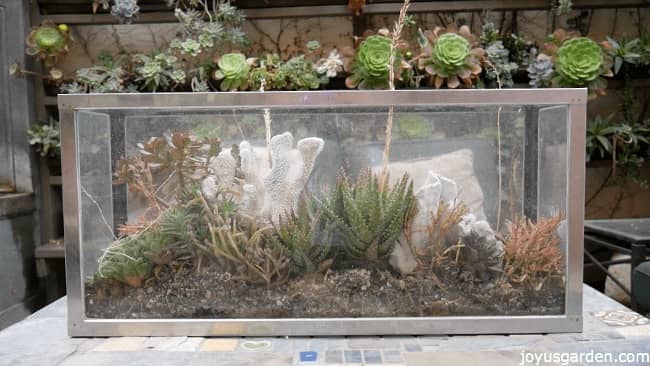 I really like this display because they not only repurposed the tank, but they also reused the corals. Corals and succulents are always a good combo in my book. Just make sure not to have this display in a super hot place or in direct sunlight. You don't want your succulents to burn and die from heat exhaustion.
Succulents displayed in a vintage bird cage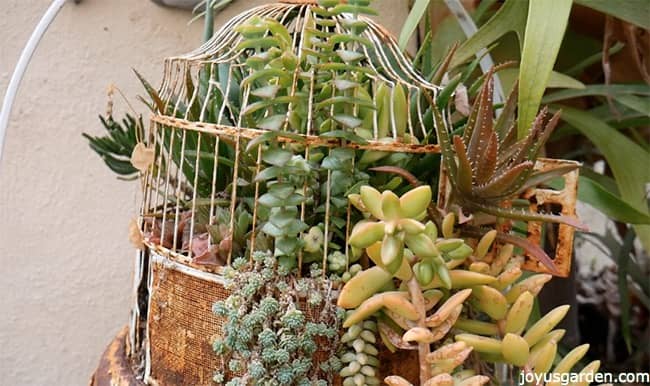 Looking for a whimsical container for your succulents? Get that wonderful old bird cage and fill it in with your favorites. Adding hanging succulents is highly recommended!
A bamboo steamer used as a container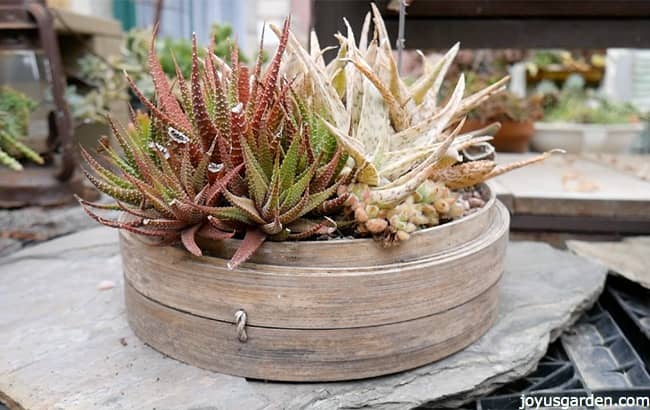 Don't get rid of that old bamboo steamer! Reuse it as a rustic container.
Kid's rain boot filled with succulents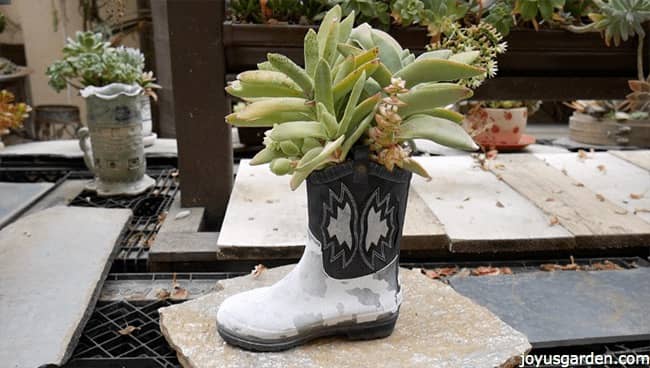 If you're looking for a smaller display, use a smaller shoe! In this case, a kid's rain boot. Poking a drainage hole into the bottom of this one will be easy to do.
A cute mug used as a succulent planter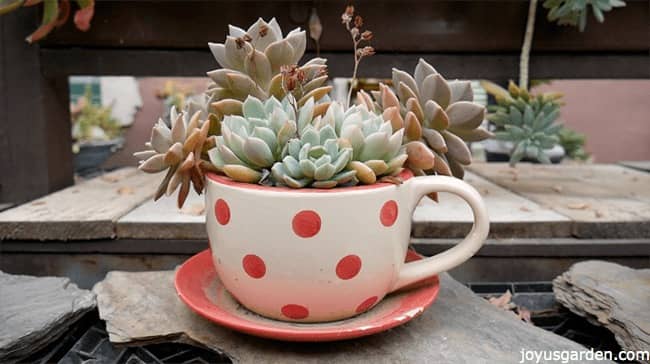 Maybe you just broke the handle of your favorite mug. Don't get rid of it quite yet! You can still enjoy it but in a different way. Glue the handle back on and fill it with mix and succulents.
Succulents growing in a toilet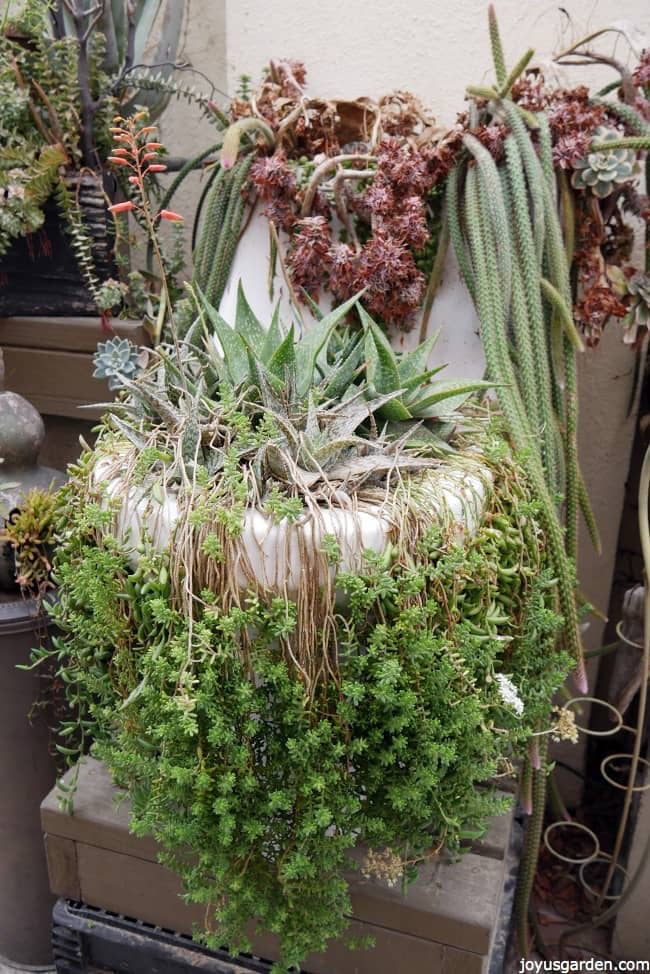 This one's not for everyone, that's for sure. But it's curiously odd and will certainly be a conversation starter.
A glass candle holder planted with succulents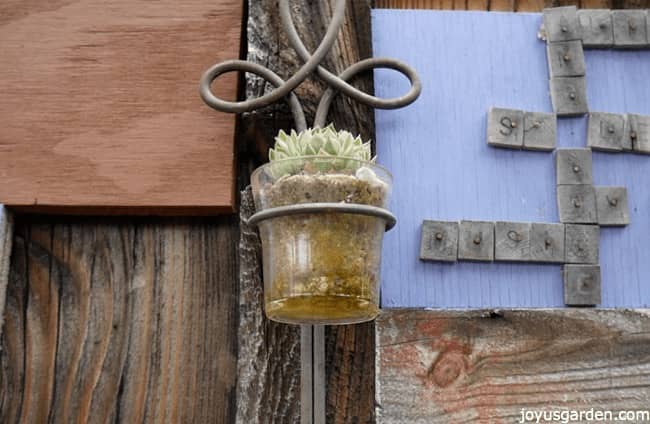 You can even add a hanging succulent for some extra interest.
Hope these inspire you to find an odd but interesting container for your succulents.
Happy gardening,
Lucy
YOU MAY ALSO ENJOY:
How Much Sun Do Succulents Need?
Succulent and Cactus Soil Mix for Pots
How to Transplant Succulents into Pots
Aloe Vera 101: A Round Up of Aloe Vera Plant Care Guides
How Often Should You Water Succulents?

This post may contain affiliate links. You can read our policies here. Your cost for the products will be no higher but Joy Us garden receives a small commission. Thank you for helping us spread the word & make the world a more beautiful place!
I'm a life-long gardener who still to this day gets giddy at the thought of a trip to one of the local nurseries. Yes, I actually studied landscape and environmental horticulture and the practical experience I have garnered through the years has served me well. Childhood memories of chicken manure "tea" still float through my olfactory senses to this day. I have always been an organic gardener and always will be. From the Earth … To the Earth. I was born and raised in rural, bucolic Litchfield County, Connecticut and now joyfully live a few blocks from the ocean in beautiful Santa Barbara, California.