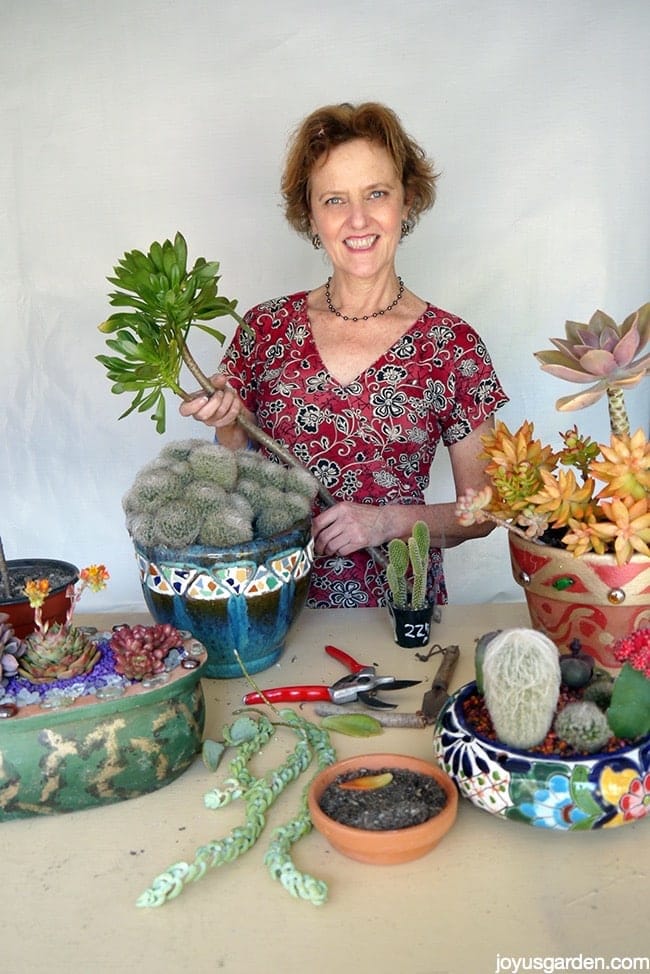 I do lots of succulent videos and posts because I have a lot of them in my garden. They are the plants that keep on giving. Simply cut them, and you'll get more.
I wanted to 1 post which you could refer to whenever I'm posting about a specific succulent because the great majority of them propagate the same way. Here are the 2 very easy ways to do it.
Let me show you how to propagate succulents:
I most often propagate succulents by stem cuttings. Make sure your pruners are clean and sharp. Simply cut the stems to the length you want, peel the bottom 1/3 of the leaves off and then let those stems heal off (this is where the cut end of the stem callus over) for 2 weeks to 4 months before planting.
I plant them directly in the garden or in a pot with succulent and cactus planting mix. I use 1 which is produced locally – this one is good too. Succulents need a loose mix so the water can thoroughly drain out & they don't rot.
I propagate succulents much less frequently by individual leaf cuttings but it's just as easy. Take the leaf off the stem (be sure you get the whole leaf all the way down to the stem), let it heal and then lay it on top of the mix. A new plantlet will appear off the cut end.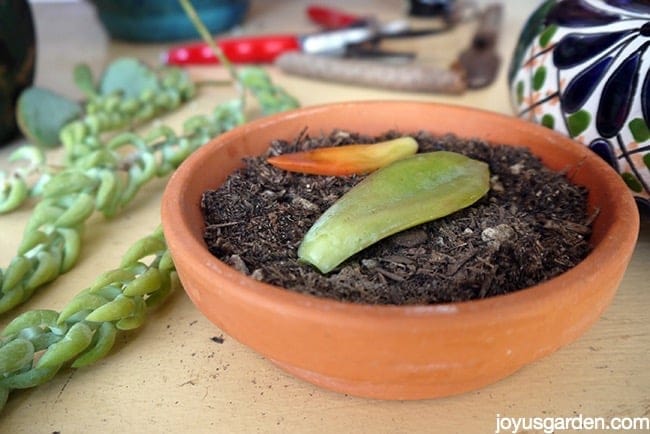 you can even root leaf cuttings in a saucer
I propagate so many succulents that I think I could do it in my sleep! Mine all grow outdoors but many succulents make great houseplants. If you have 1 or 2 of these wild and wacky plants, then through these easy propagation techniques you'll have many more.
Aloe Vera needs to be propagated by division; taking the pups off the mother plant.
This post may contain affiliate links. You can read our policies here. Your cost for the products will be no higher but Joy Us garden receives a small commission. Thank you for helping us spread the word & make the world a more beautiful place!