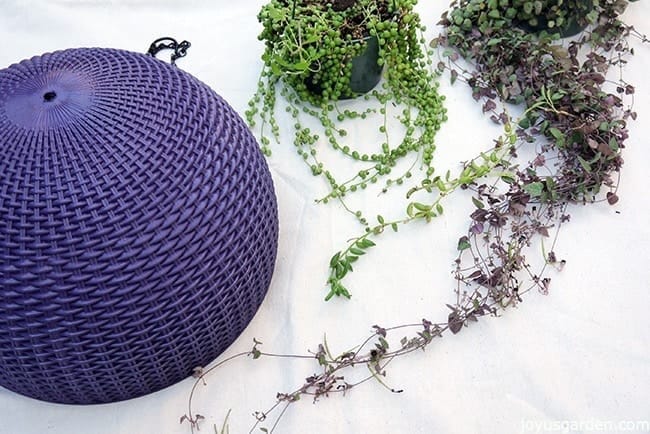 I straight up confess: I'm a succulent addict.
That being said, I've slightly curbed my enthusiasm for "the fleshies" now I live in the Arizona desert. I grew many of them in my Santa Barbara garden and brought a relatively few number of them (for me anyway!) when I moved to Tucson last year.
The summers are hot, the sun is strong and the winter evenings can dip into the low 30's so the fleshy succulents are a bit trickier to grow outdoors here. Cacti are much more practical and although I love them in the desert landscape, they just aren't as user friendly in a small garden.
Planting this trio of hanging succulents is a move to consolidate all my many smaller pots in larger pots. This equals less watering to do when those hot summer days roll around.
The plants on the docket for planting this time are String Of Pearls, String Of Bananas and String Of Hearts. Now, String Of Hearts isn't technically a succulent but is considered to be a succulent-like vine. Close enough! These 3 vines have the same growing requirements so they'll settle in just fine together.
Giving these 3 vines a happy home together:
Finding a hanging pot that I like is always a challenge. They're either too cheap looking, too bulky, too heavy or just plain ugly. I found this 1 that I really liked and the size was spot on. I like the pattern of this hanging pot and also the fact that both pot and the chain are strong and solid. The dark brown color didn't float my boat so I decided to spray it purple. I used this spray paint giving it 3 light coats and then sealed it with this clear spray. Viola – a new look!
The Mix:
The planting medium I used is a combination of succulent and cactus mix with a 1/2″ of rich, local compost worked in. As always, I top dressed the hanging succulents with worm castings. If I was still living on the coast of California I would have used all succulent and cactus mix with just a sprinkling of compost. Because I now live in the desert where summers are very hot, I used this combo because I want the mix to hold a bit more moisture but still drain very well. I don't want to be watering my fleshy succulents every day!
The succulents all planted together. I'm anxious to see how they'll look in a year!
The String Of Hearts is actually a tough plant and this 1 had a nice, strong root system. String Of Pearls, on the other hand, easily breaks when you transplant it. As wonderful as this plant is, just be forewarned that stems fall off and "pearls" scatter like crazy – use a tender touch! I only had a few String Of Bananas cuttings (I gave the mother plant away) so that'll be the back of the pot until they grow in.
I hung this trio of hanging succulents in my grapefruit tree and let them settle in for 3 days before giving a good, thorough watering. After 10 days I moved it to my covered patio where they can merrily trail in the bright shade. This pot hangs right above my 3-headed Ponytail Palm (also in a purple container) and they look right fine together. Ain't succulents the cat's meow?!
Happy gardening,

YOU MAY ALSO ENJOY:
How Much Sun Do Succulents Need?
How Often Should You Water Succulents? 
Succulent and Cactus Soil Mix for Pots
How to Transplant Succulents into Pots
Aloe Vera 101: A Round Up of Aloe Vera Plant Care Guides


This post may contain affiliate links. You can read our policies here. Your cost for the products will be no higher but Joy Us garden receives a small commission. Thank you for helping us spread the word & make the world a more beautiful place!
I'm a life-long gardener who still to this day gets giddy at the thought of a trip to one of the local nurseries. Yes, I actually studied landscape and environmental horticulture and the practical experience I have garnered through the years has served me well. Childhood memories of chicken manure "tea" still float through my olfactory senses to this day. I have always been an organic gardener and always will be. From the Earth … To the Earth. I was born and raised in rural, bucolic Litchfield County, Connecticut and now joyfully live a few blocks from the ocean in beautiful Santa Barbara, California.