Saying Santa Barbara that is a beautiful place to live and work is an understatement. But, let's face it, this girl needs a big city fix every now and then.
Fortunately, that fix is just 90 miles south (driving time: 1 1/2 to 4 hours depending on the traffic!) so an urban excursion every now and then is easily doable. I took the train down in January and worked in a romp through LA's Chinatown with Lucy so we could show you an assortment of Lucky Bamboo which is found in some of the stores there.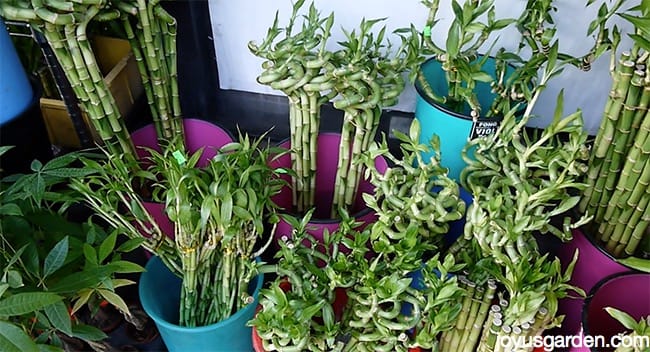 Lucky Bamboo is not only fascinating, but it is a very easy-care houseplant. Did you know that the number of stalks has meaning?  The greater the number of stalks in the bowl, dish or vase, the greater the amount of luck and fortune which will be bestowed upon you and your home. And if used properly according to Feng Shui fundamentals, it can also bring in energy. Wow!
Let me show you some Lucky Bamboo in all shapes & sizes:
Chinatown is probably best known as a culinary and shopping destination. It's just fun to wander the streets to see what you'll happen on next. I've always been fascinated with Lucky Bamboo (which is actually a dracaeana) since I first saw it in San Francisco's Chinatown. Some of it you see in the video is quite expensive but if you want something even more elaborate and artistic, it can be commissioned.
Some of the Lucky Bamboo was decorated with red bows because it was very close to Chinese New Year's. Red is the color of good luck. Coincidentally, this post is being published the day after Chinese New's Year. 2015 is the year of the sheep (goat or ram) – Kung Hei Fat Choi!
This post may contain affiliate links. You can read our policies here. Your cost for the products will be no higher but Joy Us garden receives a small commission. Thank you for helping us spread the word & make the world a more beautiful place!