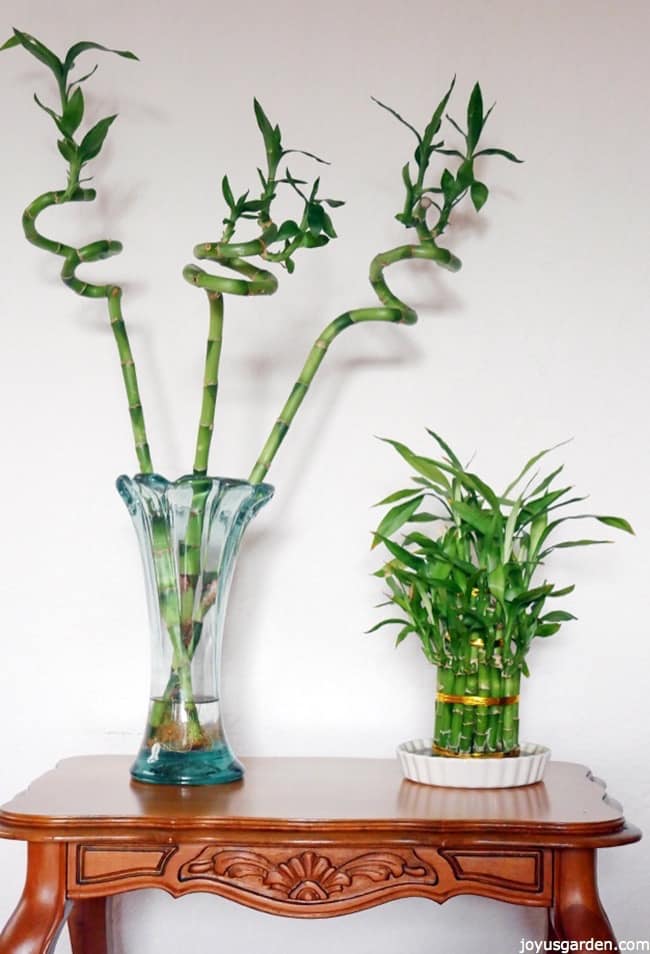 Lucky Bamboo's a fascinating houseplant that grows in water. It's great for beginning gardeners. Here you'll find Lucky Bamboo care tips.
Are you a beginning houseplant gardener? Here's a great one to get started with. It's easy as pie to keep looking good and sure to become a topic of conversation as you're busy showing it off.
This fascinating plant grows in water, and I want to give you a few Lucky Bamboo care tips to make sure yours stays as healthy as can be.
Some Of Our General Houseplant Guides For Your Reference:
What is Lucky Bamboo?
First off, Lucky Bamboo isn't a bamboo. The canes, stalks, or stems (whatever you prefer to call them) resemble the canes of a bamboo plant and that's the origin of "bamboo" in its common name. It's a dracaena, Dracaena sanderiana or D. braunii to be exact.
Lucky Bamboo has been a part of Chinese culture for thousands of years but has really skyrocketed into popularity in the past 15 years. It's now commonly found in many parts of the world.
This is a plant that goes both ways: it grows for the long haul in both water and/or soil.
Lucky Bamboo is known to bring good energy into your home. It's found in many different forms and arrangements. They're often sold in Asian markets so if you have on in your town or city, check there. I'll list a few online sources towards the end in case you're interested in purchasing one.
The number of stalks has different meanings as do the various forms like trellis, tree, spiral, etc. This is something I don't know a lot about. I do know that you should avoid an arrangement using 4 stems.
It's bad luck in Chinese culture and who needs that? 3 stems is a favorite number because it represents happiness, long life, and wealth. Yes, please! Lucky Bamboo is known to increase feng shui , which is a whole other topic I'm not well versed in but find very interesting.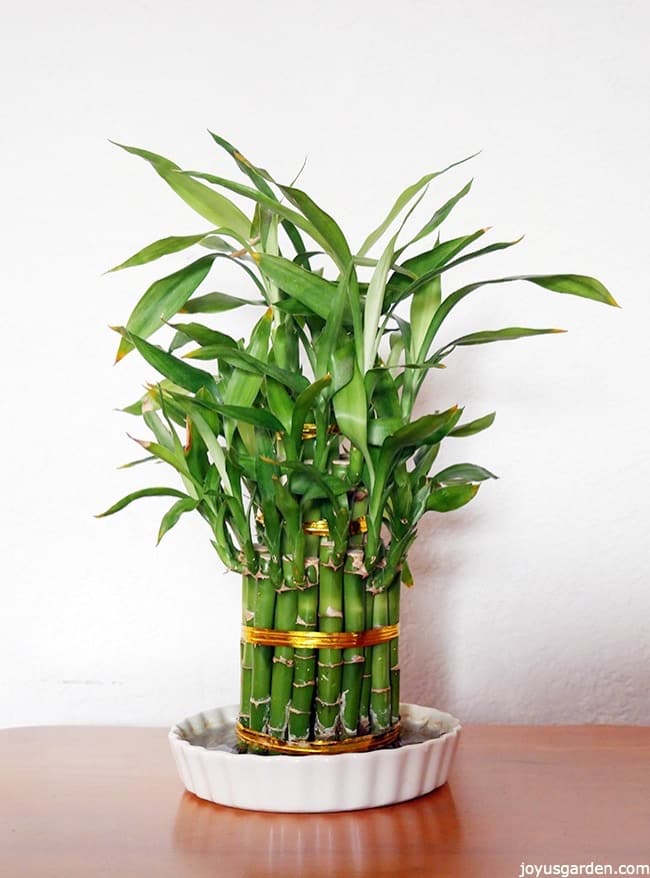 Lucky Bamboo Care Tips
Light
Lucky Bamboo does great in bright light. It'll tolerate lower light levels just fine but it won't grow much. Be sure to avoid putting it in a location with direct, hot sun (such as in a south or west window) as it'll burn.
Right now one of mine sits in a north window sill but I'll need to move it as the weather heats up because the glass gets hot here in the Arizona desert when those summer days roll around.
The taller arrangement is on a long table with other plants in my dining room. The exposure is east/south and a trio of windows gives it a good amount of bright natural light all day. It sits about 9″ away from those windows.
You may need to rotate yours from time to time so it gets light on all sides. I often do this when I'm changing the water.
Water
There is a bit of mixed opinion regarding this. Some people never change the water, some change it frequently and others every now and then. I fall into the "every now and then" category as I change the water about every 6-8 weeks.
I make sure the water completely covers the roots in both of my arrangements. I add a bit of water as needed, every 2-7 days depending on the temperatures.
If the water is smelling bad, then change it!
If your tap water is hard (containing a lot of minerals), then you'll need to use distilled or purified water. All Dracaenas are prone to tipping so if the leaves of yours are starting to show a lot of small brown tips or a build of white in the vase or dish, don't use tap water.
Here in Tucson, the water is naturally hard. I use purified water now for mine (it costs about a dollar a gallon and lasts for at least 2 months) and I've already seen a difference.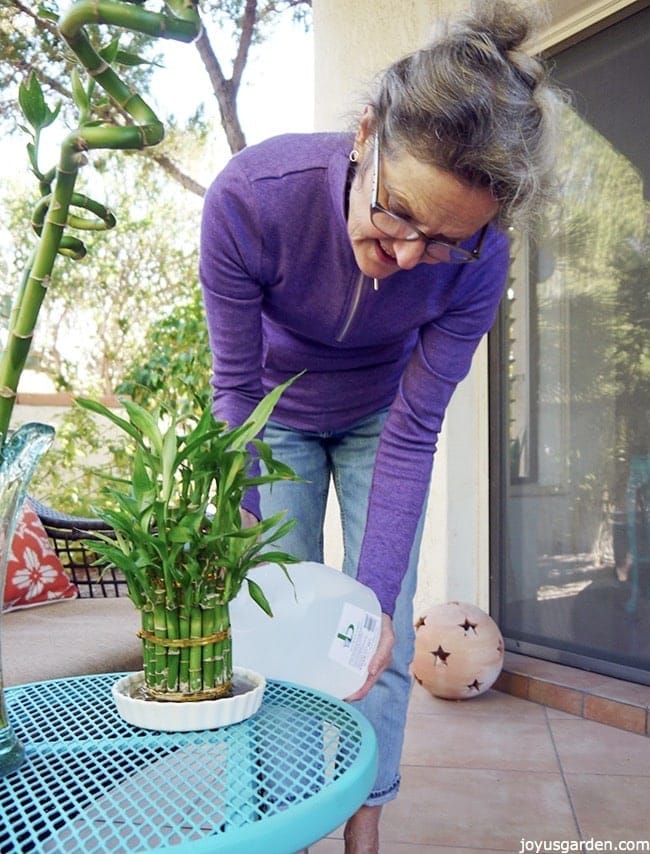 Topping the dish off with purified water.
Container Size
If your Lucky Bamboo arrangement is growing in a low dish or bowl, then make sure it has at least 1″ of space all the way around so the roots can spread out a bit.
My shorter Lucky Bamboo has been growing in that low white dish for 6 years now. It's going to need a larger vessel soon as the roots are starting to get crowded. I have to add water to the dish every few days now because it drys out fast.
The taller spiral stem arrangement is in a glass vase proportionate to its height. I keep about 3″ of water in the vase, just enough to make sure the roots are fully submerged. You don't want to keep the vase full of water because the stems (canes) could rot out.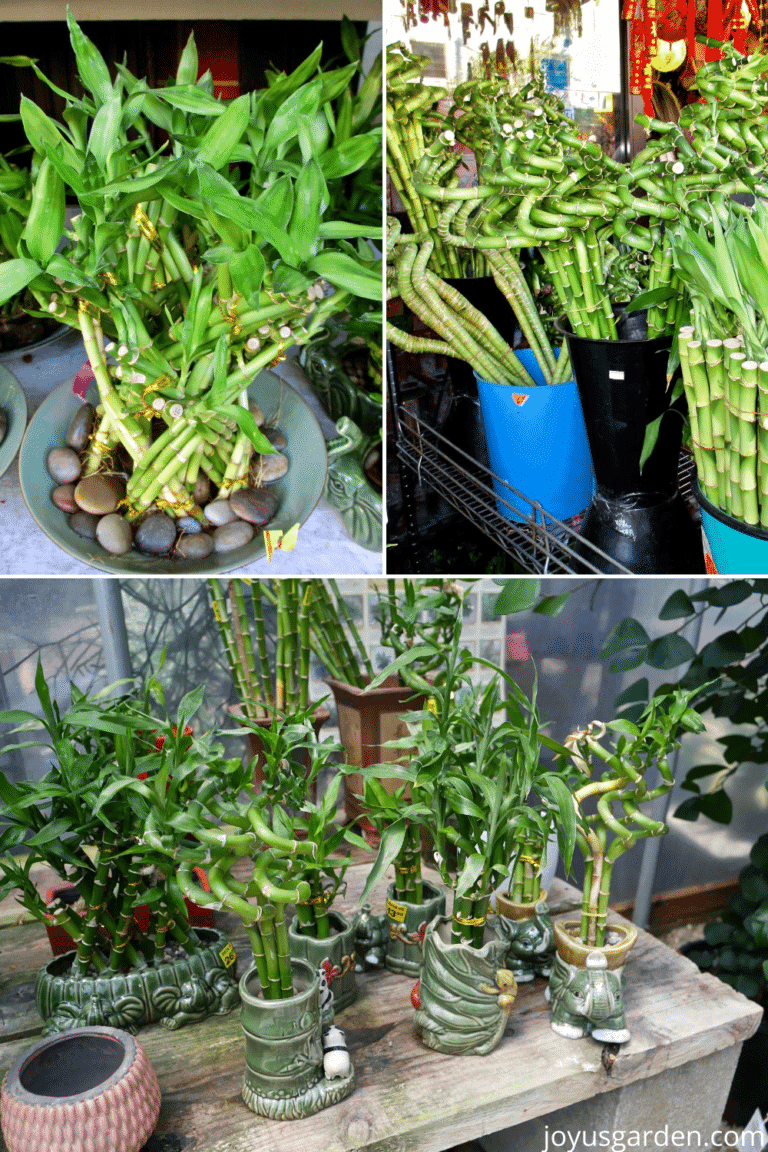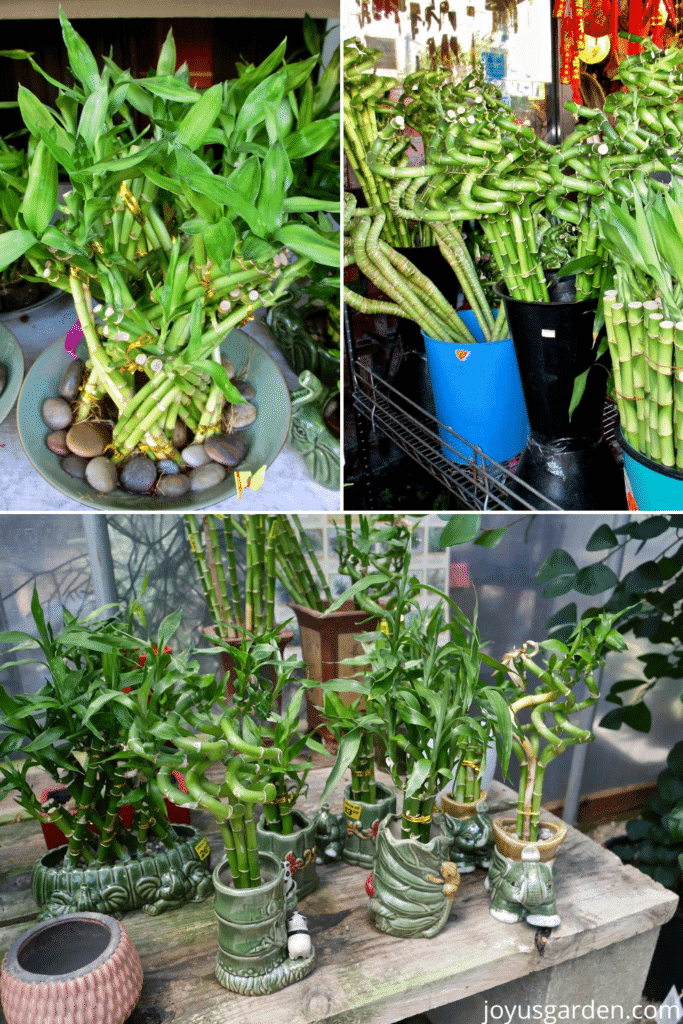 Fertilizer
Super Green is one of the fertilizers specially formulated for Lucky Bamboo growing in water. Because I now use purified water which has all the minerals removed, I've started to use this food 2 or 3 times a year.
Pests
Mine have never gotten any – so far so good but that could change. Like all dracaenas, Lucky Bamboo is subject to an infestation of spider mites, especially in the fall and/or winter when the heat comes on.
My friend got spider mites on her Lucky Bamboo which prompted me to write a post on this subject. This will give you more info: Lucky Bamboo and Spider Mites.
Also, keep your eye open for thrips, scale and mealy bugs.
Pruning/Trimming
I hadn't pruned or trimmed my Lucky Bamboo up until last year. The foliage growth on my spiral arrangement was getting very spindly and I didn't like the look. They were both a lot happier when I lived 7 blocks from the ocean in Santa Barbara. Lucky Bamboo loves high humidity and mine aren't thriving in the desert where they now live!
What NOT To Do with Your Lucky Bamboo
Do not place your Lucky Bamboo in direct sun.
Do not use tap water if your water is hard. Your Lucky Bamboo will do much better with distilled or purified water.
Do not let your Lucky Bamboo dry out – keep the roots covered with water at all times.
Do not keep the water levels too high – just covering the roots is fine.
Do not place your Lucky Bamboo near a heating or cooling vent. Also, keep it away from any cold drafts.
Do not let dust collect on the leaves because the pores need to breathe. Periodically clean the leaves with a brush, damp rag and/or spray off with water.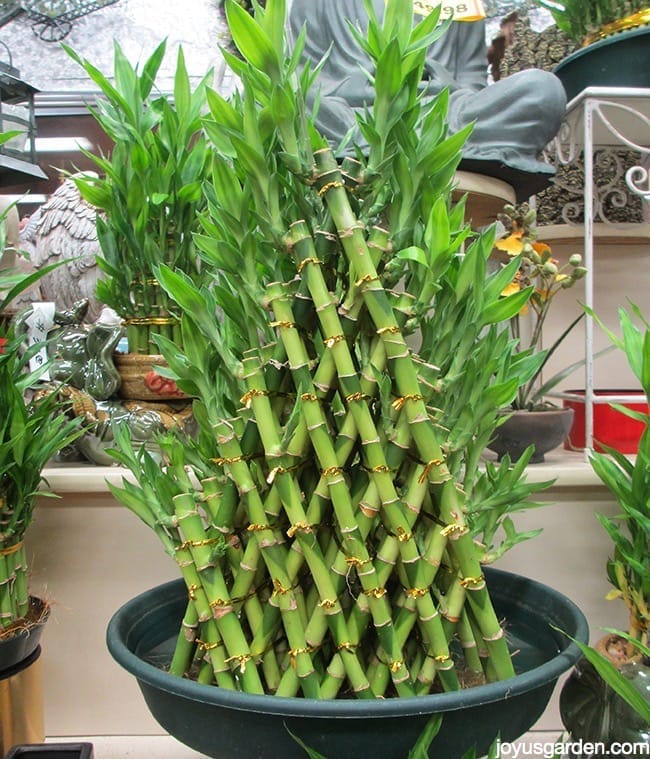 Lucky Bamboo Care FAQs
Is Lucky Bamboo a good indoor plant?
Like the rest of the Dracaenas, Lucky Bamboo is a good indoor plant. Many people love this plant because of the fact it grows in water and can be found in many forms.
Should Lucky Bamboo be in soil or water?
Either is fine. It's most commonly sold to grow in water but I know people who grow it in soil. I'm thinking of planting mine in soil (as a horticultural experiment) to see how it does. I'll do a post on it if this happens!
Can Lucky Bamboo grow in rocks?
Yes it can. I can grow in rocks, pebbles & glass chips. They can cover the roots but make sure they don't go too high up on the stalks. It's good to wash them off every month or so to prevent slime from building up.
Should I cut the yellow leaves on my Lucky Bamboo off?
Yes you should. Mine get an occasional yellow leaf every year. If yours is getting quite a few of them, it could be that it's getting too much sun, poor water quality, or fertilizing too much or too often.
Why are my Lucky Bamboo stalks turning yellow? Can they turn green again?
There are quite a few reasons why the stalks of Lucky Bamboo. One of the most common has to do with the water. It could be poor quality, not changed often enough, or too much sun which causes algae to build up. This gives you more explanation.

A yellow stalk doesn't turn back to green. It's best to get it out of the arrangement.
Is Lucky Bamboo pet safe?
Like all Dracaenas, they are considered to be toxic to pets. I always consult the ASPCA website to see how it's toxic and what effect it'll have. Hopefully, your pets are like my kitties and they leave plants alone.
Is Lucky Bamboo long lasting?
I'm not sure what the longevity of Lucky Bamboo is. I can tell you that I've had both of mine for over 10 years now.
How do I make my Lucky Bamboo grow taller?
The stalks won't grow any taller than they are. If you want a taller arrangement, then buy one with taller stalks. The foliage is what grows taller & proper Lucky Bamboo care along with conditions being to their liking is what will help with this.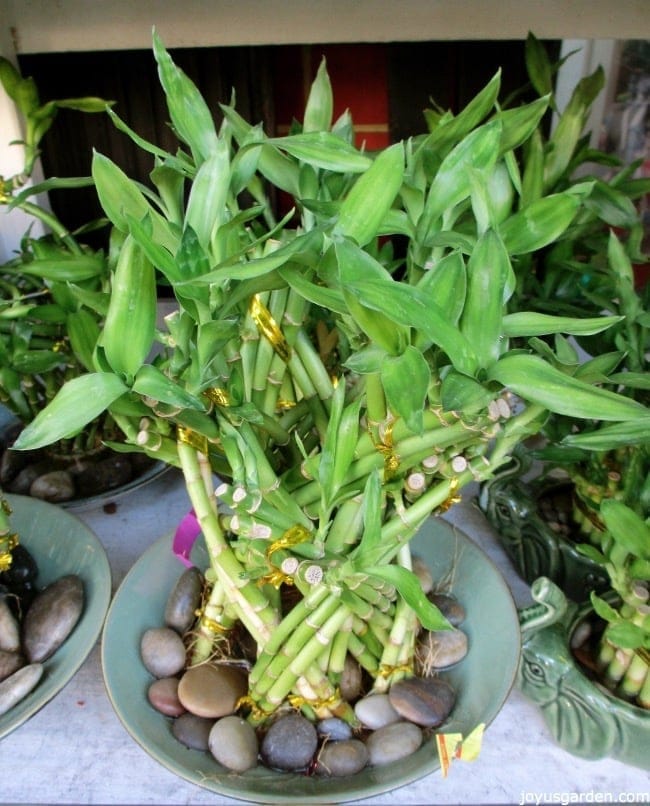 A few online sources for Lucky Bamboo:
Lucky Bamboo care is simple. It's one of the easiest houseplants to grow and is as fascinating and interesting as a plant gets. If you're a beginning gardener, be sure to give this 1 a try.
I've been gardening for over 55 years and I love this plant. And hey, don't we all need a little luck brought into our homes?!!
Happy gardening,

More on Lucky Bamboo care:
This post may contain affiliate links. You can read our policies here. Your cost for the products will be no higher but Joy Us garden receives a small commission. Thank you for helping us spread the word & make the world a more beautiful place!
Note: This post was originally published on 1/14/2017 & was updated on 8/13/2020.