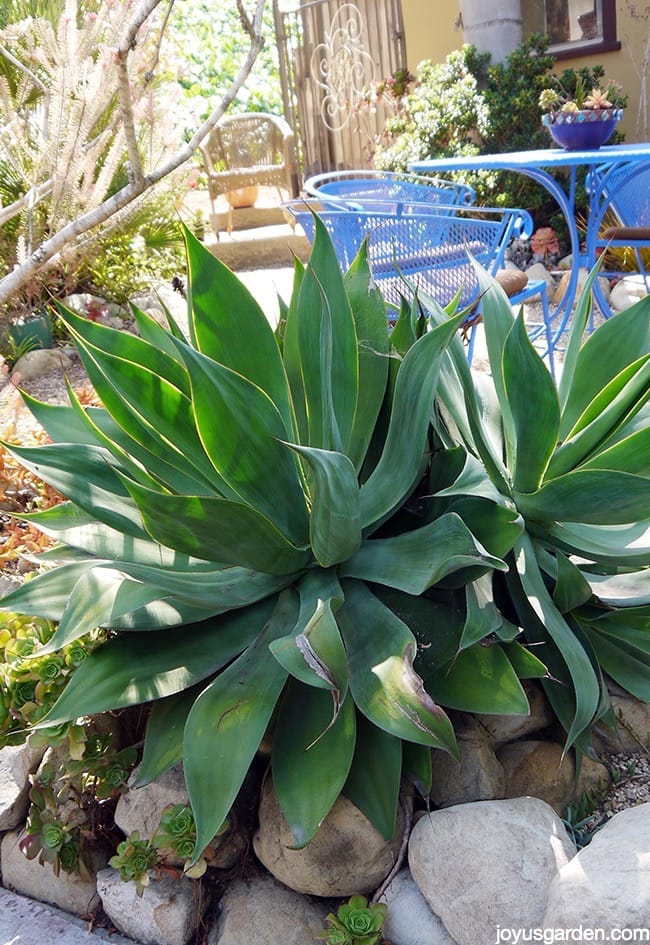 As you probably already know by now, I propagate a lot of succulents. My garden is full of them which I'm very thankful these days because of the mega drought here in California. I usually propagate by stem cuttings but every now and then I do it by removing the pups, which are the babies or offsets that grow off the mother plant.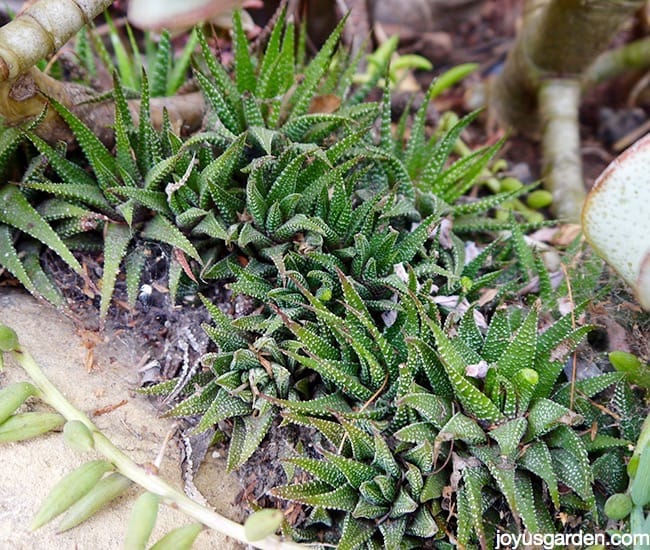 This haworthia is a pup I took from my mother's plant up in Sonoma. Now it's produced lots of babies of its own. Everything is covered in cobwebs & dirt because of the drought!
This came from Robin: "I'd love to learn more about the varieties that have pups. I have several that have all these pups growing in and I have no idea how to separate and plant them. For example, I'd love to know at what point to separate them? Should they be somewhat new or should you leave them to grow for a while? Do you just snip them off, or do you try to get some roots?"
Great questions Robin – here are the answers:
Here's a quick summary of what you see in the video:
1) The succulents that I have which pup are aloes (I already did a vlog on transplanting my Aloe vera & removing its pup), agaves, gasterias & haworthias.
2) You want to leave the pups growing attached to the mother until are a decent size before removing them. That way the root system will be well formed. How long that is depends on the type of succulent – for some it may be a year, for others a few years.
3) You always want to get roots when removing a pup. You can use a sharp & clean knife, a shovel or simply twist it off. I know from experience that some pups come off much easier than others!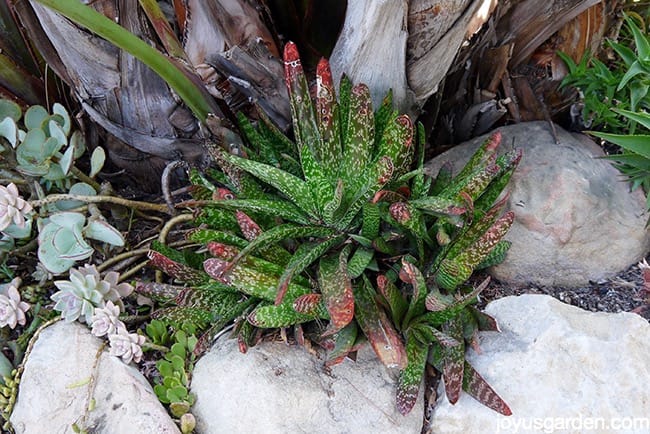 Gasterias grow slowly but eventually produce a lot of pups.
There you have it, yet another way to propagate succulents. As I call them: "the plants that keep on giving!"
Variegated Agave americanas are beautiful but be careful when removing the pups. If 1 of those spines gets you, it's a major "ouch!"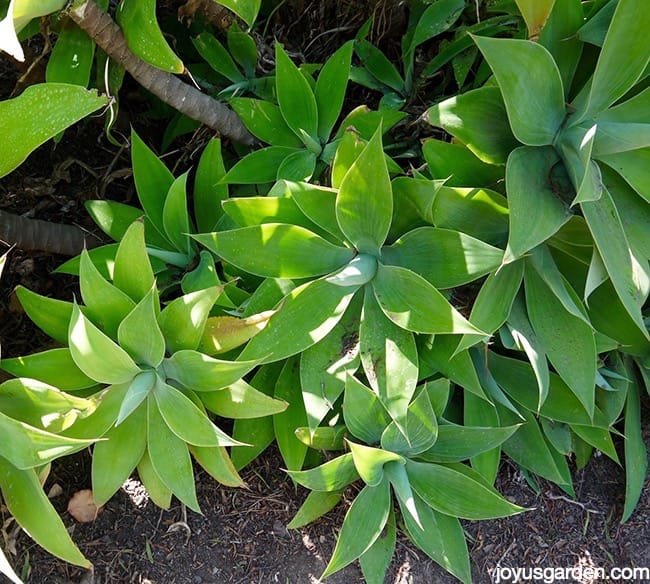 Agave attenuatas are 1 of our "Santa Barbara weeds" & pup like crazy. You see them everywhere & they're always in clusters.
YOU MAY ALSO ENJOY:
How Much Sun Do Succulents Need?
How Often Should You Water Succulents?
Succulent and Cactus Soil Mix for Pots
How to Transplant Succulents into Pots
Aloe Vera 101: A Round Up of Aloe Vera Plant Care Guides
This post may contain affiliate links. You can read our policies here. Your cost for the products will be no higher but Joy Us garden receives a small commission. Thank you for helping us spread the word & make the world a more beautiful place!
About the Author
Latest Posts
Nell, the founder of Joy Us garden, was born into a gardening family and grew up in Connecticut's countryside. After living in Boston, New York, San Francisco, & Santa Barbara, she now calls the Arizona desert home. She studied horticulture & garden design, working in the field all her life. Nell is a gardener, designer, blogger, Youtube creator, & author. She's been gardening for a very long time & wants to share what she's learned with you.