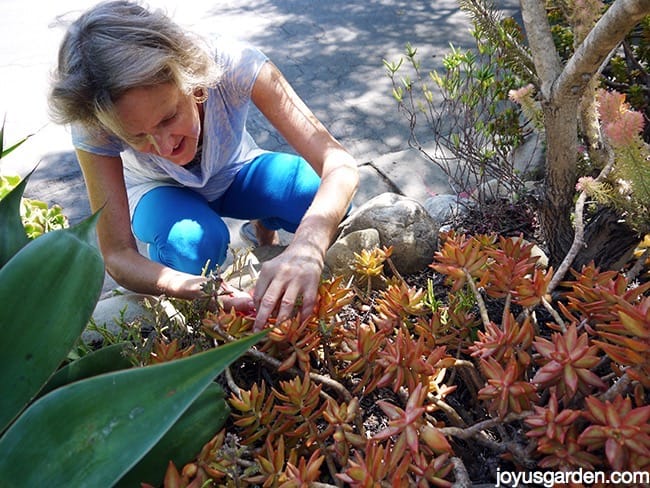 Orange mania in the garden! I love Coppertone Stonecrop & am sharing all I know about this jazzy succulent.
I absolutely love orange in the garden so it was instant plant lust when I first laid my eyes upon Sedum nussbaumerianum (or Coppertone Stonecrop in common speak) at a nursery here in Santa Barbara. Should I buy 25 or them for my newly planted succulent garden or would 1 be enough? I opted for 1 and have taken numerous cuttings of this striking plant to use in other parts of my garden and also to give away. I thoroughly believe in passing on the good plant karma whenever possible because it will eventually come full circle.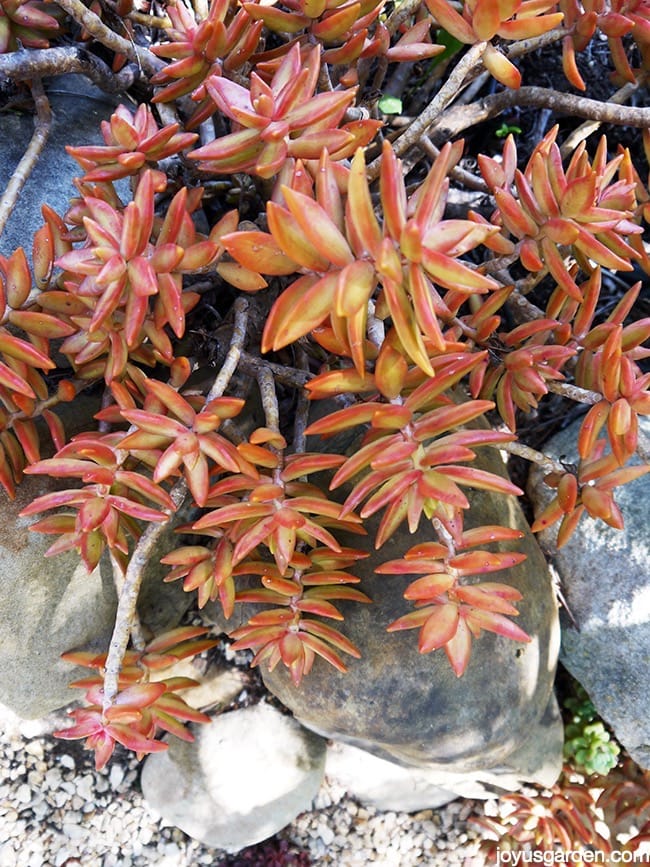 Oh those tinges of orange, what an accent you are to my garden.
Speaking of cuttings, I also use this plant for my various living craft projects because it has very thick leaves and holds up out of soil very well. Some succulents will shrivel a bit but not this one. It grows in a rosette pattern and the leaves turn slightly upward at the ends make it very appealing and interesting.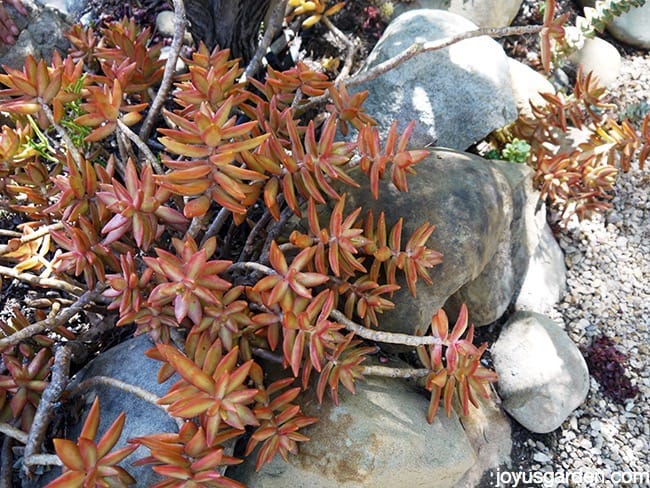 It has a somewhat wandering growth habit & gets leggy as it grows making it a prime candidate for propagation. The more you cut, the more new coppery, orange growth you get. I call it a hit of orange zest for the garden!
This video shows you why I love this vibrant succulent:
Here's what I've learned about growing Sedum nussbaumerianum or Coppertone Stonecrop (I call it Coppertone Sedum by the way):
Size: It grows to 8-12″ tall by about 2-3′ wide. This succulent has a very loose & unstructured growth habit.
Exposure: Coppertone Stonecrop takes full sun to part sun. Keep it out of hot sun or away from reflected sun because the foliage will burn. Here along the coast of California it does beautifully & tolerates wind as well as the sea air.
Foliage Color: This goes hand & hand with exposure but I wanted to make it a separate point because this is its big draw. The foliage color is the most intensely orange in full sun & with the new growth. The undergrowth is more of a dull chartreuse & the whole plant will tend towards that color when growing in more shaded conditions.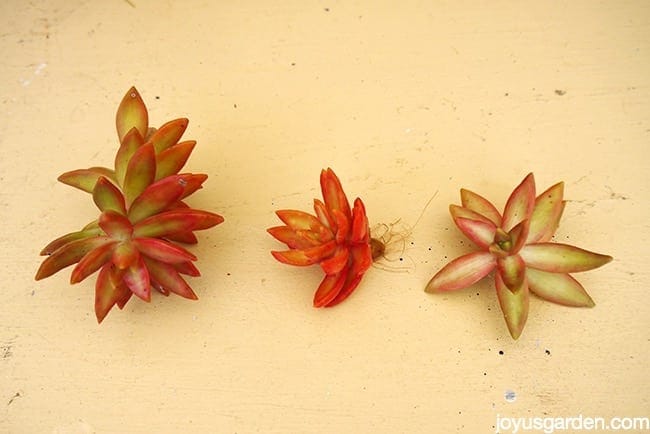 The 2 cuttings on the left were growing in full sun whereas the other cutting was in part sun.
Water: The watering needs for this plant are low. My garden is on drip & gets watered for 15 minutes every 8-10 days in the warmer months. I water my succulent containers, which grow outside year round, every 7-12 days. How often depends on the pot size, type of pot & how warm it is.
Soil: Good drainage is essential. I added loamy topsoil to my garden to ensure the water thoroughly drains out. If planting in containers, it's best to use a succulent & cactus planting mix.
Fertilizer: I don't use any but do top dress my container plantings with worm castings every spring. In the garden, I do a bulk compost every 2-3 years. If you feel the need to feed this Sedum, once in spring with a balanced liquid houseplant fertilizer is all it needs.
Temperature: Sedum nussbaumerianum is hardy to 28-30 degrees F.
Propagation: Easy – I do it all the time! It's a breeze to propagate by stem cuttings & also by leaf cuttings, although the latter does take much longer to grow. I've done a post & video on propagating succulents which gives guides you right through it.
Flowers: Small white, star-like flowers appear in winter through early spring. If you get close & sniff, there's a slight fragrance.
Uses: This Sedum is a great contrast to all the various shades of green succulents in my garden as well as being a striking contrast to my burgundy Aeoniums. It's suited to rock gardens & does swimmingly well in containers & even hanging baskets. I also use it for all my succulent crafting projects.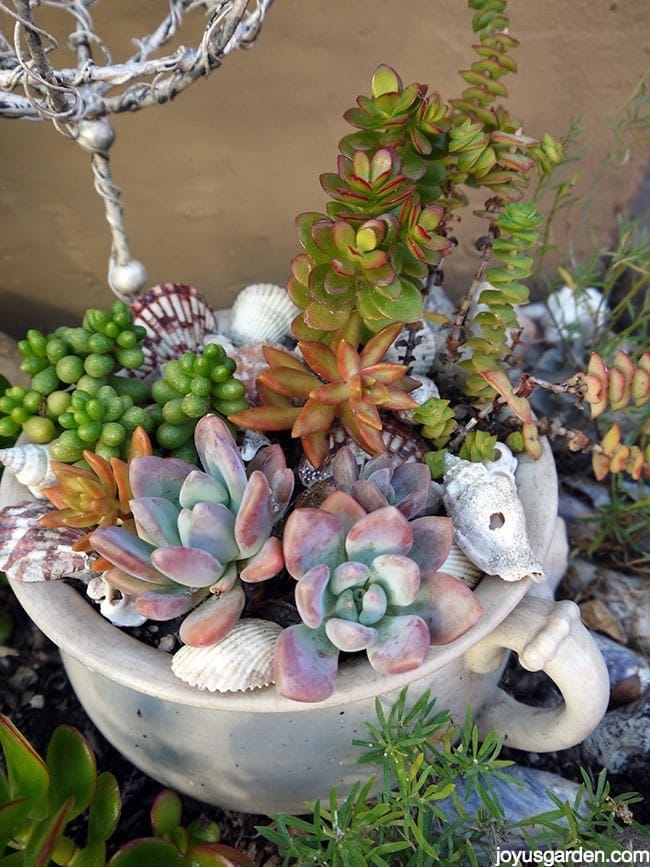 This container is growing in bright shade. The Coppertone Stonecrop is much less coppery-orange & has stayed compact.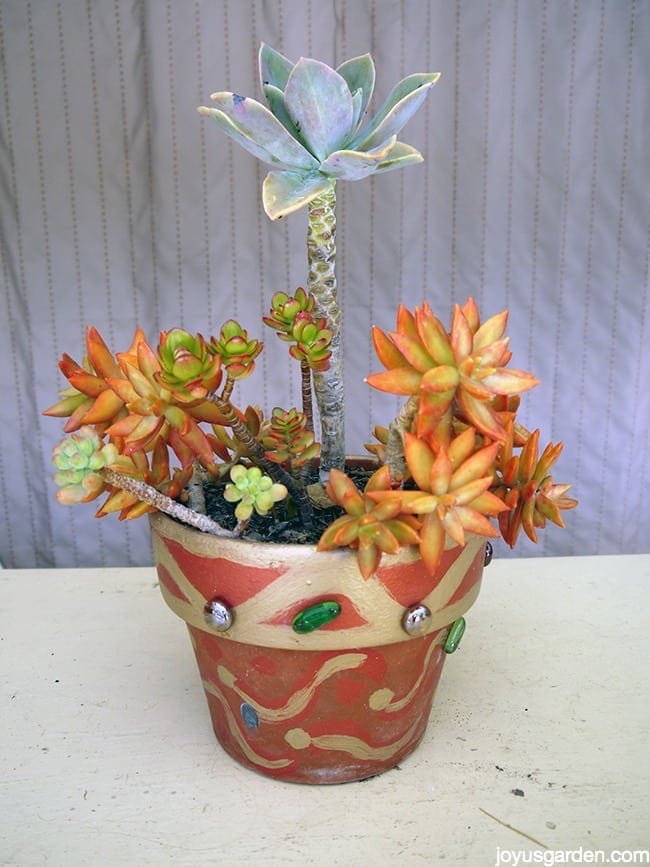 This grows in 6 hours of sun & the color of the Sedums is much more intense. And, the cuttings are starting to spill out of the pot.
If you have rock walls or raised plantings, then this zesty Sedum will trail out of a crevice like a champion.
I love this Coppertone Stonecrop – can ya tell?! I keep on propagating it to add into other parts of my garden where I think a splash of pizazz is needed and will definitely take a handful or 2 of cuttings when I move from this house. Orange in the garden isn't for everyone, but for me, it's a fast and straight path to horticultural heaven!
Happy gardening,

Do you like to craft with succulents too? I've used Coppertone Sedum for these creations:
Succulent wall art on palm debris
An easy piece of wall art with driftwood, succulents & air plants