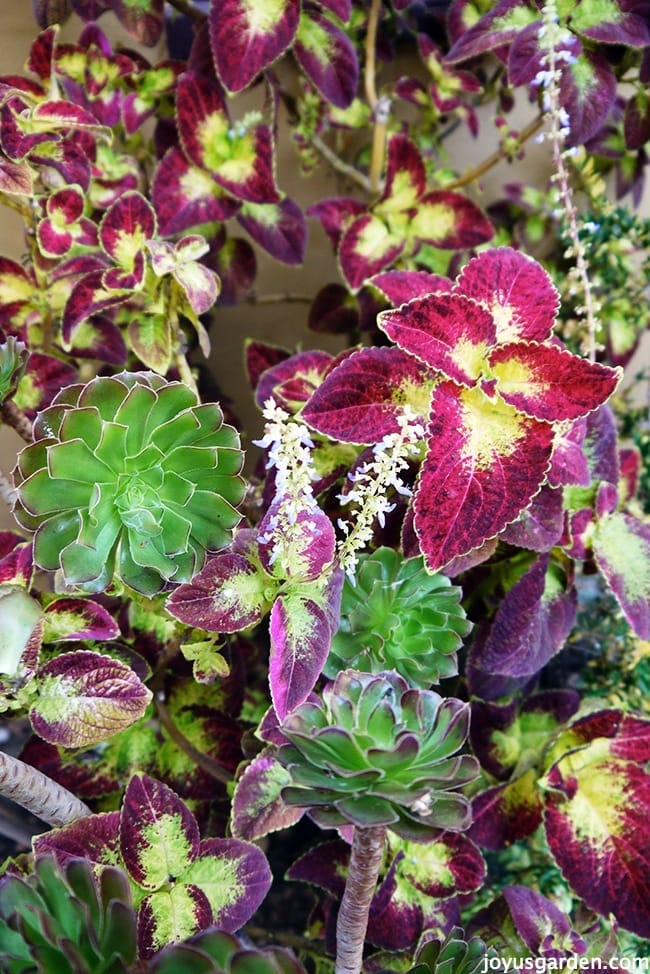 I usually don't let my Coleus flower too much, if at all, but this year is different.
You all remember my Coleus "Dipped In Wine" don't you? It's now 6 years old, 4′ tall and wide, and seems to be showing no signs of slowing down. Let me start by saying that mine definitely is a perennial (coleus are classified as tender perennials by the way) but are most commonly sold in the trade as an annual.
I love coleus foliage and would have a whole garden full of them but then what would I do with all of my beloved succulents? I limit my coleus cravings to 3 plants and usually snip off most of their blooms. Read on to find out why I'm letting mine flower this year.
Here's how it looks in mid-October. Most of the flowers are spent now & have been removed.
You've seen this coleus before when I blogged about propagating it and then later on some juicy coleus "stuff". This particular plant grows happily in a pot that butts up against the front of my house – protection with a nice amount of sun and heat.  
Its offspring, from the cuttings that I take every winter, grows in a pot in bright shade in my side garden. You can see the difference in the foliage in the photos below. This is one of those coleus' that takes sun or shade – like a true beauty queen, it's both beautiful and versatile!
Here's the plant that is 6 years old & grows in the sun. As you can see, the foliage is quite red.
This Coleus "Dipped in Wine" was propagated in January & planted in March – it's a baby. The foliage is bigger & much more chartreuse because of it's shaded.
I keep my Coleus healthy and going strong by topdressing it with an 1″ or 2″ of worm castings late every Winter. I then put a couple of inches of compost over that. And, in Spring and Summer it gets a dose of manure tea combined with liquid seaweed. This whole routine, which is really pretty simple, keeps all my containers plants happy as can be.
Speaking of letting my Coleus flower, there are 2 schools of thought when it comes to this. 1 says always remove them and the other says no biggie, just leave them. The main reason to take the flowers off is because they take energy away from the foliage production.
If you tip prune to remove the flowers then a bit of that new growth comes off too. This helps to control the size because they tend to get rangy. The bigger they get, the heavier those branches get and then they snap off.
I'm not 100% convinced that if the coleus is an annual removing the flowers is to advantage of the foliage. After all, they're usually gone by the end of October. The growers, I'm sure, think otherwise. My Coleus "Dipped In Wine" is another story though.
I'm letting it heavily flower this year (this is its 3rd bloom this year by the way) because of the hummingbirds, bees and butterflies. They love feeding on the blooms. Because we're in the middle of an exceptional drought and not as much is flowering, I want to give them as much food as possible.
There's a hummingbird, maybe different ones because they're hard to tell apart, that comes to this coleus that's right outside my dining room window every morning and afternoon much to the delight of my cat Riley. Pure bliss for an indoor kitty.
Coleus are great in containers and combine beautifully with other plants as you can see here from my melange. It happily resides with an Aeonium Autropurpereum & a Variegated Weeping Japanese Boxwood.
Whether I remove the flowers on mine or not, it seems to get the same size and grow into the same crazy form.  I let it mingle through the aeonium but do prune it away from the boxwood. So far, it has survived 2 large pine trees that somewhat shaded it being removed, a 5 day cold spell 1 winter (well, relatively cold for Santa Barbara) and a couple of very dry winters. What next for my Coleus "Dipped in Wine"?
Oh by the way, you might see this listed as Coleus "Dipt In Wine". One in the same – it's a keeper in my book.
Here's the video shot in my front yard:
This post may contain affiliate links. You can read our policies here. Your cost for the products will be no higher but Joy Us garden receives a small commission. Thank you for helping us spread the word & make the world a more beautiful place!