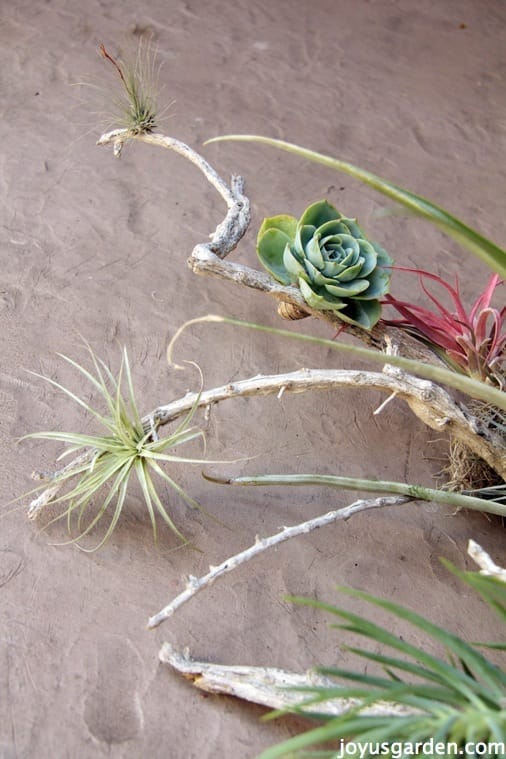 I live in Santa Barbara just 7 blocks from the ocean and love to go for beach walks. I used to collect shells and rocks to use as ground cover in my garden but these days my attention is focused on driftwood which I use for my various crafting projects.
I spotted the chunk you see right below up next to the cliffs and thought it would be purrrrfect to use as a piece of art with tillandsias (aka tillys or air plants) and succulents. I was the envy of every dog on the beach as I slung it over my shoulder (it's over 4′ long) and began my hour march on back to the car. This is one big fetch stick!
This project is easy to do. It's just a matter of laying out the ingredients in a manner which is visually appealing to you. As the adornments, I used succulent cuttings taken from my garden and tillandsias which I have been collecting (note: they're addicting!). I started with the biggest tilly and the biggest succulent because they are the trickiest to hold in place so I wanted to make sure I had the right spots to anchor them in.
On the other end, I added in a cluster of small succulents and a couple of tillys. I secured everything with fishline because this is not a permanent piece – it has already been taken apart. If you want to make something like this that would be a keeper, then use a waterproof glue like E6000 to secure them down. It would definitely be less time consuming.
Here's a close-up of the succulent cluster. As you can see, they have a tinge of orange or red to them. A nice counter to the grey/green of the tillandsias.
The lovely rosette of one my echeverias. All these plants used in this piece have such interesting form and color that anyone of them would be wonderful on its own.
I placed a few of the small tillandsias at the ends of the branches. This draws your eye through the whole piece. I wanted large portions of the wood to show because it's interesting sans the living adornments.
Below you'll see the finished work of art. I've balanced out the different colors of the tillandsias and succulents so there's interest up and down the whole piece. What I like about this is that it rests beautifully on a table or hangs easily on a wall as it is nice and light. I would love this hanging in my kitchen that way I could see it all the time. Happy creating everyone!
If you want some tillandsias of your very own, then check out the nice little variety of air plants we offer direct from a local greenhouse shipped right to your home. Be warned: once you get a few, you'll want more!
Here's a video shot at my worktable in my garage showing this project in more detail.
How To Care for your Tillandsias
Caring For My Tillandsia Cyanea
I Ate My Thanksgiving Centerpiece
This post may contain affiliate links. You can read our policies here. Your cost for the products will be no higher but Joy Us garden receives a small commission. Thank you for helping us spread the word & make the world a more beautiful place!