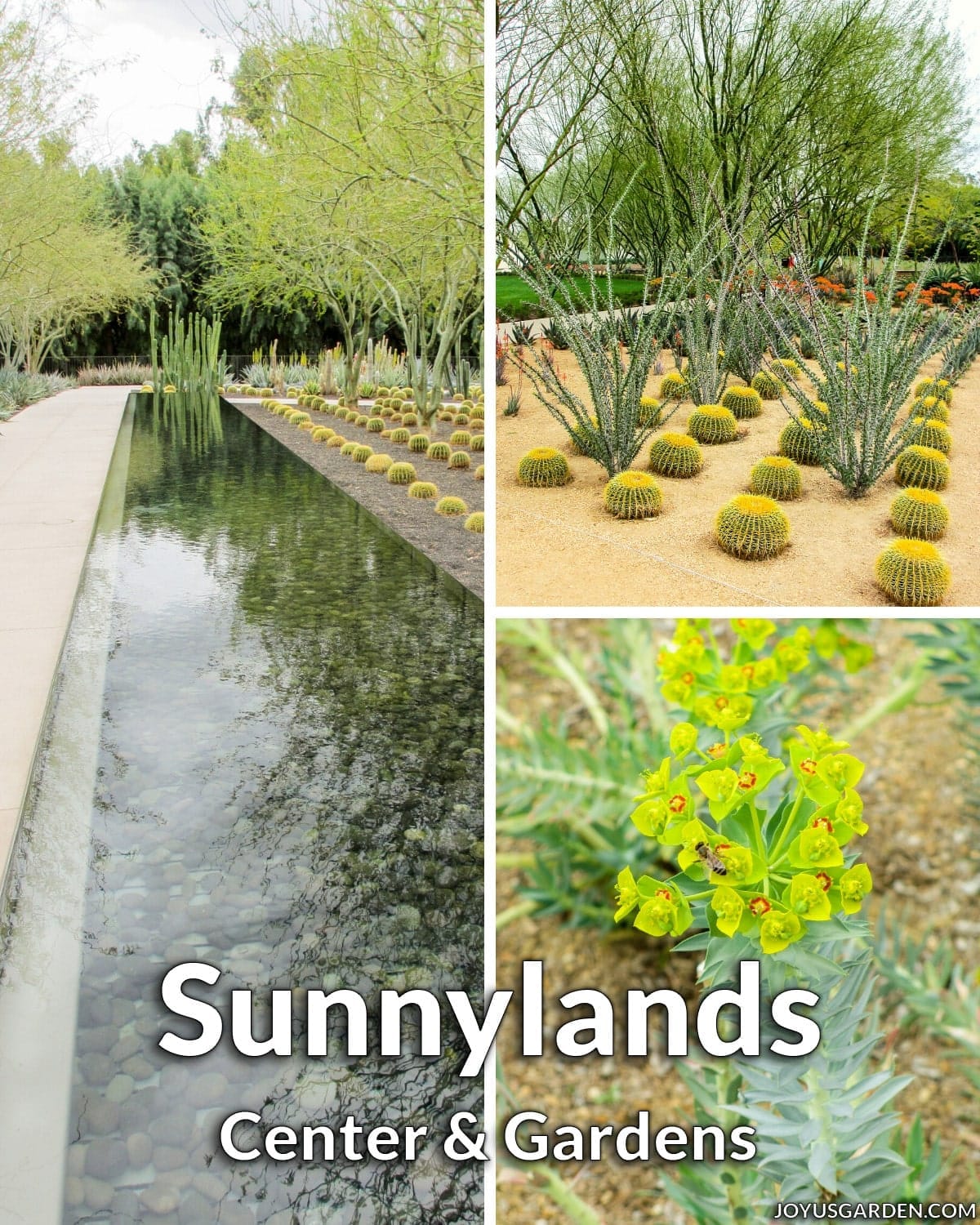 Oh my horticultural goodness, Sunnylands Center and Gardens are a work of modern art. Lucy and I had spent the day before at Joshua Tree National Park and were already on sensory overload when we arrived here. This garden knocked our socks off from the get-go!
Even if you never plan on visiting this garden in person, it's well worth a few minutes to look at all these photos. This is an update to this post written a few years ago which I'm now writing in times of COVID-19. We aren't able to travel so hopefully, this is a pleasant diversion. Enjoy the tour!
Visiting Sunnylands
Entering in the long, curving driveway the garden impacts you right away and then you see the modernist Sunnylands Visitor Center at the end of the drive. The building is stunning and the garden compliments it to a tee.
It's a sleek, contemporary building with windows from floor to ceiling done in the style of Mid-Century Modern architecture. It boasts a LEED gold rating. The 53,000 plants in this garden are all low water usage and adapted to arid environments.
No roses and very few flowery things here at Sunnylands! Even though I love gardens with lots of color and greenery, the design and repetition in this garden pulled us right in. The rugged mountain in the distance, which you'll see in a few of the photos, provide a scenic backdrop.
I'll be taking you on a tour of the garden exactly as we saw it. If you fancy something more interactive, then be sure to check out the video we made which you'll find at the end of this post.
We toured the garden on our own sans headphones but you can download an app and go on a self-guided audio tour.
There are a lot of photos here for your viewing pleasure so you can really get an idea of what this unique garden is all about.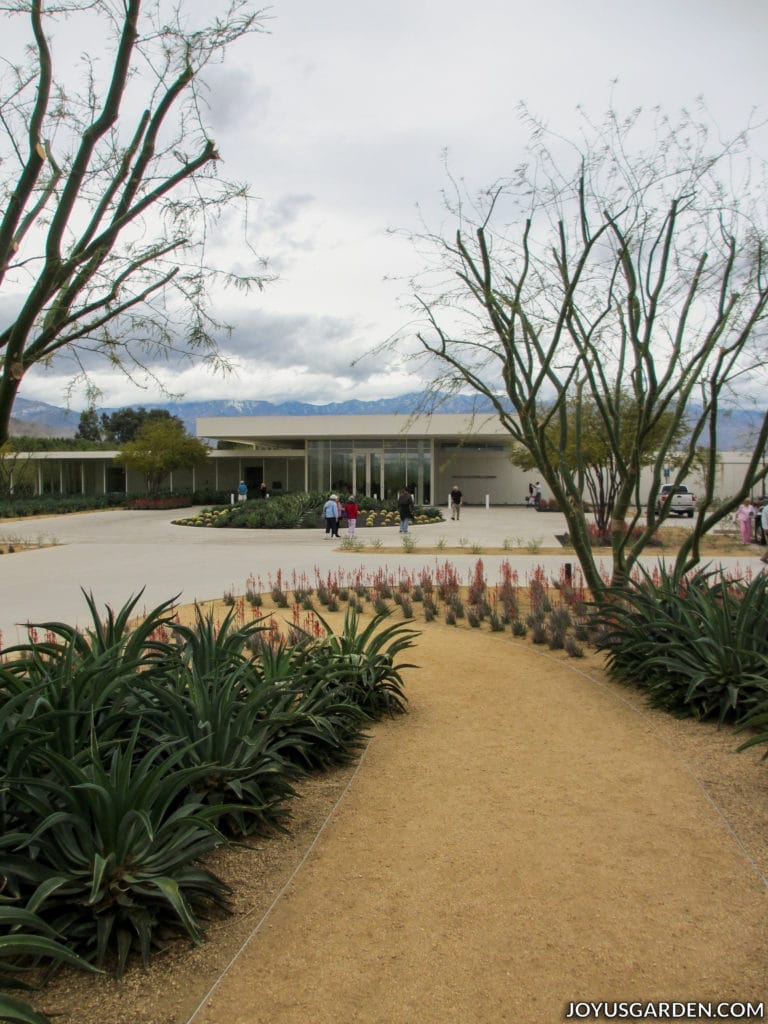 Walter and Leonore Annenberg owned the 200-acre property (which is now managed by their foundation) and set 15 acres aside for the visitor center and gardens. The building is seeking and inviting but it's the garden that we came for.
Although there are roughly 53,000 individual plants in this garden, there are only 70 species. This means a lot of repetition. The style of the garden is a direct reflection of the style of the center – sleek, modern, appealing and fascinating.
If you're interested in the names of the plants used in this garden, you can find that information in the visitor's center.
Desert plants are strange yet beautiful. The agaves and the golden barrel cacti in this garden are particularly sculptural.
Most succulents bloom in winter or spring. We visited this garden in mid-March so some of the plants were flowering. Hummingbirds love succulent blooms so we spent a bit of time dodging the dive-bombing hummingbirds. When they're after the nectar, nothing gets in their way!
I love succulents (many think only the fleshy beauties are succulents but cacti fall into this classification too) and this garden was one I'd had on my list to visit for a few years.
Sunnylands is in Rancho Mirage, California. We were staying 10 minutes away in the desert resort city of Palm Springs and fortunately for us, the day was overcast and great for shooting pictures and a video. There are benches throughout so you can sit and reflect and really enjoy all that you see.
We'll start this pictorial tour in the front garden which is "wilder" than the back garden. The wildflower field makes up the majority of this part of the garden.
Here is the garden in front of the center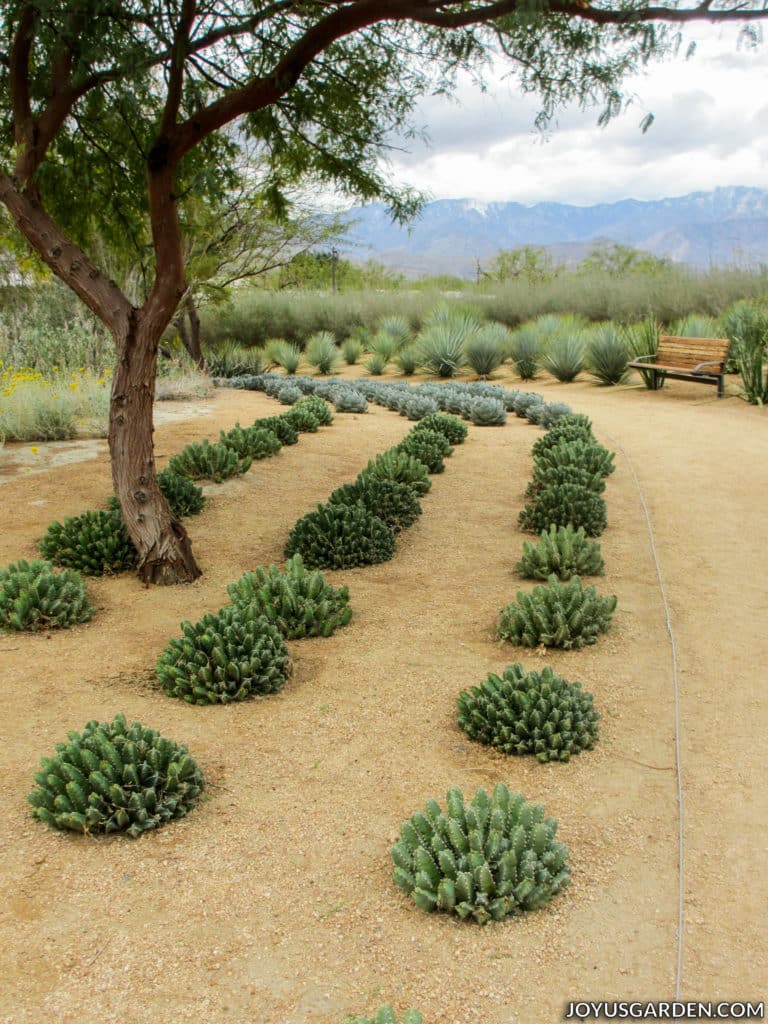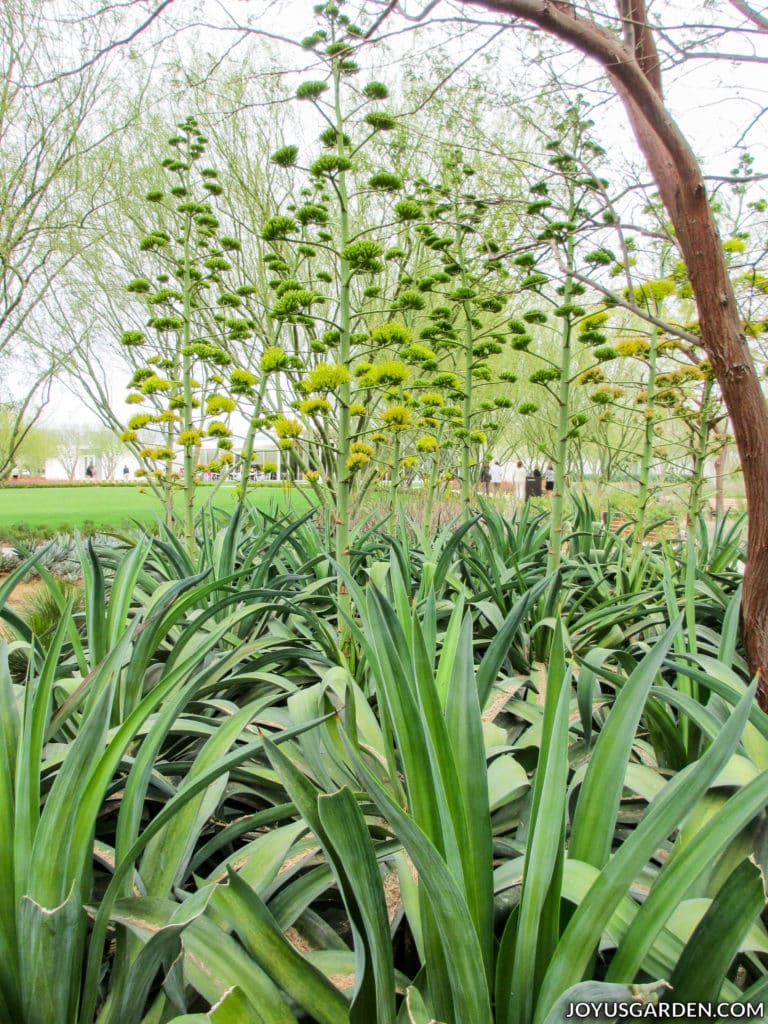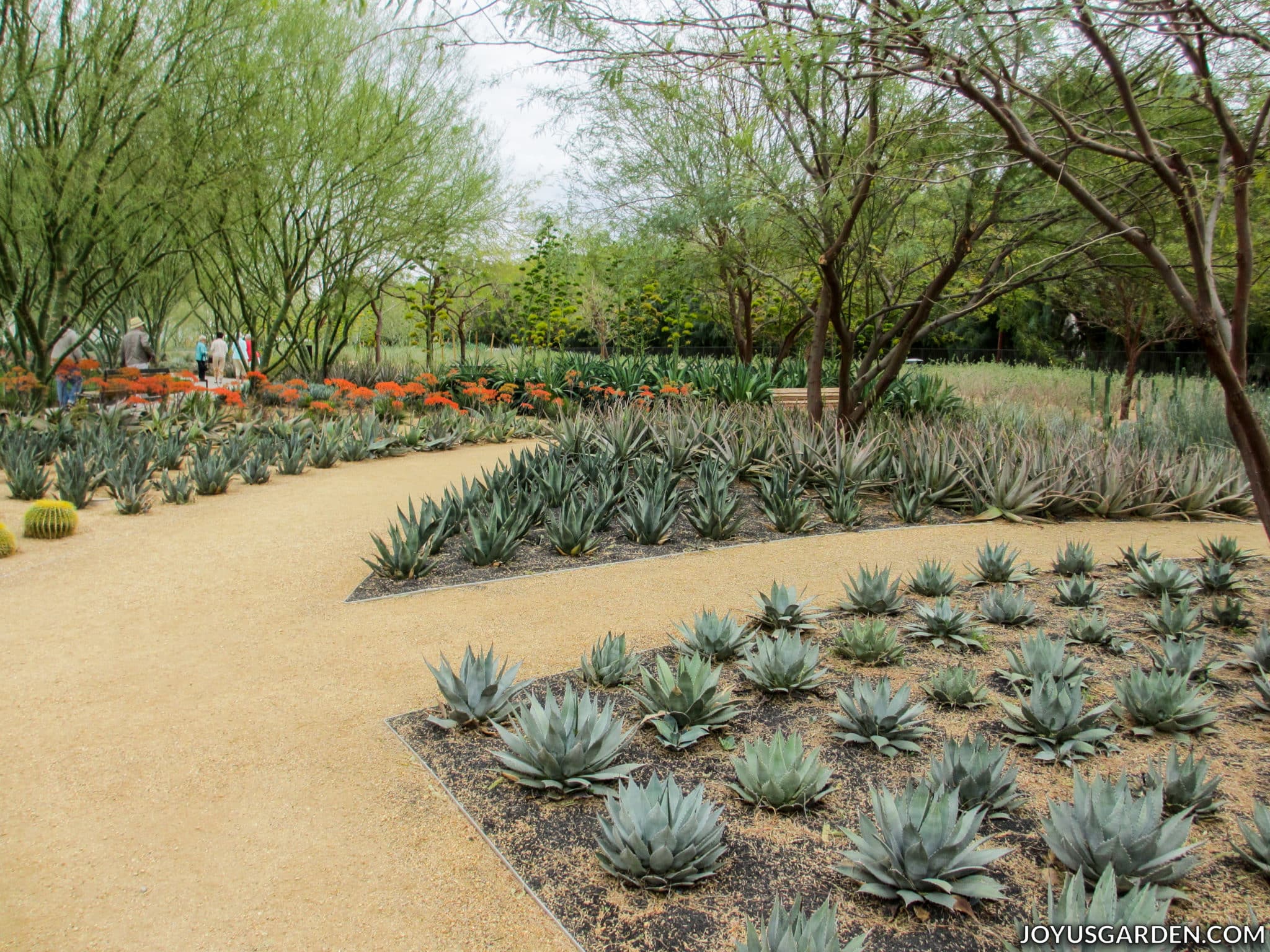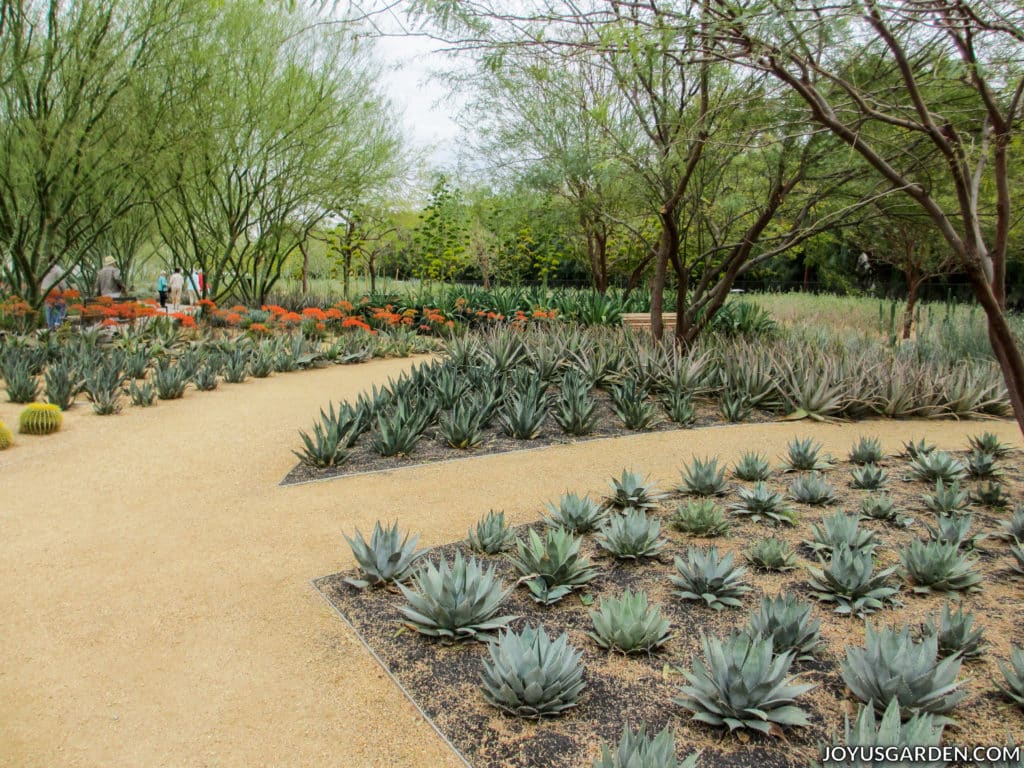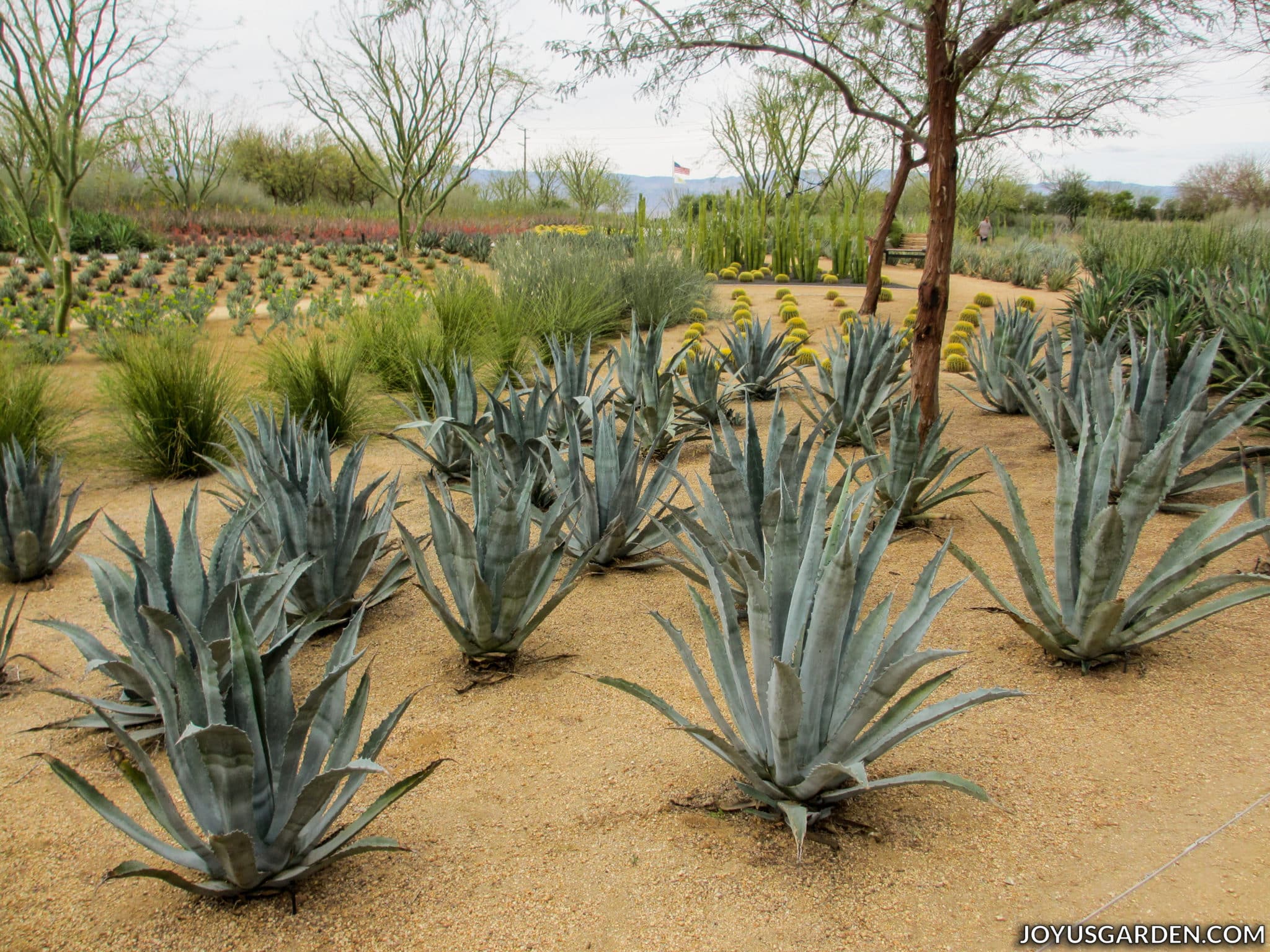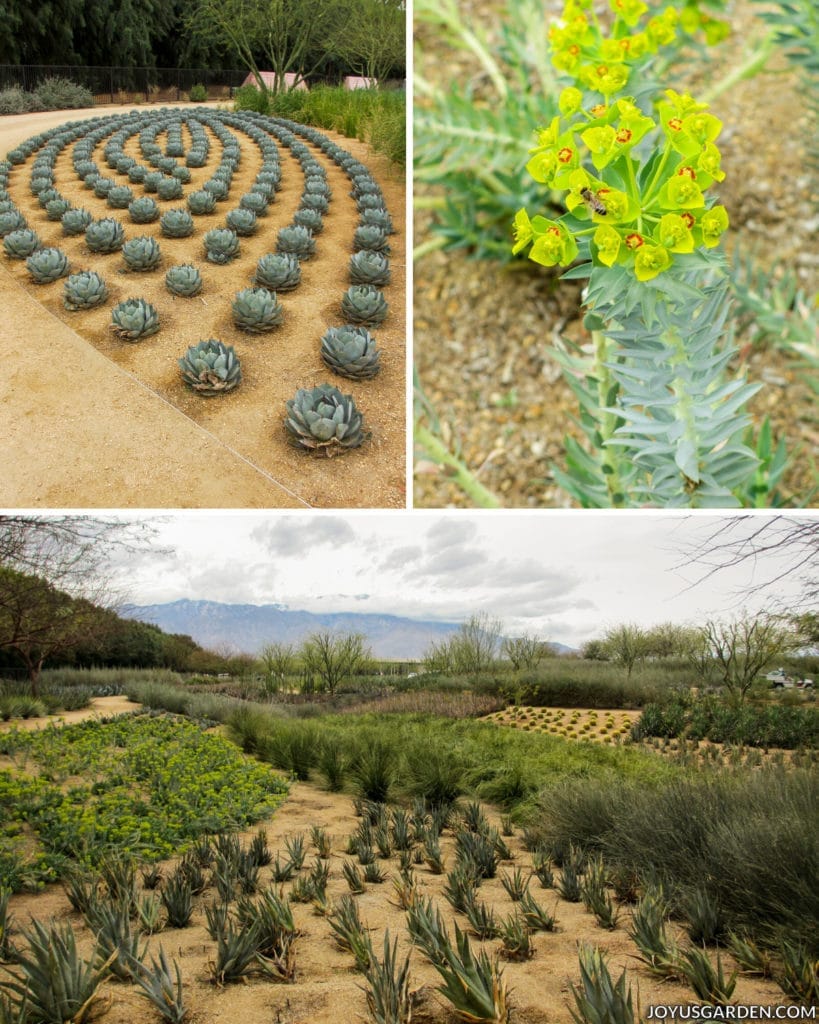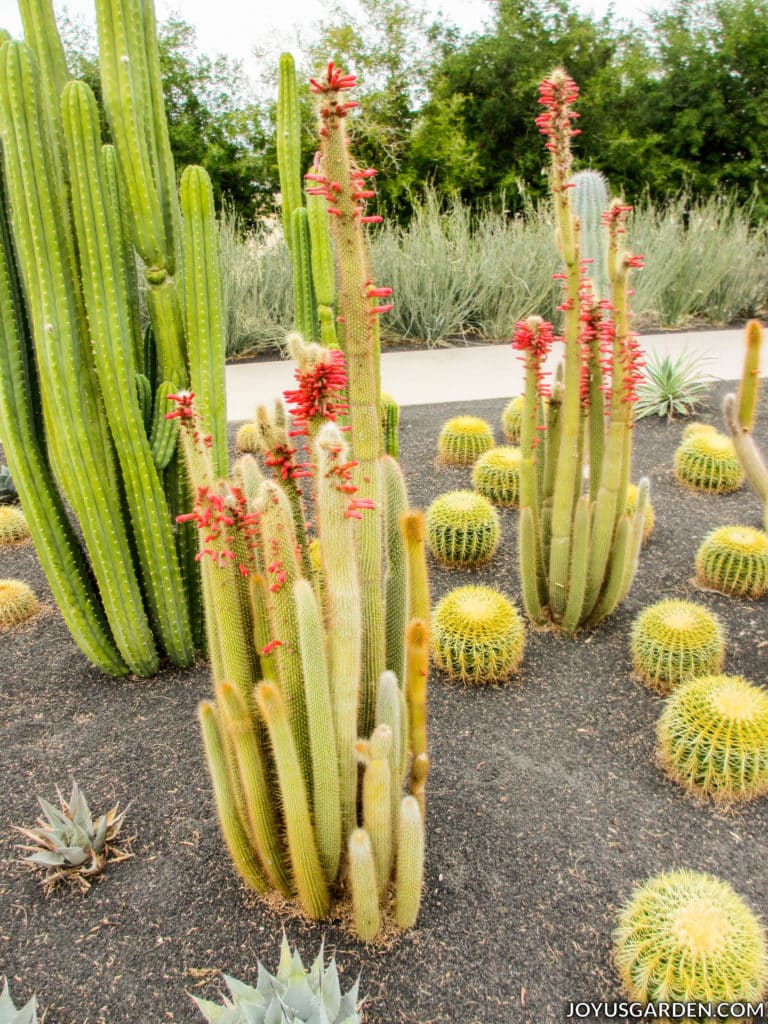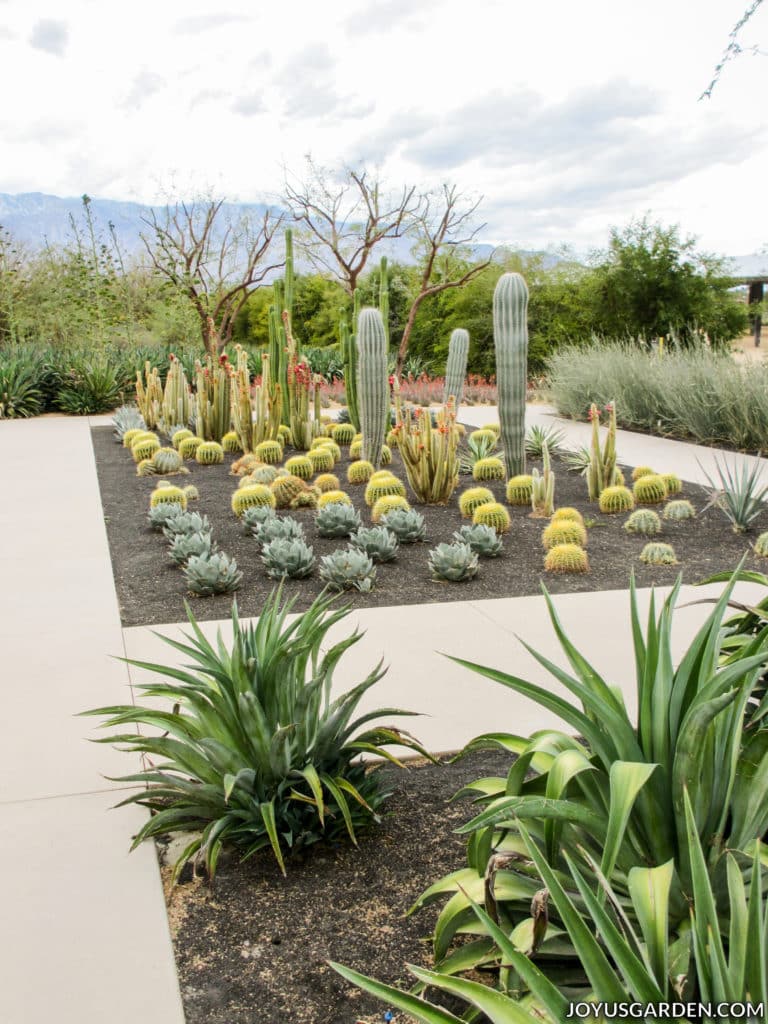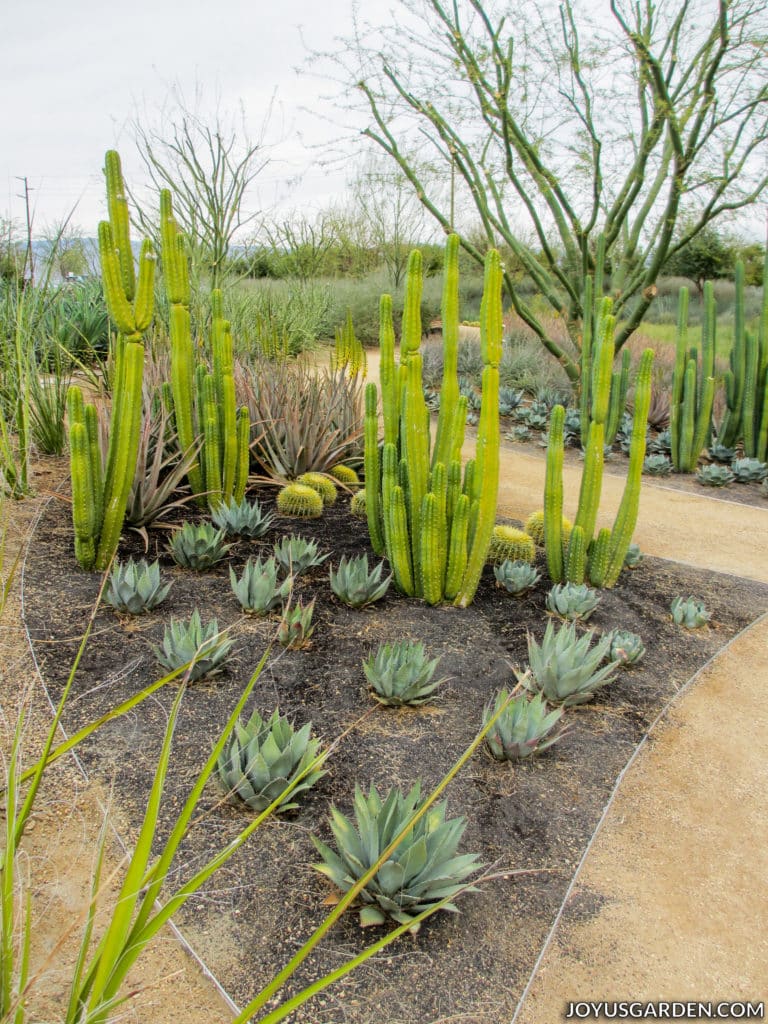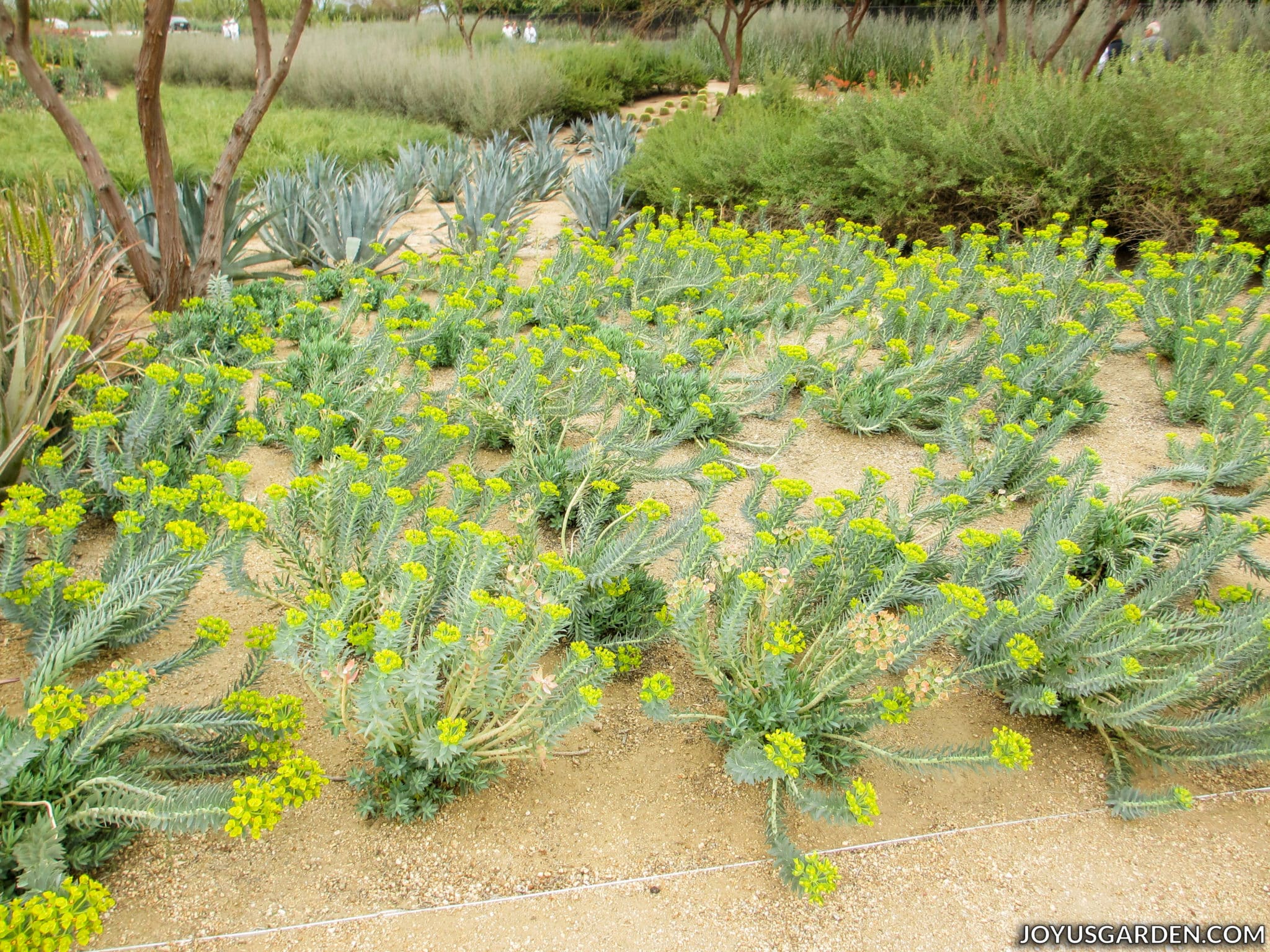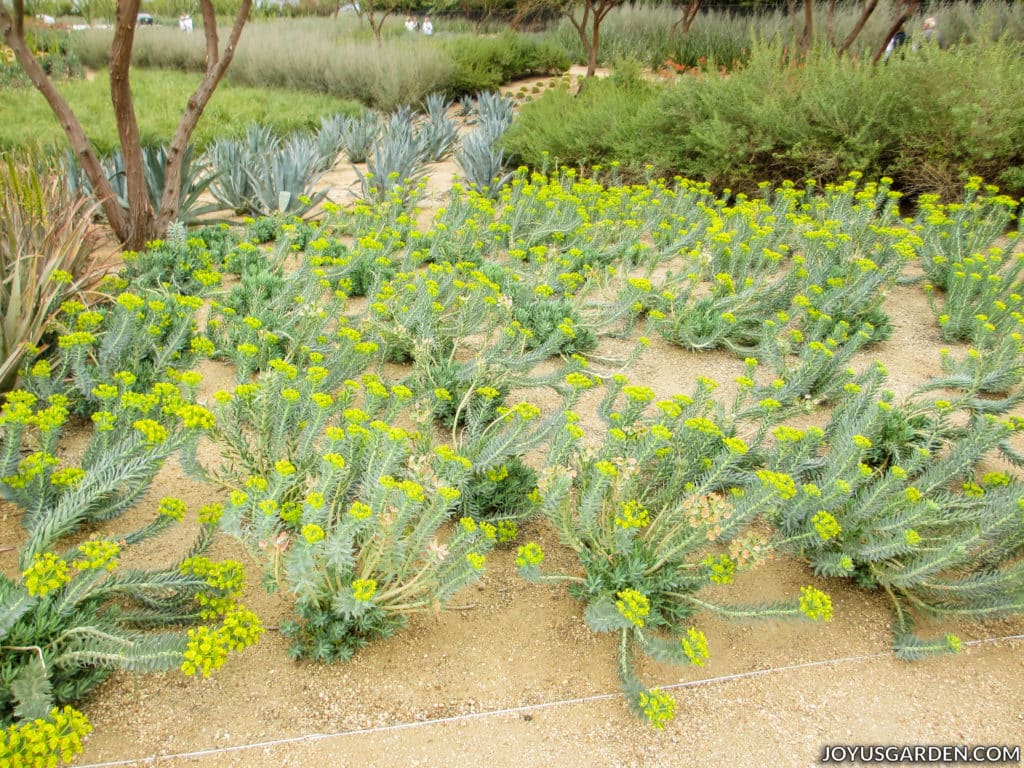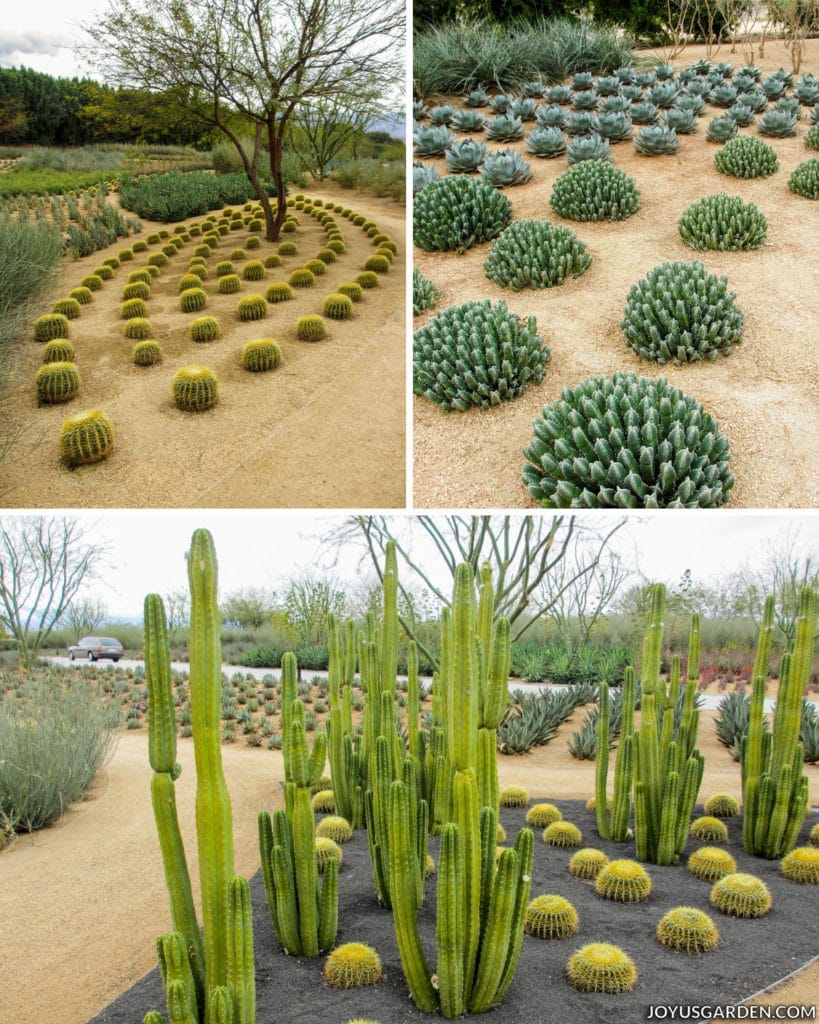 The first thing I noticed upon seeing the garden behind the center is that it's much more laid out. You could almost think of it as "modern formal ". This garden is comprised of reflecting pools, specimen gardens, a labyrinth, a performance circle, and a great lawn.
The Annenbergs were lovers and collectors of Impressionist art. This is evident in the overall design of the entire garden. The landscape architect used Van Gogh's "Olive Trees" as inspiration. The palo verde trees which line the paths and driveway are reminiscent of that series of paintings.
Here is the garden behind the center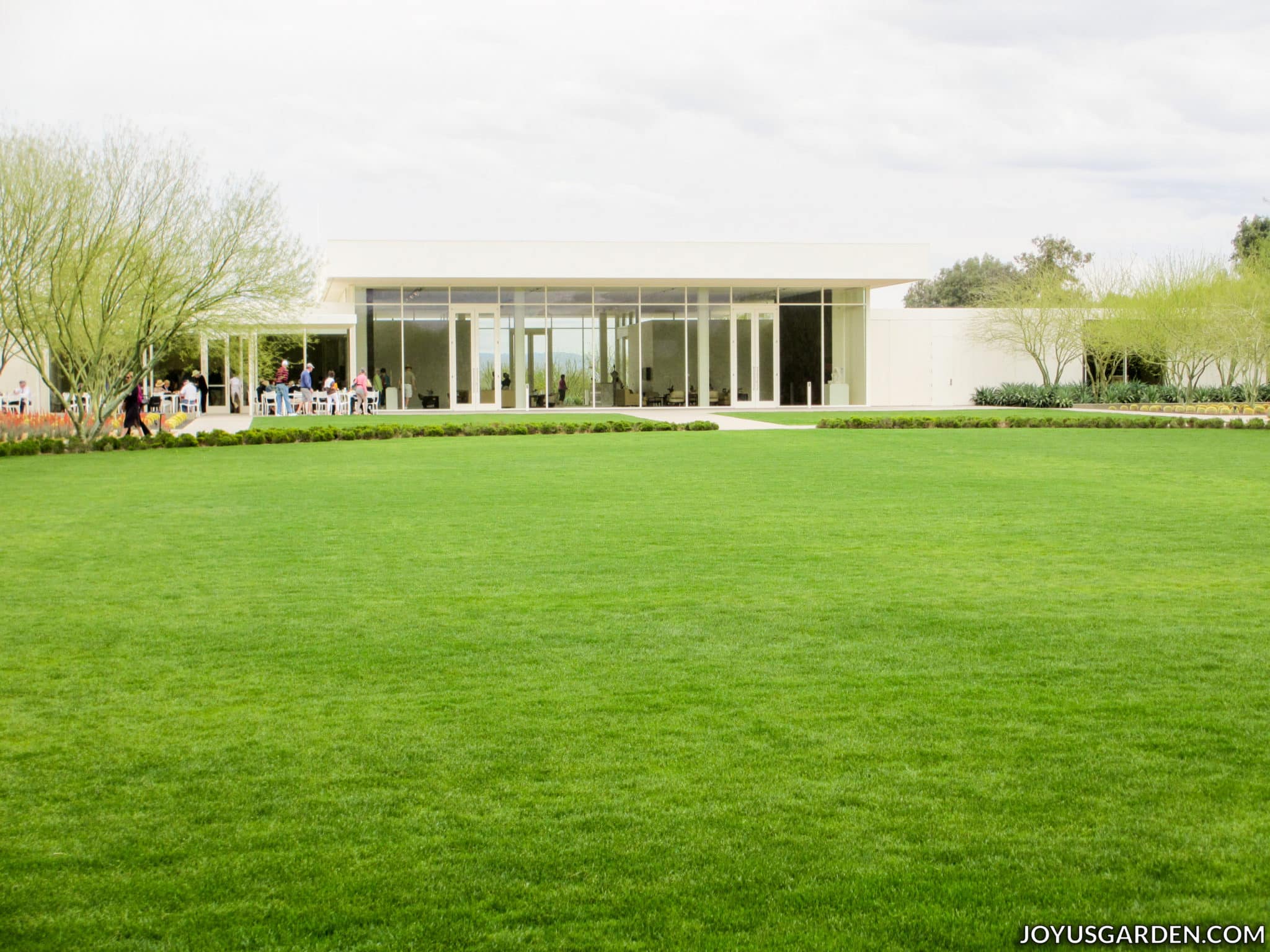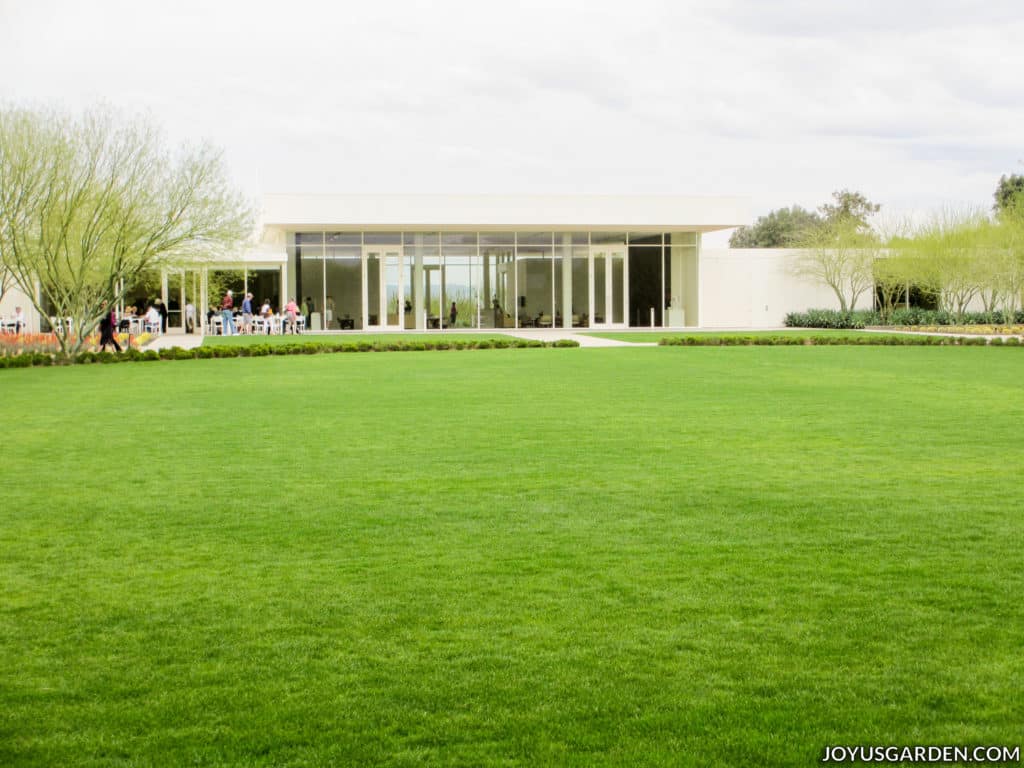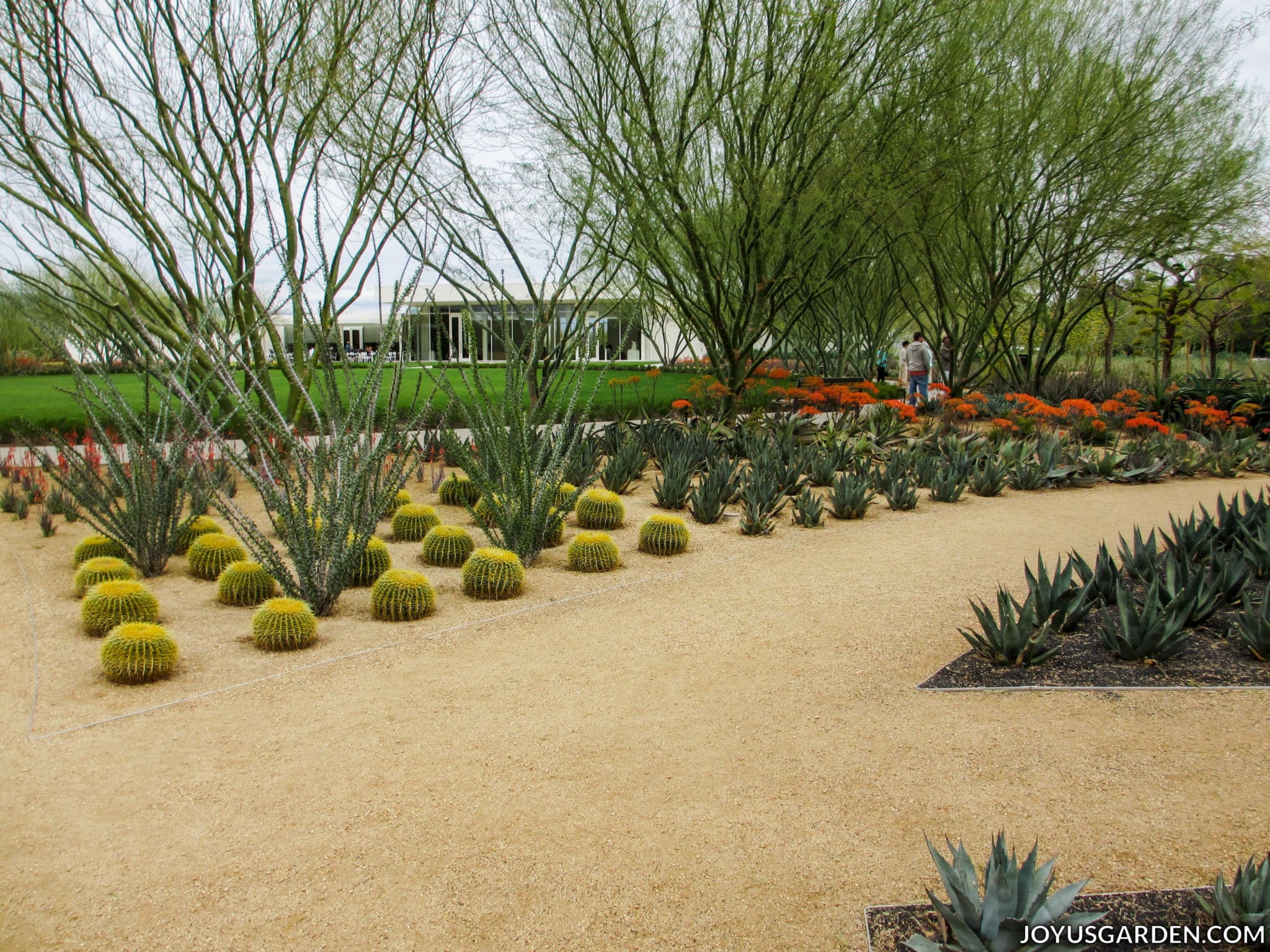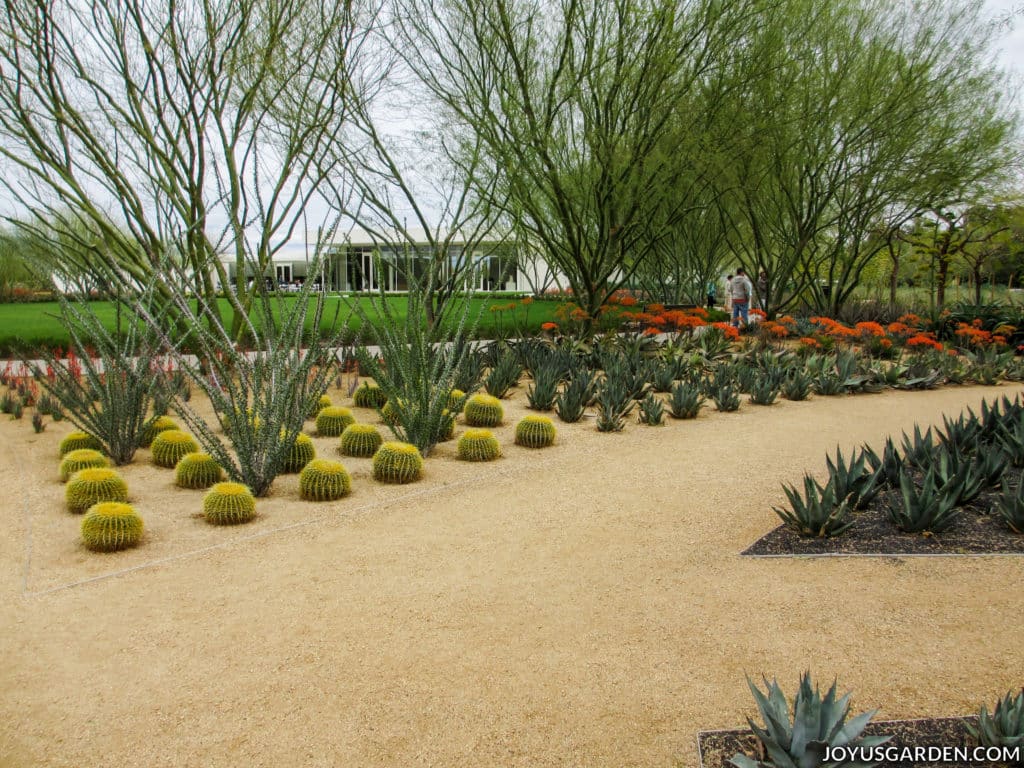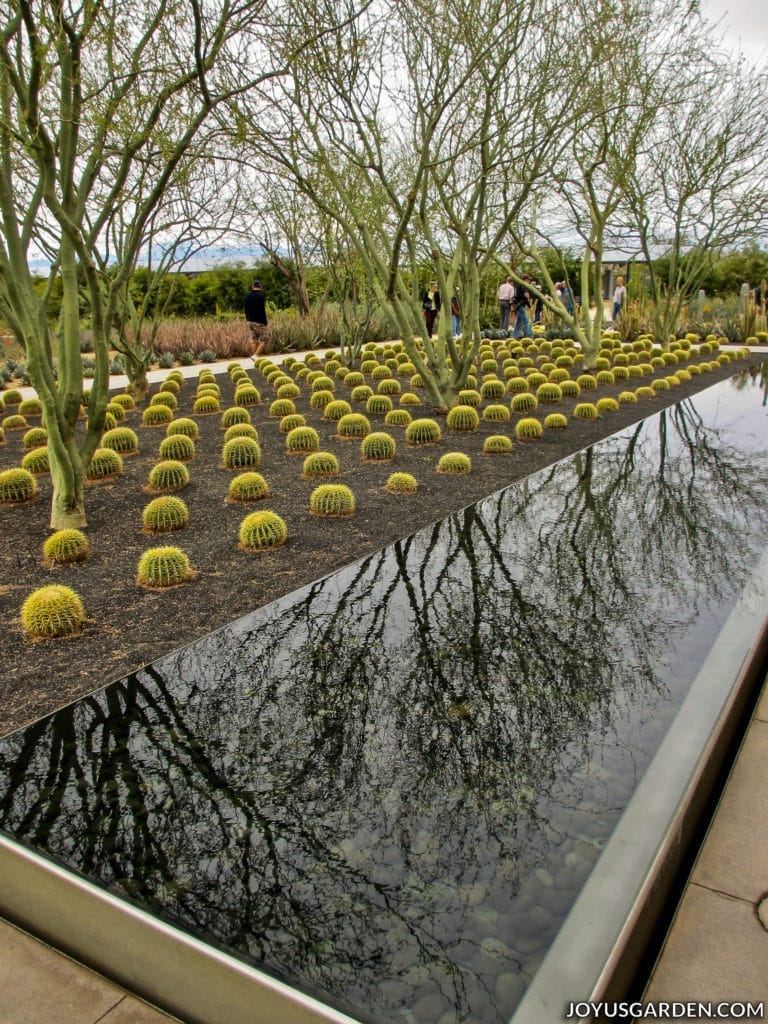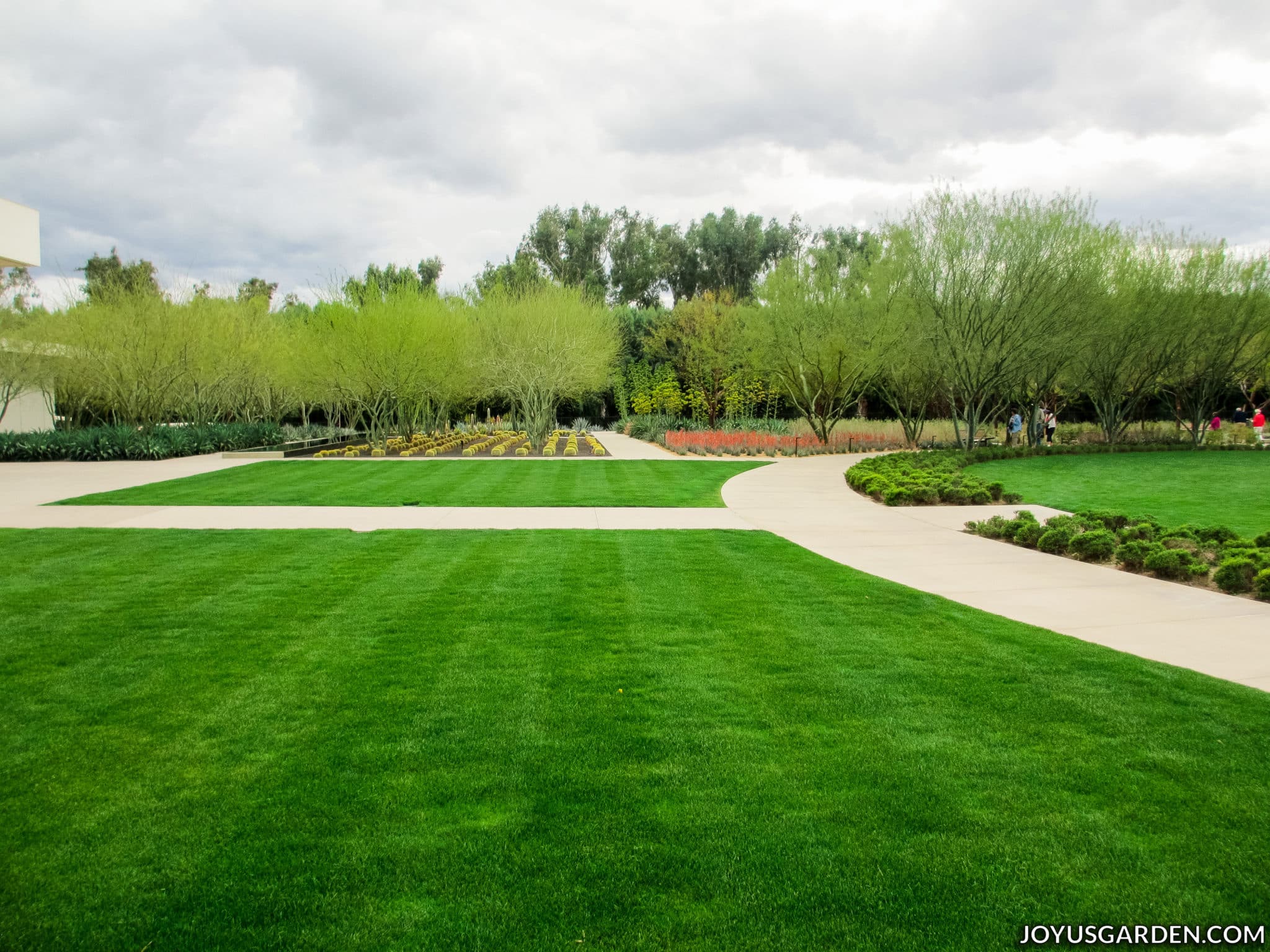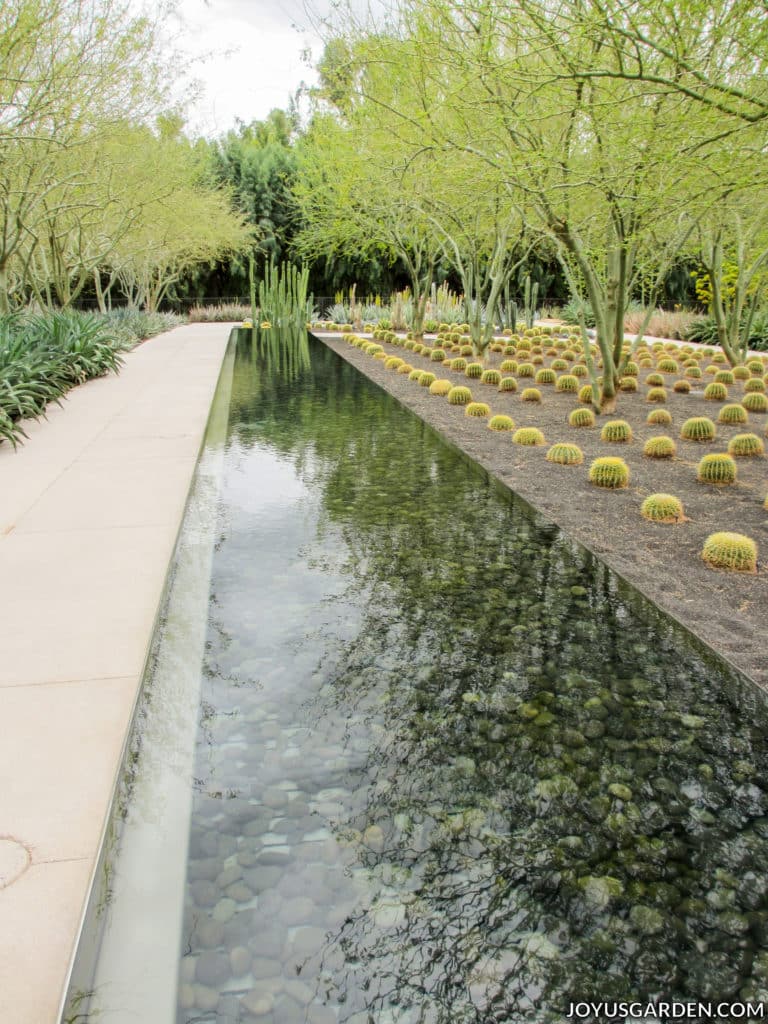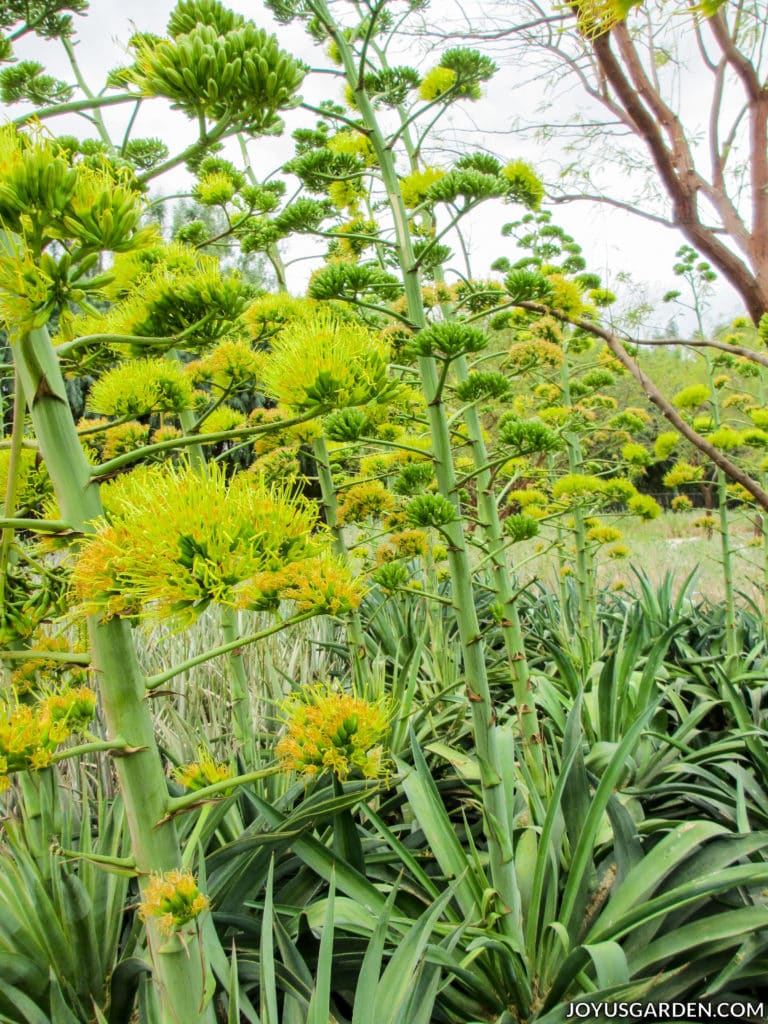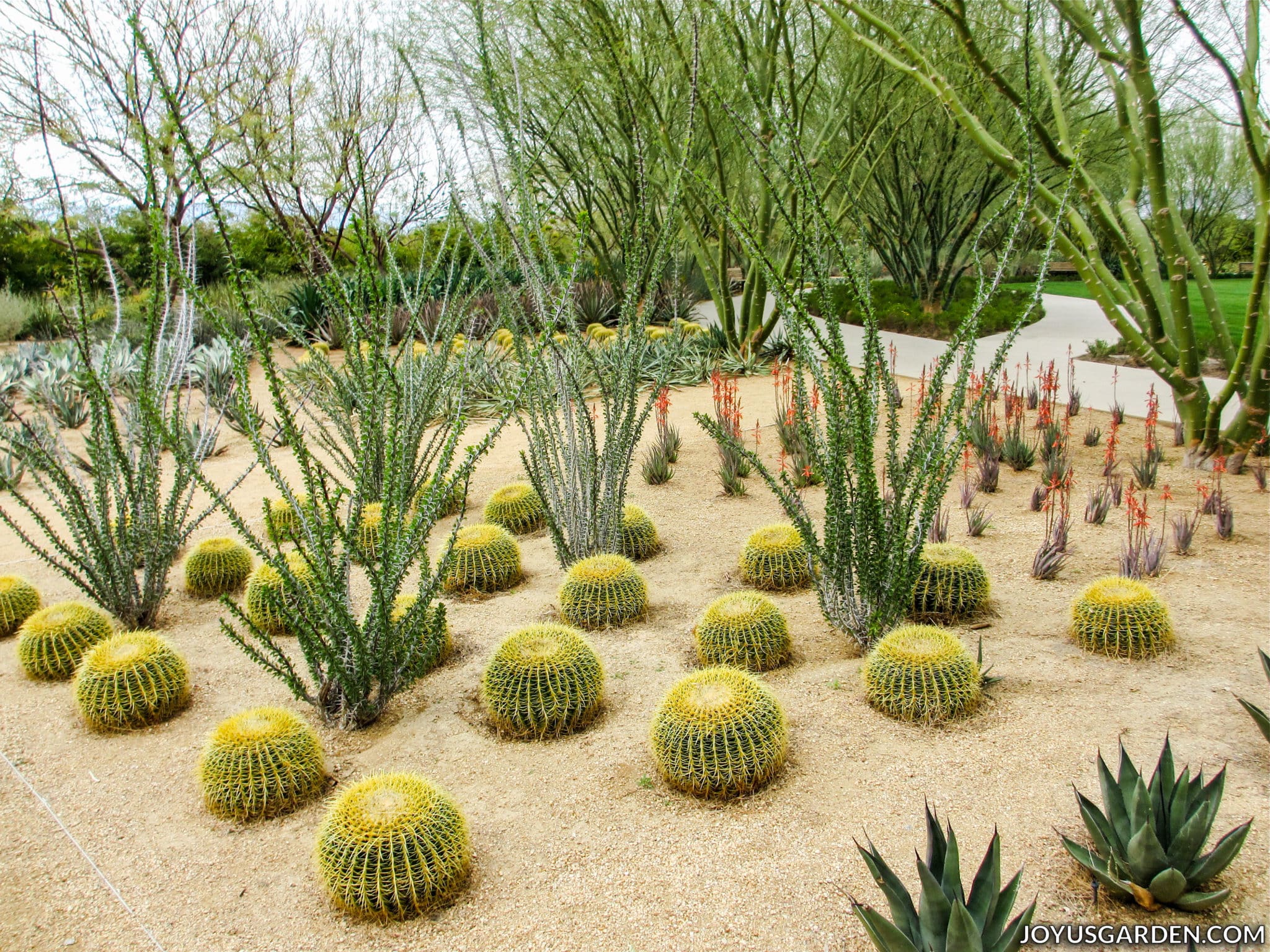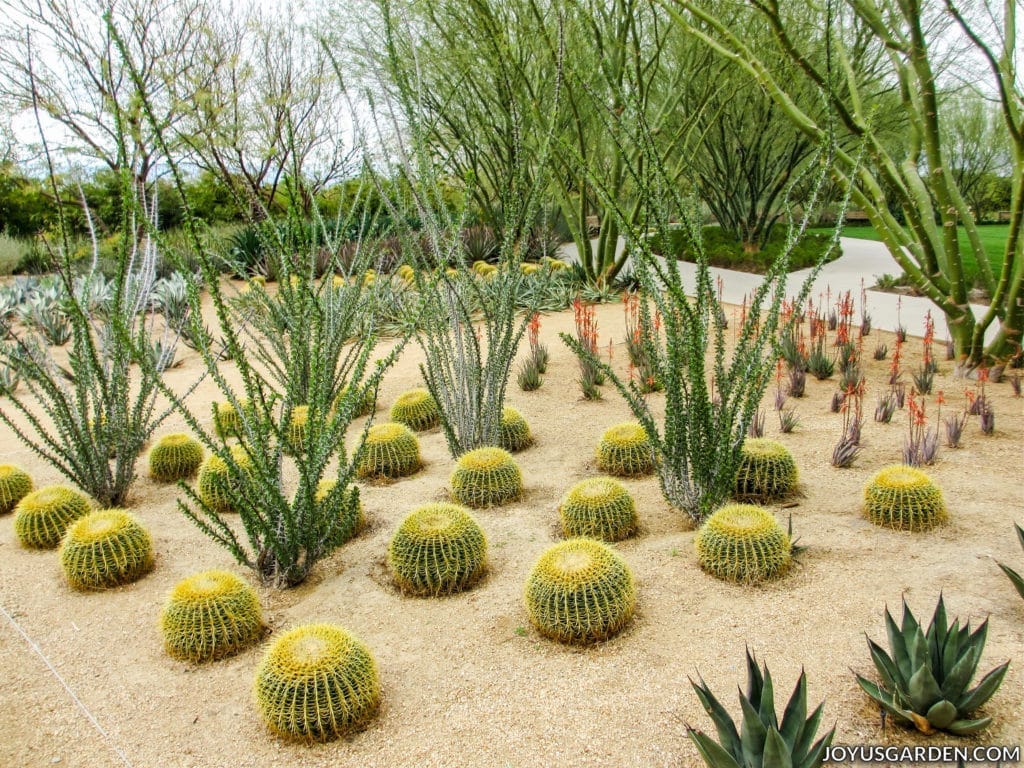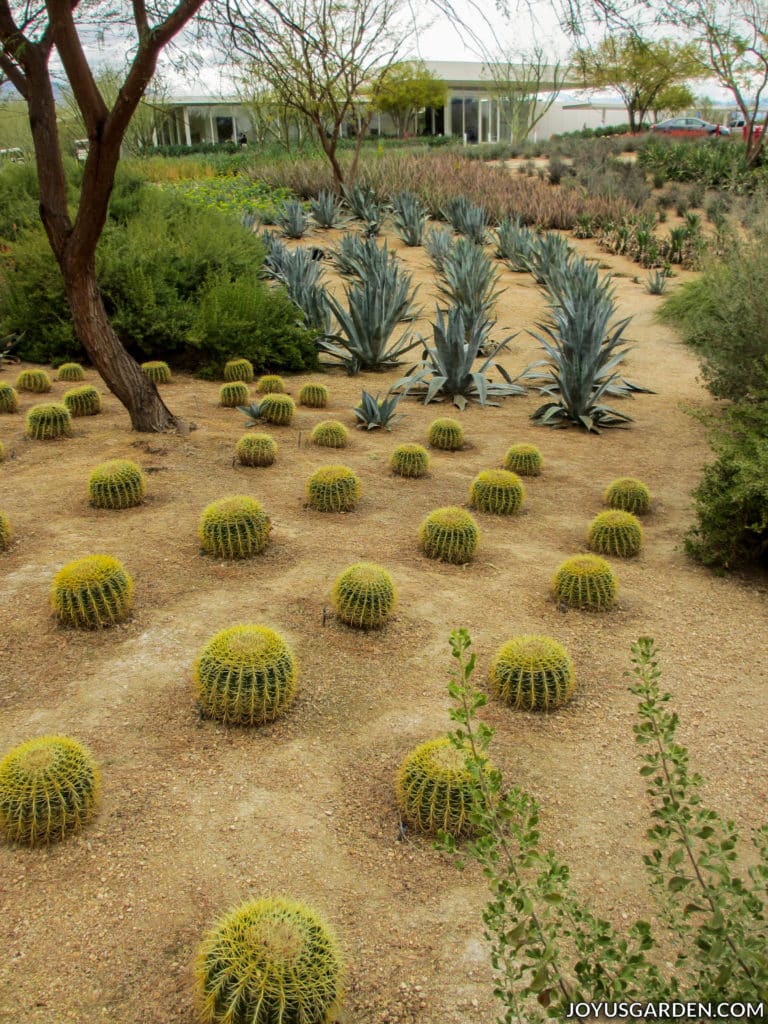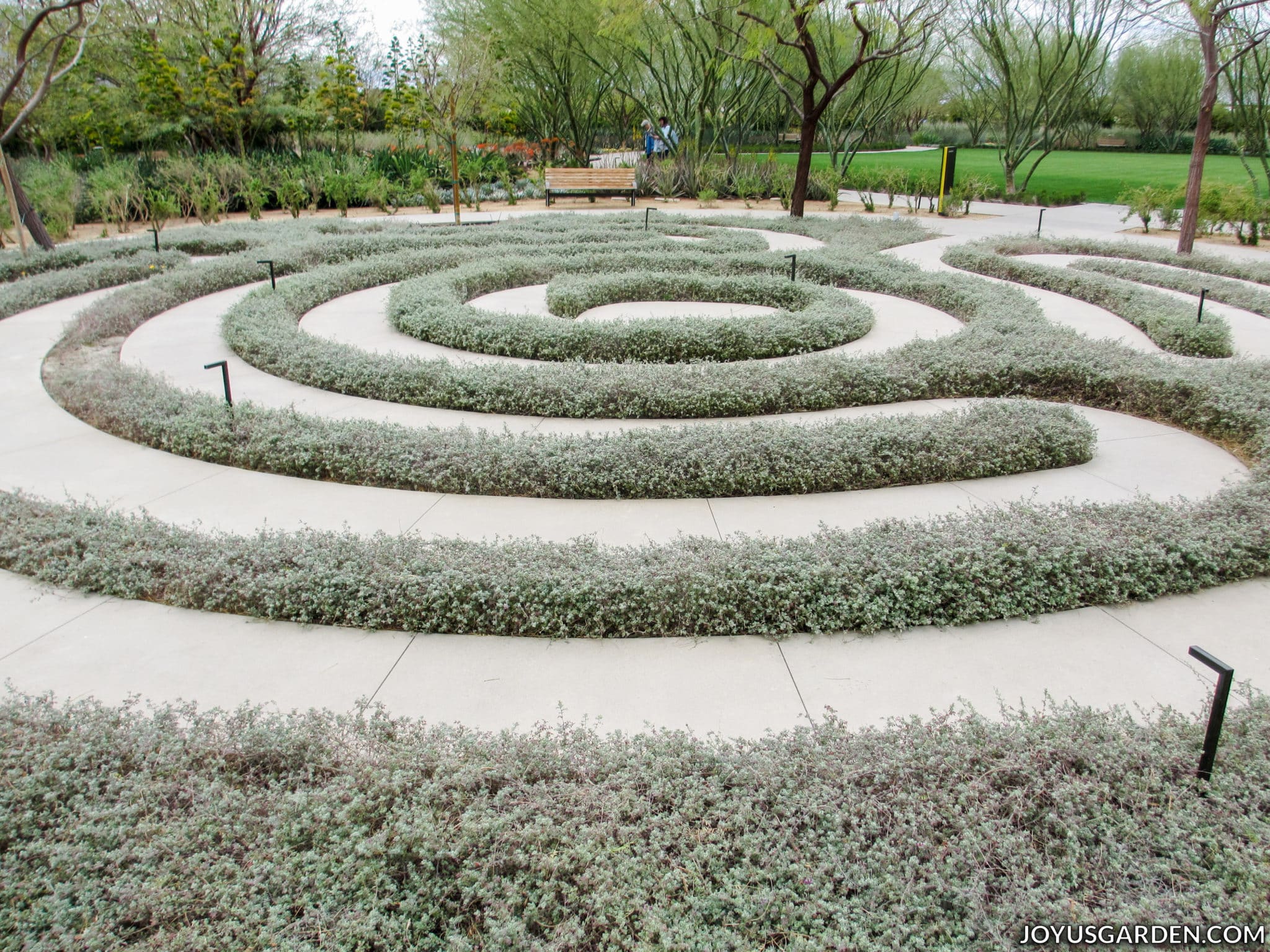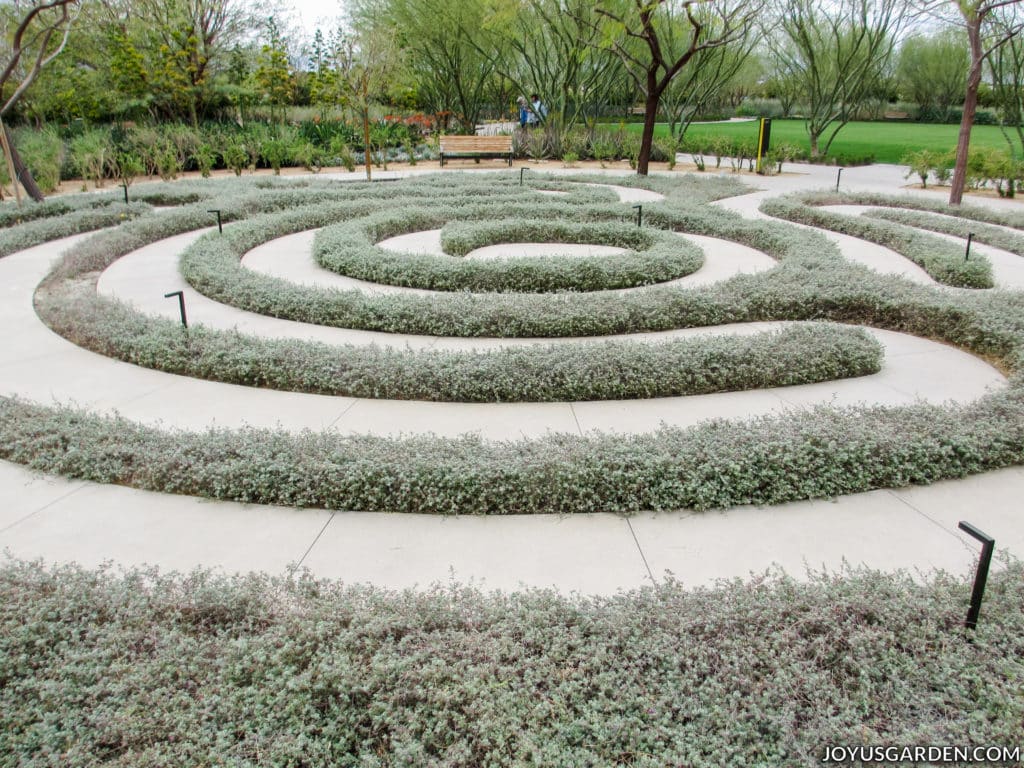 I can't wait to go back to this garden located in the Coachella Valley (which you may have heard of because of its famous music festival). If you go, be sure to check the website as they are only open certain days and are closed for summer.
Here is Sunnylands Center & Gardens as seen by Lucy & I:
The estate itself is now used as a retreat for high powered world leaders to meet in peace and privacy to work on whatever issue confronts them. We did not tour the historic estate but that is saved for another visit. Plus, that means there's a whole other garden to be seen!
If you plan on touring the historic estate, just know that you'll need tickets in advance. There's a cafe inside the visitor's center where you can grab a beverage, snack or lunch.
Great news: The gardens at Sunnylands are free to visit and so is the parking.
The Sunnylands Center & Gardens website.
I hope you enjoyed seeing this fascinating garden!
Note: This post had been previously published & was updated July 1, 2020.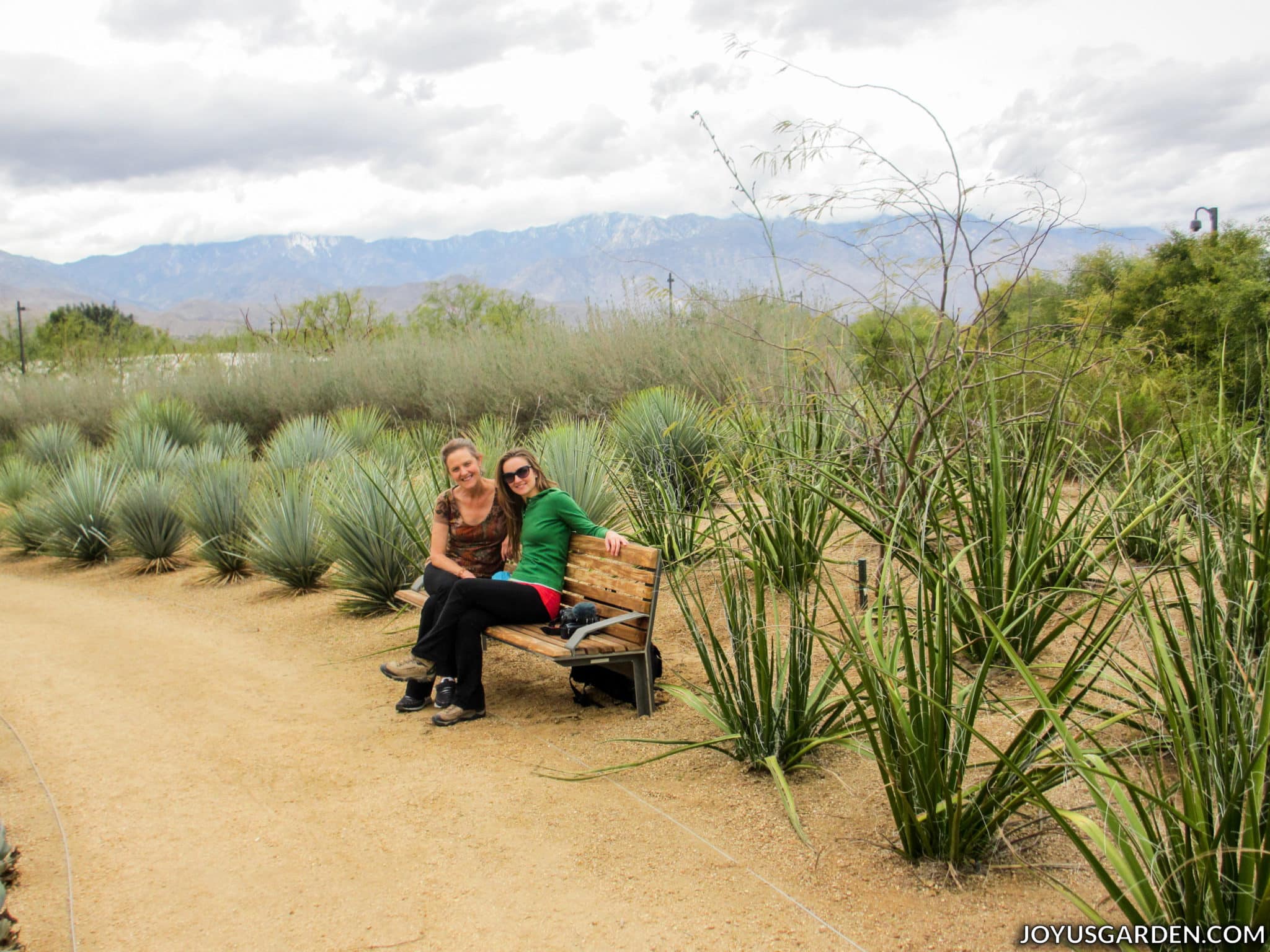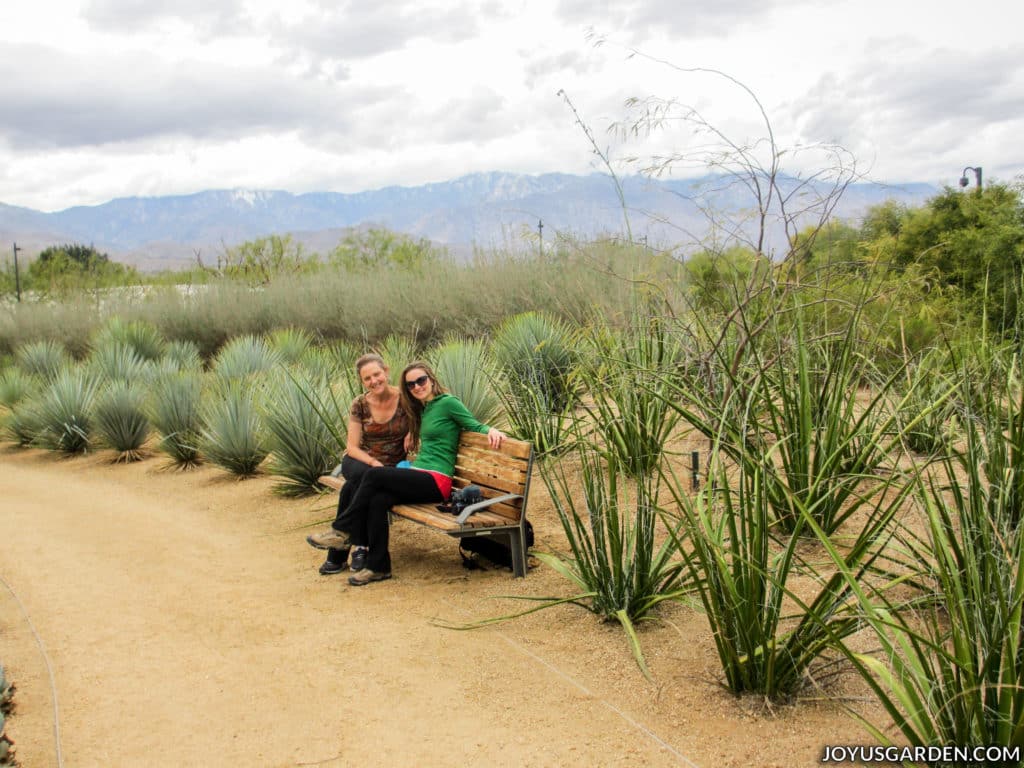 Happy gardening,

You might also enjoy:
This post may contain affiliate links. You can read our policies here. Your cost for the products will be no higher but Joy Us garden receives a small commission. Thank you for helping us spread the word & make the world a more beautiful place!