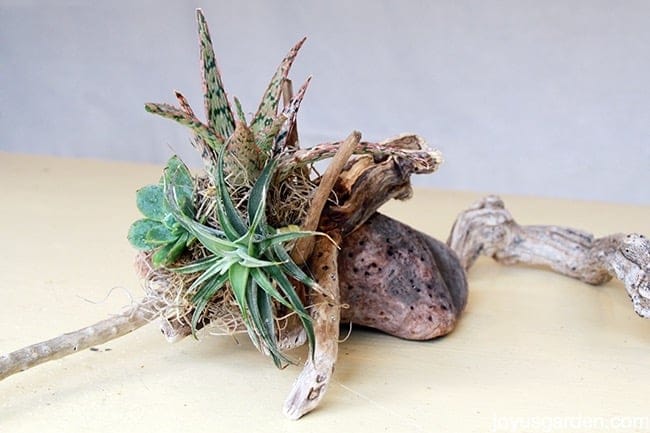 If you only have a few succulent cuttings, a few small pieces of driftwood and a little bit of time, then let me please inspire you with a few ideas of how you can put them together to create something beauteous. You'll see that I used in air plants in 2 of the designs because they combine really well with succulents. These easy DIY arrangements would be great to give as gifts – coming straight from nature and made with heart.
Here you see some of the succulent cuttings plucked from my garden & the air plant I used.
I live very close to the beach and love to collect whatever I can find to use in my garden or for crafting. I've gathered a variety of shells which I use as an interesting ground cover. Larger pieces of driftwood are garden art in my back yard – I love how they look with succulents and rock. The smaller pieces get used for crafting and that's what you see here. Plus, they're so much easier to drag home than the gargantuan pieces!
It's best to watch the video so you can see me making each piece: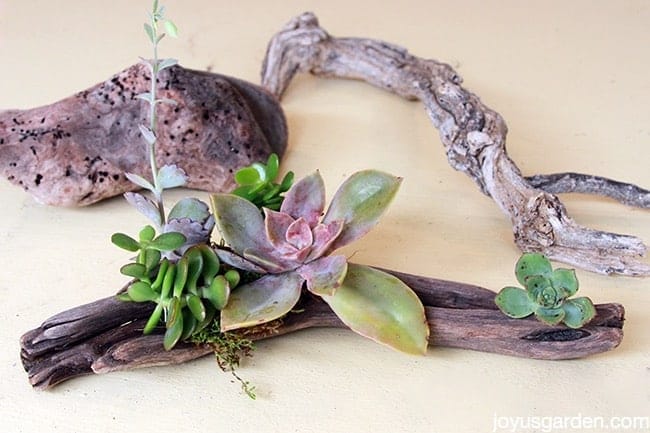 This piece of driftwood is so rustically appealing. It had a natural indent that the succulents tucked into beautifully – mother nature is quite the woodworker!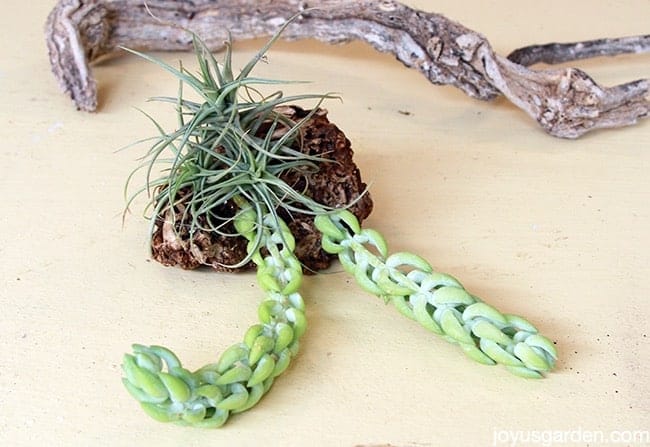 This piece of dried kelp is small & the air plant slipped right into 1 of the lacy holes. No need for hot glue with that. I did glue in the Burro's Tail Sedum pieces though.
For these 3 succulent, driftwood and air plant pieces I used Spanish and sheet mosses . You can see how I attach succulents to driftwood so that they grow in this post and video. These simple arrangements are great projects to do with kids but just be sure you use cool met glue or E6000 Quick Dry instead of hot glue. We don't want any little burned fingers!
I hope this has inspired you to make a few quick pieces of living art.
Happy Creating,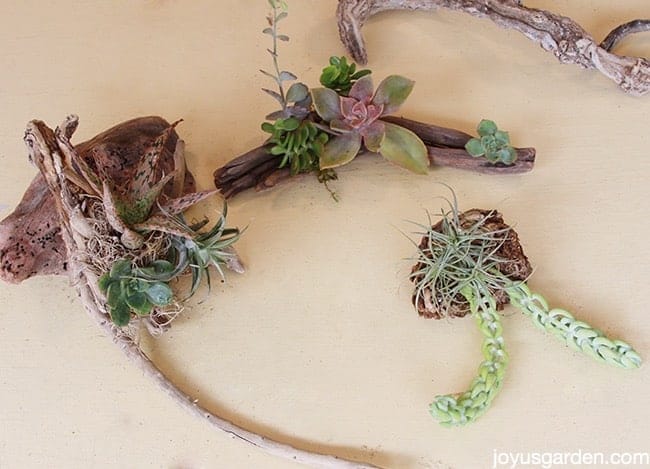 All 3 of these pieces could hang on the wall as well as adorn a table.
YOU MAY ALSO ENJOY:
How Much Sun Do Succulents Need?
How Often Should You Water Succulents?
Succulent and Cactus Soil Mix for Pots
How to Transplant Succulents into Pots
Aloe Vera 101: A Round Up of Aloe Vera Plant Care Guides
This post may contain affiliate links. You can read our policies here. Your cost for the products will be no higher but Joy Us garden receives a small commission. Thank you for helping us spread the word & make the world a more beautiful place!