Don't Think You're Too Old To Start A Blog: The Steps I Took
I was in my 50's with no techie experience when I got my blog up & going. Do you have something to share? Here are the steps to take to start a blog.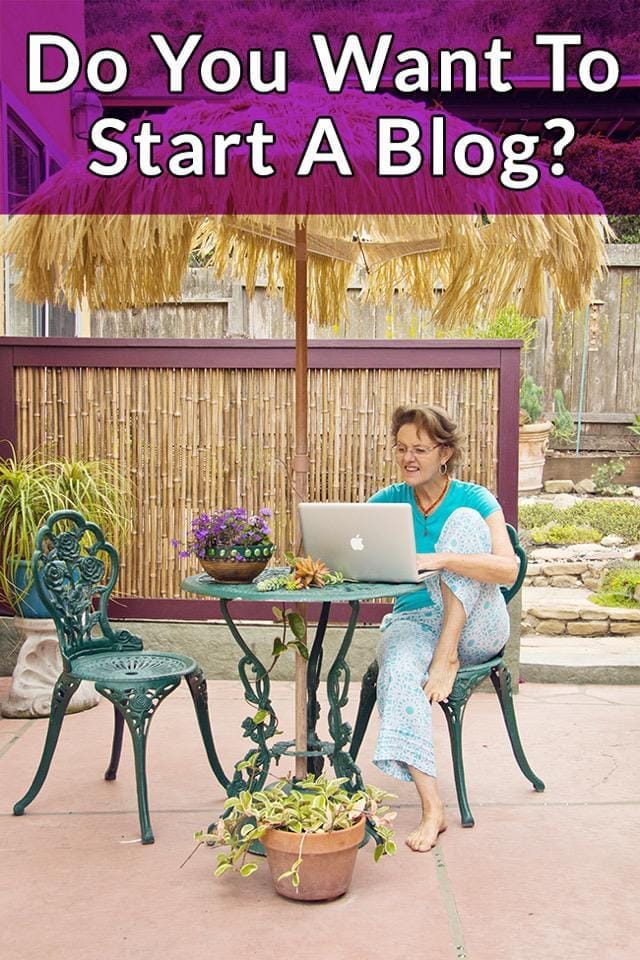 HERE'S THE SCOOP
I was raised in the days long, long before computers appeared on the scene so technology was a puzzle that I just couldn't unravel.  I swore up and down that after I started Joy Us garden I was going to know as little about the internet as I had to. So for 9 months I fought it tooth and nail ignoring it as much as I could.  Then 1 day a lightbulb flashed off and I realized that whole tech world was going to march on whether I wanted it to or not – time to join in the parade.
I never really liked or enjoyed writing.  I'm the math, art science gal who loves to figure things out, work with my hands and create tangible pieces.  The idea of even starting a blog was a bit far out in left field except that I have a lot of gardening and crafting experiences to share.  
When I first started to blog I could type but my cursor and overall computer skills were equal to those of a 4 year old.  I'm giving you this long winded intro because if I can start a blog, so can you.  
I did have help along the way so be sure to ask if you feel you need some guidance.   To make sure I'm spot on with the details, Lucy is helping me with this post to make sure all my ducks are in a row.
Think About What Kind Of Blog You'll Start
This is obvious but so worth a mention. It's not really a step because you should know this prior to setting your blog up.  Why do you want to start blogging?  Gardening is my passion as well as my profession.  Plants and flowers make me happy.  No matter how challenging things get, and believe me they do, I still have a business centered around something I love.
STEPS TO TAKE
There really aren't that many steps to it so you'll be making your mark on the world in no time.  I like things outlined short and sweet so here are the steps:
1- Choose Your Name & Register It
2- Set Up Your Web Hosting Account
3- Install WordPress
4- Choose A Theme (Design)
5- Log In & Start To Write
1- Choose A Name & Register It
Picking what to name your blog can be a challenge but fun.  It's good to take a little time and think it through.  Whether you use your name or a name related to what your blog is about, you want to make it easy for people to remember you.  I started with joyus.com but later switched it to joyusgarden.com to  make it easier for people to identify what the blog was all about.  Many people use their names (like nellfoster.com) so that's another option.
Before you go any further, check to make sure the name you choose is available as a URL. Head over to Hostagator and click on the Domains section.  Type the name you have in mind into the box.  You'll  quickly find out if it's available or not.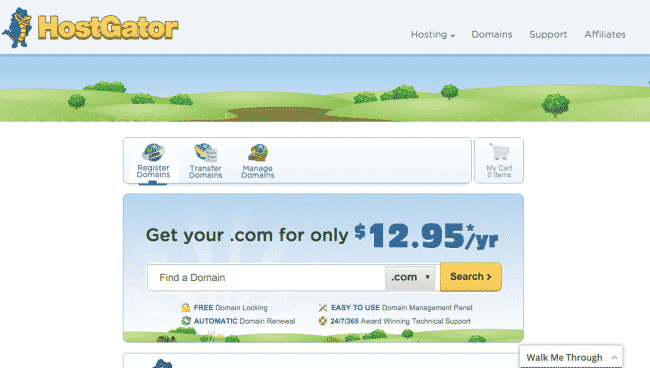 That name you registered becomes your URL or  DOMAIN.  Your website is your online home and that DOMAIN name will be the address for your online space.
You'll need a host for your domain name.  This is the virtual space where your blog is stored and shown to the world.
Don't buy this yet, you'll do so in the next step.
2-  Set Up Your Web Hosting Account
I've been using Hostgator for more than three years now and haven't looked back.  Their customer service is top notch.  A wind farm generates renewable energy on their behalf and since I run my business with respect to our mother earth in every way, going with Hostgator was a clear choice.  The internet is a big energy suck so I feel good using a green hosting company.
I did host with another company for the first year but their customer service and policies were so bad that they made me want to give up my blog all together.  Hostgator offers a really good value in terms of their product and for me, the defining factor is their customer service. They're very responsive, fast and friendly.  My favorite part is that they're very, very patient even with novices like me.  By the way, their customer service is available 24/7 in case you're having insomnia.
We've created a discount code for you to get 25% off your hosting plan if you decide to use Hostgator.  Use the code JOYUSGARDEN when you're checking out to get that discount.
Hostgator offers WEB HOSTING plans as well as WORDPRESS HOSTING plans, which are different.  Both options offers a "Walk Me Through" installation which means a customer service representative will stay with you in the chat box and guide you thought the process.  If you are more comfortable doing it by phone then a friendly representative will talk you through the steps. 
Here are the main differences between Web Hosting and WordPress hosting:
WORDPRESS HOSTING
In this plan, Hostgator will manage your WordPress site for you. The install is easier because WordPress will be already installed for you. You choose your plan and you'll immediately get access to your WordPress dashboard ( the place where you'll manage and control the behind the scenes of your site). The only downside is that you won't have access to some files that are the backbone of your site. Not having access to this files might not be an issue at the very beginning, but as your site grows and you want to add custom functions and designs you'll need the full access to those files. You can also start with this option and switch to WEB HOSTING down the line.
If you decide to go this route you can skip this step and go straight to step 4 of this tutorial.
WEB HOSTING 
You'll need to do the WordPress install yourself which will take a little longer but you'll always have full access to all of your site's files.  This is the process I'll explain below and the way I chose to manage my blog.  Why?  Your blog will change and evolve many times and you'll need to adapt to the current technologies and make changes along the way.  You may need access to obscure files in your site to make it run properly.  In short, this option gives you better control of your site.  
If you decide to go the web hosting route like I did, you'll need to choose between 3 different plans.
I started with the Hatchling Plan and changed to the Baby Plan after a year as the traffic grew.  The Hatchling Plan is fine for you to start with too.  By the way, if you're serious about blogging, then you want to self host your website.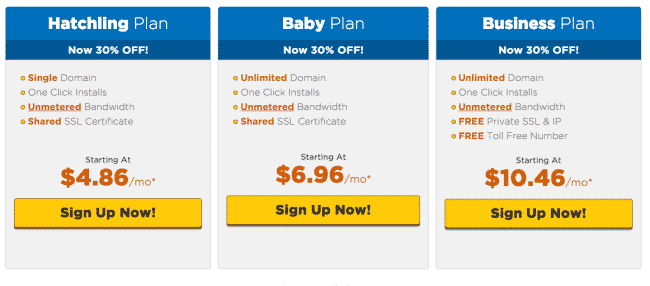 This is where you enter in your billing info.  You'll get the option to pay month to month or yearly.  If you sign on for the yearly option then you'll get a better deal.
You'll also get the option to get some add-ons.  Make sure to uncheck all the boxes because you won't need them and they really add up price wise.
At the end of this process Hostgator will send you an email with all the information you need to log into your Control Panel.  This is where you'll be able to install your WordPress site.
Here are a couple of other options for hosting that other bloggers recommend:
3- Install WordPress
Now it's time to install WordPress.  Wordpress is what's going to create your website and also be your content management system.  This extremely popular blogging platform was recommended to me because it's easy for non-techies like myself and it's great for SEO (this is how you get found).  I did a little research and quickly decided that this was the software to go with.
Start this process off by logging into your Control Panel.  Scroll down to  Software and Services and then click on Quick Install.  Once you're there, click One Click Install.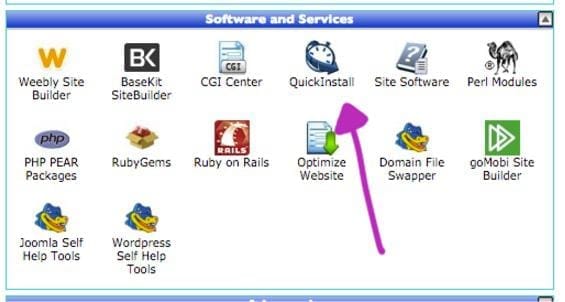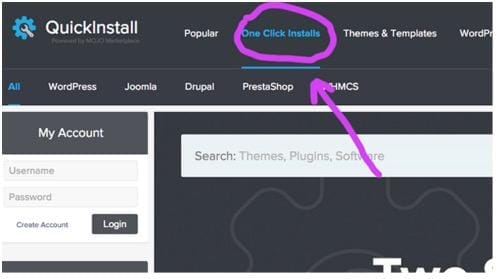 Scroll down till you find Install WordPress.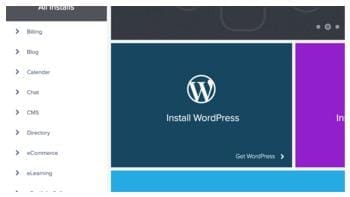 Click on that and you'll be taken to the next step: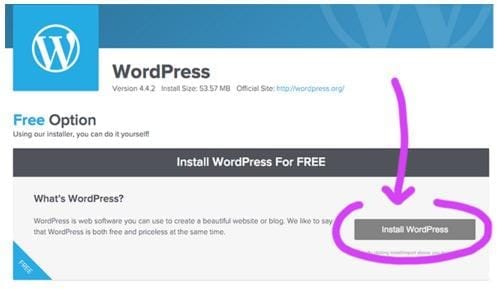 After you're done filling out that info then hit Install WordPress.
Always remember that if you're lost and/or confused, Hostgator support will walk you through this process.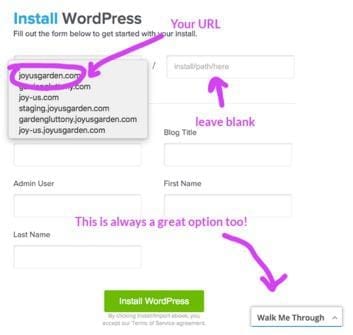 Congratulations – WordPress is now installed!
Hostgator will email you your username and password to log into your WordPress dashboard . Plug them into the  login page of WordPress.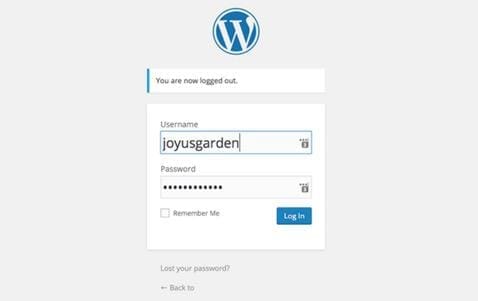 4- 

Choosing A Theme
Now it's time to make your blog appealing to your audience by choosing a theme.  There are many free themes in WordPress but oftentimes they aren't updated nor do they offer any support.  Consider buying a premium theme (which can run you between $25-250) that's more connected to what you envisioned for your blog image.  Some of the places where to buy themes I recommend are:
http://my.studiopress.com/themes/
http://themeforest.net/ (for more economic options)
To install the theme on WordPress you want go to Appearance – Theme .
Your website will change and evolve the same as your blog will.  Don't get too caught up on trying to make it perfect on the first round.  The good thing about websites and blogs is that you can change them anytime!  We've had multiple redesigns over the years.
5- Take a breath, jump in & start to write!
Starting a blog is not hard but sticking with it and keeping it going can be.  Blogging is simply sharing your experiences and your stories.  Be genuine and publish good stuff on a consistent basis and your tribe will stick around.  Being successful is another story but if you have the correct foundation to build on, even a non-techie can be up and running without pulling all their hair out.
Very few of us are trained writers so don't worry about that – like anything you'll get better as you go along.  When I entered the blogosphere, I blogged every 3-4 weeks.  Now I blog regularly, once a week sometimes twice.  And then I started Youtubing …. but that's another post! 
If you don't think you can do this alone, then be sure to get some assistance.  I got lots of help and guidance along the way.  
It's all about sharing what you love!
Other Helpful Things:
1- Google Analytics. Don't get too caught up with the numbers because blogging for fame isn't a good end goal. If it happens, how sweet that is!  You can use the numbers in analytics to see in what your readers are interested in and how you can better be of service to them. Use the data to figure out which content they are liking, where they're hanging and the sources of your traffic.  Use it to connect, not to stress out about.
2- Plug Ins.  These are the extras you install on your website for optimization and efficiency.  We've added many more over the years but here are some good ones to get started with:
Yoast SEO:  This plugin helps you write better content in a way that search engines will like and find you.
Google Analytics Dashboard for WP:  This allows you to see your google analytics inside your blog clearly laid out and easy to understand.  
WP Smush:  If you're planning to use pictures in your blog then this one's great to have.  Images tend to be heavy and can slow down your site if you don't optimize them.
UpdraftPlus:  This backups and restores your website.  You don't want to lose everything so back it up!
3- ZipCloud: Not a plug in but something for you to consider. You'll be storing and accumulating lots of data for your blog so I'd recommend having an automatic back up system.  Any new files, including pictures, get backed up daily.
4- Social media accounts.  If you're going to spend the time and effort to write and share your expertise or experiences then you should let the whole world know.  This will help you reach the people you want to reach.  I'm on Twitter, Youtube, Pinterest, Facebook and Google+.  Instagram, Snapchat and Persicope are popular these days.  
5- Photoshop and Lightroom.   As Rod Stewart sings: "every picture tells a story".  My blog is very visual so images play a big part.  The Adobe Creative Cloud for photographers is great because it gives you access to Lightroom and Photoshop for $9.99 a month.
Have fun & share what you love!

disclaimer: this post contains affiliate links. let me know if you have any questions. can't wait to see your blog!
---