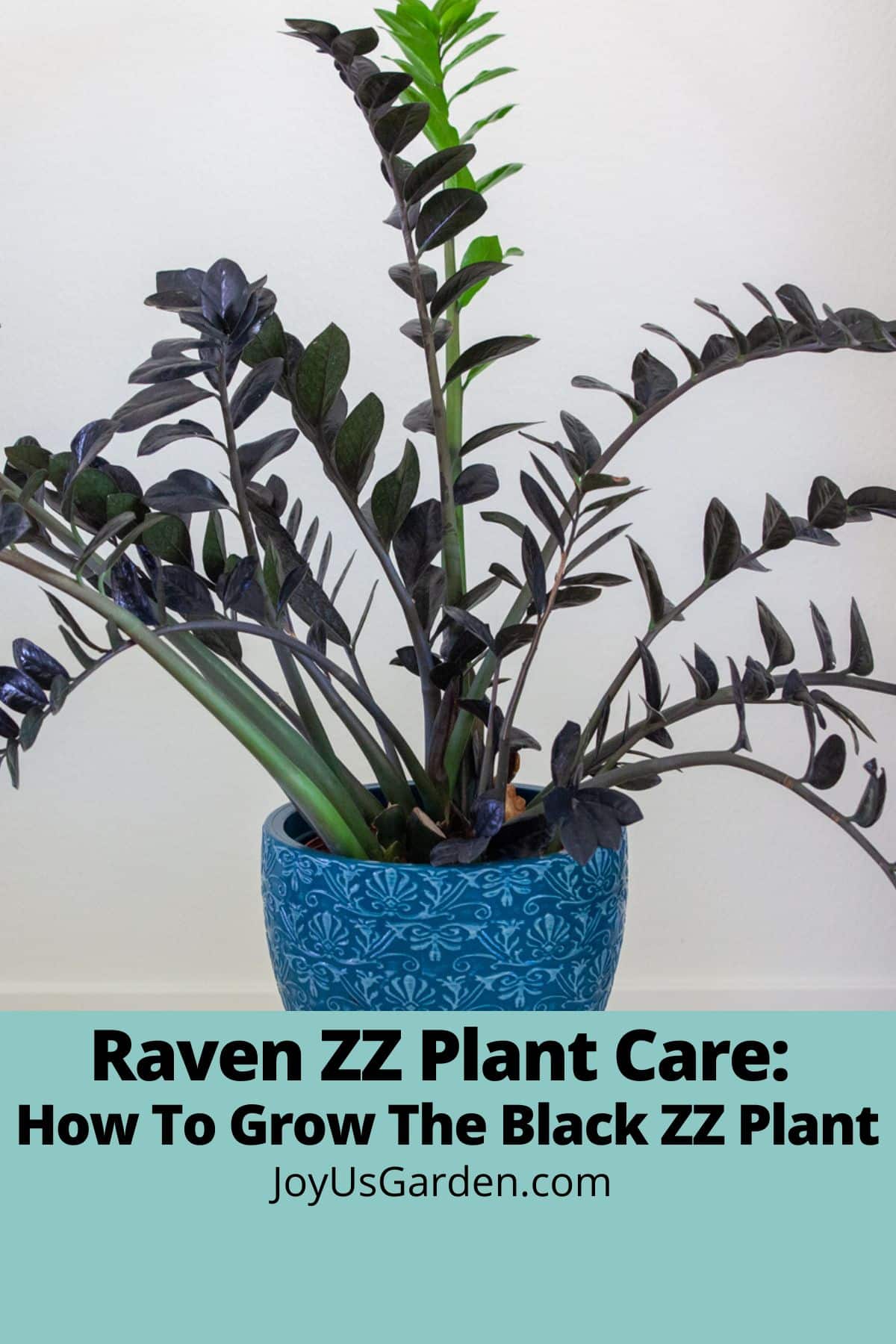 The Raven ZZ plant is a striking houseplant with unique black foliage. This low-maintenance plant requires minimal attention, making it a good choice if you're new to gardening or have a busy lifestyle. I'm sharing essential care tips that you need to know to keep this jazzy plant healthy and thriving.
This was considered a rare plant when first introduced in 2015, but it is becoming more readily available. Costa Farms patented it as the Raven ZZ Plant, and has been popular from the get-go.
The dark foliage isn't deep black, but I'd call it more of a deep purple-black. I give mine no special care at all, and it's pretty as can be growing next to my Philodendron Birkin and my Dancing Bones Cactus.
Botanical Name: Zamioculcas zamiifolia Raven, Zamioculcas zamiifolia Dowon
Common Name: This plant has a few. Raven ZZ Plant, Black ZZ Plant, Raven Plant, Black Raven ZZ Plant
Raven ZZ Plant Traits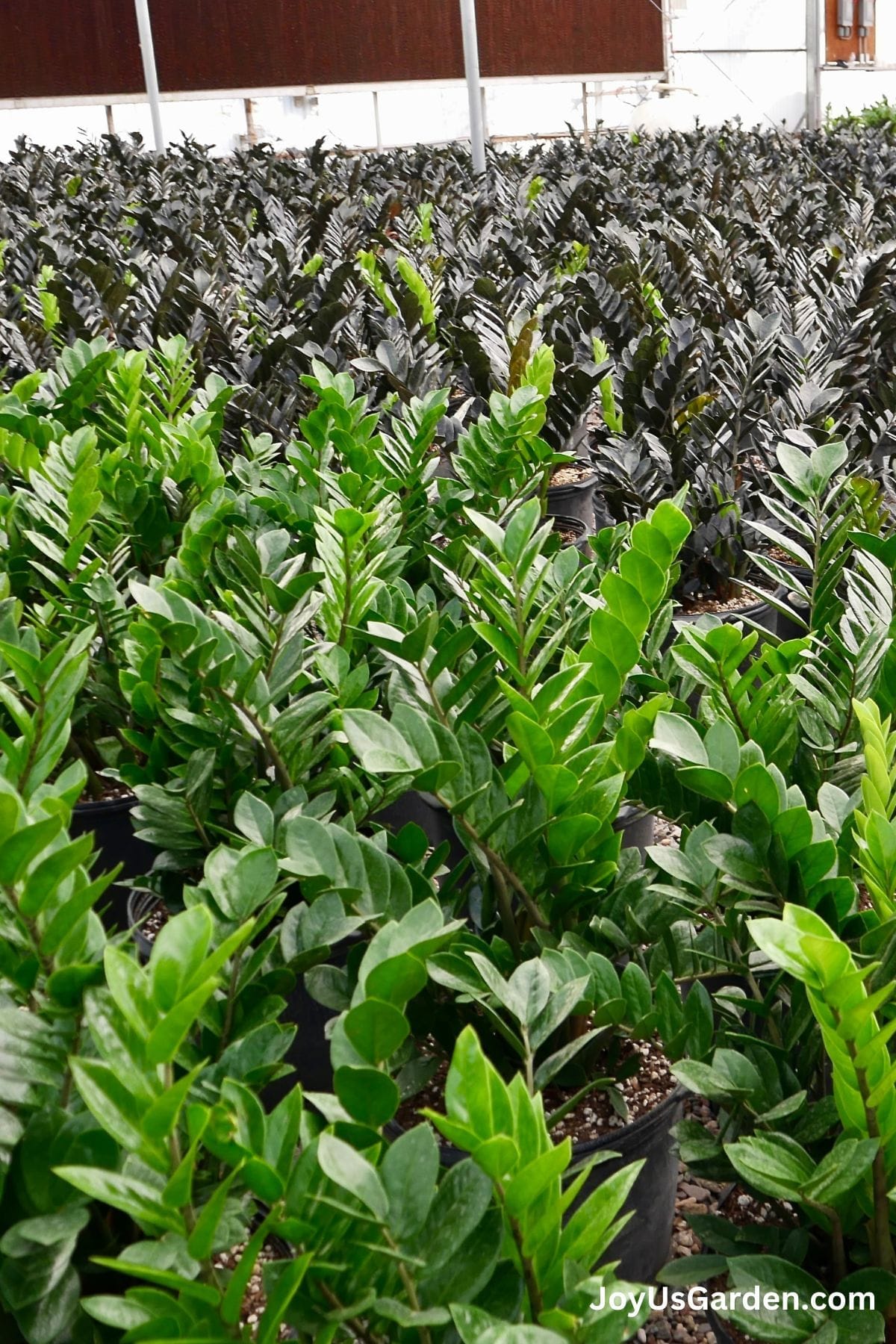 Raven ZZ Plant Size
I've had my Black ZZ Plant for eighteen months now. It grows in a 10″ pot, is 38″ at the tallest point, and 48″ at the widest.
My six-year-old common ZZ Plant is 48″ tall by 60″ wide.
Growth Rate
This plant has a slow rate of growth. It puts out more new shoots (that open and develop slowly) the older it gets. The growth will be even slower if the light level is too low.
Uses
The 4″ and 6″ sizes are tabletop plants. 10″ pot size and larger are low, wide floor plants.
Big Draw
Those dramatic black leaves! Very few indoor plants have dark foliage, but this one has the added bonus of glossy leaves.
Raven ZZ Plant New Growth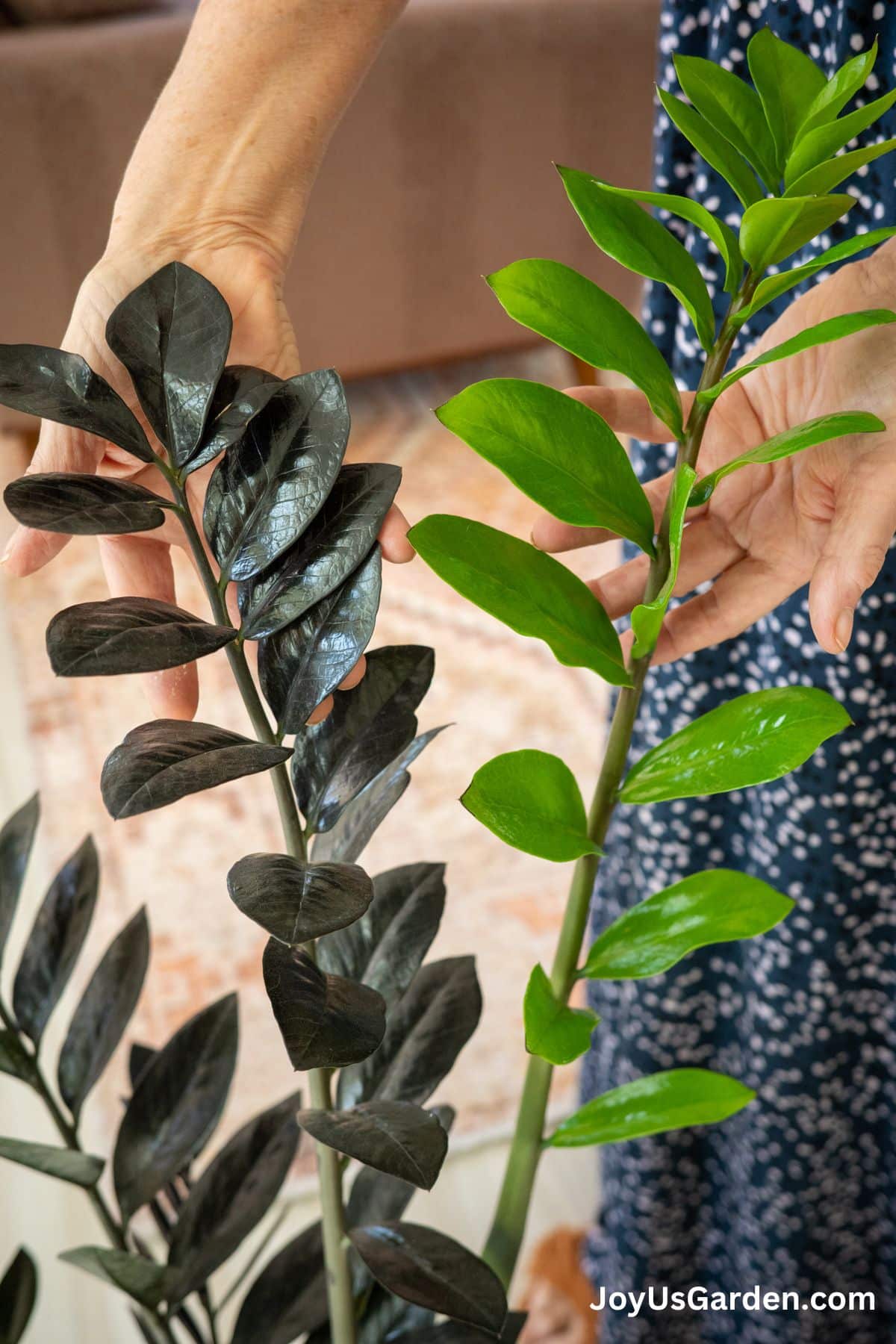 This is so fun! The new leaves are bright green (or lime green), depending on how you describe them. You'll see them slowly turn darker as they age.
Raven ZZ Plant Growth Habit
I've often seen this question: How do I get my ZZ plant to grow straight? Plants will droop if the light levels or too low or the watering is off.
With the ZZ, I've found that it's just how this plant grows. You buy a compact, upright plant; with time, it spreads, and the stems arch outwards.
I like the look of my three ZZs, but they take up some real estate!
Black ZZ Plant Care Video Guide
Raven ZZ Plant Care
Light Requirements
The Raven Plant is no different than many other houseplants. It prefers and does best in indirect sunlight – moderate light exposure. Keep it out of direct sun; too much light will cause sunburn.
Mine sits about 7′ from a north-facing picture window and 14′ from a trio of south-facing windows. I live in Arizona, the sunniest state in the country, so lack of light isn't an issue!
It's said to grow in low light conditions, just know you won't see much growth, and the stems could grow leggy.
In winter season, you may have to move yours to a spot with more light. If you put it outdoors for the summer, ensure it's protected from direct sunlight and harsh rains. Bring it back indoors before the temperatures drop below 50 degrees Fahrenheit.
Watering
Are you wondering how often to water a Raven ZZ Plant? Three words – easy does it. This plant gets by with little water in terms of frequency.
I let mine go dry before watering again. In the summer, it's once every 14 days, and in winter, every 21 days, give or take. I always tell you how often I water my specific houseplants so you have a guideline and can adjust the frequency to your conditions.
Yours might need watering less or more often. Many variables come into play, like the pot size, the type of soil it's planted in, its growing location, and your home's environment. The more light and warmth, the more often yours will need watering.
This plant grows by underground stems called rhizomes which store water along with the thick stems. Overwatering this plant will lead to a quick demise. It's best if the pot has at least one drainage hole so excess water can flow out, preventing root rot.
This plant can go for longer periods without water in cooler, darker winter months.
Here's a Guide to Watering Indoor Plants. This will help you in determining factors as to how often you water yours.
Temperature
The average indoor temperature is fine. If your home's comfortable, it'll also be so for your houseplants. Keep your ZZ away from cold drafts and air conditioning or heating vents.
Humidity
The good news is I live in a desert climate, and my three ZZs are all doing well. They handle low humidity like champs.
I mist the leaves now and then. I like this mister because it's small, easy to hold, and puts out a nice amount of spray. I've had it for over four years, and it's still going strong. I also put my plants out in the rain two or three times a year for extra moisture and to clean the foliage off.
I have this humidity meter in my dining room. It's inexpensive but does the trick and still works fine after a few years. I run my Canopy humidifiers when the humidity reads low, often in the Arizona desert!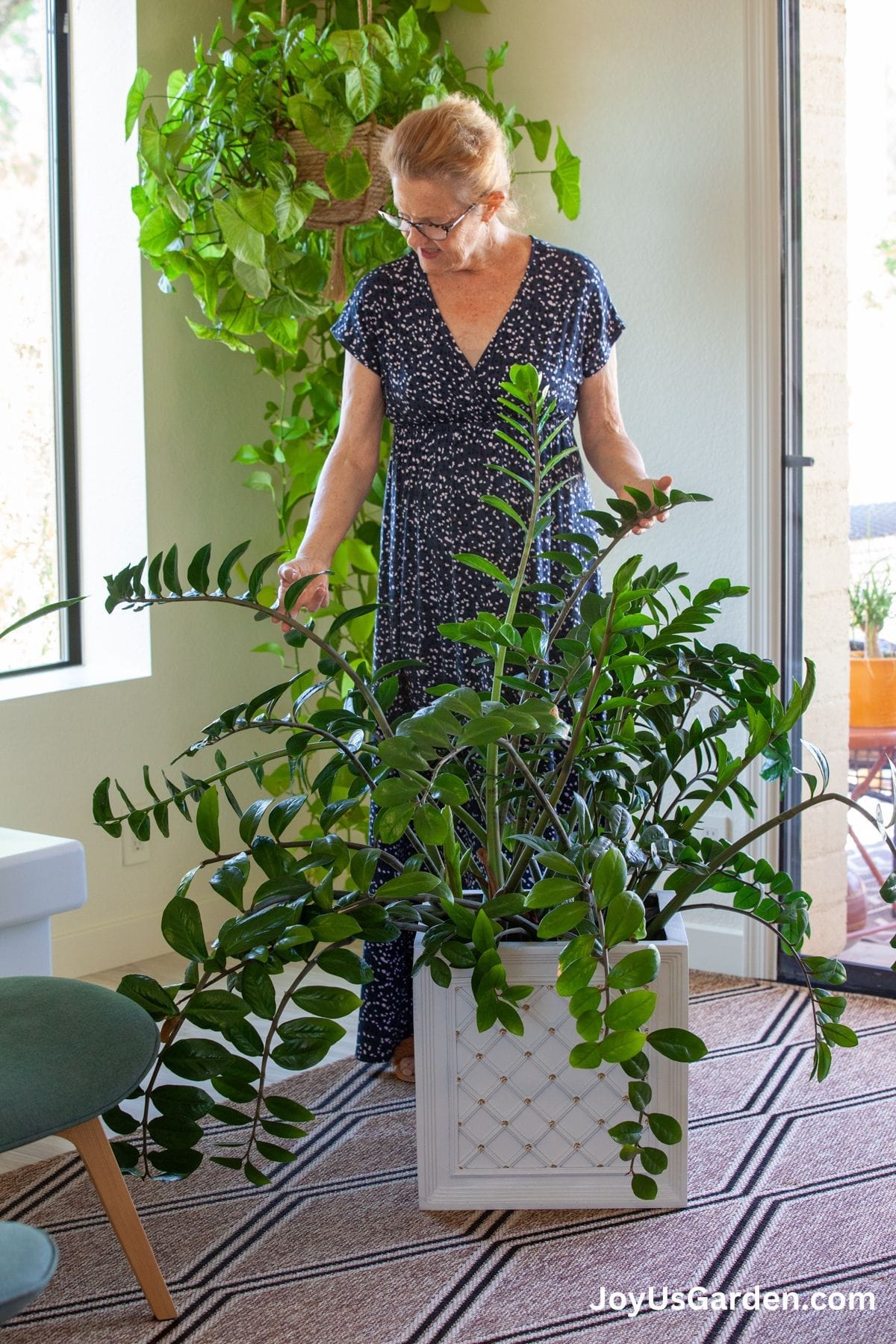 Do you have a lot of tropical plants? We have a whole guide on Plant Humidity that might interest you.
Fertilizing/Feeding
We have a long growing season here in Tucson from mid-February through October. I fertilize with Maxsea or Sea Grow, Grow Big, and Liquid Kelp seven times during the growing season. It's how I feed all my tropical plants. I alternate using these granular and liquid fertilizers and don't mix them.
Whatever indoor plant food you choose, don't over-fertilize your ZZ because salts build up and can burn the plant's roots. This will show up as brown spots on the leaves.
You want to avoid fertilizing any stressed houseplant, i.e., bone dry or soaking wet. I don't fertilize houseplants in late fall or winter because it's not their active growing season.
Soil Mix
The mix you use should have good drainage and be well aerated. You don't want it to stay wet for prolonged periods because this plant likes to dry out between waterings.
When I divided my ZZ, I used a blend of 3/4 potting soil (formulated for indoor plants) and 1/4 cactus and succulent mix with a few handfuls of compost and worm compost thrown in for richness.
I use this DIY Cactus and Succulent Mix with coco chips, coir, and pumice. The potting soils I use are this one and this one. Sometimes I use them solely, and sometimes I blend them.
Repotting Do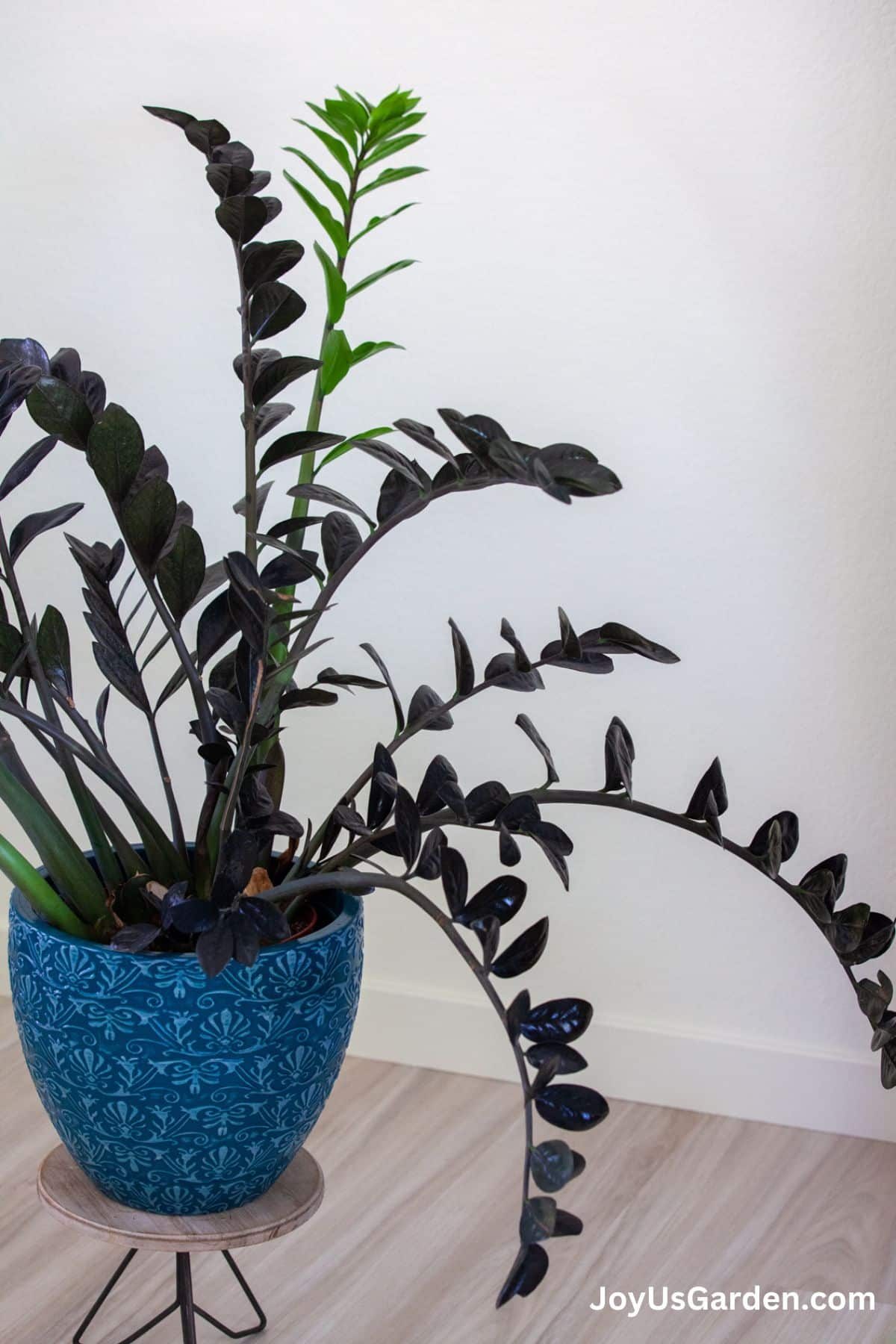 I do all of my repotting in spring, summer, and early fall.
I don't repot my ZZs very often. It depends on how they're growing, but every four to six years is the general rule for mine.
That said, I repotted this Raven ZZ soon after bringing it home. It was growing in straight peat moss, making it hard to regulate the moisture. I lost about 1/3 of the plant due to too much water, but it's slowly growing back.
ZZ Plants have thick roots, which take up more and more room as they grow. As for pot size, it depends on how the root ball looks. One pot size up might do it.
My ZZ was growing in a 10″ pot, and I divided it and put the biggest portion in a 16″ x 13″ pot. It's still in that pot and doing great – you can see it two photos above. If you go up two or three pot sizes as I did, be mindful of watering too much. Greater soil mass can lead to soil staying too wet and root rot.
Propagation
Division is the fastest way to get new plants. I divided my ZZ into three plants a few years ago. I kept two and gave one away.
I've also propagated a ZZ by stem cuttings. It's a slow process, so be patient if you try it. You can also propagate one by leaf cuttings, but the growth process would take way too long for me!
More details on propagating these plants here: Dividing A ZZ Plant Into Three and ZZ Plant Stem Cuttings In Water.
Pests
My ZZs have never gotten any. They can be susceptible to aphids, mealybugs, spider mites, and scale.
As with any pests, keep your eye out for them and take control immediately. They multiply like crazy and spread from houseplant to houseplant very quickly.
Pet Toxicity
Is the Raven ZZ Plant toxic? Yes, all parts of this plant are. I have two kitties, and they pay no attention to my ZZs.
Most indoor plants are toxic to pets in some way. I share my thoughts on Houseplant Toxicity and our list of 11 Pet-Friendly Houseplants.
Raven ZZ Plant Flowers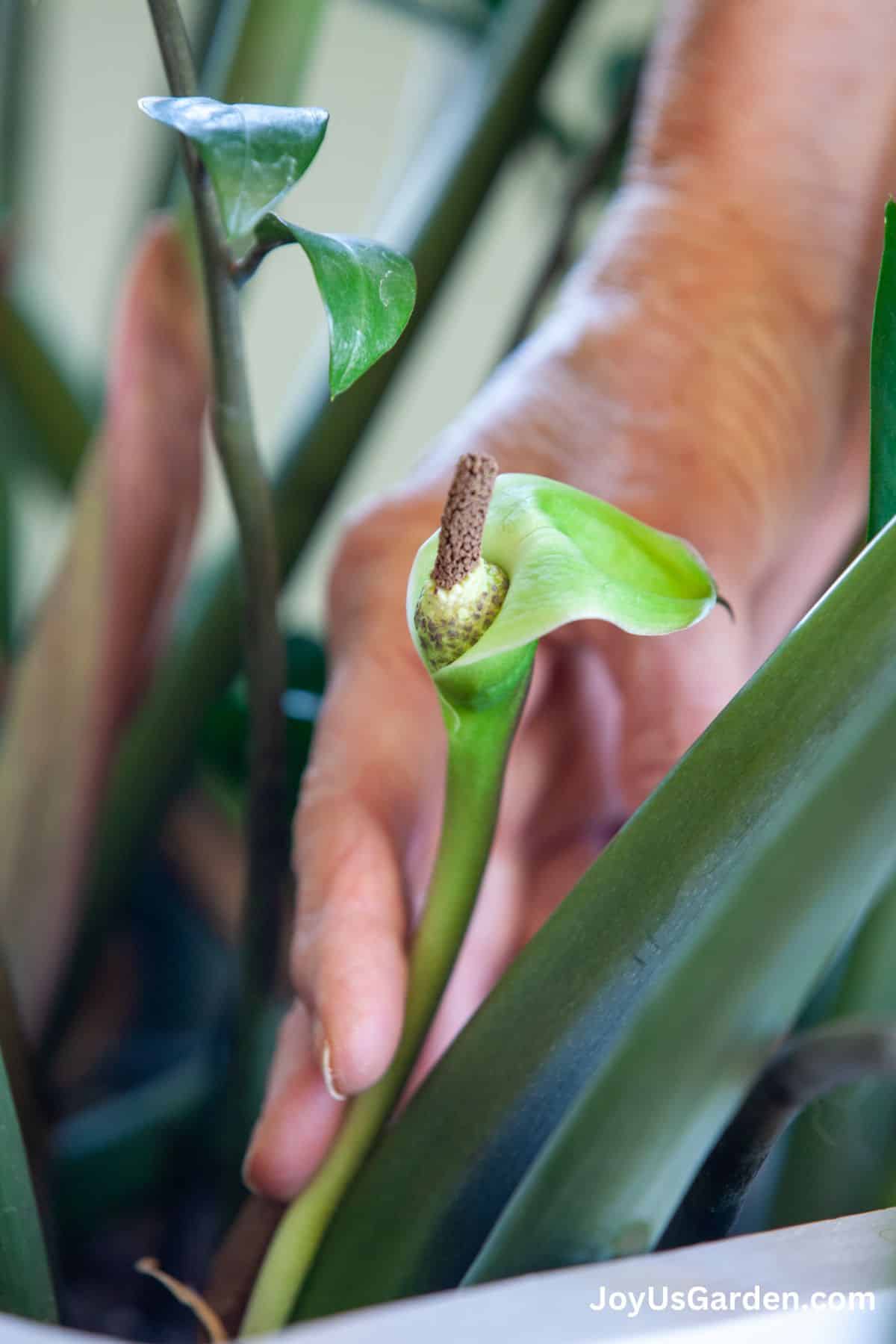 It's rare for ZZ Plants to flower. My six-year-old plant just flowered (two blooms) for the first time. It has a spadix-type flower. I imagine the Raven ZZ has the same flower.
Cleaning the Foliage
This is important for every houseplant. This beautiful plant looks extra nice; all cleaned up because of its naturally shiny leaves.
I put my Raven Plant outdoors a few times every year to get cleaned by the rain. If needed, I put it in the shower. I have a handheld shower head making it easy to give the leaves and stems a good hose down.
You can also clean it with a soft cloth that has been dampened. Just avoid commercial leaf shine products because they clog the pores. Plants need to breathe!
Interested in more? Here's Why & How I Clean Houseplants.
Where Can I Find a Raven ZZ Plant?
I bought mine at Green Things here in Tucson. If you can't find one locally, here are some online sources: Amazon, Walmart, and Home Depot.
Overall, taking care of a Raven ZZ plant is a breeze. It's a great addition to any home or office space with minimal watering and low maintenance needs.
Keep it in bright indirect light out of the direct sun, use the proper soil type, and let the soil dry out between waterings. It's sure to bring some drama and life into your space without causing too much fuss!
Happy gardening,

This post may contain affiliate links. You can read our policies here. Your cost for the products will be no higher but Joy Us garden receives a small commission. Thank you for helping us spread the word & make the world a more beautiful place!
I'm a life-long gardener who still to this day gets giddy at the thought of a trip to one of the local nurseries. Yes, I actually studied landscape and environmental horticulture and the practical experience I have garnered through the years has served me well. Childhood memories of chicken manure "tea" still float through my olfactory senses to this day. I have always been an organic gardener and always will be. From the Earth … To the Earth. I was born and raised in rural, bucolic Litchfield County, Connecticut and now joyfully live a few blocks from the ocean in beautiful Santa Barbara, California.