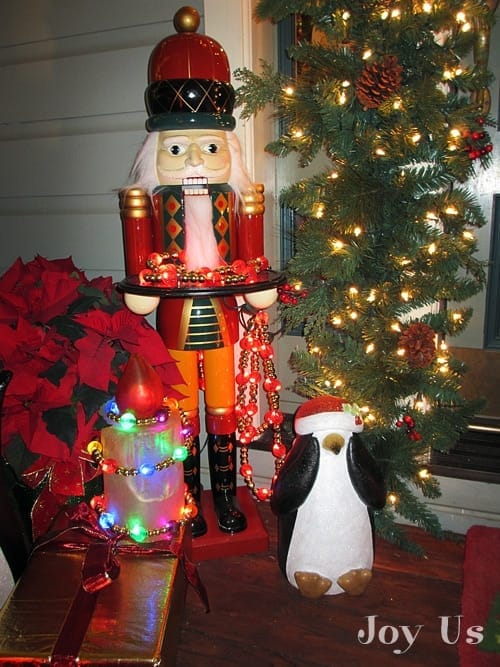 Here are some tips to make your decorating endeavors as merry as can be.
The holiday season is upon us once again (could someone please tell me where did this year went?!) and it's time to add a little sparkle and festivity to our lives.  I owned a professional Christmas decorating business in the San Francisco Bay Area for many years and have a few pointers for you as you get ready to deck the halls.  
Plus, I'll show you some pictures of a job I just did featuring Santa in an antique lady sleigh, his trusty reindeer led by Rudolph, penguins decked out in their holiday best, nutcrackers, glowing candles and a nativity scene adorned with fallen palm flowers and fronds. There's a video waiting for you at the end where I take you on a tour of all this Christmas goodness.
Here are a few "tools and necessities" to facilitate your creative endeavors: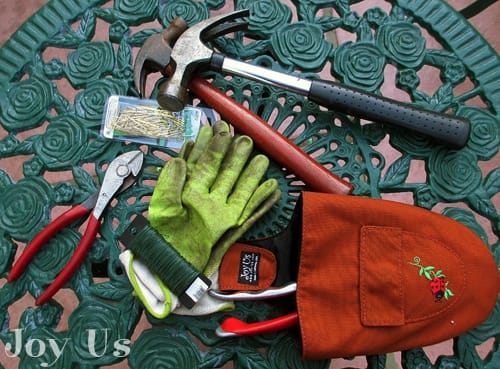 Hammer(s), green wire, pruners, nails & tacks, wire cutters & gloves. If you fancy this groovy LadyBug Tool Pouch you can get it here.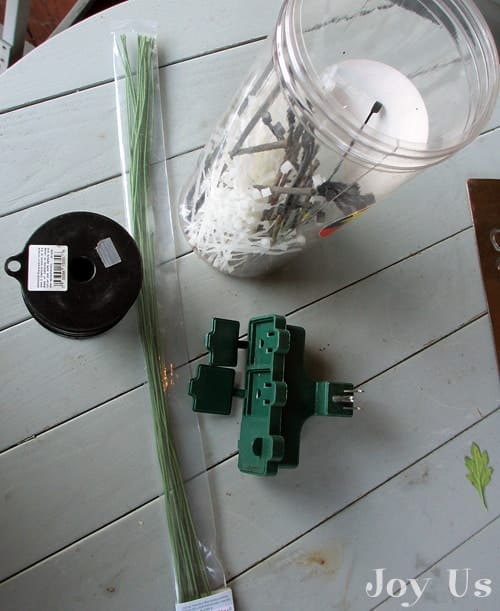 Fishing line (we use a lot of this!), zip ties, covered wire, & a multi plug adapter.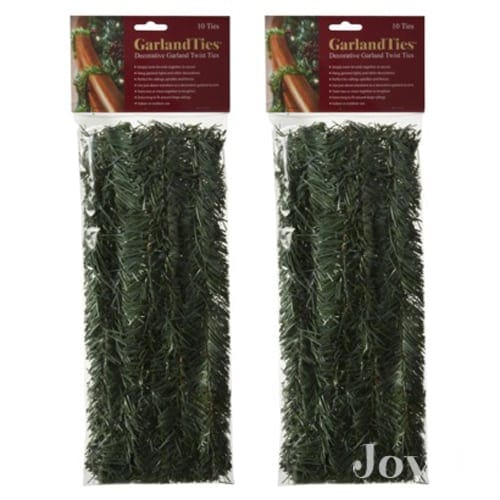 We love these garland ties for attaching garland to rails. They hold tight as can be.
Not shown but very necessary:  
exterior extension cords (which you'll need them in a variety of lengths), outlet boxes, timers, electrical tape (to tape connections in damp climates) and ladders.
And, for your viewing pleasure, here are pictures of the job we did so you can get some ideas and inspirations.  By the way, I didn't do this all by my little self – many thanks to Susie and Mike. Hopefully they have both recovered by now!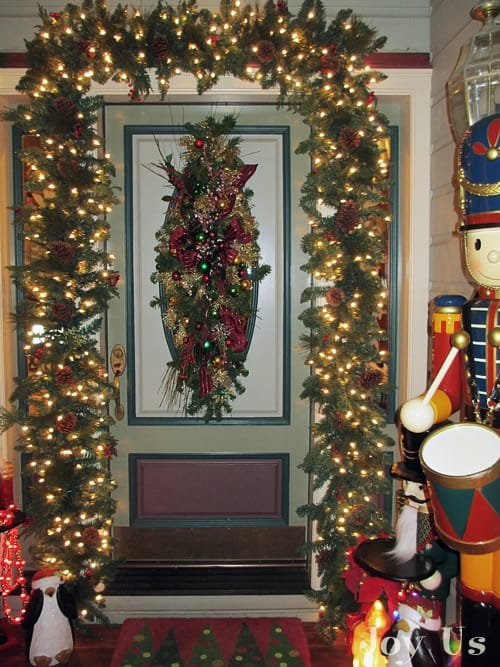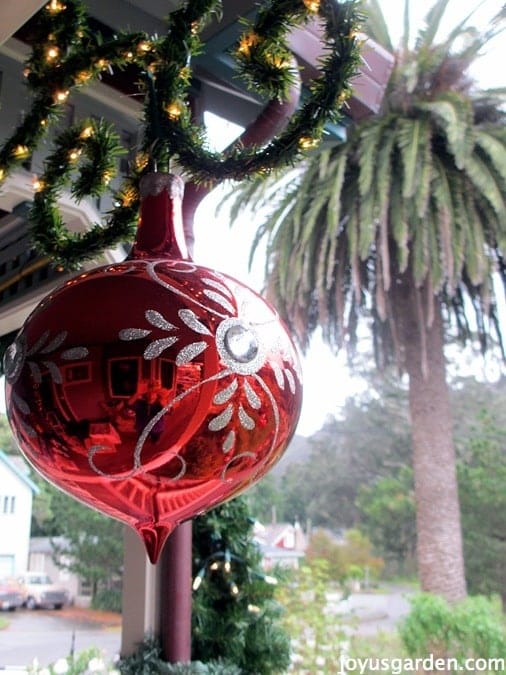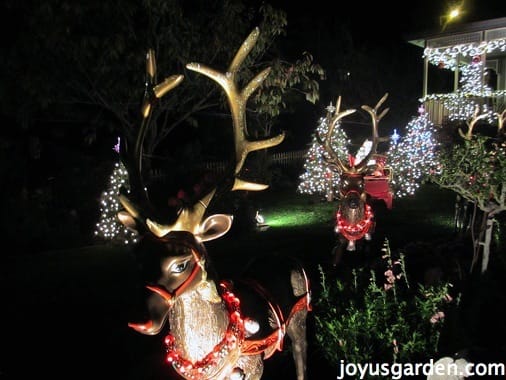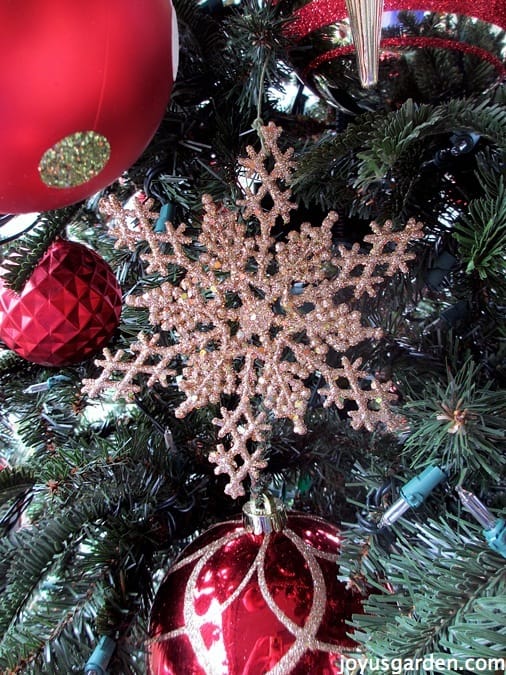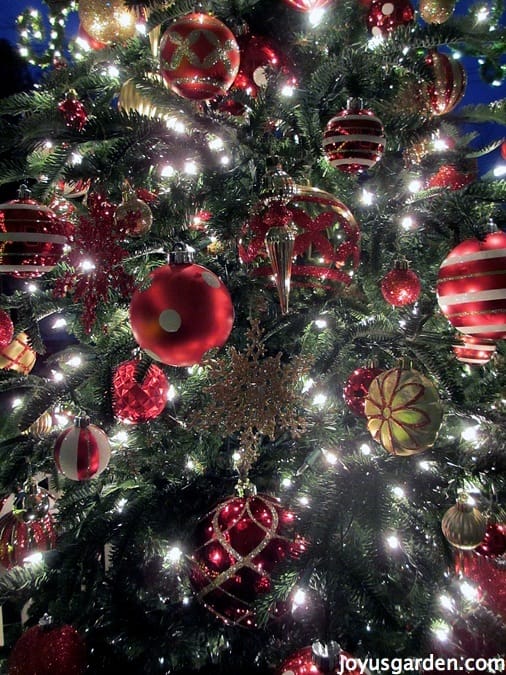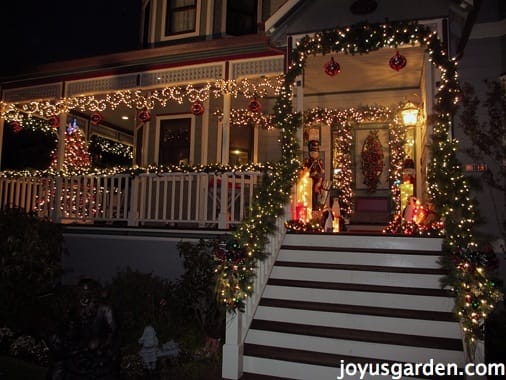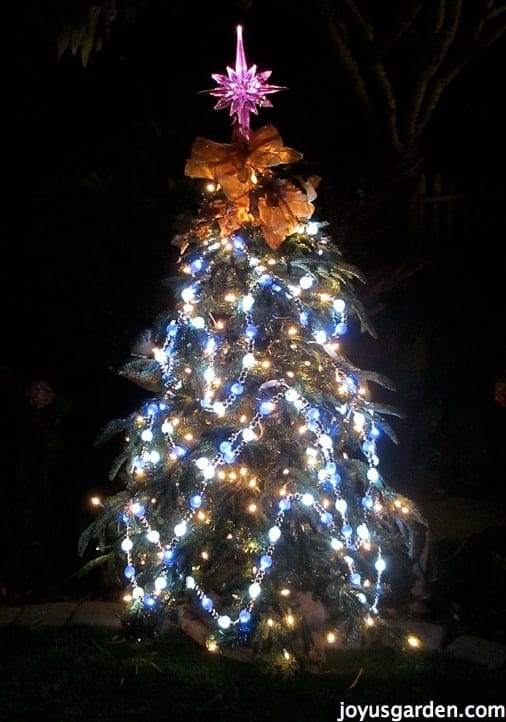 As 25th approaches, this quote always comes to mind:  "Santa is very jolly because he knows where all the bad girls live."  –  Dennis Miller
Be sure to check out our December posts here at Joy Us garden for more tips and ideas to make your holidays shine. Remember, you can never have too much fishing line and wire – they are truly a decorator's best friend.
Happy Decorating!

If you like making Christmas ornaments, then be sure to check out our 2 books:
Mother Nature Inspired Christmas Ornaments
Ornaments To Make Your Christmas Sparkle
This post may contain Amazon affiliate links. You can read our policies here. Your cost for the products will be no higher but Joy Us garden receives a small commission. Thank you for helping us spread the word & make the world a more beautiful place!