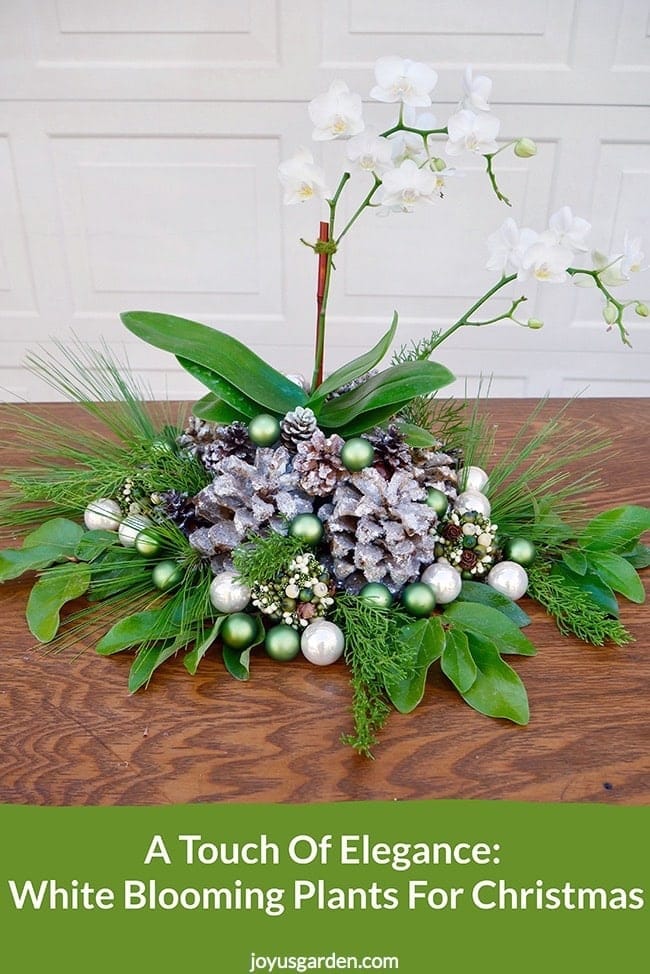 The holidays call for decorations to fill us with cheer and festivity during this season. Is there a better way to add beauty to your home other than with flowers? We think not! There are lots of flowering plants in all colors which are available during the holidays. Today we'll focus on white blooming plants for Christmas for those of you who like decorating in a more elegant way.
HYDRANGEA
Hydrangea flowers look like a flower bouquet perfectly arranged; always full and dense. Pictured here is the Shooting Star Hydrangea. The unconventional way it blooms reminds us of a clear, starry night.
You want to keep these plants on the moist side so don't let them dry out. They like a nice bright exposure but keep them out of direct sun and away from any heaters.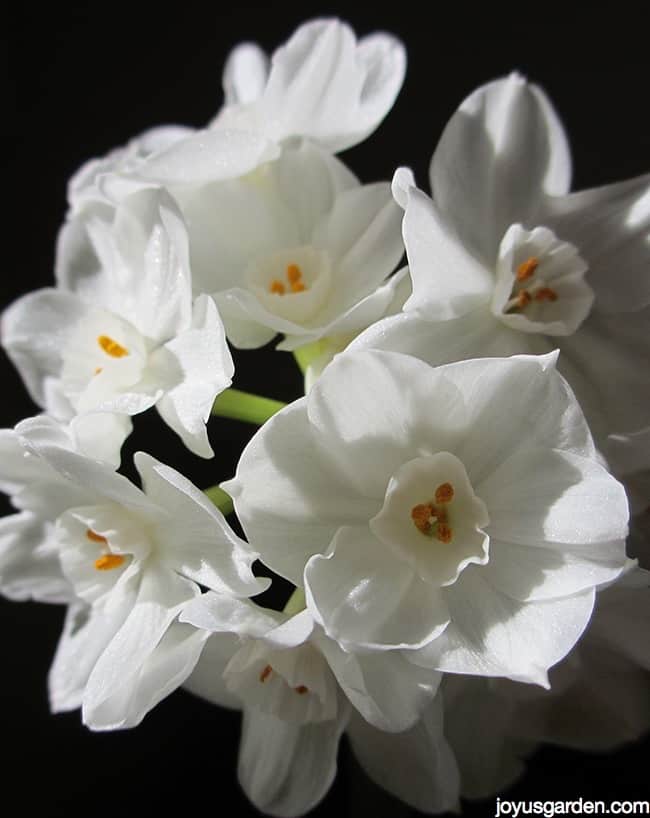 PAPERWHITE NARCISSUS
Doesn't it look like these flowers have their own inner sparkle? Just look at the petals up close and you'll see what I mean. These beauties are perfect to compliment a modern, clean festive look.
Paperwhites are easy to grow indoors in water and it's a fun project to do with kids. The narcissus would like to get in on the holiday cheer action so put a little alcohol (vodka is best) in the water when the leaves are about 3″ out of the bulb. This helps to keep the stems shorter as they can flop as they grow taller. These need a bright location to do well.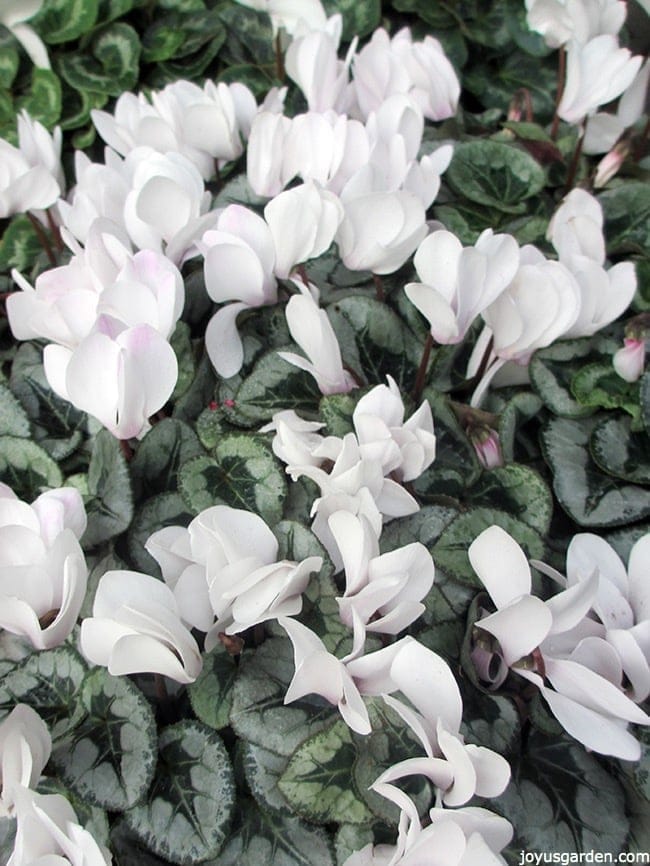 CYCLAMEN
Cyclamen flowers, which remind us of candle flames, tend to open slowly. The foliage is so lovely and interesting and varies from variety to variety. The miniature Cyclamens have a wonderful sweet scent so pick up a few of those if you can find them.
Cyclamens don't like heat so keep them out of any hot locations and be sure to keep them evenly moist. The foliage grows very densely so you might want to thin a bit of it out so the flowers forming at the base can easily emerge.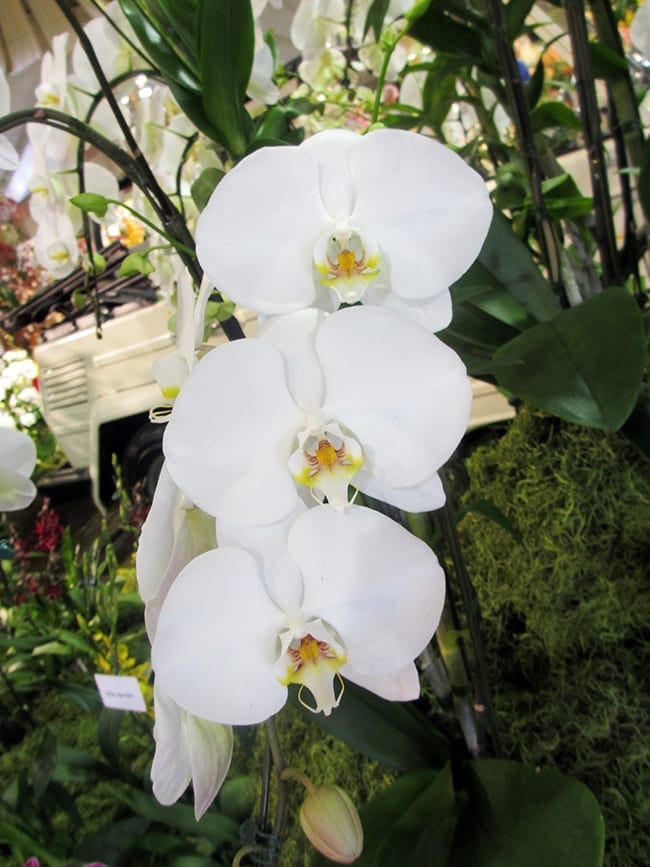 PHALAENOPSIS ORCHID
If you want to add class and elegance to your then Phalaenopsis Orchids are the plants for you. These plants are a lovely choice as their flowers grow on tall, graceful stalks and are very long lasting.
Nell has done a post on how to care for them which you can check out here.
Cymbidium Orchids are another choice but they can be hard to find.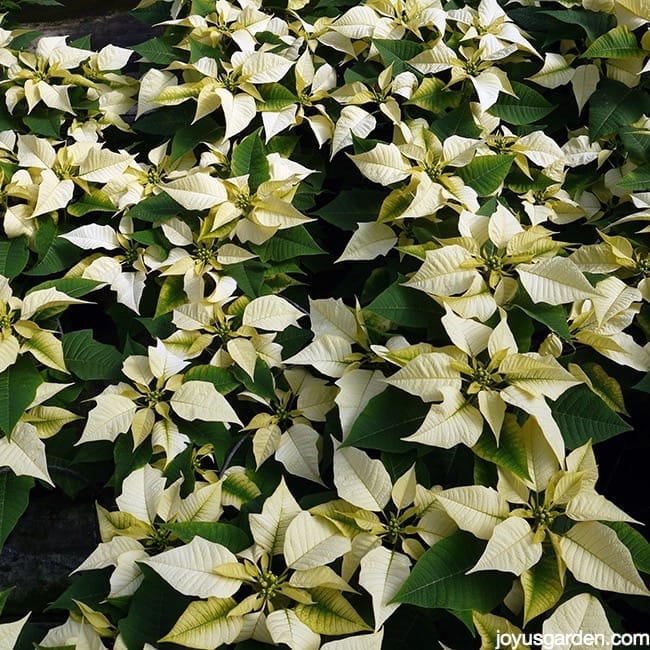 POINSETTIA
Poinsettias are the most popular blooming Christmas plant. And, I bet when you hear the word Poinsettia you immediately think of red. There are actually many different varieties of white Poinsettias on the market now. We love them because they're a sweet reminder of the Star Of Bethlehem.
These plants are actually succulents so here's what you need to know about Poinsettias to keep them looking good during the holiday season.

CHRISTMAS CACTUS
The flowers of this plant seem to hang just like ornaments from the Christmas tree. During the holidays you'll be able to find this plant almost everywhere.
Many sold on the market are actually Thanksgiving Cactus but you care for both in exactly the same way. These are succulents also and care tips can be found in this video.
The flowers emerge from the tip of every leaf and the plant gets covered in blooms. Christmas Cactus are long-lasting houseplants and will flower again for you next year if you take good care of it and do this trick to encourage your Christmas Cactus to rebloom.
AMARYLLIS
These tall and graceful trumpet shaped flowers are sure to be a conversation starter because of their striking look. Like Poinsettias, they are mostly sold in red around the holidays but come in a variety of different colors.
The one you see pictured has a slight blush of pink. They're actually easy to grow and care for so be sure to give one a try.

KALANCHOE
Kalanchoes, when fully open, have masses of blooms which cover the plants. They really put on a show and their glossy foliage is appealing as well. Because they're succulents, they can handle the winter dry air in our homes.
Kalanchoes are easy to care for and long lasting if your home temps aren't too hot. Actually, it's good to know that heat will shorten the flowering time of any blooming plant.
White flowers seem to add a glow on a dark winter's day. On a candlelight dinner table they shine right alongside the candles. Other white holiday flowers you might be able to find include: Rieger begonias (also called winter begonias), azaleas, anthuriums and mini-roses.
Happy Holidays!
Nell & Lucy
P.S. Are you looking for a way to dress up a single blooming plant? This video will show you how to turn it into a table decoration:
Here are additional ideas to get you in a festive mood:

This post may contain affiliate links. You can read our policies here. Your cost for the products will be no higher but Joy Us garden receives a small commission. Thank you for helping us spread the word & make the world a more beautiful place!