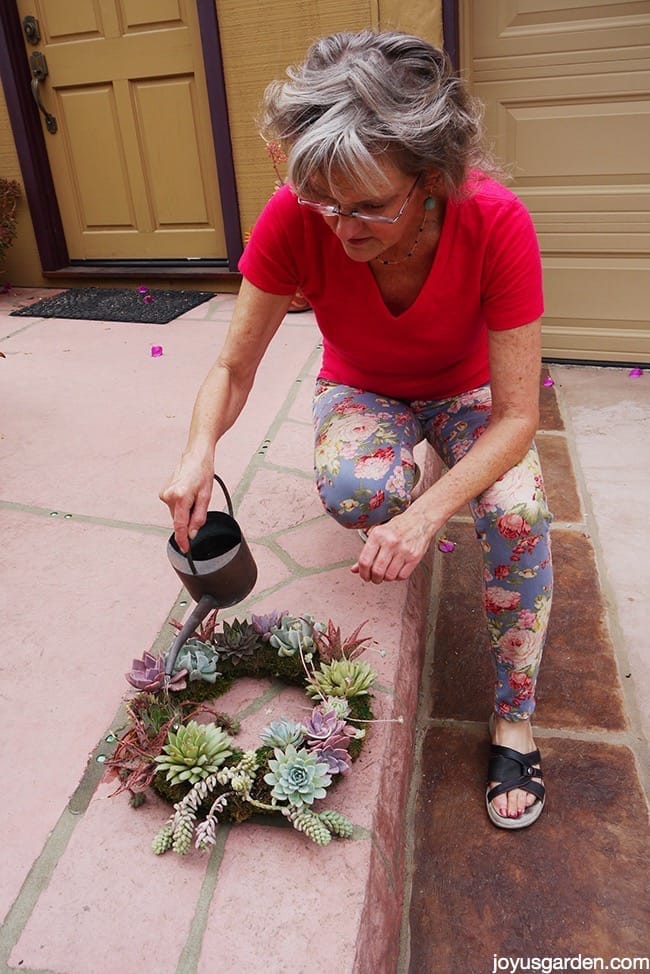 I'm a practical girl. If I put the time, effort and money into making something then I want it to last for as long as possible. Last week I did a tutorial on how to make a living succulent wreath. Today I want to share with you how to take care of that succulent wreath outdoors to keep it alive, healthy and looking good for the long haul. The bottom line is: you don't want to be redoing your living masterpiece every month!
Before I get started in with the tips, I want to make sure that you know to keep your wreath laying flat for at least 1-2 months after making it so that the roots can settle in, grow and start to bind the soil. The last thing that you want is to hang the wreath right after making it and have it fall apart. Succulents are very resilient but no need to put them through that abuse not to mention that you'll be making the wreath for a second time.
I'm sitting on my front steps with the wreath talking succulent wreath care:
Here are the 5 things you need to know to keep your outdoor succulent wreath alive and looking good:
1- Exposure.
Bright light is best with little or no direct sun. A bit of direct morning sun is fine but avoid hanging your wreath in any spots with hot, strong sun. Those fleshy succulents will burn and the roots will dry out way too fast. What'll make it last even longer is to have it under some kind of cover. This will protect it from any hard rains or strong winds which could whip it apart. My front porch is completely covered and only gets about an hour of direct morning sun (although it's very bright all day long) so it's an ideal place to hang a living wreath.
2- Watering.
Depending on the temperatures & the exposure, a good watering once every 1-3 weeks will be fine. Some of the forms are quite shallow & can't hold a lot of soil so you may have to water your wreath more often than you would your succulents in pots. Take the wreath down, lay it flat & water it thoroughly. You can do this with a narrow spouted watering can, by misting with a spray bottle or with a gental flow from the garden hose. Let the water all drain out before hanging it back up.
3-Feeding.
Your wreath would enjoy some yearly nourishment because it's not growing in a lot of soil. Once in the spring is fine but if you think it needs another feeding, then go ahead & do it in late summer. You can use an organic balanced liquid fertilizer, sea kelp, fish emulsion or a manure tea. Be intentional with this & make sure the roots get the fertilizer because that's where it's needed most.
4- Pests.
The healthier plants are, the better they will resist a visit from unwanted pests. My succulents occasionally get mealy bug down in the nodes or orange aphids on the tender new growth, both of which I gently spray off with the garden hose. This may be harder to do with a wreath because you don't want to blast off the moss & the soil. You can try using a spray bottle with water or a mixture of rubbing alcohol & water (1 part to 8 parts) & use that as a treatment.
5- First Aid.
The moss may eventually wear away or come apart so a bit of repair will be in order. Simply take pieces of moss, cover the exposed soil & secure with greening pins. Think of it as a moss band-aid!
The maintenance is relatively simple on these wreaths and you may need to clip out an occasional dead leaf every now and then. If any of the succulents start to crowd and outgrow each other over time, then you can prune them out, let the stems heal over and replant. Think of it as the wreath which keeps on giving!
Happy gardening,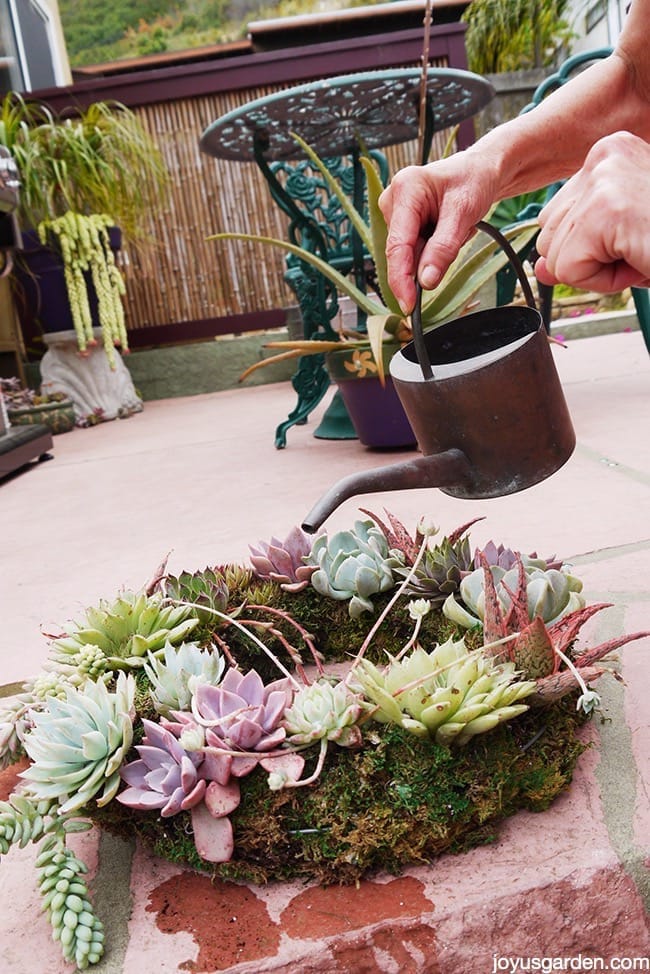 YOU MAY ALSO ENJOY:
How Much Sun Do Succulents Need?
How Often Should You Water Succulents? 
Succulent and Cactus Soil Mix for Pots
How to Transplant Succulents into Pots
Aloe Vera 101: A Round Up of Aloe Vera Plant Care Guides
This post may contain affiliate links. You can read our policies here. Your cost for the products will be no higher but Joy Us garden receives a small commission. Thank you for helping us spread the word & make the world a more beautiful place!