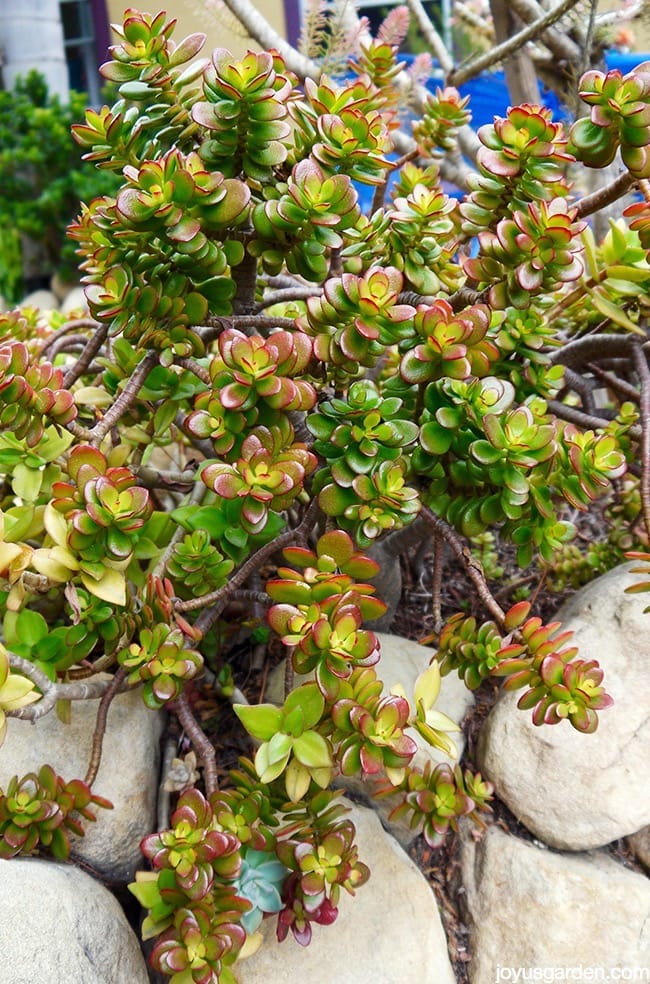 Oh Jade Plants, some people love you and some people don't. Simply put, you're just one of those plants that everyone seems to have an opinion on. Regardless of how the masses feel, this is 1 of the easiest care plants, in the garden or in the house, out there.
There are many species and varieties of Jades. I have 4 of them in my Santa Barbara garden which you'll see below and in the video. In this post I'll be referring to Crassula ovata which is the 1 commonly sold in both the landscape and houseplant trades.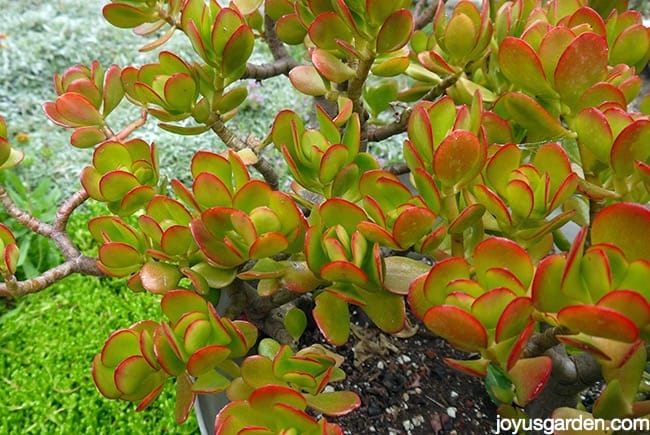 This is my Crassula ovata which sits in a large pot in my back yard. It came from 2 huge cuttings which looked 1/2 dead. They have since settled in & perked right back up.
Except for a little bit of difference in the amount of light they'll take, you care for them all the same.
Jade Plant Care
Light
In the garden, full sun is fine as long as it's not all day, hot sun. Like all fleshy succulents, the leaves and stems are full of water & they'll burn. Here in coastal Santa Barbara they do great in a sunny garden but wouldn't fare so well in Palm Springs.
As a houseplant, Jade Plants need as much sun as you can give them, at least 6 hours. They aren't suited for low light conditions. We had a large one, 3′ x 3′, in our greenhouse in Connecticut but the glass had protective coating. The irony now is that we that it was such an exotic rarity to have a Jade that size but out here in California you see them as 6′ hedges!
By the way, your indoor Jade would love to spend the summer outdoors. Just be mindful of the sun & heat & don't forget to hose the plant down before bringing it back in to keep unwanted critters from hitchhiking in.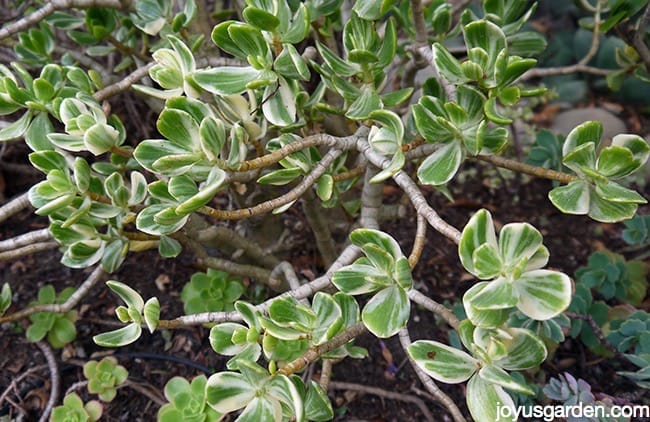 My Crassula argentea (ovata) variegata, or Variegated Jade, grows in almost full shade. In the garden, this 1 needs protection from the sun.
Size
Here in Southern California they can reach 9′ tall but are most commonly seen at 3-4′ height range.
As a houseplant, they're generally sold in 4, 6 & 8″ pots maxing out at about 1′. The largest Jade Plant I've seen indoors was the 1 in our greenhouse, but then again it spent those cold, snowy winters in a greenhouse.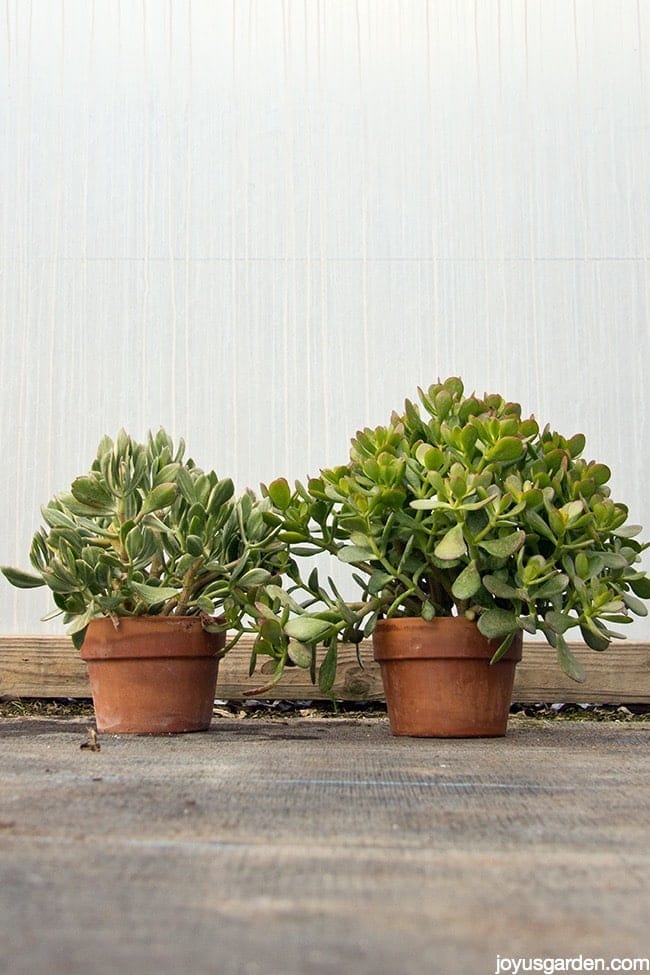 These are greenhouse grown Jade Plants to be sold in the houseplant trade.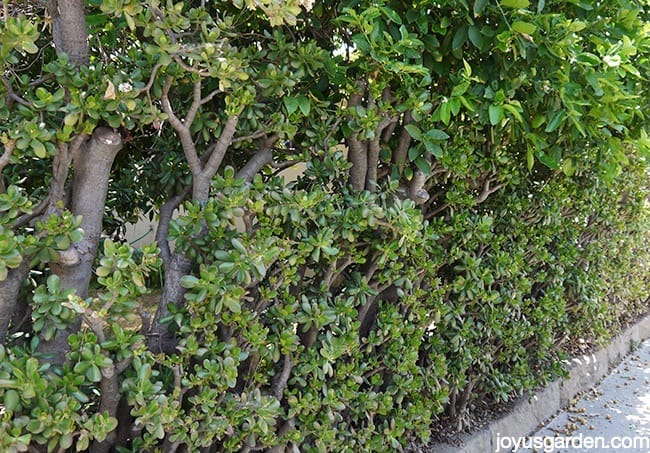 Yes, Jade Plants really are hedges here in Southern California! This 1 has a lemon tree growing through it.
Water
My garden is on drip & the Jades get watered every 8 to 14 days in the warmer months. And that's how often I water the ones in containers, maybe even a bit more often depending on how hot it is & the amount of sun. We're right by the ocean so sometimes the sun doesn't make an appearance until 11.
Indoors, you want to thoroughly water your Jade Plant no more than every 2-3 weeks in the warmer months. Once a month is enough in the winter months. I've done a post, Houseplant Watering 101, which gives you more specifics & talks about the variances on this subject. And, these plants are great for frequent travelers because they don't need to be babied!
Be sure to watch the video to get more tips & see all my Jades:

Soil
In my garden, I added sandy loam into the beds to make sure the water drains on through. Jade Plants, like all their succulent buddies, need excellent drainage. I use succulent & cactus mix for all my succulent container plantings. You can use potting soil but it holds more moisture & needs to be watered less often so go easier on the liquid love.
Fertilizer
They only require a feeding once a year. I use worm castings for mine in the garden & in containers.
Indoors, you can use a houseplant fertilizer like Organics RX Indoor Plant Food in mid-spring. Don't over fertilize – they contain salts which build up in the soil & will ultimately burn the plant.
Pruning
Not much is needed except to shape as desired, to control the size or to propagate. I rarely prune any of my Jade Plants but will take cuttings for craft projects & videos.
Propagation
The big Jade in the pot in my back yard came from 2 big, hunky cuttings (about 2′ each) that I got in San Diego. Both were shriveled & looked 1/2 dead when I planted them but perked back up in no time. You can check out my vlog on propagating succulents for the detailed how to on this fun subject.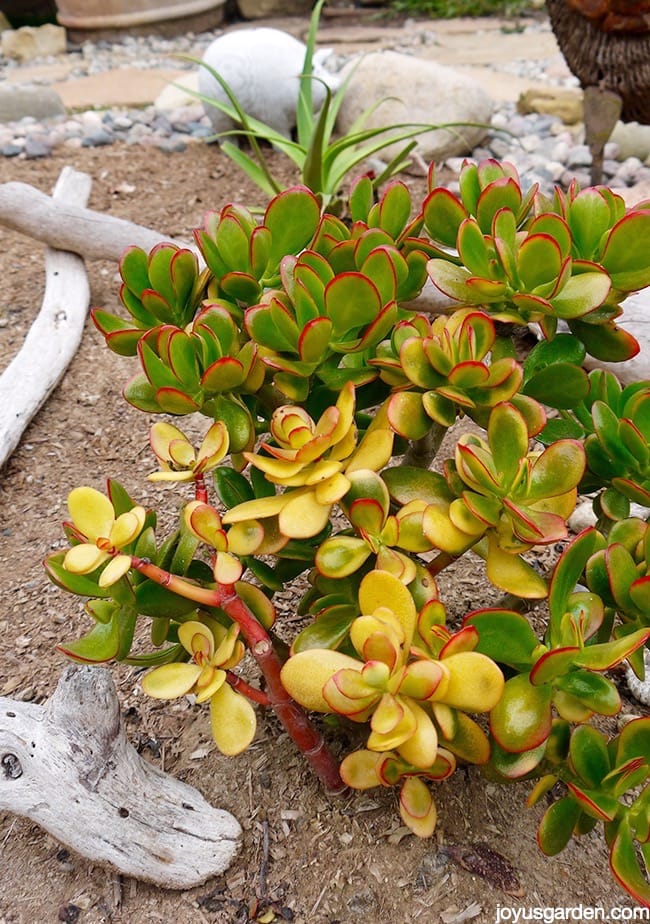 This is my Crassula argentea Sunset, or Golden or Sunset Jade. As you can see, a good portion of it is reverting to green.
Pests
My Jade Plants in the garden have never gotten any.
As houseplants, they are very subject to mealy bugs. A cotton swab dipped in rubbing alcohol & then applied to the white, cottony critters will do the trick. I go much more into detail about pests in my book Keep Your Houseplants Alive.
Transplant a Jade Plant
They don't need it very often, maybe every 3-5 years. Just be warned, as Jade Plants grow taller & wider they get very top heavy & will need a bigger base to keep them from falling over. Older Jade Plants are heavy!
Flowers
In the winter & early spring Jade Plants flower like crazy here. They get covered in white blossoms – our version of snow!
Indoors, it's not as common to see 1 flowering.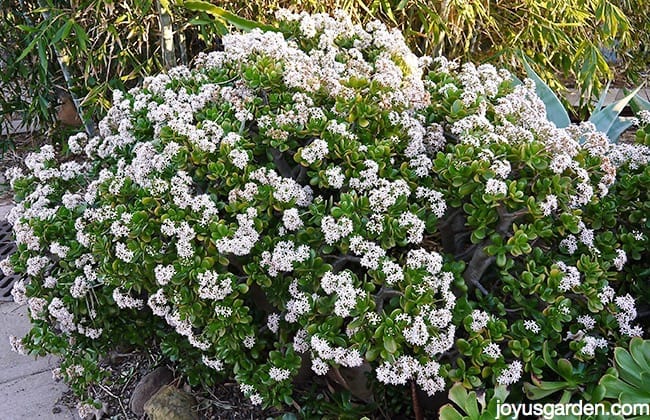 This pic was taken here in Santa Barbara in late Dec. – lots of starry white blooms.
I happen to like Jade Plants, all of them. I don't have to do much of anything to any of mine. If you have plenty light, are light handed with the water and want an easy care, fleshy leaved companion, then this plant is for you. So, are you a fan of Jade Plants or not???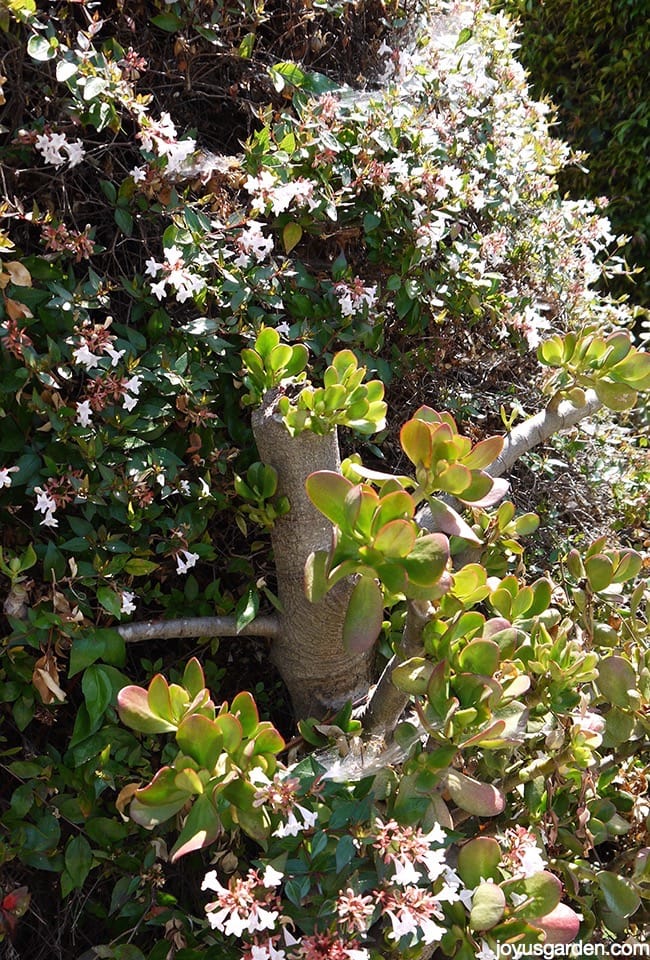 I'm throwing this in just for fun – this is what happens when you decapitate a Jade Plant!
Happy Gardening,

YOU MAY ALSO ENJOY:
This post may contain affiliate links. You can read our policies here. Your cost for the products will be no higher but Joy Us garden receives a small commission. Thank you for helping us spread the word & make the world a more beautiful place!
About the Author
Latest Posts
Nell, the founder of Joy Us garden, was born into a gardening family and grew up in Connecticut's countryside. After living in Boston, New York, San Francisco, & Santa Barbara, she now calls the Arizona desert home. She studied horticulture & garden design, working in the field all her life. Nell is a gardener, designer, blogger, Youtube creator, & author. She's been gardening for a very long time & wants to share what she's learned with you.