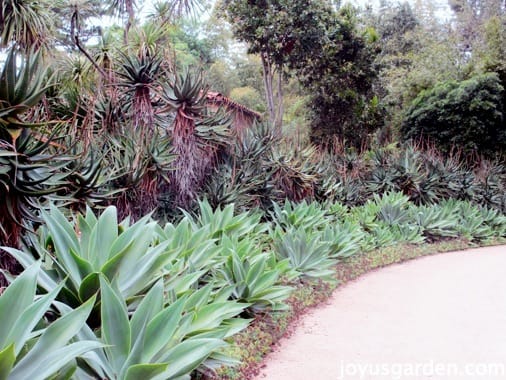 I'm going to share a couple of stories which our docent told when I visited Lotusland last May on a foggy morning. We'll start with the magnificent Cycad Garden. Cycads are prehistoric plants and winding through the paths gives you a feeling you're touring through Jurassic Park.
Cycad Garden
Madame Ganna Walska spent a small fortune on the plants in this garden. Cycads are very slow growing and here you'll find many specimens and rarities. She actually sold the last of her jewelry to finance this horticultural project. It is one of the most remarkable and exceptional collections of Cycads in the world.
The Dracaena Dracos
These Dragon Trees right off the driveway circle are so large and so thick that when walking through them you think you've entered into a forest. The plant (both the leaves and the trunk) secretes a red resin-like goo that has been likened to dragon's blood – hence the name.
Madame had a faithful chauffer who dutifully stopped whenever they were out and about and she spotted a mature Dragon Tree in someone's yard. She gave him a $100 bill and up he went to the front door to offer the cash to the homeowner in exchange for the plant.
And that is how her magnificent collection of Dracos, all approximately the same size, came to be. I love their twisted limbs.
Tropical Garden
You'll see some of Madame's collection of Epiphyllum, those wacky epiphytic cacti, in this garden. Some of them were blooming.
Wow – That's Some Platycerium
Examples Of The Repetition Madame Used Throughout Lotusland
Madame Practiced Reuse & Repurposing
These beautiful chunks of turquoise glass that line these paths actually came from a bottled water company in Los Angeles. That was back in the day when water came in glass bottles …
Our Lotusland Tour Continues!
Lotusland Tour: Japanese Garden, Aloe Vera, and More!
Lotusland Tour: Bromeliads, Cacti, and Euphorbia Gardens
You can learn more about visiting Ganna Walska Lotusland here.