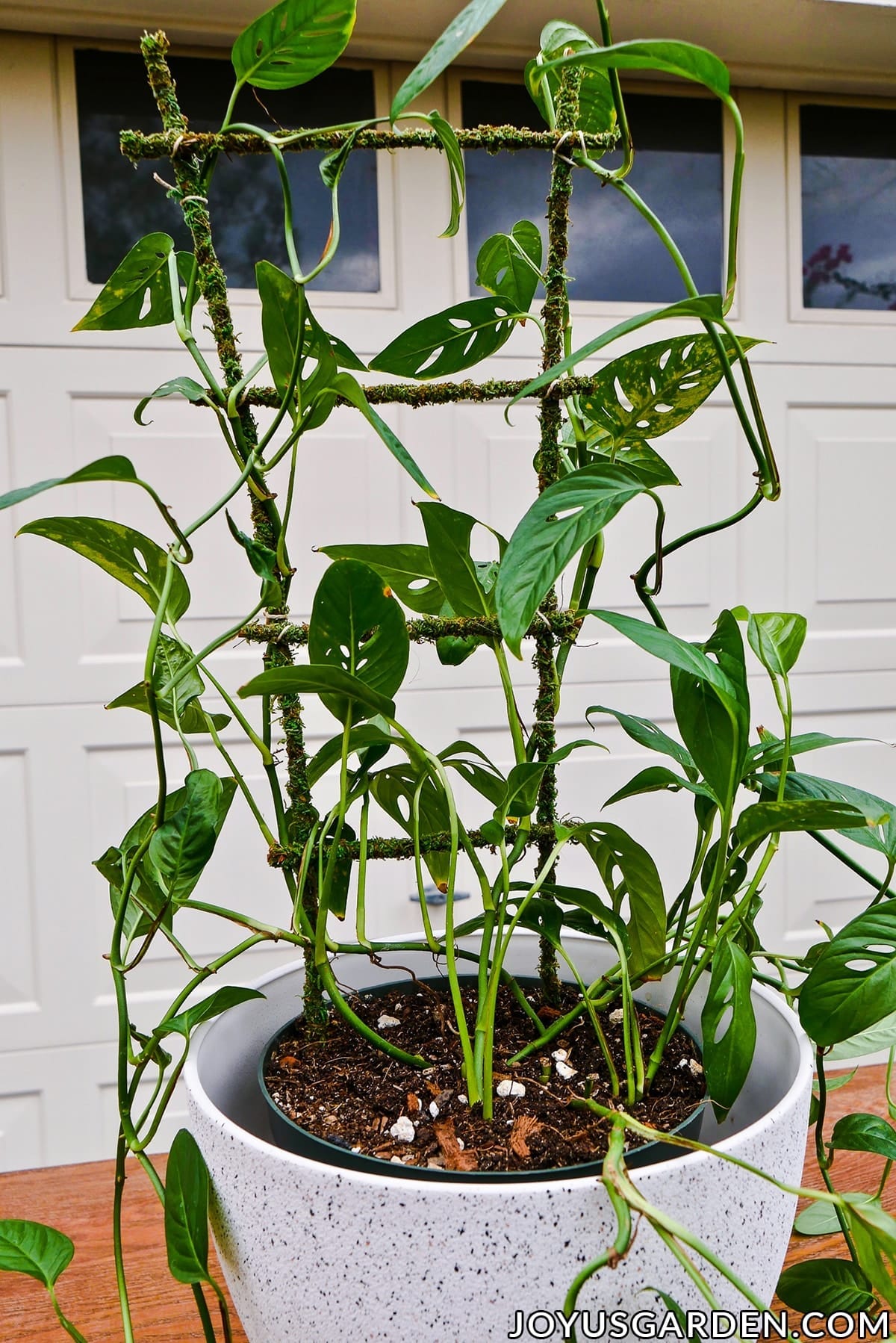 The Swiss Cheese Vine's a popular houseplant. Monstera adansonii care is easy & here I share growing tips to keep yours healthy & looking great.
The Monstera adansonii is enjoying its time in the spotlight these days. This popular indoor plant is commonly called Swiss Cheese Vine as well as Five Holes Plant and Adanson's Monstera. This is all about Monstera adansonii care so you can keep your lacy vine healthy, growing, and looking good.
Monstera Adansonii Details
What's fun about this plant is that it be left to trail, trained to climb, or both like mine. When growing in its natural environment, a Monstera adansonii climbs trees and grows along the ground. That's what the aerial roots make are for (they make propagating this plant a snap!) and you can see a photo of them towards the end of this post.
Size
I've seen these plants sold in 4″, 6″, and 8″ pots. Indoors they climb and/or trail to 10-15′. When growing outdoors, they can climb and trail to 50′.
The leaves of mine are small now, but as it ages, the leaves get bigger. In nature, the leaves of a mature plant are quite substantial.
Growth Rate
The Swiss Cheese Vine grows fast. I repotted mine on May 13 and 4 months later it already needs a taller trellis.
Uses
This is a tabletop or hanging plant. As yours grows and with support, it can become a floor plant. I'll eventually put mine in a plant stand.
Some Of Our General Houseplant Guides For Your Reference:
RELATED: Here's my updated routine for Fertilizing Indoor Plants.
---
Key points regarding Monstera adansonii care:
Monstera Adansonii Care & Growing Tips
Light/Exposure
They prefer and do best in bright, natural light—what I would call a moderate exposure. Near but not in a window is good. They'll tolerate low light but you'll see little if any growth and the plant will become very spindly.
Monstera adansoniis are epiphytic (technically hemiepiphytic) just like Pothos, Arrowhead Vines, and Monstera deliciosas. They grow under the cover of other plants in their native environments. If the light is too strong (like a hot, west exposure close to a window) it'll cause the leaves to scorch which shows up as brown marks. Dappled or filtered sunlight is fine.
Mine grows one foot away from a tall, narrow, east-facing window in my living room. A Bougainvillea and Pink Grapefruit Tree growing outside filter the strong Sonoran Desert sunlight coming through.
Rotate your plant if need be so the light hits it on both sides. I give mine a 180 turn every one or two months.
You may have to move yours to a brighter spot as the light changes in the winter months.
RELATED: Winter Houseplant Care
Watering
I water my 8″ Monstera adansonii when the soil mix is 1/2 – 3/4 of the way dry. That tends to be every 7 – 9 days in the warmer months and every 14 – 20 days when winter comes around.
Keep your Monstera not too wet, and not too dry. Yours might need to be watered more or less frequently than mine depending on the pot size, type of soil it's planted in, the location where it's growing, and your home's environment.
This guide to Watering Indoor Plants will shed some light on this subject.
2 things: don't water yours too often (this will lead to root rot and the plant will eventually die) and back off on the watering frequency in the winter.
Temperature
If your home is comfortable for you, it'll be so for your houseplants too. This Monstera prefers it on the warmer side in the growing months and cooler in the winter when it's their rest time.
Just be sure to keep it away from any cold drafts as well as air conditioning or heating vents.
Humidity
Like all tropical plants, the Monstera adansonii loves it. They're native to tropical jungle regions but do fine in our homes nonetheless.
If the leaves of yours are showing tiny brown tips, that's a reaction to the dry air in our homes. I live in hot dry Tucson where the humidity averages about 25% and many of the leaves of my houseplants (including this one) have them.
I have a large, deep kitchen sink with a faucet water filter. Every other time I water mine I take it to the sink, spray the foliage and leave it in there for an hour or so to temporarily up the ante on the humidity factor. Plus, it keeps the dust from building up on the foliage which can hinder the foliage breathing process.
I have a few diffusers sitting on tables which I run for 4-8 hours a day. This seems to help a bit here in the dry desert.
If yours look stressed and you think it's due to lack of humidity, fill the saucer with pebbles and water. Put the plant on the pebbles but make sure the drain holes and/or the bottom of the pot aren't submerged in water. That's what I do with some of my houseplants and this helps also.
Misting the plant a couple of times a week is another option.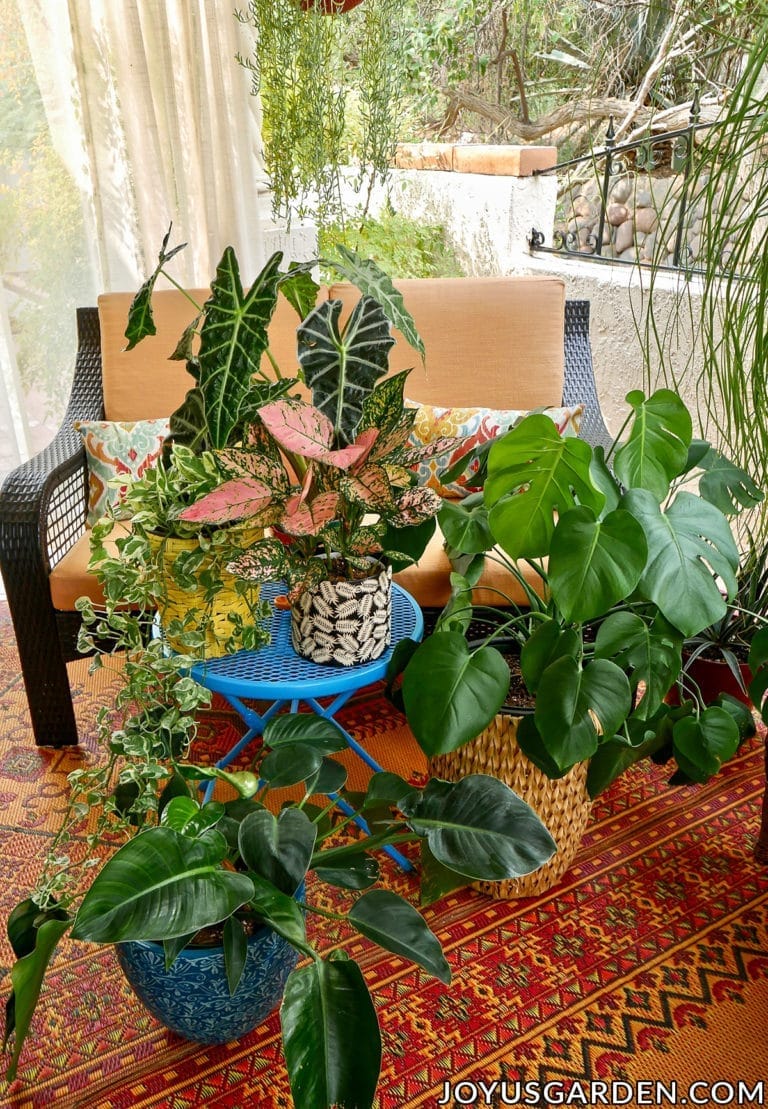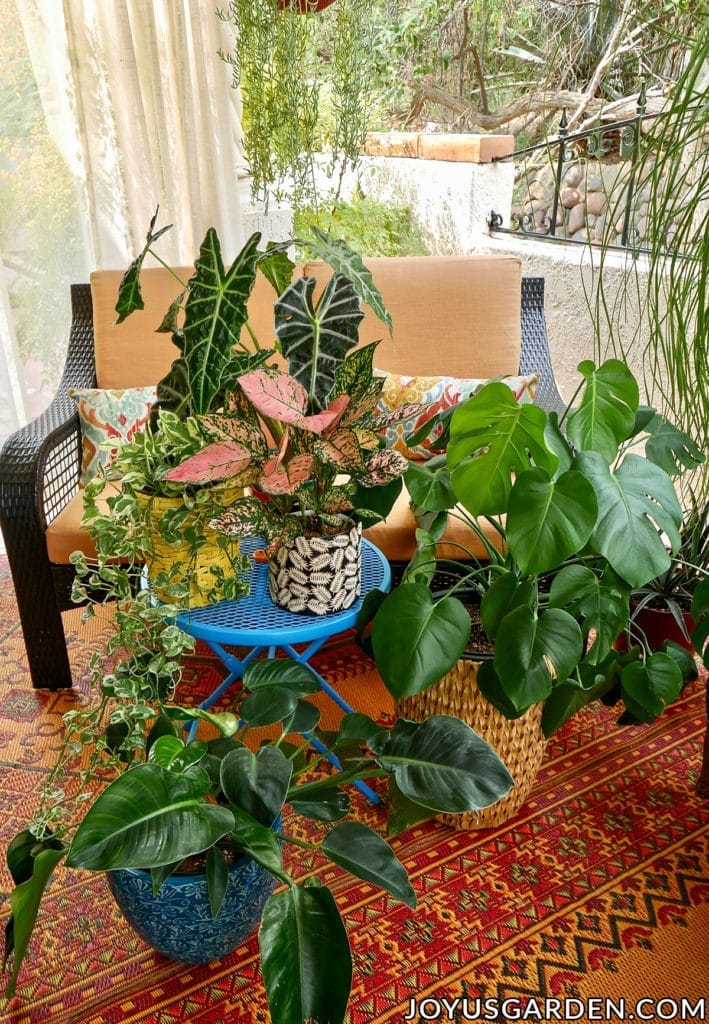 Fertilizing/Feeding
I give most of my houseplants a light application of worm compost with a light layer of compost over that every spring. Easy does it – a 1/4″ layer of each is plenty for smaller sized plants. I go up to a 1/2 – 1″ layer for larger pots. You can read about how I Worm Compost/Compost Feed right here.
My Monstera adansonii gets a watering with Eleanor's vf-11 2 – 3 times during the warmer months which is spring, summer, and early fall.
My friend in San Francisco swears by Maxsea Plant Food for her houseplants which has a formulation of 16-16-16. I've started using this 2-3 times during the season (at 1/2 strength) with applications spaced in between the Eleanor's. So far so good!
We have a long growing season here in Tucson and houseplants appreciate the nutrients these plant foods provide. Once or twice a year might do it for your plant.
Whatever houseplant food you use, don't over-fertilize your plant because salts build up and can burn the roots of the plant. This will show up as brown spots on the leaves.
Avoid fertilizing a houseplant that is stressed, ie. bone dry or soaking wet.
It's best to hold off feeding or fertilizing your Houseplants in late fall or winter because it's their time for rest.
Related: Here's my updated routine for Fertilizing Indoor Plants.
Soil/Repotting
Monstera adansoniis don't mind growing slightly pot bound. That being said, this plant is a vigorous and fast grower so you'll need to repot it every 2-3 years depending on how yours is growing.
I've done a post and video dedicated to Repotting A Monstera Adansonii which will give you the info you need.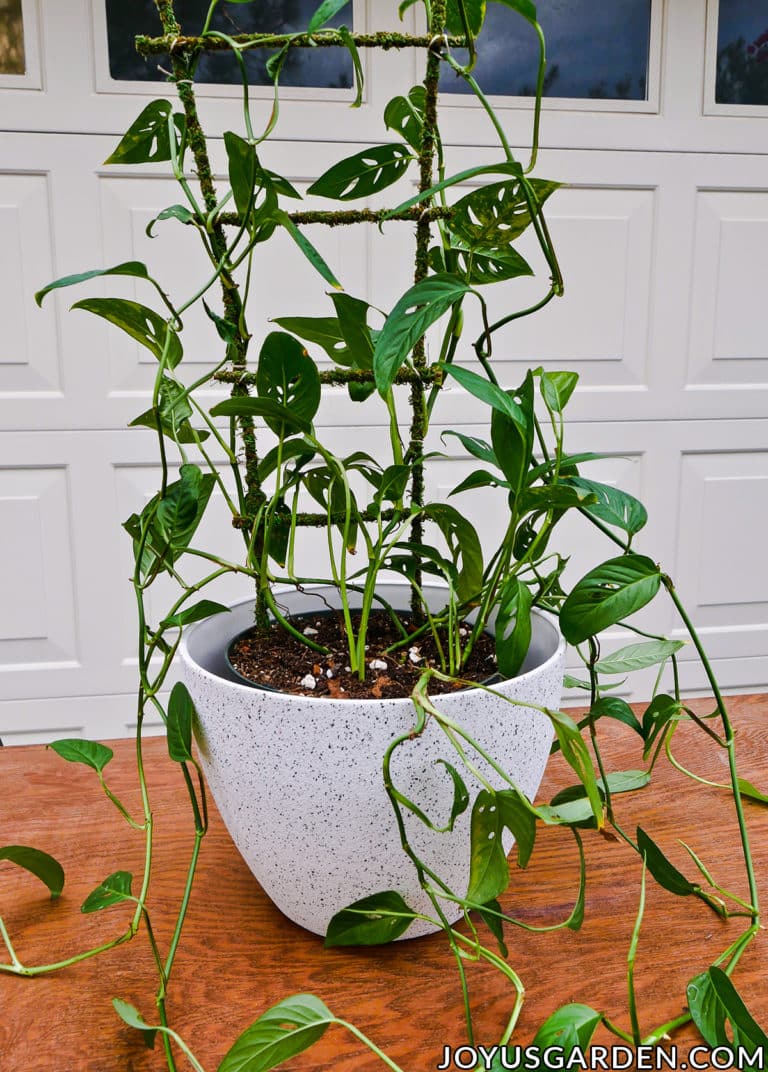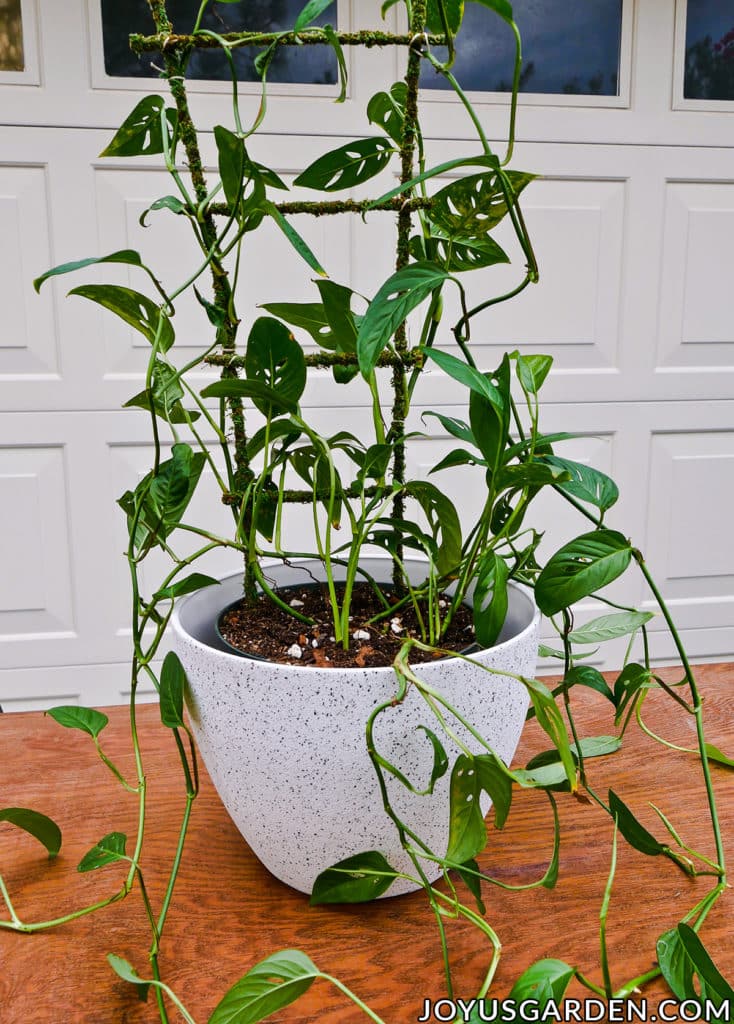 Training
I included this because you can train your plant to grow upwards if you don't want it to trail. Moss poles are the most common way to support a Swiss Cheese Vine but I wanted to do something different.
Here's how I Trained My Monstera Adansonii using a DIY moss trellis.
Pruning
You'll need to prune a Swiss Cheese Vine to train it, propagate it or control legginess.
Whether you tip prune or do more extensive pruning is up to you. I've already filmed a video showing how I pruned mine so the post with more details will be up in a month or 2.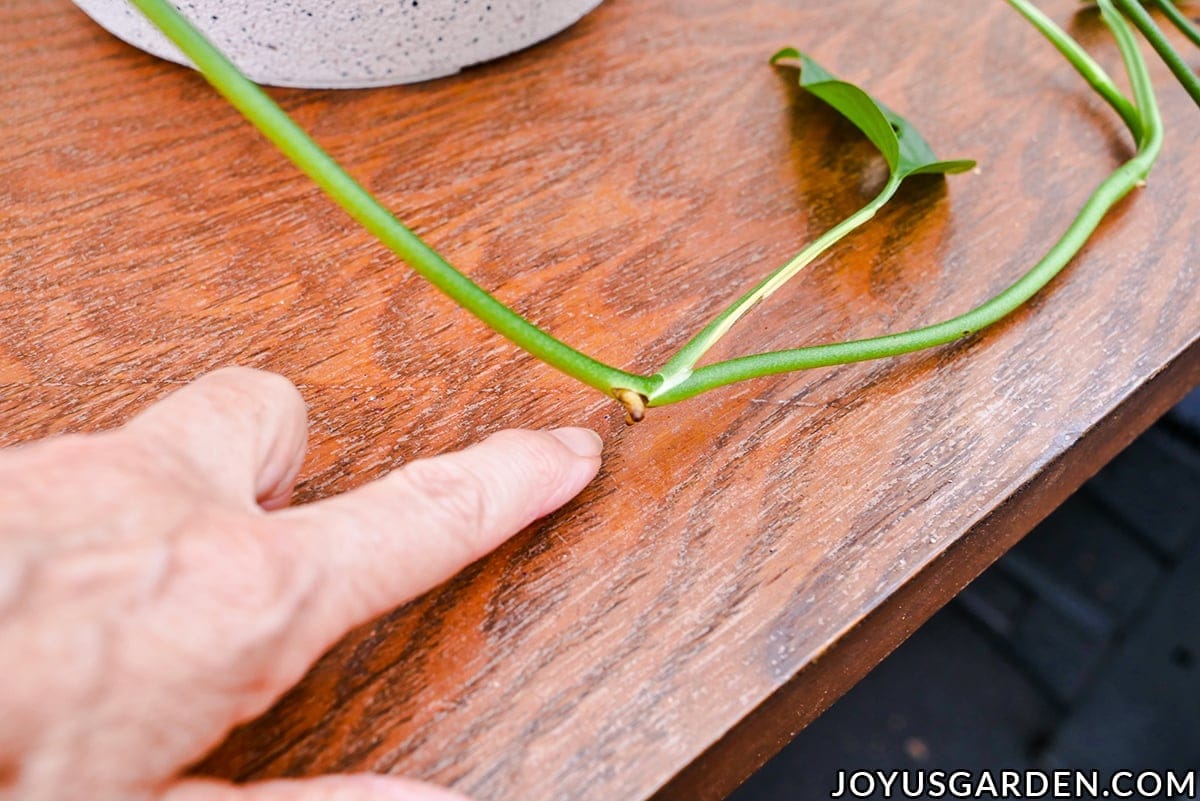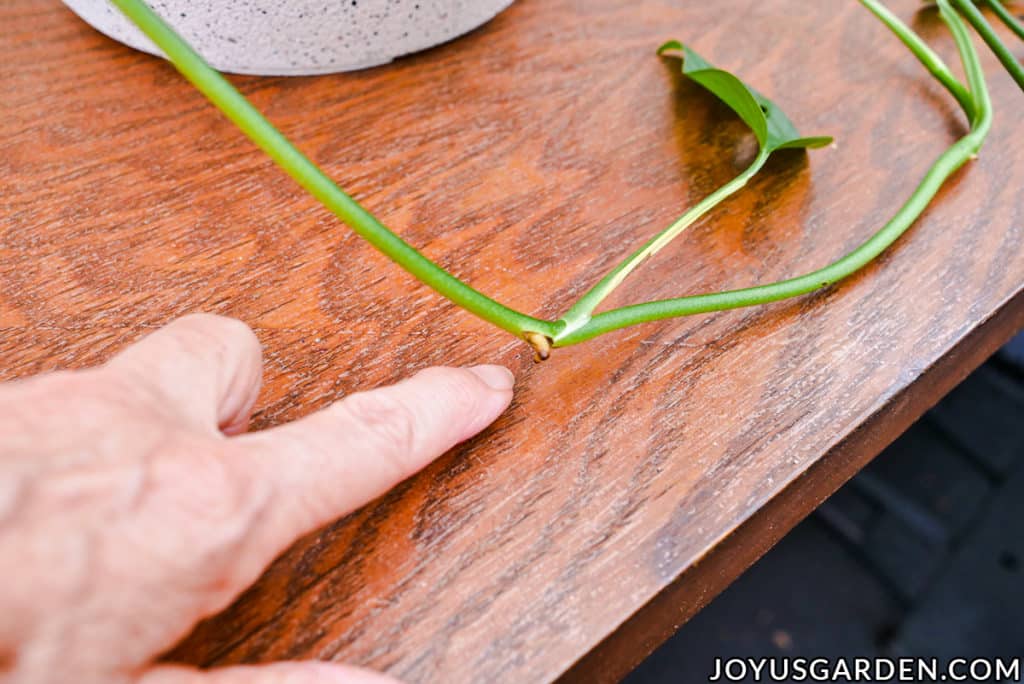 Propagating
This Monstera is a snap to propagate. You'll see nodes on the stems. In nature, those are the aerial roots used for anchoring their stems to other plants.
To propagate by stem cuttings, prune a stem right below a node and aerial root. Make sure your Pruners Are Clean & Sharp. They can then be put in water or a light mix to easily root.
I've already filmed the pruning of this plant and the stems are in water right now on their way to rooting. When they're ready to plant, I film that and the post will follow.
Another method of propagating a Monstera adansonii is by division.
Pests
My Monsteras have never gotten any pests (so far anyway!). They can be susceptible to Mealybugs, Scale, and Spider Mites so keep your eyes open for those. Pests tend to live inside where the leaf hits the stem and also underneath the leaves so check these areas from time to time.
It's best to take action as soon as you see any pest because they multiply like crazy. Pests can travel from houseplant to houseplant fast so make you get them under control pronto.
Pet Safety
The Monstera adansonii, like other plants in the Araceae family, is considered to be toxic to pets. I always check out the ASPCA website for my info on this subject and see in what way the plant is toxic. Even though the site says Swiss Cheese Plant, it applies to this Monstera also.
Most Houseplants Are Toxic To Pets in some way and I share my thoughts on this topic.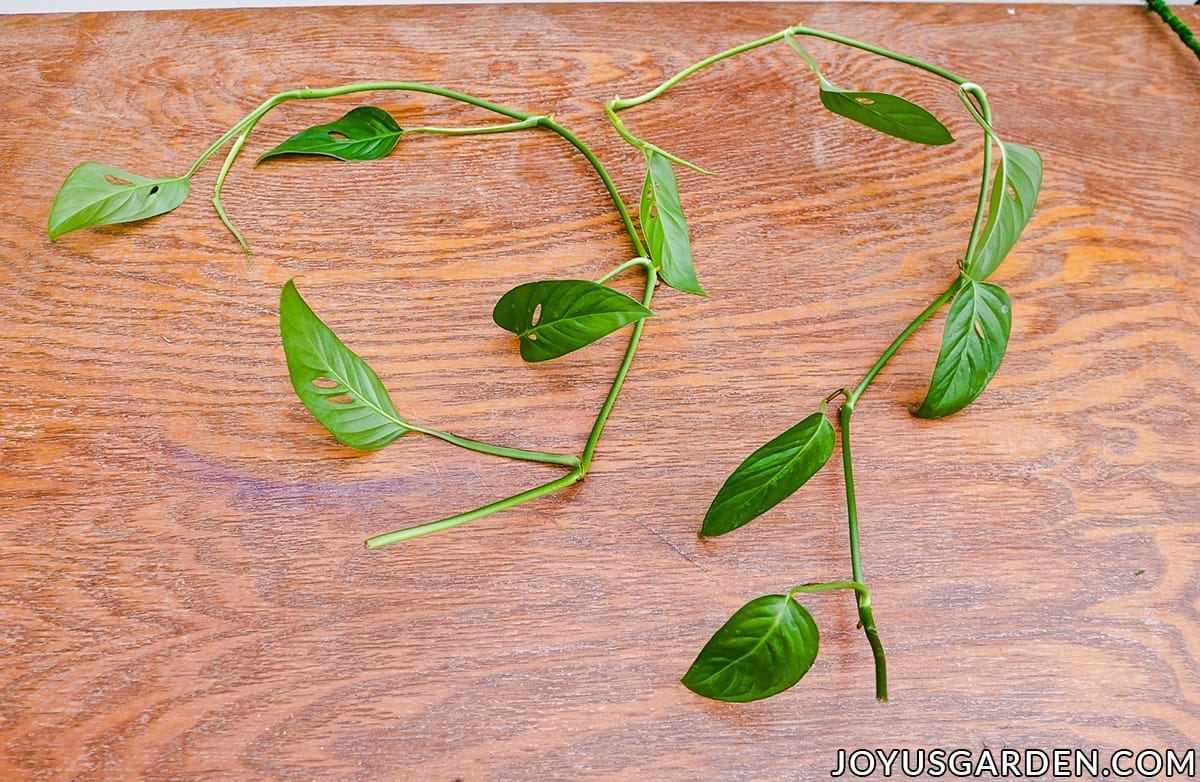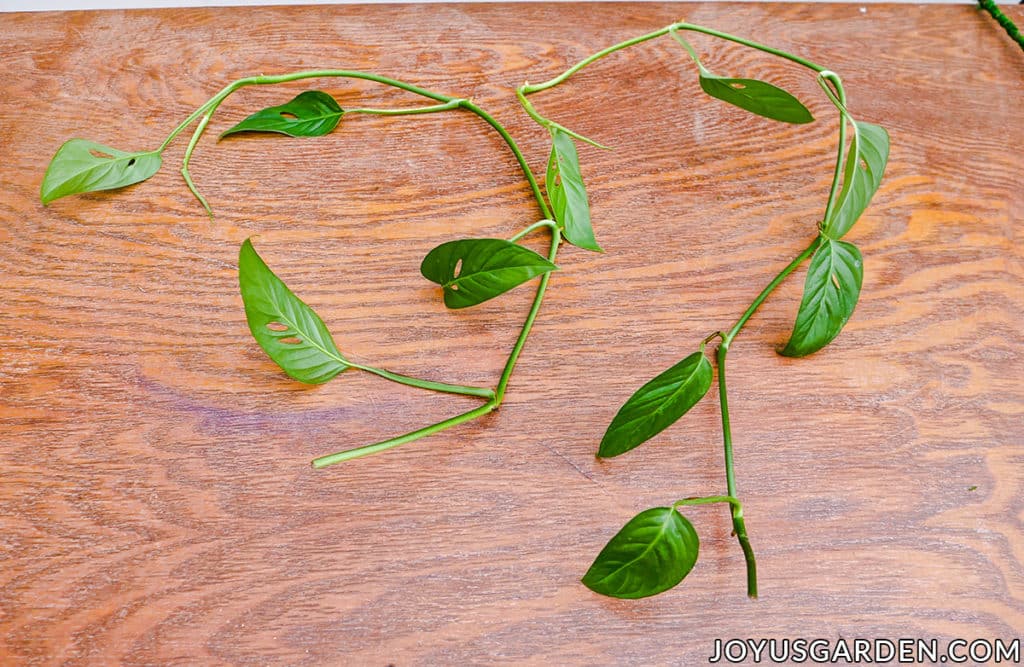 Monstera adansonii care FAQs
Why are the leaves on my Monstera Adansonii turning yellow?
First of all, if it's an occasional yellow leaf, don't worry. That's the natural growth habit of any plant.

It's hard to pinpoint the exact cause without knowing more details like pot size, soil type, watering schedule, and your home's environment. There are a few reasons for yellowing leaves: inconsistent watering (including too much or too little), too much fertilizing, light exposure (too much or too little), the soil mix is too heavy or lack of drainage.
Mine is leggy. How do you make a Monstera Adansonii fuller?
This is good to know in regards to Monstera adansonii care. These plants grow so fast that they can easily get leggy. You can tip prune the stems (anywhere from 1 – 4 leaf nodes down) on a regular basis to prevent this.

Or, you can do a more aggressive pruning as needed.
Should I stake my Monstera adansonii?
You can if you'd like. This plant is generally sold as a trailing plant but many people (like me!) train it to grow upwards.
Why do the leaves of my Monstera adansonii have brown tips? 
If yours has small brown tips, that's in reaction to dry air. If the tips are larger, that's usually a watering issue.
Does a Monstera adansonii like to be root-bound?
As I said, they don't mind growing slightly root-bound. This plant grows fast and so do the roots. When the roots become tight and wrap around each other, then it's definitely time to repot.
Monstera adansonii care is easy. However you train it (or don't!), this plant will be a fun addition to your houseplant collection.
Happy gardening,

Check out more of our helpful gardening guides!
This post may contain affiliate links. You can read our policies here. Your cost for the products will be no higher but Joy Us garden receives a small commission. Thank you for helping us spread the word & make the world a more beautiful place!