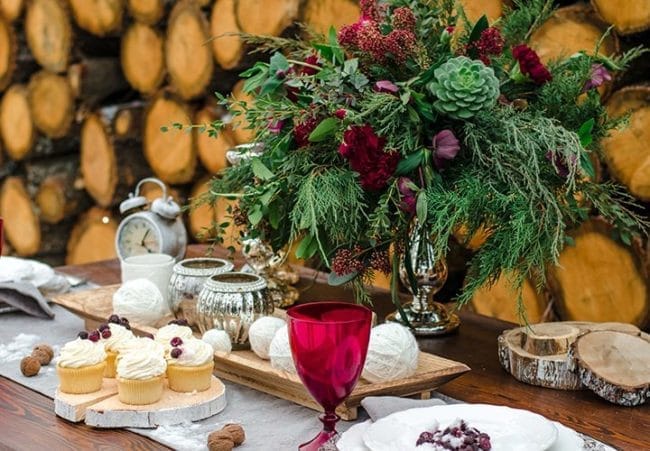 Create a memorable holiday table this year with a Christmas centerpiece that will make your table stand out. No matter what your personal style is, whether it's luxurious, modern or rustic, there are many ways to decorate your holiday table for your family to cherish.
To inspire your holiday table decor, FTD curated these seven gorgeous Christmas centerpiece ideas that will truly make your table sparkle with holiday joy. These centerpieces feature both classic flowers and plants like bold red roses and festive poinsettias, paired with exotic blooms like protea and lush dahlias. In addition, plants like snowberries, dusty miller, and silver brunia add just the right amount of wintry inspiration.
Photographed by: Agape House Studio | Floral design by: Johanna Terry Events | Linens and Decor by: Flora & Eventi
Exotic and Wild
Festive red roses, Antique Green hydrangea, copper-toned fall leaves, and hawthorn berries combine to create a rustic-inspired centerpiece. The combination of vintage-inspired hues and cascading plants like amaranth and willow leaves, make this Christmas centerpiece particularly luxurious.
Hydrangea –  Hydrangeas are popular in floral arrangements due to their large and lush flowerheads. There are five main types of hydrangeas, with the mophead hydrangea being the most popular. They are known for their ability to change colors depending on their soil's pH levels, with some varieties exhibiting up several colors at once. The Antique Green varietal featured here has earthy forest green colors combined with rich purple tips.
Leucadendron – Leucadendron is a shrub that originated in New Zealand. Their dark purple leaves are sturdy and long-lasting. They are one of the most popular types of protea in the world used as a cut flower.
Hawthorn Berry – Perfect for the holidays, hawthorn berries have a distinct bright red color reminiscent of those of holly berries.
Fall Leaves – Sometimes the best Christmas centerpiece ideas can be gathered from your own backyard. With colors ranging from rich purples to golden yellows and tinges of green, fall leaves are great for adding variety and texture.
Willow Leaves – Willow leaves are long and slender, which give them an elegant appearance. The leaves form along thin cascading branches that often touch the ground. There are over 400 species of willow trees, and they are also known as "weeping willows" due to their droopy appearance.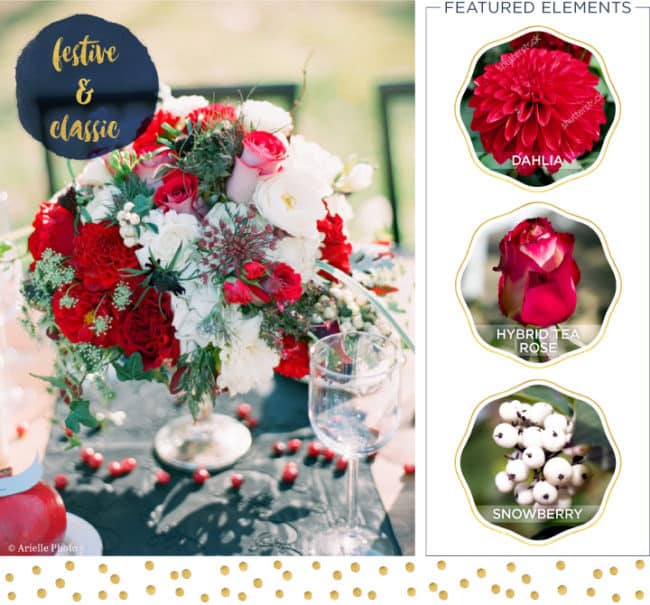 Photography by: Arielle Photo | Floral design by: Bouquet Studio
Festive and Classic
This festive centerpiece combines the classic colors of Christmas to create a lush and whimsical arrangement. Stunning Latin Lady roses, bright red dahlias, and white dahlias are combined with wintry snowberries accented with ornate Queen Anne's lace flower.
Queen Anne's Lace Flower – These delicate flowers grow wild throughout the United States and are related to the carrot. Their flowers are arranged in a lace-like pattern and are most commonly available in green and white. In addition, the unique "Chocolate" varietal is featured in this arrangement with its soft brown hues.
Hybrid Tea Rose – Part of the modern rose family, hybrid tea roses are known for their long stems and sturdy blooms which are large, well-formed and pointed. Here, the 'Latin Lady' rose is featured with its dual-toned red and white petals.
Snowberry – Snowberry bushes, also known as Symphoricarpos albus, bloom in the spring with tiny white flowers. In the fall, white berries appear in clusters and last into the winter.
Scabiosa pod – Scabiosa are plants that produce tiny flowers that form in a cluster. The scabiosa pod has been widely used throughout various stages of its life, from fully bloomed to the dried pod. Here 'Black Knight' scabiosa pods are used that are tightly closed and have not opened yet, creating unique star shaped elements.
Ivy – Ivy is popular in floral arrangements and bouquets due to their cascading vines. Many varietals of ivy leaves have variegated lines on the leaves that have a very decorative quality. The lines become more pronounced as the plant is exposed to bright light.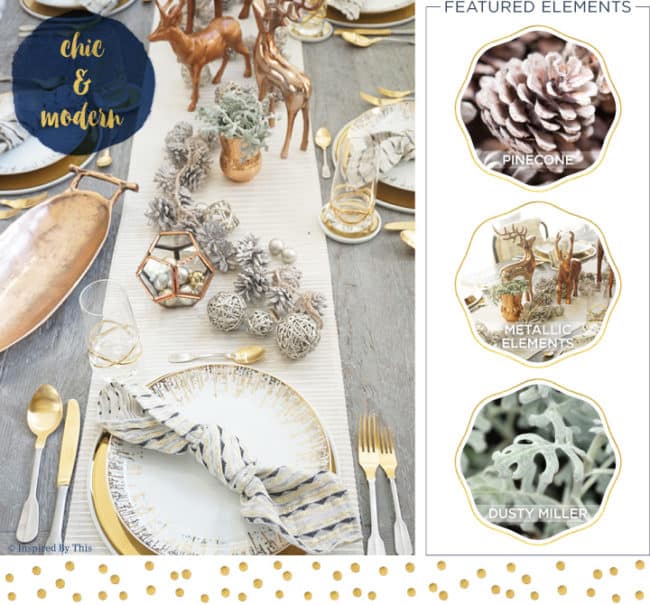 Photography and Design by: Inspired By This
Chic and Modern
The holidays are all about adding sparkle! This Christmas centerpiece metallic elements such as copper, silver and gold to create a table that is both chic and modern. Arrange a string of silver-painted pinecones and pair it with a modern geometric terrarium filled with metallic ornaments. Copper figurines create the perfect anchor for this chic Christmas centerpiece.
Pinecones – Pinecones are essential for holiday decor. Spray paint them silver or gold to add a touch of luxury to your Christmas table. Combine with other metallic elements such as decorative globes and ornaments to recreate this luxurious look.
Dusty Miller – Known for its snowy white color, the leaves of a dusty miller plant are velvety and snowy white. They are the perfect complement to any Christmas centerpiece.
Copper accessories – Mixing metallics is always a good idea, especially when working with copper. Here, copper reindeer figurines and a geometric glass terrarium filled with silver ornaments complete the look, accenting the silver and gold color scheme perfectly.
Photography and Design by: Earnest Home Co.
Fresh and Wintry
This Christmas centerpiece is the perfect combination of wintry elements. It features velvety dusty miller, silver brunia buds, and eucalyptus paired with simple white spray roses. The metallic vase ties the entire look together to create a Christmas centerpiece that is truly contemporary.
Eucalyptus – The long narrow leaves of eucalyptus leaves are great for adding depth to any floral arrangement. Their leaves range in hue from dark forest green to a lighter ashy tone.
Spray Roses – Spray roses have small blooms and are used as accents rather than the focus of an arrangement. They are incredibly versatile due to their wide availability of colors.
Silver brunia – These silvery berries come from the Brunia albiflora shrub which is native to South Africa. This shrub produces tightly tiny flowers which are packed onto multiple spherical heads which eventually fall off, exposing the berry-like flowerheads underneath. Their wintery silver colors make them great accents for the holidays.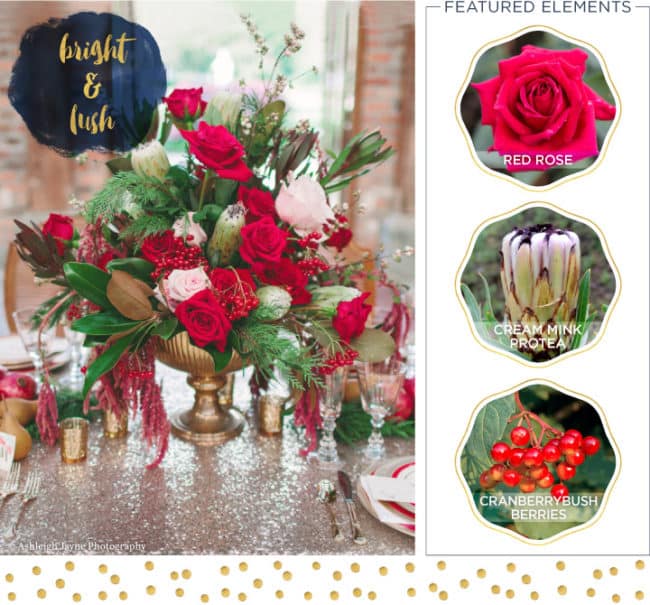 Photography by: Ashleigh Jayne Photography | Event Design by: Angela Marie Events
Bright and Lush
This lush centerpiece combines classic red roses with exotic Cream Mink protea to create a luxurious look. Additional accents include broad magnolia leaves, cranberrybush berries and cascading amaranthus and provide just the right amount of drama.
Red Rose – Although red roses are the classic symbol for love, they are great for incorporating into your Christmas decor — especially if you're celebrating with loved ones.
Cream Mink Protea – Also known as Neriifolia 'Cream,' the Cream Mink protea is highly drought tolerant and blooms from fall to winter. Its long slender petals are creamy white and have black furry tips.
Cascading Amaranthus – Amaranthus is known for its vibrant color, which remains even when the plant is dried. Its cascading form adds elegance to any holiday centerpiece.
Magnolia Leaf – Magnolias are one of the most popular flowers native to the US. Although they are known for their large creamy white flowers, their shiny leathery leaves are impressive as well. Magnolia leaves are dark green on one side and golden brown underneath, and are an excellent choice for centerpiece foliage.
American Cranberrybush Berries – Also known as Viburnum trilobum, the American cranberrybush is a popular garden shrub. During the spring, it produces white flowers and forms red berries during the fall.
Juniper – Junipers are evergreen shrubs that produce prickly foliage that appears flat and fan-like. Their color can range from dark to light green and from silver to gold. These feathery fronds are great for adding a unique and airy texture.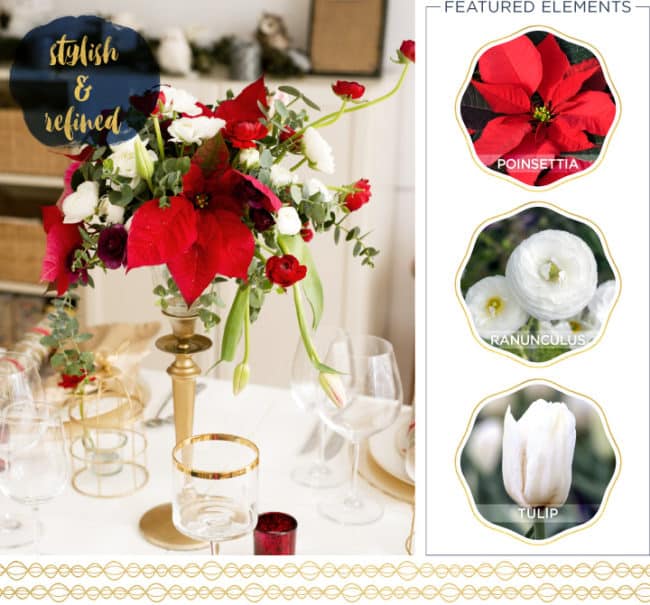 Stylish and Refined
This Christmas centerpiece features one of the most iconic blooms of the holiday season. Poinsettias take centerstage in this elevated arrangement. Red and white ranunculuses and tulips are used as unique cascading elements. Spiral or baby eucalyptus branches complete the look.
Poinsettia – Poinsettias are the classic Christmas flower. Although their bright red leaves have made them an essential part of holiday decor, poinsettias are actually tropical plants that prefer temperatures between 60-70 F degrees and humid climates.
Ranunculus – Ranunculus flowers are available in a wide variety of bright colors. Here red and white blooms are used to create this candy cane themed color palette. Ranunculuses have delicate paper-like petals that can add a pop of bold color and unique texture to your Christmas centerpiece.
Tulip – Tulips are popular because of their unique shape and wide variety of colors and are one of the most popular flowers in the world. Tulips symbolize love, making them an ideal flower to include on your holiday table where your closest friends and family will gather to celebrate the season.
Baby Eucalyptus – This type of eucalyptus is the young form of the silver dollar eucalyptus tree. Baby eucalyptus are long and have a spiral shaped structure. It has thick round leaves that grow along a central stalk, and have an attractive silvery-blue color.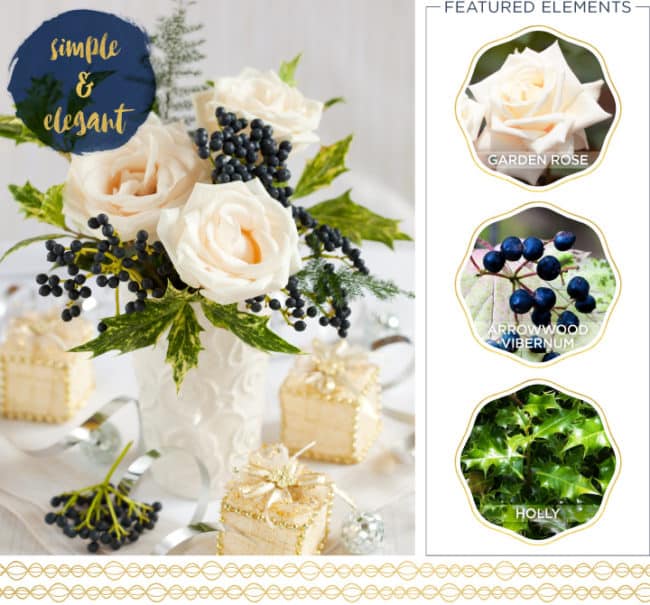 Simple and Elegant
For a simple holiday table, try this smaller arrangement that is both easy to put together yet
elegant. Choose one flower, like a garden rose, and pair it with holiday-inspired elements like berries and holly. For added drama, you can arrange multiple of these smaller arrangements along the length of your table.
Garden Rose – There are two types of garden roses, old garden roses and modern garden roses. Modern garden roses include all species bred after 1867, and are known for their large bloom sizes, high petal counts, and bloom continuously throughout the year.Holly – A quintessential part of Christmas, incorporating holly into your holiday decor is a long-standing tradition. Holly bushes have prickly leaves and only female plants are capable of producing bright red berries.
Arrowwood Vibernum Berries – Arrowwood Vibernum, also known as Vibernum Dentatum, are hardy shrubs that produce delicate white flowers during the spring. These plants are most attractive during the fall when their bluish-black berries are formed along with their foliage which turns golden yellow, red and purple.
We hope that these Christmas centerpiece ideas will inspire your holiday table decor this year. Feel free to mix and match the various elements featured here to create your own unique holiday style. For more inspiration, browse our Christmas table centerpieces and make your holiday table sparkle for your friends and family to enjoy.
Sources:
www.plantzafrica.com  |  www.bhg.com  |  www.monrovia.com  |  www.gardeningwithherbee.com  |  www.helpmefind.com  |  www.gardeningknowhow.com 1, 2, 3  |  www.aces.uiuc.edu  |  www.proteaworld.com.au  |  www.smgrowers.com  |  www.arborday.org  |  www.homeguides.sfgate.com  |  www.plants.randysnursery.com  |  www.extension.umn.edu
YOU MAY ALSO ENJOY:
10 Ideas For What To Do With Broken Plant Pots
Updating A Decorative Plant Pot With Painting
One Easy Way To Jazz Up A Plain Plastic Flower Pot
A Summer Centerpiece, Beachy Style

This post may contain affiliate links. You can read our policies here. Your cost for the products will be no higher but Joy Us garden receives a small commission. Thank you for helping us spread the word & make the world a more beautiful place!