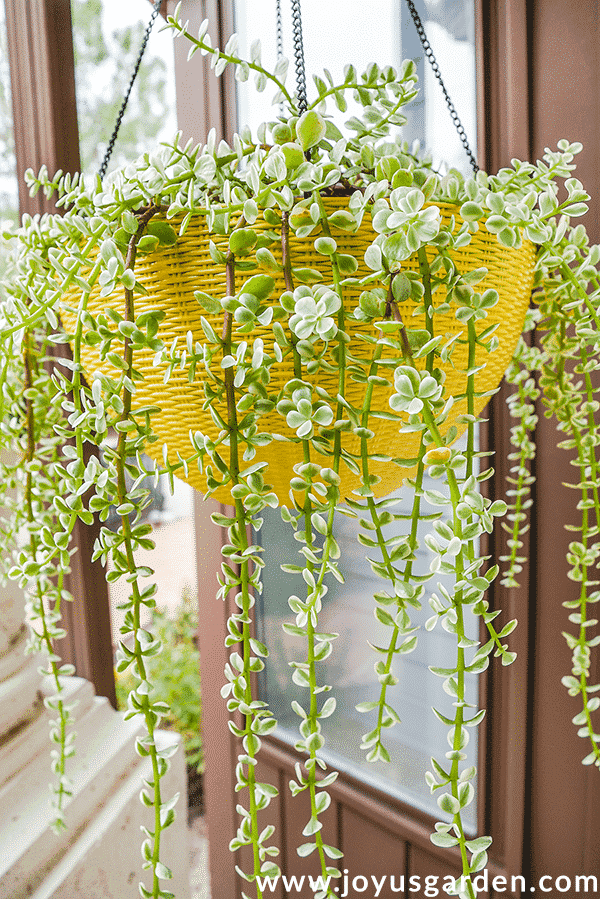 My once-thriving Spider Plant, hanging in a bright yellow pot near the front door, was looking stressed and in need of revitalization. What to replace it with? I live in the Sonoran Desert so this new plant needed to be tough. Enter the trailing succulent I came across which would fit the bill. This is all about repotting Portulacaria afra including the mix to use, steps taken and the aftercare.
You may have heard this plant called by other names such as Elephant Bush, Elephant Food, Dwarf Jade Plant, Baby Jade Plant or Porkbush. Quite the assortment! The one I'm repotting in this post and video is Portulacaria afra "variegata". I know of 8 varieties of Portulacaria afra. The solid green variety, which I also have and you'll see below, being the most common.
The solid green variety is the most common & is a vigorous grower. It's 1 of the few fleshy succulents that can handle a good amount of the Tucson sun & heat.
HEAD'S UP: I've done this general guide to repotting plants geared for beginning gardeners which you'll find helpful.
The method and materials listed below apply to all the Portulacarias, not just the variegated one.
Best Time for Repotting Portulacaria Afra
Spring through summer. I like to wait until the temperatures have warmed & the days have gotten a bit longer. In more temperate climates, you can repot from late winter through early fall.
I repotted the 1 you see here at the beginning of April.
Avoid repotting your Elephant Bush in winter as it's the time for plants to rest.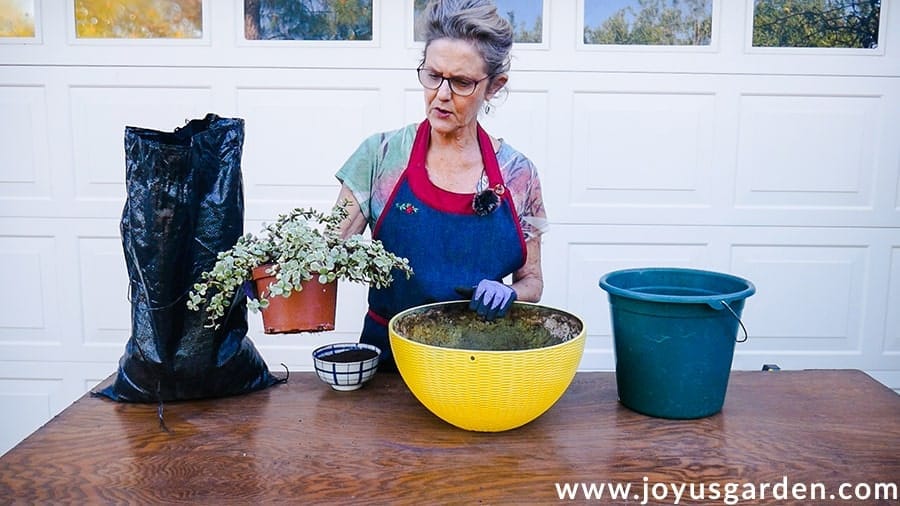 Getting ready for the repotting.
Soil Mix
The Elephant Bush grows as both a houseplant and also outdoors. Because it's a succulent, make sure the mix you use is loose & well aerated. Succulents store water not only in their roots but also in their leaves & stems. Too much water = root rot.
As a Houseplant
If yours is a houseplant, using all a good quality succulent & cactus mix is just fine. I now make my own mix but recommend any of the mixes listed right below if you can't find 1 locally or don't want to make your own.
A few online options for buying succulent & cactus mix: Bonsai Jack (this 1 is very gritty; great for those prone to overwatering!), Hoffman's (this is more cost-effective if you have a lot of succulents but you might have to add pumice or perlite), or Superfly Bonsai (another fast-draining 1 like Bonsai Jack which is great for indoor succulents).
Outdoors
Because mine is growing outside year-round in a climate where it's hot & sunny 5 months out of the year, I added in some other ingredients. I do a lot of repotting & have a garage to store them so why not!
Here are the materials I used:
2/3 succulent & cactus mix (see above for options)
1/3 potting soil—I like Fox Farm Ocean Naturals because it has lots of good stuff in it that plants love.
A few generous handfuls of pumice—This ups the ante on the drainage & aeration factors.
A few generous handfuls of compost—Compost nourishes the soil naturally but be careful not to use too much in a pot this size.
A 1/2″ topping of worm compost
This is my favorite amendment, which I use sparingly because it's rich. I'm currently using Worm Gold Plus. Here's why I like it so much.
The Pot I Used
This pot measures 14″ wide x 8″ deep. It was tan & I spray painted it yellow. You can order similar pots here. These are the ones I have my Grey Fishhooks Senecio in as well as my String Of Bananas.
Steps Taken
I watered my Elephant Bush a few days before repotting it. You don't want any plant to be stressed during the process.
This plant easily came out of the pot by squeezing the sides, turning it upside down & pulling it out.
I placed succulent & cactus mix along a bit of potting soil in the bottom of the pot so that the root ball is even with the top.
Filled in around the sides with the mix along with some pumice.
I topped it with worm compost & a bit of compost.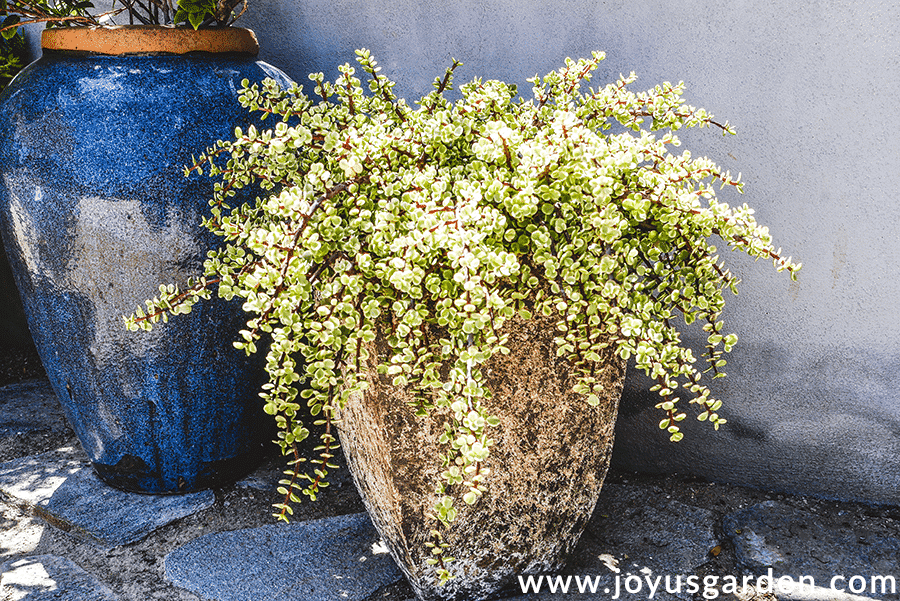 This is how an established Variegated Elephant Bush looks growing in an upright pot.
Why I Repotted My Elephant Bush
This plant really didn't need repotting as you can see if you watch the video. It wasn't pot bound at all but I wanted a better plant to replace the Spider Plant.
The pot is large enough so that the Elephant Bush can stay in it for quite a few years. This variegated form is slower growing & stays smaller than the other varieties of Portulacaria.
Care for an Elephant Bush After Repotting
I hung it in the spot near the front door where the Spider Plant had been growing. It was very early spring so I didn't have to worry about this newly planted fleshy succulent burning.
I had watered the plant in its grow pot a few days before the repotting. As with the majority of succulents I transplant, I let the Elephant Bush settle in for about a week before giving it a thorough watering.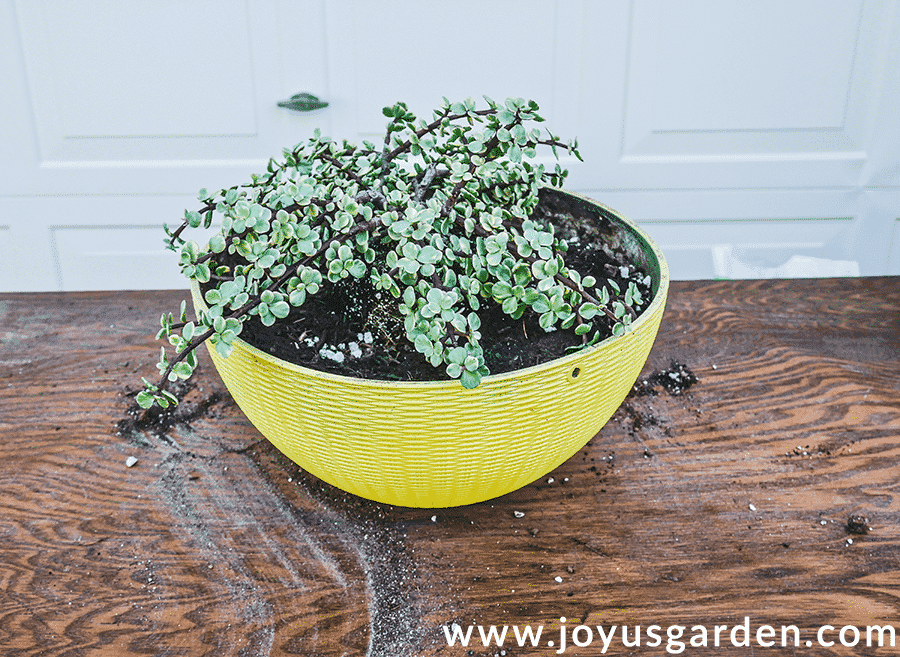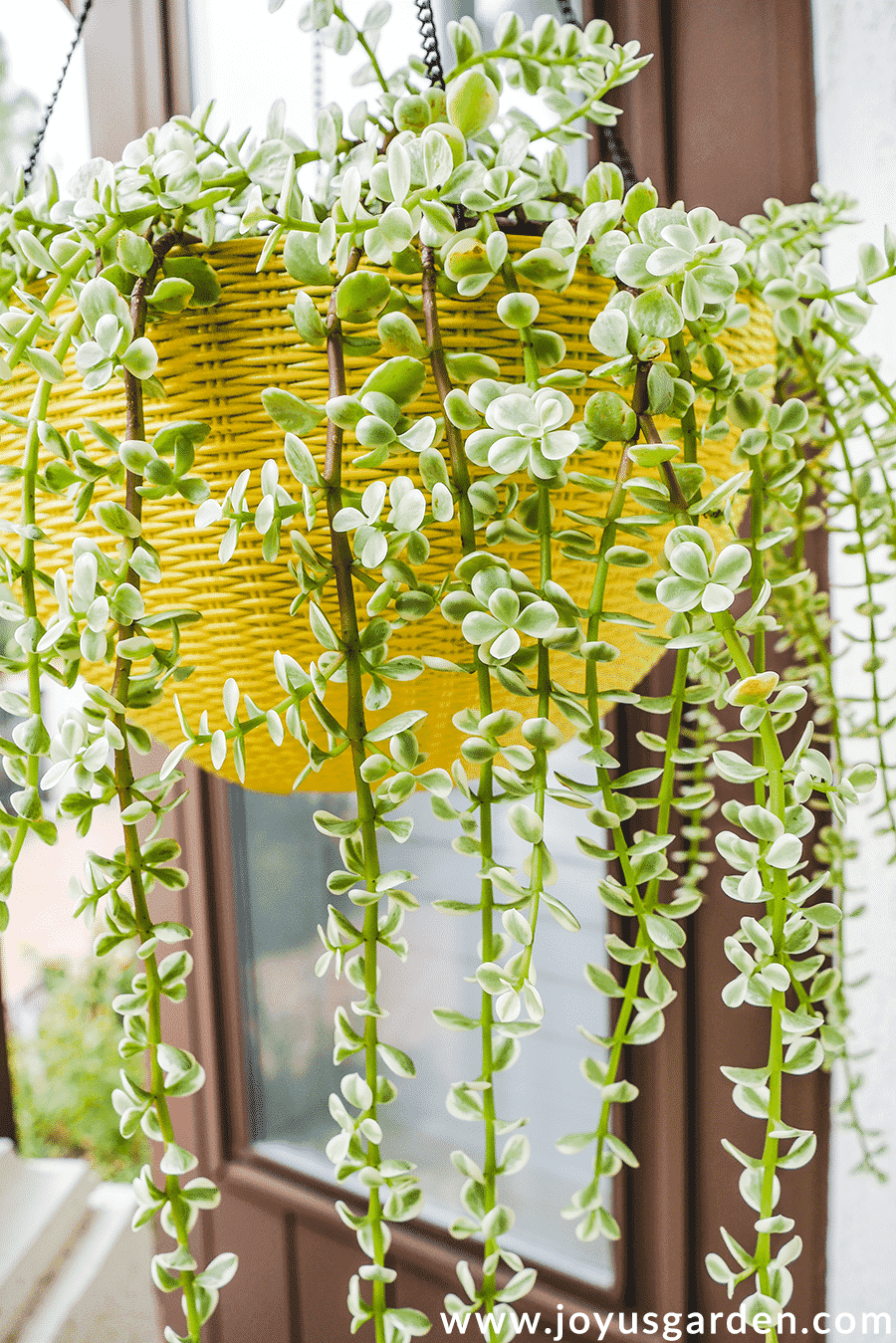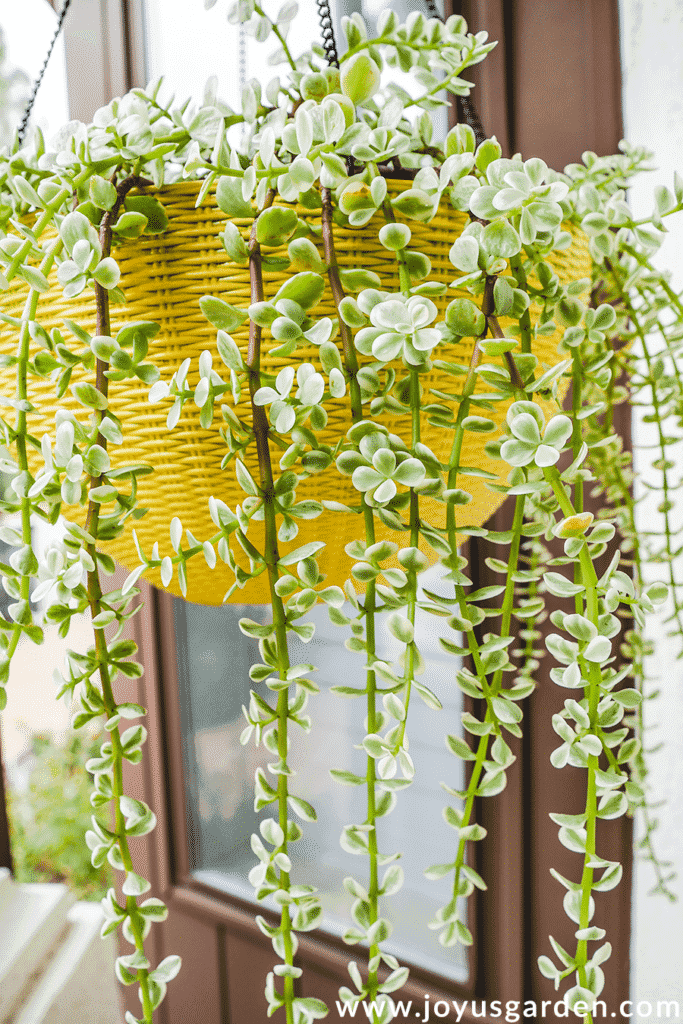 During the repotting process vs how it looks over 4 months later. It's grown quite a bit but as you can see it was much greener in early spring.
How my Elephant Bush is doing now?
I filmed the repotting video in early April & it's now mid-September. As you can see, my Variegated Elephant Bush has grown quite a bit in 4 & 1/2 months. The trails are reaching 12″ below the bottom of the pot.
It's pale green because of the heat & the sun. Although it only gets 2 hours of the direct morning sun, it's very intense here in the Tucson desert.
Once the cooler weather sets in, it'll green up & some of the leaves will be tinged with pink.
My Elephant Bush is doing great and so is my Spider Plant which I moved indoors. Don't you just love it when your plants are happy?!
Happy gardening,

---
Read more about houseplants and succulents below!
You can find more houseplant info in my simple and easy to digest houseplant care guide: Keep Your Houseplants Alive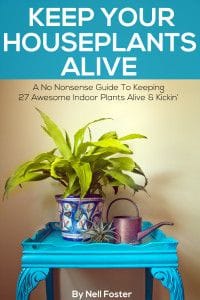 This post may contain affiliate links. You can read our policies here. Your cost for the products will be no higher but Joy Us garden receives a small commission. Thank you for helping us spread the word & make the world a more beautiful place!
About the Author
Latest Posts
Nell, the founder of Joy Us garden, was born into a gardening family and grew up in Connecticut's countryside. After living in Boston, New York, San Francisco, & Santa Barbara, she now calls the Arizona desert home. She studied horticulture & garden design, working in the field all her life. Nell is a gardener, designer, blogger, Youtube creator, & author. She's been gardening for a very long time & wants to share what she's learned with you.