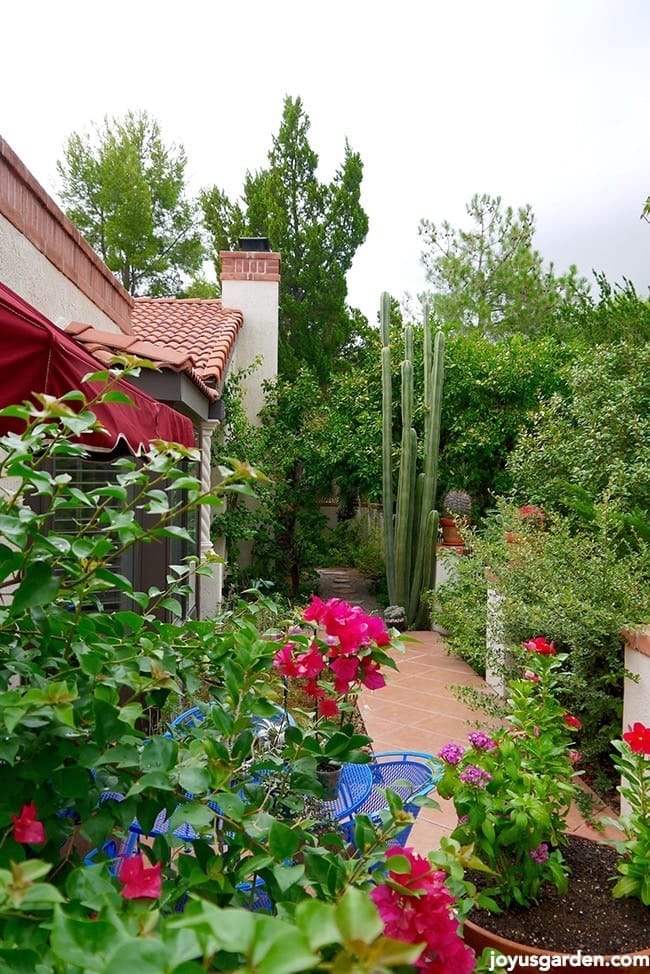 Oh my goodness, it's time to plan another garden. And this isn't just any garden, it's my new garden in the desert. It's a smaller garden, and for a plant hound like me, those are so much harder to do than larger gardens. The plant choices and design options are so much more varied when you have more to work with.  I know that you might have a small garden too so I'm sharing my plans.
I hope this will help you think of something which hasn't crossed your mind, ignite a little garden spark perhaps.
I've lived in this house for almost 2 months now and it's the end of July so it's just too darned hot to do much work outside.  It's good to live in your new environs for a while before springing into action, unless of course your new house is covered with blackberry brambles or some sort of rampant ivy. By doing this you can really see how the sun moves, if there's anything funky going on and how you want to use your garden. I've changed my mind about a few things so I'm glad I didn't dive right in!

First: how did I want to use the garden?
I needed to figure out what I wanted my garden to do and be, and I got that nailed down pretty quickly.   I've done a post on things to think about when planning a garden which might interest you. I want a place to play in (I consider working with plants playing and not working!), to dine and relax in, to further delight the abundance of wildlife around here and a little section to grow some food in.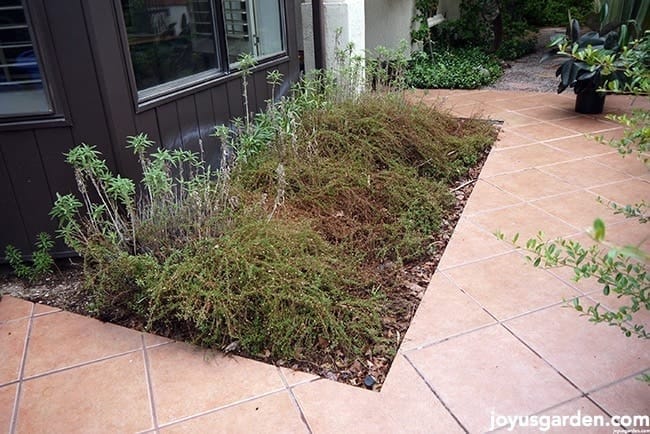 Isn't this purdy? Nothing says I'm a gardener blogger like a dead patch of Mexican Salvia & Santa Barbara Daisy! This is the 1 little area that I'll totally re-do. It's in between my kitchen seating area & front door walkway so I have to plan it wisely.
I have quite a few mature plants so that isn't an issue. In my Santa Barbara garden I had a 19′ Bird of Paradise, a humungous Bougainvillea glabra and many other anchor plants so that didn't come into play either.  I'm keeping the majority of plants in my new desert garden so I just need to clean up and prune, fill in and jazz things up a bit. I love garden art so you know there'll be some of that going down!  On the practical and mechanical side, I need to get the drip system checked and get the control box replaced.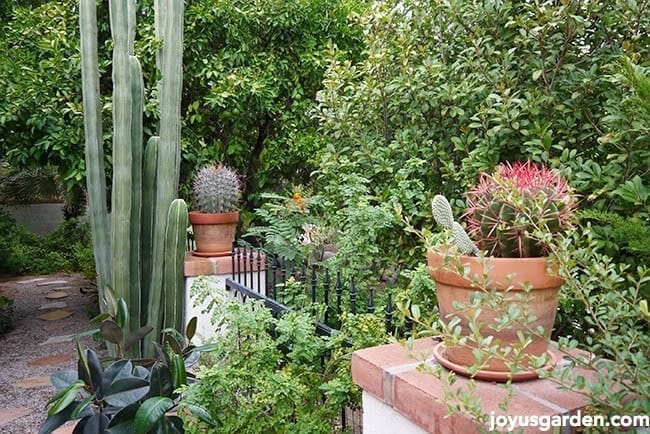 These 2 Barrel Cacti, along with a couple of agaves I brought from Santa Barbara, will go into the little bed that you see above.
Map out containers
I LOVE containers and container plantings but I want no more than 15-20. I like to have them on patio areas and also in the garden beds – I consider them to be garden art.  Even though I grey water my plants in pots to conserve, it's an effort here in the baking hot desert.  And, no more small pots – just larger ones which hold more moisture.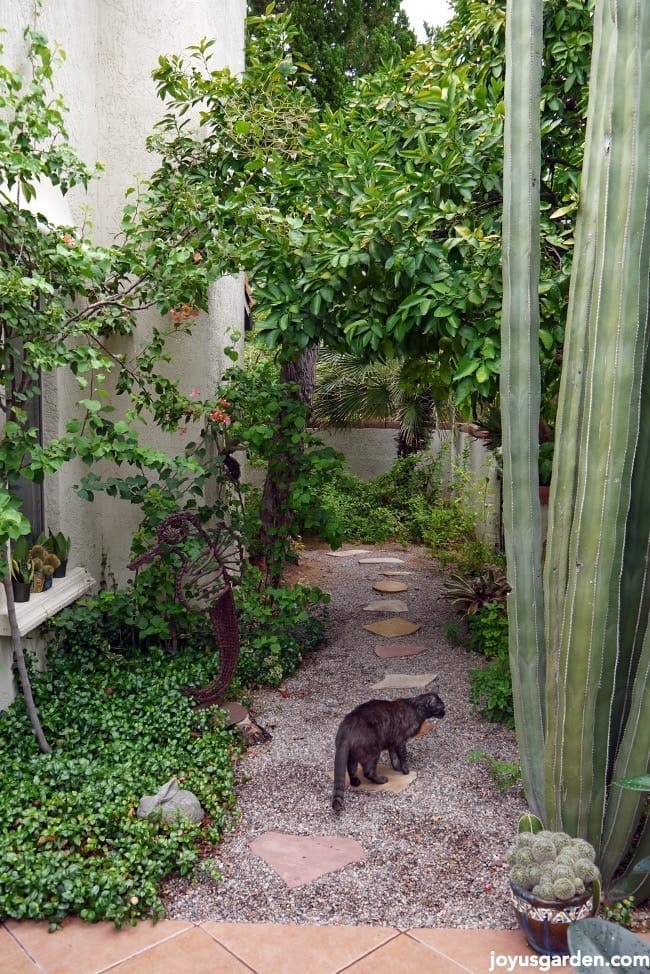 That's Riley cat out enjoying a morning browse in between the raindrops. This area leads to my side patio & just needs some cleaning up. I'll replace the 2 scrawny plumbagos with fun & wacky Foxtail Ferns.
My side patio is right off of my living room and is surrounded by a lot of vegetation. I'm going to use it for lounging, socializing and also working. This part of the Sonoran Desert is actually very diverse in plant and animal life and I get to enjoy looking at it every day. It's not a big patio so my initial plan to have a 7-8′ sectional seating area has changed. So glad I didn't rush and buy that!  You can see what I have planned for this area (and more!) in the video.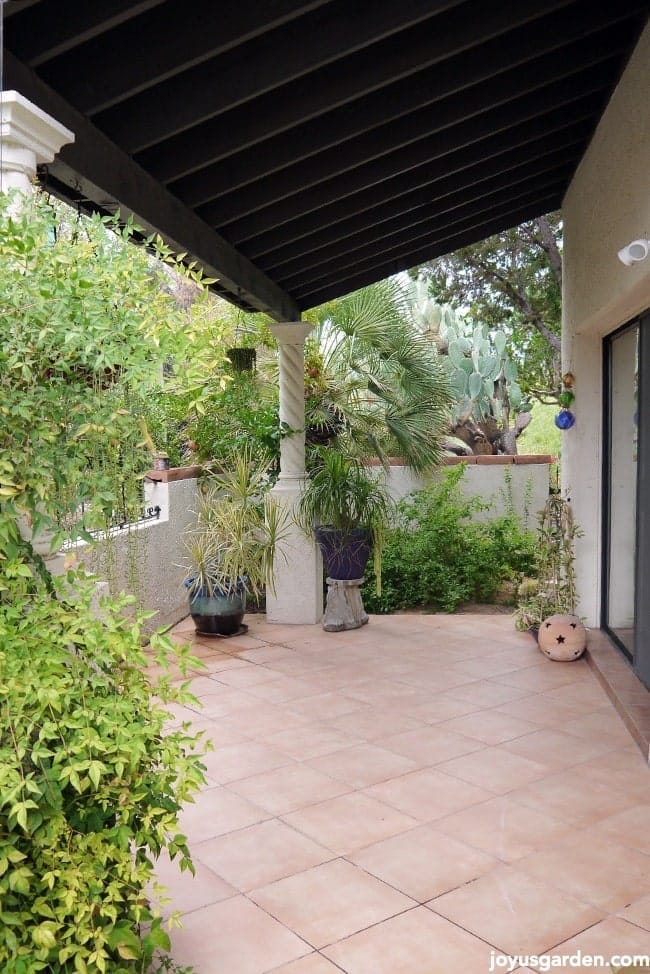 My side patio, like the rest of my garden, is very peaceful.  The chirping of the birds & buzzing of the cicadas are about the only noise I hear. The overhang shades it from that blazing desert sun. 
I'll save some for later!
The back area past my side patio is where I want to grow some food. I'm not sure if that'll happen in the raised planter (it currently has lantana & Carolina jessamine growing in it) or in a tower. My thoughts keep changing a bit on what I'll do here but I always feel it's good to save a project or 2 for the future.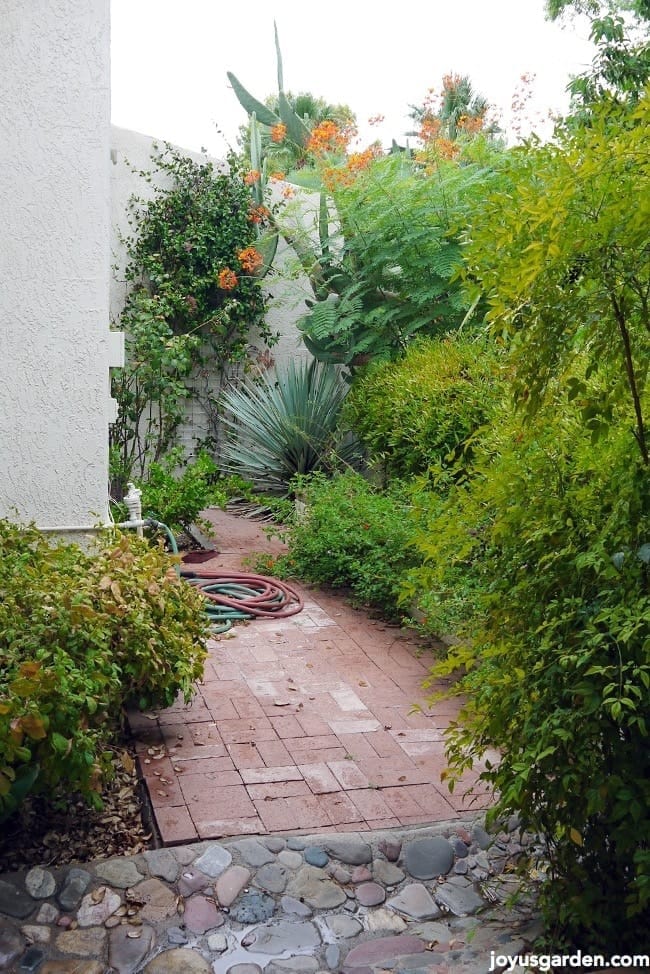 The verdict's still out on this area so I'll take my time deciding what to do here. It definitely needs a go round with the Felcos though!
When planning a garden, no matter how small, it's good to have a master plan.
Think it through, write it down and vocalize it.  Your plan can be flexible and your thoughts may change a bit over time but it'll save you from making costly mistakes. Oh, plant choice is very important too – know how they do in your area, how big they'll get and what it takes to maintain them.
You know I'll be keeping you in the loop about all happenings here in my new desert garden. I look forward to sharing all my pruning and planting escapades with you. I hope it inspires you to get out in the garden and make the world a more beautiful place!
Hugs from my garden to yours,

You May Also Enjoy:
Roses We Love For Container Gardening
Ponytail Palm Care Outdoors: Answering Questions
The Best Tips For Growing Your Own Balcony Garden 


This post may contain affiliate links. You can read our policies here. Your cost for the products will be no higher but Joy Us garden receives a small commission. Thank you for helping us spread the word & make the world a more beautiful place!