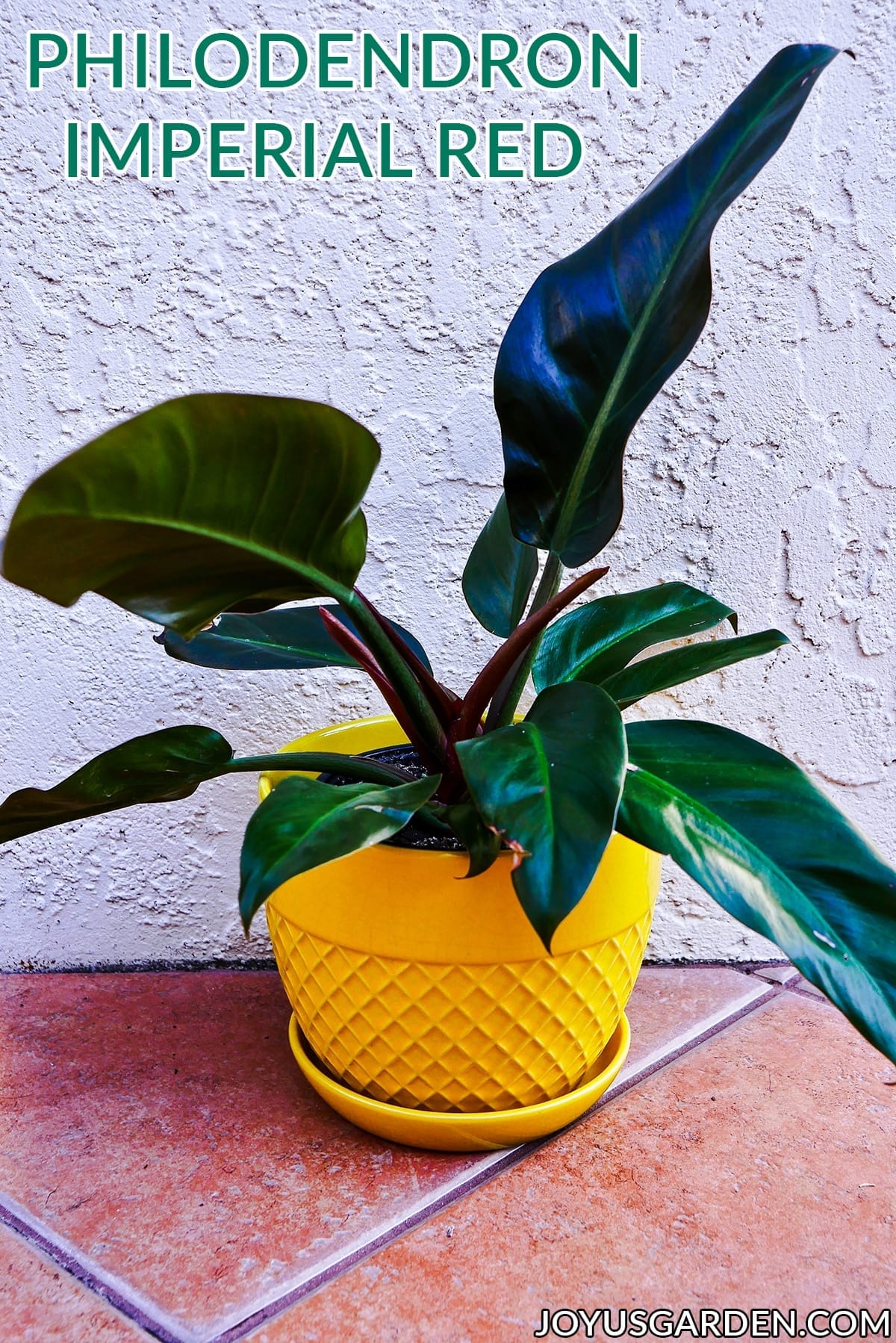 Any other philodendron fans out there? There's nothing like them, with their large showy leaves, to give a tropical vibe. Philodendron Imperial Red is no different. Here I'm sharing how to care for and successfully grow this shiny-leafed beauty.
The Philodendron Imperial Red is a relatively new hybrid. It, along with other philodendrons like congo, rojo congo, and prince of orange, were bred to be houseplants. They grow tight to the center (with a single base) with a more upright and neater rather than spreading growth habit.
Mine is small now and currently growing in a 6″ pot. The leaves will get larger and showier as the plant grows. The new growth is burgundy/red and the foliage matures tom a semi-glossy dark green.
If you have a plant that looks like this but doesn't have the red coloration and is more of bright medium green, it's probably Philodendron Imperial Green. The care is the same.
Some Of Our General Houseplant Guides For Your Reference:
Here's a fun fact for you plant geeks like me. This plant is in the Araceae family along with many other popular houseplants like: anthuriums, dieffenbachias, aglaonemas, peace lilies, African mask plant, pothos, arrowhead plant, monstera deliciosa, and the zz plant.
Size
It reaches 3′ x 3′, sometimes a bit bigger. The leaves and stems get bigger as it grows but it keeps the central trunk form.
Uses
It's most commonly used as a tabletop plant. As it grows larger, it becomes a low, full-floor plant.
Growth Rate
Moderate. I find that this plant grows slower than some of the other houseplants in the Araceae family.
This post is more detailed. The important care points are covered below:
Philodendron Imperial Red Care
Exposure
Like most houseplants, Philodendron Imperial Red prefers bright natural light. A moderate or medium exposure.
Mine sits on the long, narrow table alongside many other plants in my dining room. It's about 10′ away from a bay window with east exposure.
Because I live in sunny Tucson, this room is very bright all day. It was at the far end of the table and I recently moved it to the end closest to the window to see if it makes any difference.
This plant will tolerate higher light but be sure to keep it out of any direct hot sun to avoid sunburn. Conversely, if you have it in lower light, the leaves will stunt and the plant won't grow too much if at all.
Watering
I let this plant go almost 3/4 of the way dry before watering again. They don't like to go completely dry. On the other hand, sitting in water or keeping them constantly wet will cause root rot.
In the warmer months, I water my Imperial Red every 7 days. In the winter, it's every 10-14 days. Every other time I water this plant, I take it to my kitchen sink & spray the foliage.
The watering schedule will vary for you depending on your home environment, type of soil mix, and pot size. You can read my guide to watering indoor plants to get a better idea.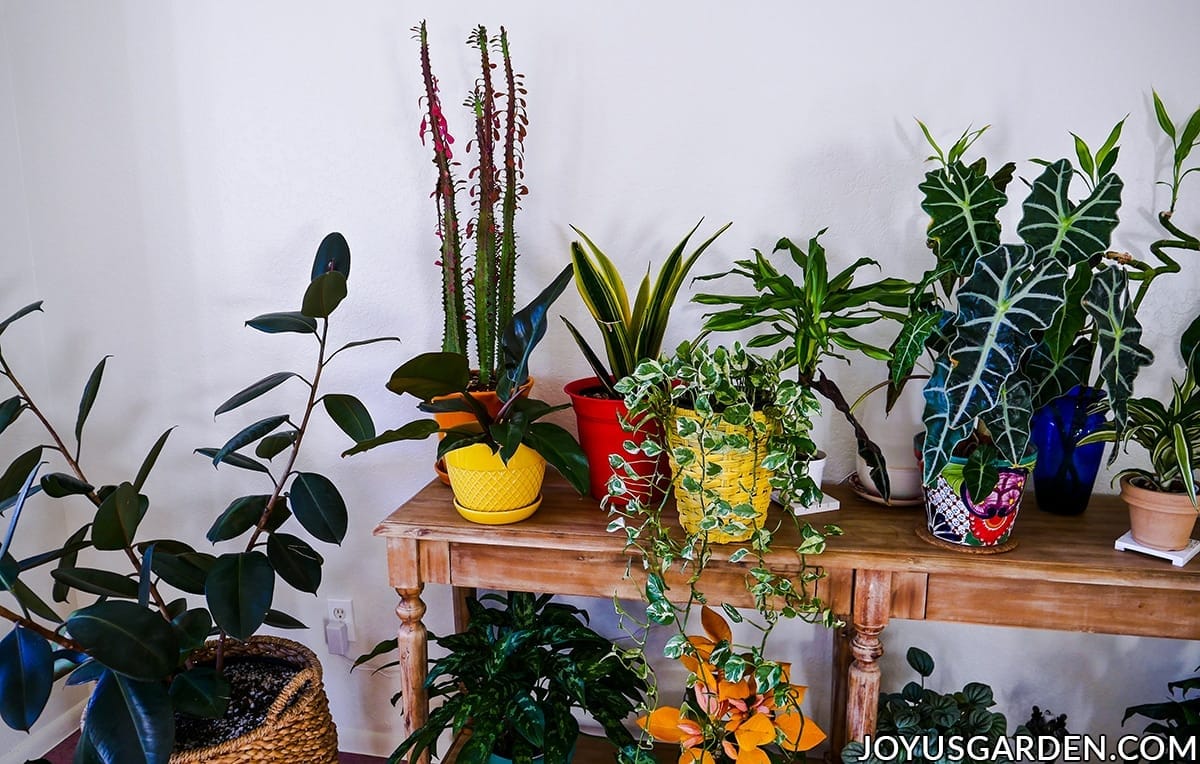 Temperature
If your home is comfortable for you, it'll be so for your houseplants too. Imperial Reds like it on the warmer side in the growing months but being cooler in the winter is fine. Just be sure to keep them away from any cold drafts as well as air conditioning or heating vents.
Humidity
Because they're bred to be houseplants, they can tolerate the drier air in our homes. If the leaves of yours are showing small brown tips, that's a reaction to lack of humidity. Here in hot dry Tucson, some of the leaves on mine have teeny brown tips but you have to look close to see them.
I have a large, deep kitchen sink with a faucet water filter. As I said, every other time I water my Imperial Red I take it to the sink, spray the foliage & leave it in there for an hour or so to temporarily up the ante on the humidity factor.
I also run a diffuser (filled with just water, no oils) in the dining room for a few hours a day. This seems to work for my houseplants in this room here in the dry desert.
If you think yours look stressed due to lack of humidity, fill the saucer with pebbles & water. Put the plant on the pebbles but make sure the drain holes &/or the bottom of the pot isn't submerged in water. Misting once or twice a week should help out too.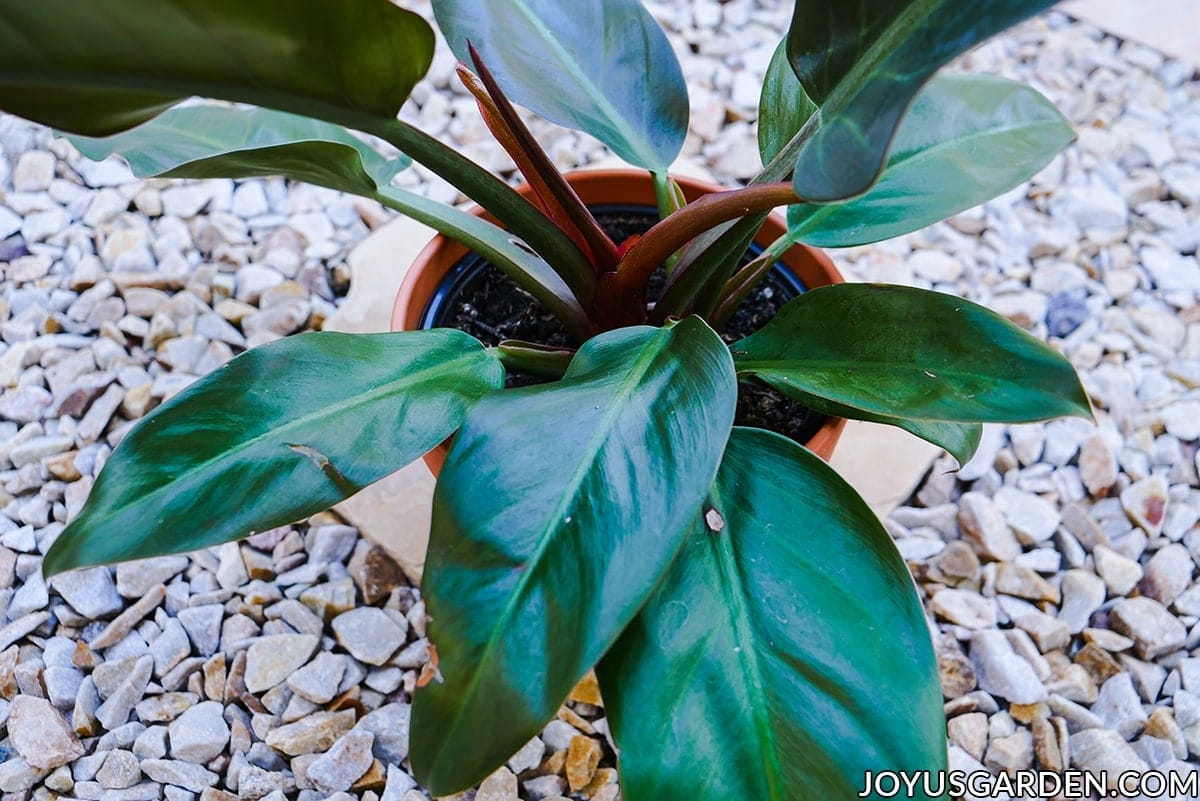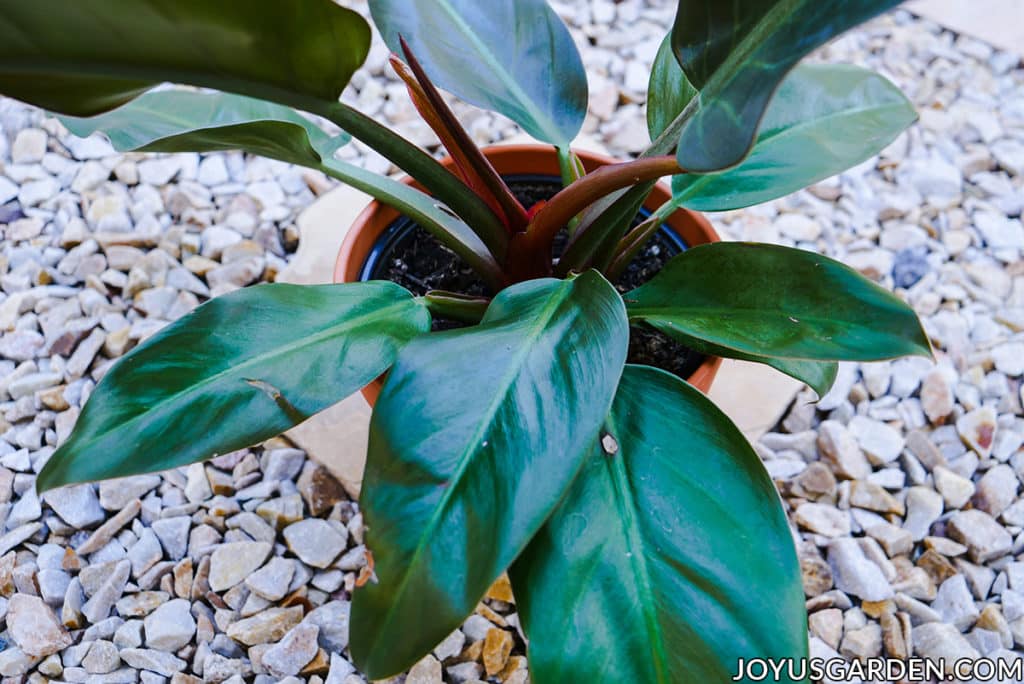 Fertilizer/Feeding
I give most of my houseplants a light application of worm compost with a light layer of compost over that every spring. Easy does it – 1/4 " layer of each for a 6″ size houseplant. Read about my worm compost/compost feeding right here.
I give mine a watering with Eleanor's vf-11 4-6 times during the warmer months. We have a long growing season here.
You don't want to fertilize houseplants in late fall or winter because that's their time for rest.
Don't over-fertilize your Philodendron Imperial Red because salts build-up & can burn the roots of the plant. This will show up as brown spots on the leaves. Avoid fertilizing a houseplant that is stressed, ie. bone dry or soaking wet.
Soil/Repotting
I'm doing a separate video & post on this & will post it within the next few months. Imperials love and need a rich yet well-drained moist soil mix.
Mine is currently planted in a "peaty" mix. When I repot, I'll use 1/3 potting soil, 1/3 coco fiber (like peat moss but much more environmentally friendly) & 1/3 of DIY succulent & cactus mix. Of course, I'll add in a handful of worm compost & compost. It's in a 6″ grow pot now so I'll go up 1 size to an 8″.
Repotting/transplanting is best done in spring or summer; early fall is fine if you're in a warm climate. The faster your plant is growing, the sooner it'll need repotting.
Pruning
Not much is needed. The main reasons to prune yours is to take off the occasional yellow or dead leaf.
Just make sure your pruners are clean & sharp before you do any pruning.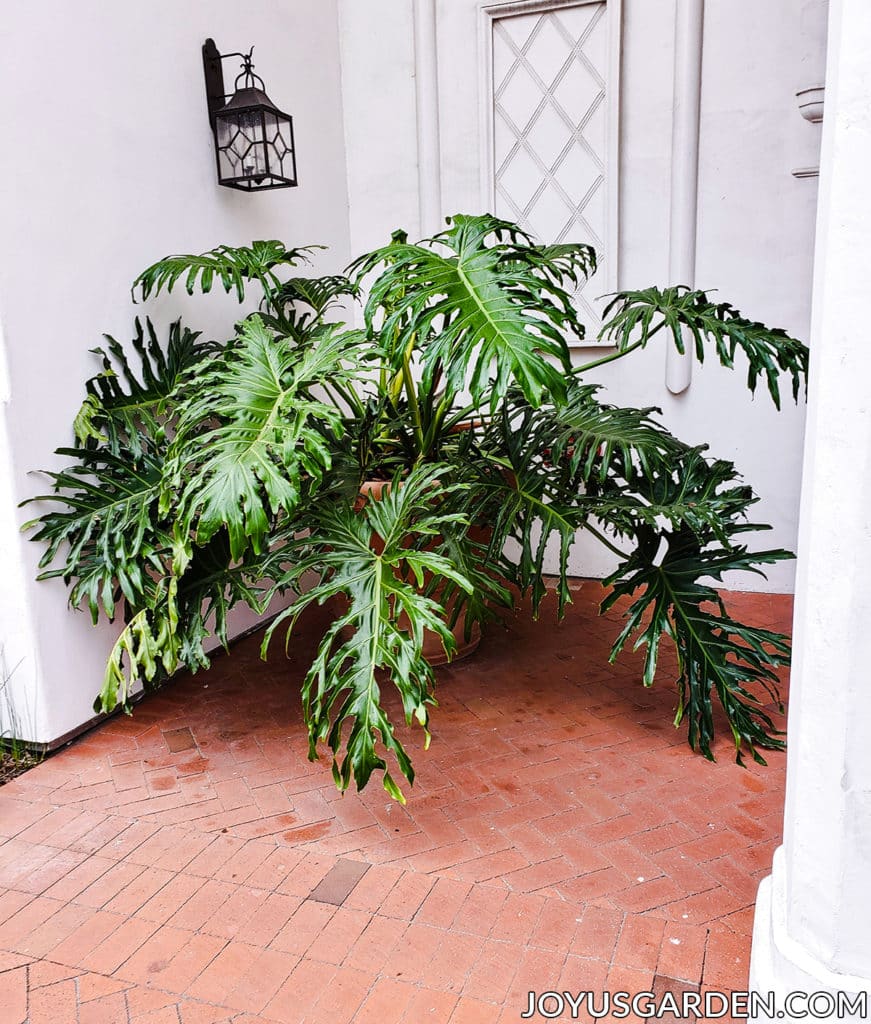 Propagation
This is 1 houseplant which I've never propagated. I've heard it can be done by stem cuttings or air layering. Growers use a method called tissue culture to propagate this plant.
When mine gets bigger, I'll try the stem cutting method & let you know!
Pests
Mine has never gotten any. They can be susceptible to mealybugs, especially deep inside the new growth. These white, cotton-like pests like to hang out in the nodes & under the leaves. I simply blast them off (lightly!) in the kitchen sink with the spray & that does the trick.
Also, keep your eye out for aphids and spider mites. It's best to take action as soon as you see any pest because they multiply like crazy. Pests can travel from houseplant to houseplant fast so make you get them under control as soon as you see them.
Pet Safety
Philodendron Imperial Red, like all plants mentioned above in the Araceae family, is considered to be toxic. I consult the ASPCA website for my info on this subject & see in what way the plant is toxic. Here's more info on this for you.
Most houseplants are toxic to pets in some way & I want to share my thoughts with you regarding this topic.
A few points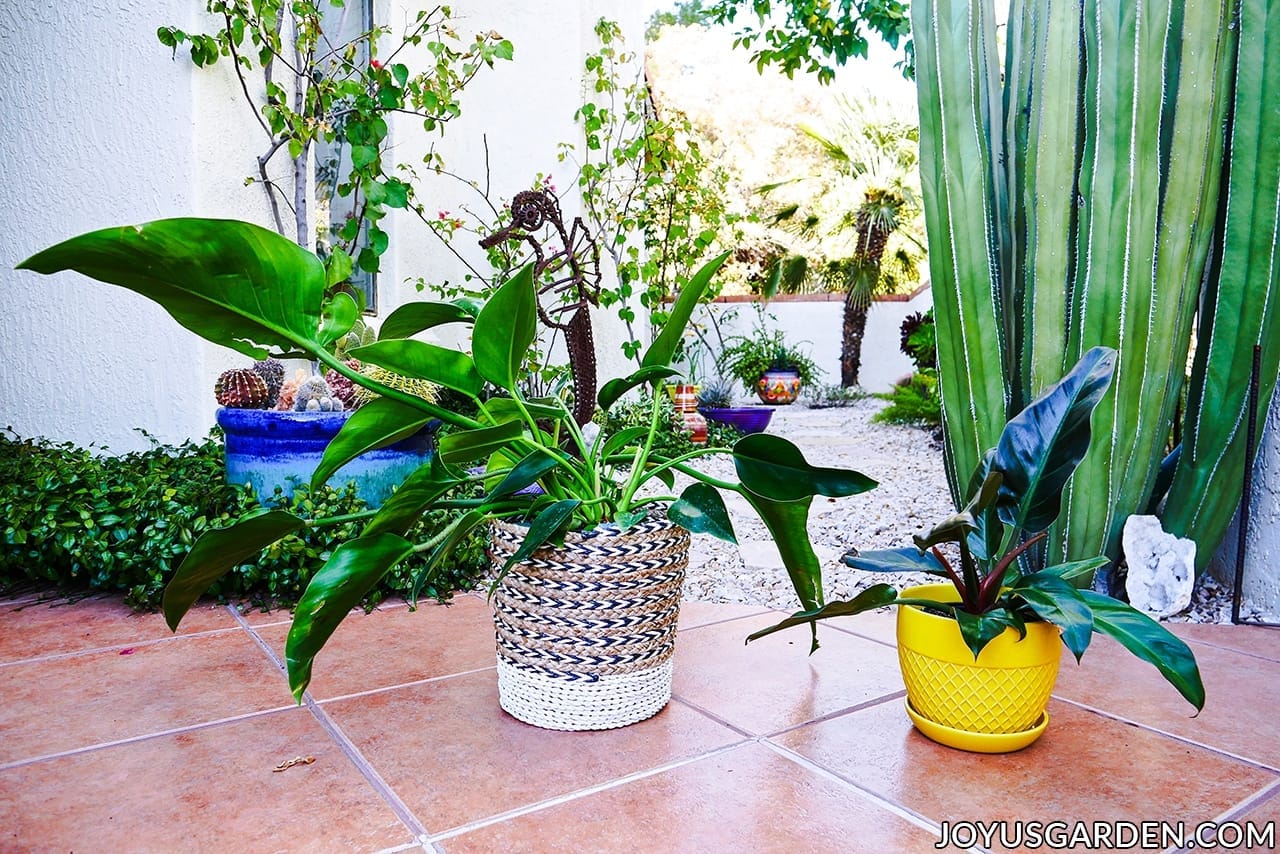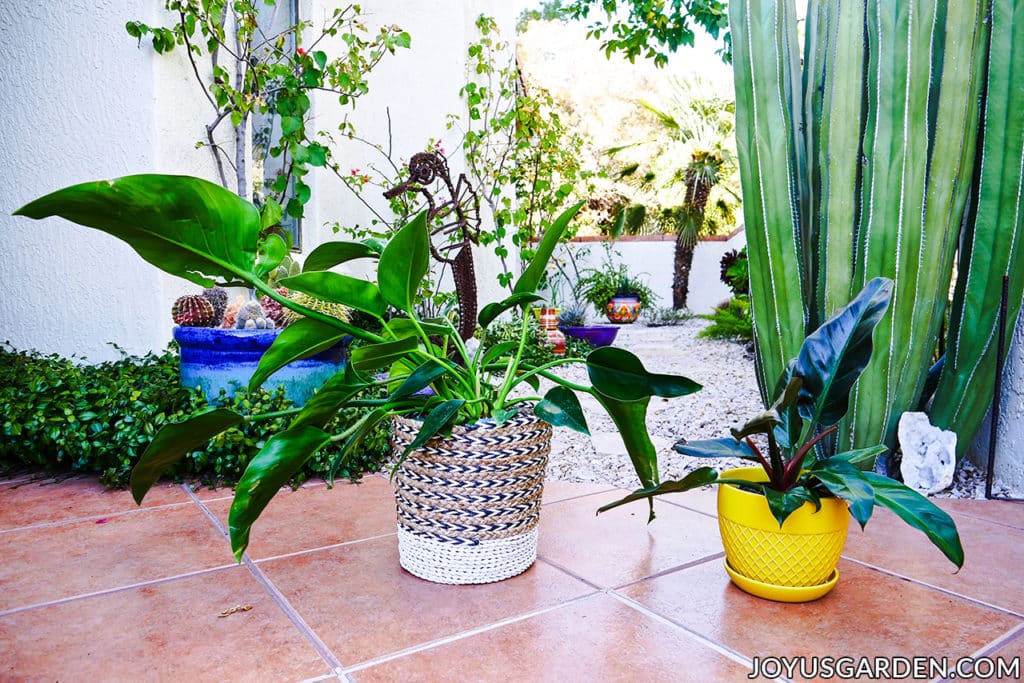 You can put your Imperial Red outdoors for the warmer months. If you live in the hot, dry desert-like me, I'd recommend keeping it indoors. Just be sure to keep it out of the direct hot sun to avoid burn.
Before you bring it back indoors for the colder months, be sure to give it good spraying off to avoid bringing any unwanted pests indoors.
If the leaves of your Philodendron Imperial Red are turning brown, this could be due to a few reasons. Too much sun, a watering issue (most commonly overwatering) or fertilizer burn.
This plant has gorgeous foliage & is what it's grown for. Be sure to keep yours cleaned off. Here is some info on how and why I clean my houseplants, naturally of course!
Here are the most important things to know about caring for an Imperial Red:
Place it in bright natural light
don't let it dry out
Make sure it's in the proper soil mix.
Why not add this tropical beauty to your collection?
Happy gardening,