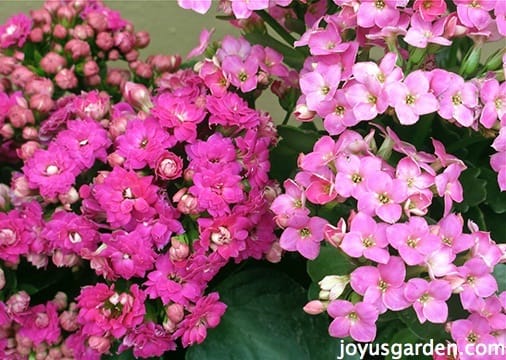 Oh, how I love succulents! And, a succulent with lots of long-lasting flowers is just the cat's meow. Enter the popular Kalanchoe blossfeldiana which is most commonly sold as a houseplant but here in Santa Barbara (USDA zone 10) mine enjoy the great outdoors year round. Here's how to take care of Kalanchoes, or Kals as we used to call them, both in the house and in the garden.
These long, lasting blooming plants will brighten up both your garden & home.
I buy mine at the farmers market and although we used them a lot in the interiorscaping trade in offices and homes, I had never grown them in the garden before. I've discovered that Kalanchoes bloom almost all year round here with very little care. My kind of plant!
Some Of Our General Houseplant Guides For Your Reference:
Growing Kalanchoes in the garden:
I have them in pots & not growing in the ground.
Light
Bright shade. Mine get 1 or 2 hours of direct sun in the summer, no more.
Water:
Once a week, thoroughly.
Soil:
Mine are planted in organic potting soil.
Fertilizer:
I don't use any. I plant with worm castings & then top dress with worm castings & compost every Spring. Once or twice during the warm months, I'll water in some seaweed extract. Read about my worm compost/compost feeding right here.
Pests:
None so far.
Tip:
I trim off the dead flowers, taking the stem all the way down to where it meets the foliage. I don't have to do it too often because the flowers are long lasting, and plainly put, it just looks better this way.
Kalanchoes at our farmers market (& at flower shops) come with this decorative wrapping.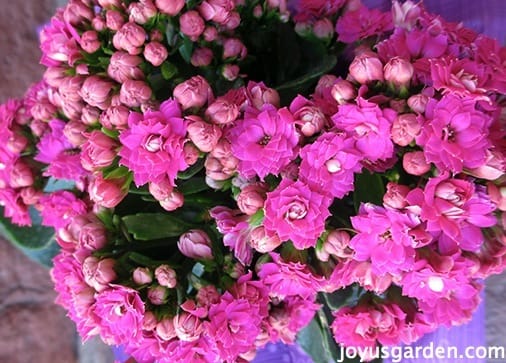 This one is the rosebud or double Kalanchoe.
Tip:
Yes, that paper wrapping may be prettier than the grow pot but remove it when you water your plant. Remember, the Kalanchoe is a succulent & too much water building up will drown it out.
Now, onward to caring for them as a houseplants. This is one of the long lasting, blooming plants in our book which you can check out here Keep Your Houseplants Alive. At the end of this post, I touch briefly on how to get them to bloom again indoors. Hint: it's not easy.
Light:
As bright as possible, something like a south &/or west exposure. Give it lots of sun but nothing direct for more than 2 hours. Keep it away from the hot windows – touching that glass will burn it. Ouch!
Water:
Every 2 weeks in the warmer months. If the soil is still wet, wait until the top 1/2 dries out. And, don't let it sit in water. Remember, they are succulents which means they store water in their leaves & stems.
Soil:
Organic potting soil suitable for houseplants. A mixture of half potting soil & half succulent & cactus mix would be fine. That's what I used to plant up my new pink Kals.
Temperature:
I say if your home is comfortable to you, then your houseplants should be just fine too. They would enjoy a vacation outdoors in the warmer months (refer to outdoor care above).
Fertilizer:
Use an organic liquid fertilizer like Houseplants Alive but easy does it. Only 2 applications per year – once in mid-Spring & the other in mid-Summer.
Pests:
Keep an eye out for mealybugs. They leave behind a residue which looks like specks of cotton.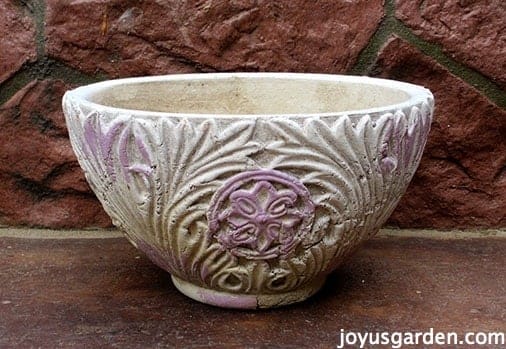 In the video (below) I said that you could see the pot before I painted it. Well, here it is.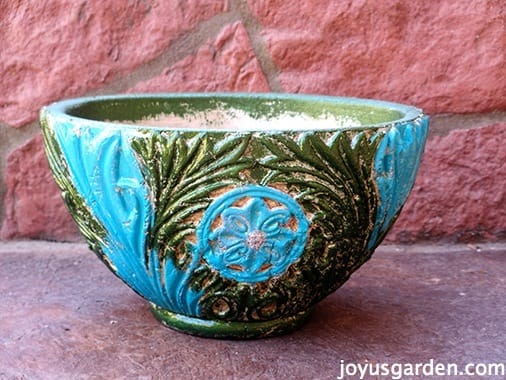 Here's the pot after a bit of dry brushing & a couple of "look at me" dots of poly jewels glitter.
Tip:
The foliage grows very densely. I snip away some of those larger leaves growing over the blooms. Those purdy flowers will show more.
Now, on to how to get them to bloom again. If yours hasn't ever repeat bloomed, don't feel bad. I'll start this by saying "good luck" because you're going to have to work for it. Kalanchoes, like Poinsettias, are photoperiodic. This means they react to periods of light exposure and need at least 12-14 hours of complete darkness to bloom again.
Chances are, if you have them in your home, you have them in a room that isn't getting that amount of complete darkness. Starting in winter, you have to put them in a closet or a room that's pitch black for 12-14 hours. And yes, they need that every night for 2 months. Be sure to cut back on the watering too.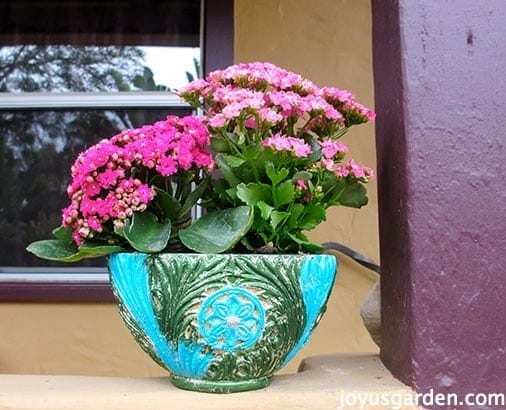 The beautiful Kals on my covered front porch where I, & others, will see them many times a day.
Kalanchoes are known for their flowers which come in vibrant shades of red, orange and pink. You can also find them in white and more subtle shades of pink. The flowers are long lasting and the foliage a nice, rich, shiny green. A great blooming plant for the garden or your home!
Don't forget to check out our houseplant care book. Here's a post we did telling you all about it.
This post may contain affiliate links. You can read our policies here. Your cost for the products will be no higher but Joy Us garden receives a small commission. Thank you for helping us spread the word & make the world a more beautiful place!