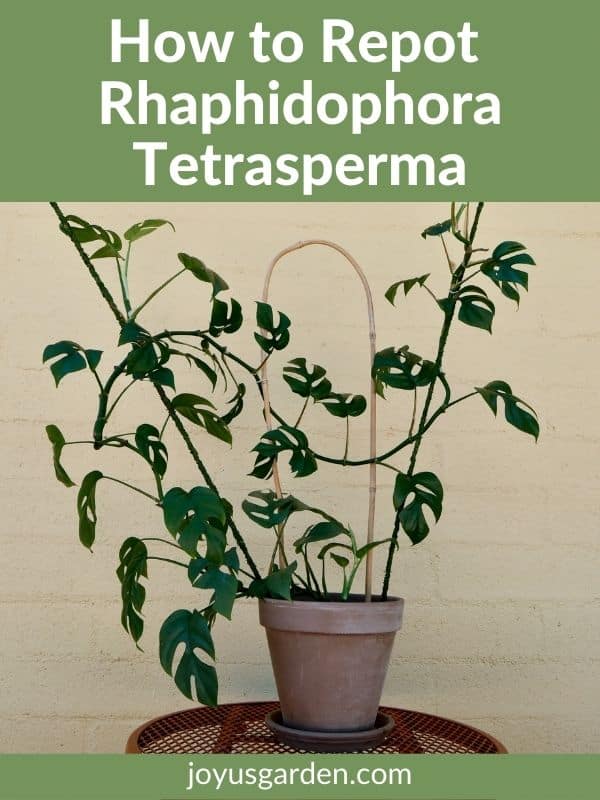 Gather round! Here you'll learn about Rhaphidophora tetrasperma repotting, including the soil mix to use, the best time to do it, the steps by steps, and things good to know so yours will grow healthy, strong, and look good. You'll also see how I stake and train this plant.
Rhaphidophora tetrasperma has cut-out leaves and is quite an easy-care houseplant. It's in the Araceae family like many other popular houseplants. It's the cousin of the Monstera delicosa (Swiss Cheese Plant), which is favored for its huge leaves and tropical vibes.
Note: This post was originally published 9/2021. It was updated 9/2022.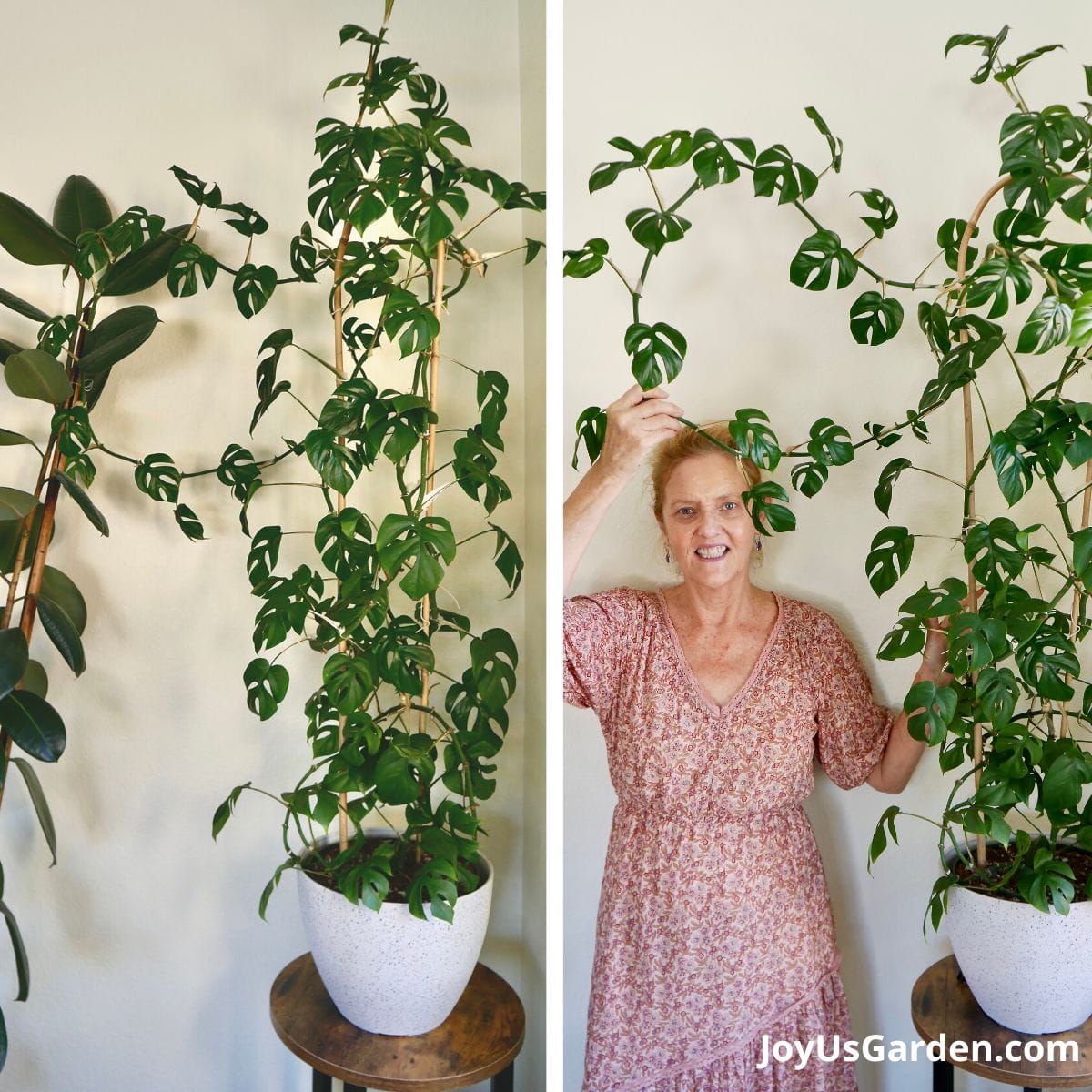 Rhaphidophora tetrasperma is the botanic name for this green beauty. It's a mouthful to pronounce, so here are a few easier-to-pronounce common names, that this plant goes by. Monstera Minima, Mini Monstera, Philodendron Ginny, and Monstera Ginny. Regardless of the name, it's a popular houseplant and because they grow so fast, yours will need a bigger pot and fresh soil at some point.
Interested in growing one of these vining plants? Check out this Rhaphidophora Tetrasperma Care Guide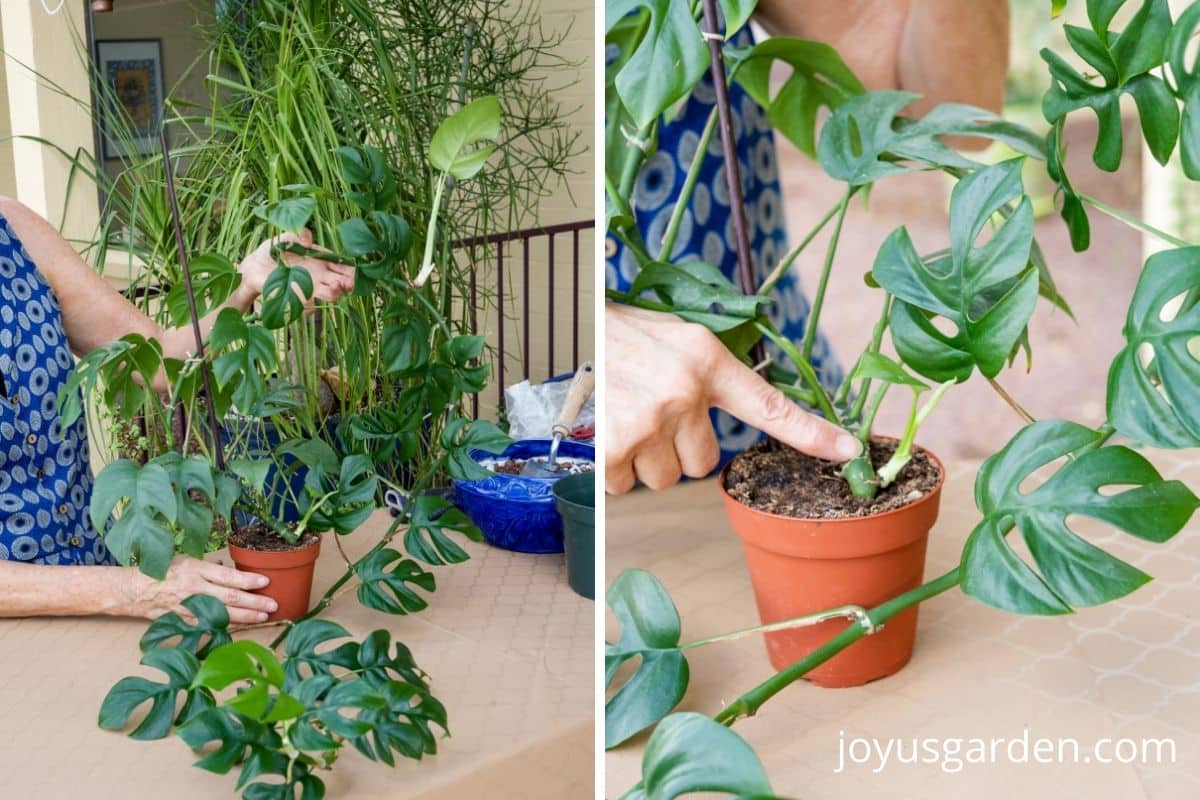 Rhaphidophora tetrasperma Repotting
Best Time to Repot Rhaphidophora tetrasperma
Spring, summer, and into the early fall are good times for repotting Rhaphidophora plants. Spring and summer will be best if you live in a climate where winter comes early.
I live in Tucson, AZ, where the growing season is long. The fall season is warm and sunny, so I repot through the end of October.
Are you a beginning gardener? I've done a general Guide to Repotting Plants which you'll find helpful.
Rhaphidophora tetrasperma Potting Mix
Note: This is the optimum Mini Monstera soil mix. I have many tropical plants and succulents (both indoors and outdoors) and do a lot of repotting and planting. I keep a variety of potting materials on hand at all times.
The 3rd bay of my garage is dedicated to my plant addiction. I have a potting bench, shelves, and cabinets to store all the bags and pails holding my soil and amendments. If you have limited space, I give you a few alternative mixes below, consisting of 2 materials.
Mini Monsteras prefer a mix rich in peat moss that is well drained. I prefer to use coco fiber which has similar properties but is a more sustainable alternative to peat. The compost provides extra richness.
Monsteras grow on the bottom of the tropical rainforest floor. This mix I use mimics the rich plant materials and organic matter that falls on them from above and provides the nourishment they need.
This is the Rhaphidophora Tetrasperma soil mix I use with approximate measurements:
1/2 potting soil. I alternate between Ocean Forest & Happy Frog. This time I used both in equal amounts.
1/2 coco fiber.
I added a few handfuls of coco chips (similar to orchid bark) and a few handfuls of pumice, and a couple of compost.
I end by top dressing with a 1/4 – 1/2″ layer of the compost blend. The blend I use is a mixture of compost & worm compost that I buy at our farmer's market.
Three alternate mixes that provide a fast draining soil:
1/2 potting soil, 1/2 orchid bark or coco chips OR
1/2 potting soil, 1/2 coco fiber or peat moss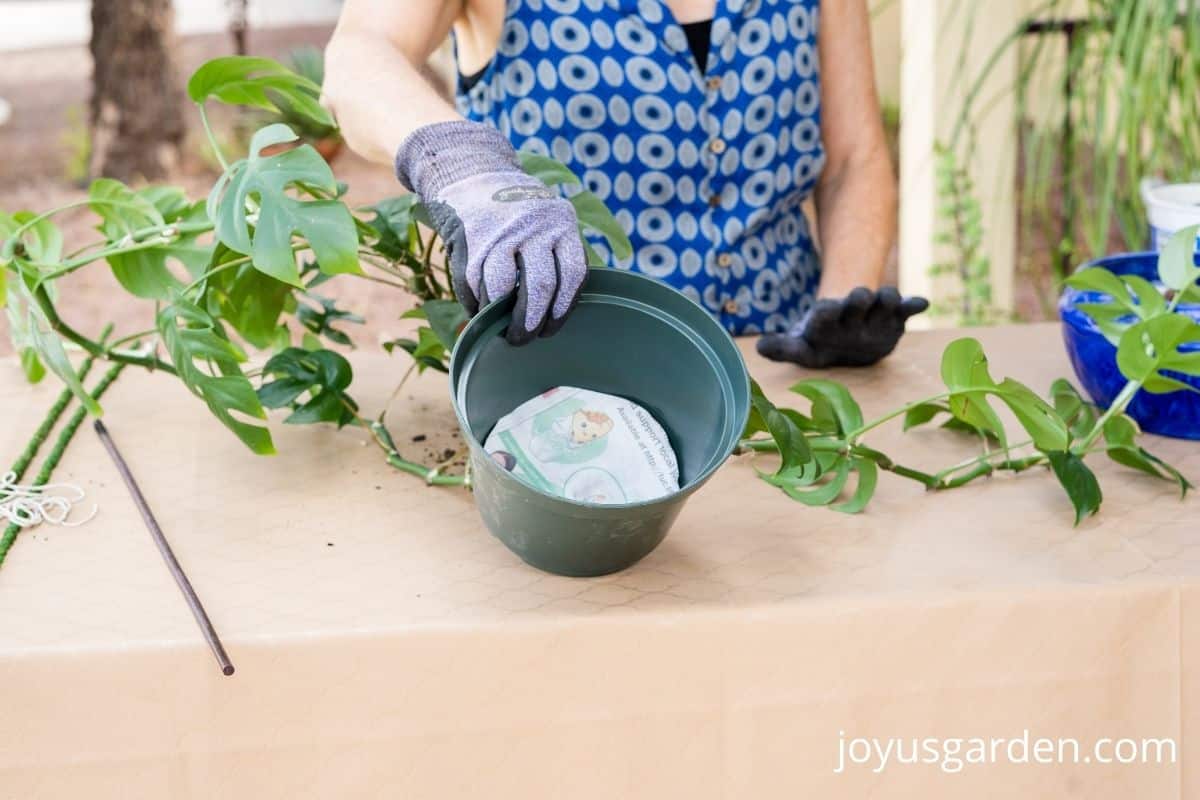 Mini Monstera Pot Size
They can grow slightly tight in their pots but will eventually do and grow better with larger pot sizes.
For instance, you can go up one pot size if you'd like, from a 6″ pot to an 8″. Mine grew in a 4″ pot and was planted into a 6″. As I'm adding to and updating this post one year later, my Monstera Minima is now in an 8″ pot. Check out the 2nd photo in this post, and you'll see how it's grown.
Rhaphidophora tetraspermas grow very fast when the conditions are to their liking. If the plant and the new pot are in scale, then going from a 6″ grow pot to a 10″ would be fine.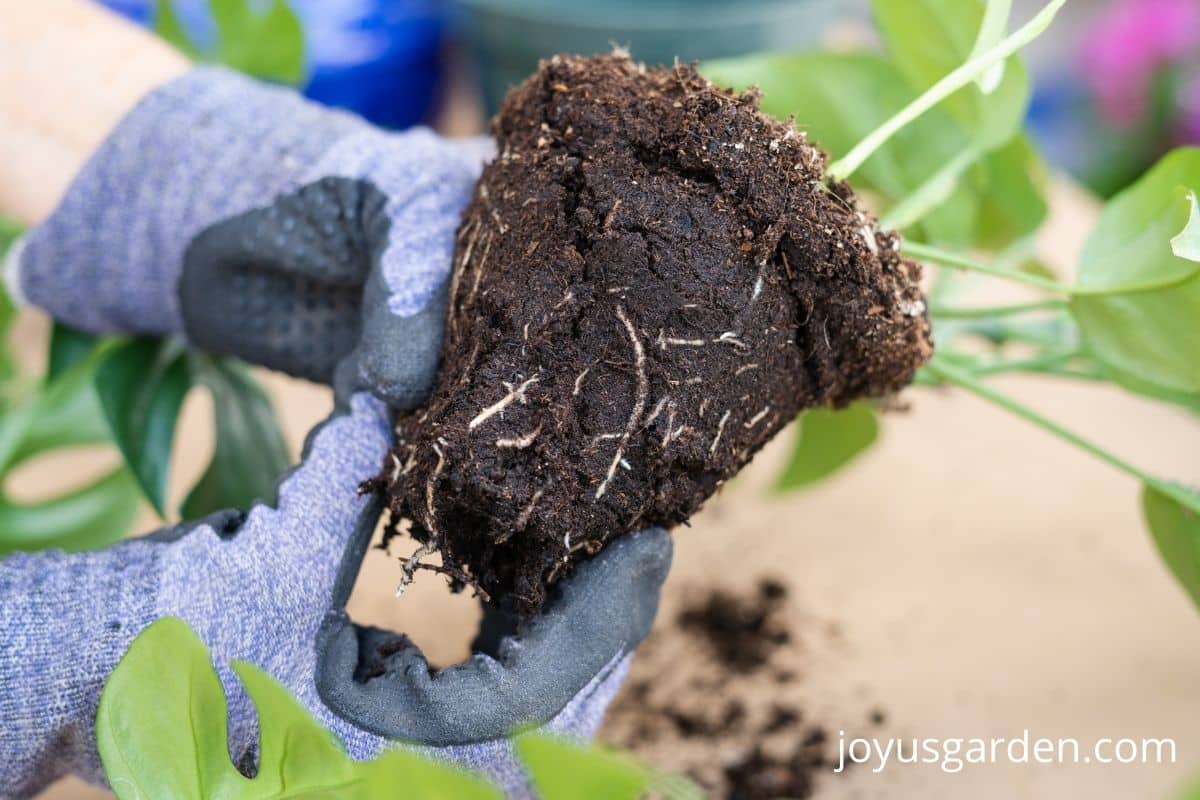 Some Of Our General Houseplant Guides For Your Reference:
Steps To Repotting A Monstera Minima
I watered mine a couple of days before I did the repotting. A dry plant is stressed, so I ensure my indoor plants are watered 2- 4 days in advance. I find that if I water the day of, the soggy soil can make the process a bit more messy than it already is.
To remove the Rhaphidophora from the pot, I laid it sideways and gently pressed on the grow pot to loosen the roots. If it's stubborn, you may have to run a knife along the edge of the root ball. I've also cut grow pots if the root ball is tight and the plant won't pull out.
Massage the roots to loosen them a bit. The roots of this plant weren't tight at all, so a gentle massage did the trick.
Put enough of the mix in the pot so that the top of the root ball is about 1/2″ below the top. I put the root ball inside the 6″ pot to measure how much mix I needed to add in.
Fill in around the root ball with the potting soil and the amendments. I tamped the soil between the root ball and the sides of the pot to get the plant to stand up straight.
Top with a 1/2″ layer of compost.
I put in the two sphagnum moss stakes and attached the stems with jute string. More on the staking in the video above towards the end and below in the FAQs.
As you can see from the thumbnail and lead photo, I ended up being able to get the bamboo hoop into the pot. It'll give that new growth coming off the bottom something to climb up.
Viola, Rhaphidophora tetrasperma repotting is now complete!
Rhaphidophora tetrasperma Plant Repotting Video Guide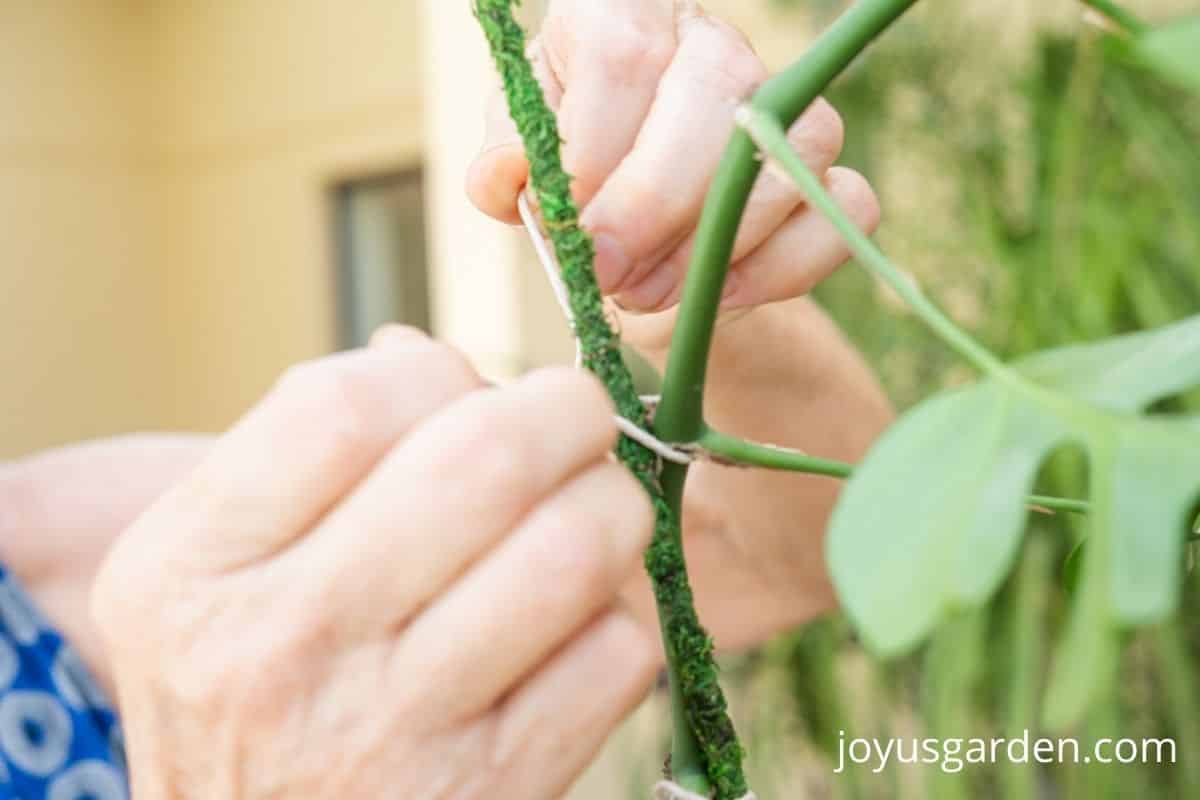 Care After Repotting
This is straightforward and easy. Give your Rhaphidophora a good watering after you do the repotting.
I then put mine back in its spot in the kitchen in bright indirect light. It grows in the corner near a south-facing window with no direct sunlight hitting it. If it's in too little light, you'll get lots of leggy growth.
You don't want to let the soil completely dry while the plant settles in. How often you'll water yours depends on the mix, the size of the pot, and the conditions it's growing in.
It's hot in Tucson now, so I'll probably water my newly repotted Monstera minima every six days until the weather cools. I'll see how fast it's drying out in the new mix and bigger pot, but about once a week sounds right.
In the winter months, I'll water less often.
More info on watering & winter care: Guide to Watering Indoor Plants / Winter Houseplant Care
Rhaphidophora tetrasperma Repotting FAQs
When should I repot my Rhaphidophora tetrasperma?
They can grow a bit tight in their pots but will do better in a larger one with more room for the roots to spread out. My general rule is when the roots are coming out or showing at the bottom, it's time.
I repotted mine for the 2nd time because it was growing fast and needed a bigger support. This is the 4′ bamboo hoop I used. I've purchased 2 more packages of these hoops because they really come in handy for both indoor and outdoor plants,
You can always take it out of the pot and look at the root ball. Also, it's a good idea to put the plant in a bigger pot if it's looking stressed or is way too big for the pot.
How fast does Rhapidophora tetrasperma grow?
This is the main reason for Rhaphidophora tetrasperma repotting. This plant is a fast grower!
How do you get a Rhaphidophora tetrasperma to climb?
In their natural environment, they vine and climb. So, it's their growth habit to do this but you need to provide something for them to climb up. More on this in the 2 questions below.
How do you stake a Rhaphidophora?
It depends on what form it's growing in and how big the plant is.
If you stake it when the plant is young, it'll be easier to train it in the form you want it to grow in.
You can see me staking mine in the video above towards the end. I ended up putting the bamboo hoop in after the video was filmed. It'll give my Monstera minima extra support.
As I'm updating and adding to this post 1 year later, my Raphidophora is now in a bigger pot and has a larger bamboo hoop. It has quite the crazy form now which you can see in photo #2 towards the top.
Does Rhaphidophora need a stake?
For best results, it'll eventually need a stake or some other means of support for it to vine up.
When growing in their natural habitat, they climb up trees and use their aerial roots as a means of attachment. The stake provides something to grab onto so they can grow upwards.
You can use a few things to train this plant: stakes, a moss pole, bamboo hoops, a trellis, or a piece of bark. I made a trellis out of moss-covered poles for Swiss Cheese Vine to climb up.
Can Rhaphidophora tetrasperma be a hanging plant?
A Rhaphidophora tetrasperma plant has thick stems that get bigger and heavier as they age. They put out multiple stems, which I've found do better with some support.
I wouldn't grow a mature Rhaphidophora as a hanging plant, but I will let a stem or two trail down. If you want a similar plant with smaller stems that does better as a hanging plant, check out Monstera adansonii.
How big will a Monstera minima get?
The tallest I've heard one getting indoors is 15′. That's why Rhaphidophora tetrasperma repotting is an ongoing project!
My Monstera minima plant is looking good after its repotting and staking/training. I'm sure it's happy to have something to grow onto and not be flopping around. In no time flat, it'll hit the ceiling. When yours needs repotting, give it a go because it's easy to do!
Happy gardening

Check Out These Other Repotting Guides:

This post may contain affiliate links. You can read our policies here. Your cost for the products will be no higher but Joy Us garden receives a small commission. Thank you for helping us spread the word & make the world a more beautiful place!
I'm a life-long gardener who still to this day gets giddy at the thought of a trip to one of the local nurseries. Yes, I actually studied landscape and environmental horticulture and the practical experience I have garnered through the years has served me well. Childhood memories of chicken manure "tea" still float through my olfactory senses to this day. I have always been an organic gardener and always will be. From the Earth … To the Earth. I was born and raised in rural, bucolic Litchfield County, Connecticut and now joyfully live a few blocks from the ocean in beautiful Santa Barbara, California.