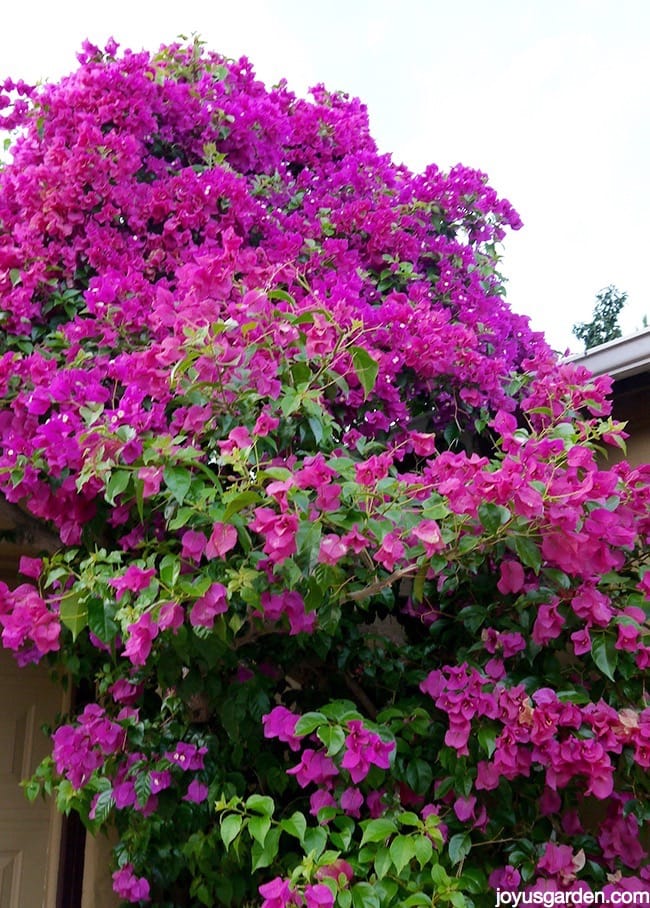 Fall means warm, sunny & clear days here in Southern California.  My garden is still going strong but I do get a minute amount of color change.
I was raised in Litchfield County, Connecticut – land of rolling hills, endless stonewalls, covered bridges and lots and lots of trees.  Big trees.  Those trees turned a myriad of colors in fall which is something I took for granted growing up.  I now live in Santa Barbara, California where the autumn season is a whole different story.  In my garden, the only plants which drop their leaves are the Bougainvilleas.   Those colored leaves are actually the bracts which people call the flowers and regardless, mine have just done their last big bloom which means a big dump of magenta.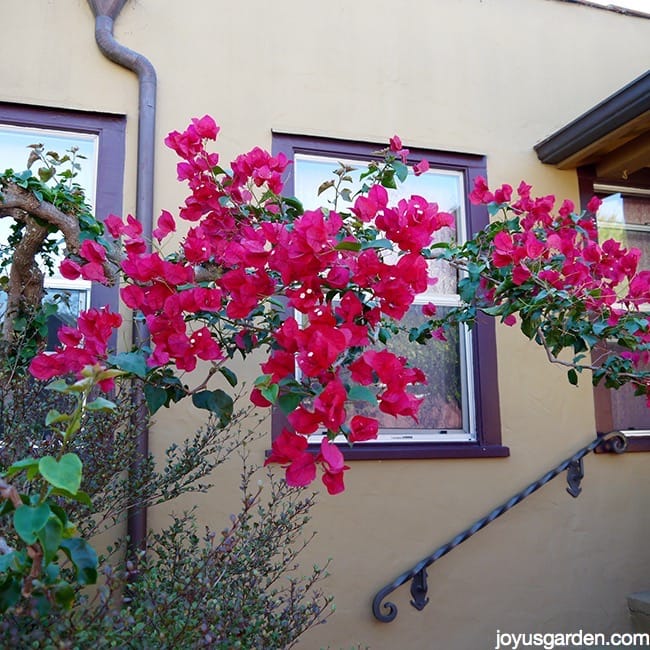 This is my Bougainvillea Barbara Karst which I've pruned out like a giant mushroom, or umbrella.  It lets light into the garden below & all the color is at the ends which I like.  On the other hand, my Bougainvillea glabra (seen above) is a mass of solid color when in full bloom.
Bougainvilleas are semi-deciduous and the only plant I have that is fully deciduous is the Jacaranda in my front yard.  I had moved south from San Francisco where I had only seen a few scrawny Jacarandas in the Mission – fog and cool temps are not their best friends.  I really had a surprise my 1st February here in Santa Barbara when the leaves starting dropping and continued to do so through the end of March.  Defoliating in winter – what's up with that?
See my bougies plus a few other plants which mean early fall in my garden:
I don't have any Birds Of Paradise in my garden (except for a 19′ Giant B O P), but around town they're starting to put on their show and tend to flower heaviest now through spring.  We don't have snow to lighten up the landscape but those vivid orange and blue flowers in the sidewalk plantings do brighten up a gloomy day.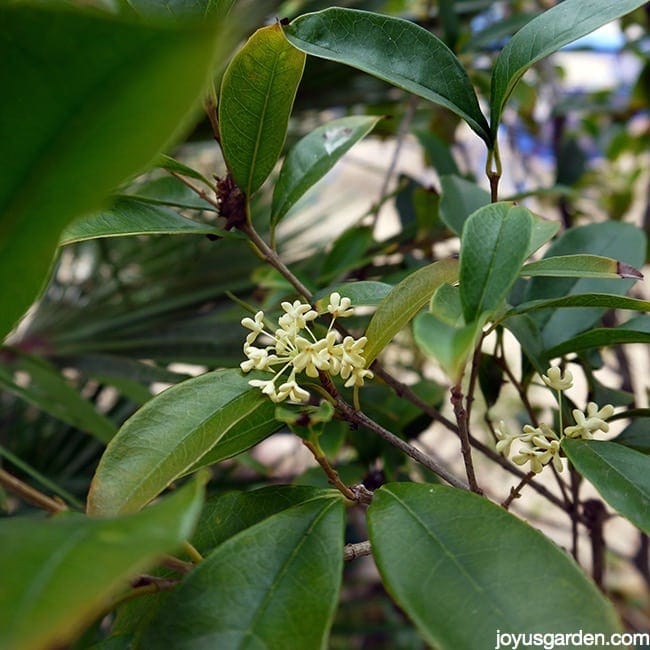 My Osmanthus fragrans blooms in heavy in fall & these tiny flower clusters give off a citrusy, spicy sweet scent that I really love.  This is planted not too far from my living window, so on these warm evenings, my house smells heavenly.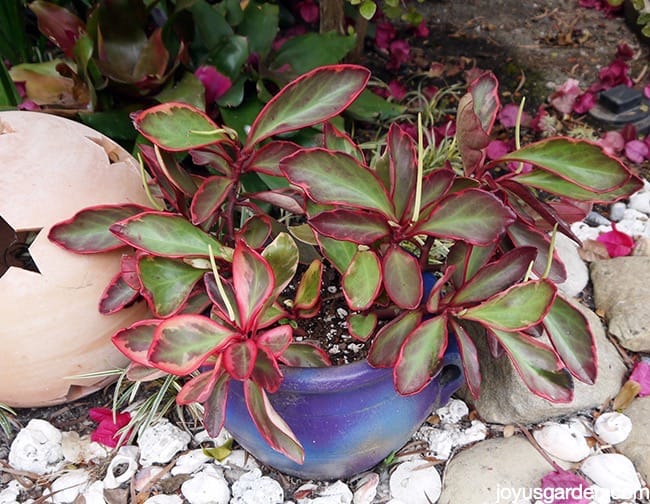 My Pepperomia Red Edge shows a lot of deep color at this time of year.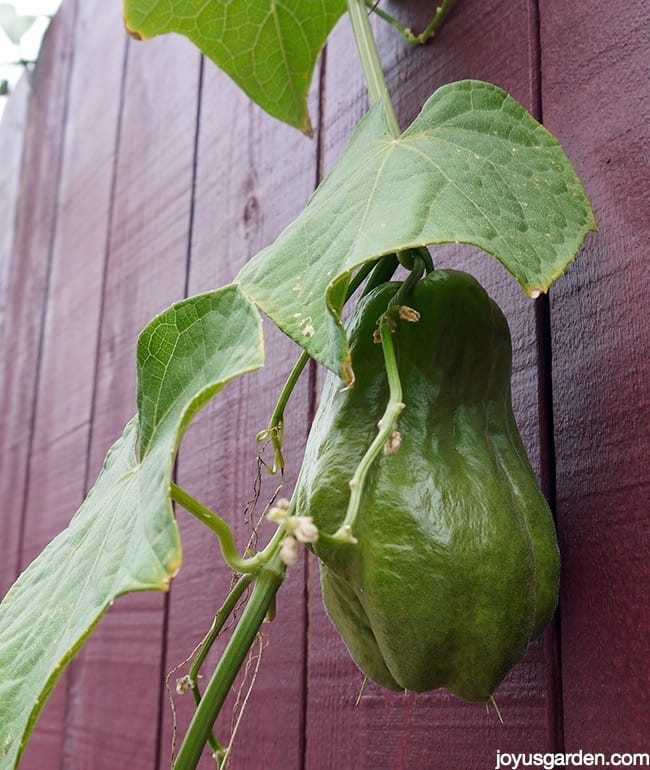 This is just a plant I threw in for fun in case you hadn't seen it before.  It's my neighbor's chayote squash which has spilled over my fence.  It's a very prolific vine & they use it in soups & stews.
Not much happens plant wise in fall in my garden but it does mean winter is on the way and many of my succulents will be coming into bloom.  For a New England girl living in California, this time of year is as different as night and day!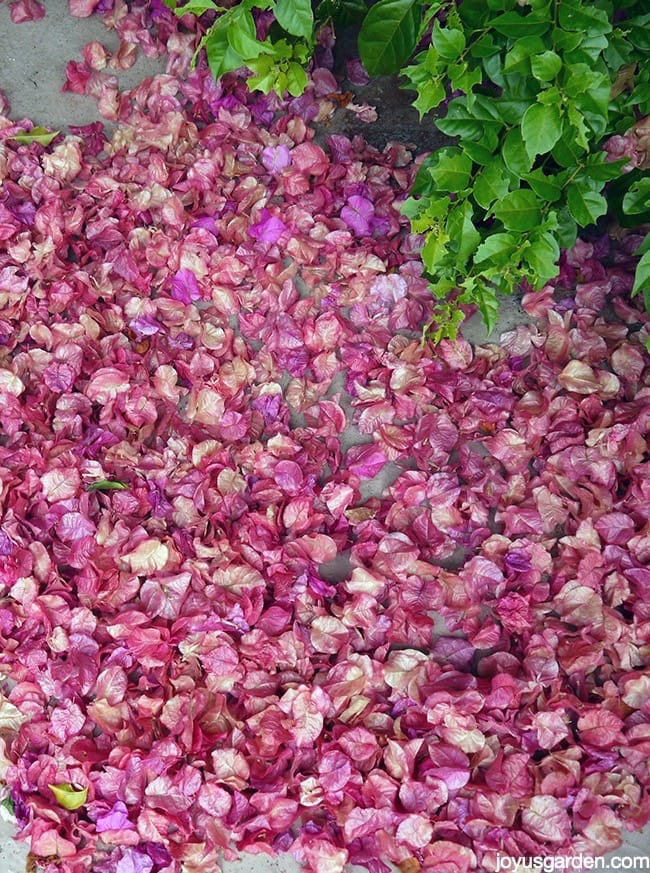 Fall leaf drop in my garden – my Bougainvillea glabra sheds its colored bracts!
Other Bougainvillea Posts :
How I prune & trim my bougainvillea for maximum bloom
Secrets of bougainvillea: sharing all I know about this colorful plant
My bougainvilleas in Oct: more tips coming your way
YOU MAY ALSO ENJOY:
This post may contain affiliate links. You can read our policies here. Your cost for the products will be no higher but Joy Us garden receives a small commission. Thank you for helping us spread the word & make the world a more beautiful place!