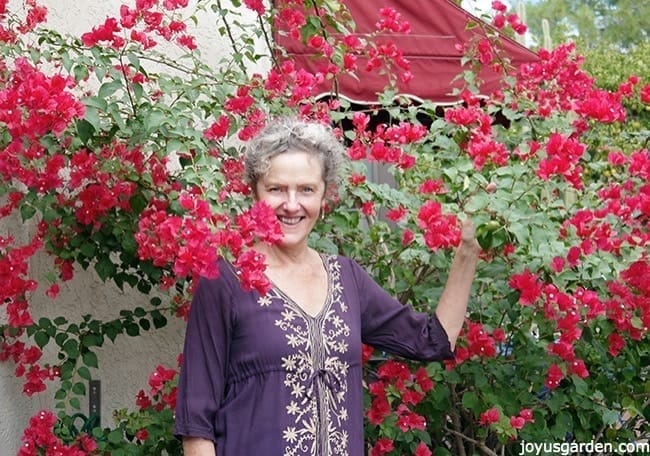 Bougainvillea love in full force here! I've recently moved into a new home in the desert where 4 of them grace the garden. I had 2 very floriferous and artistically pruned bougainvilleas in my old garden by the sea which you can see here. This is all about how I pruning bougainvillea and trimming my newly inherited "Barbara Karst" to get those fabulous blooms.
This bougainvillea grows in between my driveway and kitchen patio. Plainly put, it gets a lot of viewing time. It had been pruned and chopped by the previous owner into a rectangular "hedge-blob". The blob was only showing a wee bit of color at the very ends which had been spared the wrath of the electric hedge pruners.
Bougainvilleas flower as a result of new growth so occasional pruning (not constant hacking) brings on the blooms.
You see a lot of color on large, unpruned bougainvilleas most of which is at the ends of the branches – that's where the new growth is. By routinely hedge pruning a bougainvillea, you'll get no or very little flowering. So many other plants make better and easier to maintain hedges. And why have a bougainvillea if you don't get any color?
This is how my bougainvillea looked before – closely cropped with just a bit of color at the ends.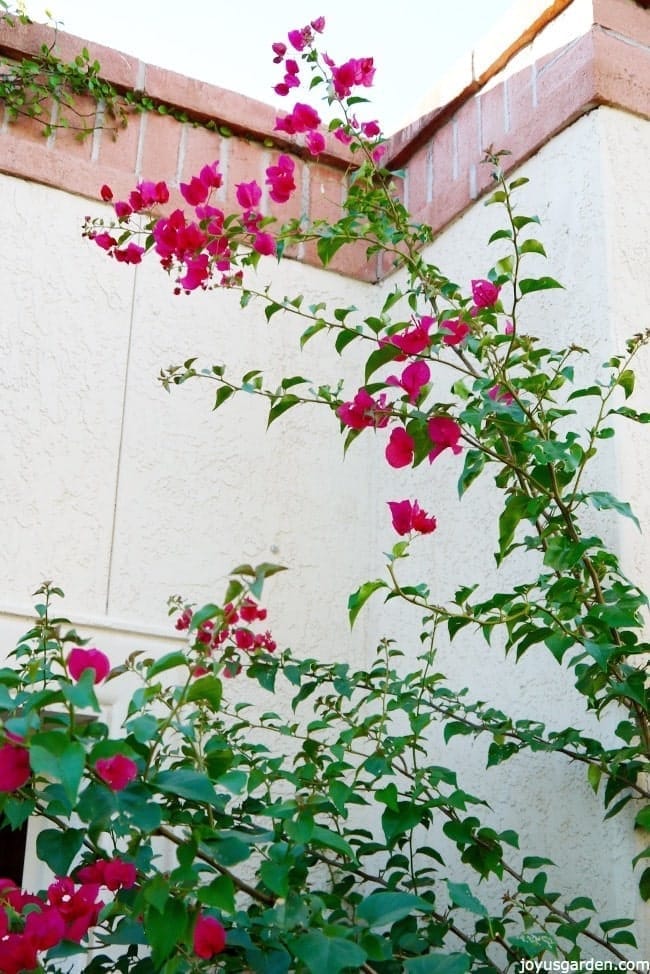 You can see all the color up high.
Pruning Bougainvillea to Encourage Flowering
* Start at the outside & work my way in. It's a bit confusing at 1st but gets less so the pruning goes on. Thin out the plant by removing whole branches right back to the main trunk &/or a main branch. It may seem like you're removing a lot, but believe me, bougainvillea grows back like crazy.
Remove branches which cross over or are dead.
Then, remove the undergrowth which has gotten shaded & "wimpy".
From here, I shape the plant to how I want it to look. I don't need it for privacy so an ethereal, airy look is what I'm going for. I continue to remove whole branches.
After I get the overall desired look, I take back the branches that remain by a half or tip prune them, depending on their length. Tip pruning, in case you don't know, is the removal of the soft new growth by 1-6″. You can even do this with your fingernails if it's easier. This really stimulates that new growth.
I did this pruning over 3 consecutive Saturdays because I only have 1 green waste barrel. This gave me the chance to step away from the bougainvillea and come back and look at it with fresh eyes. I like to handle a bigger pruning project this way – gives me perspective!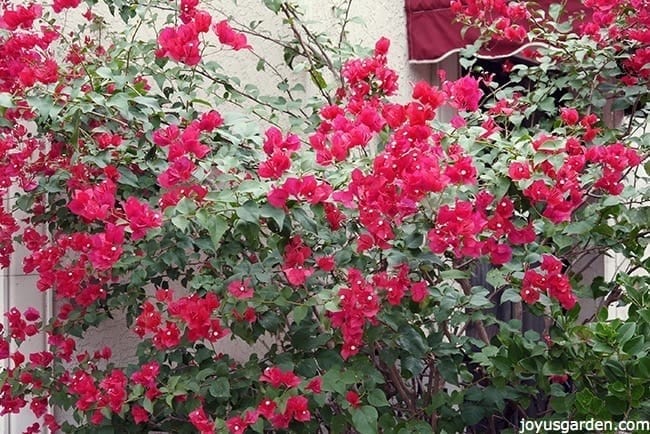 This is "Barbara Karst" 2 months later. Not a color explosion like my Bougainvillea glabra in Santa Barbara (pictured below) but it's showing much more color than when I 1st moved in. It'll be even more colorful next year!
My blooming machine.
Don't Forget the Following Steps Before Pruning Bougainvillea
Your pruners are clean & sharp. For this job, I'll use my Felco #2's, Fiskar Floral Nips & my Corona Long Reach Loppers.
Cut out whole branches (except for the pinching on the ends). Bougainvillea puts out a lot of side growth when pruned so you'll eventually end up with a dense plant (unless of course that's what you want!).
And watch those thorns – bougainvilleas have a lot of them. Enough said about that!
Be mindful of your eyes. Besides the thorns, a lot of dirt & "dregs" will most likely fall out when you're pruning.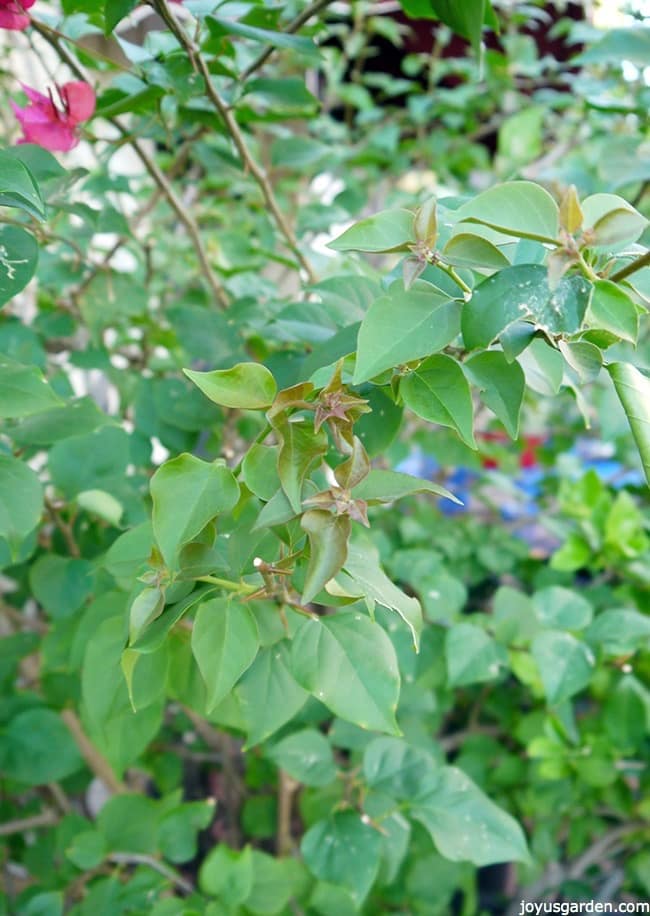 The new growth appears at the end of the branches. The leaves of new growth change color (these are called bracts) & this is what makes the impact. The tiny, white flowers appear deep inside those bracts.
For a riot of color 9 months out of the year you can't beat bougainvilleas!
Bougainvilleas are vigorous growers once they get established and must be controlled from taking over your world. I'll give mine a light pruning in December once this flowering is complete. I do the main pruning to set the shape in late January/early February. A few prunings to shape throughout the year will keep my Bougainvillea "Barbara Karst" in that airy yet colorful look I love.
Happy gardening,

YOU MAY ALSO ENJOY:

This post may contain affiliate links. You can read our policies here. Your cost for the products will be no higher but Joy Us garden receives a small commission. Thank you for helping us spread the word & make the world a more beautiful place!
About the Author
Latest Posts
Nell, the founder of Joy Us garden, was born into a gardening family and grew up in Connecticut's countryside. After living in Boston, New York, San Francisco, & Santa Barbara, she now calls the Arizona desert home. She studied horticulture & garden design, working in the field all her life. Nell is a gardener, designer, blogger, Youtube creator, & author. She's been gardening for a very long time & wants to share what she's learned with you.