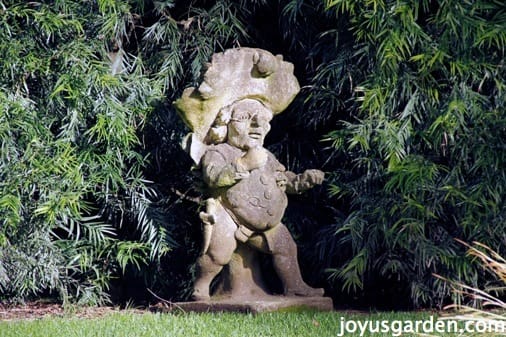 First, a couple of interesting tidbits to share with you before moving on to the visuals. According to one of my docents, Madame Walska could be quite impatient and had strong opinions and designs ideas of her own but would quickly soften. She gave her gardeners regular bonuses (I like that!) and bequeathed them in her will.
Another docent told me she never smiled in photos when she was married but did after she got rid of husband #6. After her opera career was over, gone were the spectacular outfits and endless jewels. Simpler gardening wear replaced all that and those smiles came when she was able to devote all her time to this garden. Names of plants did not matter to her by the way – just how they looked in the garden.
Theatre Garden
The stone figures in this garden were brought from her chateau in France. They're curiously intriguing.
Parterre
The roses in this garden are floribundas. Beautiful brick & stone work is the basis for the parterre.
Topiary Garden
The clock in this garden works. The mosaic is an example of the intricate stone work.
Japanese Garden
The pond is home to many large Koi.
Aloe Garden
There are over 100 species of Aloes here.
We'll be doing one more post on Lotusland in a few days so be sure to check back for more photos and another interesting tidbit or two, shared by the docents, about the colorful woman who was the force behind the garden.